---
Mobbo: The State Of Mobile Monetization

Furnished content.


This edition of Mobbo Power Index offers a comprehensive ranking of the top mobile media sources. The Mobbo report, The State Of Mobile Monetization, sheds light on the scale and performance of popular SDK components and tracks the movers and shakers in the mobile Ad-tech industry. This research has been conducted after studying the technology [...]

Read more here

---
posted at: 12:01am on 28-Feb-2017
path: /Online_Marketing | permalink | edit (requires password)
0 comments, click here to add the first
---
---
Disappointing To See Google's Waymo Sue Over Patents

Furnished content.


For years, we had pointed out that one of the nice things about the new generation of tech companies was that they rarely seemed to use patents offensively. Yes, they were subject to tons of patent lawsuits from trolls or from legacy players trying to hang on against innovators, but we've pointed out in the past that young companies innovate, while older companies litigate. So, we have a tendency to watch companies to see when they shift from being patent litigation defenders, to going on the offensive. For years -- even as patent system supporters falsely claimed that Google only existed because of patents -- it was good to see not a single example of Google going on the offensive and filing patent lawsuits against other companies.That changed, unfortunately, back in 2012 when Google brought a patent lawsuit against Apple. Some argued that it wasn't "really" Google, because it came from Motorola, a company that Google had purchased (mainly for the patents) and then only owned for a short while before dumping, but it was still a Google-owned property going on the offensive. At that time, we argued that if Google really wanted to support patent reform (as the company claimed) then it should stop being a patent aggressor.To its credit, I don't believe the company went on the offensive again... until just now. As has been widely reported, Google's Waymo subsidiary (which works on Google's self-driving cars) has sued Uber over its self-driving car technology, which Uber obtained last year, in purchasing another startup, Otto, for its self-driving car technology. Otto, of course, was founded by a former Google/Waymo guy. Just a few weeks ago, Bloomberg had written that a bunch of early Google car team members had left to found Otto in part because Google had paid them a ridiculous sum of money, so they no longer needed to stay there.Along with the lawsuit, both in the filing itself and in a separate blog post about the lawsuit, Waymo tries to bend over backwards to say that this situation is not your typical "patent" lawsuit, but a very specific one. Indeed, the company is clear that the patent issue is a lesser concern. The larger one is over trade secrets -- and here the company is fairly specific that Otto's founder, and several early employees, appear to have deliberately copied a huge amount of proprietary info from Google/Waymo before departing:
Recently, we received an unexpected email. One of our suppliers specializing in LiDAR components sent us an attachment (apparently inadvertently) of machine drawings of what was purported to be Uber's LiDAR circuit boardexcept its design bore a striking resemblance to Waymo's unique LiDAR design.We found that six weeks before his resignation this former employee, Anthony Levandowski, downloaded over 14,000 highly confidential and proprietary design files for Waymo's various hardware systems, including designs of Waymo's LiDAR and circuit board. To gain access to Waymo's design server, Mr. Levandowski searched for and installed specialized software onto his company-issued laptop. Once inside, he downloaded 9.7 GB of Waymo's highly confidential files and trade secrets, including blueprints, design files and testing documentation. Then he connected an external drive to the laptop. Mr. Levandowski then wiped and reformatted the laptop in an attempt to erase forensic fingerprints.Beyond Mr. Levandowki's actions, we discovered that other former Waymo employees, now at Otto and Uber, downloaded additional highly confidential information pertaining to our custom-built LiDAR including supplier lists, manufacturing details and statements of work with highly technical information.
If accurate, that does sound fairly deliberate and sneaky. And you can certainly understand why the company is upset. The main focus of the lawsuit is the trade secrets claim. But the lawsuit also makes claims for patent infringement on three separate patents as well.Again, you can understand why this situation would be frustrating for Waymo/Google. And maybe the direct evidence of downloading all that material prior to leaving Google is a legitimate reason to file a lawsuit. But it still seems problematic. When Elon Musk freed up all of Tesla's patents, he made it quite clear the reason he was doing so was that this was a brand new, emerging market, and it was going to need all the help it could get in becoming established. And that meant lots of companies competing and innovating and together educating the market. Thus, it didn't really matter if new entrants copied Tesla's electric car/battery technology, because in the end it would help create a larger market that helped everyone.That same situation is true for self-driving cars as well. Even given the presence of the potential smoking gun of the downloads of documents, there's still something to the idea that the market would be a lot better off if everyone were just building the best possible self-driving car tech they could find, even if that means copying one another. Fighting over trade secrets and patents in a market that barely even exists feels silly. Yes, from a purely profit maximizing standpoint, you can understand the argument: the larger share of the market you can capture early can make a huge difference. But why not focus on executing in the marketplace and fighting the battles that are blocking the adoption of self-driving cars, rather than fighting back and forth with each other.

Permalink | Comments | Email This Story


Read more here

---
posted at: 12:00am on 28-Feb-2017
path: /Policy | permalink | edit (requires password)
0 comments, click here to add the first
---
---
Top Russian Net Official Says Children Under 10 Shouldn't Go Online -- At All

Furnished content.


As Techdirt readers know only too well, doing things "for the children" is a perfect excuse to pass all kinds of ridiculous laws that would otherwise be thrown out without a thought. For example, back in 2013, we wrote about attempts to pass legislation in Russia that would ban swearing on the Internet. It was framed as an amendment to an existing law called "On the Protection of Children" that introduced a blacklist designed to block access to information on drugs, suicide and child pornography. Now the head of Roskomnadzor, the body that oversees website-blocking in Russia, has a bold proposal for protecting children from all the Internet's possible harms. It takes the "for the children" logic to its logical conclusion, as TorrentFreak explains:
In a Q&A session with AIF.ru, Alexander Zharov spoke on a number of issues, including online safety, especially for children. Naturally, kids need to be protected but the Rozcomnadzor chief has some quite radical ideas when it comes to them using the Internet."I believe that a child under 10-years-old should not go online. To use [the Internet] actively they need to start even later than that," Zharov said.
He went on to say:
"Some parents are proud of the fact that their three-year-old kid can deftly control a tablet and use it to watch cartoons. It is nothing good, in my opinion. A small child will begin to consider the virtual world part of the real world, and it changes their perception of reality."
This is presumably just Zharov's personal opinion, not a foreshadowing of official policy -- it's hard to believe the view that children under 10 years old should stay off the Net would ever be enshrined in a law. Then again, given some of the things that Russian officials have been suggesting, such as disconnecting Russia from the global Internet, you never know. And once people start invoking "for the children," common sense tends to go straight out of the window.Follow me @glynmoody on Twitter or identi.ca, and +glynmoody on Google+

Permalink | Comments | Email This Story


Read more here

---
posted at: 12:00am on 28-Feb-2017
path: /Policy | permalink | edit (requires password)
0 comments, click here to add the first
---
---
What Should We Add Next To The Techdirt Gear Store?

Furnished content.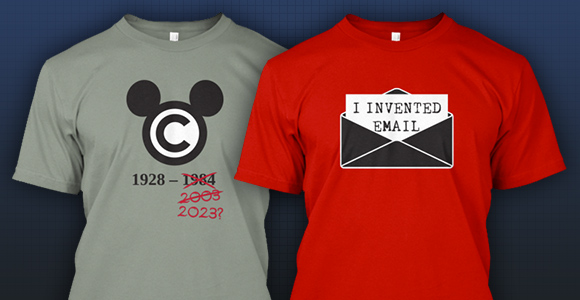 Get I Invented Email, Copymouse and more in the Techdirt Gear store »Right now, there are four different designs in available in the Techdirt Gear store on Teespring: our new Copymouse gear, our limited-time I Invented Email gear, and two different styles of Techdirt logo gear. But, under Teespring's new ongoing-order system, over time we're going to start bringing back some of our designs from last year as permanent fixtures in the store — in some cases with tweaked or updated designs.So, which Techdirt tees would our readers like to see first? There's our popular Takedown gear, the controversial Copying Is Not Theft, and some less-popular but beloved-by-some options like Home Cooking Is Killing Restaurants and Math Is Not A Crime. Of course, there's also the first t-shirt we offered and still the most popular: Nerd Harder.We have some brand new designs in the works too and will be rolling those out in the near future, but first we want to get one or two of these classics back into rotation. In addition to letting us know which ones you're most interested in, feel free to include your thoughts on whether the design needs an update or you'd like to see different products/colors available!Thanks for your feedback, and thanks for supporting Techdirt.
Two logo tee styles (plus hoodies, mugs & more) in the Techdirt Gear store »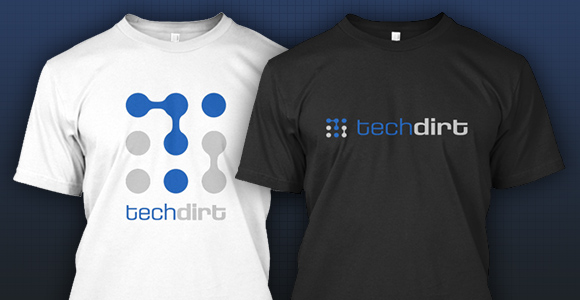 Permalink | Comments | Email This Story


Read more here
---
posted at: 12:00am on 26-Feb-2017
path: /Policy | permalink | edit (requires password)
0 comments, click here to add the first
---
---
The AppsFlyer Performance Index

Furnished content.


Looking forward to Mobile World Congress? So are we! In anticipation, AppsFlyer has announced the release of the 2017 Mobile World Congress Edition of The AppsFlyer Performance Index. The Index is an industry standard media report card. AppsFlyer technology is found on 98 percent of the world's smartphones. In this edition of the Performance Index [...]

Read more here

---
posted at: 12:00am on 25-Feb-2017
path: /Online_Marketing | permalink | edit (requires password)
0 comments, click here to add the first
---
---
California Law Enforcement Union Sues To Block Police Accountability

Furnished content.


Because there's just not enough opacity shrouding police misconduct and not enough slanting of the criminal justice system against defendants, California police unions have decided to get involved in a judicial dispute over lists of law enforcement officers whose half of "our word against yours" isn't quite as bulletproof as is normally assumed.A Los Angeles sheriff is trying to do the right thing, but he's running into opposition from his own supposed "representatives."
The Los Angeles County Sheriff's Department has collected the names of about 300 deputies who have a history of past misconduct — such as domestic violence, theft, bribery and brutality — that could damage their credibility if they testify in court.Sheriff Jim McDonnell wants to send the names to prosecutors, who can decide whether to add them to an internal database that tracks problem officers in case the information needs to be disclosed to defendants in criminal trials.
I don't imagine prosecutors are exactly thrilled to be the recipient of information that damages the credibility of their favorite witnesses, but it's probably better than having your witness destroyed in open court by a defense attorney. But prosecutors may never see this information, thanks to the police union's belief that officers shouldn't be held accountable for anything.
The union that represents rank-and-file deputies strongly opposes providing the names to prosecutors and has taken the department to court. The Assn. for Los Angeles Deputy Sheriffs argues that the disclosure would violate state laws protecting officer personnel files and draw unfair scrutiny on deputies whose mistakes might have happened long ago.
The union is wrong. Officers' misconduct records are a crucial part of their trustworthiness. Burying these just makes the union look like a willing enabler of bad behavior. There would be no "unfair scrutiny" of deputies. Judges and juries are perfectly capable of determining whether past misconduct is relevant to the case at hand. The union's lawsuit seeks to place the determination of officers' credibility solely in the union's hands. And in its hands, all officers are credible until proven otherwise -- something that will be almost impossible to do with exactly zero information on hand.The union's move is a preemptive Brady violation. Brady material is exculpatory evidence and information prosecutors are statutorily required to turn over to the defense. That would include misconduct records, which might point to a testifying officer's lack of credibility, or show a pattern of relevant misconduct. These files would not be made public, which undercuts the union's "privacy violation" claims. True, some of the files' contents would be made public during court proceedings, but it's not as though the sheriff is asking the DA's office to post the contents of the list on its website.The union wants law enforcement officers to have more rights than the people they serve. The body of a person killed by an officer hasn't even begun to cool before department press liaisons are pushing the dead person's criminal background check results into the hands of every reporter covering the incident. No one expresses any privacy concerns when a 20-year-old arrest is used to alter the public's perception of a police shooting victim. But when it comes to cops themselves -- public servants with immense power, layers of immunity, and publicly-funded opacity that separates them from the consequences of their actions -- privacy is of utmost concern.

Permalink | Comments | Email This Story


Read more here

---
posted at: 12:00am on 25-Feb-2017
path: /Policy | permalink | edit (requires password)
0 comments, click here to add the first
---
---
Just To Be Safe, We're Resetting All Techdirt Passwords In Response To Cloudbleed

Furnished content.


As you may have heard, late yesterday it was revealed that there was a pretty major bug that was potentially leaking all sorts of sensitive data for some companies that use Cloudflare. The bug is being dubbed "Cloudbleed" as it's actually quite similar to what happened a few years ago with OpenSSL in what was known as Heartbleed. Cloudflare was alerted to the bug by some Google security researchers and quickly patched the problem -- but it had gone on for months, with some sensitive data being indexed by search engines (that's all been cleaned up too).At Techdirt, we use some Cloudflare services. It is unclear (and, in fact, unlikely) that any Techdirt data leaked via Cloudbleed. Also, we don't retain sensitive data from our users. However, in an abundance of caution, we have decided to reset everyone's passwords. If you have an account on Techdirt (which is not a requirement), you will be logged out, and will be required to go through the password reset process to get back into your account. Yes, this is a bit of a pain for our users, but despite the low likelihood of people here being impacted, we felt it was the right thing to do. Various security researchers have suggested that people change their passwords at other sites as well, and we recommend using a password generator/wallet (some of which will automatically change passwords at many sites upon request) to do so.

Permalink | Comments | Email This Story


Read more here

---
posted at: 12:00am on 25-Feb-2017
path: /Policy | permalink | edit (requires password)
0 comments, click here to add the first
---
---
Video Header Bidding: What You Need to Know

Furnished content.


Q: Why is 2017 a major turning point in the cure for header bidding, with video leading the charge on the programmatic front? A: Video is the most valuable real estate on a publisher's website. Premium video demand significantly exceeds supply. That means publishers who have this supply deserve the right to sell it transparently [...]

Read more here

---
posted at: 12:00am on 24-Feb-2017
path: /Online_Marketing | permalink | edit (requires password)
0 comments, click here to add the first
---
---
YouAppi Infographic; Blis Integrates With World's Largest Beacon Network; Kaltura's New Lecture Capture Solution; Telmar founder Stanley P. Federman dies at 78

Furnished content.


YouAppi knows there are many challenges facing app marketers, most notably research from comScore showing that 49% of smartphone owners downloaded zero apps in the last month and the fact that the leading apps are owned by Facebook or Google. Good News! Research from Dimension Research commissioned by YouAppi shows that mobile marketers are optimistic [...]

Read more here

---
posted at: 12:00am on 24-Feb-2017
path: /Online_Marketing | permalink | edit (requires password)
0 comments, click here to add the first
---
---
InMobi Advanced Mobile Video Ad Solutions

Furnished content.


InMobi, a global mobile advertising and discovery platform, today launched a suite of advanced mobile video ad solutions in Europe. The platform includes innovative video ad formats such as vertical videos, interactive rich-media videos, 360 degree videos, opt-in videos, full-screen, in-feed and in-stream videos. Having invested in video technology for more than four years, InMobi's [...]

Read more here

---
posted at: 12:00am on 24-Feb-2017
path: /Online_Marketing | permalink | edit (requires password)
0 comments, click here to add the first
---
---
Lindsay Lohan Won't Put Her GTA5 Lawsuit Out Of Its Misery

Furnished content.


Here is something you, the dear Techdirt reader, may not have known about me: I had always thought that there was only one proper spelling for the name "Lindsey." I'm not sure why I thought that, but I was certain that name was only spelled with an "e" before the "y." But, it turns out, spelling it as "Lindsay" is a perfectly common and accepted alternate spelling for the name. And the only reason that I now know that is because Linsday, with an "a," Lohan will not let her lawsuit against Take-Two Interactive -- for appropriating her likeness for several characters, which didn't actually happen -- die its final death.First, a refresher. Lohan decided that a side quest character in Grand Theft Auto 5, which was actually an amalgam of several Hollywood starlet tropes, violated her publicity rights. She also claimed that an entirely different character that was used on some of the game's marketing and packaging was also her and also violated her publicity rights. The case wove its way through the past half-decade, largely with the court and Take-Two casting narrow eyes at the mountains of paperwork Lohan's legal team was able to produce while somehow maintaining an inability to come up with claims that were in any way credible, before the court finally tossed the lawsuit entirely. The court at the time made it clear that Take-Two's characters weren't direct appropriations of Lohan's likeness and that the parody amalgam starlet it had created was clearly protected by the First Amendment.But, for some reason, it appears that LiLo's legal team was, like, "nuh uh!"
Lindsay Lohan has been granted an appeal in her lawsuit against the maker of the Grand Theft Auto video games. Last year, the Appellate Division Courthouse of New York State tossed the case, stating it was without merit. Her appeal was accepted by the New York Court of Appeals on 16 February.
It must be nice to have the kind of money required to keep the legal team going on a lawsuit that's been a loser at every turn. Still, it's perplexing that this lawsuit hasn't been put out of its misery at this point. The nature of the characters and their status as protected speech seems as clear cut as it gets. And, perhaps more importantly, the character that Lohan is desperate to associate herself with for the purposes of this lawsuit is one that is depicted engaging in sex acts in a public setting and being photographed doing so. I'm struggling to understand why one would want to engage in this kind of legal reach under those circumstances.Her legal staff should be informing her that it's time to give this whole thing the Ol' Yeller treatment. Why they aren't doing so is beyond me.

Permalink | Comments | Email This Story


Read more here

---
posted at: 12:00am on 24-Feb-2017
path: /Policy | permalink | edit (requires password)
0 comments, click here to add the first
---
---
German Regulators Urge Parents To Destroy WiFi Connected Doll Over Surveillance Fears

Furnished content.


For a while now, we've discussed how your children's toys are quickly becoming the latest and greatest privacy threat courtesy of cryptic or half-cooked privacy policies and the treatment of device security as an afterthought; rather part and parcel now for the privacy dumpster fire that is the internet of not-so-smart things era. Numerous privacy groups have complained that smart Barbies and other toys not only now hoover up and monetize childrens' prattle, but leave the door open to the devices' being used nefariously by third parties.The problems culminated in a lawsuit last December here in the States against Genesis Toys, maker of "smart" toys like the My Friend Cayla doll and the i-Que Intelligent Robot. The lawsuit accuses the company of violating COPPA (the Childrens' Online Privacy Protection Act of 1998) by failing to adequately inform parents that their kids' conversations and personal data collected by the toys are being shipped off to servers and third-party companies. The privacy policy for the toys does warn users that companies like Nuance Communications, also a government defense contractor, will receive this data for analysis:
"We may use the information that we collect for our internal purposes to develop, tune, enhance, and improve our products and services, and for advertising and marketing consistent with this Privacy Policy." It continues, If you are under 18 or otherwise would be required to have parent or guardian consent to share information with Nuance, you should not send any information about yourself to us."
The lawsuit alleges the toys are violating COPPA because they're marketed to "ages 4 and up" and being mostly used by kids under age 18. Under COPPA, companies gathering kids' data have to provide notice to, and obtain consent from parents regarding data collection. They also have to provide parents tools to access, review and delete this data if wanted, as well as the parental ability to dictate that the data can be collected, but not shared with third parties. The complaint suggests neither Nuance or Genesis Toys are doing any of this.But Genesis is also under fire for the fact that these toys just aren't all that secure. A report by the Norwegian Consumer Council (pdf) found that a lot of the data being transmitted by these toys is done so via vanilla, unencrypted HTTP connections that could be subject to man-in-the-middle attacks.While Genesis faces a lawsuit here in the States, the FTC has yet to act against the company. Overseas however, German regulators are taking a different tack and urging parents to destroy the data-collecting dolls entirely:
"An official watchdog in Germany has told parents to destroy a talking doll called Cayla because its smart technology can reveal personal data. The warning was issued by the Federal Network Agency (Bundesnetzagentur), which oversees telecommunications.Researchers say hackers can use an unsecure bluetooth device embedded in the toy to listen and talk to the child playing with it.
As it stands, German regulators say that a bluetooth-enabled device could connect to Cayla's speaker and microphone system within a radius of 33 feet. As a result, the doll is being effectively treated as a "concealed transmitting device," illegal under an article in German telecom law. A spokesman for the Federal Network Agency said it doesn't really matter what shape the device took; "it could be an ashtray or fire alarm" and would still be illegal. While demanding destruction of the dolls may be overkill, it's just another example of how privacy and security apathy continue to haunt the IoT space.

Permalink | Comments | Email This Story


Read more here

---
posted at: 12:00am on 24-Feb-2017
path: /Policy | permalink | edit (requires password)
0 comments, click here to add the first
---
---
YouAppi Infographic-Mobile Marketers Are Optimistic About the Future of Apps; Blis Integrates With World's Largest Beacon Network; Kaltura's New Lecture Capture Solution; Telmar founder and chairman Stanley P. Federman dies at 78

Furnished content.


YouAppi knows there are many challenges facing app marketers, most notably research from comScore showing that 49% of smartphone owners downloaded zero apps in the last month and the fact that the leading apps are owned by Facebook or Google. Good News! Research from Dimension Research commissioned by YouAppi shows that mobile marketers are optimistic [...]

Read more here

---
posted at: 12:00am on 23-Feb-2017
path: /Online_Marketing | permalink | edit (requires password)
0 comments, click here to add the first
---
---
Another Free Speech Win In Libel Lawsuit Disguised As A Trademark Complaint

Furnished content.


Unless the Supreme Court decides to weigh in on this long-running SLAPP lawsuit (highly unlikely -- and unlikely to be appealed to that level), it looks like it's finally the end of the line for Dr. Edward Tobinick and his quest to silence a critic of his questionable medical practices.Quick recap: Dr. Tobinick claimed he could treat Alzheimer's, strokes, and other neurological maladies by repurposing an immunosuppressant drug. Dr. Steven Novella disagreed with Tobinick's unsubstantiated claims and wrote a few blog posts detailing his problems with Tobinick's treatments.
Tobinick is not a neurologist, and yet he feels it is appropriate for him to treat multiple neurological conditions with an experimental treatment. It is generally considered unethical for physicians to practice outside of their area of competence and expertise. He is trained in internal medicine and dermatology and is certified in those specialties. He has never completed a neurology residency nor is he board certified in neurology.Despite his lack of formal training and certification, he feels he has ushered in a "paradigm shift" in the treatment of Alzheimer's disease – a disease that has proved challenging for actual neurologists for decades.
Novella is not alone in his criticism of Tobinick's untested treatment methods. Early on in the case, Marc Randazza summarized the general medical community mood.
Dr. Novella's critical opinions of the Plaintiffs are not outlier views. In fact, the prevailing view seems to be that Dr. Tobnick is, at best, irresponsible. On the first page of Google alone, there are numerous other articles written by other authors, entirely unrelated to the article at hand, that also express critical and unflattering opinions of Tobinick and Plaintiffs' "medical" practice.
Hoping to avoid an anti-SLAPP ruling or the judicial scrutiny that normally comes with defamation complaints, Tobinick tried to frame his censorship pleas as trademark law violations, claiming Novella's blog posts were "commercial speech" designed to interfere with his ability to earn an income treating people with questionable drug repurposing.The lower court didn't care much for Tobinick's arguments. It found no merit in his severely-stretched Lanham Act claims and, better yet, applied California's anti-SLAPP law to the lawsuit Tobinick filed in Florida.Tobinick appealed. And all he's really succeeded in doing is generating more legal fees he'll be responsible for. The Eleventh Circuit Appeals Court has upheld [PDF] the lower court's decision, handing Dr. Novella, attorney Marc Randazza, and the First Amendment a significant win. (If you're a fan of oral, the arguments can be found here.)
Appellants Edward Lewis Tobinick, MD ("INR CA"), INR PLLC ("INR FL"), and M.D. Edward Tobinick ("Dr. Tobinick") (collectively, the "Tobinick Appellants") appeal the district court's orders striking INR CA's state law claims pursuant to California's anti-SLAPP statute, twice denying amendment of the Tobinick Appellants' complaint, denying relief pursuant to Federal Rules of Civil Procedure ("Rule") 37, 56(d), and 60 due to potential discovery-related abuses, and granting summary judgment against the Tobinick Appellants on their Lanham Act claim. We affirm the district court in all respects.
As for Tobinick's attempt to keep an anti-SLAPP law from another state from killing his Florida lawsuit, the appeals court points out that if this was an issue Tobinick wanted addressed, he needed to raise it with the lower court, rather than use the appeals process to develop unexplored options.
The Tobinick Appellants waived their challenge to the district court's application of California's anti-SLAPP statute based on the Erie doctrine. The Tobinick Appellants did not raise the Erie claim in their response to Dr. Novella's special motion to strike INR CA's state law claims, nor do the Tobinick Appellants now contend that they ever raised the issue before the district court. Moreover, when asked by the district judge "what about the issue of anti-SLAPP statutes applying in diversity cases in federal court?" the Tobinick Appellants' counsel responded "[t]here seems to be a plethora of case law that suggests that it is allowable in diversity actions in federal court."No exception to waiver saves the Tobinick Appellants' claim. The Tobinick Appellants have not identified any miscarriage of justice resulting from a finding of waiver, nor do we see one, given the weakness of the Tobinick Appellants' state law claims.
The appeals court is even less kind to Tobinick's Lanham Act violation accusations -- all of which hinge on defining Novella's blog posts as commercial speech. Not only did Tobinick repurpose trademark law in an attempt to turn a baseless libel lawsuit into something that might survive the first motion to dismiss, but his Lanham Act arguments rely on a conspiracy theory Alex Jones himself might find implausible.
As a preliminary matter, there is no factual dispute as to where the articles were displayed online, how the websites were set up, and whether the websites generated revenue through advertisements and membership subscriptions. The Tobinick Appellants describe a complex "funneling" scheme to generate profit for Dr. Novella, in which the Tobinick Appellants claim that the two articles are connected to other websites through hyperlinks in a way that readers are directed to websites that generate revenue for Dr. Novella, such as through advertising or membership subscriptions. This funneling theory, which attempts to connect the articles to revenue sources, relies on such a level of attenuation that it fails to demonstrate economic motivation in the commercial speech context.
Even if it were more easily-connected, Novella's speech would still be protected and not in violation of the Lanham Act. The court points out Novella's medical practice has no overlap with Tobinick's. Furthermore, the content of Novella's articles -- the examination of a potentially-dangerous misapplication of immunosuppressant drugs -- is very much in the public interest, which only strengthens its First Amendment protections.As the court points out, finding critical speech that results in revenue a violation of the Lanham Act would do serious harm to the most famous beneficiaries of the First Amendment.
To be sure, neither the placement of the articles next to revenue-generating advertising nor the ability of a reader to pay for a website subscription would be sufficient in this case to show a liability-causing economic motivation for Dr. Novella's informative articles. Both advertising and subscriptions are typical features of newspapers, whether online or in-print. But, the Supreme Court has explained that "[i]f a newspaper's profit motive were determinative, all aspects of its operations—from the selection of news stories to the choice of editorial position—would be subject to regulation if it could be established that they were conducted with a view toward increased sales. Such a basis for regulation clearly would be incompatible with the First Amendment."Furthermore, as our sister circuits have recognized, magazines and newspapers often have commercial purposes, but those purposes do not convert the individual articles within these editorial sources into commercial speech subject to Lanham Act liability.
This puts Dr. Tobinick back where he was in October 2015: on the hook for legal fees because he figured the best response to speech he didn't like was a bogus Lanham Act lawsuit. And, as is of particular relevance given recent events, more courts are applying states' anti-SLAPP laws to baseless lawsuits, regardless of the jurisdiction in which they're filed.

Permalink | Comments | Email This Story


Read more here

---
posted at: 12:00am on 23-Feb-2017
path: /Policy | permalink | edit (requires password)
0 comments, click here to add the first
---
---
Coalition Slams DHS Plans To Demand Social Media Passwords

Furnished content.


Starting last summer, we noted that the Department of Homeland Security had quietly tested the waters to expand the information it requested of travelers entering the United States, to "optionally" include social media handles. By December it was officially in place. And then, just days into the new administration, the idea was floated to expand this program even further to demand passwords to social media accounts.In other words: that escalated quickly. We went from "hey, maybe we could ask people to volunteer what their social media profiles are" to "hey, let's demand all social media accounts, including passwords" in, like, six months.In response, a ton of human rights and civil liberties organizations have posted an open letter condemning this dangerous plan.
This proposal would enable border officials to invade people's privacy by examining years of private emails, texts, and messages. It would expose travelers and everyone in their social networks, including potentially millions of U.S. citizens, to excessive, unjustified scrutiny. And it would discourage people from using online services or taking their devices with them while traveling, and would discourage travel for business, tourism, and journalism.Demands from U.S. border officials for passwords to social media accounts will also set a precedent that may ultimately affect all travelers around the world. This demand is likely to be mirrored by foreign governments, which will demand passwords from U.S. citizens when they seek entry to foreign countries. This would compromise U.S. economic security, cybersecurity, and national security, as well as damage the U.S.'s relationships with foreign governments and their citizenry.Policies to demand passwords as a condition of travel, as well as more general efforts to force individuals to disclose their online activity, including potentially years' worth of private and public communications, create an intense chilling effect on individuals. Freedom of expression and press rights, access to information, rights of association, and religious liberty are all put at risk by these policies.The first rule of online security is simple: Do not share your passwords. No government agency should undermine security, privacy, and other rights with a blanket policy of demanding passwords from individuals.
There are lots of reasons why the proposal is bad -- but the security one is probably the biggest. People should never share passwords with anyone, but most especially foreign governments who have no interest in protecting them. And the letter is accurate that this will just encourage other countries to do this back to Americans (and others) and create a massive security nightmare. And that doesn't even touch on the chilling effects created by such promised surveillance.Of course, one hopes that this kind of insane policy will get people to recognize that passwords suck as a security system. At the very least, it should encourage people to use multifactor authentication that can't just be handed over to some random border control person demanding your passwords. But that's no excuse for DHS going down this path in the first place. It's a bad proposal that won't help DHS protect us, but will cause tremendous harm and create serious security problems.

Permalink | Comments | Email This Story


Read more here

---
posted at: 12:00am on 23-Feb-2017
path: /Policy | permalink | edit (requires password)
0 comments, click here to add the first
---
---
Stalled At Install: AppLift on Just Why Re-Engagement Matters

Furnished content.


AppLift, a mobile advertising technology company, has created an infographic showcasing why re-engagement matters and how marketers need to move beyond the install. Stalled at install? Installs don't necessarily reflect the success of an app nor does it guide user engagement, so app marketing efforts are becoming increasingly focused on engaging and retaining customers. Based [...]

Read more here

---
posted at: 12:00am on 22-Feb-2017
path: /Online_Marketing | permalink | edit (requires password)
0 comments, click here to add the first
---
---
The Role of Transparency in the Digital Age

Furnished content.


Adotas is pleased to offer a Q&A with Carl Erik Kjrsgaard, co-founder and CEO of Blackwood Seven, a company that uses artificial intelligence to automate the media-buying process for marketers, allowing them to have more control in how their money is invested and how media inventory is bought; this puts an emphasis on the transparency [...]

Read more here

---
posted at: 12:00am on 22-Feb-2017
path: /Online_Marketing | permalink | edit (requires password)
0 comments, click here to add the first
---
---
Court To Cop: You Took 80 Days Away From A Person's Life With A Baseless Warrant, So We're Taking Your Immunity

Furnished content.


In 2009, April Yvette Smith was arrested on drug dealing charges and spent 80 days in jail. The charges were ultimately dropped by the district attorney, but by the time it happened, Smith had already lost her job. The same can't be said for the officer who obtained her arrest warrant. His job was always secure. The only thing he's lost -- seven years after the fact -- is his immunity from Smith's civil rights lawsuit.The chain of events leading to Smith's wrongful arrest are as horrible as they are stupid. Somewhere between Barney Fife and the banal evil of law enforcement ineptitude lies Officer Jason Munday. It starts with a "wired" confidential informant and ends in an indifferent "investigation" that sounds as though Munday just got bored sitting around the office.Here's how it began, as detailed in the Fourth Circuit Court of Appeals opinion [PDF]:
On March 10, 2009, officers Munday and McGinley conducted an undercover investigation using a confidential informant, Rufus Lynch Sr. The officers searched Lynch, wired him with audio and video recorders, and gave him sixty dollars. Lynch then went to 728 East Pine Street, where he purchased crack cocaine from two individuals. After the transaction, Lynch returned to the officers. He told the officers that he purchased drugs from April Smith, a black female. The detective's notes identify April Smith as such: "B/F April Smith," and "April B/F skinny $20 1 rock in plastic, Smith 40s."
So far, so good… except for the many small details that collaborated to ensure the recording was useless.
Because the audio recorder had no batteries, it failed to record the transaction. And because the camera wired to Lynch pointed in the wrong direction, the video recording did not capture the drug sale. The video instead shows an unidentified black woman sitting on a front porch, and two other individuals standing on the porch.
Sending out someone to collect recordings and ending up with something approaching hearsay isn't the best way to begin an investigation. But that didn't stop Munday from moving slowly and fitfully towards an arrest he had no probable cause to make.
At some point during the next nine months, Munday scanned police databases for residents of Lincoln County named April Smith with criminal records. He then stumbled upon April Yvette Smith, a black woman who lived in Lincoln County and had been convicted of selling crack cocaine in 1993, 1997, and 2005. His search also revealed at least two other April Smiths with criminal records. He had no indication that the woman who sold crack cocaine to Lynch in March 2009 had a criminal record, or was even a Lincoln County resident. And the record reflects no further attempt by Munday to investigate Smith or connect her to the crime.
Having wrapped up his ultra-cursory investigation, Munday applied for an arrest warrant, snagging one of the April Smiths he had come across during his desktop browsing -- nine months later and eleven miles away from the site of the drug sale that wasn't properly recorded.April Smith spent the next 80 days in jail, facing potential prosecution. Munday presumably went back to half-assing his way through his law enforcement career.The lower court granted Munday immunity, stating that probable cause existed to arrest pretty much any April Smith who fit at least part of the description. The Appeals Court disagrees.
[E]ven ignoring Smith's weight, a criminal history, common race, common gender, and unfortunately common name is not enough to establish probable cause.[...]When applying for an arrest warrant, Munday simply did not have enough information for any reasonable or prudent person to believe there was probable cause. He lacked any information connecting Smith's conduct to the contours of the offense, and certainly lacked enough evidence to create any inference more than mere suspicion.
As the court points out, Munday did nothing that even approached the definition of "investigation." All he did was browse a criminal record database and decide someone named April Smith was going to get a rap and a ride. For all the policework that went into this, Munday may as well have used a dartboard to generate his "probable cause."
[T]o find the offender, Munday merely ran a broad search in the department's database of individuals with criminal histories, looking for a woman of the same name. And when he found multiple individuals, at least two of whom were black women named April Smith weighing between 130 and 140 pounds, he chose one for no immediately apparent reason.[...]There is no evidence that Munday attempted to identify Smith as the black woman in the video footage. There is no evidence that the officers showed Lynch a photo of Smith to establish the identification. There is no evidence that the officers investigated Smith herself, or found any indication that Smith frequented the site of the drug sale that day, that month, or at all. Indeed, there is no explanation whatsoever for the nine-month delay between Lynch saying a black woman named April Smith sold crack cocaine to him and the issuance of an arrest warrant for April Yvette Smith.
Citing a previous case handled by this circuit, the Appeals Court calls Officer Munday out for his abject failure to perform any investigative work whatsoever before moving forward with an arrest.
"Horner was 'not required to exhaust every potentially exculpatory lead or resolve every doubt'" to show probable cause. Id. at 190 (quoting Miller v. Prince George's County, 475 F.3d 621, 630 (4th Cir. 2007)). But he still had to conduct some level of investigation. And he did. Munday conducted none.
And so, the court concludes Munday can't have the immunity granted to him by the lower court. The warrant he applied for was so lacking in probable cause, the court cannot possibly extend him this legal nicety.
[E]ven a glance shows that Munday was unreasonable if he believed he had probable cause. Smith did have a criminal history for possessing and selling cocaine. But as discussed above, Munday had no evidence about her conduct whatsoever, let alone any evidence connecting her to the crime in question. It would be unreasonable for any officer to view Munday's dearth of evidence as sufficient to establish probable cause. As a result, qualified immunity does not apply.
Because Munday failed to do his job, April Smith (allegedly) lost hers. Smith has already faced the consequences of Officer Munday's actions. Now, it's Munday's turn.

Permalink | Comments | Email This Story


Read more here

---
posted at: 12:00am on 22-Feb-2017
path: /Policy | permalink | edit (requires password)
0 comments, click here to add the first
---
---
After Losing 10,000 Viewers Per Day, ESPN Finally Buckles To Offering Standalone Streaming Video Service

Furnished content.


For years now, ESPN has been the perfect personification of the cable and broadcast industry's denial regarding cord cutting. Long propped up by a system that forces consumers to buy massive bundles of largely-unwatched channels, ESPN has struggled with the rise of streaming alternatives and sleeker, "skinny" channel bundles. The sports network, which has lost 7 million viewers in just a few years, has been trying to argue that these losses (which caused Disney stock to lose $22 billion in value in just two days at one point) are simply part of some kind of overblown, mass hallucination.Last year, ESPN exec John Skipper even went so far as to suggest that these departing customers weren't worth keeping anyway:
"People trading down to lighter cable packages. That impact hasn't leaked into ad revenue, nor has it leaked into ratings. The people who've traded down have tended to not be sports fans, and have tended to be older and less affluent. We still see people coming into pay TV. It remains the widest spread household service in the country after heat and electricity."
In other words, there's "nothing to see here" -- outside of the total collapse of our entire legacy business model. At one point late last year, ESPN even went so far as to make a giant (unwarranted) stink about Nielsen data showing the cable channel had lost 621,000 homes in a single month. Things still aren't looking particularly good for the company, with Disney's earnings indicating that ESPN is fairly consistently losing about 10,000 viewers per day. That's not surprising when you see surveys indicating that 56% of subscribers would drop ESPN in a heartbeat if it meant saving the $8 per user the channel is estimated to cost consumers.Despite these numbers, Skipper and other ESPN executives have spent the last few years insisting that offering a standalone streaming app (you know, evolving for the market you're doing business in) wasn't financially viable:
"We could sell ESPN, as a standalone product, but we don't believe it to be a good business," Skipper said. "We're in 90 million homes," he added, "so no, we do not have a contemplation now that we would launch as a standalone."
That was then, this is now. And ESPN executives appear to have been overruled by Disney higher ups. Speaking on the company's recent earnings call, Disney CEO Bob Iger said that ESPN would now be conducting an about-face, and would launch a standalone streaming video service sometime in the next year or so:
"Iger affirmed that ESPN will launch a branded standalone streaming service later this year, in partnership with BAMTech, the digital technology firm in which Disney bought a $1 billion stake last year. He also talked up the prospects for ESPN to offset the industry-wide trend of declining subscriber rates via from traditional MVPDs through gains from the handful of upstart streaming channel packages that are in the works."
Necessary evolution -- how novel! Granted, ESPN's still on the hot seat. I've heard from several industry insiders familiar with ESPN's contracts with cable companies that language currently prevents cableco's from breaking ESPN out of the core channel lineup (something ESPN sued Verizon for in 2015, because of course) unless ESPN offers its own streaming service standalone. In other words ESPN's in for a rocky stretch either way.Either the company launches a streaming video service that encourages cable companies to kick ESPN from the core bundle, further eroding ESPN's traditional cable customer totals, or they refuse to offer such a service and these users leave anyway. But when you're facing a major dismantling and reconfiguring of a legacy industry due to disruption, it's better to be out in front of it and ready to meet evolving user demand, than stumbling around blindly in denial.

Permalink | Comments | Email This Story


Read more here

---
posted at: 12:00am on 22-Feb-2017
path: /Policy | permalink | edit (requires password)
0 comments, click here to add the first
---
---
This Week In Techdirt History: February 12th - 18th

Furnished content.


Five Years AgoThis week in 2012, mass anti-ACTA protests broke out across Europe as opposition to the bill continued to swell. Bulgaria joined the list of EU members halting ratification of the treaty and even the European Parliament's president spoke out against it. The EU official who resigned in protest of ACTA explained further what was wrong with it, the head of Mozilla called it a bad way to develop policy, Public Knowledge made a strong call for greater transparency in such agreements, and our own Glyn Moody offered a thorough debunking of the European Commission's list of supposed "myths" about ACTA as well as the idea that there's any meaningful transparency at all. Despite all this, the IFPI and other lobbyists stood by the agreement, even having the gall to claim that the public protests were silencing the democratic process.Ten Years AgoThings were pretty grim on the copyright front this week in 2007. The RIAA was making its first forays into voluntary enforcement deals with ISPs that would forward settlement letters, which would eventually morph into the now-dead six strikes program. The US entertainment industry was trying to get Canada condemned as a pirate haven while its Canadian counterpart was itself pushing for an iPod tax. Microsoft was introducing yet another DRM scheme even as one survey showed that even two-thirds of music industry executives thought ditching DRM would be a good idea. Hollywood was beginning a new crusade against Google, not over YouTube but over ads on P2P websites, and a jury sided with sample troll Bridgeport in yet another abuse of the George Clinton copyrights they own. There was, at least, one victory: an EFF-backed lawsuit forced a prolific DMCA abuser to rescind his baseless takedown notices.Fifteen Years AgoThere was one event this week in 2002 so much more significant than the others that it deserves the sole focus this week. Today, CC licenses are an integral part of the world of digital content, but (because copyright is a disaster) such open and flexible licenses were not always so easy to employ no matter how much a creator might want to. But it was this week fifteen years ago that we first learned that Lawrence Lessig and a team of other people were working on a new project called Creative Commons to provide an alternative to copyright.Two Days AgoWhat, two days ago? Yes: this week, I'm using this space to remind everyone about the Techdirt Survival Fund that we launched on Friday along with our filings in the lawsuit we face. We're very grateful to everyone who has donated so far, and hope you continue to give generously and spread the word so we can continue our fight for free speech.Techdirt is off tomorrow for President's Day. We'll be posting the weekly comment winners at noon, and back to our regular schedule on Tuesday!

Permalink | Comments | Email This Story


Read more here

---
posted at: 12:00am on 20-Feb-2017
path: /Policy | permalink | edit (requires password)
0 comments, click here to add the first
---
---
Order This Weekend To Get The Next Batch Of Techdirt Gear!

Furnished content.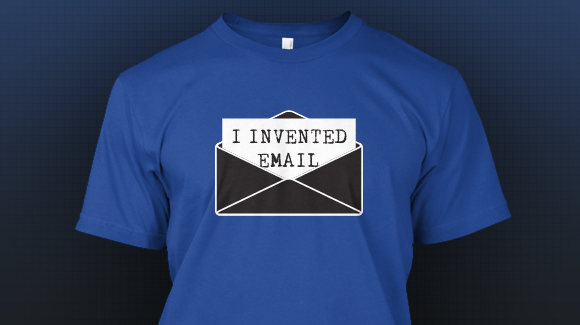 New Gear From Techdirt: I Invented Email »As some of you might have noticed, recent upgrades over at Teespring have allowed us to change the way we offer Techdirt gear. Instead of running individual week-or-two long campaigns that only print and ship once the whole thing is completed, we've now got our logo gear (in two styles) and our I Invented Email gear running on a cycle with new orders printing and shipping every three days, so you don't have to wait nearly as long to get your hands on it. Those of you who already ordered should be getting your shirts, hoodies et al soon!Another batch closes tomorrow (Sunday) night — so order now to get in on the next shipment! The Email gear won't be around forever, so don't wait too long.

Permalink | Comments | Email This Story


Read more here
---
posted at: 12:00am on 19-Feb-2017
path: /Policy | permalink | edit (requires password)
0 comments, click here to add the first
---
---
Game, [Data] Set, Match: How Deep Learning Turned Sci-Fi-esque Predictive Intelligence Into Reality

Furnished content.


It's been 20 years since IBM's supercomputer Deep Blue defeated world chess champion Gary Kasparov, in a historical first victory for artificial intelligence. What was once a futuristic concept in 1997, has slowly become part of everyday reality. Scientists have since made huge steps towards creating a computing system that emulates the human brain's neurons, [...]

Read more here

---
posted at: 12:00am on 18-Feb-2017
path: /Online_Marketing | permalink | edit (requires password)
0 comments, click here to add the first
---
---
Techdirt Survival Fund: I Support Journalism

Furnished content.



Donate to the Techdirt Survival Fund »As we mentioned last month, we are currently being sued for $15 million by Shiva Ayyadurai, represented by Charles Harder, the lawyer who helped bring down Gawker. We have written, at great length, about Ayyadurai's claims and our opinion backed up by detailed and thorough evidence that email existed long before Ayyadurai created any software. Once again, we believe the legal claims in the lawsuit are meritless and we intend to fight them and win. Earlier today, we filed a motion to dismiss (along with our memorandum in support) and a special motion to strike under California's anti-SLAPP law (along with a memorandum in support). You can see all of those below. I encourage you read through them.Unfortunately, the fight itself is incredibly distracting and burdensome. It has taken up a significant amount of my time (and the time of others who work here) over the last month and delayed multiple projects that we were working on, and even forced us to pass on writing about many stories we would have liked to cover. Even though we are confident in winning the legal fight, it has already taken a massive toll on us and our ability to function and report. We have now set up a Techdirt Survival Fund at ISupportJournalism.com, which will allow us to continue our reporting on issues related to free speech and the growing threats to free speech online, while continuing to fight this legal battle. We've put together an all-star steering committee to help us oversee how the funds will be spent, including representatives from both the Freedom of the Press Foundation and EFF.Many of you have already supported us in various ways -- by becoming Techdirt Insiders, supporting us on Patreon or by buying t-shirts. We are so grateful for all initial support we've received, but for us to survive, we unfortunately need to ask for more help. Please consider supporting us via this new fund and spreading the word as well.In this era, especially, strong independent voices in journalism are necessary. Allowing lawsuits to stifle freedom of expression online, silencing voices and creating chilling effects, is a huge threat to how a responsible society functions. Please support Techdirt and support journalism.
Donate to the Techdirt Survival Fund »

Permalink | Comments | Email This Story


Read more here
---
posted at: 12:00am on 18-Feb-2017
path: /Policy | permalink | edit (requires password)
0 comments, click here to add the first
---
---
Chinese Trademarks And The Emoluments Clause: Do They Intersect In The Trump Presidency?

Furnished content.


As the world continues to get used to an America with a President Donald Trump at its head, the binary nature of the current political climate has reared its own head in unfortunate ways. One example of this is the stunning speed with which many of those previously ignorant of the emoluments clause of the Constitution, as the Title of Nobility Clause is commonly called, have feigned familiarity with it. As one of my colleagues here termed it, the "emoluments hunting" going on is transparently political in nature, rather than representing a serious effort at protecting the public interest from the shadow of undue influence and sanctioned bribery over our highest political office.Both sides of the American aisle are badly misusing this important constitutional text. Those whose skin might crawl at the mere words "President Trump" seem to find emoluments violations everywhere, even in the most trivial of cases. Trump himself, of course, hasn't helped in the matter, even when he easily could, as he has shirked the norms of disentangling the presidency from the previous life of he who holds that office. Trump, you will recall, has distanced himself from the decision-making aspects of the family business, but not the profits of it. It's an important distinction, which we'll get into in a moment.But first, for the sake of context, let's start with the text of the emolument clause, as well as the framers' reasons for its inclusion in the highest law of our land. The text itself is blessedly short and seemingly simple.
No title of nobility shall be granted by the United States: and no person holding any office of profit or trust under them, shall, without the consent of the Congress, accept of any present, emolument, office, or title, of any kind whatever, from any king, prince, or foreign state.
The purpose for the clause was stated explicitly by Alexander Hamilton in the Federalist Papers.
"One of the weak sides of republics, among their numerous advantages, is that they afford too easy an inlet to foreign corruption."
That's pretty straight forward. To prevent the corruption of those in office, those who hold office are restrained from accepting titles, gifts and remuneration from foreign states or foreign leaders. Now, Trump and his allies have claimed repeatedly that the clause does not apply to the President. To do this requires a tortured reading of the clause itself, the blatant ignoring of its intention, as well as a peculiar emphasizing of certain historical events. For example, an oft-cited "proof" of the claim is that Hamilton himself responded to a request by Congress for a list of all persons holding office in the United States, as well as their salaries, with a list consisting only of those officers appointed, while omitting anyone who held elected office. When you have to reach that far back to such a simultaneously tangential and trivial historical instance to argue that a President should be allowed gifts from foreign governments, you don't have much of an argument at all.And that debate has taken on a certain amount of primacy at present, because for all of the "emoluments hunting" currently going on, there are some very real instances where the raising of the clause is perfectly valid. One of those intersects nicely with a subject we discuss here regularly: trademarks. Chinese trademarks, specifically, now that President Trump, the businessman, has managed to win trademark rights in China after a long slog of a fight that only turned in his favor when he became Donald Trump, the President.In the context of the entire point of the emoluments clause, it cannot be stressed enough just how long this fight has been going on.
In 2006, Trump applied for a trademark for "Trump" in connection with a company providing construction services in China. China's Trademark Office rejected the application, on the grounds that someone else (Dong Wei) had filed a similar application about two weeks earlier, and had priority under China's first-come-first-served trademark rule.** There are, apparently, more than 200 other "Trump" marks on the Chinese trademark register — for everything from Trump toilets to Trump pacemakers, Trump condoms and even a "Trump International Hotel" — that have been claimed by persons other than Trump (or any of the Trump Organizations). This, as all good trademark nerds will recognize, is a concrete illustration of a common problem in "first-to-file" jurisdictions, where it can be relatively easy to "reserve" a mark by filing an application, without evidence that you are actually using the mark in question.
Since that initial rejection in 2006, the Trump business has appealed the decision all the way up the Chinese legal ladder, and lost at every turn. The last loss his business suffered on the matter came in May of 2015, shortly before Trump declared his candidacy for President. The rulings, again, only went in one direction against Trump the businessman, and that was a losing direction.Suddenly, in April of last year, Trump suddenly went back to the Trademark Review and Adjudication Board, which had ruled against his appeal of the original rejection of his trademark application, and asked it to simply review its previous decision. Strangely, the Review Board suddenly reversed course, invalidating Dong's trademark. Trump's trademark was not codified until November 13th, in the immediate aftermath of his winning the Presidency. Immediately after that, the Trump organization applied for nearly fifty other trademarks in China, all of which are pending.In the context of this complete reversal, the timing of which coincides with Donald Trump becoming President of the United States, does this register as a violation of the emoluments clause? If we can finally resolve this question about whether the clause applies to the President in a way that preserves both the framers' intentions as well as the realm of common sense, it sure seems to be.
It's not bribery, exactly, that we're trying to prevent in this clause. We don't need a special constitutional provision prohibiting office-holders from taking bribes, because taking bribes is already illegal under the common law, and it is also one of the "high crimes and misdemeanors" for which office-holders can be impeached. But it's a close cousin to bribery; accepting an emolument introduces an improper element — personal gain — into the decision-maker's calculus, less obviously and overtly than in cases of actual bribery, but no less serious for that.And that is precisely the situation Trump is now in. He has 49 additional applications pending before the Chinese Trademark Office. He has been given a nice, valuable gift, and he could be forgiven for thinking that other similar gifts could follow (if he behaves himself well).
It's worth repeating that this question could have easily been avoided had Trump bowed to the norms of the presidency and gone further to divest or partition his office from his business than he has. The only reason we're having this conversation is because our current President made the decision to make such questions relevant. And since Trump currently has the status both of President and businessman, benefits to the one must be considered benefits to the other. The granting of trademarks ought to be included in this, particularly given the circumstances surrounding how and when those trademarks went from being wholly rejected to suddenly being granted.And for those who would point out that Trump is merely getting his legal benefits under Chinese law, that shouldn't matter.
But why should that matter for purposes of the foreign emoluments clause? If France had had a law that gave all visiting Americans a snuff box (if they came at a certain time to the Hotel de Ville and submitted an application), would Jefferson have been able to keep his? Wouldn't it have been just as troublesome in those circumstances as an outright gift would have been?
Questions like this were bound to arise after we elected our first billionaire businessman-President. Those questions were assured to exist when that President refused to divest from his business. And we shouldn't look negatively upon our President's previous business success or acumen. But the emoluments clause does exist and, if it is to have any relevant meaning at all, it seems likely that these Chinese trademarks violate it. If nothing else, perhaps cases such as these will finally bring legal clarity to whether the clause applies to the President, because that's a question that is practically begging to be answered at this point.

Permalink | Comments | Email This Story


Read more here

---
posted at: 12:00am on 18-Feb-2017
path: /Policy | permalink | edit (requires password)
0 comments, click here to add the first
---
---
Growth of Location-Based Mobile Video Ads Is 2016s Top Mobile Ad Trend

Furnished content.


Mobile Video SSP Positive Mobile reveals found interesting trends in political, travel, CPG and home improvement (retail) mobile video ads in 2016. Check out their infographic on Top Mobile Advertising Categories, below. If there is one trend which defined mobile advertising in 2016 is the growth of location-based mobile video ads, which jumped from around [...]

Read more here

---
posted at: 12:00am on 17-Feb-2017
path: /Online_Marketing | permalink | edit (requires password)
0 comments, click here to add the first
---
---
Court: Unsupported Assertions And Broad Language Aren't Enough To Support Cell Phone Searches

Furnished content.


Another court has stepped up to inform law enforcement that just because criminals are known to use cell phones doesn't mean any cell phone possessed by a suspect is fair game -- warrant or no warrant.This time it's the Superior Court of Delaware making the point. In its suppression of evidence found on a seized cell phone, the Superior Court makes it clear that cell phones are used by everyone -- not just criminals. Not only that, but if an officer is going to seek a warrant that effectively allows them access to the owner's entire life, the warrant needs to contain more specifics and limitations than this one did.During a consensual search of an apartment where a homicide suspect (Qualeel Westcott) was staying, police came across heroin and three mobile phones. All three of the phones were seized. A warrant was obtained to search the content of the phones. But a warrant alone isn't good enough. While a warrant is better than nothing at all, the warrant here -- according to the court -- barely exceeded "nothing at all."While the court does recognize [PDF] there's a good likelihood that phones possessed by suspects will often contain useful evidence of criminal activity, it takes far more than the bare bones assertions made by the officer obtaining the warrant, which did almost nothing to establish a relationship between the phone and suspected criminal activity. (via FourthAmendment.com)
[H]owever, Detective Sergeant Horsman did not expressly state any nexus between Mr. Westcott's ownership of the mobile phone and the existence of evidence of the crimes (including a confession) on that mobile phone. Although the magistrate may draw reasonable inferences from the factual allegations of the affidavit, the leap required here is a long one. The mere fact that a defendant owns a mobile phone is not, in and of itself, sufficient to warrant an inference that evidence of any crime he or she commits may be found on that mobile phone. The affidavit did not provide probable cause for a search.
The court goes on to point out that even if Sergeant Horsman had managed to do a better job establishing a nexus, the warrant would still fail because of how broadly written it was. State law, along with judicial precedent, have set the bar higher for warrants seeking information stored in citizens' cell phones. As the Supreme Court pointed out in its Riley decision, phones are not simply "containers" that can be rifled through with a minimum of particularity. They are people's "entire lives." With that in mind, the warrant sought in this case is an abject failure.
Here, the search warrant authorizes a search of all "data and cellular logs." This description does not limit the scope of the officer's search of the mobile phones to relevant material and does not place any limitation on the types of "data, media, and files" to be searched.There is also no temporal limitation on the search. The police alleged that the shooting occurred on May 11 and the presence of heroin at the apartment provided probable cause for its recent distribution. The police should have sought a more limited search warrant permitting the search of suitably recent data from the phones.Instead, the application sought a general search "of the three phones." The warrant thus provides broad permission to rummage through the entire digital lives of the phones' owners. Accordingly, it does not contain the level of particularity required under the Constitution of the United States, the Delaware Constitution, or Delaware statute.
Yes, it's true that criminals use cell phones. That makes them indistinguishable from a majority of the United States' population. But the wealth of information stored in the average cell phone makes them far different than a filing cabinet or a cardboard box full of personal papers. Courts are doing a (slightly) better job at demanding more from law enforcement officers when they seek to access these contents. The first part of it is to establish something more than "criminals use cell phones" when seeking a warrant. The second part is even more important: limiting the search to just what's needed to uncover evidence related to the criminal act. Particularity is a must. Without it, a cell phone search warrant is nothing more than a boilerplate-backed Law Enforcement Fishing Expedition (Short Form).

Permalink | Comments | Email This Story


Read more here

---
posted at: 12:00am on 17-Feb-2017
path: /Policy | permalink | edit (requires password)
0 comments, click here to add the first
---
---
Pro-Marijuana Student Organization Wins Court Case Over Using School Logos

Furnished content.


We've seen stories in the past in which higher educational institutions attempt to slap down students' use of school iconography when it comes to advocating for marijuana legalization. Trademark law is the preferred bludgeoning tool in many of these cases, regardless of whether or not the uses in question actually pass the muster on the tests for Fair Use. Still, at least in most of these cases the schools are at least quick to act and staunch in their attempts to silence a completely valid political position by the student body.That's not so in the recent dust up between a pro-marijuana student group and Iowa State University. In this particular case, the student group got approval from ISU to use school trademarks, only to have that approval rescinded once a bunch of politicians got involved. The organization created by students is called the National Organization for the Reform of Marijuana Laws, or NORML.
When NORML ISU first formed, in 2012, group members submitted a request for approval of a t-shirt saying "Freedom is NORML at ISU" with a small cannabis leaf above the slogan, and the Trademark Office initially approved it.Soon thereafter, the Des Moines Register ran an article about marijuana legalization in which ISU student Josh Montgomery, then president of the school's NORML chapter, mentioned that ISU was supportive of his organization's efforts and had even approved the aforementioned t-shirt. On the day the Register article ran, the Iowa House Republicans Caucus sent a formal letter to ISU leadership asking whether they had actually approved the NORML t-shirt. By the end of the day, ISU President Steven Leath and his top staff were emailing one another to discuss whether the school could revoke approval of the NORML design. The next day, a representative from the Iowa Governor's Office of Drug Control Policy personally contacted ISU administrators to voice concern with their t-shirt approval policies.
And almost immediately after that, ISU suddenly began putting holds on the approval for NORML's applications for using similar designs for t-shirts. Then came the rejections of all subsequent applications that included an image of a cannabis leaf, as well as an edict demanding that all of the group's future designs be submitted to the school for approval. NORML ISU then filed a lawsuit against the school, arguing that this arbitrary flip-flopping on the group's use of school trademarks was a violation of the students' First Amendment rights, as the decisions were being made clearly based on protected political speech. The District Court agreed, after which the school appealed.And now the appeals court has affirmed the lower court's ruling.
On Monday, the appeals court affirmed the district court's ruling, concluding that students' "attempts to obtain approval to use ISU's trademarks on NORML ISU's merchandise amounted to constitutionally protected speech." And state schools cannot discriminate against constitutionally protected speech on the basis of its viewpoint without proving that this restriction serves a compelling governmental interest and is narrowly tailored to serve that interest.
Specifically, the court decided that the school's decisions to refuse NORML's applications and designs were based on the political push-back it received from state politicians, making it a clear violation of free speech rights. Which is a pretty stunning thing for a public university to have done, if you think about it. State reps from one party from one state got a public university made up of students from all over the country to attempt to silence a perfectly valid political position by a student organization. Whatever such action is, it certainly isn't in the interest of, ahem, higher education.Good on the court for getting this right.

Permalink | Comments | Email This Story


Read more here

---
posted at: 12:00am on 17-Feb-2017
path: /Policy | permalink | edit (requires password)
0 comments, click here to add the first
---
---
ADJUST: Increasing Data Fraud Drives Modifications to Requirements and Infrastructure for the Mobile Market

Furnished content.


Adjust Calls for 'Measurement 2.0' to Solve Data Security and Privacy Problems. Adjust today announced its commitment to Measurement 2.0, a measurement concept reflecting market needs that are necessary today, but that were not present when measurement platforms were first coming to the market. The new 2.0 infrastructure comes at a time when the number [...]

Read more here

---
posted at: 12:00am on 16-Feb-2017
path: /Online_Marketing | permalink | edit (requires password)
0 comments, click here to add the first
---
---
Canada-EU Trade Deal Ratified By European Union; Now Needs Approval By All Member States' National Parliaments

Furnished content.


As Techdirt reported last November, while TPP and TAFTA/TTIP appear to be dead, the trade deal between Canada and the European Union (CETA) has been slowly working its way through the system. Today, the European Parliament approved the deal, which means that the European Union has completed the formal ratification process. However, for certain aspects of the agreement, notably the corporate sovereignty chapter, further approval is now needed by the national parliaments of all the EU's member states -- which means another 30+ votes that must all go in CETA's favor. That's by no means certain, as resistance has been mounting in a few countries. One of them is Belgium, where the Walloon region won important additional rights that may still be invoked.As we wrote last year, CETA's economic effects are likely to be tiny -- the official estimate is just 0.08% extra GDP in total for the EU -- or even negative. The very limited economic impact is confirmed in the official press release from the European Commission, where the only quantified benefit singled out is the following:
CETA creates new opportunities for EU companies. It will save EU businesses over €500 million a year currently paid in tariffs on goods that are exported to Canada. Almost 99% of these savings start from day one.
To put that saving in context, it's worth remembering that the EU population is roughly 500 million, so the only financial benefit that the European Commission mentions works out at around $1 per person per year. Since the European Commission would doubtless have trumpeted bigger benefits if there had been any, It's fairly safe to assume that this is pretty much all it could find. As for the highly-controversial matter of corporate sovereignty, aka investor-state dispute settlement, here's what the press release says:
The current form of investor-state dispute settlement (ISDS) that exists in many bilateral trade agreements negotiated by EU governments has been replaced with a new and improved Investment Court System. The new mechanism will be transparent and not based on ad hoc tribunals.
What it doesn't mention is that the "new and improved" system hasn't been fully worked out yet, and so any claimed advantages are purely theoretical at this stage. In a rather desperate attempt to justify a trade deal that has so few benefits, the Commission adds the following:
There is clear proof that free trade agreements spur European growth and jobs. As an example, EU exports to South Korea have increased by more than 55% since the EU-Korea trade deal entered into force in 2011. Exports of certain agricultural products increased by 70%, and EU car sales in South Korea tripled over this five-year period.
What the European Commission fails to say is that the EU trade deal with South Korea does not have any form of ISDS. If it offers "clear proof" of anything it is that successful trade deals have no need of a corporate sovereignty chapter, whether the old-style ISDS, or the "new and improved" lipstick-on-a-pig Investment Court System found in CETA.Follow me @glynmoody on Twitter or identi.ca, and +glynmoody on Google+

Permalink | Comments | Email This Story


Read more here

---
posted at: 12:00am on 16-Feb-2017
path: /Policy | permalink | edit (requires password)
0 comments, click here to add the first
---
---
New Report On Encryption Confirms There's More Of It, But Still Not Much Of A Problem For Law Enforcement

Furnished content.


CSIS (Center for Strategic and International Studies) has just released its report on encryption and it comes to the same conclusions many other reports have: encryption is good for everyone and law enforcement fears are overstated and mostly-unrealized. (h/t Kevin Bankston)The report [PDF] opens up with this statement:
It is in the national interest to encourage the use of strong encryption. No one we interviewed in law enforcement or the intelligence community disagreed with this.
The disagreement comes when law enforcement is prevented from pursuing investigative leads because of encryption. According to FBI Director James Comey and Manhattan DA Cyrus Vance, encryption is already a huge problem for law enforcement and will only get exponentially worse in the next few years. The CSIS report rebuts both of these statements.
While encryption use is growing rapidly, the share of traffic that is both of interest to law enforcement and unrecoverable is still relatively small. Most companies use encryption that allows law enforcement agencies to recover plaintext data. Most e-­mail, if it uses encryption, also allows for recovery. Currently, an estimated 18 ­percent of global communications traffic is end-­to-­end encrypted. It is estimated that 22 ­percent of communications traffic will be end-­to-­end encrypted by 2019.
This is far from the encryption apocalypse promised by Comey and Vance. There's an incremental increase taking place, not an exponential one. What could pose serious problems, though, is encryption-by-default on smartphones. As the report points out, if Android devices go the way of iPhones, 99% of the world's phones would keep law enforcement locked out.But that's only if law enforcement isn't able to access data and communications through device manufacturer/service provider cooperation, third-party app developers, email providers, and other, more old-fashioned techniques. One sure way to beat device encryption is to obtain the passcode from the user. This won't help much when the phone's owner is dead or can't be located, but compelling the production of a password is still far from settled, constitutionally-speaking. For phones secured with a fingerprint, owners are likely out of luck. A couple of courts have already reached the conclusion that providing a fingerprint isn't testimonial and has no Fifth Amendment implications.CSIS could have put together a better estimate on how many investigations are thwarted by encryption, but law enforcement agencies -- even those fronted by encryption opponents -- aren't interested in sharing this data with the public. The report points out that the problem remains mostly theoretical. Without data, all we have are assertions from law enforcement officials that something must be done. Failure to legislate backdoors or bans will apparently lead to a sharp uptick in criminal activity… except that's not happening either. The report points out that there's no data linking increased default encryption to increases in criminal activity.As for the world's terrorism, encryption is seldom a barrier to investigations or surveillance. There's no shortage of access points to intercept communications while they're still decrypted (or post-encryption stripping). According to the CSIS report, 90% of the world's instant messages are still accessible by law enforcement, even without interception. With surveillance data-sharing being the new normal in the US, law enforcement agencies will be able to dip into NSA collections to obtain communications that might otherwise be inaccessible through a suspect's device.The report notes that there's likely no consensus to be reached on the encryption issue. Because it protects both criminals and the innocent, it's difficult to see a nation's government -- at least those in the Western half of the world -- deciding to eliminate innocents' protections in hopes of nabbing a few more criminals. In the United States -- where certain rights have been long enshrined (if far too frequently ignored) -- the chance of anti-encryption legislation remains lowest. And, as the report's authors note, if the US doesn't make a move to curb encryption, it's unlikely the rest of the free world will do so on their own.The law enforcement agencies making the most noise about encryption are doing the least to help their own cause. Most of what's offered is anecdotal, rather than data-based. According to the FBI's own testimony, it only has about 120 inaccessible phones in its possession. As for other law enforcement agencies, the numbers are mostly unknown. Those that have chosen to make their numbers public have failed to show anything more than the expected rise in inaccessible phones due to default encryption. While the locked devices may number in the hundreds (Cy Vance's office says 423 locked phones were seized in a two-year span, which -- according to the office's numbers -- is still only a third of the devices in law enforcement custody), they're still in the minority of those obtained.These numbers will increase as the use of encryption increases, but if law enforcement and intelligence agencies don't like the way the future looks, they really only have themselves to blame. The report notes that the Snowden leaks -- which detailed massive surveillance programs operating under almost-nonexistent oversight -- prompted an encryption revival, both in terms of individuals doing more to ensure their privacy as well as well as device manufacturer encryption implementation.

Permalink | Comments | Email This Story


Read more here

---
posted at: 12:00am on 16-Feb-2017
path: /Policy | permalink | edit (requires password)
0 comments, click here to add the first
---
---
YouAppi Offering Re-Engagement at 20-40% ROI

Furnished content.


YouAppi, a mobile growth marketing platform for premium mobile brands, today announced it has expanded its OneRun Platform to now include re-engagement. According to data from YouAppi's initial re-engagement campaigns, between 20-40% of inactive users re-engaged with their apps, which is greater than standard industry re-engagement rates. Most apps lose a majority of their users [...]

Read more here

---
posted at: 12:00am on 15-Feb-2017
path: /Online_Marketing | permalink | edit (requires password)
0 comments, click here to add the first
---
---
Social Media Ads: What's New, What's Next

Furnished content.


As print media continues a downward spiral and radio and television are having a harder time reaching younger audiences, it's no surprise that social media ads are on the rise. After all, Millennials have lots of disposable income, they're a massive demographic, and they carry their mobile devices everywhere, so where else would you go [...]

Read more here

---
posted at: 12:00am on 15-Feb-2017
path: /Online_Marketing | permalink | edit (requires password)
0 comments, click here to add the first
---
---
Counterpoint: As Denuvo Lauds Its Weeks-Long Control, 20 Year Old Game Still Selling Due To Its Modding Community

Furnished content.


I've covered the saga of Denuvo DRM regularly as of late. The once-vaunted anti-piracy tool, thought to be the end of video game piracy altogether, has instead had its protection window reduced to somewhere between a week and some weeks. Despite the headwinds of reality, the folks behind Denuvo have bravely soldiered on, proclaiming the tool still useful for protecting the ever-important early-release window of new video games.And that's where I think a counterpoint needs to be made. The idea that the most important time in the sales cycle for a new video game is its initial release is almost gospel within the industry. And it's not without its logic, I suppose. Many, many games experience the vast majority of their sales upon initial release. But what if that wasn't the case? And what if by simply embracing the gaming community and releasing control over the product, instead of trying to cling to it with tactics like DRM, the sales cycle for a game became so long that it changed the math?What if more games were like Quake, in other words. And I mean the original Quake, released by id Software some twenty years ago. The game has continued to sell throughout these past two decades, but is going through something of a comeback recently. Why? Well, it's because the modding community that has developed around the game has kept it fresh and relevant.
Quake mapping is consistent, organized and unrelenting. Quake's community has mostly rallied around a singular download hub for nearly every level, and there's even a handy launcher that downloads, installs and runs them all for you. Quake map packs tend to be once-a-month events, and they're of indisputable quality, unshackled by the hardware and engine limits of the 90s.You can pick Quake up from GOG or Steam, but the GOG version works out slightly cheaper since it includes both official expansions—Scourge of Armagon and Dissolution Of Eternity—which are sold separately on the Steam release.
Keep in mind that it's been twenty years since the game's first release and the modding community has stepped in to make sure that it's still being sold today. Interest is running high as fans have reinvigorated the game through their own creativity, updated the graphics to drag it into modernity, and generated interest through sharing levels and graphic designs. All of this happening outside of the control of id Software, which instead gets to sit back and simply cash the checks all this interest is writing for them. Exactly how valuable was the early release window of Quake to id Software?Still valuable, I am sure, but the math simply can't be the same as the likes of Denuvo claim, what with a cycle alive and well after two decades. Giving up control made that possible, whereas the use of control tools like DRM, especially DRM that relies on 3rd party check-in servers that won't be around forever, actively work against that possibility. It seems to me that any game developer looking to make money should be clear on which of these business philosophies it ought to embrace.

Permalink | Comments | Email This Story


Read more here

---
posted at: 12:00am on 15-Feb-2017
path: /Policy | permalink | edit (requires password)
0 comments, click here to add the first
---
---
T-Mobile Backs Off Added Fee For HD Streaming As Unlimited Data Wars Heat Up

Furnished content.


While the U.S. wireless industry isn't quite as competitive as it's portrayed as (non-price competition is generally the law of the land), T-Mobile has still managed to disrupt the sector with a crazy idea: giving users what they want. That was again made evident this week when Verizon was forced to bring back sort-of unlimited data after spending the last several years telling consumers they didn't really want such simple, straightforward plans. Verizon's long-standing belief that it can tell consumers what they're supposed to want took a notable blow this week by any measure.Shortly after Verizon announced it was returning to unlimited data, T-Mobile once again upped the ante, announcing it would no longer be charging an extra fee to stream HD video over the company's LTE Network. According to the announcement, T-Mobile not only stopped charging a premium for HD quality (the de-prioritization of which you may recall T-Mobile lied was happening at several points), but also eased up on the restrictions surrounding tethering (using your phone as a modem).In a statement, T-Mobile CEO John Legere hinted at studies showing that Verizon has nearly lost its network size and speed edge over T-Mobile, which the company had long been using to justify its refusal to more seriously compete:
"I don't blame Verizon for caving. They just lost their network advantage, and they know it and more importantly, more and more customers know it. Their back's against the wall, said John Legere, president and CEO at T-Mobile. This is what the Un-carrier doesdrag the carriers kicking and screaming into the future. Next up, we're going to force them to include monthly taxes and fees. Mark my words."
Granted the term "unlimited" is still being abused here, since you may find your connection throttled (technically "de-prioritized") after 28 gigabytes of consumption on T-Mobile's network, or 22 gigabytes of consumption on Verizon Wireless. And U.S. residents will still probably wind up paying significantly more money at slower speeds than most developed nations. Meanwhile, T-Mobile tells Ars Technica that video on the T-Mobile network is still throttled to 1.5 Mbps by default, with the onus placed on customers to remember to enable HD video manually or it reverts to the default, de-prioritized state:
"T-Mobile responded to our question about HD video day passes by saying, "All customers have to do to get HD is go into the app or online to turn on. It's very easy." Customers still have to enable HD video every 24 hours or it reverts to 480p, a T-Mobile spokesperson told Ars via e-mail. However, the company's Twitter support account says it only will have to be enabled once per month. T-Mobile's press release doesn't clear things up."
Even with caveats, this is at least providing a vague resemblance of what wireless competition is supposed to look like. Given the number of customers T-Mobile is now hoovering up from AT&T, it may also force AT&T to revisit its own opposition to unlimited data plans (currently only available if you subscribe to both AT&T wireless and DirecTV). So even though the industry still struggles with the dictionary definition of unlimited, the fact T-Mobile is pushing AT&T and Verizon to actually try to compete is certainly a good thing.The problem is that competition in the wireless space is viciously fickle, and by and large most of AT&T and Verizon's promotions remain somewhat theatrical in nature when it comes to actually lowering your overall price once various fees are factored in. And should the rumored T-Mobile and Sprint merger be approved by regulators, you can be fairly sure that even this level of more superficial competition may not be around for long.

Permalink | Comments | Email This Story


Read more here

---
posted at: 12:00am on 15-Feb-2017
path: /Policy | permalink | edit (requires password)
0 comments, click here to add the first
---
---
New Narrative Expands to New York; Hires Former Hearst Publishing Director

Furnished content.


New Narrative, Asia's leading custom media agency, announced the expansion of its operations to North America with the opening of an office in New York City that will be led by Glenn Mott, a former executive editor and publishing director at Hearst (pictured left). Mott, an award-winning editor, publisher and journalist, joins New Narrative as [...]

Read more here

---
posted at: 12:00am on 14-Feb-2017
path: /Online_Marketing | permalink | edit (requires password)
0 comments, click here to add the first
---
---
Dextro Analytics Partners with Tapad; Ad-Juster Promotes Peter Yang to COO & Jesse Poppick Re-Joins the Company as SVP; More

Furnished content.


Plus… Cuebiq Closes $3.5M in Funding and Appoints Rick Belluzzo as Chairman of the Board; Goodway Group Ramps Up Hiring for 2017, Focusing on Women in Tech; Brands with Snapchat content can now use Vibrant Vertical to reach an additional 450 million unique users per month. _____________________________________________________________ Dextro Analytics Partners with Tapad to Deliver Persistent [...]

Read more here

---
posted at: 12:00am on 14-Feb-2017
path: /Online_Marketing | permalink | edit (requires password)
0 comments, click here to add the first
---
---
First Look At UK Piracy Alert System: Mostly Benign, Except ISPs Are Requesting Filesharing Software Be Removed By Clients

Furnished content.


Earlier in the year, the public learned ISPs in the UK were partnering with the entertainment industries to send out "educational notices" to internet users suspected of copyright infringement. Having seen this type of "education" take many forms in the past, from silly to threatening, we have since waited to see what form this iteration would take. Well, TorrentFreak got in touch with someone who was notified through the system, and it appears this version is relatively benign.

The redacted sections are those that would identify the individual to whom it was sent, but you get an idea of the actual content in the notice. The links included in the notice are to the subscriber's ISP account, as well as one that takes you to the 'Get it Right Information Portal." It's at that portal that a subscriber will get more information on the suspected act of copyright infringement. While that information is fairly detailed, including such things as file sizes and types, the times and dates of the infringement, and the application used in the alleged infringement... the whole thing still relies on the faulty evidence of an IP address. That's problematic for reasons we've discussed to death here at Techdirt, but given the lack of any threatening language in any of this, it's still all fairly benign.Which is why the individual TorrentFreak spoke with, who admits to committing the act in question, doesn't think the public will be all that impressed with this unsolicited "education."
"I don't think [the warnings] will work, at least not on a big scale. Maybe they will educate some people who did it by mistake or did it just once but for someone like me there is no hope. But at least the campaign is not aggressive."
The only thing in all of this that raised some eyebrows was that this notice came from Sky, the same ISP that has suggested that receivers of these notices will be forced to remove filesharing software to keep service from being interrupted.
"Your broadband service won't be affected as a result of receiving this email alert," Sky assures its subscribers, but it doesn't stop there. "However, if you continue to share content illegally using your broadband connection, Sky will request that you take immediate steps to remove or disable any file sharing software that is being used to share copyrighted content illegally," Sky writes.
So, putting all of this together makes this a little more troubling. ISPs will monitor your connection at the behest of private industry, will notify you that they're doing so, and only promise to serve you as their customer if you agree to remove software with all kinds of legitimate uses... and all of this is still based on the concept that an IP address is useful as an identifier for an infringer. When taken in total context, it's easy to see how this foot-in-the door, benign "education" could transition to ISPs mandating control of the public's software rollouts to get service. And that's not benign at all.

Permalink | Comments | Email This Story


Read more here

---
posted at: 12:00am on 14-Feb-2017
path: /Policy | permalink | edit (requires password)
0 comments, click here to add the first
---
---
The NBA Announces Plan To Start Its Own eSports NBA League

Furnished content.


eSports has been a thing for some time now. While competitive video gaming was once relegated to some minor tournaments incorporating a few games held in a couple of countries in Asia, eSports has evolved into a wider industry. You can track the progress of it all by its reaching certain checkpoints: viewership numbers that look like those of real-life sporting events, the introduction of college scholarships for eAthletes, and eSports coverage appearing on national broadcasts from the likes of ESPN. The trend line for this has only moved in one direction. And now that appears to be continuing with professional sports leagues getting in on the action.The latest in this is the National Basketball Association's announcement that it will be partnering with Take-Two Interactive to start its own eSports basketball league.
Today, the National Basketball Association announced plans to partner with publisher Take-Two Interactive for an official NBA 2K esports league, which led NBA commissioner Adam Silver to deliver this fantastic quote to the Wall Street Journal: "Think of eBulls against the eKnicks."
The way this will work should be exactly as I imagined it would when I began playing the single player versions of sports games half a decade ago. And I'm sure many others considered how this might happen as well. Individual gamers would control individual custom players within an official league. It's like playing the MyPlayer version of the NBA2K series, except that you're playing in a league consisting of nothing but MyPlayers and competing online for teams, which might have their own owners, pay structures, etc.
The league, Silver explained, will operate just like the NBA: It'll have a regular season, a playoff bracket, and a finals matchup. Teams of five players, each with his (or her?) own custom NBA 2K characters, will compete in a five-month season that starts in 2018. There'll even be a draft, Silver said, although he also noted to the Wall Street Journal that none of the 30 NBA teams have fully committed to this esports league yet. (He expects around half of them to participate in the first year.)
It's not hard to imagine how this could balloon from this starting point. Owners of eSports NBA franchises might in the future fill a 12-man roster with gamers in this manner. They might hire coaches, fill out budgets for general managers that will be responsible for drafting and signing eAthletes, etc. It would be an eSports league that would mirror the real life sports league in most ways. The concept sounds really fun, though it remains to be seen how many NBA teams want to get on board.What is clear, though, is that eSports isn't some fad ready to flame out quickly.

Permalink | Comments | Email This Story


Read more here

---
posted at: 12:00am on 14-Feb-2017
path: /Policy | permalink | edit (requires password)
0 comments, click here to add the first
---
---
This Week In Techdirt History: February 5th - 11th

Furnished content.


Five Years AgoThis week in 2012, as congress sat in the wreckage of SOPA, 70 different groups put together a letter telling lawmakers to halt all other efforts to expand intellectual property. Despite this, a number of elected representatives were still inexplicably backing the dead bill, while Lamar Smith was trying to declare all anti-SOPA data as invalid. At the same time, he was being trashed by Politifact for his claims about the impact of piracy, and styling himself as an enemy of the internet by continuing to push a data snooping bill. The RIAA was also on the warpath, attacking Google and Wikipedia and hypocritically complaining about 'misinformation'.Ten Years AgoThis week in 2007, we were digging deeper into Viacom's takedown of 100,000 YouTube videos, and noticing that some were short, innocent home movies that were clearly not infringing. They weren't alone, of course: people were starting to realize how the RIAA's DMCA notices were slapdash and flimsy, and we even saw a bizarre push from the supposed creator of the Electric Slide to get videos of "his" dance off of YouTube. Meanwhile, Steve Jobs personally spoke out against the recording industry's DRM demands, prompting a rather strange response from the RIAA (which was also ludicrously calling for higher prices on CDs).Fifteen Years AgoThis week in 2002, congress was all over the internet with its "dirty dozen" crop of digital regulation bills. Apple and Sony were battling over the future of home entertainment and what the technology would look like, while other companies were avidly pushing home networking to a mostly-uninterested public that didn't really understand what the benefits would be or why they'd want such a setup. Broadband was still failing to gain a real foothold, but spam was going strong and people were trying to figure out how to create the next Silicon Vally. One thing was clear though: the dot-coms that dropped big bucks on Superbowl ads weren't seeing much return on investment.One-Hundred And Eight Years AgoThere are lots of big milestones in the history of consumer electronics and communication technology, and many involve the invention of critical components like the transistor. But this week we celebrate one that gets discussed less often: the invention on February 5th, 1909 of of Bakelite, one of the first synthetic plastics. It was useful for a huge range of applications, but quickly became a critical material in the world of electronics where it formed insulating and non-conducting components like telephone and radio casings, lightbulb sockets and bases, automobile distributor caps and more. Though it began to be replaced in the 1940s, it is still manufactured today.(Fun side fact: Bakelite also became a tool for advanced art forgery, because it could be used to harden paint and make it appear much older than it really was.)

Permalink | Comments | Email This Story


Read more here

---
posted at: 12:00am on 12-Feb-2017
path: /Policy | permalink | edit (requires password)
0 comments, click here to add the first
---
---
Patent Troll Sues Netflix, Soundcloud, Vimeo And More For Allowing Offline Viewing

Furnished content.


Joe Mullin over at Ars Technica has the story of a patent troll, Blackbird Technologies, which was founded by (of course) two patent attorneys to buy up patents and shakedown companies with legal threats. Blackbird Technologies has now sued Netflix, Soundcloud, Vimeo and a variety of other companies over US Patent 7,174,362, issued in 2007 (filed for in 2000) on a "method and system for supplying products from pre-stored digital data in response to demands transmitted via computer network."Specifically, the lawsuits are targeting various "download to consume offline" features on various content websites. Netflix, of course, just famously launched that long-requested feature, which is useful in cases where people have slow or no internet access (e.g., taking your laptop on an airplane without internet access). If anyone thinks that this kind of feature was developed because of this patent, they're being delusional. And that's especially true because the patent itself isn't even about downloading content from the network for offline viewing. Instead, it's actually about someone ordering some content over the internet, having that content automatically burned to a CD-ROM and having that CD-R shipped off to the person. As Mullin notes, the true irony here, is that the guy who got the patent in the first place, Sungil Lee, may have been inspired by Netflix, which already had a very popular business shipping DVD's ordered online to customers:
Context is important when looking at Lee's patent. It's extremely unlikely an inventor writing up the idea of a web-based system for creating and shipping CD-Rs, in the year 2000, was not acutely aware of Netflixwhose DVDs-in-the-mail business had begun blowing up. If there was any copying at all, it was Lee copying Netflix's idea. But in the upside-down world of patent trolls, it's Blackbird who gets to claim the mantle of defending innovation, while it accuses Netflix of being the copycat.
And the thing is, even the idea of having content written automatically to CD-Rs was hardly new in 2000. This patent never should have been granted. I remember back in 1998, when I was working for a company that did electronic distribution of software being pitched by multiple companies that were working on similar solutions, and even seeing a demonstration of one such company at COMDEX in the fall of 1998 (if I remember correctly, to demonstrate how it worked they burned me a copy of Internet Explorer 5) which had just been released. So this patent never should have been granted in the first place. On top of that, to sue companies for doing the obvious thing of offering downloads for offline viewing is a clear abuse of the patent system.The lawsuits were filed in Delaware, which has become the "new East Texas" in recent years due to a series of patent troll friendly rulings. Every time we hear stories about how patent trolling is on the decline, we see stories like this, suggesting patent trolling is still a huge problem and still a huge cost on innovation, rather than a boon to innovation.

Permalink | Comments | Email This Story


Read more here

---
posted at: 12:00am on 11-Feb-2017
path: /Policy | permalink | edit (requires password)
0 comments, click here to add the first
---
---
UK Police Spy On Journalists At Small Town Paper, Gather One Million Minutes Worth Of Call Data

Furnished content.



The UK's top spy agencies have been known to place journalists under surveillance. Leaked Snowden documents showed GCHQ collected emails from news organizations such as the New York Times, BBC, and Washington Post. More accusations of spying were raised by UK journalists, detailing what appeared to be a clear abuse of the country's anti-terror laws -- laws particularly prone to exploitation thanks to generous loopholes and a minimum of oversight.
It wasn't just spy agencies doing the spying. In the case of the UK journalists, it was also local law enforcement digging through their emails and phone calls in hopes of identifying sources and leakers. More evidence of police surveillance of journalists has come to light, as reported by the Associated Press. Once again, it's law enforcement looking to uncover sources and whistleblowers, rather than terrorists or criminals.
British journalist Julia Breen's scoop about racism at her local police force didn't just get her on the front page, it got her put under surveillance.

In the months that followed Breen's exclusive, investigators logged her calls, those of her colleague Graeme Hetherington and even their modest-sized newspaper's busy switchboard in an effort to unmask their sources. The two were stunned when they eventually discovered the scale of the spying.

"It just never even crossed our minds," Breen said in a recent interview in the newsroom of The Northern Echo, in the English market town of Darlington. "I don't know if I was quite naive, but on a regional newspaper you don't expect your local police force to do this."
Mark Dias, a Cleveland Police officer, came forward and admitted he was the source for Breen's story, but that didn't stop the department from obtaining three days worth of calls to the paper's switchboard, along with logs of calls to and from three of the journalists who worked for the paper.
Once the police were tapped in, they just kept collecting call records.
Although none of the seized records included the content of the individuals' conversations, collectively the length, timing and nature of hundreds of phone calls can be extraordinarily revealing. It was later calculated that the surveillance covered over 1 million minutes of calling time.
And for what? The whistleblower the police were interested in had already outed himself. (And placed under investigation by his department.) Anything beyond that point was purely a fishing expedition for new sources/whistleblowers -- presumably in hopes of heading off more negative press. In addition to the journalists and Dias, Cleveland Police gathered information on communications with a police union official, and a lawyer that Dias and the union official were working with.
Since this came to light, the department has apologized to all of its snooping targets. It has also promised to perform an internal review of its last six years of policework to see if other surveillance abuses have taken place. This was more likely prompted by a court decision calling the surveillance unlawful than the department's innate desire to do the right thing. It will be doing it now, but only after being caught doing things it shouldn't have been doing.

Permalink | Comments | Email This Story


Read more here
---
posted at: 12:00am on 11-Feb-2017
path: /Policy | permalink | edit (requires password)
0 comments, click here to add the first
---
---
Dextro Analytics Partners with Tapad; Ad-Juster Promotes Peter Yang to COO; Cuebiq Closes $3.5M in Funding-Appoints Rick Belluzzo COB; Goodway Group Ramps Up Hiring Women in Tech; Brands with Snapchat content can now use Vibrant Vertical

Furnished content.


Dextro Analytics Partners with Tapad to Deliver Persistent Measurement Across Devices. Dextro Analytics, a pure play analytics company that harnesses the power of human learning and artificial reasoning for more informed and effective consumer marketing, is partnering with Tapad, a provider of unified, cross-screen marketing technology solutions. The deal is effective immediately and the scope [...]

Read more here

---
posted at: 12:00am on 10-Feb-2017
path: /Online_Marketing | permalink | edit (requires password)
0 comments, click here to add the first
---
---
Digging Deeper: Discovering How Ads Perform Across Social Media

Furnished content.


As story after story tries to assess how Super Bowl ads performed across social media, one company says that just measuring who got the most tweets or retweets or Facebook likes doesn't surface the true value of social interaction for brands. To understand who among all of those Super Bowl social users has any real [...]

Read more here

---
posted at: 12:00am on 10-Feb-2017
path: /Online_Marketing | permalink | edit (requires password)
0 comments, click here to add the first
---
---
Idomoo: Empowering Dynamic Video Ads on Facebook

Furnished content.


To explore ways to effectively use dynamic video ads on Facebook, Adotas talked with Danny Kalish, Founder and CTO (pictured below) of Idomoo. Q: What are the main challenges that advertisers face with video on Facebook? A: It's becoming increasingly difficult to grab the attention of users online, let alone to hold it. Video is [...]

Read more here

---
posted at: 12:00am on 10-Feb-2017
path: /Online_Marketing | permalink | edit (requires password)
0 comments, click here to add the first
---
---
Wyden, Other Senators Warn That Net Neutrality Repeal Will Make SOPA Backlash Look Like A Fireside Snuggle

Furnished content.


We've repeatedly noted how for some stupid reason, net neutrality is treated as a partisan issue in Washington -- with Democrats (generally) in support, and Republicans (generally) opposing the idea. It's an absurd, myopic paradigm given the fact that net neutrality has broad, bipartisan consumer support. Most people want the internet to function as a relatively-level playing field. Everybody wants to be able to access the content and services of their choice without interference from the likes of Comcast and AT&T, who seem hell bent on using their monopoly over the last mile to their anti-competitive advantage.With the looming specter of a net neutrality rule repeal under Trump, the GOP, and new FCC Boss Ajit Pai, a number of Democratic Senators (including Ron Wyden and Ed Markey) held a press event (video) warning that if the GOP and FCC try to repeal net neutrality, it will result in a "political firestorm" they may not be entirely prepared for. The Senators were quick to recall that roughly 4 million consumers reached out in support of the FCC's net neutrality rules a few years ago, a number Markey proclaimed would look "miniscule" in comparison to the looming backlash against the rules' repeal.Markey's office also issued a statement saying that he'd fight tooth and nail against repeal of the rules, in whatever form that arrives:
"Despite what the cable companies and Republicans say about net neutrality, there is nothing broken that needs fixing, said Senator Markey, a member of the Commerce, Science and Transportation Committee. I will oppose any regulatory efforts, including repeal, forbearance, interpretative rule, or refusal to enforce existing rules, as well as any legislative efforts to undo or roll back the Open Internet Order. We stand united in this fight to ensure that all Americans have access to a free and open Internet."
While it's true that the backlash to an attack on net neutrality could make SOPA and PIPA look like a beach-side picnic, the repeal won't arrive in the way the agency's rules first arrived. With the process of repealing the rules within the FCC's existing regulatory framework a giant bureaucratic headache that would require another very public comment process, the ISPs (and the politicians that love them) likely have another tactic in mind -- at least based on my 20 years, ten hours a day, of watching the telecom sector (and every other industry) dominate both parties of Congress.At first, that will involve having Pai simply refuse to enforce the rules as they exist now (which we already saw with Pai's decision to scrap the FCC's zero rating inquiry). Pai's job in this stage play will be to pay empty lip service to things like the digital divide, while generally keeping the FCC focused on bland, non-controversial policies until the real hangman (a campaign-contribution soaked Congress) arrives.From there, the GOP has quietly been making it clear they want to push a Communications Act rewrite that will focus on rolling back the FCC's classification of ISPs as common carriers under Title II, therefore obliterating not only net neutrality -- but the FCC's ability to act as broadband watchdog entirely. This being a new, charming post-truth era, this assault on net neutrality, broadband provider oversight and accountability will most likely be dressed up as a massive boon to job creation, broadband expansion, and the nation's puppies.Expect it to be named something along the lines of The Making Broadband Great Again Act of 2017.This bill, whether it comes as a Communications Act rewrite or some other bill, will also probably claim to put the net neutrality debate to bed by including a few net neutrality restrictions even large ISPs don't actually care about (like banning them from outright blocking websites). What it won't do is address any of the hot-button areas where the net neutrality debate is occurring right now, like zero rating, interconnection, or the use of usage caps and overage fees. Given it will certainly be written in part by AT&T, Verizon, Comcast and Charter lawyers, it will just as certainly contain other loopholes to ensure their satisfaction.Whatever this bill winds up looking like or is called, it will be (and already is on some fronts), portrayed as a "compromise" that Democrats will be told they must support if they're to be considered "serious" in their pledge to protect net neutrality and the public at large. But given the goal of removing oversight from the likes of Comcast, the bill itself will likely hurt more than it helps, and if these Democratic Senators actually want to show they have anything resembling a spine, they'll need to stage fierce opposition to the bill to prove their dedication to a healthy internet is more than just smoke and mirrors.In light of a Congress that long ago made it clear that it prioritizes telecom cash contributions over consumers, the best "solution" for net neutrality at this juncture would be leaving the existing rules -- and the FCC's authority over broadband providers -- intact.

Permalink | Comments | Email This Story


Read more here

---
posted at: 12:00am on 10-Feb-2017
path: /Policy | permalink | edit (requires password)
0 comments, click here to add the first
---
---
Court Unanimously Keeps Lower Court's Injunction Against Trump's Immigration Order In Place

Furnished content.


Let's start this out by being quite clear: this is still the beginning of a fairly long legal process. But, the 9th Circuit appeals court has just unanimously ruled that the lower' court's injunction barring Donald Trump's executive order on immigration should remain in place. In short: the federal government remains barred from actually carrying out the order. This does not mean, as our President has wrongly suggested, that people are free to randomly enter the country in droves. They still have to go through the already thorough vetting and visa process. It just means that the blanket ban that caused so much havoc cannot be used to bar entry into the country. We were among those who signed onto an amicus brief for the wider tech industry, asking the court to rule this way, so we're happy they did.The court is pretty clear, and it's somewhat surprising that the ruling was unanimous. While it's always difficult to tell how judges are going to rule based solely on oral arguments, it certainly felt like two judges were leaning towards the states' argument and one towards the federal government's. But when it was time to write an opinion, all three came down on the side of the states. Not only that, but they did it per curiam, meaning that the entire panel "wrote" the opinion (rather than singling out the specific judge who wrote it). This can be seen as the three judges showing a united front, and also a pre-emption towards the likelihood of our thin skinned President picking directly on one of the three as somehow being responsible (as he did in earlier tweets about the case). Either way, the judges stood together, noting that the federal government's argument was weak:
To rule on the Government's motion, we must considerseveral factors, including whether the Government hasshown that it is likely to succeed on the merits of its appeal,the degree of hardship caused by a stay or its denial, and thepublic interest in granting or denying a stay. We assess thosefactors in light of the limited evidence put forward by bothparties at this very preliminary stage and are mindful that ouranalysis of the hardships and public interest in this caseinvolves particularly sensitive and weighty concerns on bothsides. Nevertheless, we hold that the Government has notshown a likelihood of success on the merits of its appeal, norhas it shown that failure to enter a stay would causeirreparable injury, and we therefore deny its emergencymotion for a stay.
Again, this is far from over. There will still be a fight at the lower court over a permanent injunction, and then numerous appeals (not to mention the other cases around the country).As for the opinion, it's good to see that the court went as far as it did. It really could have just punted the issue on a number of grounds, including that the appeals court has no grounds to overturn a temporary restraining order. But, instead, it went further and suggested that the federal government's position here is weak. There were a few different issues in the case, and the court wasn't very impressed by any of the federal government's arguments. One was that the states (Washington and Minnesota) didn't have standing to challenge the executive order. Not so, says the court, pointing to a number of cases where state universities had standing to sue on actions related to the rights of their students:
Most relevant for our purposes, schools have beenpermitted to assert the rights of their students.... As in those cases, the interestsof the States' universities here are aligned with theirstudents. The students' educational success is inextricablybound up in the universities' capacity to teach them.... And the universities' reputationsdepend on the success of their professors' research. Thus, asthe operators of state universities, the States may assert notonly their own rights to the extent affected by the ExecutiveOrder but may also assert the rights of their students andfaculty members.We therefore conclude that the States have alleged harmsto their proprietary interests traceable to the ExecutiveOrder. The necessary connection can be drawn in at mosttwo logical steps: (1) the Executive Order prevents nationalsof seven countries from entering Washington andMinnesota; (2) as a result, some of these people will notenter state universities, some will not join those universitiesas faculty, some will be prevented from performing research,and some will not be permitted to return if they leave. Andwe have no difficulty concluding that the States' injurieswould be redressed if they could obtain the relief they askfor: a declaration that the Executive Order violates theConstitution and an injunction barring its enforcement. TheGovernment does not argue otherwise.
On that procedural question of whether or not the court can even review a temporary restraining order (TRO), the court says it's fine:
We are satisfied that in the extraordinary circumstancesof this case, the district court's order possesses the qualitiesof an appealable preliminary injunction. The partiesvigorously contested the legal basis for the TRO in writtenbriefs and oral arguments before the district court. Thedistrict court's order has no expiration date, and no hearinghas been scheduled. Although the district court has recentlyscheduled briefing on the States' motion for a preliminaryinjunction, it is apparent from the district court's schedulingorder that the TRO will remain in effect for longer thanfourteen days. In light of the unusual circumstances of thiscase, in which the Government has argued that emergencyrelief is necessary to support its efforts to prevent terrorism,we believe that this period is long enough that the TROshould be considered to have the qualities of a reviewablepreliminary injunction.
On the question of whether or not courts even have the authority to review this executive order, the court says of course it does and it's patently silly for the federal government to suggest otherwise.
The Government contends that the district court lackedauthority to enjoin enforcement of the Executive Orderbecause the President has unreviewable authority tosuspend the admission of any class of aliens. TheGovernment does not merely argue that courts owesubstantial deference to the immigration and nationalsecurity policy determinations of the political branchesanuncontroversial principle that is well-grounded in ourjurisprudence. See, e.g., Cardenas v. United States, 826 F.3d1164, 1169 (9th Cir. 2016) (recognizing that the power toexpel or exclude aliens [is] a fundamental sovereign attributeexercised by the Government's political departments largelyimmune from judicial control (quoting Fiallo v. Bell,430 U.S. 787, 792 (1977))); see also Holder v.Humanitarian Law Project, 561 U.S. 1, 33-34 (2010)(explaining that courts should defer to the political brancheswith respect to national security and foreign relations).Instead, the Government has taken the position that thePresident's decisions about immigration policy, particularlywhen motivated by national security concerns, areunreviewable, even if those actions potentially contraveneconstitutional rights and protections. The Governmentindeed asserts that it violates separation of powers for thejudiciary to entertain a constitutional challenge to executiveactions such as this one.There is no precedent to support this claimedunreviewability, which runs contrary to the fundamentalstructure of our constitutional democracy.
The court further notes that the federal government's desire to run around screaming "NATIONAL SECURITY" as if that means the courts are powerless to do anything is also completely bogus.
Indeed, federal courts routinely review theconstitutionality ofand even invalidateactions taken bythe executive to promote national security, and have done soeven in times of conflict.
On to the key question of whether or not the court should lift the TRO and allow the executive order to be in effect again. The court here basically rips up the federal government and notes that it has no real argument.
The Fifth Amendment of the Constitution prohibits theGovernment from depriving individuals of their life,liberty, or property, without due process of law. U.S.Const. amend. V. The Government may not deprive aperson of one of these protected interests without providingnotice and an opportunity to respond, or, in other words,the opportunity to present reasons not to proceed with thedeprivation and have them considered....The Government has not shown that the Executive Orderprovides what due process requires, such as notice and ahearing prior to restricting an individual's ability to travel.Indeed, the Government does not contend that the ExecutiveOrder provides for such process. Rather, in addition to thearguments addressed in other parts of this opinion, theGovernment argues that most or all of the individualsaffected by the Executive Order have no rights under the DueProcess Clause.
And while I've seen a bunch of people (mainly on Twitter) telling me that there's no due process issue because non-US citizens have no Constitutional rights, the court reminds them that they're wrong:
The procedural protections provided by the FifthAmendment's Due Process Clause are not limited tocitizens. Rather, they appl[y] to all 'persons' within theUnited States, including aliens, regardless of whether theirpresence here is lawful, unlawful, temporary, or permanent.Zadvydas v. Davis, 533 U.S. 678, 693 (2001). These rightsalso apply to certain aliens attempting to reenter the UnitedStates after travelling abroad. Landon v. Plasencia, 459 U.S.21, 33-34 (1982). The Government has provided noaffirmative argument showing that the States' proceduraldue process claims fail as to these categories of aliens. Forexample, the Government has failed to establish that lawfulpermanent residents have no due process rights whenseeking to re-enter the United States. See id. ([T]hereturning resident alien is entitled as a matter of due processto a hearing on the charges underlying any attempt toexclude him. (quoting Rosenberg v. Fleuti, 374 U.S. 449,460 (1963))). Nor has the Government established that theExecutive Order provides lawful permanent residents withconstitutionally sufficient process to challenge their denialof re-entry. See id. at 35 ([T]he courts must evaluate theparticular circumstances and determine what procedureswould satisfy the minimum requirements of due process onthe re-entry of a permanent resident alien.).
Separately, the court notes that the federal government's own claims are not trustworthy -- specifically the rapidly-changing claims about whether or not greencard holders are covered by the exec order:
At this point, however, wecannot rely upon the Government's contention that theExecutive Order no longer applies to lawful permanentresidents. The Government has offered no authorityestablishing that the White House counsel is empowered toissue an amended order superseding the Executive Order signed by the President and now challenged by the States,and that proposition seems unlikely.Nor has the Government established that the WhiteHouse counsel's interpretation of the Executive Order isbinding on all executive branch officials responsible forenforcing the Executive Order. TheWhite House counsel isnot the President, and he is not known to be in the chain ofcommand for any of the Executive Departments. Moreover,in light of the Government's shifting interpretations of theExecutive Order, we cannot say that the currentinterpretation by White House counsel, even if authoritativeand binding, will persist past the immediate stage of theseproceedings.
The court also rejects the argument from the DOJ that a more limited TRO could be used instead, such as one just focusing on previously admitted aliens. No go:
First, we decline to limit the scope of the TRO to lawfulpermanent residents and the additional category morerecently suggested by the Government, in its replymemorandum, previously admitted aliens who aretemporarily abroad now or who wish to travel and return tothe United States in the future. That limitation on its faceomits aliens who are in the United States unlawfully, andthose individuals have due process rights as well. Zadvydas,533 U.S. at 693. That would also omit claims by citizenswho have an interest in specific non-citizens' ability to travelto the United States....There might be persons covered by the TRO who do nothave viable due process claims, but the Government'sproposed revision leaves out at least some who do.
The court also refuses to restrict the TRO so that it doesn't apply nationwide, basically saying the government failed to explain why it should:
Second, we decline to limit the geographic scope of theTRO. The Fifth Circuit has held that such a fragmentedimmigration policy would run afoul of the constitutional andstatutory requirement for uniform immigration law andpolicy.... At this stage of the litigation, we do not need to anddo not reach such a legal conclusion for ourselves, but wecannot say that the Government has established that acontrary view is likely to prevail. Moreover, even if limitingthe geographic scope of the injunction would be desirable,the Government has not proposed a workable alternativeformof the TRO that accounts for the nation's multiple portsof entry and interconnected transit system and that wouldprotect the proprietary interests of the States at issue herewhile nevertheless applying only within the States' borders.
The court then notes that the federal government failed to convince the court that it has any "likelihood of success" in prevailing in support of the executive order, though it's open to changing its mind at a later date, when more fully briefed (i.e., when things come back on appeal down the road).Finally, there's the question of the "balance of hardships and the public interest" and again the court notes that the DOJ failed to show any evidence of real harm in blocking the executive order, because the DOJ has no actual evidence to support the reasons for the order in the first place. And, again, just screaming "NATIONAL SECURITY" is no excuse:
The Government has not shown that a stay is necessaryto avoid irreparable injury. Nken, 556 U.S. at 434. Althoughwe agree that the Government's interest in combatingterrorism is an urgent objective of the highest order, Holderv. Humanitarian Law Project, 561 U.S. 1, 28 (2010), theGovernment has done little more than reiterate that fact.Despite the district court's and our own repeated invitationsto explain the urgent need for the Executive Order to beplaced immediately into effect, the Government submittedno evidence to rebut the States' argument that the districtcourt's order merely returned the nation temporarily to theposition it has occupied for many previous years.The Government has pointed to no evidence that anyalien from any of the countries named in the Order hasperpetrated a terrorist attack in the United States. Ratherthan present evidence to explain the need for the ExecutiveOrder, the Government has taken the position that we mustnot review its decision at all. We disagree, as explainedabove.
In a footnote on that, the court calls bullshit on the idea that there's some super secret info that only the President can see that shows why this ban is necessary, noting that the federal government regularly shares confidential information with judges under seal or in camera to avoid it being seen by others.Meanwhile, the court notes that the plaintiff states have shown pretty strong evidence of harm:
By contrast, the States have offered ample evidence thatif the Executive Order were reinstated even temporarily, itwould substantially injure the States and multiple otherparties interested in the proceeding. ...When the Executive Order was in effect, the States contendthat the travel prohibitions harmed the States' universityemployees and students, separated families, and stranded theStates' residents abroad. These are substantial injuries andeven irreparable harms.
And, finally the court notes that the public interest simply does not warrant a stay.Again, this is just the beginning of a long process, but as an early victory it's a big one. The court could have punted and did not. And in the meantime, our somewhat confused President is angry and doesn't seem to realize he's already in court over this (and losing, badly):

Of course, if that were true, it would help to have the federal government actually lay out some evidence to support that. What the 9th circuit pretty clearly said here is "we've seen none whatsoever."

Permalink | Comments | Email This Story


Read more here

---
posted at: 12:00am on 10-Feb-2017
path: /Policy | permalink | edit (requires password)
0 comments, click here to add the first
---
---
Valentine's Day: Searchers and Seekers

Furnished content.


When comparing last year to this year's Valentine's Day-related searches by US adults (during a 4-week period), Hitwise reveals that while searches begin to largely increase the week ending February 6 they didn't (and won't) stop there. They continued to spike for over a week after the holiday. Since searches seem to be following a [...]

Read more here

---
posted at: 12:00am on 09-Feb-2017
path: /Online_Marketing | permalink | edit (requires password)
0 comments, click here to add the first
---
---
Funcom Responds Well To Mixup Over Denuvo DRM Resulting In Piracy Of Conan Exiles Game

Furnished content.


With the way the past couple of weeks have gone for Denuvo, the DRM that was supposed to end piracy but instead only ended the industry's brief resurgence in faith in DRM, you would be forgiven if you thought this was going to be yet another post about another Denuvo-protected game being cracked and released to the pirating masses. This isn't that kind of story. Instead, it's the story of game publisher Funcom accidentally stripping Denuvo out of the latest build of its early access game, Conan Exiles, and having that be released to the pirating masses.
In Conan Exiles' case, Denuvo Anti-Tamper was temporarily removed - and accidentally. An updated version of the game was suddenly without protection. Denuvo Anti-Tamper returned soon enough, via another update, but not quickly enough. Pirates pounced and the damage was done.Remember, Conan Exiles isn't solely an online game, which tend to prevent piracy by requiring game versions to match that of the official servers. In Conan Exiles you can host your own worlds and play them alone or with others, or join their private worlds. In other words, a pirate can play the game.
I'm having trouble thinking up a way to construct a more frustrating experience for a game publisher. To have a game not susceptible to server check-ins, to have tried to infuse that game with DRM only to have it stripped in error and released, and to then have that game very much playable by the people you had specifically tried to prohibit via the DRM is like some kind of trifecta from hell for a game publisher. Remember, Nintendo lost its shit comnpletely when its free app was found to be "pirated." You're probably expecting Funcom to be cheesed off at equal or greater levels.Except, at least from the company's first public statements on the matter, not so much.
"There is unfortunately not much we can do about those who choose to download and play unauthorised copies," Funcom said, "but we hope they make the jump to the official version so they can stay up to date with the latest patches and improvements. Being an Early Access title, there will be a lot of updates going forward!"
It's a nearly perfect response. First, the company admits that piracy is a thing that's going to happen. Then the company makes both a logical case for why fans of the pirated versions have a reason to buy an authorized copy, while maintaining a cool demeanor and enthusiasm that can only ingratiate the publisher to its fans, paying customers or otherwise. And keep in mind that it would be totally understandable if Funcom had a negative emotional response to all of this. But this way is better business.It may be a little light on the connecting with fans part of the equation, but Funcom has focused on giving those who might pirate the game -- and like it! -- a reason to buy. Well done.

Permalink | Comments | Email This Story


Read more here

---
posted at: 12:00am on 09-Feb-2017
path: /Policy | permalink | edit (requires password)
0 comments, click here to add the first
---
---
Iowa Appeals Court Doubles Down On Curbing Police Abuse Of 'Inventory Search' Warrant Exceptions

Furnished content.


As we're well aware, the minute you get behind the wheel of your vehicle, your Fourth Amendment protections take a nosedive. Having a vehicle on a public street makes everything viewed through the windows a perfectly acceptable warrantless search. Add to that the number of traffic violations -- real or imagined -- that can act as a pretense for an investigative stop, and driving becomes a warrantless search waiting to happen.While the Supreme Court did scale back some extracurricular law enforcement exploration with its Rodriguez decision, all it takes is an unconfirmable "smells like marijuana" or some other indicator of suspicion (talking too much, talking too little, making eye contact, not making eye contact, interstate travel, etc.) to turn a stop that shouldn't have been prolonged past the point of issuing a ticket into a full-fledged search of a vehicle.Then there's this wrinkle. If you're arrested or otherwise told to leave your vehicle, law enforcement is allowed to take the vehicle into custody (so to speak). At some point, the officer having the vehicle moved performs an inventory of the vehicle's contents. This is to make sure that when the vehicle is returned to the driver, there's no dispute as to whether or not your Creedence tapes and "business papers" went missing while in the hands of law enforcement.What it's not supposed to be is a warrantless search. But because law enforcement is required to perform inventories of everything of value in the car, it often becomes one. And once something is inevitably discovered through the course of an inventory, it becomes very difficult to have the evidence thrown out. After all, law enforcement is doing what it's supposed to do. Too bad the seized vehicle had so much contraband in it.What can happen, however, is courts finding the inventory-taking process to be pretextual in and of itself. If there was no reason to impound the vehicle -- or officers appeared to be clearly motivated by something other than providing a list of contained items, the "inventory exception" can be overcome. FourthAmendment.com compiles two recent judicial unicorns into one handy post. Both come from the same state appeals court (Iowa), which may suggest a history of law enforcement abuse of this exception is finally being addressed.In the first case [PDF], the defendant was approached by a police officer who said he was going to ticket him for improper parking. Since the defendant was unable to produce proof of insurance, this escalated to the officer impounding the vehicle. The defendant refused to consent to a search of the vehicle. The officer said he was just going to inventory the car and proceeded to do so. A gun and bullets were found during the inventory. The defendant challenged the evidence as a Fourth Amendment violation.The court agreed with the defendant's argument -- seizing on the same legal technicality. Under state law, if a vehicle is to be seized for lack of insurance, the officer must first remove the license plates and registration before having the vehicle moved. This officer never took that step. As the court sees it, not following this step indicates the inventory search was pretextual. It was just a thinly-disguised investigative -- and warrantless -- search.
A plain reading of the statute requires the citation for failure to produce proof of insurance be issued and license plates and registration receipt be removed before the vehicle is impounded. It is unclear from our record as to whether or not Officer Carter issued Juarez-Martinez a citation for failure to provide proof of insurance before impounding the car. In any event, it is clear that Officer Carter failed to remove the license plates and registration receipt before impounding the car. Because the officer overlooked the legislatively imposed requirements for the impoundment, it appears he was motivated solely by an investigatory purpose. See Huisman, 544 N.W.2d at 439. We therefore conclude the impoundment was invalid and, accordingly, the inventory search was invalid.
The other case [PDF] is a little more complex, but it again rests on the actions taken by officers that appear to conflict with their stated motivations. A vehicle which police suspected contained stolen power tools was searched without a warrant. At one point, the suspect's son arrived and offered to move the vehicle (rather than have it impounded) but was denied permission to do so.Law enforcement officers searched the vehicle and found methamphetamines in a sunglasses case. At that point the search stopped. While officers did have a warrant to search the premises, they did not have one for the vehicle that arrived on the premises after the search had already commenced.The motion to suppress is granted by the court, mainly because the officers involved couldn't come up with a consistent narrative.
After Deputy Davis left the scene with Baudler, Officer Halverson and Assistant Chief Miller searched the truck. The officers found a glass pipe and methamphetamine inside a sunglasses case, and the search was stopped. The officers offered differing reasons for the search. Deputy Davis testified when he left the property it was his intention that the truck would be impounded.In contrast, in his incident report Officer Halverson stated they "were requested by Deputy Davis to search the vehicle because he stated the plates did not come back to the proper truck." At the hearing on the motion to suppress, Officer Halverson testified he searched the vehicle because Deputy Davis requested the officers to do so. He stated after they discovered the methamphetamine they contacted Deputy Davis and informed him of what they had found, and the search was stopped. Officer Halverson testified it was his understanding the truck was going to be impounded.
Halverson agrees with Davis on the "impoundment" part but not so much as to whether or not Davis told them to search the truck. Davis didn't say he gave that instruction to the officers on the scene. The other party (Asst. Chief Miller) involved in the search had yet another version of the events.
Deputy Davis told me he needed [the truck] searched incident to arrest. At that point the truck was locked and I told [Baudler's son] that we needed to look through the vehicle before he took it. . . . After [Deputy Davis] told us—asked us to search the vehicle incident to arrest, [Baudler's son] unlocked it for me. I stood in the door, kind of looked in the vehicle and I called Officer Halverson over to assist me with the search. Almost within seconds he found some methamphetamine and a pipe . . . . At that point I told Officer Halverson that I saw numerous tools, Milwaukee tools, plus like a collection of vehicle titles. I told him about that. Then I went back to my car, called Deputy Davis and told him we found what we believed was methamphetamine. He said we were going to impound the vehicle, so we stopped the search.
First off, the suspicion the officers had that the tools they saw were stolen came from almost nowhere. The warrant they had made no mention of stolen tools and the CI tip cited in the affidavit mentioned stolen things going to a scrapyard, which would suggest a completely different kind of stolen good. As the court points out, probable cause is a pretty low bar and yet the officers were unable to surmount it. That eliminates the good faith exception and nothing about the search of the premises suggested there was anything approaching "exigent" in the circumstances.So, the state tried to use the vehicle inventory exception. There's nothing in that for these officers either. The controlling law enforcement agency had never bothered to write up procedures for inventory searches. All they had were verbal "guidelines" that were followed inconsistently by deputies.
Officer Halverson testified the Winterset Police Department also has an unwritten inventory policy. Officer Halverson stated the inventory policy is that:"[a]nytime we arrest someone and they have a vehicle there, we impound the vehicle. We do a complete inventory of the interior contents of the vehicle and the condition of the exterior of the vehicle and then it is—we stay with it until a tow company comes and then we follow it to the police department where it gets held."However, on cross-examination, Officer Halverson admitted he has arrested individuals who are driving and let the passenger take the vehicle home, has allowed people to keep their vehicles in their driveway after being arrested, and has allowed a vehicle to remain at a friend's house after an arrest with the consent of the homeowner.
By not implementing a policy covering every step of the inventory/impoundment process, neither of the two involved agencies can claim the search was merely an inventory of a to-be-seized vehicle. And the lack of set rules is a big constitutional problem, as the court points out.
[H]ere, the vague inventory "policies" related by Deputy Davis and Officer Halverson grant officers unlimited discretion to arbitrarily conduct searches. Basically, the officers could choose to impound any vehicle seized.
This lack of clear policies could be used as a Get Out of Suppression Hearings FREE card. Could be. The court here won't allow it.
We conclude the conflicting testimony of the officers, as well as the timeline of events surrounding the search of the truck, indicate the officers searched the truck for the sole purpose of investigating for suspected criminal activity beyond the scope of the search warrant. Thus, we find the inventory exception does not apply to overcome the Fourth Amendment warrant requirement due to the vague impound policies and improper motive.
Also working against the state: the fact that the search stopped when contraband was found, rather than continued until the contents were fully-inventoried and the fact that there was no probable cause to seize the vehicle and remove it from the property. A vehicle parked on private property isn't going to create a danger for other drivers or impede traffic, so there's no justification for its seizure without the further development of probable cause. Probable cause didn't exist until after the questionable "inventory search," and by then, it was far too late.

Permalink | Comments | Email This Story


Read more here

---
posted at: 12:00am on 09-Feb-2017
path: /Policy | permalink | edit (requires password)
0 comments, click here to add the first
---
---
Want Programmatic to Work for Tech Marketing? Dismiss everything you've heard!

Furnished content.


Programmatic is undoubtedly important. And the proportion of advertising bought this way will only increase. But most of what's said about programmatic is simply not relevant to B2B marketers. The most widely touted programmatic approaches won't work, considering the limited nature of B2B's target audiences. Most solutions are designed to reach B2C audiences at scale. [...]

Read more here

---
posted at: 12:00am on 08-Feb-2017
path: /Online_Marketing | permalink | edit (requires password)
0 comments, click here to add the first
---
---
IRIS.TV Expands to 11 Countries; Video Ad Views Jump 700%

Furnished content.


IRIS.TV, a video personalization company that enables publishers and marketers to maximize the value of their video inventory by programming personalized streams to individual users across all devices, grew its business both domestically and abroad in 2016. It began the year with player and publisher partners only in the United States but by year's end, [...]

Read more here

---
posted at: 12:00am on 08-Feb-2017
path: /Online_Marketing | permalink | edit (requires password)
0 comments, click here to add the first
---
---
Court Tells Melania Trump She Can't Sue The Daily Mail In Maryland, So She Refiles In New York

Furnished content.


Disclaimer: As you probably already know, the lawyer in this story, Charles Harder, is the lawyer in the ongoing lawsuit against us.Back in September of last year, we wrote about how our now First Lady Melania Trump, represented by Charles Harder, had sued the Daily Mail and some blogger in Maryland. As we noted at the time, the choice of Maryland for the venue was odd -- since the Daily Mail is a UK publication and Trump (at the time) lived in NY. We speculated that the blogger -- Webster Griffin Tarpley, who was not widely known -- may have been included solely to try to get the case into a Maryland court. As we noted at the time, Maryland's anti-SLAPP law is notoriously weak. In a profile on Harder last year, the Hollywood Reporter noted that he's well aware of the differences in state laws:
In his offices, Harder keeps charts mapping the differences in libel and privacy laws throughout the country. He also has become a pro on where to strategically file cases.
A couple weeks ago, the court let the case against Tarpley go forward, but late last week dismissed the case against the Daily Mail, saying that the venue was improper. As the ruling rightly notes:
In this case the Article was researched, written for and published in a United Kingdom newspaper and published on a general news website that did not focus on Maryland. The Article was uploaded by MailOne staff in London and MailOne staff in New York posted the Article to the U.S. homepage of MailOnline. No reporter or editor traveled to Maryland in the course of reporting, editing, or publishing the Article.... There are no advertising or business acts conducted by MMI that were purposefully directed to Maryland. Further there is nothing about the parties that connects the case against MMI to Maryland -- MMI does not have an office in Maryland, Plaintiff does not live in Maryland, and the witnesses are not located in Maryland. It would be unreasonable as a matter of constitutional due process for this Court to exert jurisdiction over MMI or MailOnline in the State of Maryland.
Much of the rest of the ruling goes through the arguments brought forth for why Maryland was the proper venue -- including things like having targeted advertising for visitors in Maryland, and having other stories that were local to Maryland -- and disposes of them one by one. None of it stuck.Of course, on Monday, Harder filed a brand new lawsuit on behalf of Melania Trump against the Daily Mail... in NY state court. The complaint here is much more fleshed out than the original complaint in the Maryland case. The press has mainly pounced on one specific claim in the new lawsuit, about how the original article by the Daily Mail could have harmed Trump's ability to cash in on a "once-in-a-lifetime" opportunity. From the lawsuit:
As a result of Defendant's publication of defamatory statements about Plaintiff, Plaintiff's brand has lost significant value, and major business opportunities that were otherwise available to her have been lost and/or substantially impacted. The economic damage to Plaintiff's brand, and licensing, marketing and endorsement opportunities caused by the publication of Mail Online's defamatory article, is multiple millions of dollars. Plaintiff had the unique, once-in-a-lifetime opportunity, as an extremely famous and well-known person, as well as a former professional model and brand spokesperson, and successful businesswoman, to launch a broad-based commercial brand in multiple product categories, each of which could have garnered mutli-million dollar business relationships for a multi-year term during which Plaintiff is one of the most photographed women in the world. These product categories would have included, among other things, apparel, accessories, shoes, jewelry, cosmetics, hair care, skin care and fragrance.
That's definitely a lot more fleshed out and specific than what was in the original complaint in Maryland (which was filed before the election):
Plaintiff is involved in many business ventures involving the licensing of her name and likeness, and relying upon her valuable reputation, and the defamatory publication foreseeably caused substantial damage to her business, career, reputation and her actual and prosepctive economic relationships. As a result of the conduct of Daily Mail, Plaintiff has been damaged in an amount to be proven at trial.
Of course, what changed between the first complaint and the second complaint was Melania's husband becoming President of the United States. Thus, the clear implication -- that many in the media are making -- is that the "once in a lifetime" opportunity is to somehow cash in on the Presidency. Of course, I do wonder how much damage to her brand could really be attributed to those articles, which have since been deleted, seeing as her reputation -- and the fact that she will now be "one of the most photographed women in the world" -- certainly seems to have massively boosted her reputation and massively increased her areas of opportunity if she does choose to cash in (i.e., it seems that she might have had a stronger case if she had not become First Lady). Separately, in an era where people like Kim Kardashian and Paris Hilton have become massive licensing juggernauts, I'm curious how much damage the Daily Mail reports could actually do to potential brand/licensing deals.Either way, Harder and Trump will continue pushing forward in their lawsuit against the Daily Mail, just in New York, rather than Maryland. And, yes, if you were wondering, New York has an unfortunately weak anti-SLAPP law.

Permalink | Comments | Email This Story


Read more here

---
posted at: 12:00am on 08-Feb-2017
path: /Policy | permalink | edit (requires password)
0 comments, click here to add the first
---
---
Congress Tries Once Again To Require Warrants To Search Emails

Furnished content.


The efforts to reform ECPA -- the Electronic Communications and Privacy Act -- have been going on for basically two decades at this point. The law, which was passed in 1986, has a whole bunch of problems, with the biggest one (as we've discussed dozens of times) being that it considers any email that's been on a server for more than 180 days "abandoned," and thus freely searchable by law enforcement without a warrant. That's because there was no concept of cloud computing back in 1986. People who got email "retrieved" those emails off of a server and downloaded them to local storage. Many in Congress have been trying to fix this for so, so, so many years. And it always gets blocked. The IRS and the SEC have both been fairly proactive in trying to block ECPA reform bills that will require a warrant (funny: I thought it was the 4th Amendment that made such a warrant necessary, but, silly me, no one cares about the 4th Amendment any more).Last year, a plan to fix ECPA, called the Email Privacy Act, with an astounding 315 co-sponsors, passed the House unanimously. As we noted at the time, this is fairly incredible. In these contentious times -- especially on issues related to surveillance and law enforcement -- to have a unanimous vote on a law that says "get a warrant" if you want access to emails, is quite incredible. But, of course, even with that much support on that side of Congress, the Senate has a way of killing ECPA reform each and every year. Last year, a few Senators -- including Jeff Sessions, who is likely to be our next Attorney General -- tried to bury it with ridiculous amendments that would expand surveillance.On Monday, the reintroduced Email Privacy Act easily passed the House via a voice vote, showing that our Congressional Members still recognize how important this is. Of course, now it gets to go back to the Senate, and we saw how well that worked last year. And then we have to believe that President Trump will sign the bill. Stranger things have happened, of course, but it still seems like a longshot that real ECPA reform will become law this year. It's great that Rep. Kevin Yoder, along with Reps. Jared Polis, Bob Goodlatte, John Conyers, Ted Poe, Suzan DelBene, Will Hurd, Jerry Nadler, Doug Collins and Judy Chu keep pushing this bill. I disagree with many of the folks on that list on a number of other issues we cover, but the fact that they're willing to support basic 4th Amendment concepts for email is worthy of recognition. Now, hopefully, the Senate won't try to muck it up again.

Permalink | Comments | Email This Story


Read more here

---
posted at: 12:00am on 08-Feb-2017
path: /Policy | permalink | edit (requires password)
0 comments, click here to add the first
---
---
Unacast Puts Privacy Program Front & Center

Furnished content.


Unacast, a network of proximity data and the creators of the Real World Graph, announced it is continuing to expand its New York team. Jarno Vanto and Tom Navin have been appointed to the roles of Chief Privacy Officer and VP of Product, respectively. The new hires come as Unacast experiences growing market demand for [...]

Read more here

---
posted at: 12:00am on 07-Feb-2017
path: /Online_Marketing | permalink | edit (requires password)
0 comments, click here to add the first
---
---
Michigan Lawmakers Looking To Amend State Constitution To Add Protections For Electronic Data

Furnished content.


A ballot measure introduced by a bipartisan group of Michigan legislators is sure to encounter some heavy resistance on its trip through the lawmaking machinery. The proposal amends the state's constitution to add a warrant requirement to data that law enforcement is used to obtaining without one.
House Joint Resolution C (HJRC) was introduced by Rep. Jim Runestad (R-White Lake) along with 11 bipartisan co-sponsors. If approved, voters would have the opportunity to alter Article 1, Section 11 of the Michigan state constitution in the following manner:The person, houses, papers, and possessions, and electronic data and communications of every person shall be secure from unreasonable searches and seizures. No warrant to search any place or to seize any person or things or to access electronic data or communications shall issue without describing them, nor without probable cause, supported by oath or affirmation. The provisions of this section shall not be construed to bar from evidence in any criminal proceeding any narcotic drug, firearm, bomb, explosive or any other dangerous weapon, seized by a peace officer outside the curtilage of any dwelling house in this state.
The phrase "electronic data" covers a lot of things normally considered to be "third-party records" and currently given little to no protection under the Fourth Amendment. This amendment would establish an expectation of privacy in electronic communications and data -- at least under the state's constitution.If passed, courts will have to consider the implications of the state's more stringent privacy protections when dealing with the admissibility of electronic data/communications. This means state law enforcement partnerships with federal agencies could result in unprosecutable charges if any evidence is derived from the warrantless acquisition of protected data and communications. In practical terms, this may not change much, as the feds will just bring the case to federal court in order to (hopefully) bypass the state's more restrictive constitution.But, as the Tenth Amendment Center points out, if the new law passes, it will discourage local law enforcement from helping themselves to data harvested by federal surveillance programs.
Because the federal government relies heavily on partnerships and information sharing with state and local law enforcement agencies, passage the amendment could potentially hinder federal surveillance programs that depend on state cooperation and information gathering.State and local law enforcement agencies regularly provide surveillance data to the federal government through ISE and Fusion Centers. They collect and store information from cell-site simulators (AKA "stingrays"), automated license plate readers (ALPRs), drones, facial recognition systems, and even "smart" or "advanced" power meters in homes. Requiring warrants to gather such data would undoubtedly limit the amount of information collected by state and local law enforcement. Information that doesn't exist cannot be shared with the feds.
If "electronic data" is defined in such a way to include data gathered en masse by electronics, this would institute a warrant requirement for ALPR deployment and would make pen register orders demanding historical cell site data a thing of the past.The constitutional amendment has a long way to go before it's ratified. Hopefully, it will make its way through the process mostly intact.

Permalink | Comments | Email This Story


Read more here

---
posted at: 12:00am on 07-Feb-2017
path: /Policy | permalink | edit (requires password)
0 comments, click here to add the first
---
---
Wawa Versus Dawa: Trademark Dispute Blamed On A Need To Police That Doesn't Exist

Furnished content.


We've made the point before. In the pantheon of trademark disputes, the most commonly trotted out excuse for overt protectionism is nothing but a headfake. While companies often proclaim their bullying actions are a requirement under trademark law's provision for active policing of infringement, the fact is that this requirement does not mandate that companies roadblock any and all similar uses to their marks. Instead, the idea is that trademark holders cannot allow actual infringements to go unchallenged.For an example of the difference, we can point to the current dispute between two companies in the food mart business, Dawa Food Mart and Wawa Inc. The former is a single store in New Jersey that has operated for two years now. The latter is a mid-sized chain that only recently decided that Dawa infringed on its trademarks.
According to The Courier-Post, Wawa has filed a federal trademark infringement lawsuit against Dawa Food Mart, located at 15 Lafayette Street in Paterson, Passaic County.The Korean owner of Dawa Food Mart, identified only as Han in the report, explained to the Courier-Post that "Dawa" means "welcome" in his native language. The shop has been open for about two years now.
It's worth noting that Wawa has a long history of policing its trademark to near feverish degrees, having filed suit against tour and gaming companies that use the term "wawa" in their names. At least Dawa Food Mart is more in the marketplace ballpark, though even then we're talking about completely different animals. Add to that the difference in stature and offerings and it's unclear how likely any real confusion could possibly be.And, since the potential confusion is really the question in trademark actions, you might have expected Wawa to make the claim for it when asked to comment on the suit. But it only did so in a roundabout way, instead seeming to fall back on the old requirement to police excuse.
"Wawa spokeswoman Lori Bruce told the newspaper that the lawsuit is about fulfilling an "obligation to protect consumers from any likelihood of confusion" and protecting "the brand name," symbolized by the Canada goose whose name is a direct translation from the Native American language used in the region."
There are some barriers to Dawa winning out, which mostly amounts to both brands using the color red on signage. Still, it seems silly to soberly worry about any real customer confusion here.

Permalink | Comments | Email This Story


Read more here

---
posted at: 12:00am on 07-Feb-2017
path: /Policy | permalink | edit (requires password)
0 comments, click here to add the first
---
---
This Week In Techdirt History: January 29th - February 4th

Furnished content.


Five Years AgoThis week in 2012, we watched as the reaction to ACTA continued to heat up. Though the opposition was in some danger of straying off course, there were some big developments: the Slovenian Ambassador apologized for signing the deal, the Polish Prime Minister suspended all efforts to ratify it, Bulgarian MPs followed in the footsteps of Polish MPs the week before and protested with Guy Fawkes masks, and widespread protests began to break out across Europe.Meanwhile, the TPP was also on the docket for the week, with a stark example of crony capitalism presented by the USTR getting civil society groups kicked out of the Hollywood hotel where it was hobnobbing with entertainment industry elites. We pointed out that SOPA/PIPA should be a pretty good lesson on why these negotiations need to be way, way more transparent.Also, this was the week we released the first Sky Is Rising report.Ten Years AgoThis week in 2007, the world was still reacting to the newly Google-owned YouTube. The plans for revenue sharing with video creators were brewing, and while NBC was embracing the promotional value of YouTube clips, Viacom made its big move of telling Google to yank 100,000 videos off the service, setting the stage for the big legal feud to follow.Also this week in 2007: Sony BNG reached a deal with the FTC for violating federal law with its horrible rootkit DRM, the RIAA had a SWAT team raid an Atlanta mix-tape producer on questionable legal grounds, Google was offering half-apologies for aiding Chinese censorship, and Adult Swim's now-infamous marketing stunt shut down the city of Boston.Fifteen Years AgoFive years earlier in 2002, Google made a much more popular decision when it announced it would not use pop-up ads. Of course, that seems obvious now, as did other things that were fresh at the time, like the convergence of wireless devices and the possibility of having a laptop as your only computer. In the world of secondary effects from the dot-com bubble bursting, we saw Cisco grappling with a huge gray market for used IT products and folks to dropped out to work in tech going back to school to finish their degrees.Also, because nothing is truly new: folks were commenting on how news was getting less factual and more opinionated.One-Hundred And Seventy Years AgoThough not in fact headquartered in the city itself, Techdirt does a whole lot of its business in and around San Francisco — so this week we're marking a milestone in that city's history. It was on January 30th, 1847 that its name was changed from Yerba Buena to San Francisco by Lt. Washington Allon Bartlett.

Permalink | Comments | Email This Story


Read more here

---
posted at: 12:00am on 05-Feb-2017
path: /Policy | permalink | edit (requires password)
0 comments, click here to add the first
---
---
Sizmek Unveils Data Hub to Streamline Audience-Based Creative Executions

Furnished content.


Ad buyers can now centralize and activate their audience data to build segments and target ads from Sizmek's platform. Sizmek, an open ad management company for multiscreen ad experiences, has launched Data Hub, a data-centralizing ecosystem that enables advertisers to pull in audience segments from integrated Data Management Platforms (DMPs) and enrich them with data [...]

Read more here

---
posted at: 12:00am on 04-Feb-2017
path: /Online_Marketing | permalink | edit (requires password)
0 comments, click here to add the first
---
---
Global Digital Marketing Group Introduces Data-Driven Programmatic Buying Solution

Furnished content.


Advertisers and publishers to benefit from optimization of campaign traffic. Global Digital Marketing Group (GDM Group), led by CEO Dmitry Atamanyuk (pictured left), has launched Convertuum — a programmatic, data-driven solution that uses predictive algorithms and retargeting segments to optimize campaign traffic. Convertuum determines the level of user group segmentation based on incoming traffic volume [...]

Read more here

---
posted at: 12:00am on 04-Feb-2017
path: /Online_Marketing | permalink | edit (requires password)
0 comments, click here to add the first
---
---
HowStuffWorks Attempts To Explain Why Advertisers Use Super Bowl Euphemisms, But I have A Simpler Explanation

Furnished content.


It's common knowledge at this point why advertisers start to go wonky after the new year. We've long talked about how all kinds of groups and companies suddenly begin playing the euphemism game when it comes to the Super Bowl, America's annual celebration of brain trauma. Everyone, from comedians to beer makers to tech companies, goes to great lengths to wink at everyone as they all refer to the Super Bowl by any name other than its own. Why? Well, because the NFL has a trademark on the term, which allows it to restrict the user of the phrase only to its sponsorship partners... except that that's not remotely true and isn't how trademark law works at all. Instead, the only real prohibition is on the implication that a company is an official sponsor of the NFL when it isn't. Beyond that, simply calling the game what it's called isn't trademark infringement.But this is confusing enough that this year the website HowStuffWorks has done an entire piece to explain to an almost certainly confused public why companies are pretending that nobody knows what they're talking about when they say "the big game" instead of "the Super Bowl." It's a post that deserves a rebuttal, which I will helpfully provide.
The Super Bowl is a registered trademark of the NFL. And the football league also owns the copyright to the telecast of the game. That's why advertisers use unregistered phrases like "the Big Game" or "the football championship" when hawking a furniture sale or happy hour, for instance. The NFL allows the Super Bowl sponsors and the network airing the game that year to use the phrase, but they pay heavily for it.
Not true. Those advertisers pay to be official sponsors, not to simply use the phrase. Anyone can use the phrase Super Bowl as a means for accurately describing the name of the game about which they are talking. They just can't claim to be sponsors, nor imply a relationship with the NFL. If Best Buy advertises a big screen television as the "preferred TV on which to watch the Super Bowl," that's a no-no. But if it says it is running a sale on big screen TVs and to get yours before Super Bowl Sunday, that ain't trademark infringement.So, the explanation for why advertisers don't say "Super Bowl" in that manner isn't because the NFL has the intellectual property rights to it, it's because the NFL is a duplicitous money-monster that has perpetrated a farce in pretending trademark law is something that it isn't.
"The NFL wants to make sure they keep their sponsorships the way they want to control who has use of the phrase," says Anderson. "That way people can know what's directly connected to the NFL and their product." Trademark infringement occurs when someone uses a trademarked term (like "Super Bowl") in a way that may cause a person to wrongly infer an official connection between the company the trademark belongs to and the product advertised.
The NFL absolutely wants that, and it regularly bullies anyone who uses the phrase in a nominative manner in any kind of advertising or social media. But the "how" part of HowThatWorks isn't answered by trademark law. It's a combination of the aforementioned misleading of the public along with the NFL's regular practice of being a protectionist idiot.Because the NFL should want the term said as often as possible by as many people, and companies, as possible:
It's unnecessarily stupid for the NFL, which should want "Super Bowl" said as often as possible, because until 100% of TVs new and old are tuned to the Big Game, the league has not accomplished its goal of complete domination of American consciousness. Best Buy wants to have a Super Bowl sale? Great! That's a free ad for the NFL, which should thank a non-sponsor for promoting their product.This is not, however, how the NFL thinks. This is the same league that banned its own teams from posting GIFs of game highlights, ostensibly to protect its TV partners, as if any GIF-worthy play isn't being turned into a GIF by a thousand different people and going viral anyway. Shouldn't the league want its teams to reap the benefits of all those clicks, which convert to social media followers, which convert to deeper embedding of the product, through official channels, in the minds of consumers?
Nah, the league would much rather play language cop in a silly game it has made out of trying to alter trademark law simply by out-jackass-ing the Olympics. And, hey, it's worked! By simply pretending trademark law is something that it isn't, the NFL has managed to get the world's advertisers to play pretend along with the league. And what a victory it is, what with every advertiser using barely-disguised euphemisms for the game that we all know they're talking about. Victory!So, how does this work? Not in the way HowStuffWorks describes. The NFL acts as a protectionist lie-geyser bully through a legal team on more figurative steroids than the league's field-hands. That's how it works.

Permalink | Comments | Email This Story


Read more here

---
posted at: 12:00am on 04-Feb-2017
path: /Policy | permalink | edit (requires password)
0 comments, click here to add the first
---
---
Good News: Nevada's Strong Anti-SLAPP Law Is Constitutional

Furnished content.


For many, many years we've talked about the importance of strong anti-SLAPP laws. In case you're new to the subject, SLAPP stands for a Strategic Lawsuit Against Public Participation. In short, SLAPP suits are lawsuits where it is fairly obvious that the intent of the lawsuits is to stifle free speech, rather than for a legitimate purpose under the law. The intention of anti-SLAPP laws are to allow for such lawsuits to be tossed out of court quickly -- and, frequently, to force those who bring those suits to pay legal fees. While actually getting a federal anti-SLAPP law is really important, for now, we're left with a patchwork of state laws. While many (though not all) states have anti-SLAPP laws, they vary widely in terms of what they cover and just how strong or effective they are.As we've pointed out in the past, a few years ago, Nevada passed a really great anti-SLAPP law, though it's been under attack the past few years. Thankfully, Marc Randazza informs us that Nevada's anti-SLAPP law has been found to be Constitutional, meaning that it will survive largely intact (a few changes had been made a few years ago to bolster the law's likelihood of surviving).Perhaps even more important was that the ruling basically recognized that Nevada's anti-SLAPP statute was similar to California's (much older and much more broadly litigated anti-SLAPP) law, and that Nevada courts can use California case law for its own anti-SLAPP cases. That's also a good thing:
A secondary issue in the case, and an important one, is that the Nevada Supreme Court recognized that Nevada and California Anti-SLAPP jurisprudence are essentially one body of law. This is not entirely new law. In John v. Douglas Cnty. Sch. Dist., 125 Nev. 746 (2009), the Nevada Supreme Court held similarly, but this was discussing the prior version of the law....[....]The good news is that the Court reaffirmed the John v. Douglas County pronouncement that Nevada courts should rely on the rich body of California case-law in interpreting the Nevada statute. Given the scant case-law we have in Nevada, this is a godsend. California has interpreted "matter of public concern" as extremely broad. Meanwhile, I have seen Nevada trial court judges looking at the standard as much more narrow.This is a good decision that brings more predictability to Anti-SLAPP litigation under the Nevada statute, and ultimately will function to keep Nevada's free speech protections aligned with its free-speech-protective neighbor.
Another good win for an anti-SLAPP law. Now, if only more states (and the federal government) will adopt them and really protect free speech from legal bullying.

Permalink | Comments | Email This Story


Read more here

---
posted at: 12:00am on 04-Feb-2017
path: /Policy | permalink | edit (requires password)
0 comments, click here to add the first
---
---
Nine Years Later, Patriots Get '19-0' And 'Perfect Season' Trademarks, Despite Doing Neither

Furnished content.


Nine years ago we had a post about some of the ridiculousness surrounding trademarks and the Super Bowl (a popular topic this time of year). In particular, we mocked the fact that the New England Patriots had filed for some trademarks in the week before the Super Bowl. Then, as now, the Patriots made it to the Super Bowl, but that year they had done it with a perfect record, winning all 16 games in the regular season and the first two playoff games to go 18-0. They were heavily favored to win the Super Bowl, and had filed for trademarks on both "Perfect Season" and "19-0." Of course, the NY Giants came away with quite the upset and sent the Patriots home as losers. Given that, we were kind of surprised a few months later to discover that the Patriots were still seeking the trademark on "19-0," despite the fact that its actual record for the season was a demoralizing 18-1.I pretty much stopped following it after that and assumed that the Patriots probably gave up as well. But, no. ESPN now tells us that nine years later, the US Patent and Trademark Office has approved the trademarks. No. Really:
Though it has been nine years since the Patriots nearly achieved an undefeated season, the team just now has gotten around to trademarking "Perfect Season" and "19-0."The Patriots have gone through the process with the U.S. Patent and Trademark Office and, in December, trademarked the two slogans through their parent company, The Kraft Group, online records show.
Of course, you might wonder how the hell the Patriots can claim "use in commerce" for these, since the team didn't have a perfect season and didn't go 19-0.
The one complication with those two filings is that, while thousands of T-shirts were printed commemorating a perfect Patriots season, none of them were ever sold. Emblazoned with an event that didn't occur, they instead were shipped to other countries.
The rationale for getting "Perfect Season" is even more bizarre. The Patriots claimed they "licensed" the phrase to apply to a high school championship.
Having to prove that they deserved the right to the phrase, the Patriots apparently licensed "Perfect Season" to the Massachusetts Interscholastic Athletic Association, which produced a DVD of the 2015 state football championship game between Xaverian Brothers and Central Catholic high schools. Xaverian prevailed, winning its 24th straight game (spanning two seasons).
Voila. Use in commerce?Of course, it still makes you wonder why the hell the Patriots still wanted to trademark 19-0. It's not like they really have much use for it at this point. If they eventually do have a 19-0 season... well, then it's still a dumb idea. And are the Patriots now going to seek to block any other NFL team from trying to sell T-shirts if they were to have a 19-0 season? Or are they assuming that only the Patriots could possibly ever achieve such feats?Either way, when we first reported on the 19-0 trademark application, we noted that the NY Post had gotten snarky and filed a trademark application for 18-1. That application was eventually abandoned... as were five other similar attempts to trademark 18-1.
Except for one. As you might notice, that top one was granted. A guy named Raymond William Mort got the trademark for "World Chumps 18-1" back in 2012 (he applied right after the Super Bowl in 2008). Congrats Mr. Mort.
I'm not sure if he's actually selling T-shirts or anything, but he did create this lovely graphic:
I'm sure it's selling like gangbusters.

Permalink | Comments | Email This Story


Read more here

---
posted at: 12:00am on 03-Feb-2017
path: /Policy | permalink | edit (requires password)
0 comments, click here to add the first
---
---
The Road Ahead: Mobile Marketing Resolutions that Industry Leaders Should Keep

Furnished content.


Last year was a spectacular year for the mobile advertising industry and it doesn't seem to be slowing down anytime soon. Mobile ad spend is up 430 percent since 2013, and with more than 2 billion smartphone users worldwide, it's becoming clear that the future of digital marketing is mobile. Globally, eMarketer predicts mobile will [...]

Read more here

---
posted at: 12:00am on 03-Feb-2017
path: /Online_Marketing | permalink | edit (requires password)
0 comments, click here to add the first
---
---
Court Tosses Lawsuit Brought By Brother And Sister Against Take-Two Interactive Over NBA2K Face Scans

Furnished content.


As face-scanning technology has progressed, its use in video games has become more and more realistic. While several games make use of this to transport the gamer directly into the game they play, one of the best to do this is 2K Sports' NBA2K series. By using a web camera or your smartphone, you can take a scan of your face and import it into the game to create your own avatar to ball out on the court with NBA stars. I've done this, and it's awesome.It's that face-scanning feature that was the subject of an attempted lawsuit by a brother and sister in Illinois, however, who argued that Take-Two was violating the state's Biometric Information Privacy Act, which seeks to ensure that businesses that store biometric data for their customers are protecting that data and not using it in ways the customer had never intended. The idea is that if your bank requires a fingerprint to access your account, and either loses that data to theft or uses that data for some other purpose, the public can get monetary and injunctive relief from the court. To do so, however, the plaintiff must suffer actual harm from a violation of BIPA.Ricardo and Vanessa Vigil used the face scan feature in a copy of NBA2K they purchased, and agreed to the terms of service for the feature, but then sought monetary damages against Take-Two, claiming that the "actual harm" they suffered was the failure to follow every rule in BIPA itself. They claimed that the risk that their faces could be pilfered after they decided to play the online portions of the game with the characters they created using their face scans qualified as actual harm. The judge, after a motion to dismiss by Take-Two, was not buying it.
There is no allegation that Take-Two has disseminated or sold the plaintiffs' biometric data to third-parties, or that Take-Two has used the plaintiffs' biometric information in any way not contemplated by the only possible use of the MyPlayer feature: the creation of personalized basketball avatars for in-game play. The purported violations of BIPA are, at best, marginal, and the plaintiffs lack standing to pursue their claims for the alleged bare procedural violations of BIPA.
In other words: nice try on the money-grab, but we're not buying it. The idea behind BIPA is not to allow the public to syphon away money from companies that have been completely upfront about the use of biometric data, or face scans. Had the court allowed the potential for injury to serve as a valid reason for a lawsuit, the use of biometric data by companies and consenting members of the public would result in all kinds of lawsuits. And that technology has far more useful applications than video game face scans.

Permalink | Comments | Email This Story


Read more here

---
posted at: 12:00am on 03-Feb-2017
path: /Policy | permalink | edit (requires password)
0 comments, click here to add the first
---
---
Denuvo Responds: Five Days Is Better Than No Days, Amirite?

Furnished content.


It certainly looks for all the world like Denuvo is unraveling as a valid option for DRM in video games. The software, once described as the final solution to piracy, has had its defenses cracked in time intervals following an exponentially shorter curve. For how long it would take to crack a Denuvo-protected video game, reality went from "never", to "months", to "less months" in the case of the latest Doom game. After Doom was cracked, and after the developer removed Denuvo from the software via a patch, the makers of Denuvo spun it as a victory, stating that developers were protecting their games during the early release window and then removing it later.But then Resident Evil 7, protected by Denuvo, was cracked in under a week's time. With its spin halted by this new reality, Denuvo's response has changed slightly to: hey, it could be worse!
Now, Denuvo is defending its "Anti-Tamper" technology, saying it's still the best copy protection currently available."It's correct that the title in question was cracked some days after release," Denuvo Marketing Director Thomas Goebl told Eurogamer. That said, "Given the fact that every unprotected title is cracked on the day of release—as well as every update of games—our solution made a difference for this title."
It's a response as bold as it is simple: five is a number greater than zero. And, hey, that's true. Every positive number is greater than zero. Like, oh I don't know, the cost of Denuvo licensing being greater than the zero it costs to not implement it at all. If we're going to boil this all down to simple math equations, it seems to me the most important equation should be is X greater than or equal to Y, with X being the amount of money a few days of DRM protection provides and Y being the cost of using Denuvo DRM. With a cracking window short enough that I can count the number of days it takes on one hand, it strains the mind to understand how X could possibly be greater than Y.And keep in mind that Denuvo prefaced this by stating that its DRM was the best on the market. And that's true! But that doesn't say anything positive for the value of Denuvo, while at the same time telling game companies all they should need to know about the value of DRM in general: it doesn't work. And not only does it not work, but you don't get your money back after it fails to do its job.
Goebl did deny earlier reports that publishers were being issued refunds after their Denuvo-protected games had been cracked. "We do not have any deals in place that offer refunds if a game is cracked within a specific time frame," the company told Eurogamer.
Hey, at least they're being upfront about it. Game developers can buy a thing that doesn't work and doesn't come with a refund, or they could notice that Resident Evil 7 continues to sell very, very well, piracy and all.

Permalink | Comments | Email This Story


Read more here

---
posted at: 12:00am on 02-Feb-2017
path: /Policy | permalink | edit (requires password)
0 comments, click here to add the first
---
---
Texas A&M Accused Of Committing Copyright Infringement In Effort To Bolster Trademark Protection For '12th Man'

Furnished content.


I'm not sure there is a more annoying group of stories about trademark protectionism than that of the "12th Man." What most likely assume is a common term at football games, popularly denoting the impact a raucous crowd can have on the opposing team, is actually a closely guarded trademarked term of Texas A&M. So closely guarded, in fact, that the school has not only policed use of the term by other football organizations, but it has also seen fit to threaten breweries and double-amputees over their use of the term. So concerned is Texas A&M by the moral position on intellectual property, in other words, that there are no limits on how it will act to protect its trademark.That includes violating someone else's intellectual property, it seems. It appears the university is being sued for copyright infringement after having posted on its website a large swath of an unpublished book by an author on the history of Texas A&M, all in order to bolster its own claims on the trademark for the "12th Man."
Alabama resident and author Michael J. Bynum sued the Texas A&M University Athletic Department, the Texas A&M University 12th Man Foundation and three school employees on Thursday in the Southern District of Texas, claiming the athletic department posted the "heart" of his unpublished book "12th Man: The Life and Legend of Texas A&M's E. King Gill" on its website "nearly word-for-word" in January 2014 without his permission... He made several trips from Alabama to Texas, visiting Gill's high school in Dallas and Texas A&M University where he met with Brad Marquardt and Alan Cannon, media-relations employees in the school's athletic department.Cannon and Marquardt are now defendants in the lawsuit.
Shortly after a follow-up email exchange to Marquardt about the book, the infringing post made up of a draft Bynum had sent to the defendants suddenly appeared on the school's website. Gone from the post was the copyright notice Bynum had included on his draft, along with apparently any attribution to Bynum himself as the author of the work. That post was then used to bolster the ownership claim to the "12th Man" by the school against the Seattle Seahawks, with whom the school eventually worked out a licensing deal for the term. In other words, Texas A&M committed copyright infringement in order to try and protect a fairly generic trademark.Now, in fairness to Marquardt and the school, the post was taken down when Bynum called the next day to complain. Marquardt even offered the following explanation for how this all happened in an email to Bynum.
"It was an incredibly coincidental mix-up on my part," the email said. "I was cleaning my office, which you may recall is generally a cluttered mess. While going through files, I found a story of the 12th Man on some slightly yellowed 8.5×11 paper. I had no recollection of it [sic] origin.
Look, for the everyday man, this kind of incidental copyright infringement might seem like a reasonable mistake to have made. But, of course, this is Texas A&M we're talking about, and the school is super into intellectual property protection. Certainly its officials ought to know better than to simply post anything they might find on yellowing printer paper that happens to be lying around the office from who-knows-where? And the taking down of the post might have been fine if the school's post hadn't managed to go viral almost immediately after it had been posted.It's sort of fun how you can pretty much set your watch to how those who are the most vociferous in protecting intellectual property will be caught violating it.

Permalink | Comments | Email This Story


Read more here

---
posted at: 12:00am on 02-Feb-2017
path: /Policy | permalink | edit (requires password)
0 comments, click here to add the first
---
---
The Top 3 Technologies Revolutionizing E-Commerce

Furnished content.


Staying up to date with rapidly evolving technologies in the e-commerce and marketing industries can be a daunting task. RTB House analyzed the top 3 most successful technologies impacting the e-commerce industry today. New Technologies On The Rise: In 2016, total retail sales across the globe reached a whopping $22.049 trillion estimation, up 6% from [...]

Read more here

---
posted at: 12:00am on 01-Feb-2017
path: /Online_Marketing | permalink | edit (requires password)
0 comments, click here to add the first
---
---
Hitwise Launches Hourly Online Traffic Insights Reporting

Furnished content.


Hitwise is rolling out its next-generation AudienceView platform that integrates data from its panel of 8 million web users, tracking behavior across 20 million websites and 500 million search terms in the US. It also reports on over 60,000 consumer characteristics. Hitwise, a company delivering large-scale online clickstream data collection and consumer behavioral analytics, has [...]

Read more here

---
posted at: 12:00am on 01-Feb-2017
path: /Online_Marketing | permalink | edit (requires password)
0 comments, click here to add the first
---
---
Ad-Juster Promotes Matthew Essenburg to CTO & Dan Lawton to CM/CBDO

Furnished content.


Ad-Juster, a fully automated reconciliation and aggregation reporting system serving the digital ad industry, announced that it has promoted Matthew Essenburg (pictured top left) from Director of Research and Development to Chief Technology Officer and Dan Lawton (pictured below) from VP Business Development and Sales, to Chief Marketing/Chief Business Development Officer. Mr. Essenburg is based [...]

Read more here

---
posted at: 12:00am on 01-Feb-2017
path: /Online_Marketing | permalink | edit (requires password)
0 comments, click here to add the first
---
---
RIP Denuvo: Resident Evil 7 Cracked In Five Days

Furnished content.


The Denuvo saga has been impressive on a couple of levels. The DRM software's public cycle was notable first in that game-cracking groups, notorious for their confidence in their own abilities, initially sounded the alarm over Denuvo's status as an anti-piracy unicorn that would never be broken and would lead to the end of software piracy. That happened in January of 2016. By August, Denuvo was being broken by other cracking groups. By the time winter rolled around, game developers, including developers of AAA titles, were pushing out quiet updates to games to remove Denuvo from their software entirely. Denuvo's makers, meanwhile, spun this as a success story, suggesting that developers were chiefly using Denuvo to protect games during the initial release cycle and then removing it afterwards.But that thin thread of relevancy appears to have snapped, relegating Denuvo to the same scrap pile as every other form of DRM ever tried, now that a cracking group has successfully cracked a Denuvo-protected game in five days' time.
Yesterday, just five days after its January 24th retail date, Resident Evil 7: Biohazard was cracked by CPY. The self-proclaimed Italian group placed RE7 on a so-called top site, with the 'piracy pyramid' doing the rest of the work by cascading it to torrent sites in a matter of minutes. Currently, tens of thousands of pirates are grabbing the 23GB download.
So, that protected release window has shrunk to just under a week. Whatever the cost to implement Denuvo in a game, those five days can't make it worth the price of admission.Now, some will point out, as does the TorrentFreak post, that there are still un-cracked Denuvo-protected games on the market. And that's absolutely true. But also true is that the trend for the efficacy of Denuvo DRM only travels in one direction and not a good one for those looking to the software as a way to end the scourge of video game piracy. When we begin measuring the effectiveness of DRM in days, or even when we do so in weeks, it's clear the only logical action for developers that used it is to rage-quit the DRM entirely and move on.Particularly when that same DRM, so ineffective at stopping piracy, proves to be impressively effective at pissing off real customers.
Some fans have complained that Denuvo is unwieldy and annoying. It forces games to be dependent on third-party activation servers and makes certain types of modding impossible. Publishers use the program regardless, in hopes of boosting game sales by rendering piracy more difficult.
And now that it's no longer serving that purpose, it's time it was dropped from use. The good news for those of us who want to see a thriving games market is that Resident Evil 7, because the reviews have been quite positive, is selling quite well. Even with it having been cracked in five days' time. Because piracy isn't a barrier to success, nevermind one worth annoying legitimate customers over.

Permalink | Comments | Email This Story


Read more here

---
posted at: 12:00am on 01-Feb-2017
path: /Policy | permalink | edit (requires password)
0 comments, click here to add the first
---
---
Here's What Happened When The Dutch Secret Service Tried To Recruit A Tor Admin

Furnished content.


Law enforcement keeps bumping into Tor, as Techdirt has reported many times over the years. So it's understandable that the authorities are always looking for ways to subvert and circumvent the extra protection that Tor can offer its users when used properly. For obvious reasons, we don't often get to hear exactly how they are doing that, but a fascinating post on the Dutch site Buro Jansen & Janssen purports to give some details of what happened when the country's secret service tried to recruit a Tor admin. First, a caveat. The site says:
We received this story from a person who wants to remain anonymous. We conducted an investigation to the existence of this person and confirmed their existence.
However, that still raises the question of whether the site itself is reliable. It describes itself as follows:
A land-rights collective which has been publishing for 30 years on the expansion of repressive legislation, public-private partnerships, authorities, governmental actions and other state affairs.
Some might argue that means it has an axe to grind against the authorities and secret services, making its report less credible. That said, the site seems to contain a wide variety of solid information, and the post itself is plausible enough. It recounts how the Dutch secret service in the form of an older man and younger woman contacted the unnamed Tor admin:
They approached me and identified themselves with a badge of the Ministry of Internal Affairs and said they were working for the AIVD (Dutch secret service). They asked me to hear them out. I was in a state of shock and thought I had committed a crime but they immediately started to talk about on my studies. They made it clear they've read my thesis on IT security and showered me with compliments before they were firing a round of job offers at me.
Here's what they offered and what they wanted:
They asked me if I was interested in traveling for a couple of years and for example work in Germany at a technology company while visiting the Chaos Computer Club's hacker spaces to see what's going on and report back to them. All my expenditures would be covered....They also mentioned that occasionally there are hacker parties in Italy, Austria, Spain, and other countries, and they said I could see that as paid holidays. They were very honest about the fact that they were looking for foreign talent but mostly interested in keeping tabs on Dutch IT-professionals and hackers abroad. They emphasized on monitoring Dutch people abroad at least 3 times.
That's pretty conventional stuff. But you obviously don't try to recruit a Tor admin unless you are also interested in keeping an eye on Tor itself:
The old man who showered me with compliments suddenly said: "look, we know about your Tor-exit nodes, if you run them with us you will be able to make a living out of it, but if you don't and something illegal happens, we can't help you if the police visits your home and seizes your equipment."
That threat was accompanied with a further warning not to speak to anybody about the conversation that had just taken place. Let's hope that nothing has happened, or will happen, to the person involved for disobeying that instruction. Assuming, of course, that the post is genuine -- something that Techdirt readers will doubtless have their own views about.Follow me @glynmoody on Twitter or identi.ca, and +glynmoody on Google+

Permalink | Comments | Email This Story


Read more here

---
posted at: 12:00am on 01-Feb-2017
path: /Policy | permalink | edit (requires password)
0 comments, click here to add the first
---
---