---
Philly Cops Skirting Forfeiture Restrictions By Seizing Cars As 'Evidence'

Furnished content.



A couple of months ago, a consent decree drastically restructured Philadelphia's severely-abused asset forfeiture program. It didn't eliminate the program entirely, but it did eliminate the small-ball cash grabs favored by local law enforcement. The median seizure by Philly law enforcement is only $178, but it adds up to millions if you do it all the time. Small seizures like this now need to be tied to arrests or the property needs to be used as evidence in a criminal case.
Other restraints will hopefully eliminate local law enforcement's worst practices -- like seizing someone's house because their kid sold $40 of drugs to a police informant. It also should slow down seizures of whatever's in a person's pockets by forbidding forfeitures of under $250 entirely.
The consent decree obviously won't solve everything, and part of the problem is the consent decree itself. It forbids seizures of less than $1,000 unless the property is evidence in an ongoing case. Guess what local law enforcement is doing.
In November 2017, Iyo Bishop of Philadelphia was arrested on assault charges after a boyfriend, who she said was abusive, accused her of striking him with an SUV. City police picked her up after spotting the vehicle parked on the street weeks later. Bishop maintained her innocence but was cuffed and thrown in a squad car. She then watched in disbelief as an officer hopped in her 2002 Jeep Liberty and drove off.

Although the charges against Bishop were eventually dropped, she never saw her vehicle again. Police sold the Jeep at auction for $1,155 in storage fees they had assessed while the case made its way through the court system.
As this report by Ryan Briggs of The Appeal shows, the consent decree basically codifies this behavior. Cops seize vehicles when making arrests, ticking one of the requirement boxes. Then they claim the vehicle is evidence, ticking the other box.
Older vehicles worth less than $1,000 simply sit in impound lots racking up fees while the accused's case languishes in the court system. The vehicle can't be returned until the criminal case is processed, so it doesn't take long for impound fees to outweigh the vehicle's value. All of this is completely beyond the control of the person's whose car has been seized.
Even if charges are dismissed or the accused is cleared of wrongdoing, the car's owner still owes these fees. Every day they can't pay it, the total increases. Sooner or later, the vehicle will be auctioned. Now the innocent person has no vehicle and is still ultimately liable for uncollected fees.
This allows cops to make money on seized vehicles even if the vehicle isn't seized from someone suspected of criminal activity. It can happen to crime victims as well.
In 2014, Karin Foley and her husband, Willis, were moving from New York State to South Carolina when their vehicle blew a tire in Pennsylvania. When Willis Foley pulled the car over and got out to change the tire, a semi struck and killed him. Pennsylvania State Police later determined that the truck driver had been at the wheel for nearly 30 hours straight.

But the state troopers who responded to the accident impounded the Foleys' diesel pickup and a horse trailer packed with their possessions as evidence. Like Bishop, Karin Foley never saw the truck, the trailer, or any of her belongings again.

The criminal case against the trucker dragged on for three years but never made it to trial. In May, he pleaded guilty to involuntary manslaughter. State police called Foley a few months later to tell her that she had one week to travel to Pennsylvania—hundreds of miles from her South Carolina home—or they would auction her truck and trailer.
And auction it they did. The seized evidence was never used in court and local law enforcement immediately flipped the seized vehicle for unearned profit. To top it off, the coroner billed the widow $175 for her husband's body bag.
While it's understandable some property will be seized as evidence in criminal cases, fees shouldn't be charged to those found innocent or to victims of criminal activity. This is just another form of forfeiture that provides almost no avenue of recourse to property owners other than paying the government to give them back their stuff.

Permalink | Comments | Email This Story


Read more here
---
posted at: 12:06am on 30-Nov-2018
path: /Policy | permalink | edit (requires password)
0 comments, click here to add the first
---
---
EFF, ACLU Petition Court To Unseal Documents From DOJ's Latest Anti-Encryption Efforts

Furnished content.



Back in August, the DOJ headed to court, hoping to obtain some of that sweet sweet anti-encryption precedent. Waving around papers declaring an MS-13 gang conspiracy, the DOJ demanded Facebook break encryption on private Messenger messages and phone calls so the government could eavesdrop. Facebook responded by saying it couldn't do that without altering -- i.e., breaking -- Messenger's underlying structure.
Not that breaking a communications platform would give the FBI any sleepless nights. Worthless encryption is better than good encryption when it comes to demanding the content of communications or, as in this case, operating as the unseen man-in-middle when suspected gang members chatted with each other.
Unfortunately (for the FBI), this ended in a demurral by the federal court. The details of the court's decision are, just as unfortunately, unknown. Reuters was able to obtain comments from "insiders familiar with the case," but the public at large is still in the dark as to how all of this turned out.
The EFF and ACLU are hoping to change that.
In our petition filed today in the United States District Court for the Eastern District of California, EFF, the ACLU, and Riana Pfefferkorn of Stanford Law School's Center for Internet and Society seek to shed light on this important issue. We're asking the court to release all court orders and related materials in the sealed Messenger case.

Given the importance of encryption in widely used consumer products, it is a matter of public interest any time law enforcement tries to compel a company to circumvent its own security features.
The petition [PDF] points out the First Amendment guarantees access to courtroom proceedings and the courts are supposed to adhere to this by operating with a presumption of openness. Only in rare, rare cases should they side with the government and allow the public to be cut out of the loop by sealing documents.
This is doubly true in cases of significant public interest. Any time the DOJ is in court agitating for broken encryption, it's safe the say the public will be affected by the case's outcome. At this point, we don't know anything more than the DOJ didn't get what it wanted. What we don't know is why, or what impact the ruling here will have on similar cases in the future. And we should know these details because, if nothing else, the FBI has proven it cannot be trusted to deal with device encryption honestly.

Permalink | Comments | Email This Story


Read more here
---
posted at: 12:06am on 30-Nov-2018
path: /Policy | permalink | edit (requires password)
0 comments, click here to add the first
---
---
Pompous 'International Grand Committee' Signs Useless But Equally Pompous 'Declaration On Principles Of Law Governing The Internet'

Furnished content.


So just a few weeks after a bunch of countries (and companies and organizations) signed onto a weird and mostly empty Paris Call for Trust and Safety in Cyberspace, a group of nine countries -- Argentina, Belgium, Brazil, Canada, France, Ireland, Latvia, Singapore and the UK, have declared themselves the "International Grand Committee on Disinformation and Fake News" and signed onto a Principles of the Law Governing the Internet. If that list of countries sound familiar, that's because it's the same list of countries that put on that grandstanding inquisition of Facebook that produced fake news in its own way, by falsely claiming that Facebook had discovered Russians extracting 3 billion data points via its API back in 2014 (it wasn't Russia, it was Pinterest; it wasn't 3 billion, it was 6 million; it wasn't abuse of the API, but using it correctly).The Declaration makes some grand pronouncements:
Noting that: the world in which the traditional institutions of democratic government operate is changing at an unprecedented pace; it is an urgent and critical priority for legislatures and governments to ensure that the fundamental rights and safeguards of their citizens are not violated or undermined by the unchecked march of technology; the democratic world order is suffering a crisis of trust from the growth of disinformation, the proliferation of online aggression and hate speech, concerted attacks on our common democratic values of tolerance and respect for the views of others, and the widespread misuse of data belonging to citizens to enable these attempts to sabotage open and democratic processes, including elections.Affirming that: representative democracy is too important and too hard-won to be left undefended from online harms, in particular aggressive campaigns of disinformation launched from one country against citizens in another, and the co-ordinated activity of fake accounts using data-targeting methods to try manipulate the information that people see on social media.Believing that: it is incumbent on us to create a system of global internet governance that can serve to protect the fundamental rights and freedoms of generations to come, based on established codes of conduct for agencies working for nation states, and govern the major international tech platforms which have created the systems that serve online content to billions of users around the world.
Okay. So what does it all mean? Well, here are the details of the "declaration":
i. The internet is global and law relating to it must derive from globally agreed principles;
ii. The deliberate spreading of disinformation and division is a credible threat to the continuation and growth of democracy and a civilising global dialogue;
iii. Global technology firms must recognise their great power and demonstrate their readiness to accept their great responsibility as holders of influence;
iv. Social Media companies should be held liable if they fail to comply with a judicial, statutory or regulatory order to remove harmful and misleading content from their platforms, and should be regulated to ensure they comply with this requirement;
v. Technology companies must demonstrate their accountability to users by making themselves fully answerable to national legislatures and other organs of representative democracy.
Of course, in the context of the committee who created this Declaration having now been revealed to have created "fake news" itself, this kind comes off pretty... weak. But also, the whole thing is kind of meaningless. The companies do recognize their "power" and have been trying to deal with this issue. Yes, perhaps they didn't grasp the severity of the issue in the past, but they certainly have more recently. But simple declarations and pronouncements don't really do anything useful in "solving" those issues. That's because much of it is a human nature issue, and expecting tech companies to "take responsibility" for human nature is... well... nonsense.

Permalink | Comments | Email This Story


Read more here

---
posted at: 12:06am on 29-Nov-2018
path: /Policy | permalink | edit (requires password)
0 comments, click here to add the first
---
---
Activists Make One Last Push To Restore Net Neutrality Via Congressional Review Act

Furnished content.


Efforts to reverse the FCC's historically unpopular attack on net neutrality using the Congressional Review Act (CRA) have been stuck in neutral for several months, but activists are backing one last push in a bid to get the uphill effort over the hump.The CRA lets Congress reverse a regulatory action with a simple majority vote in the Senate and the House (which is how the GOP successfully killed broadband consumer privacy protections last year). And while the Senate voted 52 to 47 back in May to reverse the FCC's attack on net neutrality, companion efforts to set up a similar vote in the House haven't gained much traction as the clock continues to tick. A discharge petition needs 218 votes to even see floor time, and another 218 votes to pass the measure.But the needed votes have lingered at around 172 for months, split (quite stupidly, given broad public support) along strict partisan lines.Hoping to push the effort over the line and drum up the needed votes ahead of the December 10 CRA deadline, net neutrality activist groups like Fight for the Future are holding one last online protest on Thursday, November 29. This time around they've drummed up the support of numerous musicians and celebrities in the hope of getting the attention of a public that's clearly weary of the entire debate:
"The effort is backed by musicians and celebrities like Hollywood star Evangeline Lilly (Ant-Man and the Wasp, The Hobbit, Lost), Rage Against the Machine guitarist Tom Morello, and EDM star Bassnectar, along with startups and major web companies like online selling platform Etsy, delivery service Postmates, publishing platform Tumblr, Private Internet Access VPN, popular blog BoingBoing, domain registrar Namecheap, search engine StartPage, and speaker company Sonos."
The problem, of course, is that all the public screaming in the world has yet to shift the thinking of well-lobbied net neutrality opponents in Congress, and adding Tom Morello or Sonos to the proceedings, while appreciated and notable, isn't likely to move the needle much. Even if the vote succeeds, it still would have to avoid a veto by Trump. And while activists I've spoken to have argued that a House vote could appeal to Trump's "populist" side and pressure him to let the restoration ride through, that's simply not very likely. It's probably worth trying as a hail Mary pass anyway, but it's just not likely.In reality, the best chance at saving net neutrality rests with next year's net neutrality court battle, the opening arguments for which begin next February. It's there that a handful of companies like Mozilla, and 23 state attorneys general, will make their case that the FCC ignored the public and violated the Administrative Procedure Act in aggressively dismantling popular consumer protections, while basing their entire justification for the repeal on telecom industry lobbying bullshit.Should the FCC lose that lawsuit, the agency's 2015 rules would be restored -- though Ajit Pai's FCC isn't likely to enforce them during his tenure (however long it lasts). Should the FCC and its ISP BFFs win that case, they still need to find a way to prevent a future FCC or Congress from passing net neutrality rules (or laws) with real teeth. That's why companies like AT&T have been pushing loyal foot soldiers like Marsha Blackburn to table loophole-filled, fake net neutrality legislation with only one real purpose: preempting tougher state or federal rules.But with a shifting Congressional makeup, and net neutrality supporters in Congress not eager to anger activists by signing garbage legislation, that gambit isn't likely to succeed. The net result: like privacy, we're going to need to have a real conversation about what a realnet neutrality law might look like. And it's going to require a Sisyphean effort to prevent countless industries and their loyal political foot soldiers (with a vested interest in uneven playing fields and turf protection) from polluting the entire process.While many are fatigued by the entire net neutrality fight, it's worth remembering that net neutrality doesn't just live or die based on the passage or restoration of rules or laws. It's a never-ending fight that will continue for however long the broadband industry maintains a stranglehold on meaningful competition. Given telco apathy, 5G's overhype as a competitive panacea, a growing cable monopoly over next-gen speeds, and Pai-era regulatory apathy, that's a problem that's not going away anytime soon.

Permalink | Comments | Email This Story


Read more here

---
posted at: 12:06am on 29-Nov-2018
path: /Policy | permalink | edit (requires password)
0 comments, click here to add the first
---
---
School Security Software Decides Innocent Parent Is Actually A Registered Sex Offender

Furnished content.



An automated system is only as good as its human backstop. If the humans making the final judgment call are incapable of using good judgment, the system is useless.
School personnel allowed a machine to do all of their critical thinking, resulting in this unfortunate turn of events.
Staff in an Aurora school office mistakenly flagged a man as a registered sex offender when he and his family went to his son's middle school for a recent event.

Larry Mitchell said he was humiliated Oct. 27 when Aurora Hills Middle School office staff scanned his driver license into a software system used to screen visitors to Aurora Public Schools district schools.

The system, provided by a private company, flagged Mitchell as a potential match with a registered sex offender in a nation-wide database. Staff compared Mitchell's information with the potential match and determined that match was correct, even though there are no offenders in the national sex offender registry with his exact name and date of birth.
Not only did these stats not match, but the photos of registered sex offenders with the same name looked nothing like Larry Mitchell. The journalists covering the story ran Mitchell's info through the same databases -- including Mitchell's birth name (he was adopted) -- and found zero matches. What it did find was a 62-year-old white sex offender who also sported the alias "Jesus Christ," and a black man roughly the same age as the Mitchell, who is white.
School administration has little to say about this botched security effort, other than policies and protocols were followed. But if so, school personnel need better training… or maybe at least an eye check. Raptor, which provides the security system used to misidentify Mitchell, says photo-matching is a key step in the vetting process [PDF].
In order to determine a False Positive Match the system operator will:

i. Compare the picture from the identification to the picture from the database.

ii.If the picture is unclear, we will check the date of birth, middle name, and other identifying information such as height and eye color.

iii. The Raptor System has a screen for the operator to view and compare photos.

iv. If the person or identifying characteristics are clearly not from the same person, the person will then be issued a badge and established procedures will be followed.
Even if you move past the glaring mismatch in photos (the photos returned in the Sentinel's search of Raptor's system are embedded in the article), neither the school nor Raptor can explain how Raptor's system returned results that can't be duplicated by journalists.
Mitchell said he was adopted, and his birth name is Lawrence Michael Evans. The Sentinel did not find a match with that or his legal name and date of birth in the national sex offender registry.
Raptor says its system is reliable, stating it only returned one false positive in that county last year. (And now the number has doubled!) That's heartening, but that number will only increase as system deployment expands. Raptor's self-assessment may be accurate, but statements about the certainty of its search results are hardly useful.
The company's sales pitch likely includes its low false positive rate, which, in turn, leads school personnel to believe the system rather than the person standing in front of them -- one who bears no resemblance (physical or otherwise) to the registry search results. Mitchell still isn't allowed into the building without a security escort and is hoping that presenting school admins with his spotless criminal background check will finally jostle their apparently unshakeable belief in Raptor's search results.
This failure is also an indictment of the security-over-sanity thinking. The Sentinel asked government officials if there were any incidents in which sex offenders had gained access to schools, thus necessitating this $100,000+ investment in Raptor's security system. No results were returned.
Neither local school or state public safety or education officials could point to data showing how many registered offenders try to seek access to schools, or if a registered offender visiting a school has ever harmed a student in Aurora or Colorado.
Given this history, Raptor's system is always going to be better known -- at least at this school -- for locking out non-criminals than catching sex offenders trying to be somewhere they shouldn't. If the schools haven't seen activity that necessitates the use of this system, it will always produce more false positives than actual hits. When there's no one to catch, you're only going to end up stigmatizing innocent parents. It's a lot of money to pay for solving a problem that doesn't exist. The school has purchased a tiger-proof rock and somehow managed to hurt someone with it.

Permalink | Comments | Email This Story


Read more here
---
posted at: 12:06am on 28-Nov-2018
path: /Policy | permalink | edit (requires password)
0 comments, click here to add the first
---
---
Techdirt Podcast Episode 190: Should We Break Up Big Tech?

Furnished content.




A few weeks ago, we featured a panel discussion with Mike and others at the Lincoln Network's Reboot conference on the podcast. This week we're doing something a little different and featuring another panel discussion from that conference, but one in which Mike wasn't involved. Instead, it's an interesting — and at times contentious — debate about one big question: do the big tech firms need to be broken up?Follow the Techdirt Podcast on Soundcloud, subscribe via iTunes or Google Play, or grab the RSS feed. You can also keep up with all the latest episodes right here on Techdirt.

Permalink | Comments | Email This Story


Read more here

---
posted at: 12:06am on 28-Nov-2018
path: /Policy | permalink | edit (requires password)
0 comments, click here to add the first
---
---
Square Looks To Block Trademark App Of Indie Game Over Game Franchise It Acquired A Decade Ago And Did Nothing With

Furnished content.


You will recall that several years back there was a very stupid trademark dispute between Notch, maker of MineCraft, and Bethesda, which owns the rights to the Elder Scrolls franchise. At issue was Notch's new game Scrolls (which has since been retitled Caller's Bane) with Bethesda crying trademark infringement, claiming it owned the trademark rights to basically everything "scrolls." Disappointingly, the whole thing ended in a settlement with Notch getting to keep his game's name but not getting his trademark.While in that case one could at least lend Bethesda the acknowledgement that Elder Scrolls games are very much still active in the marketplace and haven't become simply methods for retro enjoyment, the same cannot be said of Square's ownership of the Conflict series. And, yet, Square has decided to oppose the trademark application of an indie developer in Malta for its title Conflict Of Nations: World War 3.
Dorado Games recently attempted to trademark Conflict of Nations: World War 3, an online strategy game which released on Steam earlier this year. Quickly thereafter, it received an opposition filing from Square Enix's lawyers, claiming that there "is a clear likelihood of confusion" with the publisher's long-established Conflict franchise. Between 2002 and 2008, Square Enix published six games under the branding, such as Conflict: Desert Storm, and Conflict: Denied Ops.In a letter to Dorado Games seen by GamesIndustry.biz, Square Enix's lawyers argue that the publisher has been using the trademark for 16 years, and has "educated consumers" to recognise the "Conflict + tagline" pattern.
There's a ton that's misleading in Square's letter. For starters, while there were six games published between 2002 and 2008, Square didn't publish a single one of them. Other publishers did, mostly EIDOS, which Square bought in 2009. In other words, Square acquired the rights to the games, but wasn't responsible for publishing any of them. Likewise, Square itself hasn't been using these trademarks for 16 years, having only acquired them ten years ago. Finally, it can claim that it's "educated" gamers to recognize the naming convention of the games all it wants, but it hasn't created a new game in the franchise for over a decade.Which is why, along with the fact that the naming convention used by Dorado Games isn't all that similar, concerns about customer confusion in this case don't make a great deal of sense.
Nick Porsche, managing director of Dorado Games, compared the move to Bethesda's "Scrolls trademark calamity"."Having been in the games industry for 20 years this type of behaviour is exactly the reason we decided to do our own thing - without publishers, based in an island nation with its own jurisdiction," he told GamesIndustry.biz. "It's really ridiculous to which degree the majors are trying to crush anyone within their space, while preventing smaller companies from effectively marketing their products online - even when there is no contextual overlap whatsoever."
What Square will rely on is that the old Conflict series games are still available as retro-titles. But the idea that a single publisher could lock up a word like "Conflict" in the video game industry by continuing to offer decades old games and just sitting on the trademark is insane. Fortunately, the real bar when it comes to trademark law is customer confusion in the marketplace. Unfortunately, most small indie developers don't have the resources to fight court and trademark battles, and typically just bow down before the larger corporations.It's not clear yet which way Dorado Games will go, but I hope they take this conflict head on.

Permalink | Comments | Email This Story


Read more here

---
posted at: 12:06am on 27-Nov-2018
path: /Policy | permalink | edit (requires password)
0 comments, click here to add the first
---
---
Homicide, Sexual Assault Cases On The Line After Crime Lab Discovers Tech Using The Wrong Tools For The Job

Furnished content.



When life and liberty are on the line, law enforcement lab techs are there to turn hard science into a roulette wheel. Once you get past the fact that a lot of forensic investigative techniques are little more than junk science, you run directly into the failures of the humans staffing forensic/drug testing labs.
In the state of Massachusetts alone, more than 30,000 cases are in the process of being tossed due to lab tech misconduct. One lab tech faked most of her work, speeding through her workload by faking tests and test results. Another used the drug lab as her own personal drug stash, using whatever substances she wanted from incoming evidence and replacing it with filler.
Forensic science is plagued with incompetence and overconfidence, which is an incredibly bad combination when people's freedom is on the line. Only in recent years has the DOJ instructed forensic experts to stop overstating the certainty of their findings. But that hardly fixes the problem. Outside debunkings have led to zero changes in law enforcement forensic work -- a fact so disheartening a judge very publicly resigned from a committee seeking to fix these problems when it became apparent the committee wasn't actually supposed to fix anything.
Here comes more bad news on the forensic front, via criminal justice blog Grits for Breakfast.
The Houston Forensic Science Center has fired a crime scene investigator who violated policy by using unapproved equipment that resulted in false negatives for biological evidence in at least two sexual assault cases, officials said Friday.

Lab officials, who fired investigator Tammy Barette Thursday, said they may never know the full impact her actions may have had on other cases.
Well, sure, you may "never know" if you don't go looking. To be on the safe side, you could consider everything this investigator ever touched tainted. That would cover the "full impact" with some to spare. But if this is handled like any other case of lab misconduct, it will take a court to force a full accounting of the damage.
From what's been uncovered so far, it appears the lab tech used her own equipment to identify the presence of bodily fluids that contain DNA. Her personal tool didn't meet the lab's requirements, making any results of hers suspect. A lab supervisor found 19 cases in which the inadequate tool was used. Even in this limited sample, there were serious problems.
Out of 19 cases where Barette used the improper light source, including the case that sparked the investigation, only four had evidence available to retest, agency spokeswoman Ramit Plushnick-Masti said. Two of those were wrongfully marked as negative for the presence of biological fluids, when they should have yielded positives.
15 more cases "might have had a different outcome." That's not very comforting, considering this lab usually handles violent crimes like homicide and sexual assault.
The lab has responded in the most government of ways: by rewriting a policy that was already in place forbidding the use of personal equipment. The language has been toughened up to make it clear the violation that was always a violation is a policy violation. The single addition is the requirement for investigators to write down the model number of the equipment they use to perform tests. That should certainly prevent any future misconduct. [Gathers rolling eyes from under desk.]
The good news is the lab immediately fired the investigator. The bad news is the problem went undiscovered long enough to do some serious damage. Most of the damage is reputational, providing criminal suspects with ammo to challenge lab findings. If one tech can perform unauthorized tests, surely other accidents and misdeeds have been overlooked. When the lab itself can't say how many cases were affected -- or even how many tests might have been handled with inadequate equipment -- the potential fallout could couple the jailing of innocent people with the release of actually guilty prisoners.

Permalink | Comments | Email This Story


Read more here
---
posted at: 12:06am on 27-Nov-2018
path: /Policy | permalink | edit (requires password)
0 comments, click here to add the first
---
---
Order Now To Get Your Techdirt Gear Before Christmas!

Furnished content.


The holidays are approaching, and if you want to give the gift of Techdirt Gear to someone on your shopping list this year (or just treat yourself) then you've only got a couple weeks left to place your order with Teespring and ensure it ships in time!The cutoff date to ensure delivery by Christmas with standard shipping is December 11th for US orders and December 4th for international orders! Rush shipping is also available in some locations for an extra fee, pushing the deadline to December 19th.Be sure to check out our recent t-shirts, hoodies, mugs and stickers like the First Emojiment gear featuring an internet-ready translation of the first amendment: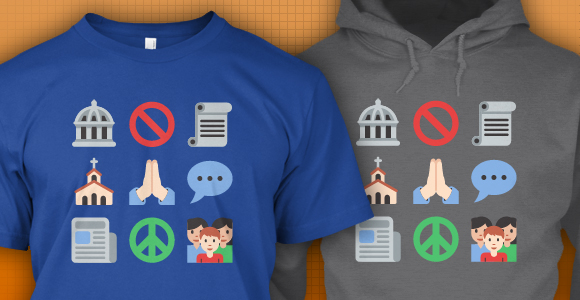 And for those who are getting tired of a certain oft-repeated mantra about free speech that just happens to be completely incorrect and useless, check out our Free Speech Pro-Tip gear: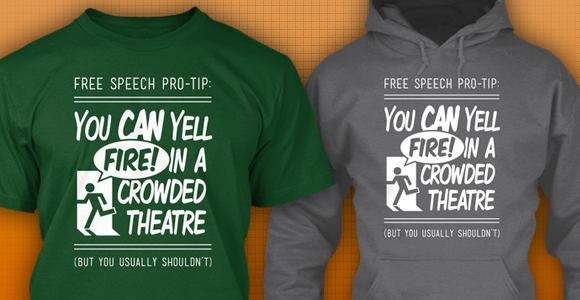 Also, earlier this year we took a treasure trove of old NSA propaganda posters that were obtained via a FOIA request from Government Attic and turned 24 of the best ones into t-shirts, hoodies and mugs. You can browse them all in our Teespring store or click on one of these thumbnails to head straight to the design of your choice:
Remember, US orders are due by December 11th for standard delivery by Christmas. Check out our store on Teespring for other great Techdirt gear!

Permalink | Comments | Email This Story


Read more here
---
posted at: 12:05am on 25-Nov-2018
path: /Policy | permalink | edit (requires password)
0 comments, click here to add the first
---
---
This Week In Techdirt History: November 18th - 23rd

Furnished content.


While we're off for the Thanksgiving long weekend, we're shuffling things around a little bit — so even though it's Friday, here's the weekly history post! We'll be back to our regular posting schedule on Monday.Five Years AgoThis week in 2013, the USTR was trying to defend the TPP following the leak of the IP chapter, by claiming it was the most transparent trade negotiation in history (an announcement made from a Hollywood studio) and telling the lie that it is no different from US law. Then, while Bloomberg was suggesting that the utter lack of transparency could kill the deal, another leak happened and we got to see the copyright maximalist talking points regarding the leaked IP chapter.Meanwhile, new leaks and declassified documents were giving us more information about the NSA, including more abuse of bulk email collection and the exploitation of pen register statutes, plus a surveillance deal with the UK's GCHQ. The DOJ was resisting the FISA court order to reveal the feds' secret interpretation of the PATRIOT Act, leading the court to demand an explanation. And more internet companies were moving to up their security in response to NSA meddling, with Yahoo working on encrypting all data center traffic and Twitter implementing forward secrecy. There was still a lot of work to do at a lot of companies though, as illustrated by a handy scorecard from the EFF (which would have a lot more checkmarks today than it did then, so I guess we can call that a silver lining to the government compromising tech companies).Ten Years AgoThis week in 2008, we were beginning to learn more about the soon-to-be-famous Joel Tenenbaum case over the RIAA's music sharing lawsuits, most notably its all-star witness list. At the same time, another racketeering lawsuit was filed against the agency over its threat letters, but we weren't optimistic about it going anywhere. And the RIAA also convinced Tennessee to pass a law forcing universities to filter their networks.Meanwhile, a judge threw out Psytar's antitrust claims against Apple, a German politician's attempt to block Wikipedia initiated the Streisand Effect, an Australian ISP was agreeing to the government's filtering plan just to collect data on how bad it was, and Nintendo was cruelly trying to prevent the resale of used Wii peripherals.Fifteen Years AgoThis week in 2003, the war on spam and scams continued, with the House and the Senate reaching a compromise on anti-spam legislation (definitely better than one senator's proposed tax on every email you send), while the DOJ announced that since October it had arrested 125 people for online scamming and other online crimes — though we had some serious questions about that, since they seemed to be flinging a lot of stuff under the umbrella of "cybercrimes" without good reason, such as a guy who replied to spam with angry, threatening emails. Perhaps a better strategy was the newly-emerging sport of 419 baiting.

Permalink | Comments | Email This Story


Read more here

---
posted at: 12:05am on 24-Nov-2018
path: /Policy | permalink | edit (requires password)
0 comments, click here to add the first
---
---
Court To Law Enforcement: You Can't Seize A House For 15 Hours Before Obtaining A Warrant

Furnished content.



When you violate the Fourth Amendment so hard it practically becomes the Third Amendment. (via FourthAmendment.com)
Local law enforcement seized Defendant's home around 7:00 a.m. Defendant spent the next two and a half hours at the police station speaking with Investigator Cooke and others. About 9:30 a.m., Defendant signed a limited consent to search form outside his home authorizing Investigator Cooke to enter the home and retrieve Candice's medication. Cooke completed his search of Defendant's home around 10:00 a.m. By 11:30 a.m. Cooke possessed sufficient knowledge to procure a search warrant. He knew Defendant was a convicted felon and had ammunition in his bedroom closet. Cooke did not seek a search warrant, however, until the early evening hours. The only event of sufficient note during the period between the establishment of probable cause that morning and the process of procuring a search warrant that evening was Candice's autopsy which began at 1:30 p.m. and concluded around 3:30 p.m. A federal magistrate judge issued the warrant at 10:00 p.m. Three federal agents together with Investigator Cooke and another officer executed the warrant beginning at 11:18 p.m. or twelve hours after probable cause arose. Their search concluded at 1:20 a.m.
The Third Amendment says you can't be forced to quarter troops in your house. What about around your house? Here agents of the government took over a man's residence for over 18 hours -- 15 of them without a warrant -- refusing to even allow him to enter his own home for accompanied bathroom breaks.
The timeline above, taken from the 10th Circuit Court of Appeals decision [PDF], followed the discovery of the defendant's wife dead in his home around 5:00 a.m. The defendant, Walter Shrum, was the one who discovered her and it was he who called law enforcement. Three hours later, after being forbidden to enter his home, Shrum signed a limited consent form allowing a Sheriff's Office investigator to enter the home to retrieve his wife's medication prior to an autopsy. The investigator saw a bullet in a closet. Later, the same investigator recalled Schrum was a convicted felon.
It was still several hours before a warrant was secured. During that entire time, Shrum's house was controlled by law enforcement. They may not have been inside, but they prevented the house's owner from re-entering his own residence. He was "interviewed" for three hours by the investigator, who may not have actually gotten consent from Shrum to sign a search consent form. This footnote suggests a request for legal representation by Shrum may have been ignored.
At the suppression hearing, Investigator Cooke testified that after Defendant mentioned he wanted an attorney to review the consent form, Defendant "in what was a joking manner to me initially was, quote, 'Shit, I'm just kidding,' and we moved on." Defendant's reported statement is inaudible on the interview tape.
The court notes there's no question the Sheriff's department seized Shrum's home. This immediately implicated Shrum's Fourth Amendment rights. Denying him access to his own house for over 18 hours seals the deal, no matter how the government tries to portray it.
We see little difference between a perimeter stakeout and internal securing of a home from the standpoint of a Fourth Amendment seizure. Both interfere to the same extent with the possessory interests of those entitled to occupy the dwelling. The Government cannot reasonably dispute that the "securing" of Defendant's home during the early morning hours of March 11, 2015 infringed not only on his possessory interest in the home but also on his liberty interest in free movement. The police deprived Defendant of his ability to access his home for his own purposes, in his own way, on his own time, and at a location where concerned friends and well-wishers would surely come calling.
"A man's house is his castle," as multiple court decisions have paraphrased, including ones issued by the Supreme Court. Once this illegal seizure commenced, it tainted everything that came after it, including the supposed "consent" of Shrum.
While the court agrees it is sometimes reasonable to very temporarily secure a suspected crime scene, the 15-hour delay between the home's seizure and the issuance of a search warrant is anything but. And the court drives a significant nail into the government's argumentative coffin: the warrant exception so many law enforcement officers believe exists doesn't actually exist.
[T]he Government has never suggested that probable cause (or any form of articulable suspicion for that matter) justified the initial seizure of Defendant's home. And we have news for the Government. No such thing as a "crime scene exception," let alone an "unexplained death scene exception," to the Fourth Amendment exists.
When the initial seizure is bad, the search is bad, even if limited consent was obtained. As the court points out, without Shrum being denied access to his home, there would be no reason for the investigator to enter to retrieve the medication needed for the autopsy. And if the investigator never enters the home, the bullet is never seen and the search warrant isn't obtained and executed, producing even more evidence of criminal activity.
And the investigator himself steered Shrum towards compliance, leaning on him heavily when it appeared he wouldn't let law enforcement into the house he was forbidden from entering.
By all appearances, Investigator Cooke consciously designed the circumstances under which Defendant provided his consent to convince him that he had no choice but to accede to the investigator's wishes. When a police officer claims authority to seize your home because your wife died unexpectedly, and tells you the coroner needs medication from the home to perform an autopsy but you cannot go inside the home to retrieve the medication, what choice do you have? Must you allow law enforcement to seize your home indefinitely? Defendant's lack of choice once again is well illustrated by his statement to Investigator Cooke, "I know you have to," and Cooke's subsequent reminder, "I'll just tell you I can't let you go in the house, but if you'll tell me where the stuff is." Nothing between the time of law enforcement's illegal seizure of Defendant's home and Investigator Cooke's search of the home broke the causal chain. Because Defendant's consent was tainted, Cooke's search pursuant to that consent also was tainted.
The taint travels down the line to the late-arriving warrant, resulting in the suppression of every bit of evidence the government used to convict Shrum. The government simply can't do what it did -- turn someone's house into occupied territory for several hours without probable cause -- and expect its evidence to survive.

Permalink | Comments | Email This Story


Read more here
---
posted at: 12:04am on 22-Nov-2018
path: /Policy | permalink | edit (requires password)
0 comments, click here to add the first
---
---
US Has Some Of The Most Expensive Mobile Data Prices In The Developed World

Furnished content.


While the U.S. wireless industry likes to talk a lot about how ultra-competitive it is, that's generally not the case. While there's more competition in wireless than in the fixed-line broadband sector (where there's virtually no competition at faster speeds due to upgrade-phobic telcos and cable's growing broadband monopoly), much of the competition in wireless tends to be theatrical in nature. Most of the major four carriers still usually outright refuse to compete on price, something you don't get to have a choice about in a truly competitive market.While T-Mobile's disruption of the market (which has its limits) has certainly helped improve some of the worst aspects of US wireless (like long term contracts and international roaming price gouging), Americans have long paid more money for mobile data than most of the developed world. A new report out of Finland by Rewheel has once again driven that point home. According to the firm's latest data, U.S consumers pay the fifth-highest rate on average per gigabyte for smartphone plans across OECD and European countries, and the highest prices on average for mobile data services provided via things like mobile hotspots.All told, U.S. smartphone plans are more than four times higher than in most EU countries, and up to sixteen times higher across much of Europe:
The study comes on the heels of another important study showing that streaming video quality over U.S. networks is some of the worst quality in the developed world -- in large part because carriers have begun erecting artificial barriers consumers then have to pay even more to overcome. For example, Verizon now throttles all video by default on its unlimited data plans to 480p (or around 1.5 Mbps), requiring you jump to a more expensive tier if you want streaming to actually work like the originator intended.The new Rewheel study was quick to point out that whereas the US market should see more serious price competition due to having four major carriers, that's not the case. US pricing tends to more directly compare to countries where there's just three major wireless competitors and real price competition is somewhat suppressed. And while the study doesn't explain why, we've noted repeatedly how much of this is thanks to the monopoly companies like AT&T, Verizon, and CenturyLink enjoy over the business data services (BDS) market that feeds everything from ATMs to cell towers.In other words, even if you're a scrappy competitor like T-Mobile that somehow manages to beat back the giants at spectrum auction and in DC lobbying, you'll still need to pay them significant sums just to connect your towers to core networks, tightening your margins and driving up your costs. The FCC's own data has indicated that roughly 79% of the BDS market is dominated by just one company, usually AT&T, Verizon, or CenturyLink.Meanwhile, having regulators like Ajit Pai who are now no more than giant rubber stamps for industry interests means none of these underlying problems are going to be fixed any time soon. In fact, Ajit Pai's "solution" to this problem was to literally redefine the word competition at the FCC to try and hide that the problem exists at all. With that kind of leadership, it shouldn't be too surprising why US consumer mobile bills are so high compared to their European counterparts.And researchers at Rewheel were quick to hint that it's going to get worse with the looming merger between T-Mobile and Sprint, which actually will reduce the sector to three competitors, proportionally reducing any genuine incentive to actually compete on price. The firm was quick to pour a little cold water on the idea that merger mania and fifth generation (5G) upgrades will somehow fix the sector's deep-rooted issues:
"Judging from the excessive gigabyte prices, US operators are charging today for 4G mobile broadband (see Verizon's striking $710 100 gigabyte hotspot plan--in Europe 100 gigabyte mobile broadband typically costs between 10 and 20) merger promises concerning affordable 5G home broadband should be critically reviewed and if verified must be made binding."
And this is all before you get to the real cost impact of killing things like the FCC's broadband privacy rules, net neutrality, and other consumer protections, which were some of the only things standing between US carriers and even more aggressive, creative nickel-and-diming of American consumers. Should ISPs and the FCC win the court challenge to the net neutrality repeal next Spring, you can expect a hell of a lot more "creative" efforts to jack up US consumer bills even higher.

Permalink | Comments | Email This Story


Read more here

---
posted at: 12:04am on 22-Nov-2018
path: /Policy | permalink | edit (requires password)
0 comments, click here to add the first
---
---
Kid Tracking 'Smart' Watches, Like Most IOT Devices, Prove Not So Smart, Easy To Hack

Furnished content.


We've long noted how the painful lack of security and privacy standards in the internet of (quite broken) things is also a problem in the world of connected toys. Like IOT vendors, toy makers were so eager to make money, they left even basic privacy and security standards stranded in the rear view mirror as they rush to connect everything to the internet. As a result, we've seen repeated instances where your kids' conversations and interests are being hoovered up without consent, with the data frequently left unencrypted and openly accessible in the cloud.When this problem is studied, time and time again we're shown how most modern, internet-connected toys can be fairly easily hacked and weaponized. Granted since we haven't even gotten more pressing security and privacy problems tackled (like the vulnerability of our critical infrastructure), problems like Barbie's need for a better firewall tend to fall by the wayside.Another recent case in point: A location-tracking smartwatch worn by thousands of children has proven... you guessed it... rather trivial to hack. The MiSafes Kid's Watcher Plus is a "smart watch for kids" that embeds a 2G cellular radio and GPS technology, purportedly to let concerned helicopter parents track their kids' location at all times. But security researchers at UK's Pen Test Partners have issued a report calling the devices comically unsecure. As with many IOT devices, the researchers found that the devices and systems they rely on did not encrypt any of the data being transmitted:
"I proxied the iOS app through Burp and could see that the traffic was not encrypted. Personal and sensitive information could be entered into the application such as phone numbers, passwords, as well as information relating to children. Profile pictures, names, gender, date of birth, height, and weight all transmitted across the internet in cleartext."
The researchers were quick to note that the only check the system's API appears to perform is matching the UID with the session_token, so simply changing the family_id in the get_watch_data_latest action, allows an attacker to return the watch location and device_id associated with that family. Since the watch updates the GPS coordinates to the API every five minutes, it provides a hacker near real-time insight into your kid's location. Worse, spoofing a caller ID would let said theoretical attacker covertly listen in on your kids, or contact them... while pretending to be you:
"The watch did have some protection against arbitrary people calling the child. It implemented a whitelist of authorised phone numbers that the watch would both call and receive. The problem with that is that Caller IDs can be spoofed. So as a proof-of-concept, I used crazycall.net to spoof the Caller ID to a test watch. Using the data from the API, an attacker could get both the child's and a parent's phone number, and spoof a call to the watch. As shown below, the child would think that it was their Dad that was calling. Would a child do what they were asked if a call came in like this?
Yeah, that's not creepy at all.Of course like so many IOT devices, MiSafes' child-tracking smartwatches, which have been on the market in since 2015, are made by a Chinese company that had no interest responding to inquiries by security researchers. And being sold at around £9 ($11.50) per pop, there's certainly no incentive for its makers to suddenly start dramatically improving their security and privacy standards. It's another reason why efforts to standardize the inclusion of security and privacy problems in product reviews is something we all need to get behind, since it's abundantly clear legislation and regulation alone can't really address the problem.

Permalink | Comments | Email This Story


Read more here

---
posted at: 12:04am on 21-Nov-2018
path: /Policy | permalink | edit (requires password)
0 comments, click here to add the first
---
---
SoundCloud Troll Getting DMCA Takedowns Shows The Weakness Of Notice And Takedown Systems

Furnished content.


Much has been written at this point about the problems with various "notice and takedown" policies, including in the DMCA. Much of the problems arise from the DMCA's requirement that service providers "expeditiously" remove infringing material upon notice, which naturally leads to platforms erring on the side of removal versus taking a hard -- and manual -- look at the material in question to see if it's really infringing. This results in all kinds of takedowns of speech that is not infringing, typically as a result of human error, a dispute over the actual ownership of rights, a lack of recognizing fair use, or, perhaps most often, an automated system for sending DMCAs simply screwing up.But another weakness in the notice and takedown policy is in how much power it places in the hands of trolls and bad actors to simply fuck with people. This can be seen in action in the case of one SoundCloud troll getting all kinds of music taken down by pretending to be a rights holder.
Multiple bass music artists have alleged that their tracks have been removed from SoundCloud for wrongful copyright claims. Working under an account by the name "Dr Egg," an unknown user reportedly made copyright violation claims against multiple artists, which these artists are claiming resulting in the removals. In the SoundCloud platform, uploads can be taken down for copyright violations if SoundCloud receives an email making a claim against the track. A copyright violation occurs when someone uses a sample or part of a song that was already copyrighted by another artist or company. Currently, it only takes one claim to have a track removed and it may be reinstated if the claim is proven false. According to reply emails from SoundCloud to the artists in question, "Dr Egg" used email addresses that pointed to Moonboy (moonboycreator@outlook.com) and Too Vain(toovain@outlook.com) to make these strikes. The user appears to have falsified Moonboy's (Jaime Madsen) signature and used his name on the copyright infringement claims. Moonboy made a video on Twitter to speak out against the fraud.
That the policy can be weaponized for nihilistic mayhem in this way at all is a clear signal that changes need to be made. That this doesn't happen constantly is not a defense of the policy. Good internet policy is not that which can be easily subverted by impersonating another person, because that happens all the time on the internet. And, when coupled with platforms being incentivized only in the direction of quick takedown of art and speech, that causes a massive speech issue that would make the founding fathers go into a rage.In this case, SoundCloud did manage to get the uploads in question restored.
A spokesperson on behalf of SoundCloud has responded to EDM.com with the following statement:"Our takedown notification process is designed to respect copyright, and it is our policy to review all infringement claims per the guidelines outlined in our Help Center. Upon review, we have determined these copyright claims are not valid, and are happy to report we've reinstated all affected content."
Which is all well and good, but we still have a problem. And I'm pretty sure the impetus for that problem can be found in the very first line of SoundCloud's statement: "Our takedown notification process is designed to respect copyright...". You may notice that there is no mention of speech and art in the statement at all. This is, again, because all of the incentives in the DMCA's notice and takedown provisions push platforms to favor copyright over art -- which is anathema to the principles of free speech.

Permalink | Comments | Email This Story


Read more here

---
posted at: 12:04am on 21-Nov-2018
path: /Policy | permalink | edit (requires password)
0 comments, click here to add the first
---
---
Red Bull Fails To Block Trademark Registration In EU Over Logos That Aren't All That Similar

Furnished content.


While it is by no means the most litigious beverage company ever, Red Bull is not a complete stranger to trademark bullying. The last we heard from the iconic energy drink company, it was making legal arguments over bovines and their castrated status somehow rising to the level of trademark infringement. It seems that Red Bull typically likes to do its bullying during the trademark application status rather than in legal proceedings, but the universe is currently running an experiment to see just how hard and fast a rule this is for the company.That experiment takes the form of Red Bull attempting, and failing, to oppose the trademark registration for a beverage company called "Big Horn" over the following logos.
Now, the link above is from a site dedicated to "brand protection", so all of the language in the post is of the variety that thinks Red Bull was totally right and the decision against the opposition was wrong. But, come on, how much public confusion is there really going to be over those logos? To be fair to that original post, it points out that Big Horn uses this logo on beverage cans that do call back to Red Bull's, but Red Bull didn't make that argument in its opposition. Instead, it simply argued that the logos were too similar. They're not, even when you try to parse things out with language such as:
Red Bull based its opposition on the registration of the two bulls logo, i.e. without the word Red Bull. If you compare this with the Big Horn logo they are quite similar, given that both depict two animals leaping towards each other with a yellow ball in the background.
"Yellow ball." That's the sun, actually. In the case of the Big Horn logo, it's the sun rising over mountains, which aren't present in Red Bull's logo. And the animals in question are different. As are the color schemes. Not to mention that Big Horn has their big name pasted in big letters over the logo. It makes perfect sense that EUIPO thought that Big Horn had enough of a case if this ever goes to a trademark lawsuit to defend itself, no matter how many citations of EUIPO making the opposite and wrong decision on Red Bull oppositions the original post can make.So, we'll wait and see if Red Bull actually wants to take this trial. If that happens, I would think that demonstrating real or potential public confusion would be pretty difficult.

Permalink | Comments | Email This Story


Read more here

---
posted at: 12:03am on 20-Nov-2018
path: /Policy | permalink | edit (requires password)
0 comments, click here to add the first
---
---
$337,000 Settlement Headed To Elementary School Students Handcuffed By School Resource Officers

Furnished content.



Putting cops in schools often turns routine disciplinary issues into police matters. That's a problem. Cops -- given the friendly-spin title of "school resource officers" -- have a limited tool set for handling discipline. It involves shows of authority, deployments of force, and, in this case, adult handcuffs clamped onto an 8-year-old's upper arms. Tiny wrists can't be secured by adult cuffs, so up the arm they go until they more resemble an instrument of torture than a restraint device.
This cuffing was performed by Deputy Kevin Sumner of the Kenton County (KY) Sheriff's Department. The Sheriff's Department claimed the deputy followed policy, but could not produce any policy relevant to the handcuffing of small children. Experts on force/restraint deployment said this cuffing didn't follow any protocol they were aware of. Sheriff Korzenborn insisted (without any evidence) this technique was proper and testified he did not order retraining of officers in child-restraint techniques following the incident.
Last year, a federal court declared this handcuffing to be excessive force. It pointed out the alleged "crime" did not justify the force deployed and, even if it had, the force used was far in excess of what was needed.
Applying the Graham factors, the severity of the "crime" committed by S.R. and L.G. — assault — weighs in their favor. While S.R. kicked a teacher and L.G. tried to and/or did hit a teacher, these are very young children, and their conduct does not call to mind the type of "assault" which would warrant criminal prosecution. Indeed, Sumner testified that "none of what they did was worthy of trying to file a criminal charge."

The second factor, whether the children posed an immediate threat to themselves or others, weighs in S.R.'s favor. At the time he was handcuffed, S.R. had largely calmed down, Sumner had escorted him to the restroom without incident, and they had returned to the office. While Sumner testified that S.R. swung his elbow towards Sumner, such can hardly be considered a serious physical threat from an unarmed, 54-pound eight-year-old child.
A little over a year later, the two elementary school students will be receiving a payout from Kenton County taxpayers.
On Thursday, a sheriff's office in Kentucky has agreed to pay more than $337,000 for the painful and unconstitutional handcuffing of elementary school students with disabilities. The two plaintiffs, both of whom were children of color and both of whom have disabilities, were so small that the deputy sheriff locked the handcuffs around the children's biceps, forcing their hands behind their backs.
Despite the ruling and the settlement agreement, Sheriff Chuck Korzenborn remains unrepentant. He views this settlement as a cowardly capitulation by the company fronting the money for his deputy's misconduct.
In a statement released Nov. 5, Kenton County Sheriff Chuck Korzenborn said he "never signed off or agreed to settle."

"My understanding is that the insurance company viewed that it was less expensive to settle the case than to continue defending it," he said.

Korzenborn also noted that the settlement came without "any admission of liability" on behalf of the sheriff's office.
Handcuffing children and causing this sort of reaction is just good school policing, according to the sheriff.
After the handcuffings, both children had repeated nightmares, started bed-wetting, and would not let their mothers out of their sight. Both families left the school district, and moved to areas where their children could receive the treatment and accommodations they needed.
This is what the sheriff considers to be a worthwhile punishment for an 8-year-old student who tried to punch his deputy in the arm: a painful, unconstitutional handcuffing followed by a few years of nightmares and family upheaval. It will happen again because Korzenborn believes he -- not the law, not policies, and not the federal court -- is right. He's a law unto himself, and that makes things dangerous for students in the county's schools. And he's a walking advertisement for personal indemnification.

Permalink | Comments | Email This Story


Read more here
---
posted at: 12:03am on 20-Nov-2018
path: /Policy | permalink | edit (requires password)
0 comments, click here to add the first
---
---
This Week In Techdirt History: November 11th - 17th

Furnished content.


Five Years AgoThis week in 2013, we learned more about the UK's GCHQ and its use of a packet injection attack to hack an internet exchange, garnering a combined response of "no comment but by the way that would be totally legal" from the agency. John McCain said in an interview that Keith Alexander should be fired (for the wrong reasons) then nonsensically denied the comments. And while the author of the PATRIOT act was telling the EU Parliament that the NSA is out of control, some people were looking at the agency's customer list and noticing that its denials of economic espionage were suspect at best.Meanwhile, this was also the week that the the TPP's IP chapter leaked for the first time, and it was as bad as expected (and even worse than ACTA). Law professors called on Obama to open up the TPP process while Congress was showing signs of being a bit more reluctant to grant fast track authority, and perhaps the most nefarious part of the chapter was its attempt to make copyright reform impossible.Ten Years AgoThis week in 2008, broadband providers were rolling out usage caps and patronizingly advertising the number of emails that could be sent under the limits, while the industry's apologists pushed the narrative that there was a growing bandwidth crunch (there wasn't). The EU was giving bogus excuses for keeping ACTA secret while another bad copyright deal, the Broadcasting Treaty, was apparently coming back from the dead again. China officially recognized the concept of internet addiction and it was quickly used as a defense in a murder trial. And the FBI's expensive crusade to catch the leakers of the Guns N' Roses album Chinese Democracy ended ignominiously with a blogger pleading guilty to a misdemeanor.Fifteen Years AgoThis week in 2003, as we marked the 20th anniversary of the computer virus, and internet advertising started recovering from an early collapse, it was beginning to look like a lot of '90s promises about the internet were beginning to arrive, just a little late. Not every offering was impressive, of course, such as Sprint's introduction of TV on mobile phones... at two framers per second. People were blaming Microsoft for the failure of one new product category that wouldn't take off until Apple stepped in several years later: tablet computers. But there was also a new, curious and exciting trend on the rise, referred to sometimes as "social software" and sometimes "social networking". As you know, it never really took off.

Permalink | Comments | Email This Story


Read more here

---
posted at: 12:03am on 18-Nov-2018
path: /Policy | permalink | edit (requires password)
0 comments, click here to add the first
---
---
Blockchain Voting: Solves None Of The Actual Problems Of Online Voting; Leverages None Of The Benefits Of Blockchain

Furnished content.


Just recently we wrote about why blockchain-based DRM was a terrible idea, and it could be summed up by the simple fact that a blockchain solves none of the "problems" of DRM today, and leverages none of the actual benefits of a blockchain. And... now I feel like writing basically the same exact post around blockchain voting. Like blockchain DRM, blockchain voting is one of those ideas that gets tossed around a lot. For decades, lots of people who actually understand computer security have explained why online voting is a horrifically bad idea in that it involves effectively unsolvable problems. It's not that it's a "hard" problem, it means that online voting is effectively impossible without massive changes to almost everything we do in ways that we can't really comprehend right now. There are some serious researchers who are thinking about this, but to date, there is nothing even remotely close to to being acceptable, and there may never be.And yet, the "simplest" way that some people understand the risks of online voting is basically "it would be bad if someone could change your vote and no one would know." That's an easy to understand point to make, but the problems with online voting go way, way beyond that. Do a simple Google search on why online voting is a terrible idea and you'll get dozens of on-point results, but if you want a nice, simple explanation of just the first pass of potential risks with online voting, check out this video from a couple years ago by Princeton professor Andrew Appel, who has been studying voting security for many, many years:It's 21 minutes, and if you're unsure of why internet voting is dangerous or think there's a simple solution, I'd urge you to watch it. But for those who don't, I'll just toss up one single slide from the presentation, which is not even remotely comprehensive in the list of potential problems with online voting:
That doesn't even get at a number of other potential issues (some of which are discussed in the video). And yet -- as with blockchain-for-DRM -- there's always someone who thinks that the only real problem is the double spend problem. Enter Alex Tapscott and the NY Times. Alex Tapscott is the son of Don Tapscott, who has written a number of fairly influential books related to technology and innovation, including "Growing up Digital" and "Wikinomics." In 2016, he teamed up with his son, Alex, and wrote a book called "The Blockchain Revolution," which is a fun read (they sent me a copy), if a bit overly excited in its analysis of potential implementations of the blockchain. As I've said in the past, I'm a believer that blockchain/tokens can completely revolutionize a few areas of the internet, but people have yet to really figure out which areas can take advantage of what is unique about the blockchain (beyond highly volatile currencies).My favorite review of the book on its Amazon page includes this lovely sentence: "After the opening chapter, it turns into a rambling acid trip of delusional fantasies about exactly how blockchain will inevitably fix all the things wrong with society and the world."Anyway, along comes Alex Tapscott and on election day, the NY Times gave him precious space to spew utter nonsense about how it's time for online voting... via the blockchain.
The key weakness of early online voting systems was the inability to solve what cryptographers called the double spend problem. When we send a file on the internet, we're actually sending a copy of that file; the original remains in our possession. This is acceptable for sharing information but unacceptable for recording votes in elections. The possibility that individuals could cast their ballots multiple times for a candidate made these systems useless just as vulnerable as paper ballot systems. Points of failure included susceptibility to hackers, coding bugs, and human error. With enough resources, any rogue could stuff a digital ballot box with illegitimate votes.
Except... that's not the key weakness in early online voting systems. It is one problem, but kinda far down the list. Look at that still from Appel's video above. Double spending isn't even there, really. Yet, Tapscott's piece acts as if it's the biggest problem, and easily solved with blockchain.Since the NY Times published that article, plenty of folks with actual computer security expertise have stepped up to debunk it. Ben Adida, the Executive Director of a new organization called Voting Works, attempting to build secure, open source voting machines, actually debunked it a year ago (that's how good he is):
In a typical election setting with secret ballots, we need:

enforced secrecy: a way for each voter to cast a ballot secretly and no way to prove how they voted (lest they be unduly influenced)
individual verifiability: a way for each voter to gain confidence that their own vote was correctly recorded and counted.
global verifiability: a way for everyone to gain confidence that all votes were correctly counted and that only eligible voters cast a ballot.

Let's say we have a Blockchain-style distributed database. How far does that get us to meeting these needs?A distributed database of all cast votes, where everyone sees the same state of the world, would certainly be useful for (3) global verifiability and to some degree for (2) personal verifiability. That said, it won't get us all the way there on those, and it won't get us anywhere on (1) enforced secrecy.Specifically, to combine personal verifiability with enforced secrecy, we need some mechanism that gives each voter enough confidence that their vote made it all the way to the tally, but not so much that they can sell their vote to a buyer/coercer. A public ledger of plain votes is a terrible idea, since that makes vote selling trivial. A public ledger of vote tracking numbers of sorts is better for privacy, though it doesn't really provide actual verifiability that the contents of the ballot weren't tampered with. Clearly, we need something more, and that something simply isn't provided by a distributed ledger.In a typical election setting with secret ballots, we need:

enforced secrecy: a way for each voter to cast a ballot secretly and no way to prove how they voted (lest they be unduly influenced)
individual verifiability: a way for each voter to gain confidence that their own vote was correctly recorded and counted.
global verifiability: a way for everyone to gain confidence that all votes were correctly counted and that only eligible voters cast a ballot.

Let's say we have a Blockchain-style distributed database. How far does that get us to meeting these needs?A distributed database of all cast votes, where everyone sees the same state of the world, would certainly be useful for (3) global verifiability and to some degree for (2) personal verifiability. That said, it won't get us all the way there on those, and it won't get us anywhere on (1) enforced secrecy.Specifically, to combine personal verifiability with enforced secrecy, we need some mechanism that gives each voter enough confidence that their vote made it all the way to the tally, but not so much that they can sell their vote to a buyer/coercer. A public ledger of plain votes is a terrible idea, since that makes vote selling trivial. A public ledger of vote tracking numbers of sorts is better for privacy, though it doesn't really provide actual verifiability that the contents of the ballot weren't tampered with. Clearly, we need something more, and that something simply isn't provided by a distributed ledger.
That's only part of Adida's thorough takedown of the concept.Tim Lee at Ars Technica highlighted another batch of problems:
Tapscott focuses on the idea that blockchain technology would allow people to vote anonymously while still being able to verify that their vote was included in the final total. Even assuming this is mathematically possibleand I think it probably isthis idea ignores the many, many ways that foreign governments could compromise an online vote without breaking the core cryptographic algorithms.For example, foreign governments could hack into the computer systems that governments use to generate and distribute cryptographic credentials to voters. They could bribe election officials to supply them with copies of voters' credentials. They could hack into the PCs or smartphones voters use to cast their votes. They could send voters phishing emails to trick them into revealing their voting credentialsor simply trick them into thinking they've cast a vote when they haven't.[...]But let's think about how this would play out in practice. Suppose it's mid-November 2020 and Donald Trump has narrowly won reelection. A few thousand voters in key swing states come forward to say that they intended to vote for Trump's opponent but their vote was recorded for Trump instead. Thousands of others say they tried to vote for Trumpor against himbut their votes weren't counted.Was that due to hackers meddling with the vote, technical snafus, or user error? Were some of them just misremembering how they had cast their ballots? There would be no way to know for sure.An important property for an election is finality: you want a well-understood process that makes people confident in the result. The paper-based process used in most states today isn't perfect, but it's pretty good on this score. Each vote is recorded on a paper ballot that's available for anyone to look at. Everyone understands how paper ballots work. People can observe the vote-counting process to verify that no ballots were altered. So not only does the process usually lead to an accurate count of peoples' votes, it also builds public confidence in the integrity of the result.Blockchain voting would be much, much worse. Hardly anyone understands how a blockchain works, and even experts don't have a good way to observe the online voting process for irregularities the way an election observer does in a traditional paper election. A voter might be able to use her private key to verify how her vote was recorded after the fact. But if her vote wasn't counted the way she expected (or wasn't counted at all) she'd have no good way to prove that she tried to vote a different way.
Just a few months back, we also wrote about the terrible idea that West Virginia was experimenting with, via a company called Voatz (which is mentioned in Tapscott's article) that was building a "blockchain-based" system to allow military personnel overseas to vote via their mobile phones. And of course, as we noted at the time, it had all the same problems of all these systems. What it adds in "convenience" (if anything) is completely outdone by the security nightmare it creates.Again, I still think blockchains have some potential to do some pretty useful things, but the idea that they can solve any old basically impossible under current realities technology problem by sprinkling magic "crypto" and "distributed" pixie dust on the problem is not a good look. Which should lead people to asking why the NY Times is publishing it without any fact checking at all?

Permalink | Comments | Email This Story


Read more here

---
posted at: 12:03am on 17-Nov-2018
path: /Policy | permalink | edit (requires password)
0 comments, click here to add the first
---
---
Not Funny: The Conan O'Brien Joke-Stealing Lawsuit Is Still Going On

Furnished content.


We've obviously talked about the great deal of harm that a protectionist view of copyright can cause, both in terms of its ability to deny the public useful innovations and its use by the powerful to bully the weak. But one of the harms in protectionism and the ever-expanding culture of ownership that pervades modern life that is less talked about, possibly because it's somewhat obvious, is its sheer ability to bog down individuals in an absurdly lengthy legal process that seems to move at a pace purposefully calibrated to be as frustrating as possible.A great example of this is the copyright case Conan O'Brien is embroiled in still, all over accusations that he and his writing staff "stole" a handful of jokes from a freelance comedian, who has claimed copyright over them. We first wrote about this case in the first half of 2017, where a judge had greenlit all of this for a jury trial, but the lawsuit itself was actually filed back in 2015. And, incredibly, it's still going on. The clock is still running at three years, with the most recent news being that the court has refused to allow O'Brien's team two affirmative defenses based on the actions of the plaintiff.
The court on Thursday dismissed two of O'Brien's affirmative defenses, one arguing that Kaseberg had committed fraud on the copyright office and the other that he isn't entitled to relief because he withheld relevant documents during discovery and has "unclean hands." "Even if omission of the Court's ultimate conclusion that the jokes were entitled only to thin copyright protection were misleading, however, the Court would have to conclude that there was no intent to defraud here," writes Sammartino. "It is undisputed that Plaintiff's counsel attached a copy of the Court's full Order to the letter to the Office. Had Plaintiff been attempting to pull a fast one on the Office by misrepresenting the Court's Order, he would not have provided the Office with a means of verifying that deception."
I would quibble with the court's logic in that, actually. After all, the Copyright Office is not known for its stringent background checking work generally speaking. More generally, how often do we encounter folks making assertions with citations that don't fully support those assertions, as a way to try to bolster their claim under the assumption that nobody is actually going to dissect the citation? That happens all the time.That said, the ruling isn't blatantly silly. Unlike, say, the fact that O'Brien is still dealing with a lawsuit nearly four years running due to a claim of copyright over a couple of jokes. Anyone that would want to claim that that isn't absurd needs medical care, in my view.

Permalink | Comments | Email This Story


Read more here

---
posted at: 12:03am on 17-Nov-2018
path: /Policy | permalink | edit (requires password)
0 comments, click here to add the first
---
---
Hitman 2's Denuvo Protection Busted 3 Days Before The Game's Launch

Furnished content.


So, we were just talking about how Denuvo's new ownership, Irdeto, was busily making the case via the example of some unnamed AAA sports game that even when Denuvo DRM is cracked in a few days it's still worth it to protect a game's initial release window. The comments from Irdeto got so ridiculous that it claimed that even if Denuvo kept titles safe for a few hours, that was still worth it. As specious as this claim might be, it's also formulated to be hard to argue with. After all, with this low of a bar, all Irdeto's Denuvo has to do is barely work for any measurable amount of time before the release of game in order for Irdeto to claim victory. So how can it possibly fail?Well, how about if a game's Denuvo protection is defeated before the game gets released?
This weekend, the technology suffered yet another disappointing blow. The long-awaiting stealth game Hitman 2 – which comes 'protected' by the latest variant of Denuvo (v5.3) – leaked online. Aside from having its protection circumvented, this happened three days before the title's official launch on November 13. It appears that a relatively new cracking group called FCKDRM (more on them in a moment) obtained a version of Hitman 2 that was only available to those who pre-ordered the game. There are some reports of the crack failing at times on some machines but nevertheless, this leak is important on a number of fronts.Firstly, the game leaked online three days early, rendering the protection when the game finally comes out much less useful. Secondly, presuming the original copy of the game was obtained on Friday when the pre-order copy was delivered, it took just a single day for the group to crack Denuvo's latest protection. Considering an announcement made by Denuvo just last week, this is a pretty embarrassing turn of events.
That is putting it mildly. This is the destruction of a nonsense argument Irdeto made for itself to try to pretend that Denuvo was worth any amount of investment by game publishers. For the game to be cracked before official release is nearly the ultimate punchline in all the jokes that have been made at Denuvo's expense since the once-vaunted DRM became just another DRM failure. For it to happen to a AAA game, with the name of that game very much in the public eye, just days after it cited an anonymous AAA game as the reason Denuvo was necessary, almost seems like this was a setup job.But it wasn't. Instead, this is just DRM being DRM, which is to say fallible. And that should be causing other publishers that have used this exact iteration of Denuvo, and have games in early release, to wonder why they bothered.
Given that Denuvo 5.3 was cracked so quickly (some crashing issues aside) it raises questions about other upcoming titles set to use similar technology. They include Battlefield V from EA/DICE, which has its official full release on November 20 but is already available to early access players.
I'll give Denuvo this much: this is the longest death spiral I've ever seen.

Permalink | Comments | Email This Story


Read more here

---
posted at: 12:03am on 16-Nov-2018
path: /Policy | permalink | edit (requires password)
0 comments, click here to add the first
---
---
Sheriff's Dept.: The 1,079 Privileged Jailhouse Calls We Intercepted Was Actually 34,000 Calls

Furnished content.



A few months back, the Orange County Sheriff's Department admitted it had been listening in on privileged conversations. Calls from inmates to lawyers were being swept up along with everything else by service provider Global Tel Link. This violation of state law (among other things) jeopardized dozens of prosecutions. In all, GTL's so-called "technical error" resulted in the interception of more than 1,000 privileged calls.
The Sheriff's Department claimed it told GTL to fix the problem, but didn't appear to have been terribly bothered by this evidentiary windfall... some of which made its way into the hands of prosecutors. It made several disappointed noises about its provider when confronted in court, but its quasi-proactive "knock it off" -- directed towards GTL -- didn't explain its lack of proactivity when it came to informing criminal defendants and their legal reps their cases may have been compromised by attorney-client privilege violations.
This was only the tip of the iceberg. The OC Register reports there's been an exponential increase in the number of privileged calls trapped by this "technical error." (h/t Matt Ferner)
Nearly 34,000 inmate phone calls to their attorneys were recorded, and the Orange County Sheriff's Department accessed calls 347 times, according to documents revealed in court proceedings Friday, Nov. 9.

The numbers are a significant – and, to some, alarming – spike from the 1,079 recorded calls Global Tel Link originally acknowledged in an August hearing. At that time, 58 of those recorded calls also were said to have been accessed by Sheriff's Department or phone company investigators 87 times from January 2015 to July 2018.
Conveniently under seal until after the sheriff's election concluded and GTL's contract renewal was in place, the new numbers blow the old, still disturbing, numbers out of the water. This has triggered a new round of finger-pointing from the Sheriff's Department, which again claims -- despite listening in to the illegal haul -- it's all GTL's fault.
In a release distributed late Friday, Sheriff Sandra Hutchens, who plans to step down early next year, blamed GTL.

"The facts show that this is an error by GTL, an error that they are continually unable to fully disclose or explain," Hutchens said. "We anticipate this will be exploited by some to perpetuate an anti-law enforcement narrative. We are confident that those who look at this situation objectively will recognize an error by a contractor does not constitute a conspiracy by law enforcement. To imply otherwise ignores the truth."
Oh my. Not an "anti-law enforcement narrative." Anything but that. The departing sheriff has decided to blame the company for the problem, but not any of her personnel who repeatedly listened to recordings they should never have had access to. And she's proactively blaming the media by claiming reporting facts about the department's thousands of violations is "anti-law enforcement."
GTL, on the other hand, says the new number is bogus. It claims the older, lower number is accurate and those 1,079 calls were the only ones recorded despite the numbers called being on GTL's "do not record" list. When asked to explain the ~33,000 call difference, GTL spokesman James Lee deferred to the court's protective order, saying it prevented him from discussing the case. Apparently the order only covers culpatory statements but nothing halfway exonerative GTL's front man wants to throw out there.
No one seems to know what the actual number of violations is. We've already seen the number of calls collected climb from 1,000 to 34,000 within the space of two months. The Sheriff's Departments wants GTL to shoulder all the blame for the debacle, but somehow still feels comfortable signing it up for another year of possible incompetence.
Orange County taxpayers are paying department personnel to engage in attorney-client privilege violations. That's the long and short of it. And they're going to be paying for the eventual settlements to the eventual lawsuits. It's to be hoped the investigation being helmed by the court will eventually reach the bottom of this debacle, but with one official walking away from the job and the department giving GTL another chance, it doesn't seem like the embarrassing admission of multiple illegal acts by law enforcement will have much of a deterrent effect.

Permalink | Comments | Email This Story


Read more here
---
posted at: 12:03am on 16-Nov-2018
path: /Policy | permalink | edit (requires password)
0 comments, click here to add the first
---
---
Dear EU Politicians: You Really Don't Have To Wreck The Internet

Furnished content.



Visit DontWreckThe.Net to learn about the EU Copyright Directive »As you'll recall, back in September, the EU Parliament voted to approve a draft of the EU Copyright Directive, despite it including a bunch of very problematic pieces -- mainly Article 13's mandatory filters and Article 11's snippet tax. What the EU Parliament approved was not the same as what the EU Council of member states had approved, nor what the EU Commission had approved, so now those three bodies have been working on a "trilogue" process to sync up the various versions and come up with a master version that will have to be approved again by all three institutions. There has been a lot of activity in the past few weeks -- and Italy's change of government has made things a bit interesting.As the Trilogue discussions have continued, we've teamed up with a bunch of platforms and startup organizations both in the EU and the US to make some suggestions. It would probably be best for the internet to drop both Article 11 and Article 13 altogether, but barring that, we have a pretty detailed list of suggestions over at DontWreckThe.Net. As you hopefully see, just by looking at the long list of fixes we're requesting, there are still huge problems with the proposals. Furthermore, given that many of the platforms we've partnered with in developing this list are the ones who will be hardest hit, we're hopeful that the various officials debating this will take notice. Even more important: this is not just about those platforms, but everyone who uses them. If you use Reddit or Patreon or Vimeo, these rules are going to have a massive impact on how you'll be able to interact with the internet going forward. Also, we're asking other organizations to join this project, so if you run an organization that is worried about the impact of Articles 11 or 13, please reach out to us through the site.And please, EU officials, don't wreck the net.

Permalink | Comments | Email This Story


Read more here
---
posted at: 12:02am on 15-Nov-2018
path: /Policy | permalink | edit (requires password)
---
---
UCLA Flails Amid Pro-Palestine Group's Planned Conference, While L.A.'s City Council Goes Full Stupid

Furnished content.


Those of you who geek out over trademark law like me may have seen the recent dust-up between UCLA and a group called National Students for Justice in Palestine this past week. I had intended on writing something up about the whole thing because of how blatantly stupid it was. The pro-Palestinian group has a chapter at UCLA and it is hosting a conference in the future, for which it put out some promotional materials that feature a bear flying a kite with the colors of the Palestinian flag and dared to mention that the conference was being held at UCLA. For this, UCLA lawyers sent a cease and desist to SJP, claiming that the way the promo material displayed the UCLA name and its use of bear imagery created confusion in the public suggesting that the school was affiliated with the conference.
UCLA argues that SJP's "use of the 'UCLA' name" and use of "the UCLA mascot of the Bruin Bear in a logo/digital poster" effectively claims, suggests, or implies an "affiliation with" UCLA. The university says the group may state where the conference will be held ("at UCLA") if the font size for the word "UCLA" is "no larger than the font used for the remainder of the communication." Failing compliance, UCLA expressly threatens to cancel the event.
Not for the first time, a California university is wielding a pretty clearly unconstitutional law, one designed to give California universities sweeping powers to keep the public from mentioning school names, even if in an entirely accurate manner. No room is made for fair us, while schools have the authority under this state law to put in all kinds of silly restrictions, such as the font size restriction mentioned above.What kept me from writing this up initially is that the school quickly signaled it would reversed course after SJP made minor changes to the promotional material. Oh, and after the ACLU got involved.
Tod M. Tamberg, a spokesman for UCLA told NBC News in an email on Wednesday "it was never about the bear all by itself" and that it appreciated the groups [sic] alteration to remove the UCLA name. The university, which threatened to cancel the conference, also said that the event would go on as scheduled."As you may have heard, some members of the Jewish community have been sharply critical of upcoming conference, demanding that UCLA move to cancel it," the school said in statement provided by Tamberg. "As a public university, UCLA is legally bound to comply with the First Amendment, which protects everyone's right to express their views, even those that are offensive and hateful or that the university opposes."
Yes, it certainly does. Now, many have levied claims of hate speech against SJP. These claims, however you might agree or disagree with them, tend to be fairly laughable. If the best you can trot out is the following to claim a whole group is a hate group, you're not going to meet any kind of First Amendment bar.
In an Oct. 11 letter to UCLA chancellor Gene Block, [State] Rep. Sherman argued that speech on the National SJP website "may very well constitute anti-Semitism" as defined by the State Department — a definition Sherman says was "recently adopted" by the Department of Education "for enforcement purposes." Sherman's letter highlights three particular examples contained in that definition, including "claiming that the existence of a State of Israel is a racist endeavor," applying "double standards" to Israel by "requiring of it a behavior not expected or demanded of any other democratic nation," and "[d]rawing comparisons of contemporary Israeli policy to that of the Nazis."
None of that is hate speech, no matter what some silly State Department missive might suggest. Words matter, after all, and we can no more accept that the kind of political speech above, even if you disagree with it, is hate speech any more than we can condone the government crying terrorism anytime it's convenient. It also seems obvious to me that if you replaced this pro-Palestinian group with a pro-Israel group, we never would have heard this story at all. Argue with that if you like, but you're wrong.And, yet, the L.A. City Council is now getting involved in the stupidest way possible, passing a resolution that first acknowledges UCLA's need to adhere to free speech rights and then somehow calling for the cancellation of this conference entirely.
Add the City of Los Angeles to the government actors calling on UCLA to cancel the convention. While dubious California statutes and trademark concerns falter, the Los Angeles City Council has issued an internally incoherent resolution recognizing that the university has First Amendment obligations while demanding that the conference be canceled, First Amendment be damned.The resolution, embedded below, was unanimously adopted with the "concurrence" of Mayor Eric Garcetti. The resolution cites UCLA's "responsibility to allow freedom of speech," but quickly skips past the pesky nuances of the First Amendment to demand that UCLA "cancel and ban" the conference because it would be "inappropriate" to host the conference "given the atmosphere in the country." The resolution also concludes that there is "never a good time to have this type of event."
Follow along with me in a resolution too dumb to make up: UCLA needs to protect free speech on campus, but it should cancel this conference given the current political climate and some tragedies that happened on the other side of the country, and, oh, also there will never, ever be a climate in which this conference should take place. The speed with which the city council and mayor got from "we acknowledge free speech rights" to "we can never allow these people those free speech rights" is breathtaking.And fundamentally stupid, given that these are people in government we're talking about. Frankly, the flailing UCLA administration that once attempted to trademark bully SJP for no good reason comes out looking way better than the City Council for Los Angeles. It's also worth noting that for all the hand-wringing that takes place over the type of political speech allowed on campus by a certain segment of our population, it's been complete crickets when it comes to defending a pro-Palestinian group's rights.One might nearly call that racist, were there not the worry that such a call would be labeled "hate speech."



Permalink | Comments | Email This Story


Read more here

---
posted at: 12:02am on 15-Nov-2018
path: /Policy | permalink | edit (requires password)
0 comments, click here to add the first
---
---
The US Refusing To Sign 'The Paris Call' Is Not As Big A Deal As Everyone Is Making It Out To Be

Furnished content.


On Monday, a bunch of countries and companies officially announced and signed "The Paris Call," or more officially, "the Paris Call for Trust and Security in Cyberspace." It's getting a fair bit of press coverage, with a lot of that coverage playing up the decision of the US not to sign the agreement, even as all of the EU countries and most of the major tech companies, including Google, Facebook, Microsoft, Cisco and many many more signed on.But, most of those news stories don't actually explain what's in the agreement, beyond vague hand-waving around "creating international norms" concerning "cyberspace." And the reports have been all over the place. Some talk about preventing election hacking while others talk about fighting both "online censorship and hate speech." Of course, that's fascinating, because most of the ways that countries (especially in the EU) have gone about fighting "hate speech" is through outright censorship. So I'm not quite sure how they propose to fight both of those at the same time...Indeed, if the Paris Call really did require such silly contradictory things it would be good not to sign it. But, the reality is that it's good not to sign it because it appears to be a mostly meaningless document of fluff. You can read the whole thing here, where it seems to just include a bunch of silly platitudes that most people already agree with and mean next to nothing. For example:
We reaffirm our support to an open, secure, stable, accessible and peaceful cyberspace, which has become an integral component of life in all its social, economic, cultural and political aspects.We also reaffirm that international law, including the United Nations Charter in its entirety, international humanitarian law and customary international law is applicable to the use of information and communication technologies (ICT) by States.
I mean, great. But so what? The "measures" the agreement seeks to implement are almost equally as meaningless. Here's the entire list:
Prevent and recover from malicious cyber activities that threaten or cause significant, indiscriminate or systemic harm to individuals and critical infrastructure;
Prevent activity that intentionally and substantially damages the general availability or integrity of the public core of the Internet;
Strengthen our capacity to prevent malign interference by foreign actors aimed at undermining electoral processes through malicious cyber activities;
Prevent ICT-enabled theft of intellectual property, including trade secrets or other confidential business information, with the intent of providing competitive advantages to companies or commercial sector;
Develop ways to prevent the proliferation of malicious ICT tools and practices intended to cause harm;
Strengthen the security of digital processes, products and services, throughout their lifecycle and supply chain;
Support efforts to strengthen an advanced cyber hygiene for all actors;
Take steps to prevent non-State actors, including the private sector, from hacking-back, for their own purposes or those of other non-State actors;
Promote the widespread acceptance and implementation of international norms of responsible behavior as well as confidence-building measures in cyberspace.
I mean, sure? Some of that is meaningless. Some of that is silly. Some of it is obvious. But none of it actually matters because it's not binding. Could this lead to something that matters? Perhaps. But it seems silly to condemn the US for failing to sign onto a meaningless document of platitudes and meaningless fluff, rather than anything substantial. There's no problem with those who did choose to sign on, but it's hard to see how this is a meaningful document, rather than just an agreement among signatories to make them all feel like they've done something.

Permalink | Comments | Email This Story


Read more here

---
posted at: 12:02am on 14-Nov-2018
path: /Policy | permalink | edit (requires password)
0 comments, click here to add the first
---
---
The Girl Scouts Sues The Boy Scouts Over Trademark

Furnished content.


As you may recall, the Boy Scouts of America decided late last year to -- finally -- allow girls to join their ranks. It was a widely praised decision that was long overdue, with the organization's mission statement not calling for any kind of gender exclusivity. You may also recall that the BSA has some history of being on the wrong side of intellectual property concerns and even has a special law created just for the BSA to allow it to be trademark bullies. These two seemingly unrelated worlds have now collided, with the BSA being sued by the Girl scouts of America over trademark concerns.
The Girl Scouts are suing the Boy Scouts, saying the organization's inclusive rebranding effort has caused all sorts of consumer confusion from mistaken enrollment in the Boy Scouts to misinformation about a merge of the two groups.Tuesday's trademark infringement lawsuit is an attempt to clear up the uncertainty, said the Girl Scouts of the United States of America.The Manhattan federal case noted the two separate youth organizations have long coexisted. But problems arose when "core gender distinction" was altered by the Boy Scouts of America, which announced in October 2017 it would open its doors to girls beginning in 2019. Earlier this year, the Boy Scouts unveiled new marketing campaign to back the effort. "Scout Me In," the tagline proclaimed.
What happened here is pretty simple. And, frankly, pretty stupid on the part of the BSA. And we should acknowledge that Techdirt generally, and myself specifically, tend to advocate a more permissive attitude when it comes to trademark concerns. In this case, what BSA did was to rebrand itself without the "Boy", instead recruiting girls into its ranks using the "Scouts BSA" branding and term. To be somewhat critical of the Girl Scouts, having that "BSA" in its name certainly does some work to differentiate it and call back to its original Boy Scouts of America name, but I'm not sure one could argue that "BSA" alleviates any concern. The Girl Scouts, of course, are still a thing. And this appears to have led to very real confusion in the marketplace.
In court papers, the Girl Scouts said the Boy Scouts' rebranding announcement has created all kinds of brand confusion across the country.For example, some Minnesota families looking to sign up their girls were erroneously told the Girl Scouts and the Boy Scouts have merged. Meanwhile, in Indiana and South Dakota, some parents mistakenly signed up their daughters to girls' programs in the Boy Scouts.
Those are pretty clear cut examples. But, for some, this has become a tricky case. Most people view the Boy Scouts being more inclusive and allowing girls in as a good thing. Most people think the term "scout" is fairly generic at this point. Are we really to advocate that the GSA can keep BSA from including girls as scouts?No, of course not. The problem here arose when BSA decided to brand itself by dropping the "Boy" instead of replacing it. If the branding and marketing material had instead replaced "Boy" with something else, particularly with a new name that used a different acronym, there wouldn't be a problem. If BSA had decided to become the Field Scouts of America, for instance, confusion wouldn't have been a thing. That it chose to do otherwise, knowing full well that the Girl Scouts exist, is actually fairly belligerant.

Permalink | Comments | Email This Story


Read more here

---
posted at: 12:02am on 14-Nov-2018
path: /Policy | permalink | edit (requires password)
0 comments, click here to add the first
---
---
This Week In Techdirt History: November 4th - 10th

Furnished content.


Five Years AgoThis week in 2013, UK officials were going a bit nuts in response to the fallout from their detention of David Miranda, first arguing that he was, in fact, a terrorist, then that they didn't know he was a journalist, and then that the Snowden leaks would help pedophiles — leading us to wonder of the State Department would condemn their stifling of journalism (okay, not really wonder...)Stateside, Mike Rogers was claiming that more NSA transparency would hurt privacy, while also being opportunistically concerned about the privacy implications of the Affordable Care Act. The agency was positively comparing metadata searches to stop-and-frisk, and making a similar argument that curbing metadata protection would harm privacy. And of course the Inspector General was rejecting a request from Congress to investigate the agency, while the Senate Intelligence Committee advanced a bill to give the NSA more funding.Ten Years AgoThis week in 2008, while we were wondering why the MPAA gets to review and approve DVD players, the Copyright Alliance was fighting to outlaw remote DVRs. A UK ISP was threatening to disconnect anyone who has open wifi, the French Senate approved the three strikes law that would create the infamous Hadopi, and Italian authors were fighting for a piracy tax on DSL connections (while Italian officials were moving forward with criminal charges against Google executives over a user's video).Today, there's a lot of concern about issues with electronic voting machines and their poor security. Naturally, if people had known about this ten years ago, it would have been fixed by now. Oh, wait...Fifteen Years AgoBut certainly if we'd known about it all the way back in 2003, it'd definitely be fixed by now, right? It's not like we'd need advocacy groups and law clinics to fight to stop Diebold from C&D-ing people who talk about its security issues, right? Oh...Well anyway, also this week in 2003, we saw the first big record label merger of the 21st century, with Sony and BMG turning the Big Five into the Big Four. The RIAA was bragging about the success of its lawsuits based on dubious causality, while studies showed they were somewhat effective in making people delete MP3s and really, really hate the record industry.It was also around this time that the trend of making computers look cool started taking root beyond the world of Apple.

Permalink | Comments | Email This Story


Read more here

---
posted at: 12:00am on 11-Nov-2018
path: /Policy | permalink | edit (requires password)
0 comments, click here to add the first
---
---
Robert Jackson Bennett Uses Magic To Make Sense Of How Technology Shapes Our Lives

Furnished content.




In Robert Jackson Bennett's critically-acclaimed new novel, Foundryside, a scrappy thief-cum-spy explores a world where items can be "scrived" to think for themselves and bend natural laws. The role scriving plays in this alternate reality is powerfully analogous to how software defines so many aspects of our own lives, and the four merchant houses that dominate Bennett's fictional society map closely to the tech monopolies that are accruing more and more power every day in the real world. In the following interview, we discuss the political consequences of technology and the power of imagination.

***

How does scriving extrapolate the social implications of the internet?

The superficial comparisons to software and technology are fairly obvious in the story: magic functions as instructions, which must be carefully written by some very educated people in order to achieve amazing results — only instead of using pattern recognition to identify hidden, unrealized value in large datasets, the programmers in this world smash things together and blow stuff up. So, a bit more dramatic.

Things are a bit more interesting when you start to consider how using this technology allows people to reshape reality, both directly and indirectly. This method grants certain kinds of people a great deal of power, which allows them to dictate how the world works — much like how the political and economic schemes of our world are increasingly viewed through the lens of the internet, in the world of Foundryside, everything is shaped by scriving. They cannot imagine living without it, and they can't imagine not using it to get what they want. It's just too easy to colonize and conquer.

What can we learn about ourselves from the systemic problems illustrated in the book? How do we build a future that leverages the power of scriving without winding up in a merchant house oligarchy?

I think technology and technologists trend toward moral agnosticism. There is a belief that the purpose or value of a technology will reveal itself after being exposed to the market - you make it available for sale, and people, being pretty smart, will use markets to figure out how to use it to produce the most value. In other words, the morality of a technology is often someone else's problem. It's not an engineering problem, in other words.

But I think we're seeing now that markets make good servants but poor masters, and right now, technologists seem to believe markets are masters more than servants. Amazon wants to sell facial recognition software to ICE, Google wants to sell a censored search engine to China — these are all decisions that pencil out to make a great deal of money, but are morally bankrupt. If technology continues to develop in this sort of environment, then the world of yawning inequality and tyrannical merchant houses is inevitable.

Foundryside is a story of revolution. What are the most misunderstood aspects of real world revolutions? If we want to empower ourselves to make a difference, what should we do and what should we pay attention to?

Revolution is examined much more closely in the sequel, but I would say that it's important to realize that a revolution is not a singular event, but a violent series of tug-of-war that has actions and reactions. One can argue, for example, that the French Revolution lasted nearly a century, if not more, as various kinds of liberals seized power, only for various kinds of conservatives to pop up and take it back, practically right up until the First World War.

I think we should view revolutions in terms of survival. You should ask: Which groups are the most threatened? Which threatened group has the most power to organize and respond? You fight a lot more when your future's on the line, and your fight makes a difference when you have the actual power to see it through. You can think of this in terms of the Clayton Christensen model of disruption, where disruptors are put into positions where they must disrupt in order to survive, or you can look at the Founding Fathers, who were almost exclusively upper class landholders and merchants — a critical reason why the American Revolution succeeded.

If a group's survival is threatened, and if they have enough power to adequately fight back, then a revolution can take place. But if people are distracted or content or fractious, or if they're unable to organize and act, then either nothing will happen, or dissent will get quickly squashed. There are far, far, far more failed revolutions than successful ones.

History is full of dead, failed heroes. We tend to forget that when we climb up on our metaphorical horses.

The universe the story takes place in has the heft and texture of a fully-realized world that extends far beyond the confines of the novel. How did you build this world?

I read a lot of history, and tried to draw from that rather than play to whimsy. I try to build my worlds so that each facet examines a central theme, however elliptically. Good worldbuilding feels organic, and it feels like there's a purpose to it — learning about the sort of ships the world uses tells you something about the world and the people, not just the ships.

Even while it wrestles with big problems, the story is packed with intrigue and misadventures. How can "beach reads" that embrace the joy of pulp shed a unique light on important issues and ideas?

A spoonful of medicine helps the medicine go down. I'm all about recontextualizing things we're dealing with today in terms that make us rethink them. Like, say, slavery — America has a lot of problems with its history with slavery. But if I make up a slave system for my secondary world, it's suddenly a lot easier for Americans to decide how they feel about slavery. I try to use fun and magical worldbuilding to sort of sneak through the backdoor into people's brains and plant ideas. I'd say it's subversion, but it's really not terribly subtle.

What role does speculative fiction play in society? What do journeys of imagination offer us?

Speculative fiction gives us the emotional distance to allow us to more dispassionately judge our ongoing moral conundrums. People paint self-portraits sometimes because they wish to distort their faces to see how much they can change and still remain "themselves." Speculative fiction is a literary version of that.

What other books would fans of Foundryside enjoy? What books have changed the way you see the world and your place in it?

I expressly avoided reading Brandon Sanderson as a writer, because I didn't want to subconsciously steal from him (in fact, I really read almost no fiction these days, for better or worse) but I am told that Foundryside has a lot in common with his works.

***


Eliot Peper is a critically-acclaimed novelist and the author of Bandwidth, Borderless, Cumulus, Neon Fever Dream, True Blue, and the Uncommon Series. He lives in Oakland and maintains a popular reading recommendation newsletter.

Permalink | Comments | Email This Story


Read more here

---
posted at: 11:59pm on 09-Nov-2018
path: /Policy | permalink | edit (requires password)
0 comments, click here to add the first
---
---
Denuvo: Every Download Is A Lost Sale For This Anonymous AAA Title We're Referencing, So Buy Moar Dunuvo!

Furnished content.


The saga of antipiracy DRM company Denuvo is a long and tortured one, but the short version of it is that Denuvo was once a DRM thought to be unbeatable but which has since devolved into a DRM that cracking groups often beat on timelines measured in days if not hours. Denuvo pivoted at that point, moving on from boasting at the longevity of its protection to remarking that even this brief protection offered in the release windows of games made it worthwhile. Around the same time, security company Irdeto bought Denuvo and rolled its services into its offering.And Irdeto apparently wants to keep pushing the line about early release windows, but has managed to do so by simply citing some unnamed AAA sports game that it claims lost millions by being downloaded instead of using Denuvo to protect it for an unspecified amount of time.
In a statement issued by Denuvo owner Irdeto (the latter acquired the former earlier this year), the company states that it tracked pirate downloads of an unnamed 'AAA' (big budget, major studio) title during the first few days after its release. Without Denuvo protection it was quickly cracked and made available on P2P networks and from there, pirates did their thing."Irdeto tracked the downloads of a major sports title on P2P networks after the title, which did not include anti-tamper protection, was cracked on the same day of its release," the company says. "During the first two weeks, Irdeto detected 355,664 torrent downloads of the illegal copy of the title. Given the retail price of the game, this puts the total potential loss of revenue from P2P downloads at $21,336,283."
There are, of course, many issues with this statement. First, citing an unnamed title is a bit odd, since the publisher of that title is quite obviously not a customer of Irdeto's. Or, at the very least, isn't a customer for that particular game. Why the need for anonymity, in that case? It would seem only to Irdeto's benefit to name the title that chose not to be protected by Denuvo. And, if this is all publicly available information, keeping that name secret doesn't make a great deal of sense.From there, we can move on to Irdeto choosing to keep the math simple by suggesting that every download is a lost sale, in order to come up with its $21 million dollars lost figure. This line of thinking has been debunked so many times that it's not truly worth discussing, other than to say that a DRM company citing it as a valid number should tell you everything you need to know about the wider "report."And, finally, Irdeto is citing a two week release window important for sales of games as though Denuvo hadn't been defeated on timelines much, much shorter than that. This isn't to say that it's always defeated within two weeks, but that often ends up being the case particularly for AAA titles.
It's worth noting that while Denuvo games are often cracked very quickly, it's definitely not uncommon for protection to stand up to the first two weeks of attacks. Denuvo can usually hold off crackers for the first four days, so these figures are obvious marketing tools for a technology that has been somewhat diminished after various cracking groups began taking its challenge personally.But just in case Denuvo only manages a single day of protection, owner Irdeto suggests that the effort is worth it – even dropping down to the importance of standing firm for an hour.
An hour. An hour. When a DRM company has reached the point of touting that it can protect a game for an entire hour, we've jumped the shark. We don't have much information about the cost of using Denuvo for publishers, since everything I've read suggests publishers have to sign restrictive NDAs that prohibit revealing that information, but I'm struggling to understand how making pirates wait an hour for a cracked game can be worth whatever those costs are.

Permalink | Comments | Email This Story


Read more here

---
posted at: 11:59pm on 09-Nov-2018
path: /Policy | permalink | edit (requires password)
0 comments, click here to add the first
---
---
CDA 230 Doesn't Support Habeus Petition by 'Revenge Pornographer'

Furnished content.


As you may recall, Kevin Bollaert ran UGotPosted, which published third-party submitted nonconsensual pornography, and ChangeMyReputation.com, which offered depicted individuals a "pay-to-remove" option. Bollaert appeared multiple times in my inventory of nonconsensual pornography enforcement actions. Bollaert's conduct was disgusting, and I have zero sympathy for him. Nevertheless, I also didn't love the path prosecutors took to bust him. The lower court convicted him of 24 counts of identity theft and 7 counts of extortion and sentenced him to 8 years in jail and 10 years of supervised release. Pay-to-remove sites are not inherently extortive, and identity theft crimes often overreach to cover distantly related activities.Worse, the appeals court affirmed the convictions despite a significant Section 230 defense. The opinion contorted Section 230 law, relying on outmoded legal theories from Roommates.com. Fortunately, I haven't seen many citations to the appellate court's misinterpretation of Section 230, so the doctrinal damage to Section 230 hasn't spread too much (yet). However, that still leaves open whether Bollaert's conviction was correct.Bollaert raised that issue by filing a habeus corpus petition in federal court. Such petitions are commonly filed and almost never granted, so Bollaert's petition had minimal odds of success as a matter of math. Not surprisingly, his petition fails.The district court says that Section 230's application to Bollaert's circumstance does not meet the rigorous standard of "clearly established federal law":
In this case, the Supreme Court has never recognized that the CDA applies in state criminal actions. The Supreme Court has never indicated circumstances that would qualify a state criminal defendant for CDA immunity. Absence of applicable Supreme Court precedent defeats the contention that Petitioner is entitled to CDA immunity under clearly established federal law...federal circuits have not applied CDA immunity in state criminal actions or indicated circumstances that would qualify a state criminal defendant for CDA immunity. Petitioner cannot satisfy 2254(d)(1) with district court opinions applying CDA immunity in state criminal actions.
I've routinely blogged about the application of Section 230 to state criminal prosecutions, and I even wrote a lengthy discourse on why that was a good thing. Still, I can't think of any federal appellate courts that have reached this conclusion, so perhaps the court's factual claim about the jurisprudential absence is correct.The court adds that even if Section 230 qualified as "clearly established federal law," the appellate court ruling didn't necessarily contravene that law:
the California Court of Appeal performed an exhaustive and comprehensive analysis of the applicable circuit court decisions before concluding Petitioner is an information content provider under Roommates. The state court reasonably interpreted Roommates and Jones, and reasonably concluded that Petitioner "developed, at least in part, the offensive content on his Web site by requiring users to input private and personal information as a condition of posting the victims' pictures, making him an information content provider within the meaning of the CDA."
This passage reinforces the deficiencies of the appellate court's Section 230 discussion. "[R]equiring users to input private and personal information as a condition of posting the victims' pictures" is not the encouragement of illegal content, as referenced by Roommates.com, as that information isn't actually illegal; and the Jones case rejected an "encouragement" exclusion to Section 230 while ruling for the defense. Do those deficiencies support the extraordinary relief of habeus corpus? Apparently not.Reposted from Eric Goldman's Technology & Marketing Law Blog

Permalink | Comments | Email This Story


Read more here

---
posted at: 11:59pm on 08-Nov-2018
path: /Policy | permalink | edit (requires password)
0 comments, click here to add the first
---
---
Leading Open Access Supporters Ask EU To Investigate Elsevier's Alleged 'Anti-Competitive Practices'

Furnished content.


Back in the summer, we wrote about the paleontologist Jon Tennant, who had submitted a formal complaint to the European Commission regarding the relationship between the publishing giant Elsevier and the EU's Open Science Monitor. Now Tennant has joined with another leading supporter of open access, Björn Brembs, in an even more direct attack on the company and its practices, reported here by the site Research Europe:
Two academics have demanded the European Commission investigate the academic publisher Elsevier for what they say is a breach of EU competition rules that is harming research.Palaeontologist Jon Tennant and neuroscientist Björn Brembs, who are both advocates for making research results openly available, say the academic publishing market "is clearly not functioning well" in an official complaint about Elsevier's parent company RELX Group.The pair claim RELX and Elsevier are in breach of EU rules both due to general problems with the academic publishing market and "abuse of a dominant position within this market".
The 22-page complaint spells out what the problem is. It makes the following important point about the unusual economics of the academic publishing market:
For research to progress, access to all available relevant sources is required, which means that there is no ability to transfer or substitute products, and there is little to no inter-brand competition from the viewpoint of consumers. If a research team requires access to knowledge contained within a journal, they must have access to that specific journal, and cannot substitute it for a similar one published by a competitor. Indeed, the entire corpus of research knowledge is built on this vital and fundamental process of building on previously published works, which drives up demand for all relevant published content. As such, publishers do not realistically compete with each other, as all their products are fundamentally unique (i.e., each publisher has a 100% market share for each journal or article), and unequivocally in high demand due to the way scholarly research works. The result of this is that consumers (i.e., research institutions and libraries) have little power to make cost-benefit evaluations to decide whether or not to purchase, and have no choice but to pay whatever price the publishers asks with little transparency over costs, which we believe is a primary factor that has contributed to more than a 300% rise in journal prices above inflation since 1986. Thus, we believe that a functional and competitive market is not currently able to form due to the practices of dominant players, like Elsevier, in this sector.
Most of the complaint is a detailed analysis of why academic publishing has become so dysfunctional, and is well-worth reading by anyone interested in understanding the background to open access and its struggles.As to what the complaint might realistically achieve, Tennant told Techdirt that there are three main possibilities. The European Commission can simply ignore it. It can respond and say that it doesn't think there is a case to answer, in which case Tennant says he will push the Commission to explain why. Finally, in the most optimistic outcome, the EU could initiate a formal investigation of Elsevier and the wider academic publishing market. Although that might seem too much to hope for, it's worth noting that the EU Competition Authority is ultimately under the Competition Commissioner, Margrethe Vestager. She has been very energetic in her pursuit of Internet giants like Google. It could certainly be a hugely significant moment for open access if she started to take an interest in Elsevier in the same way.Follow me @glynmoody on Twitter or identi.ca, and +glynmoody on Google+

Permalink | Comments | Email This Story


Read more here

---
posted at: 11:59pm on 08-Nov-2018
path: /Policy | permalink | edit (requires password)
0 comments, click here to add the first
---
---
Russian Government Hits Last Independent News Outlet With A $338,000 Fine

Furnished content.



The Russian government took another consolidation-of-power step recently. Deciding to exercise a 2012 law written specifically to give it leverage against independent press outlets, a Moscow court has hit the country's last remaining opposition magazine with a massive fine.
The Committee to Protect Journalists today condemned an exorbitant fine imposed on the independent news outlet The New Times. A Moscow court on October 26 ordered the outlet to pay 22.3 million rubles (US$338,000) for failing to provide financial information under Russia's "foreign agents" law and ordered the outlet's editor-in-chief Yevgenia Albats to pay an additional fine of 30,000 rubles, TV Dozhd reported.
Albats suspects this fine is the result of an October 22nd interview with opposition politician and vocal Putin critic Aleksei Nalvany. The hefty fine should result in the closure of The New Times, which would be exactly what the Russian government wants.
The law used to effectively push the magazine into bankruptcy went live in 2012. It requires all non-government operations that receive foreign funding to register as "foreign agents." This law was upgraded last year in response to a new US policy requiring similar "foreign agent" registration for Russian state-run news outlets. This newer twist allows for direct targeting of press outlets. But, even without this addition, the Russian government still could have crippled The New Times. As Agence France-Presse reports, part of The New Times' funding involves donations collected by a registered charity.
With this move, Russian citizens will now be limited to state-run publications. The internet will still provide opportunities for Russians to read news not controlled by the state, but those too will eventually dry up as the Russian government continues to assert its control of this medium as well. The internet was the last refuge of The New Times, which had to cease publication of its print edition due to a lack of funding.
The court decision itself is suspect. Rather than pretend the fine (supposedly triggered by single failure to update registration paperwork three months ago) could be discussed or disputed, the court made its decision without input from the defendants. New Times' staff and lawyers were not present and evidence showing the outlet had made a good faith effort to rectify its error was not presented.
The court case, which began back in April, suddenly accelerated towards a hefty fine following the publication's interview with a prominent Putin critic. There are additional details contained in The New Times' post on the subject -- including its justifiably dour announcement that it will be appealing this decision -- harbors no expectations any Russian court will reverse this decision.
If it all plays out the way everyone involved believes it will, the Russian government will have secured a "100% Complete" trophy for press suppression. If it can just keep the internet in line, it will be able to return the country to its former Cold War glory.

Permalink | Comments | Email This Story


Read more here
---
posted at: 11:57pm on 07-Nov-2018
path: /Policy | permalink | edit (requires password)
0 comments, click here to add the first
---
---
Iowa State Students Make Demands Over School Trademark Policy Public, Plan Possible First Amendment Lawsuit

Furnished content.


Iowa State University just cannot stop shooting itself in the foot. After attempting to bully a pro-marijuana student organization out of using school iconography, the school both lost the lawsuit that came afterwards and managed to piss away nearly half a million dollars in taxpayer money in having to pay out the would-be victims of its bullying. Instead of learning its lesson after that whole episode, ISU instead decided to alter its trademark usage policy to be way more restrictive, which only pushed student organizations to drop references to the school en masse. At the same time, the student government issued a resolution demanding the school review its policy again and make it less restrictive. Administration officials at that time agreed to meet with the student government to hear their concerns.Well, that meeting happened this past week, and everybody is still seriously pissed off.
Student organizations demonstrated their issues with Iowa State's administration for its implementation of a new trademark policy at a meeting Thursday evening. For the immediate future, Student Government wants an apology from the university and an immediate block on the enforcement of the policy. They have alternate plans of action if this deliberation works out poorly.Woodruff, other members of Student Government and organization presidents agreed that acts of protest like wearing trademarked clothing and sending emails to university officials were encouraged. Student Government also talked to Student Legal Services regarding a possible lawsuit on using the First Amendment as a basis for suit.
For the second time in a couple of years, ISU might find itself the subject of a First Amendment lawsuit brought against it by its own students. Given its track record and the insane amount of money it had to pay out the last time, it would be flatly insane for the school to allow things to get the point of a lawsuit. But, then, this is ISU we're talking about.One of the chief issues the student government has is that the administration apparently has tried to cut them out of the process at every turn.
One issue that Student Government had with the process is the lack of transparency. Woodruff said they have not been able to produce any documentation, including the email that was sent out to club organization presidents, Regent or Big 12 policies that may have prompted the new university measures. In addition to this, he said the meetings that the university had about this subject originally were not public and did not have any minutes recorded."Things are getting worse, not better," Woodruff said. "This fuse is getting shorter and shorter."
And that's not a good sign for the school, given the threat of a possible lawsuit on the horizon. Adding to much of the anger is that much of the iconography and mascot imagery the school uses, and is attempting to control through its trademark policy, were student creations from long ago. To turn the trademark policy like a gun on its own student groups could pretty much only lead to anger.It's a full on mystery why the school doesn't just scrap this altogether and agree to work with its students on a sane trademark usage policy. Perhaps doing so would end this, ahem, cyclone of dissent.

Permalink | Comments | Email This Story


Read more here

---
posted at: 11:57pm on 07-Nov-2018
path: /Policy | permalink | edit (requires password)
0 comments, click here to add the first
---
---
Big Boost For Open Access As Wellcome And Bill & Melinda Gates Foundation Back EU's 'Plan S'

Furnished content.


Back in September, Techdirt wrote about the oddly-named 'Plan S', which was nonetheless an important step forward for open access in Europe. As we remarked then, the hope was that others would support the initiative, and that has now happened, with two of the biggest names in the science funding world signing up to the approach:
To ensure that research findings are shared widely and are made freely available at the time of publication, Wellcome and the Bill & Melinda Gates Foundation have today (Monday) joined cOAlition S and endorsed the principles of Plan S.
An article in Nature on the move notes that Wellcome gave out $1.4 billion in grants in 2016-17, while the Gates Foundation spent $4.7 billion in 2017, although not all of that was on science. So the backing of these two organizations is a massive vote of confidence in Plan S and its requirements. Wellcome has also unveiled its new, more stringent open access policy, which includes a number of important changes, including the following:
All Wellcome-funded research articles must be made freely available through PubMed Central (PMC) and Europe PMC at the time of publication. We previously allowed a six-month embargo period. This change will make sure that the peer-reviewed version is freely available to everyone at the time of publication.
This move finally rectifies one of the biggest blunders by academic funding organizations: allowing publishers to impose an embargo -- typically six or even 12 months -- before publicly-funded research work was freely available as open access. There was absolutely no reason to allow this. After all, the funding organizations could simply have said to publishers: "if you want to publish work we paid for, you must follow our rules". But in a moment of weakness, they allowed themselves to be bamboozled by publishers, granting an unnecessary monopoly on published papers, and slowing down the dissemination of research.
All articles must be published under a Creative Commons attribution licence (CC-BY). We previously only required this licence when an article processing charge (APC) was paid. This change will make sure that others -- including commercial entities and AI/text-data mining services -- can reuse our funded research to discover new knowledge.
Although a more subtle change, it's an important one. It establishes unequivocally that anyone, including companies, may build on research financed by Wellcome. In particular, it explicitly allows anyone to carry out text and data mining (TDM), and to use papers and their data for training machine-learning systems. That's particularly important in the light of the EU's stupid decision to prevent companies in Europe from carrying out either TDM or training machine-learning systems on material to which they do not have legal access to unless they pay an additional licensing fee to publishers. This pretty much guarantees that the EU will become a backwater for AI compared to the US and China, where no such obstacles are placed in the way of companies.Like Plan S, Wellcome's open access policy no longer supports double-dipping "hybrid journals", which charge researchers who want to release their work as open access, but also require libraries to take out full-price subscriptions for journals that include these freely-available articles. An innovative aspect of the new policy is that it will require some research to be published as preprints in advance of formal publication in journals:
Where there is a significant public health benefit to preprints being shared widely and rapidly, such as a disease outbreak, these preprints must be published:before peer reviewon an approved platform that supports immediate publication of the complete manuscript under a CC-BY licence.
That's eminently sensible -- in the event of public health emergencies, you want the latest research to be out there in the hands of health workers as soon as possible. It's also a nice boost for preprints, which are rapidly emerging as an important way of sharing knowledge.The Gates Foundation has said that it will update its open access policy, which in any case is already broadly in line with the principles of Plan S, over the next 12 months. Even without that revision, the latest announcement by these two funding heavyweights is highly significant, and is likely to make the argument for similar organizations around the world to align their open access policies with Plan S hard to resist. We can therefore probably expect more to join cOAlition S and help bring the world closer to the long-cherished dream of full open access to the world's research, with no embargoes, and under a permissive CC-BY license.Follow me @glynmoody on Twitter or identi.ca, and +glynmoody on Google+

Permalink | Comments | Email This Story


Read more here

---
posted at: 11:56pm on 06-Nov-2018
path: /Policy | permalink | edit (requires password)
0 comments, click here to add the first
---
---
Rockstar Ports Its Old, Antiquated, Flawed Censorial Blacklist For Player Chat Into New 'Red Dead Redemption' Game

Furnished content.


Those familiar with how multiplayer online gaming works know that inter-player chat is both a feature of this gaming genre and one of its primary hellscapes. On the one hand, in-game chat can be both fun when it's part of the game and funny when you get lively banter between players. On the other hand, such chat is also rife with stupid, sophomoric, abusive language casually bandied about by teens and adults alike. Because of this, some game developers have tried to limit what words can be inputted into the game's chat system. The end result of this is mostly spectacular creativity for players dedicated to being assholes in getting around such systems. But for Rockstar, when it came to the online portion of Grand Theft Auto, this chat blacklist was also a place to stupidly blacklist references to illicit gaming sites like "The Pirate Bay", meaning users entering that text would see their words simply disappeared.But this all gets doubly stupid now that Rockstar is set to release Red Dead Redemption 2, within which it simply ported over its previous blacklist.
As revealed by a user on Reddit, the company has implemented a banned words list, which attempts to deter people from using some of the worst sexual, racial, and religious insults, which is fair enough.However, the developer has also seen fit to prevent players from talking about sites like The Pirate Bay, with the word 'PirateBay' banned from the game. Since the galaxy's most resilient torrent site is hardly a friend of the gaming industry, the decision is not that much of a surprise. However, the developer goes much further with a whole range of bizarre censoring decisions that start of weirdly and get worse.Taking them in alphabetical order, first up we have the term 'BTJunkie', which refers to a once-prominent torrent indexing site. What's so special about this platform is that it's been shut for well over six years. In fact, the site closed down for good in 2012following the massive raid on Kim Dotcom. Safe to say, it's not coming back.
The examples go on from there. Now, there are a couple of things to say about this. Obviously blacklisting long-dead websites, even if it would have been once understandable that a game developer would want to keep those names out of the game chat, is painfully stupid. I'm not sure what Rockstar thinks it was accomplishing by keeping those site names out of their game chat when those sites were live, but I'm super-certain that they're accomplishing nothing by doing so when those sites are dead. And because, of course, there is the inevitable collateral damage caused by such word-bans.
The initialism 'VCDQ' has also made it onto Rockstar's Great Firewall, which is nothing short of ridiculous. VCDQ – otherwise known as VCDQuality – was a site that reported on freshly-leaked pirate copies of movies and commented on the quality of the release. The site never offered copyrighted content and was a really useful platform. It too has been dead for a number of years.
The other thing to say about this is simply that any company that would so callously treat chat censorship in this way, where the company thinks that a simple port of old blacklists would suffice, is a company that doesn't care much for its own players. Gaming companies can put in these blacklists if they like, and they might be good things when it comes to hateful and abusive language, but they should do so with care. Gamer interaction is kind of a key component of online multiplayer, after all. To treat banning words with so little regard isn't a great look.So, the end result? Anyone want to place money betting that this censorship of its own customers has made Red Dead 2 free from abusive language and conduct? Or that there aren't more examples of collateral damage out there, specifically since the blacklist also bans the word "Torrent" entirely?I didn't think so.

Permalink | Comments | Email This Story


Read more here

---
posted at: 11:56pm on 06-Nov-2018
path: /Policy | permalink | edit (requires password)
0 comments, click here to add the first
---
---
Bizarre: TrustedReviews Pulls Website Reporting on 'Red Dead' Leak, Pays More Than A Million To Charities Of Rockstar's Choice

Furnished content.


When it comes to the private sector, it's not rare thing to see lawsuits over press leaks. Typically, those lawsuits target the person or entity responsible for the leak itself. While the real irritation in these leaks for companies comes from seeing them reported in the press, suing the press for reporting on a leak is fraught with statutory barriers.Which is what makes it so odd to discover that TrustedReviews, a website that publishes news and reviews in the video game industry, disappeared an article it posted months ago discussing leaked information on the now released Red Dead Redemption 2. Oh, and it agreed to pay over a million dollars to charities of Rockstar's choice.
The British website TrustedReviews today pulled an article, apologized to publisher Take-Two Games, and said it was donating 1 million pounds ($1.3 million) to charity after publishing leaked information about Red Dead Redemption 2 in February of this year. It's a radical move that raises serious questions about editorial independence and legal threats against the press.TrustedReviews, which is owned by TI Media (formerly Time Inc, UK), is a technology website that publishes deals and reviews. In February, it published an article, sourcing a leaked internal Rockstar document, that listed details from Red Dead Redemption 2, which would come out eight months later. The article contained a list of bullet-points that claimed, among other things, that you'd be able to play all of Red Dead 2 in first-person (true) and that the online component would have a battle royale mode (to be determined).
Reporting on leaks of this sort is common, of course, particularly in the entertainment industries. While content companies have attempted to sue over everything from leaks to publishing spoilers, these threats and suits rarely go anywhere. If press freedoms in a given country are at all a thing, reporting from confidential sources on leaks is almost always included. The UK has its "State Secrets" nonsense, but that doesn't apply here.Which makes all of this bizarre. Adding to the whole thing is TrustedReviews bending over backwards to fully apologize publicly, not in any way lamenting this outcome.
"On February 6, 2018, we published an article that was sourced from a confidential corporate document," the website now reads. "We should have known this information was confidential and should not have published it. We unreservedly apologise to Take-Two Games and we have undertaken not to repeat such actions again. We have also agreed to donate over £1 million to charities chosen by Take-Two Games."
Nothing about this makes sense, unless TrustedReviews was somehow involved in the leak itself, rather than simply reporting on it. There is nothing publicly suggesting that is the case, so we're instead left to assume that the site simply didn't want to engage in a costly lawsuit brought by Rockstar, who we have to assume threatened one. On the other hand, a $1.3 million payout isn't exactly peanuts either.Frustratingly, everyone appears to be in the dark here. If only another press outlet could obtain a leak of what exactly the hell is going on here, we might get some clarity.

Permalink | Comments | Email This Story


Read more here

---
posted at: 11:56pm on 05-Nov-2018
path: /Policy | permalink | edit (requires password)
0 comments, click here to add the first
---
---
A Decade After Realizing It Can't Threaten A Critic Online, UCLA Returns To Threaten A Critic Online

Furnished content.


Back in the early days of Techdirt, we used to talk about legal disputes involving so-called "sucks sites" -- i.e., web addresses that use a company or organizations' name along with a disparaging adjective, in order to setup a website criticizing the company. In the early 2000s there were a bunch of legal disputes in which overly aggressive lawyers would threaten and/or sue the operators of such sites, claiming they were trademark infringement. Spoiler alert: they were not trademark infringement. There was never any confusion over whether or not the sites were actually endorsed by the trademark-holder (because the sites were criticizing the trademark holder.) Nor, in most cases, was there any commercial activity, which is necessary for a trademark violation.For the most part, lawyers have finally learned that going after sucks sites is a bad idea and we don't hear of as many cases these days. But they do sometimes pop up. The latest is particularly stupid, involving the University of California, Los Angeles (UCLA). The details are laid out for you nicely by Adam Steinbaugh of FIRE (the Foundation for Individual Rights in Education), an organization focused on protecting free speech on campus.You see, UCLA had done this before. Way back in 2009 it had threatened a critical site run by a former student:
In 2009, the university sent a letter to former student Tom Wilde, alleging that his website's domain names, ucla-weeding101.info and .com, infringed on the university's trademarks and amounted to a criminal act under California Education Code Section 92000, which purports to authorize public universities to police virtually any use of their name or acronym. FIRE wrote to UCLA in 2009, explaining that the First Amendment protects cybergriping websites and noting that the university's purported authority under the California Education Code was contrary to the university's obligations under the First Amendment.After some hesitance, UCLA backed down.
But, as you likely guessed, they've done it again. And, here's the real kicker: UCLA sent a letter to the same guy over the same website. As Steinbaugh notes, the latest letter is less threatening and more friendly, talking about giving Wilde a "friendly reminder" and asking as a "courtesy" for him to "remedy" his claimed misuses of UCLA's trademark and... building images (?!?). FIRE again took up the case, reminding UCLA of what happened a decade ago and asking it to retract the letter. Incredibly, UCLA refused to do so, saying that Wilde was creating confusion by using similar images and design. However, a quick comparison of the two sites suggests that no one is going to be confused that the one on the left is officially a part of the one on the right:
UCLA also had claimed in its new letter that it sent that in response to "an inquiry" about Wilde's site. FIRE filed a public records request to find out who the hell "inquired." Turns out: it was a UCLA staff member on the external affairs team who sent an email pointing to the site and saying:
Grumpy former student has created this FB page and websitewas thinking that the Royce Hall image and use of UCLA in the domain name might both be no-nos.
This was under the subject "protecting the brand."Right. So this wasn't someone confused about the site. It was someone who thought that they could go after a site that was critical of UCLA by abusing trademark law -- something that has long been a non-starter, and which is an insult to the First Amendment.You know how you protect your brand? By not threatening critics with a potential legal attack over First Amendment protected speech. And, also, not doing that twice.

Permalink | Comments | Email This Story


Read more here

---
posted at: 11:56pm on 05-Nov-2018
path: /Policy | permalink | edit (requires password)
0 comments, click here to add the first
---
---
This Week In Techdirt History: More NSA Madness

Furnished content.


Five Years AgoThe ongoing fallout of the Edward Snowden leaks heated up again this week, so we're taking another break from the five/ten/fifteen-year retrospective to dig into what happened this week in 2013.The feds had waited until late the previous Friday to quietly release details of a criminal case that used information from NSA surveillance, but this news was quickly overshadowed by new leaks showing the NSA had collected millions of phone records in Italy and Spain, in addition to the previous revelations about France, and of course about spying on world leaders. Speaking of which, Obama was denying that he knew anything about the NSA spying on Angela Merkel's phone, and was apparently quietly telling the NSA to quit spying so much on the UN (or perhaps just quit getting caught). The Merkel scandal was threatening to scuttle the TAFTA/TTIP negotiations, while the NSA was apparently pretty furious at the administration for denying knowledge — and Mike Rogers was insisting Congress knew about it to, and attacking (with video!) the lawmakers who said that wasn't the case. As for the European bulk collection targets, Mike Rogers was saying they should be thrilled that the US is helping to keep them safe, though it later turned out that those countries' own intelligence agencies were heavily involved. This was one of many conflicting messages though, with the NSA constantly revising its own exact position.Congress, however, was trying to push back, with a bill that would stop the worst of the NSA's excesses. They had no ally in Dianne Feinstein though — she started preparing another bill that would largely codify current practices, then later decided she had changed her mind and agreed the NSA had gone too far, leading NSA officials to admit they were screwed... except then she released her bill anyway and, as expected, it looked like it might even make it easier for the NSA to spy on people.Of course, there was still more to learn about the NSA this week. James Clapper begrudgingly declassified documents that showed the NSA believed it could spy on everyone's location data based on existing approvals (something they had previously denied they do at all). And then the latest realization from the Snowden docs: the NSA had infiltrated Yahoo and Google servers without the companies knowing. Keith Alexander was on stage at an event while the story broke, and quickly cooked up a misleading response that was later formalized with an official non-denial from the agency. While people tried to figure out how the NSA pulled it off, we figured there was one small silver lining: some tech companies were finally starting to realize they should oppose the NSA.Believe it or not, that's not even every NSA post from this week in 2013, but it's the important news. As a final note, the creator of a parody NSA t-shirt also sued the agency over the legal threats it was sending to him.

Permalink | Comments | Email This Story


Read more here

---
posted at: 12:54am on 04-Nov-2018
path: /Policy | permalink | edit (requires password)
0 comments, click here to add the first
---
---
Copyright Office Extends Anti-Circumvention DMCA Exemptions To All Filmmakers, Not Just Documentarians

Furnished content.


Earlier this year, we wrote a bunch of posts on the Copyright Office's request for comment on changes needed to the DMCA's anti-circumvention exemption list. There were lots of interesting submissions, but one that caught my attention was a whole bunch of film association groups, most of them for documentarians, advocating that the anti-circumvention they enjoyed to be able to use clips from other films and content be expanded to include filmmakers generally. This would address the copyright industries' cynical attempt to route around Fair Use usage by filmmakers by simply locking up their content behind all kinds of DRM that, unless you're a documentarian, you can't circumvent. The MPAA, as you would expect, said that allowing for this would kick off "widespread hacking" of all the DVDs on the planet, while all it was really concerned about was the licensing agreements it was able to secure by filmmakers who didn't want to violate the DMCA to get the Fair Use clips they wanted.Well, the Copyright Office made its decision and the exemption will now be offered to filmmakers en masse.
Digital Millennium Copyright Act (DMCA) exemptions aren't just for documentary filmmakers any more. The U.S. Copyright Office and Library of Congress last week broadened a DMCA exception to now allow more filmmakers to circumvent anti-copying technology and rip short video clips for purposes of commentary and criticism."This is huge for the independent film industry," said Michael Donaldson, an attorney who argued for expanding the exemption before the Copyright Office, in a written statement. "The use of fair use material by narrative filmmakers has exponentially increased to the point where expanding the exemption to fiction films was absolutely necessary."
What this means is that more filmmakers will now be able to simply rip clips from protected DVDs to use in their own creative works, as long as the purpose of the clip is used for parody or to demonstrate biographical or historically significant information. This opens up all kinds of uses, of course, but all of them will still be subject to being truly Fair Use cases. That, of course, is a defense, so you can expect lawsuits to be filed before we settle into some kind of a norm here.Still, this is a good decision by the Copyright Office. The idea that the MPAA and others could lock up content that could otherwise be fairly used behind DRM obviously doesn't comport with the purpose of the law.

Permalink | Comments | Email This Story


Read more here

---
posted at: 12:54am on 03-Nov-2018
path: /Policy | permalink | edit (requires password)
0 comments, click here to add the first
---
---
Michigan Cops Destroying Drug Cartels With Microscopic Drug Busts, Seizures Of 20-Year-Old Vehicles

Furnished content.



Crushing drug dealers and criminal cartels: that's the asset forfeiture narrative. The reality is something completely different. It's the government taking property from people with a minimum of due process, urged on by a set of perverse incentives. Law enforcement agencies directly profit from the stuff they take from people, so there's really no reason not to.
When the general public hears forfeiture is being used to target criminal cartels, they tend to think of piles of cash, luxury vehicles, sprawling mansions, and the occasional aircraft. In reality, it's whatever cash cops can find laying around (usually less than $1,000) and vehicles a couple of decades old that are someone's barely-reliable ride.
Whatever statistics can be obtained -- and it isn't much, given the secrecy cloaking these state-ordained seizures -- always tell the same story: 99% of civil asset forfeiture is penny ante bullshit. It's this way for several reasons. First, smaller forfeitures aren't worth fighting in court, so small ball seizures are almost guaranteed to end up in the hands of law enforcement. Second, it all adds up over the year. A bunch of small seizures turns into real money eventually. Third, cops aren't willing to let drug lords walk. But they'll take stuff from anyone they can imagine might be part of a cartel, even when it's someone busted carrying nothing more than a personal stash.
And that's if they even find contraband at all. The absence of criminal evidence seldom deters seizures, and forfeitures have been expanded to cover vehicles driven by impaired or uninsured drivers.
Wayne County, Michigan is no exception to this particularly depressing set of rules. As the Michigan Capitol Confidential reports, local law enforcement has seized millions of dollars worth of property, but a closer examination of the data shows its forfeiture programs prey on the poor and/or drug users who have nothing to do with the supply side of the Drug War.
Altogether, there were 736 asset forfeiture proceedings in Michigan in 2017 during which someone lost property to the government despite never being charged with any crime; this happened 380 times in Wayne County. A state law passed in 2015 requires law enforcement agencies across Michigan to submit data about forfeiture to the Michigan State Police.

Jarrett Skorup of the Mackinac Center for Public Policy, who co-authored a recent report on civil forfeiture, said the data shows nearly all of those Wayne County seizures involved vehicles valued at less than $1,000. He said it's likely that these forfeitures disproportionately affected low-income individuals, who are less able to afford an attorney or navigate the legal system to reclaim their property.
The report [PDF] doesn't break down the total value of vehicles seized, but the numbers bear out Skorup's claim. The state as a whole reported $13 million in net total proceeds from all property forfeited. $11 million of that was cash. There were 7,999 vehicles seized statewide. Simple division says that's only $250 per vehicle. State agencies also seized other property that wasn't vehicles or cash, further lowering the per vehicle estimate.
Now, there are a few unknown factors that may bring that number back up slightly. It's unclear whether this reflects proceeds after auctions, etc. that would result in a lower net total for the state due to differences in expected property value and its actual value after "disposal." This may raise the per vehicle value, but there's still a long way to go from the $250 baseline and a dollar amount that would suggest something other than what appears to be happening here: thousands of seizures of vehicles worth less than the legal costs that would be accrued fighting the forfeiture.
There's more disturbing data in the report beyond the apparent wholesale forfeiture of cars whose value barely exceeds the going rate for scrap. A vast majority of those targeted by forfeiture -- with or without accompanying criminal charges -- were caught with the lowest amounts needed to trigger criminal charges. 88% of cocaine-related seizures involved the less than 50 grams. 83% of marijuana-related seizures also involved the lowest amounts needed to charge someone. And so on down the chart of criminal charges.
The lowest-level busts make up the vast majority of all seizures. It makes sense that officers would encounter users far more often than dealers. What doesn't add up is the narrative: that forfeitures are essential to destroying drug cartels. All it's really doing is depriving people of property and disproportionately punishing the demand side of the drug problem.
Serious crimes barely register. There are thousands of drug-related forfeitures -- with more than 80% of those covering bare minimum possession. The list of serious crimes -- ranging from grand larceny to child molestation to home invasion -- makes up only 95 of the state's ~6,000 seizures. The only other big chunk (984 forfeitures) is related to prostitution charges, showing the state is willing to take away vehicles for engaging in consensual sexual transactions.
This abuse of a law enforcement tool has gotten the county sued. Multiple citizens are seeking to have the program found unconstitutional. Two of the plaintiffs listed in this story by the Detroit News have waited years for a hearing on seized vehicles, one of which is a 1998 Toyota Avalon, to give you some idea what kind of prime drug-dealing vehicles the county targets.
The small bright spot in all this is there's a bill seeking to institute a conviction requirement for forfeitures. If state agencies have to be able to prove their case beyond a reasonable doubt, they'll be far less likely to engage in specious seizures based on little more than the agency's desire to have more money/stuff. Unfortunately, the bill appears to be waiting for its Senate counterpart to arrive and it's been waiting almost six months at this point.

Permalink | Comments | Email This Story


Read more here
---
posted at: 12:54am on 03-Nov-2018
path: /Policy | permalink | edit (requires password)
0 comments, click here to add the first
---
---
Judge Says Memphis PD's Surveillance Of Protesters Violated 40-Year-Old Consent Decree

Furnished content.



Spying on people engaged in First Amendment-protected activity is a time-honored government tradition. The FBI, NSA, and CIA pioneered unconstitutional surveillance in the 1960s, leading eventually to the Church Committee's smackdown and a series of reforms aimed at preventing the casual abuse of surveillance powers.
It worked. A little. The DHS has picked up where the other agencies left off, portraying its surveillance of protesters as part of its national security purview. The NYPD has also done this regularly, violating both the Constitution and agreements it made following civil rights lawsuits.
The Memphis Police Department is another law enforcement agency that can't keep its nose out of the public's First Amendment business. A decision handed down by a Tennessee federal court will hopefully put an end to the Memphis PD's long-running violation of a 40-year-old consent decree.
The ACLU of Tennessee -- the other partner in the 1978 consent decree -- sued the City of Memphis over unconstitutional police activity. The decision [PDF] summarizes the numerous violations engaged in by Memphis law enforcement.
The Court finds that the ACLU-TN has shown by clear and convincing evidence that the City:

1) Conducted "political intelligence" as specifically defined and forbidden by the Consent Decree;

2) Operated the Office of Homeland Security for the purpose of political intelligence;

3) Intercepted electronic communications and infiltrated groups through the "Bob Smith" Facebook account;

4) Failed to familiarize MPD officers with the requirements of the Decree;

5) Did not establish an approval process for lawful investigations into criminal conduct that might incidentally reveal information implicating First Amendment rights;

6) Disseminated information obtained in the course of an investigation to individuals outside of law enforcement; and

7) Recorded the identities of protest attendees for the purpose of maintaining a record.
The fifth one on the list is especially interesting, given recent events. Last month, Facebook sent a letter to Mike Rallings, the director of the MPD, reminding him and his officers that its "real name" policy forbids impersonation and fake accounts. This isn't a practice limited to the Memphis PD, but it is the agency Facebook chose to call out publicly for violating its policies.
The 1978 Consent Decree laid this all out very clearly:
The provisions of this Decree prohibit the defendants and the City of Memphis from engaging in law enforcement activities which interfere with any person's rights protected by the First Amendment to the United States Constitution including, but not limited to, the rights to communicate an idea or belief, to speak and dissent freely, to write and to publish, and to associate privately and publicly for any lawful purpose.

Furthermore, even in connection with the investigation of criminal conduct, the defendants and the City of Memphis must appropriately limit all law enforcement activities so as not to infringe on any person's First Amendment rights.
Despite this, the PD engaged in everything listed above, which clearly violates the limitations placed on it forty years ago. After deciding the ACLU has standing to pursue this lawsuit, the court says the PD cannot invoke its "public safety" mantra to excuse surveilling protesters, even if public safety was actually its true objective. Trying to dodge culpability by claiming forbidden surveillance is just good police work is a non-starter. The consent decree does not give the MPD the wiggle room it thinks it has.
The Consent Decree... is clear and unequivocal in its language. Understood in its entirety, the Consent Decree bans investigative activity into the exercise of First Amendment Rights by Memphis residents. Political Intelligence is impermissible as the means of investigation, as the ends of investigation, or as an intermediate step in a larger investigation. The City has agreed that it will not engage in certain activity and is bound by that agreement.
The details of the violations run several pages. This is just the beginning of the MPD's wrongdoing.
MPD's Real Time Crime Center ("RTCC") conducted political intelligence when an officer searched its social media collator for all instances of the term "Black Lives Matter," because the information gathered related to First Amendment Rights. MPD officers gathered and circulated social media posts about potential boycotts and boycotts are squarely within the protection of the First Amendment. MPD gathered information on journalists based on their associations with Black Lives Matter. (Testimony of Eddie Bass, ECF No. 138 at 5736-37; Ex. 120 "Below are three twitter accounts for two freelance journalist[s] and one Commercial Appeal journalist who apparently have the trust of the BLM protesters. These accounts seem to provide good real-time information during a protest event.") MPD indexed information relating to the leadership of lawful protests. Major Lambert Ross ordered social media monitoring for a "BLM Rally" and a "Community Organizers Cookout." Each of these represents an affirmative investigative act focusing on First Amendment rights in violation of the Consent Decree.
In addition, the MPD converted its "Office of Homeland Security" into a clearinghouse for unconstitutional surveillance, gathering "political intelligence" on everyone from Black Lives Matters to pro-Palestinian activists to people pushing for a $15/hr minimum wage. The PD's "Bob Smith" Facebook account was used to track political activists and surveill their activities.
All of these violations stemmed from the MPD's failure to train its officers to comply with the consent decree. It's not so much of a failure as it is decades of just not caring. The PD dedicated one page to the decree in its "voluminous policy and procedural manual." Officers engaged in violations were often not aware they were violating the decree. This ignorance was also displayed by department supervisors and officials. As the court points out, this isn't a new problem. It's a continuous problem directly traceable to "inadequate training over a sustained period of time."
Here's what the city will be doing to remedy this. First, the PD will be forced to stop gathering "political intelligence" because there's no possible way for it to do this and still comply with the consent decree. It will also prevent any misunderstandings of what's forbidden by the consent decree. The PD will also need to train its command staff on decree compliance, quite possibly for the first time. Guidelines will be developed and put in place to govern the MPD's social media activities. All social media search terms used by officers or investigators will need to be turned over to the court every three months. And, as a capper, the city will be paying the ACLU's legal fees.
This may eventually upend some deep-seated problems in the department. Then again, the MPD has had 40 years to perfect its compliance with the consent decree and has steadily moved farther away from the crystal-clear restrictions it contained. If nothing else, a federal court has publicly aired the department's dirty laundry. This may not push the MPD into admitting and accepting it has a problem. But it does prevent it from remaining in denial.

Permalink | Comments | Email This Story


Read more here
---
posted at: 12:53am on 02-Nov-2018
path: /Policy | permalink | edit (requires password)
0 comments, click here to add the first
---
---
As Canadian ISPs Requested, Canada Get Proposed Law To Ban Copyright Settlement Letters

Furnished content.


Well, that didn't take long. We had just discussed Canadian ISPs petitioning the government to amend copyright law such that they would no longer be forced to pass along copyright settlement threat letters to their customers from copyright trolls such as Rightscorp. The opportunity for this comes as part of Canada amending its copyright law as a result of Donald Trump's NAFTA replacement, the USMCA. Well, it seems like there are those in the Canadian government who were listening, as a new bill has been introduced that will effectively outlaw such settlement letters.
The applicable language is part of the budget implementation Bill C-86 and reads as follows.A notice of claimed infringement shall not contain
(a) an offer to settle the claimed infringement;
(b) a request or demand, made in relation to the claimed infringement, for payment or for personal information;
(c) a reference, including by way of hyperlink, to such an offer, request or demand; and
(d) any other information that may be prescribed by regulation.This text will effectively ban all settlement attempts. That's good news for members of the public who are no longer at risk. However, the Rightscorps of this world will be less pleased, as it destroys their business model in Canada.
It seems to me that this actually goes further than ISPs had requested. All those ISPs had asked was to not be party to something that looks like extortion of their own customers. This law, by my reading, goes further and forbids the common settlement letter entirely. While this all still has to be voted on and approved before it becomes law, all of the early response to this news has been positive from the Canadian public. The government going against that sentiment and siding instead with copyright trolls would be an insane move, meaning that this will likely pass into law.And then, perhaps, we can export a like law to the States. You know, to "bring our copyright laws in line to meet our international trade obligations"?

Permalink | Comments | Email This Story


Read more here

---
posted at: 12:53am on 02-Nov-2018
path: /Policy | permalink | edit (requires password)
0 comments, click here to add the first
---
---
Stupid Patent Of The Month: How 34 Patents Worth $1 Led To Hundreds Of Lawsuits

Furnished content.


One of the nation's most prolific patent trolls is finally dead. After more than a decade of litigation and more than 500 patent suits, Shipping & Transit LLC (formerly known as Arrivalstar) has filed for bankruptcy. As part of its bankruptcy filing [PDF], Shipping & Transit was required to state how much its portfolio of 34 U.S. patents is worth. Its answer: $1.We are recognizing Shipping & Transit's entire U.S. portfolio as our latest stupid patent of the month. We agree that these patents are worthless. Indeed, they have always been worthless, except as litigation weapons. In the hands of their unscrupulous owners, they caused enormous damage, costing productive companies more than $15 million in licensing fees and untold legal expenses. That's tens of millions of dollars that won't be used to invest in new products, reward shareholders, or give raises to workers.Dozens of worthless patents All patent troll stories start with Patent Office. You can't be a patent troll without patents. And you can't have patents unless with Patent Office grants them. We have found many occasions to write about problems with patent examination. The Patent Office spends only a few hours per application and regularly issues software patents without considering any real-world software at all. This helps explain how an entity like Shipping & Transit could end up with dozens of valueless patents.Shipping & Transit claims to be "one of the pioneers of determining when something is arriving and being able to message that out." Its patent portfolio mostly relates to tracking vehicles and packages. Of course, Shipping & Transit did not invent GPS tracking or any protocols for wireless communication. Rather, its patents claim mundane methods of using existing technology.Consider U.S. Patent No. 6,415,207. This patent claims a "system for monitoring and reporting status of vehicles." It describes using computer and software components to store status information associated with a vehicle, and communicate that information when requested. In other words: vehicle tracking, but with a computer. It doesn't disclose any remotely new software or computer technology. Rather, the patent claims the use of computer and software components to perform routine database and communications operations. There is nothing inventive about it.Given that it was aggressively filing lawsuits as recently as 2016, it is striking to see Shipping & Transit now admit that its patent portfolio is worthless. While many of its patents have expired, that is not true of all of them. For example, U.S. Patent No. 6,415,207 does not expire until 2020. Also, the statute of limitations for patent infringement is six years. An expired patent can be asserted against past infringement so long as the infringement occurred before the patent expired and within the last six years. Many of the patents Shipping & Transit have asserted in court expired less than six years before its bankruptcy filing. Yet Shipping & Transit valued all of its U.S. patents at $1.A decade of patent trollingWhen it was known as Arrivalstar, Shipping & Transit sued a number of cities and public transit agencies claiming that transit apps infringed its patents. (While the exact legal relationship between Arrivalstar S.A. and Shipping & Transit LLC is unclear, Shipping & Transit has itself said that it was "formerly known as Arrivalstar.") Its litigation had all the hallmarks of classic patent trolling. When transit agencies banded together to defend themselves on the merits, it quickly abandoned its claims.Shipping & Transit's campaign continued for years against a variety of targets. In 2016, it was the top patent litigator in the entire country, mostly targeting small businesses. One judge described its tactics as "exploitative litigation." The court explained:
Plaintiff's business model involves filing hundreds of patent infringement lawsuits, mostly against small companies, and leveraging the high cost of litigation to extract settlements for amounts less than $50,000.
For many years, this strategy worked. Shipping & Transit/Arrivalstar is reported to have collected more than $15 million from defendants between 2009 and 2013.Finally, after more than a decade, Shipping & Transit's exploitative tactics finally caught up with it. First one, then another federal judge awarded attorneys' fees to the defendants in cases brought by Shipping & Transit. With defendants successfully fighting back, it stopped filing new cases.The end: Shipping & Transit files an inaccurate bankruptcy petitionShipping & Transit filed its bankruptcy petition [PDF] on September 6, 2018. The petition discloses that Shipping & Transit's gross revenue in the two-year period of 2016 and 2017 was just over $1 million dollars. Of course, this does not include the legal costs that Shipping & Transit imposed on its many targets. It claimed to have no revenue in 2018.Other than its 34 U.S patents (valued at $1), and its 29 worldwide patents (also valued at $1), Shipping & Transit claims to have no assets at all. Where did more than $1 million dollars it received go? The application doesn't say.The bankruptcy petition, submitted under the penalty of perjury and signed by Shipping & Transit's Managing Member Peter Sirianni, contains at least one false statement. A bankruptcy petition includes Statement of Financial Affairs (Form 207). Part 3 of this form requires the debtor to list any "legal actions in which the debtor was involved in any capacitywithin 1 year before filing this case." Shipping & Transit said "none."But that isn't true. On July 23, 2018, a writ of execution [PDF] was issued as to Shipping & Transit in the amount of $119,712.20. This writ was issued in Shipping and Transit, LLC v. 1A Auto, Inc., Case No. 9:16-cv-81039, in the Southern District of Florida. The judge in that case had issued a final judgment [PDF] on April 3, 2018, awarding fees and costs to the defendant. Both of these orders, and many other court filings, took place within a year of Shipping & Transit's bankruptcy petition. Yet Shipping & Transit still affirmed that it had not been involved in litigation "in any capacity" within a year of the bankruptcy filing.Shipping & Transit's petition does list 1A Auto as an unsecured creditor. Even though a court has issued a writ of execution with a precise six-figure amount, Shipping & Transit stated that the amount of 1A Auto's claim is "unknown."It is not surprising that a decade of abusive patent trolling would end with an inaccurate bankruptcy petition. To be clear, our opinion that Shipping & Transit's bankruptcy petition includes a false statement submitted under oath is based on the following disclosed facts: its answer to Part 3 of Form 207 of its petition, and the public docket in Case No. 9:16-cv-81039 in the United States District Court for the Southern District of Florida.A monster story for HalloweenUPSTO Director Andrei Iancu recently gave a speech where he suggested that those who complain about patent trolls are spreading "scary monster stories." It may finally be dead, but Shipping & Transit was a patent troll, and it was very, very real. We estimate that its lawsuits caused tens of millions of dollars of economic harm (in litigation costs and undeserved settlements) and distracted hundreds of productive companies from their missions. Research shows that companies sued for patent infringement later invest less in R&D.A patent system truly focused on innovation should not be issuing the kind of worthless patents that fueled Shipping & Transit's years of trolling. Courts should also do more to prevent litigation abuse. It shouldn't take an entire decade before an abusive patent troll faces consequences and has to shut down.While it lived, Shipping & Transit/Arrivalstar sued over 500 companies and threatened many hundreds more. That might be a "monster story," but it is true.Reposted from the EFF's Stupid Patent of the Month series.

Permalink | Comments | Email This Story


Read more here

---
posted at: 12:53am on 01-Nov-2018
path: /Policy | permalink | edit (requires password)
0 comments, click here to add the first
---
---
Cop Sued For Bogus Arrest Of Man Who Broke Up The PD's Distracted Driving Sting

Furnished content.


A cop couldn't handle someone diverting his revenue stream. So he decided to do something about it. That "something" was getting sued for civil rights violations. How this will improve revenue generation remains to be seen, but for now one officer of the Stamford, Connecticut police department will need to lawyer up. (via Courthouse News Service)The plaintiff, Michael Friend, happened to notice a bunch of police officers issuing tickets to drivers for distracted driving. One officer, Richard Gasparino, was hiding behind a telephone pole on the other side of the street looking for drivers using their cellphones and relaying his suspicions to officers further down the road.Friend moved south of the Stamford PD sting operation and held up a handwritten sign reading "Cops Ahead." This didn't sit well with Officer Gasparino, who swiftly decided he'd like to be sued by Friend and his representation. He began his tour of culpability with the following hilarious assertion. From the lawsuit [PDF]:
[T]he defendant approached Mr. Friend and snatched the sign from him.Mr. Friend began video recording the defendant with his phone, as he thought the defendant was behaving illegally.The defendant told Mr. Friend that he was "interfering with our police investigation" and told Friend to leave the spot where he was standing.
Calling this little operation an "investigation" really stretches the meaning of the word. There's literally zero investigating going on. A static speed camera does just as much investigating.From there, things got worse/stupider/more unconstitutional. Friend walked away from this, headed another block south, and made a bigger sign. Thirty minutes later, Officer Gasparino came back for more. Friend again took out his phone and began recording.
[T]he defendant snatched Mr. Friend's phone and stopped Friend from recording because he claimed to want to "protect [him]self from any false claims of physical abuse."
Um. What? One would think a recording would be the best evidence to use against "false claims of physical abuse." I guess recordings made by citizens don't count. Officer Gasparino took the phone in Friend's hand as well as one he was carrying in his pocket. This sounds exactly like an unjustified search and seizure -- one that's at least partially captured on phone tape.Seeing that his bogus claim of investigation interference was having zero effect on Friend's sign-making, Gasparino upped the ante by arresting Friend for interfering with the so-called "investigation." Friend was taken to the station by another officer, who helpfully explained why Gasparino was so upset with Friend and his signs.
On the ride to the police station, [Officer] Deems told Mr. Friend that he attracted police attention because he was "interfering with our livelihood."Deems explained to Mr. Friend that the cellphone sting was operated as an overtime assignment, funded by a federal grant which would require the Stamford police to issue a certain number of tickets in order for the grant to be renewed.By warning motorists, Deems claimed, Mr. Friend was decreasing the number of tickets that the Stamford employees could issue, and therefore decreasing their chances of earning overtime on a cellphone sting grant in the future.
Seems like Officer Gasparino should have sued Friend for tortious interference rather than trash his signs, steal his phones, and book him on such a transparently bogus charge. Gasparino reiterated his belief that Friend's actions were illegal interference with a business model, noting that officers were not "observing as many violations as they should be," thanks to Friend's "Cops Ahead" signs.And because he's a complete dick, Officer Gasparino set Friend's bail at $25,000… for a misdemeanor interference charge. Friend remained in jail until 1:30 the next morning. He was released by the bail commissioner who immediately set Friend's bail to $0.But that didn't stop the financial pain for Friend. He had to purchase a new phone later that day because his other phones were still being held by the Stamford PD.Unbelievably, it took prosecutors to set this straight, during which the prosecution took a shot at Officer Gasparino's "but muh revenue" assertions.
[W]hen Mr. Friend's case was called, the prosecution entered a nolle prosequi and explained to the court that Mr. Friend's signs "actually . . . help[ed] the police do a better job than they anticipated because when [drivers] saw the signs, they got off their cell phones."
This is a master class on how to get sued, taught by Professor Gasparino. The taking of Friend's signs raise both First and Fourth Amendment concerns. There's the "shut up" part of it and the taking of someone's property without cause, even if said property was nothing more than cardboard.Then there's the seizure of Friend's phones -- both done without cause. Even if the interference charge were credible (it isn't), there's simply no reason to believe the phones contained evidence of this crime. Any recordings that may have supported Gasparino's assertions were ended by Gasparino himself before they could have captured any "obstructing."And finally, there's the seizure of Friend himself. This might be the most difficult count to secure a win on, considering cops are given a whole lot of leeway to arrest people for crimes both real and imagined. The imagined ones tend to be tossed by prosecutors, but the courts have consistently held officers need only believe a law was violated to effect an arrest.None of this looks good for Officer Gasparino. These allegations lay out a sadly-credible story of a cop using his power to harm someone who made his life a tiny bit more difficult. Gasparino twice overstepped his Constitutional bounds and followed it up by making sure Friend couldn't just walk away from the stupidity by swinging a $25k bail hammer at him. This is adding injury to injury -- not exactly a great move when you might find yourself being held legally responsible for the injury pile-on.

Permalink | Comments | Email This Story


Read more here

---
posted at: 12:53am on 01-Nov-2018
path: /Policy | permalink | edit (requires password)
0 comments, click here to add the first
---
---