---
Sale Ends Tomorrow! Last Chance To Get CIA: Collect It All for 25% Off

Furnished content.



Get 25% off your copy of CIA: Collect It All with
the code STAYINSIDE until tomorrow night »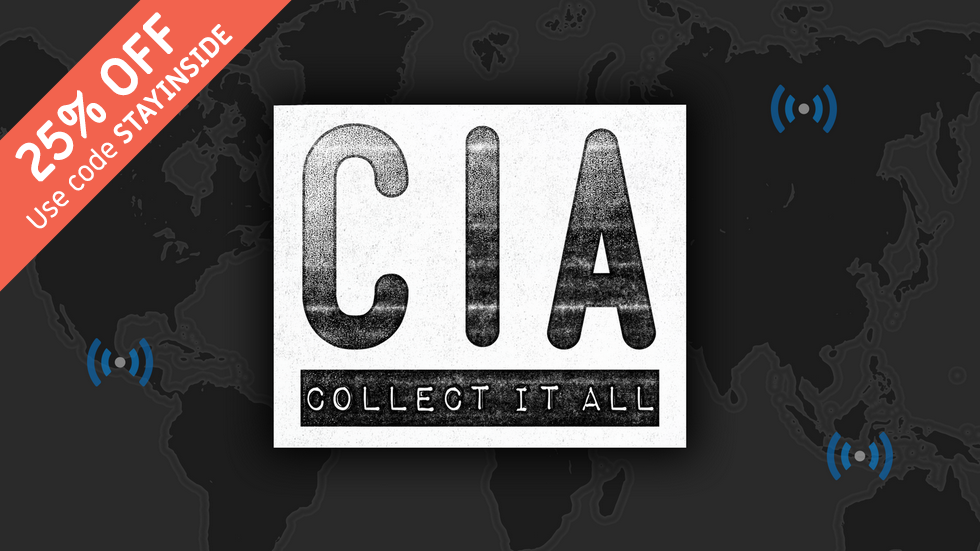 This weekend is your last chance to save on copies of CIA: Collect It All, our recreation of a real CIA analyst training game. Use the coupon code STAYINSIDE this weekend to get 25% off your purchase — the sale ends tomorrow night.
CIA: Collect It All is a game for two or more players with over 150 cards representing global crises that must be dealt with, intelligence techniques for addressing them, and the unexpected twists and turns that reality throws at an analyst's best laid plans. It also comes with a set of variant rules that turn it into a storytelling game that generates tales of intrigue and spycraft.

Get 25% off your copy of CIA: Collect It All with
the code STAYINSIDE until tomorrow night! »

Read more here



---
posted at: 12:00am on 31-May-2020
path: /Policy | permalink | edit (requires password)
0 comments, click here to add the first
---
---
Last Minute Addition To Louisiana Bill Hamstrings Community Broadband

Furnished content.


We've long noted that roughly twenty states have passed laws either outright banning community broadband, or tightly restricting such efforts. The vast majority of the time these bills are literally written by telecom lobbyists and lawyers for companies like AT&T and Comcast. While the bills are usually presented by lawmakers as an earnest concern about taxpayer boondoggles, the real motivation usually is the prevention of any disruption of their cozy geographical monopolies/duopolies.In some states, community broadband is being offered via the local power utility. That's the case in Tennessee, where Chattanooga-based EPB has been prohibited from expanding despite the overall lack of competitive options in the state -- and despite EPB having been rated one of the best ISPs in America. When ISPs can't get straight out bans passed via state legislature, they'll usually trying to bury such restrictions in unrelated bills, such as when AT&T tried to include community broadband restrictions in an unrelated Missouri traffic ordinance.Hugely frustrated by substandard service and a lack of broadband competition, more than 750 communities around the country have built some sort of community broadband network. But even when legislation intended to help them is proposed, it's an uphill battle to try and keep entrenched telecom lobbyists from making the bills worse. Case in point: Louisiana is considering Senate Bill 407, which would let utilities expand broadband to their rural customers. But provisions buried in the bill at the last second restrict utilities from offering broadband anywhere an incumbent already offers service:
"Jeff Arnold, who heads the Association of Louisiana Electric Cooperatives, said they supported the bill until wording was added that wouldn't allow co-ops to sell broadband to their electricity customers who are mapped in areas as already served by broadband. The language would restrict us from competing with others in the broadband market but would not stop them from cherry picking (customers) from cooperatives who choose to get in the broadband market, said Arnold, who as legislator years ago chaired the Commerce committee."
The problem: less than 13% of Louisiana lacks any broadband access whatsoever. The other problem: the FCC's broadband mapping data has long been maligned as not accurate whatsoever, meaning these restrictions won't be based in, you know, factual reality. And one last problem: while many people can "access broadband," in reality this usually means just one telco (with un-upgraded DSL lines and sky high prices) or one local cable monopoly with sky high prices (usually Comcast or Spectrum). In short, the ban would effectively ban competition, something there's simply too little of.And as the folks at the Institute for Local Self-Reliance (ILSR) note, such restrictions also threaten the financial stability of such efforts, given it takes away more profitable customers in more populated areas:
"Not only will this prevent broadband competition in rural Louisiana, but it could also undercut the feasibility of rural electric co-op projects in unserved areas. To make broadband networks financially possible, co-ops often need to balance low density areas with more populated communities. Otherwise, cooperatives might not be able to connect the most rural and unserved parts of their service territory especially since co-ops can't (and don't want to) subsidize broadband projects with funds from their electric operations. Furthermore, as Arnold pointed out, SB 406's new provisions put electric cooperatives at the whim of broadband providers that might choose to expand in only the most profitable parts of the state, making the most difficult to connect communities even harder to serve."
Again, incumbent ISPs (and the lawmakers, consultants, and other experts paid to love them) have spent twenty years falsely claiming community broadband is an inevitable taxpayer boondoggle, despite that simply not being true (you'll almost never see these same folks complaining about the billions thrown at giants like AT&T in exchange for absolutely nothing). But as always, these towns and cities wouldn't be getting into the broadband business if locals were happy with what's on offer. And with 42 million Americans lacking any broadband at all, the country needs all the creative alternatives it can get.

Read more here

---
posted at: 12:00am on 30-May-2020
path: /Policy | permalink | edit (requires password)
0 comments, click here to add the first
---
---
Professional Race Car Driver Hires Expert Gamer To Race His Video Game Car

Furnished content.


The esports momentum due to the COVID-19 pandemic isn't slowing down. And one of things many people are learning now that they're either spectating or participating in esports for the first time is just how hard it is to be really, really good in these competitions. The days that bore the cliches about unskilled gamers slothing in their parent's basement are long gone, replaced by corporate sponsorships for sold out events in full-scale arenas. In the absence of traditional IRL sports at the moment, many professional athletes are now getting into esports as well, with autoracing having led the way.And now, in an occurrence that basically had to happen, we have our first instance of a professional racer getting caught having a gamer stand in for him during a race.
As the BBC report, 27-year-old German driver Daniel Abt finished third in the latest leg of Formula E's Race at Home Challenge. Or, organisers thought he'd finished third, until later discovering that he'd hired a gamer to drive the race for him.The switch was discovered by ex-F1 driver Stoffel Vandoorne, who finished second in the race and suspected that Abt—who didn't have his video on—wasn't behind the wheel. Instead, it turned out to be a gamer by the name of Lorenz Horzing.Abt has been forced to pay £8,900, was disqualified from the last race and has had all his points from the series wiped.
This is where you really have to check any inclination to hand-wave this due to it being esports instead of IRL sports. Were a racer to have a different driver drive his car, we all agree that would be indefensible. The same is the case here, especially given just how much we're talking about in terms of marketing, advertising, purse, and sponsorship dollars. Once you accept that esports is a very real and established thing, this sort of cheating takes on an entirely different light.It's perhaps one of the challenges esports faces: getting spectators to buy into events when the participants aren't live and in-person. Frankly, I'm a bit surprised there wouldn't be a rule mandating the cameras be turned on.For what it's worth, Abt has since apologized. Regardless, this is something that probably had to happen at some point, but it's worth remembering that not all milestones are positive.

Read more here

---
posted at: 12:00am on 30-May-2020
path: /Policy | permalink | edit (requires password)
0 comments, click here to add the first
---
---
Denuvo's Anti-Cheat Software Now Getting Ripped From Games At Record Speed Too

Furnished content.


Remember Denuvo? Back in the far simpler times of 2016-2018, which somehow seem light years better than 2020 despite being veritable dumpster fires in and of themselves, we wrote a series of posts about Denuvo's DRM and how it went from nigh-uncrackable to totally crackable upon games being released with it. Did we take a bit too much pleasure in this precipitous fall? Sure, though our general anti-DRM stance sort of mandated dunking on a company that once touted itself as invincible. Either way, it started to get comical watching publishers release a game with Denuvo, have the game cracked in a matter of days, if not hours, and then release a patch to remove Denuvo entirely from the game.Due in part to this, Denuvo eventually announced it would be shifting its focus away from producing DRM that didn't work to making anti-cheat software. So, how is that going? Well, let's take a look at Doom Eternal, a game which only a week ago added to Denuvo's anti-cheat software via an update.
Doom Eternal has only had Denuvo anti-cheat software for a week, and already Id Software has agreed to take it out following the backlash from some PC players. The anti-cheat software was added last week in Doom Eternal's first major post-launch update and was aimed at curbing the use of exploits in its online multiplayer mode, specifically on PC. At the time of the update Id Software also said it would be more aggressive in banning players caught cheating and locking them out of all online content.There were protests almost immediately. Some players complained that the anti-cheat software was setting off their virus protection programs' alarm bells. Others took issue with the software requiring kernel-level access to their computers, fearing that it would leave them more vulnerable if the software was later hacked. Although Id Software tried to preemptively assuage players' fears, saying that Denuvo anti-cheat is only active while the game is on and doesn't take screenshots or scan file systems, thousands of players still took to review-bombing the game on Steam.
Now, review bombing kind of sucks as a rule, but then so does pushing out software that is as invasive as Denuvo's anti-cheat software after people had already purchased the game. In fact, given some of the security concerns and holes that Denuvo's software potentially opens up, one has to wonder seriously about liability here. Either way, you have to work really hard to get a bunch of online gamers for a wildly popular game to not want a tool to stop cheating in that game. And to that extent at least, Denuvo is a success.For what it's worth, the folks behind Doom Eternal still want to tackle cheating, but perhaps do so in a way that gives players some more choice.
"As we examine any future of anti-cheat in DOOM Eternal, at a minimum we must consider giving campaign-only players the ability to play without anti-cheat software installed, as well as ensure the overall timing of any anti-cheat integration better aligns with player expectations around clear initiatives—like ranked or competitive play—where demand for anti-cheat is far greater," Stratton wrote.
Whatever choice is presented, however, it appears that Denuvo will not be an option.

Read more here

---
posted at: 12:00am on 29-May-2020
path: /Policy | permalink | edit (requires password)
0 comments, click here to add the first
---
---
SmileDirectClub Sues NBC For $2.85 Billion, Claims Factual Statements And Quotes From Customers Are Defamatory

Furnished content.


SmileDirectClub -- maker of in-home dental appliances -- is back in the lawsuit business. A couple of years ago, the company sued Lifehacker over an article originally titled "You Could Fuck Up Your Mouth With SmileDirectClub." The company claimed any criticism of its products and techniques was defamatory. Despite the original inflammatory headline, the Lifehacker piece was even-handed, warning potential customers that semi-DIY dental work has some downsides. SmileDirect voluntarily dismissed the lawsuit a week later, perhaps sensing a judge -- even one in bogus lawsuit-friendly Tennessee -- might not agree that critical opinions, however harsh, were libelous.Apparently hoping to undermine the "defamation" market, SmileDirectClub began tying refunds to gag orders, refusing to give unhappy customers back their money unless they signed a non-disparagement agreement. Now, SmileDirect is headed back to court to take on NBC for its critical news report. This time, SmileDirect has to talk its way past a revamped state anti-SLAPP law to get the $2.85 billion it's seeking in this lawsuit. (h/t Daniel Horwitz)The lawsuit [PDF] appears to have been filed by lawyers being paid by the word. It's over 200 pages long and comes with a comprehensive table of contents. Longer does not mean better-developed. And it also doesn't mean the legal arguments are stronger than those found in more sensibly-sized filings.SmileDirect says NBC's report did an incredible amount of damage to its business.
SDC's stock price, which had been trending upward prior to the Reports, plummeted 15% the day after the Reports were published. Prospective patients cancelled their treatment. SDC's revenue fell. And, SDC's market capitalization dropped by over $950 million.
The company believes NBC's report (which was sensibly titled "SmileDirectClub Promises Easy Teeth Straightening. Some Patients Report Problems.") did all of this and more. The lawsuit accuses NBC of deliberately deploying lies because the reporters chose to ignore the documents and interviews SmileDirect offered when it found out this report was going to be aired. "For the clicks" is the argument SDC makes.
SDC's employees and officers across the country, as well as SDC-affiliated doctors, witnessed their hard work being undermined by a news organization and reporter who cared more about ratings and making a splash than the truth.
However, the arguments made by the company while establishing jurisdiction seem to undercut SDC's narrative about NBC reporters deliberately avoiding contact with the company.
[N]BC knowingly and intentionally contacted SDC in Davidson County in connection with the Reports. NBC initiated, received, and responded to, communications (electronic and telephonic) with SDC employees located in Davidson County. And, NBC repeatedly solicited information from SDC employees located in Davidson County over the course of three months prior to the publication of the Reports.[...]NBC knowingly and intentionally traveled to Davidson County in connection with the Reports where it, among other things, interviewed an SDC officer. NBC requested an interview with an SDC officer. NBC voluntarily decided to travel to Davidson County to conduct the interview.
Here's as concise a summary of SDC's allegations as can be found in the sprawling lawsuit:
As discussed below, NBC's online report was defamatory and disparaging because it: (a) falsely stated that treatment using SDC's platform caused health and physical problems; (b) falsely stated that treatment using SDC's platform can cause permanent injuries and omitted material facts to falsely imply that treatment using SDC's platform can cause permanent injuries; (c) omitted material facts about the thoroughness and extensiveness of treatment received by patients from SDC-affiliated doctors using SDC's platform; (d) falsely stated that treatment using SDC's platform injured Female Patient; (e) falsely stated that treatment using SDC's platform injured Male Patient; (f) falsely stated that patients must be protected from treatment using SDC's platform; (g) omitted material facts to falsely imply that treatment using SDC's platform violates government regulations; (h) falsely stated that treatment using SDC's platform is "do it yourself" dentistry and omitted material facts to falsely imply that treatment using SDC's platform is "do it yourself" dentistry; (i) falsely stated that SDC-affiliated doctors are not involved in treating patients and omitted material facts to falsely imply that SDC-affiliated doctors are not involved in treating patients; (j) falsely implied that treatment using SDC's platform is not safe; (k) falsely implied that treatment using SDC's platform is "do it yourself" dentistry; (l) falsely implied that treatment using SDC's platform is not effective for patients; and (m) falsely implied that SDC is a dishonest company.
But SDC's allegations all seem to lead to statements that appear to be factual. The company complains about statements like "nine Congressmen also asked the FDA and FTC to investigate [Smile Direct]..." (which is factual) and "More than 1,800 complaints have been filed with the Better Business Bureau…" (also factual).The other commentary SDC complains about comes from patients who discussed their experiences with the company's products. The lawsuit lists direct quotes from unhappy customers as defamatory statements made by NBC, conveniently ignoring the source of those quotes in favor of trying to hit a bigger target.The other stuff listed falls into the category of protected opinion. NBC's assertion that "some" patients experienced problems is not only accurate, but it's the sort of conclusion anyone would have reached by speaking to unhappy customers or reading its BBB page. SmileDirect claims its Better Business Bureau rating makes NBC's conclusions and assertions maliciously false, but it's the sort of conclusion only a company filing a 200-page complaint could reach.
SDC's overall score by the Better Business Bureau ("BBB") is A+, the highest available rating. At the time of the Reports, the number of issues raised with the BBB by patients treated using SDC's platform, including non-clinical issues, was less than 0.2%. The number of issues raised with the BBB—by patients or non-patients (i.e., people pretending to be patients)—regarding clinical issues was a small percentage of that infinitesimally small percentage, less than 0.001%.
Be that as it may, there are still more than 2,000 complaints listed on the BBB site and the site has noted the company is trying to get people to speak to a customer service rep before filing a complaint. Also, as was reported earlier this year, the company has been tying people to restrictive non-disparagement agreements before issuing refunds.Making the lawsuit longer doesn't make it any better. The same points are rehashed repeatedly in an apparent effort to bludgeon the presiding judge into arriving at the conclusion that something this lengthy must contain viable legal arguments. But it doesn't. What's called defamation in this lawsuit is a collection of factual statements, supported opinions, and direct quotes from unhappy customers.Tennessee's anti-SLAPP law may keep SDC from bleeding NBC for too long, but there's a good chance that law will never be tested. SDC may have wanted to keep this case at home, but suing a New York-based company for $2.85 billion means the lawsuit will have to be handled in a federal court. Tying in some state claims about alleged violations of Tennessee's Consumer Protection Act won't be enough to keep it local. Unfortunately, that may work out better for SmileDirect, which will be able to force NBC to defend itself from this lawsuit. Federal courts have been very hesitant to apply state anti-SLAPP laws to federal lawsuits, highlighting (once again) the need for a federal anti-SLAPP law.

Read more here

---
posted at: 12:00am on 29-May-2020
path: /Policy | permalink | edit (requires password)
---
---
Doctor With Rare Disease Crowdsourced His Own Cure, And Is Now Using That Network To Work On COVID-19

Furnished content.


A recent episode of NPR's Fresh Air ran an amazing interview with Dr. David Fajgenbaum, who was diagnosed years ago with the rare Castleman's Disease, about which very little information was known (and the general prognosis was grim). Fajgenbaum talks about how he ended up in hospitals believing that he was about to die five separate times (he even had his last rites read to him), but then set up his own organization to try to crowdsource a cure. He details the full story in his book that was published last fall, called Chasing My Cure.The good news is through that crowdsourcing effort, called the Castleman Disease Collaborative Network (CDCN), they at least found a treatment that (for now...) appears to work for Fajgenbaum himself:
The biggest difference between this fifth time I nearly died and the previous four times is that, at this stage, I was engaged. And I had the ultimate date in mind, which is our wedding date, May 24, 2014 - in mind as the driver to say, I need to find something. I failed to respond to all these drugs. There's nothing left for me. But I have to make it to May 24, 2014. And so thankfully, this combination of seven chemotherapies saved my life.And when I got out of the hospital, I was able to go back to all those samples I'd been storing on myself and performed a series of experiments where, from within my experiments, I found this pattern that suggested this one communication line in the immune system called the mTOR pathway was highly activated. And what was so exciting about finding this communication line turned on is that there is a drug that was developed 30 years ago that's really good at turning it off. It's called sirolimus.And just knowing that this pathway was on did not guarantee that blocking it would work and that taking this drug would save my life. In fact, the immune system is a very finicky system. And basically, turning off this communication line could have actually caused even more problems. No one knew because this drug had never been given to a Castleman disease patient before.But really, knowing that I needed to try something if I wanted to make it to our wedding date, I decided to take the leap of faith and to start taking this drug as the first patient with my disease ever to take sirolimus back in early 2014. And amazingly, thankfully, I was able to make it to Caitlin and I's wedding date. And you wouldn't think this is too important, Dave, but my hair grew back just in time.
He admits that the treatment that works for him has not been shown to work for everyone with Castleman's -- in fact, it appears to help only about 1/3 of those treated with it. But just the fact that it's been helping some is worth noting.And here's the really interesting part: as we've gone into this whole pandemic thing, many of the participants in the CDCN have noticed some similarities between the issues with Castleman's disease, and with what people are reporting about COVID-19. So they've been repurposing the crowdsourcing effort to work on COVID-19:
DAVIES: So the collaborative that you formed to try and share information and leads about treating Castleman is now focused on COVID-19. I mean, this is obviously an urgent public health matter. Did you see similarities between Castleman disease and COVID-19 that made this a good fit?FAJGENBAUM: That's right. So early on in this pandemic, it became clear that the most deadly aspect of COVID-19 is actually the cytokine storm that the virus ignites. And the cytokine storm that it ignites is almost identical.
While there are lots of different groups working on different ideas -- from vaccines to antibodies -- the CDCN is focused on what it does best: looking to see if there are FDA approved drugs out there that might have some useful effect here, and recognizing that the only way to really figure that out was to actually get the data (something very few others seemed set up to do):
And so with this similarity between - at the very basic mechanism, what drives the deadliness of COVID-19 is almost identical to what makes Castleman disease so deadly, it's these - the cytokine storm. That was one aspect of it. The second is that we know that drug repurposing is our best shot at identifying a drug that can help patients in the short-term, so a drug that's either already FDA-approved or a drug that is maybe experimental but is not yet approved for anything that could be repurposed for COVID-19. We knew that was our best shot.And, Dave, I found myself, in early March, thinking to myself, I really hope that some research group out there that has experience studying cytokine storms and has experience doing drug repurposing will follow our blueprint and search for drugs that can be repurposed against this cytokine storm. And I was sitting there hoping that someone would do it.And then I realized that I needed to listen to my own advice, and that if I'm going to hope that some research lab out there that has experience with cytokine storms and repurposing would turn their effort towards this, then I would need to turn my effort towards this. This is what we've been doing to chase my cure for these years. And we felt like we needed to do what we could in the fight against COVID-19.
The really incredible part here is that he notes that there's no official tracking of the various tests that doctors are doing, and that's a key aspect of what they've set up for doctors around the world:
I mean, you can basically think about the state that we're in right now is that doctors are trying all kinds of things - hydroxychloroquine, remdesivir and many other drugs. Yet there's no system in place to track what's working and what's not working. And so recognizing that this wasn't being done, we decided to build a database, what we called the CORONA database - COVID-19 Registry of Off-label & New Agents. So it's a database to track all of the drugs that have been used against COVID-19 to date 'cause we want to know everything that's been tried, and we want to see what's working and what's not working. And amazingly, almost 150 different drugs have already been tried against COVID-19. And of course, we hear about a handful of them, but there are a lot of others that have already been tried as well. And so we've created this giant database from - right now it's over 11,000 patients and growing - to collect data on every drug that's been used and so that we can really dig into what's working and what's not working.And the second part of this equation is that you want to track what's being used, but then you also want to piece together all of the data that's emerging from labs around the world to try to map out what are maybe some new drugs that we could start trying to use? What are some new pathways from all of this data that we should start going after? And interestingly, from the state of - we're finding signals that are Castleman-like, basically. A number of the features that we're seeing in the COVID-19 data, these same features we see in Castleman disease.
Think about that first part for a second. In the past, if you wanted to have a database of how certain drugs were used to treat different diseases, and what the impacts of those treatments were, you'd probably need a government to set up a program -- with lots of bureaucracy and mess. But here, a doctor and some other interested researchers were able to set up their own such database on the fly and get a massive amount of data piped into it, from which they can do all sorts of (hopefully!) useful analysis.This is not to say they're ignoring other approaches -- because these things work together. In the interview, it's mentioned that the crowdsourcing team at CDCN has combed through over 2,500 published papers to look for potential promising treatments.Also important: they're being very open about all of this. While some keep insisting that we need to lock up successful treatments and ideas, Fajgenbaum recognizes the power of sharing information widely (the very root of crowdsourcing, after all):
You know, what we really want to do with this corona project is to map out everything that's being tried, to put in one place all of the studies that are being published, all of the data on every drug that's being tried so that other people can go to it and they can kind of decide for themselves what looks promising and what doesn't. We didn't build this to say this is the drug and that's not the drug; we built this to say this is where all the data is. If anyone wants to use the data, we have this very data-first approach. Anyone can use the data.And from our perspective, we want to use the data to determine and to prioritize what drugs should go on to clinical trials. So the fact is, is that this drug is already being studied in randomized controlled trials, and that's all that we can really ask for. We want to use the database to say what's being given, what looks really promising and what should go forward to randomized controlled trial. We don't want to use the database to say this drug should be given or that drugs should not be given. So we're hopeful.And actually, we put together a paper based on our first pass of analyses of the data and recently received favorable reviews. So hoping that that'll get published in peer-reviewed journal shortly and that we will be able to get the word out about this database. But the goal is not to say this is the drug that everyone should be on; the goal is to say these are the promising drugs. Let's make sure that we don't forget anything along the way because you're right - I think that we all have a tendency to jump on every major drug or every major headline. But we need to keep an eye on all the drugs that are being tried and make sure that we're doing this really systematically.
Once again, the ability for anyone to just setup and build something on the internet, without needing to ask for approval or go through some big bureaucratic process, may be helpful yet again, and hopefully the very open process of bringing in data, and sharing it outward, will lead to real breakthroughs.

Read more here

---
posted at: 12:00am on 28-May-2020
path: /Policy | permalink | edit (requires password)
0 comments, click here to add the first
---
---
When The Problem Isn't Twitter But President Trump

Furnished content.


President Trump is not happy with Twitter. But a lot of other people were already unhappy with Twitter. As his tweets have grown more abusive by the day, and the non-insane public has naturally grown more outraged by them, there has been an increase in calls for Twitter to delete his tweets, if not his account outright. But what's worse is the increase in calls that sound just like what Trump now demands: that Section 230 must be changed if Twitter is unwilling to take those steps. Both are bad ideas, however, for separate, although related, reasons.The basic problem is that there is no easy answer for what to do with Trump's tweets, also for many reasons. One fundamental reason is that content moderation is essentially an impossible task. As we've discussed many, many times before, it is extremely difficult for any platform to establish an editorial policy that will accurately catch 100% of the posts that everyone agrees are awful and no posts that are fine. And part of the reason for that difficulty is that there is no editorial policy that everyone will ever be able to agree on. It's unlikely that one could be drawn up that even most people would agree on, yet platforms regularly attempt to give it their best shot anyway. But even then, with some sort of policy in place, it is still extremely difficult, if not impossible, to quickly and accurately ascertain whether any particular social media post amidst the enormous deluge of social media posts being made every minute, truly runs afoul of it. As we have said umpteen times, content moderation at scale is hard. Plenty is likely to go wrong for even the most well-intentioned and well-resourced platform.Furthermore, Trump is no ordinary tweeter whose tweets may run afoul of Twitter's moderation policies. Trump happens to be the President of the United States, which is a fact that is going to strain any content moderation policy primarily set up to deal with the tweets by people who are not the President of the United States. It is possible, of course, to decide to treat him like any other tweeter, and many have called for Twitter to do exactly that. But it's not clear that doing so would be a good idea. For better or for worse, his tweets are the tweets of the American Head of State and inherently newsworthy. While one could argue that they should be suppressed because their impact is so prone to being so destructive, it would not be a costless decision. While having the President of the United States tweeting awful things does cause harm, not knowing that the President of the United States is trying to tweet awful things presents its own harm. This is the person we have occupying the highest political office in the land. It would not do the voting public much good if they could not know who he is and what he is trying to do.The arguments for suppressing his tweets largely are based on the idea that taking away his power to tweet would take away his power to do harm. But the problem is that his power comes from his office, not from Twitter. Taking Twitter away from him doesn't ultimately defang him. It just defangs the public's ability to know what is being done by him in their name.Twitter's recent decision to add contextualization to his tweets might present a middle ground, although it is unlikely to be a panacea. It puts Twitter in the position of having to make more explicit editorial decisions, which, as discussed above, is an exercise that is difficult to do in a way that will satisfy everyone. It also may not be sustainable: how many tweets will need this treatment? And how many public officials will similarly require it? Still, it certainly seems like a reasonable tack for Twitter to try - one that tries to mitigate the costs of Trump's unfettered tweeting without inflicting the costs that would result from their suppression.Which leads to why Section 230 is so important, and why it is a bad idea to call for changing it in response to Trump. Because Section 230 is what gives Twitter the freedom to try to figure out the best way to handle the situation. There are no easy answers, just best guesses, but were it not for Section 230 Twitter would not be able to give it the best shot it can to get it right. Instead it would be pressured to take certain actions, regardless of whether those actions were remotely in the public interest. Without Section 230 platforms like Twitter will only be able to make decisions in their own interest, and that won't help them try to meet the public call to do more.Changing Section 230 also won't solve anything, because the problem isn't with Twitter at all. The problem is that the President of the United States is of such poisoned character that he uses his time in office to spread corrosive garbage. The problem is that the President of the United States is using his power to menace citizens. The problem is that the President of the United States is using his role as the chief executive of the country to dissolve confidence in our laws and democratic norms.The problem is that the President of the United States is doing all these things, and would be doing all these things, regardless of whether he was on Twitter. But what would change if there were no Twitter is our ability to know that this is what he is doing. It is no idle slogan to say that democracy dies in the darkness; it is an essential truth. And it's why we need to hold fast to our laws that enable the transparency we need to be able to know when our leaders are up to no good if we are to have any hope of keeping them in check.Because that's the problem we're having right now. Not that Twitter isn't keeping Trump in check, but that nothing else is. That's the problem that we need to fix. And killing Twitter, or the laws that enable it to exist, will not help us get there. It will only make it much, much harder to bring about that needed change.

Read more here

---
posted at: 12:00am on 28-May-2020
path: /Policy | permalink | edit (requires password)
0 comments, click here to add the first
---
---
Judge Sends Devin Nunes' SLAPP Suits Against CNN And Washington Post Off To Their Proper Venues

Furnished content.


It appears that at least one judge handling Devin Nunes' various SLAPP suits in Virginia has caught on to at least some of what's going on here. Judge Robert E. Payne has now transferred two of his lawsuits -- the ridiculous defamation filing against CNN and the even sillier SLAPP suit against the Washington Post -- to better venues. In both cases, the judge seems pretty fed up with Nunes' lawyer, Stephen Biss, opening both by quoting what was said to Biss in yet another one of his silly SLAPP suits:
It is with chagrin that [the] Court must begin to address this motion by observing that . . . Plaitiff[] engages in ad hominin attacks against [CNN and others in the Amended Complaint,] which the Court cannot tolerate. . . . The Court reminds Counsel for Plaintiff[] that, as an officer of the Court, he may be sanctioned for engaging in conduct unbefitting of this Court.
There's another version of this in the Washington Post transfer, but with the defendants there rather than CNN.For the CNN case, here's the order shipping the case off to the Southern District of New York instead of Virginia.The court went through various tests that all seemed to raise the question: why is Nunes filing this case in this court?
It is undisputed that the Eastern District of Virginia is notNunes's home forum. (ECF No. 20 at 7 (Nunes stating that he "isa citizen of California").) That Nunes "works at the Capitolwithin a few minutes' drive of Virginia," (id.), and "participatesin oversight of the U.S. national security apparatus, includingthe intelligence-related activities of seventeen agencies,departments, and other elements of the United States Government,most of which is located in Virginia,"... does notalter this fact. Additionally,... theoffending act at issue--the publication of the Article--did not occurin Virginia. The Article was researched, written, and publishedin New York and, to some extent, Washington, D.C. Its subjectmatter has nothing to do with Virginia, and the Eastern Districtof Virginia is thus not the nucleus of operative facts.
The court brushes off the fact that the article could be read in Virginia, noting that if that were the deciding factor, cases could be brought anywhere. It also laughs off the idea that the venue might be appropriate because that's where Steven Biss resides, relegating that silly argument to a footnote: "convenience to counsel is not an appropriate consideration in resolving a motion to transfer venue."The court then notes that NY is much more convenient for most material witnesses, and again brushes off Biss/Nunes' attempts to throw some "local to Virginia" witnesses into the stew to muddy things up:
CNN argues that the witness convenience factor "squarelysupports transfer" because Ward, Cuomo, and Bondy all reside inNew York.... That all three key witnesses reside in New York favors transfer.The only witness Nunes has identified as residing in Virginia is Parnas's former attorney, Edward MacMahon, who was mentioned only once in the Article and who has not been shown to be a material witness.... Additionally, Nunes contends that Jake Tapper..., who resides in Washington, D.C., and Parnas and Igor Fruman--Parnas's business partner and co-defendant,... who reside in Florida, are "material witnesses." ... It is clear that Tapper is not a material witness.... With respect to Parnas and Fruman, even assuming that they are material witnesses, both of these witnesses would need to travel from Florida, and New York is likely to be more accessible than Richmond, Virginia. Additionally, as CNN notes, both Parnas and Fruman are under indictment in the SDNY.
One other interesting point: the court points out that the parties are debating whether or not California's or New York's laws should apply to the case, and that supports a transfer to SDNY, which obviously understands NY law. And, the court says, even if it turns out that California's laws will apply (in which case, California's anti-SLAPP could be applied...), the court says that the SDNY is readily familiar with California law.Separately, though, it's pretty clear that the judge is not at all happy about how Biss handled the case, and his frustration is evident. He calls out the problem of forum shopping, and suggests that the court has previously warned Biss to knock it off:
... the Court has significant concerns about forum shopping. As the Court has explained to Plaintiff's on numerous occassions, the "Court cannot stand as a willing repository for cases which have no real nexus to this district. The 'rocket docket' certainly attracts plaintiff[s], but the Court must ensure that this attraction does not dull the ability of the Court to continue to act in an expeditions manner."...
The order to transfer the Washington Post case to DC is pretty similar:
The District of Columbia is also a proper venue for this action. Venue is proper... because a "substantial part of the events or omissions giving rise to the claims occurred" in Washington, D.C. Venue is also proper... because the Post "resides" in Washington, D.C., given that the Post is subject to personal jurisdiction there, and "all defendants are residents of the State in which the district is located." Consequently, because jurisdiction and venue would both be proper in the District of Columbia, Nunes could have brought this case there...
Also, there's the fact that Nunes' lives and works in DC:
That Nunes "works at the Capitol within a few minutes' drive of Virginia" and "oversees the intelligence community, including ODNI which is located in Virginia" does not alter this fact... Indeed, Nunes's assertion that he "works at the Capitol," which is located in Washington, D.C., acts to support transferring this action to the District of Columbia.
The fact that the Washington Post prints its print edition in Virginia is... not enough to make it the proper venue:
Moreover, the Eastern District of Virginia is not the nucleus of operative facts. The offending act at issue--the publication of the Article online--occurred in Washington, D.C. ... Additionally, the Article was researched, written, and edited in Washington, D.C. with assistance from a journalist located in Moscow, Russia, not Virginia... The only connection between this action and Virginia, besides the location of Plaintiff's counsel, is that the Article was printed in Springfield, Virginia. That tenuous connection is insufficient to give significant weight to Nunes' choice of forum.
As the judge later notes: "There is no logical connection between the events in this case and this district."It seems clear that Judge Payne sees what Biss is trying to do here, and given that, Biss may actually be at least mildly relieved to have these cases out of this judge's courtroom.Of course, in the CNN case, NY has a very weak anti-SLAPP law as well, so that part won't necessarily help CNN. However, if CNN can convince the court that California's anti-SLAPP law applies (which it might...), then Nunes could be on the hook for CNN's extensive legal costs. As for the Washington Post case, DC does have a good anti-SLAPP law, but it's been held not to be available in federal court there, meaning that might be limited too. Still, I really do wonder how much guidance Biss has given Nunes about the liability that he, himself, may end up facing in all of these lawsuits if California's anti-SLAPP law is applied?

Read more here

---
posted at: 12:00am on 27-May-2020
path: /Policy | permalink | edit (requires password)
0 comments, click here to add the first
---
---
A Mess In The House: Dirty Pool As Rep. Schiff Inserts Loophole To Help The FBI Spy On You

Furnished content.


As the debate continues over the renewal of some Patriot Act provisions for NSA surveillance techniques, the House now has a chance to correct a failure by the Senate, by one measly vote, to require a warrant for the FBI to go sifting through your internet histories that the NSA scooped up along the way. The intelligence community refuses to reveal how often this is done, but Senator Wyden is indicating that it's a lot more than you think -- and he's been right pretty much every time he's made those suggestions.It's now up to the House, and while Rep. Lofgren had a version of the warrant requirement amendment, some petty political squabbling from Democratic leadership threatened to quash it -- mainly by Rep. Adam Schiff inserting a massive loophole to allow for more warrantless surveillance. Earlier on Tuesday it was reported that, after a long weekend of haggling, it appeared that a vote will be allowed on Lofgren's Amendment and that the language had been cleared up to the point that even Senator Wyden backed it:
After extensive bicameral, bipartisan deliberations, there will be a vote to include a final significant reform to Section 215 [of the USA Patriot Act] that protects Americans' civil liberties, Lofgren, a Democrat of California, said. Without this prohibition, intelligence officials can potentially have access to information such as our personal health, religious practices, and political views without a warrant, she added.[...]The Lofgren-Davidson amendment will require the FBI to obtain a warrant even if there's only a possibility that the data it seeks is tied to a U.S. person. If the government wishes to access the IP addresses of everyone who has visited a particular website, it could not do so without a warrant unless it can guarantee that no U.S. persons will be identified.
Wyden's support was seen as critical, because if he felt that Schiff had torpedoed the Amendment he wouldn't support the amendment. So the original reports saying that he was on board, was a good sign. He even put out a detailed statement in support.Then, the full language came out, and Schiff appeared to torpedo the whole deal anyway by telling the NY Times that the amendment didn't really do anything anyway:
But in his own statement, Mr. Schiff put forward a narrower emphasis. Stressing the continued need to investigate foreign threats, he described the compromise as banning the use of such orders "to seek to obtain" an American's internet information.
Soon after Wyden pulled his support of the bill, realizing that Schiff was making a ridiculous interpretation to allow for more spying on American's internet browsing habits:
The House Intelligence Committee chairman's assertion that the Lofgren-Davidson amendment does not fully protect Americans from warrantless collection flatly contradicts the intent of Wyden-Daines, and my understanding of the amendment agreed to earlier today. It is now clear that there is no agreement with the House Intelligence Committee to enact true protections for Americans' rights against dragnet collection of online activity, which is why I must oppose this amendment, along with the underlying bill, and urge the House to vote on the original Wyden-Daines amendment, Wyden said.
Again, however, I remain perplexed about Schiff trying to water this down. Remember, Schiff was literally the House manager of the Trump impeachment campaign, and more than anyone, Schiff has a front row seat to how this President has politicized all aspects of government at his disposal. You would think that's a good enough reason to pass a bill that would protect American citizens from being spied on by the FBI without a warrant (as, I should mention, the Constitution requires). Why would that be at all controversial? I get that Schiff comes from a background where he has traditionally had a kneejerk support for greater law enforcement and intelligence powers -- but given what he knows about this administration, it's crazy that he wouldn't want to restrict those powers in the hands of someone who still regularly seems to threaten his political opponents, including Schiff.Of course, as all of this was happening, the President himself urged his supporters in Congress to vote against the bill anyway, so who the hell knows what's going on any more anyway. What is clear is that Congress had a real chance to make sure the FBI had to live under the 4th Amendment, and it appears that it has failed to do so, so far.

Read more here

---
posted at: 12:00am on 27-May-2020
path: /Policy | permalink | edit (requires password)
0 comments, click here to add the first
---
---
So Wait, People Really Think The Barr DOJ's Investigation Into Google Is In Good Faith?

Furnished content.


Late last week, news emerged that the DOJ would likely be bringing a massive antitrust lawsuit against Google. Reports suggest this is the culmination of a full year of saber rattling by Bill Barr, who has made "antitrust inquiries" into "big tech" a top priority at the DOJ:
"the DOJ's antitrust inquiries into Google, Facebook and other Silicon Valley powers has become a priority for Attorney General William Barr, who has asserted greater control of the probes and has said he wants to make a decision on Google by the summer."
The news was quickly met with celebration by numerous folks, many of whom have correctly noted that US antitrust enforcement has become toothless and frail, and our dated definitions of monopoly need updating in the Amazon era. The announcement was also highly celebrated by a litany of folks eager to see Google's domination of search, advertising, and other sectors disrupted -- for both justified and competitive reasons.Oddly, much of the coverage of the DOJ's potential antitrust case operated under the premise that Barr's efforts are being conducted in good faith, and might actually result in useful remedies at the end of the battle. The problem with that assertion is multi-fold. One, Bill Barr just got done making it abundantly clear his DOJ isn't actually interested in the rule of law. The Trump DOJ has also made it abundantly clear it's not above weaponizing antitrust for petty grievances, as we saw with the ridiculous lawsuit against California over vehicle emissions.Barr's DOJ also isn't what you'd call consistent on antitrust and monopoly enforcement, either.Barr's DOJ, for example, just got done rubber stamping the $26 billion merger between T-Mobile and Sprint, despite a laundry list of warnings from economists that concentration in the telecom sector would reduce competition, raise rates, lower overall sector pay, and result in up to 20,000 to 30,000 job losses. Yet DOJ antitrust boss, Makan Delrahim, not only rubber stamped the deal without listening to experts, he used his personal phone and email accounts to help ensure deal approval. That is what "antitrust enforcement" looks like at Donald Trump and Bill Barr's DOJ.The DOJ's lawsuit to hamper the AT&T Time Warner lawsuit was also treated with furrowed brow seriousness by the press, despite it being well out of character for a Trump administration that generally panders to AT&T, has a less than zero interest in consumer protection, and usually has no problem with industry consolidation -- provided you're an ally of the administration. There's ample indication the DOJ's lawsuit was driven by Trump's disdain for CNN and his ally Rupert Murdoch, who saw two attempts to buy CNN rebuffed by AT&T and had been working overtime to scuttle the deal for competitive reasons.Why is monopolization in telecom and other sectors ok, and monopolization in Silicon Valley not ok? Because, as we've noted previously, much of the Barr DOJ's sudden, uncharacteristic interest in "policing monopolies" is being driven by the telecom sector (Barr you'll recall used to be Verizon's General Counsel). Giants like Comcast, Verizon, and others have been hungrily eyeing Silicon Valley's stranglehold over advertising revenues for the better part of the last fifteen years, and there's absolutely no doubt in my mind they're driving a lot of the anti "big tech" animosity you're seeing from the likes of Bill Barr and Marsha Blackburn, whose interest in consumer protection, level playing fields, monopolies, or consolidation is utterly nonexistent on any other Sunday.A desire for stronger antitrust enforcement or concern for monopoly domination isn't what's driving the Barr DOJ here, and press outlets assuming this is a good faith effort are clowning themselves. It's being driven by telecom sector allies and Trump pals like Rupert Murdoch, who are eager to boost their own advertising market share. It's also being driven by heaps of partisan nonsense about how Conservatives are being "censored by big tech," which as we've documented repeatedly isn't based on anything remotely resembling reality.None of this is to say that there aren't very obvious monopolistic problems Google presents that need addressing. And the separate antitrust inquiry by state AGs (expected this fall) is far more likely to be conducted in good faith, even though there too you have a lot of AGs that were just fine with monopolization in sectors like telecom. But anybody who thinks the Barr DOJ's effort in particular is driven by a genuine interest in reining in monopoly power simply hasn't been paying attention.

Read more here

---
posted at: 9:35am on 26-May-2020
path: /Policy | permalink | edit (requires password)
0 comments, click here to add the first
---
---
One Week Left To Get CIA: Collect It All For 25% Off

Furnished content.



Get 25% off your copy of CIA: Collect It All with
the code STAYINSIDE until the end of May »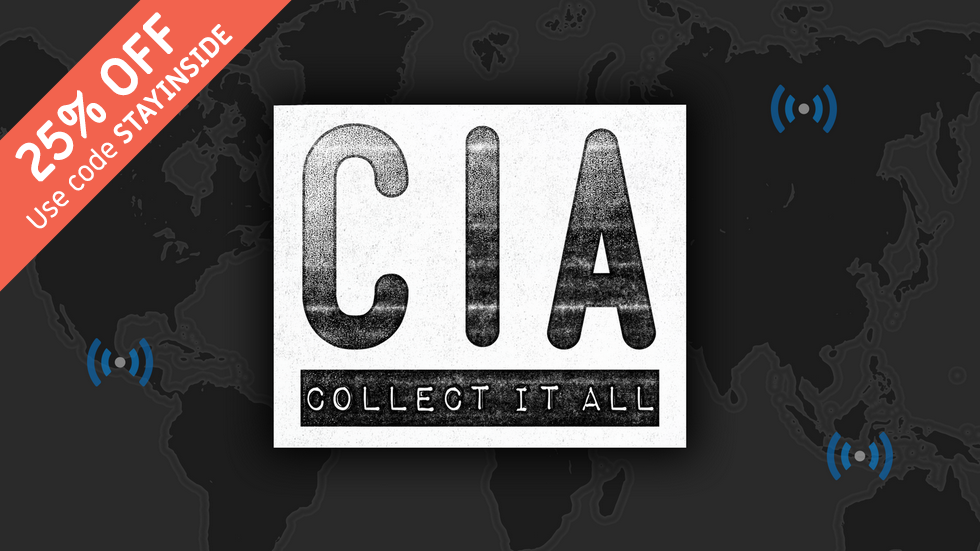 If you're running out of things to keep you entertained at home (and who isn't, at this point?) then don't forget that CIA: Collect It All, our recreation of a real CIA analyst training game discovered via the Freedom Of Information Act, is on sale for 25% off with the coupon code STAYINSIDE. The sale lasts until the end of the month, so there's just over a week left to get your copy!
CIA: Collect It All is a game for two or more players with over 150 cards representing global crises that must be dealt with, intelligence techniques for addressing them, and the unexpected twists and turns that reality throws at an analyst's best laid plans. It also comes with a set of variant rules that turn it into a storytelling game that generates tales of intrigue and spycraft.

Get 25% off your copy of CIA: Collect It All with
the code STAYINSIDE until the end of May! »

Read more here



---
posted at: 12:00am on 24-May-2020
path: /Policy | permalink | edit (requires password)
0 comments, click here to add the first
---
---
Banks Get Payout From Equifax Hack While Consumers Still Wait For Compensation

Furnished content.


We've noted several times that the FTC's settlement over the Equifax hack that exposed the public data of 147 million Americans was little more than a performative joke. While much was made of the historic fine levied against the company, the FTC's settlement failed to provide impacted victims much of anything outside of a sad chuckle.The agency originally promised that impacted users would be able to nab 10 years of free credit reporting or a $125 cash payout if users already subscribed to a credit reporting service. But it didn't take long for the government to backtrack, claiming it was surprised by the number of victims interested in modest compensation, while admitting the settlement failed to set aside enough money to pay even 248,000 of the hack's 147 million victims. Even the credit reporting was relatively useless given such offers have been doled out the last seventy times consumers were impacted by a company's shaky security and privacy standards.While consumers didn't see their promised compensation, US banks are facing no such hurdles. The company this week agreed to shell out $5.5 million to thousands of banks and credit unions who say they were harmed by the targeted hack of Equifax customers. The full agreement with the banks also doles out an additional $25 million to help beef up security, with Equifax also covering the banks' administrative costs, attorney fees, and assorted expenses.But while the banks are now covered, the actual victims of the hack attack remain lost in the bureaucratic mire:
"It's been more than two-and-a-half years since the biz was thoroughly hacked, and just under a year since the $700m settlement was agreed, so it's perhaps surprising that not a cent appears to been given to the people directly impacted by the cyber-break-in.Even now, with a final settlement approved in December 2019 and a deadline to apply for the money of January 22, 2020 - four months ago - Equifax still apparently hasn't sent out any checks and still hasn't given a firm date for when it will do. Questions from The Register on the topic have gone unanswered."
That again falls on the back of the FTC and the original settlement, which received a lot of initial gushing press adoration for being "historic," but doesn't appear to have lived up to any of its original promises. After not providing enough money to live up to that $125 cash payout offer, victims were forced to jump through hoop after hoop to try and get the funds, which won't wind up being anywhere close to $125 whenever the checks do arrive. The entire process is now bogged down in the courts after victims fought for a more equitable settlement for the hack.It's another example of how headline-grabbing fines usually tend to be performative. There's no genuine compensation coming for most victims of Equifax's lax security, and efforts to actually craft meaningful penalties for companies (like say, an actual US privacy law) remain bogged down in partisan bickering. As a result we see scandal after scandal, followed by pseudo-punitive tap dances where the actual victims are lucky to see a dime. Rinse, wash, repeat.

Read more here

---
posted at: 12:00am on 23-May-2020
path: /Policy | permalink | edit (requires password)
0 comments, click here to add the first
---
---
The Great Pizza Arbitrage Scheme Of 2020 Is Spotlighting The Strangeness Of Food Delivery Services

Furnished content.


Food delivery services always felt a bit wonky to me. I'm usually not terribly old fashioned about most things, but I generally understood that some restaurants delivered and some did not and that that was mostly fine. Along came food delivery services to bring us food from places that didn't deliver and that was mostly fine, too. But lately it's starting to become clear that somewhere in the ecosystem of venture capitalist funding and food delivery services, something is broken. We'll explore the larger issues in a separate post, but one great example of how janky this is getting is how one pizzeria owner managed to make a nice profit by buying his own pizzas from DoorDash. Confused? Well, buckle up.
Yesterday, Ranjan Roy, a content strategist and writer, wrote about the latter in his newsletter The Margins; one of his friends who owns a few pizza restaurants suddenly got an influx of customers complaining about delivery when the restaurants didn't offer delivery. "He realized that a delivery option had mysteriously appeared on their company's Google Listing. The delivery option was created by Doordash," Roy wrote.Apparently, this is one way that DoorDash does customer acquisition — by bullying restaurants. But what's funnier about Roy's friend's problem (and it was a real problem because of Yelp reviews and angry customers) is that DoorDash priced the pizzas incorrectly. "A pizza that he charged $24 for was listed as $16 by Doordash," emphasis Roy's. And then: "My third thought: Cue the Wall Street trader in me…..ARBITRAGE!!!!"
And so began the dumbest transaction plan in the modern history of business. The pizzeria owner placed some DoorDash orders, expecting that eventually DoorDash would catch on. It didn't. To date, even with journalists now asking the company direct questions, DoorDash hasn't commented as of the time of this writing. At $8 per pizza in pure profit, the owner went ahead and ordered an indeterminate, but more than 10, number of pizzas. It got fun enough as an experiment that eventually the owner just ordered pizza dough through DoorDash, alleviating the need to even turn on the ovens, at $75 in pure profit.Are these huge numbers? No, except that when this sort of thing happens to the restaurant rather than the delivery service, the former operating under much smaller margins with real hard costs, it's a problem. Those problems mostly being what happens when DoorDash delivers crappy service that the customer thinks is from the restaurant as well as customers getting used to these very low prices when the owners of the business actually charge more for the product.
The answer isn't clear because we're very far from the old ways. By the magic of venture capital, some businesses don't have to make money to survive. And that's upended things for everyone. "Third-party delivery platforms, as they've been built, just seem like the wrong model, but instead of testing, failing, and evolving, they've been subsidized into market dominance," as Roy puts it. "The more I learn about food delivery platforms, as they exist today, I wonder if we've managed to watch an entire industry evolve artificially and incorrectly."As Bloomberg put it last Halloween: "GrubHub Inc. just announced disappointing quarterly results and said that food delivery is only a means to an end, unlikely to ever be profitable on its own. The risk heading into 2020 is that the inevitable reckoning for the food-delivery businesses will spread to the broader restaurant industry." And at the end of the first quarter of 2020, that looks more prescient than ever. According to its first quarter report, GrubHub, the only profitable restaurant delivery business, lost $33.4 million over the last 3 months. (In fairness: COVID-19.)
Yeah, but in other fairness, companies that cannot make a profit aren't supposed to survive in capitalist societies. That's sort of a cultural lodestone in our economy. And while venture capital can certainly prop up emerging businesses that otherwise would never launch into real profitability, it's worth considering whether the food delivery business has run out of runway.On the question of why these food delivery service companies seem to almost universally lose money, more to come.

Read more here

---
posted at: 12:00am on 23-May-2020
path: /Policy | permalink | edit (requires password)
0 comments, click here to add the first
---
---
Let's Talk About 'Neutrality' -- And How Math Works

Furnished content.


So if the First Amendment protects site moderation and curation decisions, why are we even talking about neutrality?It's because some of the bigger tech companies -- I'm looking at you, Google and Facebook -- naively assumed good faith when asked about neutrality by congressional committees. They took the question as inquiring whether they apply neutral content moderation principles, rather than as Act I in a Kabuki play where bad-faith politicians and pundits would twist this as meaning that the tech companies promised scrupulous adherence to political neutrality (and that Act II, as described below, would involve cherry-picking anecdotes to try to show that Google and Facebook were lying, and are actually bastions of conversative-hating liberaldom).And here's the thing -- Google, Twitter, and Facebook probably ARE pretty damn scrupulously neutral when it comes to political content (not that it matters, because THE FIRST AMENDMENT, but bear with me for a little diversion here). These are big platforms, serving billions of people. They've got a vested interest in making their platforms as usable and attractive to as many people as possible. Nudging the world toward a particular political orthodoxy? Not so much.But that doesn't stop Act II of the bad faith play. Let's look at how unmoored from reality it is.Anecdotes Aren't DataAnecdotes -- even if they involve multiple examples -- are meaningless when talking about content moderation at scale. Google processes 3.5 billion searches per day. Facebook has over 1.5 billion people looking at its newsfeed daily. Twitter suspends as many as a million accounts a day.In the face of those numbers, the fact that one user or piece of content was banned tells us absolutely nothing about content moderation practices. Every example offered up -- from Diamond & Silk to PragerU -- is but one little greasy, meaningless mote in the vastness of the content moderation universe.'Neutrality?' You keep using that word . . .One obvious reason that any individual content moderation decision is irrelevant is simple numbers: a decision representing 0.00000001 of all decisions made is of absolutely no statistical significance. Random mutations -- content moderation mistakes -- are going to cause exponentially more postings or deletions than even a compilation of hundreds of anecdotes can provide. And mistakes and edge cases are inevitable when dealing with decision-making at scale.But there's more. Cases of so-called political bias are, if it is even possible, even less determinative, given the amount of subjectivity involved. If you look at the right-wing whining and whinging about their voices being censored by the socialist techlords, don't expect to see any numerosity or application of basic logic.Is there any examination of whether those on the other side of the political divide are being treated similarly? That perhaps some sites know their audiences don't want a bunch of over-the-top political content, and thus take it down with abandon, regardless of which political perspective it's coming from?Or how about acknowledging the possibility that sites might actually be applying their content moderation rules neutrally -- but that nutbaggery and offensive content isn't evenly distributed across the political spectrum? And that there just might be, on balance, more of it coming from the right?But of course there's not going to be any such acknowledgement. It's just one-way bitching and moaning all the way down, accompanied with mewling about other side content that remains posted.Which is, of course, also merely anecdotal.Reposted from the Socially Awkward blog.

Read more here

---
posted at: 12:00am on 22-May-2020
path: /Policy | permalink | edit (requires password)
0 comments, click here to add the first
---
---
Yes, This Site Uses Cookies, Because Nearly All Sites Use Cookies, And We're Notifying You Because We're Told We Have To

Furnished content.


If you're visiting our site today (and I guess, forever into the future if you don't click "got it") you will now see a notification at the bottom of the site saying that this site uses cookies. Of course, this site uses cookies. Basically any site uses cookies for all sorts of useful non-awful, non-invasive purposes. We use cookies, for example, to track your preferences (including when you turn off ads on the site, which we let you do for free). In order to make sure those ads are gone, or whatever other preferences stay in place, we use cookies.For the last few years, of course, you've probably seen a bunch of sites pop up boxes "notifying" you that they use cookies. For the most part, this has to do with various completely pointless EU laws and regulations that probably make regulators feel good, but do literally nothing to protect your privacy. Worst are the ones that suggest that by continuing on the site you've made some sort of legal agreement with the site (come on...). These cookie notification pop ups do not help anyone. They don't provide you particularly useful information, and they don't lead you to a place that is more protective of your actual privacy. They just annoy people, and so people ignore them, leave the site, or (most commonly) just "click ok" to get the annoying bar or box out of the way to get to the content they wanted to see in the first place.Here's the stupendously stupid thing about all of this: you are already in control. If you don't like cookies, your browser gives you quite a lot of control over which ones you keep, and how (and how often) you get rid of them. Some browsers, like Mozilla's Firefox Focus browser, automatically discard cookies as soon as you close a page (it's great for mobile browsing, by the way). Of course, that leads to some issues if you want to remain logged in on certain pages, or to have them remember preferences, but for those you can use a different browser or change various settings. It's nice that the power to handle cookies is very much up to you. We here at Techdirt like it when the control is pushed out to the ends of the network, rather than controlled in the middle.But, because it makes some privacy regulators feel like they've "done something", they require such a pointless "cookie notification" on sites. Recently, one of our ad providers told us that we, too, needed to include such a cookie notification, or else we'd lose the ability to serve any ads from Google, who (for better or for worse) is one of the major ad providers out there. We did not get a clear explanation for why we absolutely needed to add this annoying notification that doesn't really help anyone, but the pleas were getting more and more desperate, with all sorts of warnings. We even asked if we could just turn off the ads entirely (which would, of course, represent something of a financial hit) and they seemed to indicate that because we still use other types of cookies (again, including cookies to say "don't show this person any ads"), we had to put up the notification anyway.The last thing we were told is that if we didn't put up a cookie notification within a day, Google would "block us globally." I'm honestly not even sure what this means. But, either way, we're now showing you a cookie notification. It's silly and annoying and I don't think it serves your interests at all. It serves our interests only inasmuch as it gets our partner to stop bugging us. Don't you feel better?You can click "got it" and make it go away. You can not click it and it will stay. You can block cookies in your browser, or you can leave them. You can toss out your cookies every day or every week (not necessarily a bad practice sometimes). You're in control. But we have to show you the notification, and so we are.

Read more here

---
posted at: 12:00am on 22-May-2020
path: /Policy | permalink | edit (requires password)
0 comments, click here to add the first
---
---
The Case For Contact Tracing Apps Built On Apple And Google's Exposure Notification System

Furnished content.


Apple and Google have now released their update to their mobile operating systems to include a new capability for COVID-19 exposure notification. This new technology, which will support contact tracing apps developed by public health agencies, is technically impressive: it enables notifications of possible contact with COVID-positive individuals without leaking any sensitive personal data. The only data exchanged by users are rotating random keys (i.e., a unique 128-digit string of 0s and 1s) and encrypted metadata (i.e., the protocol version in use and transmitted power levels). Keys of infected individuals, but not their identities or their locations, are downloaded by the network upon a positive test with the approval of a government-sanctioned public health app.Despite being a useful tool in the pandemic arsenal and adopting state-of-the-art techniques to protect privacy, the Apple-Google system has drawn criticism from several quarters. Privacy advocates are dreaming up ways the system could be abused. Anti-tech campaigners are decrying tech solutionism. None of these critiques stands up to scrutiny.How the exposure notification API works
To get a sense for how the Apple-Google exposure notification system works, it is useful to consider a hypothetical system involving raffle tickets instead of Bluetooth beacons. Imagine you were given a roll of two-part raffle tickets to carry around with you wherever you go. Each ticket has two copies of a randomly-generated 128-digit number (with no relationship to your identity, your location, or any other ticket; there is no central record of ticket numbers). As you go about your normal life, if you happen to come within six feet of another person, you exchange a raffle ticket, keeping both the ticket they gave you and the copy of the one you gave them. You do this regularly and keep all the tickets you've exchanged for the most recent two weeks.If you get infected with the virus, you notify the public health authority and share only the copies of the tickets you've given outthe public health officials never see the raffle tickets you've received. Each night, on every TV and radio station, a public health official reads the numbers of the raffle tickets it has collected from infected patients (it is a very long broadcast). Everyone listening to the broadcast checks the tickets they've received in the last two weeks to see if they've won. Upon confirming a match, an individual has the choice of doing nothing or seeking out a diagnostic test. If they test positive, then the copies of the tickets they've given out are announced in the broadcast the next night. The more people who collect and hand out raffle tickets everywhere they go, and the more people who voluntarily announce themselves after hearing a match in the broadcast, the better the system works for tracking, tracing, and isolating the virus.
The Apple-Google exposure notification system works similarly, but instead of raffle tickets, it uses low-power Bluetooth signals. Every modern phone comes with a Bluetooth radio that is capable of transmitting and receiving data over short distances, typically up to around 30 feet. Under the design agreed to by Apple and Google, iOS and Android phones updated to the new OS, that have their Bluetooth radios on, and that have a public health contact tracing app installed will broadcast a randomized number that changes every 10 minutes. In addition, phones with contact tracing apps installed on them will record any keys they encounter that meet criteria set by app developers (public health agencies) on exposure time and signal strength (say, a signal strength correlating with a distance up to around six feet away). These parameters can change with new versions of the app to reflect growing understanding of COVID-19 and the levels of exposure that will generate the most value to the network. All of the keys that are broadcast or received and retained are stored on the device in a secure database.When an individual receives a positive COVID-19 diagnosis, she can alert the network to her positive status. Using the app provided by the public health authority, and with the authority's approval, she broadcasts her recent keys to the network. Phones download the list of positive keys and check to see if they have any of them in their on-device databases. If so, they display a notification to the user of possible COVID-19 exposure, reported in five-minute intervals up to 30 minutes. The notified user, who still does not know the name or any other data about the person who may have exposed her to COVID-19, can then decide whether or not to get tested or self-isolate. No data about the notified user leaves the phone, and authorities are unable to force her to take any follow-up action.Risks to privacy and abuse are extremely lowAs global companies, Google and Apple have to operate in nearly every country around the world, and they need to set policies that are robust to the worst civil liberties environments. This decentralized notification system is exactly what you would design if you needed to implement a contact tracing system but were concerned about adversarial behavior from authoritarian governments. No sensitive data ever leaves the phone without the user's express permission. The broadcast keys themselves are worthless, and cannot be tied back to a user's identity or location unless the user declares herself COVID-positive through the public health app.Some European governments think Apple and Google's approach goes too far in preserving user privacy, saying they need more data and control. For example, France has indicated that it will not use Apple and Google's API and has asked Apple to disable other OS-level privacy protections to let the French contact tracing app be more invasive (Apple has refused). The UK has also said it will not use Apple and Google's exposure notification solution. The French and British approach creates a single point of failure ripe for exploitation by bad actors. Furthermore, when the government has access to all that data, it is much more likely to be tempted to use it for law enforcement or other non-public health-related purposes, risking civil liberties and uptake of the app.Despite the tremendous effort the tech companies exerted to bake privacy into their API as a fundamental value, it is not enough for some privacy advocates. At Wired, Ashkan Soltani speculates about a hypothetical avenue for abuse. Suppose someone set up a video camera to record the faces of people who passed by, while also running a rooted phoneone where the user has circumvented controls installed by the manufacturerthat gave the perpetrator direct access to the keys involved. Then, argues Soltani, when a COVID-positive key was broadcast over the network, the snoop could be able to correlate it with the face of a person captured on camera and use that to identify the COVID-positive individual.While it is appropriate for security researchers like Soltani to think about such hypothetical attacks, the real-world damage from such an inefficient possible exploit seems dubious. Is a privacy attacker going to place cameras and rooted iPhones every 30 feet? And how accurate would this attack even be in crowded areas? In a piece for the Brookings Institution with Ryan Calo and Carl Bergstrom, Soltani doubles down, pointing out that this 'decentralized' architecture isn't completely free of privacy and security concerns and opens apps based on these APIs to new and different classes of privacy and security vulnerabilities.Yet if completely free of privacy and security concerns is the standard, then any form of contact tracing is impossible. Traditional physical contact tracing involves public health officials interviewing infected patients and their recent contacts, collecting that information in centralized government databases, and connecting real identities to contacts. The Google-Apple exposure notification system clearly outperforms traditional approaches on privacy grounds. Soltani and his collaborators raise specious problems and offer no solution other than privacy fundamentalism.Skeptics of the Apple-Google exposure notification system point to a recent poll by the Washington Post that found nearly 3 in 5 Americans say they are either unable or unwilling to use the infection-alert system. About 20% of Americans don't own a smartphone, and of those who do, around 50% said they definitely or probably would not use the system. While it's too early to know how much each component of coronavirus response contributes to suppression, evidence from Singapore and South Korea suggests that technology can augment the traditional public health toolbox (even with low adoption rates). In addition, there are other surveys with contradictory results. According to a survey by Harris Poll, 71% of Americans would be willing to share their own mobile location data with authorities to receive alerts about their potential exposure to the virus. Notably, cell phone location data is much more sensitive than the encrypted Bluetooth tokens in the Apple-Google exposure notification system.Any reasonable assessment of the tradeoff between privacy and effectiveness for contact tracing apps will conclude that if the apps are at all effective, they are overwhelmingly beneficial. For cost-benefit analysis of regulations, the Environmental Protection Agency has established a benchmark of about $9.5 million per life saved (other government agencies use similar values). By comparison, the value of privacy varies depending on context, but the range is orders of magnitude lower than the value of saving a life, according to a literature review by Will Rinehart.If we have any privacy-related criticism of the tech companies' exposure notification API, it is that it requires the user to opt in by downloading a public health contact tracing app before it starts exchanging keys with other users. This is a mistake for two reasons. First, it signals that there is a privacy cost to the mere exchange of keys, which there is not. Even the wildest scenarios concocted by security researchers entail privacy risks from the API only when a user declares herself COVID-positive. Second, it means that the value of the entire contact tracing system is dependent on uptake of the app at all points in time. If the keys were exchanged all along, then even gradual uptake of the app would unlock value in the network that had built up even before users installed the app.The exposure notification API is part of a portfolio of responses to the pandemicSoltani, Calo, and Bergstrom raise other problems with contact tracing apps. They will result in false positives (notifications about exposures that didn't result in transmission of the disease) and false negatives (failures to notify about exposure because not everyone has a phone or will install the app). If poorly designed (without verification from the public health authority), apps could allow individuals who are not COVID-positive to cry wolf and frighten a bunch of innocent people, a practice known in the security community as griefing. They want their readers to understand that the rollout of a contact tracing app using this API will not magically solve the coronavirus crisis.Well, no shit. No one is claiming that these apps are a panacea. Rather, the apps are part of a portfolio of responses that can together reduce the spread of COVID and potentially avoid the need for rolling lockdowns until a cure or vaccine is found (think of how many more false negatives there would be in a world without any contact tracing apps). We will still need to wear masks, supplement phone-based tracing methods with traditional contact tracing, and continue some level of distancing until the virus is brought fully under control. (For a point-by-point rebuttal of the Brookings article, see here from Joshua B. Miller).The exposure notification API developed by Google and Apple is a genuine achievement: it will enable the most privacy-respecting approach to contact tracing in history. It was developed astonishing quickly at a time when the world is in desperate need of additional tools to address a rapidly spreading disease. The engineers at Google and Apple who developed this API deserve our applause, not armchair second-guessing from unpleasable privacy activists.Under ordinary circumstances, we might have the luxury of interminable debates as developers and engineers tweaked the system to respond to every objection. However, in a pandemic, the tradeoff between speed and perfection shifts radically. In a viral video in March, Dr. Michael J. Ryan, the executive director of the WHO Health Emergencies Programme, was asked what he's learned from previous epidemics and he left no doubt with his answer:
Be fast, have no regrets. You must be the first mover. The virus will always get you if you don't move quickly. [...] If you need to be right before you move, you will never win. Perfection is the enemy of the good when it comes to emergency management. Speed trumps perfection. And the problem in society we have at the moment is that everyone is afraid of making a mistake. Everyone is afraid of the consequence of error. But the greatest error is not to move. The greatest error is to be paralysed by the fear of failure.
We must move forward. We should not be paralyzed by the fear that somewhere someone might lose an iota of privacy.

Read more here

---
posted at: 12:00am on 21-May-2020
path: /Policy | permalink | edit (requires password)
0 comments, click here to add the first
---
---
More Than A Game: The COVID-19 Pandemic Has Turned Esports Into An Economy Of Its Own

Furnished content.


One of the dangers when we talk about esports and its rapid growth, particularly during this pandemic, is that those not in the know can see this as hobbyists touting their own hobby. It's understandable to some degree, what with this industry being both in its infancy stage and growing exponentially in speed. Still, while we've had several posts lately focusing on how esports is happily filling the void of traditional live sports during the COVID-19 pandemic, it is worth remembering that this isn't just a hobby any longer. It's an economy in and of itself.And that, to put a fine point on it, means jobs. Lots and lots of jobs, actually, and economic growth going along with it. NBC has an illuminating post on just how fast streaming companies are expanding to keep up with the esports demand.
Viewership on Amazon's Twitch, YouTube, Facebook and other streaming platforms has spiked tremendously in the past couple of months, owing to the fact that esports was born and exists online and competitors can play remotely in its virtual realm during the crisis. And although the millions of Americans suddenly unemployed include tens of thousands of people who work for the shuttered traditional sports leagues' offices, ballparks and stadiums, as well as the ancillary businesses that support and supply them, the esports workforce is relatively intact."Yes, we are still hiring," said a spokesperson for the streaming website Twitch, a unit of Amazon that enjoyed a 23% surge in viewership in March. In mid-May its jobs page listed more than 115 positions, from a senior software engineer at its San Francisco headquarters to an advertising sales director in Singapore.
It's not just that esports is now a billion dollar industry. It's also that it's an industry somewhat uniquely positioned to not just weather this pandemic, but to thrive during it. And, as more and more people adopt esports for entertainment while traditional sports are shutdown, there is no reason to think that all of those new adopters are suddenly going to disappear if and when life goes back to something relatively normal. But above, you're talking about the primary players in the industry: leagues, teams, streaming platforms. Of course those have all grown.But the real power in esports becoming a fully fleshed out industry is, just like with real sports, all of the jobs and industry that come along for the ride. Industry that, again, is well crafted for the very young people that suddenly find themselves without opportunities for jobs in more traditional workplaces.
The burgeoning esports workforce — largely comprised of millennials and Gen Zers — also includes software engineers, content creators, data analysts, game designers, social media specialists, broadcasters, journalists, marketers, partnership managers, advertising and sponsorship salespeople, event managers, venue operators, concessionaires, accountants, lawyers and office staff. There are private chefs and house managers employed at the digs where teams live together, and there are counselors who wrangle kids at esports summer camps."You see a lot of mirroring of the traditional sports industry in terms of employment opportunities, but the roles have a twist on them," said Remer Rietkerk, head of esports at Amsterdam-based Newzoo, a market research firm specializing in esports and gaming. "You have a different set of challenges due to esports being digital and attracting a different audience," he added, alluding to the worldwide fan base of 443 million, according to Newzoo's latest Global Esports Market Report.
And the trend lines are all rising. All of this is to say a couple of things. First, esports isn't some fad that's going away any time soon. Second, it's long past time we stop talking about esports as though it were this niche entertainment choice enjoyed by very few via a few odd and hard to navigate internet platforms.No, esports is big business. And big entertainment. Even the traditional broadcasters are paying attention and turning to esports in this time of crisis. Before the pandemic, esports was finding itself on larger and larger platforms and on more and more traditional networks. This crisis only supercharged that trend.And finally, if you care about jobs and economic growth, that is all very welcome news in times like these.

Read more here

---
posted at: 12:00am on 21-May-2020
path: /Policy | permalink | edit (requires password)
0 comments, click here to add the first
---
---
As Expected, Those Who Pushed For FOSTA Are Now Looking To Kill Off Porn

Furnished content.


A few years back, when the campaign to use FOSTA (then called SESTA) as a way to chip away at Section 230 of the Communications Decency Act by creating a misleading moral panic around "sex trafficking" was in full swing, we pointed out that it was really a precursor to trying to outlaw all pornography. I highlighted how a key group pushing for FOSTA, the National Center on Sexual Exploitation (NCOSE), didn't even bother to hide that its real target was outlawing all pornography. NCOSE, as we pointed out, started life as "Morality in Media" and only changed its name later when it realized that everyone was ignoring them acting like fussy prudish pearl-clutchers, and decided that if they pretended they were about "exploitation" it would give them more credibility.A key part of NCOSE's campaign is to lump porn, prostitution, and "sexual objectification in media" into the exact same bucket as child abuse and sex trafficking, even though there's a massive difference there. But it shouldn't come as any surprise that as NCOSE has now expanded to create an "International" (ICOSE) branch, it has done so by kicking off a silly program demanding that credit card companies stop working with porn sites like Pornhub. Of course, in true NCOSE fashion, it insists that porn sites are really engaged in sex trafficking and child abuse:
The letter alleges it is impossible to "judge or verify consent in any videos on their site, let alone live webcam videos" which "inherently makes pornography websites a target for sex traffickers, child abusers, and others sharing predatory nonconsensual videos"."We've been seeing an increasingly global outcry about the harms of pornography sharing websites in a number of ways in recent months," said Haley McNamara, the director of the UK-based International Centre on Sexual Exploitation, the international arm of the NCOSE and a signatory of the letter."We in the international child advocacy and anti-sexual exploitation community are demanding financial institutions to critically analyse their supportive role in the pornography industry, and to cut ties with them," she told the BBC.
As Elizabeth Nolan Brown at Reason points out, this is all a repeat of the same old playbook: lumping in non-nefarious practices with much more nefarious (but also much rarer) practices, and then demanding that credit card companies disengage. These campaigns can sometimes be effective, because credit card companies tend to have little spine and freak out that people might make them look bad for processing payments.
This isn't the first time activists have gone after the ability of websites to process payments related to sex work. When Craigslist and later Backpage were the moral panic's big targets, advocates including Illinois sheriff Tom Dart lobbied companies to stop doing business with these websiteseven though government officials and advocacy groups had earlier asked Craigslist and Backpage to accept credit card payments because they thought it would make tracking customers easier.
"But think of the children..." has long been a successful lobbying and public pressure strategy, but at some point people are going to realize that when what you really fear is consensual nudity, maybe you've gone a bit too far.

Read more here

---
posted at: 12:00am on 20-May-2020
path: /Policy | permalink | edit (requires password)
0 comments, click here to add the first
---
---
Minnesota's Top Court Says Hotel Guest Records Are Protected By The State's Constitution

Furnished content.


Minnesota's top court has redefined the contours of the Third Party Doctrine for the betterment of the state's residents and visitors. [h/t FourthAmendment.com] The case deals with hotel/motel guest records, which have historically been given almost no legal protection.The argument against protection is that guests give up this information voluntarily to private companies. But you can't get a room without giving up this information, so it's not nearly as voluntary as the government portrays it. This came to head in the US Supreme Court back in 2015. The nation's Supreme Court decided -- very narrowly -- that a Los Angeles ordinance giving police officers warrantless access to guest records violated hotel owners' rights by not giving them any way to challenge demands (other than going to jail).The Minnesota Supreme Court does not rely on this decision despite reaching a conclusion that results in better protections for hotel guests. The difference between the two cases is the entity petitioning the court. In the US Supreme Court case, it was motel operators arguing warrantless access violated the Fourth Amendment, if not California's own Constitution. In this case, it's a guest arguing against the warrantless access to his records -- something the Minnesota court points out in a footnote. From the decision [PDF]:
The court of appeals also concluded that Leonard erroneously relied on City of Los Angeles v. Patel, 576 U.S. 409, 135 S. Ct. 2443 (2015). State v. Leonard, 923 N.W.2d 52. Patel involved a challenge by hotel operators, not hotel guests, concerning the operators' constitutional rights, therefore avoiding the issue of the third-party doctrine.
Nevertheless, the Third Party Doctrine is explored by the state court, leading it to a conclusion that narrow that doctrine's reach. The resulting conviction for check forgery began with nothing but a fishing expedition.
Law enforcement officers arrived at a Bloomington hotel on August 14, 2015, for a hotel interdiction. The officers were not responding to a particular call. Without a warrant and without any individualized suspicion of criminal activity, the officers told the clerk on duty that they wanted to examine the guest registry and to be provided with the name of any guest who paid in cash.
State law says all hotel operators must collect this information and make it available to law enforcement. If they don't (like in the city of Los Angeles), the hotel operators can be charged with a crime. But this isn't about the hotel operator, who wasn't involved in this challenge of a law enforcement search. It's about the defendant, who argued a warrantless, suspicionless search of hotel records violated the state's Constitution.This was the end result of the officers' perusal of hotel records.
The officers then ran a background check and found that Leonard had prior arrests for, among other things, drugs, firearms, and fraud. Based on this information, the officers developed an individualized suspicion that Leonard was involved in criminal activity and decided to conduct a "knock and talk" at the door of Leonard's hotel room. When Leonard heard the officers knock, he opened the door and gave them limited consent to search the room, but withheld access to his laptop, cell phone, and a file folder where several checks were visible. The officers subdued Leonard through a physical struggle after he tried to flee. After securing a search warrant, the officers discovered over $2,000 worth of suspicious checks paid to the order of "Spencer Alan Hill," over $5,000 in cash, and check-printing paper.
Paying in cash shouldn't be treated as reasonable suspicion of criminal activity. Perfectly innocent people often engage in this activity, if only to lower their digital footprint. Here's another excellent footnote from the court:
The dissent contends that Leonard did not exhibit a subjective expectation of privacy in his sensitive location information. We disagree. In a world of electronic money transfers using debit cards, credit cards, and other electronic means of payment, Leonard's cash payment evidences an intent to conceal his presence at the hotel.
Both the trial court and the state appeals court found in favor of the government. They said warrantless, suspicionless searches of hotel guest records did not violate the state's Constitution, which prohibits "unreasonable searches." The top court disagrees.First off, the officers had no compelling reason to show up at the hotel to demand records.
The Bloomington Police officers had never heard of Leonard when they arrived at the hotel. They had not procured a warrant to search anything. Nor were they called to the hotel by its employees because of concerns regarding any particular guest. Thus, it is undisputed that they acted without individualized suspicion when they conducted the hotel interdiction and examined the guest registry.
The court goes on to say that even though this fishing expedition resulted in the discovery of criminal activity, there are several reasons for people to conceal their identity from hotel operators and several reasons one's privacy might be unreasonably invaded by a suspicionless search of hotel records.
Imagine instead that Leonard had stayed overnight at the hotel to attend a political or religious conference in the hotel ballroom, or that he had stayed overnight before a medical appointment in hopes of keeping a diagnosis private. In these examples, the guest's highly sensitive location information is revealed, regardless of what actually occurred in the hotel room. That such information would be accessible to the government through a fishing expedition, where the hotel guest was a stranger to law enforcement before the officers' random search, offends our core constitutional principles.
The court says guest records are sensitive information. As such, they cannot be swallowed up by the Third Party Doctrine. The court doesn't create a warrant requirement, but does say officers need to have something more than an excessive amount of free time on their hands before demanding access to guest records.
We hold that the law enforcement officers conducted a search under Article I, Section 10 of the Minnesota Constitution when they examined the guest registry. We hold further that law enforcement officers must have at least a reasonable, articulable suspicion to search a guest registry.
Part of the underlying discussion pits society's view of the term "reasonable" versus the government's very liberal interpretation of this term. The government comes out on the losing end here.
Simply put, we think that most Minnesotans would be surprised and alarmed if the sensitive location information found in the guest registries at hotels, motels, or RV campsites was readily available to law enforcement without any particularized suspicion of criminal activity.
The court further points out that its declaration that access to guest records does not mean "access without any articulable suspicion" will not keep cops from busting criminals.
Nothing about our decision prevents law enforcement from partnering with hotels to help staff members recognize signs of trafficking or other crimes. And nothing about our decision prevents hotel operators from contacting law enforcement to relay suspicious observations. If such observations provide the officers with reasonable, articulable suspicion of criminal activity, they may examine the sensitive location information found in a guest registry.
The conclusion is this: the state's Constitution prohibits suspicionless searches, even when read in conjunction with ordinances regulating the hotel/motel industry. While this industry may be subject to more law enforcement scrutiny than most, that fact does not eliminate Constitutional protections granted to residents and visitors. The evidence disappears, along with this source of law enforcement fishing expeditions. Staying somewhere other than your own home does not eliminate privacy protections.

Read more here

---
posted at: 12:00am on 20-May-2020
path: /Policy | permalink | edit (requires password)
0 comments, click here to add the first
---
---
Review Of Working Futures

Furnished content.


Working Futures, our collection of speculative fiction about the future of work, but it's nice to see a great review of the collection by James Pethokoukis, talking about how it's a helpful way to think about the future of work and jobs beyond the traditional "the robots will take all the jobs."
Some possible answers or at least new ways of thinking about that question might be found in Working Futures from late 2019. It's an intriguing anthology of 14 speculative stories about the intersection of jobs and advancing automation. The pieces emerged from a 2018 scenario-planning exercise in San Francisco involving some 50 techies, entrepreneurs, investors, lawyers, and others. The resulting 10 future worlds were then sent to science fiction writers to be used as launching pads for their imaginations. In the book's introduction, editor Michael Masnick writes that each story contributes something to our thinking on the future of innovation and work, and what the world might soon look likein both good and bad ways.
Pethokoukis highlights a few of the stories that he liked best (click through to his review to find out which ones!) along with how the stories show both negative and positive elements of technology changing the nature of work -- and suggests that these kinds of approaches are going to be quite useful for thinking about how the world will change post-pandemic:
Among the other future jobs explored: a third-party human resources officers for AI workers getting hired, fired, or transferred; preschool teachers for genetically modified kiddies; a life services broker to help consumers navigate among the megacompanies supplying all their subscription-based services, from housing to healthcare to education; and a virtual reality therapist who lets CGI prints handle the easier stuff, although the patient may not know it.These aren't really dystopian stories, although some depict worlds with big problems. Technology might help create a better society in some ways, but not a perfect one. And while technology might totally automate some jobs, in others it allows humans to do more....[....]We need more speculative efforts like these, especially post-pandemic when there are sure to be some significant labor market and workplace changes in addition to the ones generated by new tech. We need stories about how things might work out, even if they're not all positive.
Glad to see that people are still enjoying the anthology, and indeed, we've been having some discussions about whether or not we should do a follow up collection.

Read more here

---
posted at: 12:00am on 19-May-2020
path: /Policy | permalink | edit (requires password)
0 comments, click here to add the first
---
---
It's Impossible To Opt Out Of Android's Ad Tracking; Max Schrems Aims To Change That

Furnished content.


Most of the world has been under some form of lockdown for weeks, but that clearly hasn't stopped the indefatigable Austrian privacy expert Max Schrems from working on his next legal action under the EU's GDPR. Last year, he lodged a complaint with the French Data Protection Authority (CNIL) over what he called the "fake consent" that people must give to "cookie banners" in order to access sites. Now he has set his sights on Google's Android Advertising ID, which is present on every Android phone. It builds on research carried out by the Norwegian Consumer Council, published in the report "Out of control".
Today noyb.eu filed a formal GDPR complaint against Google for tracking users through an "Android Advertising ID" without a valid legal basis. The data collected with this unique tracking ID is passed on to countless third parties in the advertising ecosystem. The user has no real control over it: Google does not allow to delete an ID, just to create a new one.
The Android Advertising ID (AAID) is central to Google's advertising system. It allows advertisers to track users as they move around the Internet, and to build profiles of their interests. Google claims that this "gives users better controls", which is true if people want to receive highly-targeted advertising. But if they wish to opt out of this constant tracking, there is a problem. Although Google allows you to change your AAID, it is not possible to do without it completely: the best you can manage is to get a new one. And as the detailed legal complaint to the Austrian Data Protection Authority (pdf) from Schrems points out, there are multiple ways to link old AAIDs with new ones:
Studies and official investigations have proved that the AAID is stored, shared and, where needed, linked with old values via countless other identifiers such as IP addresses, IMEI codes and GPS coordinates, social media handles, email addresses or phone number, de facto allowing a persistent tracking of Android users.
Schrems' organization None of Your Business (noyb.eu) claims that's unacceptable under the GDPR:
EU Law requires user choice. Under GDPR, the strict European privacy law, users must consent to being tracked. Google does not collect valid "opt-in" consent before generating the tracking ID, but seems to generate these IDs without user consent.
Google's position is weakened by the fact that Apple gives users of its smartphones the ability to opt out of targeted ads; for those using iOS 10 or later, the advertising identifier is replaced with an untrackable string of zeros:
If you choose to enable Limit Ad Tracking, Apple's advertising platform will opt your Apple ID out of receiving ads targeted to your interests, regardless of what device you are using. Apps or advertisers that do not use Apple's advertising platform but do use Apple's Advertising Identifier are required to check the Limit Ad Tracking setting and are not permitted by Apple's guidelines to serve you targeted ads if you have Limit Ad Tracking enabled. When Limit Ad Tracking is enabled on iOS 10 or later, the Advertising Identifier is replaced with a non-unique value of all zeros to prevent the serving of targeted ads. It is automatically reset to a new random identifier if you disable Limit Ad Tracking.
The formal legal complaint was filed on behalf of an Austrian citizen, requesting that the AAID should be deleted permanently. If the action succeeds, that would allow anyone in the EU -- and probably elsewhere -- to do the same. In addition, the complaint points out that under the GDPR, the maximum possible fine, based on 4% of Google's worldwide revenue, would be about €5.94 billion. There's no chance such an unprecedented sum would be imposed, but the fact that every Android user in the EU is forced to use Google's AAID could lead to a fairly hefty fine if Schrems succeeds with his latest legal defense of privacy.Follow me @glynmoody on Twitter, Diaspora, or Mastodon.

Read more here

---
posted at: 12:00am on 19-May-2020
path: /Policy | permalink | edit (requires password)
0 comments, click here to add the first
---
---
This Week In Techdirt History: May 10th - 16th

Furnished content.


Five Years AgoThis week in 2015, the backlash was coming in to the appeals court ruling that put a dent in NSA surveillance, with politicians crying foul in response as they hoped to spy on more Americans, while the EFF saw the ruling as reason enough to withdraw its support for the now-worse USA Freedom Act — which nevertheless overwhelmingly passed the Housea big fight in the Senate. Meanwhile, a new "he forgot about it" excuse appeared regarding James Clapper's lies, while the government was showing off its inconsistent treatment of leakers and whistleblowers.Ten Years AgoThis week in 2010, music publishers were still trying to squeeze cash out of lyrics websites, the RIAA successfully got a court to rule that LimeWire was guilty of contributory infringement, and the producers of The Hurt Locker were gearing up for their infamous barrage of copyright lawsuits. A brief in the Viacom/YouTube trial tried to rewrite the DMCA, while Brazil rejected the idea of its own DMCA-style notice-and-takedown system.This was also the week that the freshly-launched "Humble Indie Games Bundle" was blowing up the charts (I actually missed the launch of the bundle the previous week, because we covered it with such a low-key headline when it still wasn't clear how big a deal it would become). By the end of the week it had hit a million sales and it was starting to become clear that it was a big deal, though few might have guessed it would still be going strong today.Fifteen Years AgoThis week in 2005, the Senate passed the Iraq appropriations bill that also had a tacked-on problem in the form of the Real ID Act, which looked likely to end up making identity theft easier, and immediately became the target of brewing legal challenges. Following the FCC's recent rejection of the broadcast flag the previous week, the MPAA was looking to legislate it back into existence, while a minor ruling in the Napster investment lawsuit included an important detail about what qualifies as "distribution" for copyright purposes. And it was starting to look like there might be a little resistance among federal agencies to the idea of being Hollywood's personal copyright cops.

Read more here

---
posted at: 12:00am on 17-May-2020
path: /Policy | permalink | edit (requires password)
0 comments, click here to add the first
---
---
Hey, Epic, If you're Going To Boldly Give Away A Historically Popular Game For Free, Make Sure You Can Handle The Demand

Furnished content.


The Epic Store is still around, still rocking its exclusivity deals with game publishers, and is still trying really hard to unseat Valve's Steam as the dominant PC gaming platform of choice. Truthfully, the news about the ongoing battle between Steam and Epic has sort of quieted down. That ultimately is probably not a good sign for Epic. If there is unseating to be done, it's going to have to be done loudly, publicly, and with much coverage in the press.Which is perhaps why Epic recently decided to strike a deal with Rockstar to give away Grand Theft Auto 5 for free. Yes, free as in you pay no money and yet own the game forever. Rockstar's reasoning behind this is quite easy to understand: the company already made a hilarious sum of money selling the game for nearly a decade and the game's ecosystem and players have since moved into the online MMO realm where the game now makes hilarious sums of money via microtransactions. More players means more revenue for Rockstar.And for the Epic Store, this is sort of free game is a great way to entice gamers to your store, gin up a chunk of new user adoption, and really show the public how great your PC games store performs--, oh son of a bitch.
The Epic Games Store went offline on Thursday morning as users anticipating the launch of Rockstar Games' Grand Theft Auto 5 for free on the platform overloaded its servers. News of the game's free release leaked early on Wednesday on the Epic Games Store Twitter account.The website and launcher both went down just before 11 a.m. EDT, when the Premium Edition of the game for Windows PC was scheduled to go live. "We are currently experiencing high traffic on the Epic Games Store," Epic Games said on Twitter.
On the one hand: yay, the strategy worked and tons of people flocked to the Epic Store to get the free game. On the other hand: crap, the strategy also backfired, because now a whole bunch of people's first impression of the store is that it's unstable and cannot support the public demand. Whoops.This seems to be something of a trend for Epic. Great on the marketing and PR messaging, much less great on the execution. And quite frankly, it's not as though Epic shouldn't have known it was going to have a stampede on its hands.
Despite being six and a half years old, GTA 5 is clearly still popular. It goes beyond just the game being available for free, too: 2019 was one of Rockstar Games' best sales years for GTA 5. GTA 5 was initially released in September 2013 on PlayStation 3 and Xbox 360, and again in 2014 on Xbox One and PlayStation 4. In 2015, it came to Windows PC. With the PC launch, the game found a new audience with the modding scene and in Grand Theft Auto Online. The game's popularity on Twitch ballooned in the past year with role-playing servers in GTA Online.
Now, as of the time of this writing, 2pm CST, the problems seem to have been fixed. I know this because I went and got the game for free myself, even though I already own it on my console. And, while this was my first time on the Epic Store myself, you'll have to go elsewhere for my take on how good or bad the store itself is.But as for this marketing strategy by Epic? I give it a meh.

Read more here

---
posted at: 12:00am on 16-May-2020
path: /Policy | permalink | edit (requires password)
0 comments, click here to add the first
---
---
Documents Show NSO Group Is Pitching Its Malware To US Local Law Enforcement Agencies

Furnished content.


Infamous Israeli malware developer NSO Group is currently being sued by Facebook for using WhatsApp as its preferred attack vector. Malicious links and malware payloads are sent to targets, allowing government agencies -- including those in countries with horrendous human rights records -- to intercept communications and otherwise exploit compromised phones.NSO has argued it can't be sued for the things done by its customers, all of which appear to be government agencies. The company says those actions are protected by sovereign immunity. NSO insists it only sells the malware. It does not assist its customers with target acquisition or malware deployment. Documents filed by Facebook say otherwise. NSO appears to deploy malware through servers it owns or rents in the United States, suggesting it is actually more involved in its customers' actions than it has sworn in court.Like any business, NSO Group wants more customers. It's not content to sell exploits to questionable governments that have used its offerings to target journalists, lawyers, activists, and dissidents. It wants to do business in the United States, where there are thousands of potential law enforcement customers.Some details of NSO's stateside push emerged a few years ago, when reports showed the DEA had met with NSO to discuss its offerings. Motherboard has obtained additional documents indicating NSO is courting local law enforcement as well.
NSO Group, the surveillance vendor best known for selling hacking technology to authoritarian governments, including Saudi Arabia, also tried to sell its products to local U.S. police, according to documents obtained by Motherboard.[...]"Turn your target's smartphone into an intelligence gold mine," a brochure for the hacking product, called Phantom, reads. The brochure was made by Westbridge Technologies, "the North American branch of NSO Group," it says. Motherboard obtained the document and related emails through a public records act request.
"Phantom" is just US branding for NSO's "Pegasus" -- the hacking tool sold to foreign governments that's at the center of Facebook's lawsuit. According to the marketing documents sent to the San Diego Police Department, Phantom turns targeted phones into a steady stream of intercepted communications. The software allows police to grab emails, text messages, contact lists, track the device's location, and surreptitiously activate the phone's camera and microphone. Once a phone is compromised, encryption is no longer a problem, as NSO's sales materials point out.Pitching a tool this powerful to the San Diego PD had a predictable response:
After talking to the company in a phone call, SDPD Sergeant David Meyer told Westbridge in an email that the hacking system "sounds awesome."
The PD's statement says the department is always looking at products that could aid them in investigations. But as tempting as this one was, it was out of the PD's price range.
In his email, Sergeant Meyer added, "we simply do not have the kind of funds to move forward on such a large scale project."
That the NSO Group is seeking US law enforcement customers isn't a surprise. But the nation's police agencies should try to be selective about who they purchase from. NSO has sold malware to serial human rights abusers and one would hope US agencies would voluntarily choose not to buy from a company with such shady clientele. Unfortunately, this single sampling of law enforcement documents shows at least one cop shop showed interest in buying what NSO was selling, and was only held back by budgetary constraints.

Read more here

---
posted at: 12:00am on 16-May-2020
path: /Policy | permalink | edit (requires password)
0 comments, click here to add the first
---
---
Copyright Making Sure That MTV Remains An Irrelevant Relic, Rather Than A Cultural Icon

Furnished content.


For those of us of a certain age, MTV defined culture. It was where we learned about not just music, but wider pop culture. Of course, MTV lost its cultural place atop the mountaintop with the rise of the internet, but that doesn't mean that it wasn't a key source of culture in the 1980s. Historically, the way that society preserves and remembers culture is to share it and spread it around. This is actually how culture is created. Yet copyright is the opposite of that. Copyright is about locking up content and denying the ability to create shared culture around it. And the best evidence of this is the fact that someone (it is not entirely clear who...) with the power to do so, demanded that the Internet Archive take down a bunch of old MTV videos that were uploaded.

From a purely legal standpoint, it seems quite likely that whoever issued the takedown did have a legal leg to stand on. The real question, however, should be whether or not they have a moral or cultural leg to stand on. After all, if the entire point of copyright -- as per the Constitution -- is to encourage "the progress" then how does taking these old clips down do anything to support that goal?There are a number of other points worth mentioning to demonstrate how crazy this whole thing is, starting with the fact that MTV itself knew how important it was to build on cultural touchstones in that its whole logo/image was built off a public domain image from just a few years earlier. The moon landing was in 1969, and MTV launched in 1981. Imagine if this image had been locked up under copyright?

This also demonstrates a separate point we've been making for years, which is that the actual commercial value of a piece of work locked up behind copyright, tends not to be that long, and yet we locked it up for basically a century for no good reason at all. In the earliest copyright times in the US, copyright initially was for 14 years, which could be renewed for another 14 if the copyright holder felt it was worth it. A maximum of 28 years would mean that most of the uploaded clips would now be in the public domain if we had kept those terms. And, as we've pointed out repeatedly, back when copyright was 28 years, renewable for another 28 years, very few works were renewed, suggesting that the vast majority of copyright holders did not see any reason to retain their copyright beyond 28 years (indeed, the numbers suggest many would have been fine with significantly shorter copyright terms):
Yet, today copyright automatically lasts beyond most of our lifetimes. And, for what purpose? Right now, MTV is not particularly culturally relevant. You'd think that someone might jump at the chance to get renewed interest in MTV's past cultural relevance, but the belief that copyright means we must lock up culture seems to prevail over common sense.Taking down these cultural touchstones may have been perfectly legal, but all it's really done is help demonstrate the many, many problems of today's copyright law and how it destroys, rather than enhances, culture.

Read more here

---
posted at: 12:00am on 15-May-2020
path: /Policy | permalink | edit (requires password)
0 comments, click here to add the first
---
---
Richard Burr Steps Down From Intel Committee Following FBI Warrant; Feinstein Talks To FBI, While Loeffler Won't Say

Furnished content.


Following the news that the FBI got a warrant and seized Senator Richard Burr's phone as part of its investigation into his alleged insider trading, Burr has announced that he's stepping down from being the chair of the powerful Senate Intelligence Committee, where he's long been one of the biggest boosters of the surveillance state.Of course, some are now wondering if that's part of the reason why the Trumpian wing of the GOP have come out against Burr. Because the Senate Intel Committee has released a report confirming that Russia tried to help Trump win in 2016. The report is not particularly surprising, highlighting many widely known points. However, in Trumpland, no one seems to be able to handle the nuanced differences between the campaign directly "colluding" with Russia (for which the evidence is more limited) with the idea that Russia independently sought to boost Trump (for which the evidence is overwhelming). So, Trump supporters have been clamoring for Burr's head on a platter for merely stating facts, which are not allowed in this world where pointing out that The Emperor is Naked is somehow deemed to be heresy.Given Attorney General Barr's recent decisions to more fully weaponize and politicize the Justice Department, it can't be dismissed out of hand that there are political reasons for the FBI's sudden interest in Burr, but it still seems like a stretch. Sooner or later it's likely that there will be some fallout from which one can better assess the validity of the warrant, and whether or not Burr was engaged in insider trading.One point that a few people have raised is to look at whether or not the FBI is looking into any of the other Senators who sold notable chunks of stock just before the pandemic hit, though as we explained in that original story, the situations and fact patterns with each of the other Senators is at least somewhat different than Burr's case. For what it's worth, there are reports that the FBI questioned Senator Dianne Feinstein, who also sold some stock during this period. However, as we pointed out in the original post, there's little indication that her sales were COVID-19 related, especially since it was mostly selling off biotech stocks (exactly the kind of stocks you'd think would go up in a pandemic).The other Senator's selloff behavior that looked at least somewhat sketchy was Senator Kelly Loeffler, whose actions look worse and worse, as she denies things more vociferously. Just recently, she went on Fox News (natch) to claim that "this is 100% a political attack." Huh? What? You're the one who sold the stock. She also (get this) tried to blame socialism because why not?
This gets at the very heart of why I came to Washington, to defend free enterprise, to defend capitalism. This is a socialist attack.
Who knew that insider trading was "free enterprise"?Either way, while Burr has had to hand over his phone and Feinstein had to answer questions from the FBI... Loeffler simply refuses to say whether or not the FBI has reached out to her. If it does turn out that the FBI has investigated the others, but left Loeffler entirely alone (whether or not her sales were aboveboard), that's certainly going to be some evidence to add to the pile that the focus on Burr was just as much political as it was about the legal issues at play.

Read more here

---
posted at: 12:00am on 15-May-2020
path: /Policy | permalink | edit (requires password)
0 comments, click here to add the first
---
---
North Carolina Supreme Court Overturns Awful Decision By Appeals Court, Says Giving The Finger To Cops Isn't A Crime

Furnished content.


Last August, the North Carolina Court of Appeals decided it was OK for police officers to use protected speech as the basis for retaliatory stops. The stop -- and the criminal charges that followed -- originated from this interaction:
While assisting the stranded motorist, Trooper Stevens turned his attention to another car traveling on the roadway. Defendant, a passenger in a small white SUV, had his arm outside of the window and was making a back-and-forth waving motion with his hand. As Trooper Stevens turned to look towards the car, defendant's gesture changed from a waving motion to a pumping up-and-down motion with his middle finger. Believing that defendant was committing the crime of disorderly conduct, Trooper Stevens got into his patrol car to pursue and stop the SUV.
The ensuing stop resulted in the defendant being charged with obstruction -- not because of his middle finger waving, but because he, at first, refused to present his ID to the trooper. He was never charged with the disorderly conduct the trooper felt was criminal enough to justify a stop.Despite several other courts reaching the opposite conclusion -- that flipping the bird cannot form the basis for a lawful stop -- the NC Court of Appeals went in a different direction.
Here, without having to determine whether Defendant's conduct of extending his middle finger, in itself, constituted a crime, we conclude that the trooper had reasonable suspicion to initiate the stop of Defendant. The trooper saw Defendant make rude, distracting gestures while traveling on a highway in a moving vehicle in the vicinity of other moving vehicles. A reasonable, objective officer having viewed Defendant's behavior could believe that a crime had been or was in the process of being committed. For instance, the crime of disorderly conduct in North Carolina is committed where a person "makes or uses any . . . gesture . . . intended and plainly likely to provoke violent retaliation and thereby cause a breach of the peace." N.C. Gen. Stat. § 14-288.4(a)(2) (2017). Defendant's actions, both his waving and middle finger taken together, aimed at an unknown target could alert an objective officer to an impending breach of the peace.
And just like that, North Carolina law enforcement officers had permission to engage in retaliatory stops. This ruling was greeted with near-unanimous derision, given its hot take on the statute Trooper Stevens pulled out of his ass to justify his actions. At least one law prof speculated social media outrage had something to do with the court's decision to withdraw its opinion roughly two weeks after it had delivered it.Whatever second thoughts the majority might have had about their conclusion, they weren't enough to overcome their first thoughts. A couple of days later, the court released an amended opinion that changed nothing but how loudly the table was being pounded. It doubled down on its bad legal rationale, claiming that the fact that the rude hand gesture continued after the car had passed the state trooper as the vehicle continued down the road changed it from protected speech (a middle finger extended to law enforcement) to a crime (a middle finger extended to no one in particular).
Unlike the circumstances in those other cases, where all that was involved was an individual expressing contempt to a law enforcement officer, here, it was not clear to the trooper to whom Defendant was continuously gesturing. Indeed, Defendant was well past the trooper when he changed his gesture to a pumping motion with his middle finger extended. While it may be reasonable for the trooper to suspect that the gesturing was, in fact, meant for him, and therefore may be constitutionally protected speech, it was also objectively reasonable for the trooper to suspect that the gesturing was directed toward someone in another vehicle and that the situation was escalating. Such continuous and escalating gesturing directed at a driver in another vehicle, if unchecked, could constitute the crime of "disorderly conduct."
The stupidity is finally over. The state's Supreme Court has reversed [PDF] the Appeals Court ruling, determining that an objectionable hand gesture alone cannot provide the basis for a traffic stop. (h/t Volokh Conspiracy)
We conclude that these facts alone are insufficient to provide reasonable suspicion that defendant was engaged in disorderly conduct. The fact that Trooper Stevens was unsure of whether defendant's gesture may have been directed at another vehicle does not, on its own, provide reasonable suspicion that defendant intended to or was plainly likely to provoke violent retaliation from another driver. Likewise, the mere fact that defendant's gesture changed from waving to "flipping the bird" is insufficient to conclude defendant's conduct was likely to cause a breach of the peace. Based on the facts in the record, we are unable to infer that, by gesturing with his middle finger, defendant was intending to or was likely to provoke a violent reaction from another driver that would cause a breach of the peace.Thus, we conclude that it was error for the trial court to find that there was reasonable suspicion of disorderly conduct to justify the stop.
It also appears the government lost interest in defending the actions of Trooper Stevens. Its only argument was that the stop was justified under the community caretaking function, which the Appeals Court rejected in favor of the trooper's disorderly conduct theory. The Supreme Court notes it presented no arguments here at all, making it that much easier for it to overturn the lower court's decision.
In its brief here, the State acknowledges that its sole argument in the Court of Appeals involved the community caretaking exception, and that the court unanimously rejected that argument. In fact, the State agrees that the specific, articulable facts in the record do not establish reasonable suspicion of the crime of disorderly conduct.
That sends the decision back to the Appeals Court, which will have to send it back to the trial court to finally grant the suppression motion that triggered this unfortunate succession of bad decisions by North Carolina courts. Unfortunately, the Supreme Court doesn't go so far as to say giving cops the finger is always protected speech, but it does make it clear it's not a criminal act and, alone, cannot justify a stop.

Read more here

---
posted at: 12:00am on 14-May-2020
path: /Policy | permalink | edit (requires password)
0 comments, click here to add the first
---
---
National Geographic Defeats Trademark Suit Over 'Wild America' and 'Untamed Americas' Claim

Furnished content.


There is always tension between the First Amendment and trademark law, but it's a tension that is usually dissolved by trademark's primary aims to keep the public well informed as to the source and affiliations of goods and services. Still, it shouldn't be lost on anyone that the law at its heart is chiefly about what a business or commercial interest can name/say about itself. And, while the law carves out space in speech for identifying branding and language, the First Amendment doesn't entirely disappear in such commercial squabbles just because someone shouts trademark at it.A recent example of this would be a trademark suit brought by Marty Stouffer a couple of years ago. Stouffer is a notable documentarian who heavily influenced the nature documentary landscape, typically on PBS. One of his series was entitled "Wild America", a PBS staple beginning in the 80s. National Geographic, on the other hand, produced a series of nature documentaries under the title "Untamed Americas" beginning in 2012. Stouffer claimed the title of the series was infringing upon his trademark in 2018. Well, the court has since ruled in favor of National Geographic, applying the Rogers test, which looks at whether there are First Amendment rights gained by a title that has artistic merit concerning the work itself.
The fact that National Geographic is using its titles to describe the content of the accused series weighs heavily in National Geographic's favor. Each of the accused series substantially focuses on America's wildlands. While the English language is notably quite expansive, the range of words to describe such programming is limited. Yet Stouffer would not allow even a synonym for 'wild' (i.e., 'Untamed Americas').Judge Martinez initially applied the Second Circuit's "Rogers test," which asks whether the title has artistic relevance to the underlying work and whether it explicitly misleads the consumer. Seeing that the test disproportionately favored junior rights holders like National Geographic, Martinez asked six additional questions and allowed Stouffer to submit an amended complaint last year. Ultimately, Martinez reached the same conclusion, although he cautioned that doesn't make the phrase "Wild America" a free for all, if there was "evidence of a non-artistic intent with respect to the use of the trademark."
If this were instead called the Geigner test, it would go something like this: Hey, What is Untamed America about, oh it's about Americas that are untamed, well then it's allowed. The general idea is that whatever trademark law can do to curtail the rights of speech under the First Amendment, it most certainly cannot prevent a person from titling their creative work with a description of that creative work. And that appears to be precisely what Stouffer was claiming.Now, I have no idea what sort of financial shape Stouffer was in, but the fact that he attempted a Kickstarter project to remaster his Wild America series in 4k, but only raising roughly $3,000 of the $1.25 million goal, does at least make one wonder if this lawsuit wasn't purely a money grab in the hopes of a settlement.If it was, it most certainly has failed. Wildly.

Read more here

---
posted at: 12:00am on 14-May-2020
path: /Policy | permalink | edit (requires password)
0 comments, click here to add the first
---
---
After Seven Years And A US Supreme Court Victory, Tyson Timbs Is On Step Closer To Finally Getting His Car Back

Furnished content.


Tyson Timbs went all the way to the US Supreme Court to get his forfeited Land Rover returned to him. Represented by the Institute for Justice, Timbs took his case through every level of the Indiana court system before finding relief in the nation's top court. Seven years after his vehicle was seized during his arrest for heroin dealing, he's still waiting for the cops to return his car.The Supreme Court said the seizure of a $42,000 vehicle over a crime with a maximum possible fine of $10,000 was disproportionate and violated Constitutional protections against excessive fines. Timbs ultimately only paid $1,200 in fines and spent one year on home detention for his crime, which involved two controlled heroin sales to undercover cops totaling less than $400.The state argued it had never adopted the excessive fine clause of the Eighth Amendment, despite most states having already adopted this clause more than 70 years ago. Supreme Court Justice Gorsuch seemed pretty exasperated at the state's attempt to talk around the issue to maintain ownership of a car it had seized in 2013.
JUSTICE GORSUCH: Well, whatever the Excessive Fine Clause guarantees, we can argue, again, about its scope and in rem and in personam, but whatever it, in fact, is, it applies against the states, right?MR. FISHER: Well, again, that depends.JUSTICE GORSUCH: I mean, most -- most of the incorporation cases took place in like the 1940s.MR. FISHER: Right.JUSTICE GORSUCH: And here we are in 2018 -­MR. FISHER: Right.JUSTICE GORSUCH: -- still litigating incorporation of the Bill of Rights. Really? Come on, General.
The Grant County Court has now moved Timbs one step closer to retrieving his Land Rover. The court -- dealing with remands from both the state and United States Supreme Courts -- says the forfeiture of Timbs' car is obviously disproportionate. There's no question this seizure violates Timbs' Constitutional rights.The decision [PDF] points out Timbs has done everything expected from him during his probation, often exceeding the minimal requirements imposed on him.
Timbs remains on probation and has had no probation violations. Furthermore, no evidence was presented to suggest that Timbs has committed any crimes Sinée the date of his arrest in 2013. While on probation Timbs has participated in the Grant County Substance Abuse Task Force, shared his story and insights with a gubernatorial drug task force, and on at least one occasion agreed to request by the Grant County Probation Department to help with another probationer. In an effort to remain clean, Timbs also participated in Narcotics Anonymous and Alcoholics Anonymous Programs.
Timbs has also remained gainfully employed since his arrest, working at a number of jobs. His current employer is roughly an hour's drive from his home. As the court notes, depriving him of his car -- which was also apparently his only meaningful asset -- has hurt Timbs' chance to rehabilitate and re-enter society.
Being without vehicle has made it more difficult for Timbs to reintegrate into society and earn a living. This is true for virtually all offenders. Having a car is almost indispensable to maintaining a job in Indiana: only 0.9% of Hoosier workers get to and from their jobs using public transportation...Cars are crucial to maintaining employment in most parts of Indiana and employment is crucial to reducing recidivism. According to a publication on the Indiana Department of Corrections' website, unemployment is one of the top two predictors of recidivism in Indiana. Automobiles are also vital to offenders like Timbs who are suffering from substance abuse disorders. Routinely, these offenders are ordered to participate in drug and alcohol treatment, and cars are usually utilized to attend addiction services and treatment programs located in and around Grant County.
The court says the seizure harms Timbs far more than it should and the state does not appear to have balanced the side effects of this seizure with minimal severity of Timbs' crime.
The forfeiture of the Land Rover did nothing to remedy the harm caused. Often, the illegal sale of narcotics causes physical and emotional harm to users and negatively impacts families, and coworkers. It also overburdens the justice system and strains our healthcare system. However, Timbs's specific crime was victimless. It caused no actual harm as the sale he made was to undercover officers; hence, the heroin was never used.
Furthermore, the Land Rover was purchased with life insurance funds Timbs obtained after his father's death. There was never any doubt the vehicle was lawfully purchased using legally-obtained funds. Despite this fact, the state used less than $400 worth of heroin sales to deprive Timbs of his sole asset, making it almost impossible for him to abide by the terms of his probation, much less reintegrate successfully into society.Cops often claim forfeiture helps them dismantle large-scale drug operations. The court can't see how Timbs fits into the forfeiture narrative law enforcement agencies like to push.
He was no drug "kingpin," a fact recognized by the State when it agreed that the minimum sentence of six years with only one year executed on home detention was appropriate. In addition, there is no evidence in the record that Timbs was engaged in trafficking narcotics beyond two controlled buys. He simply does not fit into the class of persons for whom the statute was principally designed: individuals who regularly sell narcotics to earn a living. Selling narcotics was not an occupation for Timbs. Instead, he sold heroin to feed his addiction. But for his addiction, there is every reason to believe that Timbs would never have sold heroin to anyone.
With that, the court orders the release of Timbs' Land Rover "immediately." While it's an undeniable courtroom win for Timbs, the question is what the car will actually be worth when it's all said and done.
[The judge] ordered the Land Rover, which the state has stored in an outdoor parking lot exposed to the elements since 2013, released to Timbs immediately.
It obviously won't be worth anything near the $35,000 it was worth when the state took it. And the state didn't care what happened to the car while this was litigated because it wasn't able to place it on the auction block. That being said, it's still one more car than Timbs possesses now.But it still might be the state's car for the time being. Apparently the government still isn't willing to let the car go.
Indiana Attorney General Curtis Hill Jr. said he isn't halting his efforts to keep Timbs' Land Rover on behalf of the state.In a written statement, Hill vowed to "defend the constitutionality of Indiana's civil forfeiture laws" by asking the Indiana Supreme Court to review [Judge] Todd's ruling.
This is the kind of gambling you can do when you're using other people's money. You can head into a seventh year of litigation over a single vehicle, arguing against the application of the nation's Constitutional rights to your own constituents. Nice work if you can get it.

Read more here

---
posted at: 12:00am on 13-May-2020
path: /Policy | permalink | edit (requires password)
0 comments, click here to add the first
---
---
Say It With Me Now, Australia: Beer And Wine Are Not The Same Thing, Not Even For Trademarks

Furnished content.


While I've done a fair share of posts here on the topic of trademarks and the alcohol industries, one of the most frustrating sub-types for those posts is the sort where the dispute exists between one wine maker and one brewery. There appears to be some misconception that alcohol is one big market or industry for the purposes of trademark. While it is true that far too few countries explicitly recognize that wine and beer are different markets in their trademark laws, most of the countries do still have customer confusion as a key test for infringement. And, I feel it's safe to say, the general public can tell the difference between beer and wine, and typically know enough about each's crafters to tell their branding apart.Now the general public in Australia is facing this test in a way, with a large liquor chain trying to oppose the trademark application for a craft beer gift service over a wine trademark it holds, but doesn't seem to be using.
The Beer Drop was officially launched in October 2019, with founder Evan Reitano filing to register its trademark in June 2019.In January this year Coles opposed the trademark, saying it was "contrary to law" as it had substantially identical or deceptively similar trademarks – in this case, 'Wine Drop' which is currently not in use, and whose web page redirects to First Choice."Our Wine Drop subscription service was a popular service for our First Choice customers and the www.winedrop.com.au website currently redirects customers to the First Choice Liquor webpage," a Coles representative told Brews News.
This appears to be as close to an admission that a trademark is no longer in use as one could hope for. "Was" a popular service. The website redirects to a different branded page. And that's all before we get to the simple fact that wine and beer are not the same thing. Add to that that the word "drop" isn't particularly source identifying and you begin to wonder how there's a case to be made by Coles at all. And then we can add to all of that my suspicion that the Australian public can probably discern between a big retailer and a startup craft beer gift service. With that, this all begins to look silly.It looks as though Beer Drop will be focusing on Coles' failure to use the trademark, however, rather than beer and wine being distinct markets.
Reitano undertook a small business course before launching The Beer Drop and said it was invaluable to his IP experience so far, but what really stung was the references to 'bad faith'", he said."I read over it and I laughed it off at first, I had never heard of the Wine Drop, the first thing I did was jump onto Google. Being a Coles Liquor business you'd think it would be in the top one or two search hits which it wasn't, and I can't find any trace of it. It's strange because they've said in their opposition that they've built a reputation with that brand, it feels like they expected me to read it and say shit, it's Coles Liquor, let's back off."
Part of the reason for that may have been that Reitano worked for another Coles liquor brand in his past. Some folks have claimed that, since he worked for a Coles brand, he must have known about the Wine Drop trademark. That is obviously silly. Expecting a line employee to know about every trademark a company is no longer using is insane. And it's also entirely besides the point because, again, this all ultimately boils down to the potential for customer confusion and here there is none.

Read more here

---
posted at: 12:00am on 13-May-2020
path: /Policy | permalink | edit (requires password)
0 comments, click here to add the first
---
---
How To Map Network Drives On Windows 10, That Live On Older Versions Of Windows

Do you have an older server, maybe with an attached 3TB drive OR LARGER, that
you'd like to do backups to, or store images on? How frustrating is it, when you
discover your new Windows 10 laptop doesn't like mapping drives to older
versions of Windows? Well grouse no longer friends. Here's how to make it so you
can map to those drives just like before.

First, copy and paste the commands below, separately into a Windows PowerShell
instance that's been OPENED AS AN ADMINISTRATOR. Each command begins with "sc.exe". Press Enter after pasting in each one. (Hint: copy each command string, then left-click to focus on the PowerShell window, then right-click to paste, then press Enter).

Command #1
sc.exe config lanmanworkstation depend= bowser/mrxsmb10/mrxsmb20/nsi
Command #2
sc.exe config mrxsmb10 start= auto

Now, just type "exit" to close the PowerShell window.

Next, on your Windows 10 machine, copy and paste the following into a text file EXACTLY AS IT APPEARS below. The file should have a "reg" extension instead of "txt". After pasting in this text, and saving the file, just double-click on it to run it. Answer "Yes" to the scary dialog box that come up.

=== Text to paste, starts below ===
Windows Registry Editor Version 5.00

[HKEY_LOCAL_MACHINE\SYSTEM\CurrentControlSet\Services\LanmanWorkstation\Paramete
rs]
"EnablePlainTextPassword"=dword:00000000
"EnableSecuritySignature"=dword:00000000
"RequireSecuritySignature"=dword:00000000
"ServiceDll"=hex(2):25,00,53,00,79,00,73,00,74,00,65,00,6d,00,52,00,6f,00,6f,\
00,74,00,25,00,5c,00,53,00,79,00,73,00,74,00,65,00,6d,00,33,00,32,00,5c,00,\
77,00,6b,00,73,00,73,00,76,00,63,00,2e,00,64,00,6c,00,6c,00,00,00
"ServiceDllUnloadOnStop"=dword:00000001
"AllowInsecureGuestAuth"=dword:00000000
=== Text to paste, ends above ===

Finally, Restart your Windows 10 computer.

That's it. You should now be able to map a drive on your Windows 10 laptop,
that's on a computer on your network with an older version of Windows, even
Windows XP.

Let me know how you make out in the comments.

---
posted at: 1:13pm on 12-May-2020
path: /Windows | permalink | edit (requires password)
0 comments, click here to add the first
---
---
Federal Court Says Every Drug Dog In Utah Is Unreliable

Furnished content.


For as long as people have been driving, cops have been imagining reasons to pull them over and coerce them into "voluntary" searches. The Supreme Court's Rodriguez decision (sort of) put an end to extended stops -- the ones that start with a perceived violation that's dragged out until a drug dog arrives. Unfortunately, that decision only removed part of the equation. The Supreme Court's Heien decision made it possible for cops to rely entirely on pretext to engage in fishing expeditions by saying cops only had to think they witnessed a traffic violation, rather than actually be accurate about the laws they're tasked with enforcing.Cops are still trying to bring drug dogs to routine traffic stops. The Rodriguez decision is generally taken to mean cops just need to be quicker about rustling up a K-9 unit. Cops love drug dogs because they allow cops to perform the warrantless searches they want to perform. The drug dog's handler can call literally any movement by the dog an "alert," turning normal dog behavior into "probable cause" for a search. It doesn't help that the dogs are rewarded for every alert and given no positive reinforcement for failing to find anything interesting.Courts have historically been willing to cut drug dogs as much slack as they cut their law enforcement officer handlers. Subjective interpretations of anything an animal does to please its master is considered close enough to Fourth Amendment compliance to justify warrantless searches. Every so often, a court will question the reliability of the dog or the intent of its handler, but those are anomalies.This case, via FourthAmendment.com, is an amazing anomaly. Not only did the court choose to hear from experts on drug dog training and handling, it actually went so far as to call into question the reliability of every drug dog in the state.The suppression order [PDF] contains a subheading rarely seen in federal court decisions:
A. The court has serious concerns about Tank's training and reliability.
Tank is Officer Moore's drug dog. Officer Moore handled the training in accordance with Utah's Peace Officer Standards and Training (POST) guidelines. Unfortunately, those guidelines do nothing to prevent officers from turning drug dogs into subservient partners with a desire to please and a willingness to respond to handler cues.Officer Moore claimed he worked with Tank regularly to improve both obedience and "drug locating." The court says this simply isn't true -- not from what's on the record.
Notwithstanding Officer Moore's testimony, evidence at the Hearing raised serious questions about the sufficiency and veracity of Tank's training. First, the police training records supported that between July 2018, when Tank was certified, and November 2018, Officer Moore only conducted four narcotics trainings with him. Moreover, from October 20, 2018 through March 1, 2019, a period that enveloped the search of Mr. Jordan's vehicle, Officer Moore only performed one narcotic training exercises that involved searching an area that did not contain narcotics, compared to 27 "normal" exercises where there were narcotics present to be found.
The defense brought in an expert witness, Dr. Mary Cablik, who has two decades of drug dog training experience working with POST units in Nevada and California. Cablik said the absence of "blind" training is a real problem. If the dog is only tested in areas where the handler knows drugs will be found, the dog carries this knowledge on to the real world and will continue to search for nonexistent drugs until it gives its handler what they want: an "alert."Here's how a drug dog should be trained, according to the defense expert:
Dr. Cablk opined that in order to properly train a K9, a program must take steps to prevent handler bias and cuing, namely through blind training. Singleblind training occurs when the handler does not know how many, if any, quantities of narcotics are hidden in a scenario, but someone else present does. The third person may be present to judge whether the dog passed the test. Such a procedure is important because when a handler knows how many hides are present in a scenario, he will continue to search with his dog until the dog finds them all, which does not create a "realistic scenario that mimics what happens on the street." Single-blind testing is important to train a dog to work independently and in turn gives a handler confidence in his dog. Nevertheless, single-blind training is insufficient to prevent bias and cuing. Even if the handler does not know how many hides are present in a scenario, research shows that anyone who is present for the training and knows the quantity and/or location of the hidden narcotics, even the judge, can inadvertently cue the K9. Thus, in Dr. Cablk's opinion, the "only means that you can use to demonstrate the reliability of a K9" is to have no one who is present during the training know how many, if any, hides are present. This is considered double-blind training.
Utah's training can barely be called "training."
Utah POST does not use double-blind training or testing, and its certification testing is not even done single-blind, as the handler knows exactly how many hides will be present.
Tank's performance at this traffic stop left a lot to be desired.
Tank did not perform a trained final response while conducting a sniff of Mr. Jordan's vehicle. He never demonstrated any clearly objective behavior communicating that he had detected a target odor. Rather, Tank demonstrated the innate natural behaviors of a dog going through the paces of sniffing the vehicle. Officer Moore relied on Tank's natural behaviors, which he perceived as "alerts," to conclude that Tank had detected the odor of narcotics emitting from Mr. Jordan's vehicle. [...] There is nothing on the video of the sniff from which a third person can objectively conclude that Tank had performed to respond as he had been trained to do when he detected a target odor.
Fortunately, there was some video. But none of it came from Officer Moore. The court points out Moore was required to wear a body cam but was not wearing one during this traffic stop. The recording was captured by another officer on the scene and much of that recording of the stop was obstructed by the officer's vehicle.Allowing a dog to give a cop permission to perform a warrantless search raises serious Fourth Amendment questions. The court here says the training processes and dog behavior observed here aren't nearly enough to elevate Tank above his unofficial position as Officer Moore's personal Clever Hans.Then the court goes further, suggesting the state's lax standards for drug dog training make every drug dog in the state unreliable.
[T]he court finds, based on the testimony of Dr. Cablk and the records before it, that Utah POST Training inadequately addresses, and therefore fails to remove the risk of, inadvertent handler bias or cuing. Specifically, Utah POST's failure to implement double-blind training raises questions as to the independence of its K9s and casts doubt as to whether the K9s are alerting or indicating because they actually detect the odor of narcotics or because they have learned that displaying such action is the best way to please their masters. This doubt is not allayed by Utah POST's certification process, as the final test that a K9 must pass in order to be certified is not even performed single-blind. As such, the K9's handler in the exam, who is the same officer who has worked with the K9 for months and has a clear interest in having his K9 be certified, knows exactly how many hides will be present in the exam and can therefore continue to search until the K9 finds them all. Such an examination does not reflect a real-world setting and does not, therefore, indicate that a passing K9 can reliably detect, and communicate his detection of, narcotics in the field.
Utah's training does not produce reliable drug dogs. Officer Moore's drug dog is possibly more unreliable than most, but this order makes it clear everyone who's been subjected to a drug dog sniff should challenge it. The state POST training has produced little more than handy Fourth Amendment circumvention tools for officers to use at will. This court is having none of this and refuses to condone the deployment of dogs that are basically trained to please their handlers, rather than actually detect narcotics.

Read more here

---
posted at: 12:00am on 12-May-2020
path: /Policy | permalink | edit (requires password)
0 comments, click here to add the first
---
---
Finnish Hockey League Championship Decided Via Stand-In Esports Playoff

Furnished content.


As a result of the COVID-19 pandemic, we have been discussing for some time that esports is having itself a moment. The reason for that is obvious: there is an enormous vacuum that has been left by IRL leagues shutting down throughout the world. That vacuum is easily filled by esports that don't rely on sweaty people rubbing up against each other in order to pull off the same style of competition. It's all gotten big enough that the gamblers are now involved, along with most of the major sports leagues.So what more indication can there be that esports is filling the IRL sports void during this nightmare? Well, how about at least one national sports league deciding its championship via esports standins while the league is shut down?
This time last month, the Finnish Hockey League (Liiga) became the world's first major sports organization to announce it would unofficially settle its championship through esports. After canvassing the opinion of thousands of hockey fans after the season was cut short by COVID-19, the Liiga decided to replicate its playoffs using EA's NHL 20. Finally, the season has been settled.After attracting 160,000 viewers across Finland's streaming sites and national TV–a sizeable crowd, considering the country boasts a population of just 5.5 million–the playoffs were decided in a battle between two of the nation's most promising gamers. In the end, regular-season winners Oulun Kärpät went on to take home virtual playoff gold, courtesy of local fan Miikka Kolehmainen.
It's an interesting little experiment. Not only did the league manage to give fans closure for the season, but it also got fans somewhat involved as the ones playing some of esports versions of their favorite teams. And, while Finland is a country where hockey is quite popular, 160k viewers in a country that small is a very impressive number. This says as much about the pent up demand for sports and competition, whatever the medium, as it does anything else. Still, there is something affirming about an IRL sports league being able to bring its season to a virtual close in this way.
While everyone around the world lives in hope that sports will resume their traditional format in the coming months, this experiment by Telia Esports has highlighted how successful the esports platform could be, especially with younger generations. Aija Saha, the marketing manager of the Liiga, explained: "We were surprised with the positive feedback and how many tuned in for the games! This is something that could be re-created in other countries and sports leagues as well."Kati Savolainen, the marketing and communications manager for HPK, agreed. "The ePlayoffs were fun and entertaining. Especially for the younger crowd, this must have been a fun way to take part in something that they find important."
It's also a great way for the league to keep up a very real connection with its fans. That's an underrated aspect of what Liiga pulled off here. By including league fans in the fun, it built the very connection that might otherwise have been lost with fans not being able to see real life sports stars in action.Some day IRL sports will come back. That day may well be sooner than later, in fact. Still, it's beginning to look like the sporting world will in at least some small ways be forever changed by this crisis, with esports having a firm foothold in the public eye.

Read more here

---
posted at: 12:00am on 12-May-2020
path: /Policy | permalink | edit (requires password)
0 comments, click here to add the first
---
---
This Week In Techdirt History: May 3rd - 9th

Furnished content.


Five Years AgoThis week in 2015, the big fight between Floyd Mayweather and Manny Pacquiao was overshadowed in some circles by the resultant fight between Hollywood and Periscope streaming, which quickly led to a worryingly broad restraining order. Meanwhile, the new IP Czar kicked off his tenure with a very concerning speech, the EU was examining whether linking to infringing material is infringing, and Keurig was cautiously backing down from its foray into coffee DRM. We also saw an important win in one appeals court with a ruling that the NSA's bulk records collection was not authorized by the PATRIOT act, but a loss in another circuit with a ruling saying that warrantless phone tracking falls under the third party doctrine and doesn't violate the 4th amendment.Finally, in the midst of a lockdown, while Fortnite launches a no-combat mode and folks who play Animal Crossing are engaged in a sweeping economic drama over the price of virtual turnips, it seems like high time to revisit this post about the "video game" being replaced with the "living game world".Ten Years AgoThis week in 2010, Congress was busy wrestling over exactly which digital technologies its members are allowed to use, we were questioning why warrantless wiretapping is even necessary when warrant requests never get rejected, and the latest already-ruined attempt at patent reform entering new territory, a Rupert Murdoch property was yet again caught hypocritically engaging in evil "aggregation", and a UK court ruled that sports schedules could somehow be covered by copyright. This was also the week the FCC finally gave the unfortunate go-ahead for selectable output control.Fifteen Years AgoThis week in 2005, a mystery patent buyer who prevented a bunch of patents from falling into the hands of Intellectual Ventures was revealed to be Novell making a defensive move. AOL flagged a bunch of official government emergency alerts as spam and tried to awkwardly stand by the error. Opponents of open source were latching onto the silly idea that it's somehow illegal, while fans of DRM were latching onto the equally silly idea that it could be made universal, interoperable, and effective. And the MPAA had somehow convinced the Boy Scouts in Hong Kong to start offering up a new intellectual property badge for scouts who sufficiently absorb Hollywood propaganda.

Read more here

---
posted at: 12:00am on 10-May-2020
path: /Policy | permalink | edit (requires password)
0 comments, click here to add the first
---
---
Court Of Appeals Affirms Lower Court Tossing BS 'Comedians In Cars' Copyright Lawsuit

Furnished content.


Six months ago, which feels like roughly an eternity at this point, we discussed how Jerry Seinfeld and others won an absolutely ludicrous copyright suit filed against them by Christian Charles, a writer and director Seinfeld hired to help him create the pilot episode of Comedians In Cars Getting Coffee. What was so strange about the case is that this pilot had been created in 2012, whereas the lawsuit was only filed in 2018. That coincides with Seinfeld inking a lucrative deal with Netflix to stream his show.It's not the most well known aspect of copyright law, but there is, in fact, a statute of limitations for copyright claims and it's 3 years. The requirement in the statute is that the clock essentially starts running once someone who would bring a copyright claim has had their ownership of a work disputed publicly, or has been put on notice. Seinfeld argued that he told Charles he was employing him in a work-for-hire arrangement, which would satisfy that notice. His lawyers also pointed out that Charles goes completely uncredited in the pilot episode, which would further put him on notice. The court tossed the case based on the statute of limitations.For some reason, Charles appealed the ruling. Well, now the Court of Appeals has affirmed that lower ruling, which hopefully means we can all get back to not filing insane lawsuits, please.
We conclude that the district court was correct in granting defendants' motion to dismiss, for substantially the same reasons that it set out in its well-reasoned opinion. The dispositive issue in this case is whether Charles's alleged "contributions . . . qualify [him] as the author and therefore owner" of the copyrights to the show. Kwan, 634 F.3d at 229. Charles disputes that his claim centers on ownership. But that argument is seriously undermined by his statements in various filings throughout this litigation which consistently assert that ownership is a central question. Charles's infringement claim is therefore time-barred because his ownership claim is time-barred. The district court identified two events described in the Second Amended Complaint that would have put a reasonably diligent plaintiff on notice that his ownership claims were disputed. First, in February 2012, Seinfeld rejected Charles's request for backend compensation and made it clear that Charles's involvement would be limited to a work-for-hire basis. See Gary Friedrich Enters., LLC v. Marvel Characters, Inc., 716 F.3d 302, 318 (2d Cir. 2013) (noting that a copyright ownership claim would accrue when the defendant first communicates to the plaintiff that the defendant considers the work to be a work-for-hire). Second, the show premiered in July 2012 without crediting Charles, at which point his ownership claim was publicly repudiated. See Kwan, 634 F.3d at 227. Either one of these developments was enough to place Charles on notice that his ownership claim was disputed and therefore this action, filed six years later, was brought too late.
And that should bring this all to a close, hopefully. This seems like a pretty clear attempt at a money grab by Charles once Seinfeld's show became a Netflix cash-cow. Unfortunately, time is a measurable thing and his lawsuit was very clearly late.

Read more here

---
posted at: 12:00am on 09-May-2020
path: /Policy | permalink | edit (requires password)
0 comments, click here to add the first
---
---
Twitter Making It Easier To Study The Public Discussions Around COVID-19

Furnished content.


There has been a lot of talk about how this moment in history is going to be remembered -- and as Professor Jay Rosen has been saying, a key part is going to be an effort by the many people who failed to respond properly to rewrite the history of everything that happened:
There is going to be a campaign to prevent Americans from understanding what happened within the Trump government during the critical months of January to April, 2020. Many times Donald Trump told the nation that it has nothing to worry about because he and his people have the spread of the SARS-CoV-2 virus well in hand. They did not. He misled the country about that.It's one person coming in from China, and we have it under control, he told CNBC on January 22. We pretty much shut it down coming in from China, he told Sean Hannity on February 2. On February 24, Trump tweeted that the Coronavirus is very much under control in the USA.He misled the country. This basic fact is so damning, the evidence for it so mountainous, and the mountain of evidence so public and so personally attached to Donald Trump that the only option is to create confusion about these events, and about the pandemic generally, in hopes that people give up and conclude that the public record does not speak clearly and everything is propaganda.
The battle over rewriting history is going to take many forms in many different ways -- and so it's good to see a company like Twitter making it easier for researchers to look at the actual history of the public conversation during these months.
To further support Twitter's ongoing efforts to protect the public conversation, and help people find authoritative health information around COVID-19, we're releasing a new endpoint into Twitter Developer Labs to enable approved developers and researchers to study the public conversation about COVID-19 in real-time.This is a unique dataset that covers many tens of millions of Tweets daily and offers insight into the evolving global public conversation surrounding an unprecedented crisis. Making this access available for free is one of the most unique and valuable things Twitter can do as the world comes together to protect our communities and seek answers to pressing challenges.
It would be interesting to see if others (cough Facebook cough) would do the same thing as well. How the history of these times is written is going to be important in seeing how we deal with the next such crisis.

Read more here

---
posted at: 12:00am on 09-May-2020
path: /Policy | permalink | edit (requires password)
0 comments, click here to add the first
---
---
As More Students Sit Online Exams Under Lockdown Conditions, Remote Proctoring Services Carry Out Intrusive Surveillance

Furnished content.


The coronavirus pandemic and its associated lockdown in most countries has forced major changes in the way people live, work and study. Online learning is now routine for many, and is largely unproblematic, not least because it has been used for many years. However, online testing is more tricky, since there is a concern by many teachers that students might use their isolated situation to cheat during exams. One person's problem is another person's opportunity, and there are a number of proctoring services that claim to stop or at least minimize cheating during online tests. One thing they have in common is that they tend to be intrusive, and show little respect for the privacy of the people they monitor.As an article in The Verge explains, some employ humans to watch over students using Zoom video calls. That's reasonably close to a traditional setup, where a teacher or proctor watches students in an exam hall. But there are also webcam-based automated approaches, as explored by Vox:
For instance, Examity also uses AI to verify students' identities, analyze their keystrokes, and, of course, ensure they're not cheating. Proctorio uses artificial intelligence to conduct gaze detection, which tracks whether a student is looking away from their screens.
It's not just in the US that these extreme surveillance methods are being adopted. In France, the University of Rennes 1 is using a system called Managexam, which adds a few extra features: the ability to detect "inappropriate" Internet searches by the student, the use of a second screen, or the presence of another person in the room (original in French). The Vox articles notes that even when these systems are deployed, students still try to cheat using new tricks, and the anti-cheating services try to stop them doing so:
it's easy to find online tips and tricks for duping remote proctoring services. Some suggest hiding notes underneath the view of the camera or setting up a secret laptop. It's also easy for these remote proctoring services to find out about these cheating methods, so they're constantly coming up with countermeasures. On its website, Proctorio even has a job listing for a "professional cheater" to test its system. The contract position pays between $10,000 and $20,000 a year.
As the arms race between students and proctoring services escalates, it's surely time to ask whether the problem isn't people cheating, but the use of old-style, analog testing formats in a world that has been forced by the coronavirus pandemic to move to a completely digital approach. Rather than spending so much time, effort and money on trying to stop students from cheating, maybe we need to come up with new ways of measuring what they have learnt and understood -- ones that are not immune to cheating, but where cheating has no meaning. Obvious options include "open book" exams, where students can use whatever resources they like, or even abolishing formal exams completely, and opting for continuous assessment. Since the lockdown has forced educational establishments to re-invent teaching, isn't it time they re-invented exams too?Follow me @glynmoody on Twitter, Diaspora, or Mastodon.

Read more here

---
posted at: 12:00am on 08-May-2020
path: /Policy | permalink | edit (requires password)
0 comments, click here to add the first
---
---
Sketchy Gets Sketchier: Senator Loeffler Received $9 Million 'Gift' Right Before She Joined The Senate

Furnished content.


Kelly Loeffler is, by far, the wealthiest elected official in Congress, with an estimated net worth of half a billion dollars (the second wealthiest is Montana Rep. Greg Gianforte (famous for his body slamming a journalist for asking him a question and then lying to the police about it)). Loeffler may be used to getting away with tearing up the red tape in her previous life, but in Congress, that often looks pretty corrupt. In just the last few months since she was appointed, there were concerns about her stock sales and stock purchases, which seemed oddly matched to information she was getting during briefings regarding the impact of COVID-19. She has since agreed to convert all her stock holdings to managed funds outside of her control (something every elected official should do, frankly).Now, the NY Times is noting another form of what we've referred to as "soft corruption" -- moves that might technically be legal, but which sure look sketchy as hell to any regular non-multimillionaire elected official. In this case, Senator Loeffler received what was, in effect, a gift worth $9 million from her former employer, Intercontinental Exchange (the company that runs the NY Stock Exchange, and where her husband is the CEO).The key issue was that since she was leaving the job to go join the Senate, she had a bunch of unvested stock. For normal people, if you leave a job before your stock vests, too bad. That's the deal. The vesting period is there for a reason. But for powerful, rich people, apparently the rules change. Intercontinental Exchange changed the rules to grant her the compensation that she wasn't supposed to get, because why not?
Ms. Loeffler, who was appointed to the Senate in December and is now in a competitive race to hold her seat, appears to have received stock and other awards worth more than $9 million from the company, Intercontinental Exchange, according to a review of securities filings by The New York Times, Ms. Loeffler's financial disclosure form and interviews with compensation and accounting experts. That was on top of her 2019 salary and bonus of about $3.5 million.The additional compensation came in the form of shares, stock options and other instruments that Ms. Loeffler had previously been granted but was poised to forfeit by leaving the company. Intercontinental Exchange altered the terms of the awards, allowing her to keep them. The largest component which the company had previously valued at about $7.8 million was a stake in an Intercontinental Exchange subsidiary that Ms. Loeffler had been running.
The entitlement factor oozes out of the statement put out from her office in response to this:
Kelly left millions in equity compensation behind to serve in public office to protect freedom, conservative values and economic opportunity for all Georgians, said Stephen Lawson, a spokesman for Ms. Loeffler. The obsession of the liberal media and career politicians with her success shows their bias against private sector opportunity in favor of big government.
No, Stephen, that's not the issue. The issue is that normal people who haven't vested yet, don't get to have the board change the vesting rules as you're leaving to go legislate in order to give you a $9 million windfall you didn't earn because it hadn't vested. If it had just been a question of compensation, no one would be complaining. If she had played by the rules that everyone else played by, lived up to her end of the contract and vested the equity, then no big deal. The problem is the last minute changing of the rules to get her a pretty massive payout (perhaps not by her standards, but by anyone else's).Indeed, the details show that this wasn't just a timing thing, like a standard vesting deal, but that Loeffler was supposed to reach certain milestones to be able to get the equity. She didn't, but she still gets it. That's the part that has people concerned.
In February 2019, Intercontinental Exchange gave Ms. Loeffler a stake in a limited liability company that owned a stake in Bakkt, according to a March 2019 securities filing. The company at the time estimated the award was worth $15.6 million. But Ms. Loeffler would be able to cash in on the award only under certain circumstances, including if Bakkt's value soared or if it became a publicly traded company.When Ms. Loeffler stepped down from the company less than 10 months later, she was poised to forfeit much of that Bakkt stake. But Intercontinental Exchange sped up the vesting process so that she got half of it immediately.
The company, of course, puts a nice spin on it, saying "We admire Kelly's decision to serve her country in the U.S. Senate and did not want to discourage that willingness to serve, but what else are they going to say anyway?Still waiting for that supposed swamp draining we keep hearing about.

Read more here

---
posted at: 12:00am on 08-May-2020
path: /Policy | permalink | edit (requires password)
0 comments, click here to add the first
---
---
Fans Port Mario 64 To PC And Make It Way Better, So Of Course Nintendo Is Trying To Nuke The Project

Furnished content.


I'm lucky enough to own a decades old Nintendo 64 and a handful of games, including the classic Mario 64. My kids love that game. Still, the first thing they asked when I showed it to them the first time is why the screen was letterboxed, why the characters looked like they were made of lego blocks, and why I needed weird cords to plug it all into the flat screen television. The answer to these spoiled monsters' questions, of course, is that the game is super old and wasn't meant to be played on modern televisions. It's the story of a lot of older games, though many PC games at least have a healthy modding community that will take classics and get them working on present day hardware. Consoles don't have that luxury.Well, usually, that is. It turns out that enough folks were interested in modernizing Mario 64 that a group of fans managed to pull off porting it to PC. And, because this is a port and not emulation, they managed to update it to run in 4k graphics and added a ton of modern visual effects.
Last year, Super Mario 64's N64 code was reverse-engineered by fans, allowing for all kinds of new and exciting things to be done with Nintendo's 1996 classic. Like building a completely new PC port of the game, which can run in 4K and ultra-wide resolutions.This is a very new and cool thing! Previously, if you were playing Super Mario 64 on PC, you were playing via emulation, as your PC ran code pretending to be an N64. This game is made specifically for the PC, built from the ground up, meaning it not only runs like a dream, but even supports mod stuff like ReShade, allowing for graphical tweaks (like the distance blur seen here).
As you'll see, the video the Kotaku post is referencing can't be embedded here because Nintendo already took it down. Instead, I'll use another video that hasn't been taken down at the time of this writing, so you can see just how great this looks.In addition to videos of the project, Nintendo has also been busy firing off legal salvos to get download links for the PC port of the game taken down from wherever it can find them. Now, while Nintendo's reputation for IP protectionism is such that it would almost certainly take this fan project down under virtually any circumstances, it is also worth noting that the company has a planned re-release of Mario 64 for its latest Nintendo console. That likely only supercharged the speed with which it is trying to disappear this labor of love from fans of an antiquated game that have since moved on to gaming on their PCs.But why should the company do this? Nintendo consoles are known for many things, including user-friendly gaming and colorful games geared generally towards younger audiences. You know, exactly not the people who would take it on themselves to get an old Mario game working on their PC instead of a Nintendo console. What threat does this PC port from fans represent to Nintendo revenue? It's hard to imagine that threat is anything substantial.And, yet, here we are anyway. Nintendo, after all, doesn't seem to be able to help itself.

Read more here

---
posted at: 12:00am on 07-May-2020
path: /Policy | permalink | edit (requires password)
0 comments, click here to add the first
---
---
Senator Wyden And Others Introduce Bill Calling The DOJ's Bluff Regarding Its Attempt To Destroy Section 230 & Encryption

Furnished content.


One of the key points we've been making concerning Attorney General William Barr and his DOJ's eager support for the terrible EARN-IT Act, is that much of it really seems to be to cover up the DOJ's own failings in fighting child porn and child exploitation. The premise behind the EARN IT Act is that there's a lot of child exploitation/child abuse material found on social media... and that social media companies should do more to block that content. Of course, if you step back and think about it, you'd quickly realize that this is a form of sweeping the problem under the rug. Rather than actually tracking down and arresting those exploiting and abusing children, it's demanding private companies just hide the evidence of those horrific acts.And why might the DOJ and others be so supportive of sweeping evidence under the rug and hiding it? Perhaps because the DOJ and Congress have literally failed to live up to their mandates under existing laws to actually fight child exploitation. Barr's DOJ has been required under law to produce reports showing data about internet crimes against children, and come up with goals to fight those crimes. It has produced only two out of the six reports that were mandated over a decade ago. At the same time, Congress has only allocated a very small budget to state and local law enforcement for fighting internet child abuse. While the laws Congress passed say that Congress should give $60 million to local law enforcement, it has actually allocated only about half of that. Oh, and Homeland Security took nearly half of its "cybercrimes" budget and diverted it to immigration enforcement, rather than fighting internet crimes such as child exploitation.So... maybe we should recognize that the problem isn't social media platforms, but the fact that Congress and law enforcement -- from local and state up to the DOJ -- have literally failed to do their job.At least some elected officials have decided to call the DOJ's bluff on why we need the EARN IT Act. Led by Senator Ron Wyden (of course), Senators Kirsten Gillbrand, Bob Casey, Sherrod Brown and Rep. Anna Eshoo have introduced a new bill to actually fight child sex abuse online. Called the Invest in Child Safety Act, it would basically make law enforcement do its job regarding this stuff.
The Invest in Child Safety Act would direct $5 billion in mandatory funding to investigate and target the pedophiles and abusers who create and share child sexual abuse material online. And it would create a new White House office to coordinate efforts across federal agencies, after DOJ refused to comply with a 2008 law requiring coordination and reporting of those efforts. It also directs substantial new funding for community-based efforts to prevent children from becoming victims in the first place.
Basically, the bill would do a bunch of things to make sure that law enforcement is actually dealing with the very real problem of child exploitation, rather than demanding that internet companies (1) sweep evidence under the rug, and (2) break encryption:
Quadruple the number of prosecutors and agents in DOJ's Child Exploitation and Obscenity Section from 30 FTEs to 120 FTEs;
Add 100 new agents and investigators for the Federal Bureau of Investigation's Innocent Images National Initiative, Crimes Against Children Unit, Child Abduction Rapid Deployment Teams, and Child Exploitation and Human Trafficking Task Forces;
Fund 65 new NCMEC analysts, engineers, and mental health counselors, as well as a major upgrade to NCMEC's technology platform to enable the organization to more effectively evaluate and process CSAM reports from tech companies;
Double funding for the state Internet Crimes Against Children (ICAC) Task Forces;
Double funding for the National Criminal Justice Training Center, to administer crucial Internet Crimes Against Children and Missing and Exploited Children training programs;
Increase funding for evidence-based programs, local governments and non-federal entities to detect, prevent and support victims of child sexual abuse, including school-based mental health services and prevention programs like the Children's Advocacy Centers and the HHS' Street Outreach Program;
Require tech companies to increase the time that they hold evidence of CSAM, in a secure database, to enable law enforcement agencies to prosecute older cases;
Establish an Office to Enforce and Protect Against Child Sexual Exploitation, within the Executive Office of the President, to direct and streamline the federal government's efforts to prevent, investigate and prosecute the scourge of child exploitation;
Require the Office to develop an enforcement and protection strategy, in coordination with HHS and GAO; and
Require the Office to submit annual monitoring reports, subject to mandatory Congressional testimony to ensure timely execution.
While I always have concerns about law enforcement mission creep and misguided targeting of law enforcement efforts, hopefully everyone can agree that child exploitation does remain a very real problem, and one that law enforcement should be investigating and going after those who are actually exploiting and abusing children. This bill would make that possible, rather than the alternative approach of just blaming the internet companies for law enforcement's failure to take any of this seriously.

Read more here

---
posted at: 12:00am on 07-May-2020
path: /Policy | permalink | edit (requires password)
0 comments, click here to add the first
---
---
The Decentralized Web Could Help Preserve The Internet's Data For 1,000 Years. Here's Why We Need IPFS To Build It.

Furnished content.


The internet economy runs on data. As of 2019, there were over 4.13 billion internet users generating more than 2.5 quintillion bytes of data per day. By the end of 2020, there will be 40 times more bytes of data than there are stars to observe in space. And all of this data is powering a digital revolution, with the data-driven internet economy already accounting for 6.9% of U.S. GDP in 2017. The internet data ecosystem supports a bustling economy ripe with opportunity for growth, innovation, and profit.There's just one problem: While user-generated data is the web's most valuable asset, internet users themselves have almost no control over it. Data storage, data ownership, and data use are all highly centralized under the control of a few dominant corporate entities on the web, like Facebook, Google, and Amazon. And all that data centralization comes at an expensive cost to the ordinary internet user. Today's internet ecosystem, while highly profitable for a few corporations, creates incentives for major platforms to exercise content censorship over end-users who have nowhere else to go. It is also incompatible with data privacy, insecure against cybercrime and extremely fragile.The web's fragility in particular presents a big problem for the long-term sustainability of the web: we're creating datasets that will be important for humanity 1000 years from now, but we aren't safeguarding that data in a way that is future-proof. Link rot plagues the web today, with one study finding that over 98% of web links decay within 20 years. We are exiting the plastic era, and entering the data era, but at this rate our data won't outlast our disposable straws.To build a stronger, more resilient and more private internet, we need to decentralize the web by putting users back in control of their data. The web that we deserve isn't the centralized web of today, but the decentralized web of tomorrow. And the decentralized web of tomorrow will need to last the next 1,000 years, or more.Our team has been working for several years to make this vision of a decentralized web a reality by changing the way that apps, developers, and ordinary internet users make and share data. We couldn't be doing this today without the InterPlanetary File System (IPFS)—a crucial tool in our toolbox that's helping us tear down the major technological hurdles to building a decentralized web. To see why, we need to understand both the factors driving centralization on the web today, and how IPFS changes the game.In fact, I want to make a bold prediction: in the next one to two years, we're going to see every major web-browser shipping with an IPFS peer, by default. This has already started with the recent announcement that Opera for Android will now support IPFS out of the box. This type of deep integration is going to catalyze a whole range of new user and developer experiences in both mobile and desktop browsers. Perhaps more importantly, it is going to help us all safeguard our data for future net-izens.Here's how:With the way the web works now, if I want to access a piece of data, I have to go to a specific server location. Content on the internet today is indexed and browsed based on where it is. Obviously, this method of distributing data puts a lot of power into the hands of whoever owns the location where data is stored, just as it takes power out of the hands of whoever generates data. Major companies like Google and Amazon became as big as they are by assuming the role of trusted data intermediaries, routing all our internet traffic to and through their own central servers where our data is stored.Yet, however much we may not like "big data" collecting and controlling the internet's information, the current internet ecosystem incentivizes this kind of centralization. We may want a freer, more private and more democratic internet, but as long as we continue to build our data economy around trusted third-party intermediaries who assume all the responsibilities of data storage and maintenance, we simply can't escape the gravitational pull of centralization. Like it or not, our current internet incentives rely on proprietary platforms that disempower ordinary end users. And as Mike Masnick has argued in his essay "Protocols, Not Platforms: A Technological Approach to Free Speech", if we want to fix the problems with this web model, we'll have to rebuild the internet from the protocol layer up.That's where IPFS comes in.IPFS uses "content-addressing," an alternative way of indexing and browsing data that is based, not on where that data is, but on what it is. On a content-addressable network, I don't have to ask a central server for data. Instead, the distributed network of users itself can answer my data requests by providing precisely the piece of data requested, with no need to reference any specific storage location. Through IPFS, we can cut out the data intermediaries and establish a data sharing network where information can be owned by anyone and everyone.This kind of distributed data economy undermines the big data business model by reinventing the incentive structures of web and app development. IPFS makes decentralization workable, scalable and profitable by putting power in the hands of end users instead of platforms. Widespread adoption of IPFS would represent the major upgrade to the web that we need to protect free speech, resist surveillance and network failure, promote innovation, and empower the ordinary internet user.Of course, the decentralized web still needs a lot of work before it is as user-friendly and accessible as the centralized web of today. But already we're seeing exciting use cases for technology built on IPFS.To get us to this exciting future faster, Textile makes it easier for developers to utilize IPFS to its full potential. Some of our partners are harnessing the data permanence that IPFS enables to build immutable digital archives that could withstand server failure and web decay. Others are using our products (e.g., Buckets) to deploy amazing websites, limiting their reliance on centralized servers and allowing them to store data more efficiently.Textile has been building on IPFS for over three years, and the future of our collaboration on the decentralized web is bright. To escape the big data economy, we need the decentralized web. The improvements brought by IPFS, release after release, will help make the decentralized web a reality by making it easier to onboard new developers and users. As IPFS continues to get more efficient and resilient, its contribution to empowering the free and open web we all deserve will only grow. I can't wait for the exponential growth we'll see as this technology continues to become more and more ubiquitous across all our devices and platforms.Carson Farmer is a researcher and developer with Textile.io. Twitter: @carsonfarmer

Read more here

---
posted at: 12:00am on 06-May-2020
path: /Policy | permalink | edit (requires password)
0 comments, click here to add the first
---
---
The Oscars Ends DVD Screeners For Reasons Other Than Piracy, Which Will Of Course Continue

Furnished content.


Oscars DVD screeners, the DVDs that get sent out to judges that are up for an award, have been an on again, off again topic for years at Techdirt. These screeners were at one time a very prevalent source for pirated films that showed up on the internet. There was once some irony in the MPAA and film industry insisting that piracy could be solved by tech companies if only they would nerd hard enough, yet here are these screeners going out the doors that supposedly were secure and turned out not to be. It was all bad enough that the MPAA wanted to ban screeners entirely, which pissed off filmmakers enough that the lobbying group ended up having to back down.It turns out that technology actually could solve the film industry's screener DVD piracy problem. With better quality film rips showing up on pirate sites, ripping relatively low-res DVDs became not a thing. Perhaps because of that, alongside the stated desire to be more sustainable, there will be no more Oscars DVD screeners moving forward.
This year, plenty of discs will be shipped too but, after the upcoming Oscars ceremony, that will be a thing of the past. The Academy of Motion Picture Arts and Sciences announced this week that physical screeners will no longer be allowed in 2021."[T]he 93rd Awards season will be the final year DVD screeners will be allowed to be distributed; these mailings will be discontinued starting in 2021 for the 94th Academy Awards," the Academy writes. Whether piracy was considered as a factor at all remains a guess. Some insiders believe that digital screeners are easier to protect and therefore more secure, but that is up for debate.
If it's a debate, it's not much of one. Already dedicated pirate groups have indicated that there are plenty of opportunities to leak digital screeners and that they have already been successful in ripping them. In other words, the screener DVDs may end, but the pirating will continue.
"We had access to digital screeners and they are indeed easy to leak. The DRM on it is a joke. We had an account last year with three screeners on it and they were pretty much MP4 ready to encode," the EVO team informed us at the time.Whether streaming or physical screeners are more secure ultimately depends on the type of protection measures that are implemented for each. The safest conclusion, for now, is that piracy will likely remain a problem no matter what the distribution platform is.
As it seems will always be the case. I'm somewhat encouraged that the announcement of the end of Oscars screener DVDs didn't carry with it complaints about piracy. Perhaps the industry is in some small way learning to live with piracy rather than fighting it at every turn.

Read more here

---
posted at: 12:00am on 06-May-2020
path: /Policy | permalink | edit (requires password)
0 comments, click here to add the first
---
---
Tim Bray, Early Internet Guru, And Amazon VP Quits Over The 'Chickenshit' Company's Targeting Of Employees Speaking Out About COVID-19

Furnished content.


If you do anything internet related, hopefully you already know Tim Bray. Among tons of other things, he helped develop XML and a variety of other standards/technologies the internet relies on. He's also been a vocal and thoughtful commenter on a wide variety of issues, especially in the tech policy space. For the past five years he's been working at Amazon as a VP and Distinguished Engineer -- but as he's announced he has now quit in protest over the company's retaliation against workers who were speaking up over the company's handling of their working conditions during the pandemic. Bray gives some of the background of workers organizing and speaking up about their concerns, and then discusses the company's reaction (firing the vocal ones and offering lame excuses).
Warehouse workers reached out to AECJ for support. They responded by internally promoting a petition and organizing a video call for Thursday April 16 featuring warehouse workers from around the world, with guest activist Naomi Klein. An announcement sent to internal mailing lists on Friday April 10th was apparently the flashpoint. Emily Cunningham and Maren Costa, two visible AECJ leaders, were fired on the spot that day. The justifications were laughable; it was clear to any reasonable observer that they were turfed for whistleblowing.Management could have objected to the event, or demanded that outsiders be excluded, or that leadership be represented, or any number of other things; there was plenty of time. Instead, they just fired the activists.At that point I snapped. VPs shouldn't go publicly rogue, so I escalated through the proper channels and by the book. I'm not at liberty to disclose those discussions, but I made many of the arguments appearing in this essay. I think I made them to the appropriate people.That done, remaining an Amazon VP would have meant, in effect, signing off on actions I despised. So I resigned.
Bray does not mince words about how terrible he thinks this response was, and even includes "some descriptive phrases you might use to describe the activist-firing."
Chickenshit.
Kill the messenger.
Never heard of the Streisand effect.
Designed to create a climate of fear.
Like painting a sign on your forehead saying 'Either guilty, or has something to hide.'
Tim notes that while he does believe that the company has been "putting massive efforts into warehouse safety" the workers' own testimony can't be ignored either -- and that firing workers for speaking out and trying to make things better is exactly the wrong response.
Firing whistleblowers isn't just a side-effect of macroeconomic forces, nor is it intrinsic to the function of free markets. It's evidence of a vein of toxicity running through the company culture. I choose neither to serve nor drink that poison.
For reasons beyond just the coinage of the phrase, I find it especially interesting that Bray made the Streisand Effect comparison. Amazon has a history of somewhat ruthless employee practices, but straight up intimidation of a workforce speaking out for their health and safety in the midst of a pandemic, when they're more essential than ever... seems just insanely short-sighted and self-destructive. Hopefully, Bray taking a stand and quitting his job makes someone wake up within the company that this is the exact wrong approach.While Amazon may be right that its warehouse workers have the short end of the power-balance stick, the company is still deep in competition for engineering talent. Bray quitting so publicly and with such clarity of purpose may certainly make a number of top engineers whom the company would like to hire think that they may feel better about their souls by choosing to work elsewhere.On a separate note, Bray points out that the Guardian, somewhat bizarrely for a major publication like this, simply reprinted his entire blog post without first asking him:
Tim does have a CC BY-NC 2.0 license on his blog, where the post was originally made, but it's not clear whether the Guardian's use would really be considered "non-commercial." Of course, for years we've called out the vagueness associated with what is and what is not "non-commercial" use, but the Guardian is at least on a very thin borderline. I find it somewhat surprising that it chose not to at least ask before publishing it. At the same time, the Guardian has tremendous reach, and if the most important part to Tim is getting his message out, the Guardian is not a bad way to do it.Update: Tim took out his list of descriptive phrases after someone suggested it was too far. We'll be leaving them in this post. Separately, he notes that the Guardian took down their post and apologized, and he seems content with this outcome.

Read more here

---
posted at: 12:00am on 05-May-2020
path: /Policy | permalink | edit (requires password)
0 comments, click here to add the first
---
---
Court Sides With Nike And Dismisses Kawhi Leonard's Lawsuit Over 'Klaw' Logo

Furnished content.


Sometimes you turn out to be wrong. When we initially discussed Kawhi Leonard's lawsuit against Nike over the "Klaw" logo, I'd said I was interested to hear Nike's response. That was because my glance at Leonard's description of the history of the logo, one which he created in rough draft form when he was young to one which Nike used as inspiration for the eventual Nike Kawhi shoe logo, it sure seemed like Nike was being hypocritical. After all, Nike has a reputation for being extremely protective of its own intellectual property rights while being rather cavalier with those of others. As a reminder, Leonard created a logo that makes something of a "K" and "L" outlined via the tracing of his own hand. It sure seemed that if that all wasn't unique enough that Nike shouldn't be trying to trademark a version of the logo from under him, what could be?Well, a U.S. District Judge in Oregon appears to disagree. And, given some of the side by side comparisons that Nike brought in its response... perhaps he has a point.
U.S. District Judge Michael W. Mosman ruled that the logo Nike designers helped create with Leonard marked an "independent piece of intellectual property'' that was distinct from the original sketch Leonard initially conceived and shared with Nike."It's not merely a derivative work of the sketch itself,'' the judge ruled from the bench after an hour of oral argument held by phone as well as multiple briefs filed in the case. "I do find it to be new and significantly different from the design.''
Here is Leonard's rough draft side by side with the Nike logo.
Are they creatively different. Yes, I think that's fair. But the real problem here is that Leonard's entire use of the logo in commerce appears to be his deal with Nike.Still, it sure feels like this logo, on a Nike shoe or not, is associated in the public's eye as much or more with Kawhi Leonard as Nike. Yeah, there are creative differences in the designs as drawn above. But one sure feels to me to be derivative of the other. And, yet, Leonard's lawyers argued the exact opposite.
One of Leonard's lawyers, Mitchell C. Stein, urged the judge to view Leonard's initial sketch and the final logo as "one and the same.''Leonard isn't claiming ownership of a derivative work. "We're claiming ownership of the logo Leonard created,'' Stein told the court."The KL, the No. 2 and the hand as expressed by Mr. Leonard in his sketch and as modified is the protectable element that appears in the Nike Klaw,'' Stein argued.
That... feels like a stretch. And the court apparently thought likewise, having sided with Nike and stating clearly that the two logos were definitely not "one and the same."
As stated on the record, I GRANT the motion with respect to Defendant Nike's ownership of the Claw Design. As a result, and because amendment of the complaint would be futile, I DISMISS Plaintiff's claims with prejudice.
And that should be the end of that. Frankly, I'm, again, a little surprised in this case, because it just... doesn't all feel as cut and dry as the ruling would suggest. Nike had an endorsement contract with Leonard, the clear author of an original logo for which Nike created an a derivative logo... and yet this all ends with Nike getting the all clear? The same as though it had created this logo whole cloth? And to what end? Leonard is no longer a Nike athlete. So Nike gets that logo and he has shoes elsewhere?Like I said: messy.

Read more here

---
posted at: 12:00am on 05-May-2020
path: /Policy | permalink | edit (requires password)
0 comments, click here to add the first
---
---
This Week In Techdirt History: April 26th - May 2nd

Furnished content.


Five Years AgoThis week in 2015, we learned more about one of the NSA's sweeping but useless surveillance programs, and about the stunning lack of oversight when the CIA wants to drone-strike people. But we weren't learning more about the TPP, since it was secret, even though President Obama was demanding critics explain what was wrong with the agreement they weren't allowed to see (just as a UN expert was saying that secret trade negotiations are a threat to human rights). Tom Friedman, meanwhile, was maybe going just a little overboard in advocating for the deal.Ten Years AgoThis week in 2010, the UK Labour Party was yet again caught apparently infringing on copyright with a campaign poster while also being the champions of the Digital Economy Bill and its draconian copyright rules. They claimed "innocent error" — a defense notably absent from their own law. In the US, a worrying bill was pushing to extend DMCA-style takedowns to "personal information", while Twitter was taking down a lot of tweets over bogus DMCA claims, and an appeals court upheld a hugely problematic ruling about who counts as a journalist.Fifteen Years AgoThis week in 2005, Wal-Mart was making a hilariously late second-entry into the online music store market, while Disney was backing down from a video-on-demand offering that I suppose counts as a distant ancestor to Disney Plus. Nathan Myhrvold was mixing up innovation and invention with Intellectual Ventures, while the head of the Patent Office was floating some very bad ideas about reform, even as companies like Intel were getting vocal about the problem of patent trolls.

Read more here

---
posted at: 12:00am on 03-May-2020
path: /Policy | permalink | edit (requires password)
0 comments, click here to add the first
---
---
ICANN Board Blocks The Sale Of The .Org Registry

Furnished content.


Last fall, we wrote about what appeared to be many of the sketchy details between the non-profit Internet Society (ISOC) agreeing to sell off the non-profit Public Interesty Registry (PIR), which runs the .org top level domain registry, to the very much for-profit private equity firm, Ethos Capital, which had recently been formed, and involved a bunch ex-ICANN execs and other internet registry folks. Even if the deal made perfect sense, there was a lot of questionable issues raised concerning who was involved, whether or not there was self-dealing, and how transparent the whole thing was. On the flipside, a number of very smart people I know and respect -- including some who worked for ISOC, insisted that the deal not only made sense, but was good for the future of the .org domain and the wider internet. In January, we had a long podcast with Mike Godwin, who is on the board of ISOC and voted for the deal, debating whether or not the deal made sense.In the intervening months, many people and organizations had petitioned ICANN to block the deal, and ICANN had repeatedly delayed its vote -- with the last day coming a few weeks ago right after California's Attorney General, Xavier Becerra, sent a pretty scathing letter about the deal.On Thursday, ICANN's board voted to block the deal, saying that it just created too much uncertainty for non-profit organizations who rely on the .org top level domain.
The Board was presented with a unique and complex situation - impacting one of the largest registries with more than 10.5 million domain names registered. After completing its evaluation, the ICANN Board finds that the public interest is better served in withholding consent as a result of various factors that create unacceptable uncertainty over the future of the third largest gTLD registry. Factors that were considered in determining reasonableness include, but are not limited to:

A change from the fundamental public interest nature of PIR to an entity that is bound to serve the interests of its corporate stakeholders, and which has no meaningful plan to protect or serve the .ORG community.
ICANN is being asked to agree to contract with a wholly different form of entity; instead of maintaining its contract with the mission-based, not-for-profit that has responsibly operated the .ORG registry for nearly 20 years, with the protections for its own community embedded in its mission and status as a not-for-profit entity.
The US$360 million debt instrument forces PIR to service that debt and provide returns to its shareholders, which raises further question about how the .ORG registrants will be protected or will benefit from this conversion. This is a fundamental change in financial position from a not-for-profit entity.
There are additional uncertainties, such as an untested Stewardship Council that might not be properly independent, or why PIR needs to change its corporate form to pursue new business initiatives.
The transaction as proposed relies on ICANN as a backstop for enforcement of disputes between the .ORG community and the registry operator in an untested manner.

The entire Board stands by this decision. After thorough due diligence and robust discussion, we concluded that this is the right decision to take. While recognizing the disappointment for some, we call upon all involved to find a healthy way forward, with a keen eye to provide the best possible support to the .ORG community.
It will be interesting to see what happens next -- but if ISOC wants to sell off PIR, it's apparently going to need to go down a different path. In the meantime, ISOC's CEO sent out an email and a blog post talking about his disappointment, and (once again) explaining why he felt the deal made sense and was done appropriately, and promises to continue to move forward with helping to make a better internet. He also insists that PIR is not for sale, while taking a dig at ICANN in the process:
Now that we know that ICANN believes its remit to be much larger than we believe it is, we can state this clearly: neither PIR nor any of its operations are for sale now, and the Internet Society will resist vigorously any suggestion that they ought to be.
While most of the focus in these discussions has been specific to the impact on PIR and the .org domain, I do separately wonder if this whole mess will hurt ISOC itself in the very good work that it does. I hope not. Even as I came down pretty clearly against this deal, I can at least recognize that the people on the ISOC side at least were honestly trying to do what they believed made the most sense for everyone. However, a very large swath of the civil society, non-profit, and public interest world disagreed -- and I fear that this ends up damaging ISOC's overall credibility going forward. If that is the end result of this, it would be a huge shame.

Read more here

---
posted at: 12:00am on 02-May-2020
path: /Policy | permalink | edit (requires password)
0 comments, click here to add the first
---
---
Court Filings Show NSO Group Ran Malware Attacks Through Servers Located In California

Furnished content.


Things are getting even more interesting in Facebook's lawsuit against Israeli malware merchant, NSO Group. Facebook was getting pretty tired of NSO using WhatsApp as an attack vector for malware delivery, which resulted in the company having to do a lot more upkeep to ensure users were protected when utilizing the app.Unfortunately, Facebook wants a court to find that violating an app's terms of service also violates the CFAA -- something most of us really don't want, even if it would keep NSO and its customers from exploiting messaging services to target criminals, terrorists… and, for some reason, lots of journalists, dissidents, and activists.NSO finally responded to Facebook's lawsuit by saying it could not be sued over the actions of its customers. Its customer base is mainly government agencies -- including some especially sketchy governments. NSO claims all it does is sell the stuff. What the end users do with it is between the end users and their surveillance targets. Since its customers are governments, sovereign immunity applies… which would dead-end this lawsuit (wrong defendant) and any future lawsuits against governments by Facebook (the sovereign immunity).NSO's claims it can't be touched by this lawsuit are falling apart. Citizen Lab researcher John Scott-Railton pointed out on Twitter that Facebook's latest filings point to NSO operating its malware servers from inside the United States -- apparently doing far more than simply selling malware to government customers and letting them handle the deployment details.Facebook's answer to NSO's attempt to dismiss the lawsuit concedes NSO's point: it is not its customers. But that's precisely why it can be sued. From Facebook's response [PDF]:
A flawed premise runs through the motion to dismiss ("MTD"). Defendants contend that they cannot be held responsible for designing and marketing spyware and then deploying it using WhatsApp's U.S.-based servers, including in California, to hack into WhatsApp users' devices. Instead, Defendants pin blame on unidentified foreign sovereigns. That argument fails at every turn: Defendants cannot cloak themselves in their putative clients' immunity; they are accountable for suit in a California court; and the Complaint states valid claims for relief based on Defendants' unauthorized access to and hijacking of WhatsApp's servers.[...]The statute confers immunity only on foreign states—not private companies who develop and operate their own technology and then claim to act on a foreign state's behalf.
The claim that NSO Group operates from California (making this venue appropriate for the lawsuit) isn't some distended stretch where malware briefly passed through WhatsApp servers in the US on its way to its targets. Declarations [PDF] by Facebook's expert witnesses show NSO is routing malware deliveries through California data centers. This is only a small part of the list of IP addresses linked to NSO deployments Facebook has uncovered.
Attached as Exhibit 1 is a true and accurate screenshot from IP2Location.com obtained on April 22, 2020, for IP address 104.223.76.220. Exhibit 1 shows that IP address 104.223.76.220 is currently located in Los Angeles, California, and is owned by QuadraNet Enterprises LLC.According to historical IP address location information from Maxmind.com for IP address 104.223.76.220 obtained through the website archive.org, IP address 104.223.76.220 was located in Los Angeles, California, and owned by QuadraNet Enterprises LLC as of May 28, 2019. Attached as Exhibit 2 is a true and accurate screenshot of the Maxmind.com csv.zip file available for download at archive.org that contains historical IP location information. Attached as Exhibit 3 is a true and accurate screenshot of the unzipped Maxmind.com csv.zip file showing the date of the files as May 28, 2019. Attached as Exhibits 4a, 4b, and 4c are true and accurate screenshots of the netblock for IP address 104.223.76.220 showing the location and ownership of IP address 104.223.76.220 as of May 28, 2019.
This is the upshot of Facebook's investigation of NSO's WhatApp-based efforts:
NSO used QuadraNet's California-based server more than 700 times during the attack to direct NSO's malware to WhatsApp user devices in April and May 2019.
These filings appear to show something very different than what NSO Group has claimed. It is not a blind provider of malware to government agencies. This indicates NSO is purchasing and operating servers stateside that its customers use to deploy malware. And if it runs these servers, then it quite possibly knows who its customers are targeting. This is far more involved than its sworn statements have said. The plausible deniability it's trying to project just isn't that plausible.Facebook's response points out the logical leap NSO is demanding from the court.
The Complaint alleges targeting of 1,400 separate devices, Compl. ¶ 42, and NSO does not specify who it was working for in each attack. Instead, NSO relies on a conclusory declaration from its CEO Shalev Hulio stating that "NSO markets and licenses its Pegasus technology exclusively to sovereign governments and authorized agencies," and those sovereigns—not NSO—"operate [the] Pegasus technology." Hulio Decl. ¶¶ 9, 14-15. But Hulio fails to identify any specific foreign sovereign for whom NSO worked—let alone cite a single contract or any evidence establishing NSO's purportedly limited operational role.
NSO's options are all unappealing at the moment. It can't hope to settle since its customers aren't going to be willing to give up exploitation of an encrypted messaging app used by millions of people around the world. It also can't be looking forward to continued litigation since that's only going to mean more exposure of its actions and inner workings as the lawsuit drags on. But these are the risks you take when your favored attack vector is another company's service and your payload deliveries route themselves through rented/purchased servers located in the United States.NSO turned itself into a villain by selling its products to governments wanting to target dissidents, journalists, activists, and attorneys. A little more judiciousness would have gone a long way. Running attacks through services owned by one of the most powerful tech companies in the world may have provided NSO's customers with a broad user base to attack, but it also ensured it would find itself in court facing a well-funded and well-equipped adversary.

Read more here

---
posted at: 12:00am on 02-May-2020
path: /Policy | permalink | edit (requires password)
0 comments, click here to add the first
---
---
China Tried To Get The EU Not To Release A Report On China's COVID-19 Disinformation Efforts

Furnished content.


It's becoming an unfortunate regularity that we keep writing posts highlighting how China is trying to suppress criticism around the globe regarding its terrible handling of the COVID-19 pandemic. As we've said over and over again, what the world needs right now is radical transparency regarding the disease and various responses, and instead we're getting standard operating procedures from the Chinese government which is all about suppressing bad information and denying everything (with a healthy does of spreading more disinfo everywhere -- make sure you check the comments here a few hours after we post this, because it seems to show up in a timely manner).The latest example comes from the EU, where the Chinese government pressured officials in Brussels not to release a report about the Chinese government's disinformation efforts regarding COVID-19. While the EU did eventually release it, it put it out on a Friday evening (the classic news dump of where you hide stuff) and some of the criticism of China was supposedly "rearranged or removed."
Four diplomatic sources told Reuters that the report had initially been slated for release on April 21 but was delayed after Chinese officials picked up on a Politico news report hat previewed its findings.A senior Chinese official contacted European officials in Beijing the same day to tell them that, if the report is as described and it is released today it will be very bad for cooperation, according to EU diplomatic correspondence reviewed by Reuters.The correspondence quoted senior Chinese foreign ministry official Yang Xiaoguang as saying that publishing the report would make Beijing very angry and accused European officials of trying to please someone else - something the EU diplomats understood to be a reference to Washington.The four sources said the report had been delayed as a result, and a comparison of the internal version of the report obtained by Reuters and the final version published late Friday showed several differences.
For reasons that are unclear, Reuters, despite breaking this story and it seeming to be an opportune time and place to do so, does not link to the report that was released. You can read it here. It seems to focus mostly on Russian disinfo campaigns, and, while it does include China, suggests that China is less active in such disinformation campaigns. Also, the key parts about China are at the very end of the document, which is apparently not where they were originally.Once again, I completely understand that this is status quo for the Chinese government, but honestly, you would hope that in the midst of a global pandemic insecure, thin-skinned governments (and yes I'm including my own government in this) would grow up, get over it, and focus on providing the public with real info, rather than spreading nonsense and FUD.

Read more here

---
posted at: 12:00am on 01-May-2020
path: /Policy | permalink | edit (requires password)
0 comments, click here to add the first
---
---
Tales From The Quarantine: 'Queer Eye' Guy Now Offering Support And Advice On Your Video Game Home Furnishings

Furnished content.


The COVID-19 crises has changed most of our lives. Working from home is now the norm for many, rather than a perk. Sports is mostly gone, replaced by esports simulacrums. Schools are shut down, as are most non-essential businesses.And the folks from Queer Eye are now advising on and critiquing your digital homes rather than your IRL abodes.
Queer Eye interior designer Bobby Berk, without any actual homes to visit and makeover right now, is keeping busy by offering his assistance at turning your Animal Crossing trashpit into something easier on the eye.Or at least that was the intent with this Tweet, which was phrased as a means of getting some "some special hiptips".
The responses to that tweet were swift and plentiful, as any veteran of the internet would have expected. Still, the entire thing turned into something of a combination affirmation project of fun, with Animal Crossing players posting pics of well-maintained digital homes for Berk to lavish with praise, or those with messes of digital homes to which Berk gave suggestions akin to what he does on television. And, on occasion, Berk got to do something a little closer to his day job.

It's both strange and interesting to see how we all adjust and adapt during these deeply weird times. Whatever the combination of video game escapism and internet fun this is, it's something close to what many of us need at the moment. And, for a little Techdirt angle on it all, it's a version of connecting with fans. One hopes this type of fan engagement will be remembered when this nightmare ends.

Read more here

---
posted at: 12:00am on 01-May-2020
path: /Policy | permalink | edit (requires password)
0 comments, click here to add the first
---
---