---
Bill Murray Responds To Doobie Bros. Copyright Letter With Snark, No Offer To Pay For Use Of Song

Furnished content.


It's true that you don't often find us here siding with copyright holders in debates over copyright. It's not that there isn't a place for that sort of thing, of course. It's just kinda not our beat. Also, it's a bit of a dog-bites-man kind of thing. As folks who tend to think that ever-expanding copyright laws and a protectionist culture that has lost its way are bad for business, we typically focus more on artists who are doing exciting things in new business models, artists who are overstepping the purpose of copyright law and/or hurting their own causes through protectionism, and artists who choose to go the human and awesome route rather than pulling out the litigious nuclear bombs.In fact, we tried to do just that when we discussed the Doobie Brothers sending famed comedian Bill Murray a rather funny and human-sounding letter about his use of their music in ads for his golf apparel company. The letter was constructed to make it clear that Murray should have paid for the use of the music, but also was chock full of one-liner zingers, self-deprecation, and a general treatment of copyright law as not the world's most serious thing. It was a good copyright letter, which is rare.Well, Murray's legal team has responded. And it seems that they are going all in on the humor part of this exchange, while claiming that Murray's use of the music is fine because the band hasn't been harmed.

If you can't read the whole thing, the response letter is full of puns based on the Doobie Brother's song catalogue. It includes an offer to send some free Murray golf swag to the band. It throws in a reference to the fact that the band's legal team was involved in defending Robin Thicke in the "Blurred Lines" case. And it argues, based in part on that association, that the Doobie Brothers haven't been harmed and so no payment will be forthcoming.
I am sure that Howard King of your firm, who argued that the song "Blurred Lines" did not infringe on Marvin Gaye's composition "Got To Give It Up", would agree that your client was not harmed under these circumstances.
This, frankly, is a bad legal position to take. The two circumstances are nothing alike. Murray is using music from the band in an advertisement. The "Blurred Lines" case was all about minute details of how much of a song's "feel" could be copyrighted -- not the music itself, in terms of the copyrightable expression of a song, but, rather, its style.What Murray could have done would be to respect the band's congeniality in order to work out an arrangement with minimal impact on his company. The Doobie Brothers' initial letter, with all of its lack of serious threat, seemed to indicate the band would be open to that sort of thing. But to simply use the song in an advertisement and claim no harm, therefore no copyright infringement, seems like a stretch.In other words, I would advise Murray's legal team try to get back in touch with the band and come up with a real offer to work this out.

Read more here

---
posted at: 12:00am on 30-Sep-2020
path: /Policy | permalink | edit (requires password)
0 comments, click here to add the first
---
---
Appeals Court Says ICE Detainees Should Be Able To See A Judge In 48 Hours, Just Like Criminal Suspects

Furnished content.


The Fourth Amendment says law enforcement needs probable cause to effect an arrest. Further probable cause is needed -- as determined by a neutral judge -- to continue holding this person. This isn't even controversial. It has been established law for years. And yet, when ICE goes hunting for people it wants to deport, the Fourth Amendment just kind of vanishes. This happens even when ICE is wrong, and the person officers want to eject from the country is actually a US citizen.It seems awful to have to describe this recent Ninth Circuit Court of Appeals as "upending" the Fourth Amendment status quo. It really isn't. It simply affirms what's far too often been ignored by ICE and other border security agencies.Here are the facts leading up to this lawsuit, as recounted in the court's decision [PDF]:
Gerardo Gonzalez is a United States citizen. He has never been removable from the United States. The United States Immigration and Customs Enforcement (ICE), however, came to a different conclusion in December 2012. After Gonzalez was booked on state law criminal charges by the Los Angeles Police Department (LAPD), an ICE agent ran his name through electronic databases, an automated procedure that ICE uses to determine whether an individual is a removable noncitizen. Because one database flagged Gonzalez's birthplace as being in Mexico, and the agent could not find records showing that Gonzalez had lawfully entered the United States, the agent determined that Gonzalez was removable from the United States. ICE issued an immigration detainer, requesting that the Los Angeles Sheriff's Department (LASD) detain Gonzalez for up to an additional five days in the Los Angeles County Jail after when he was entitled to release from custody on state criminal charges so that ICE could take him into its custody.
This situation used to be even worse. Prior to December 2012, ICE didn't even need probable cause to issue a detainer. So, even if people were free to go, that freedom to go could be removed if ICE had done nothing more than initiated an investigation into whether the person targeted by a detainer was actually removable. Thanks to some litigation, ICE began requiring probable cause. But that probable cause was limited to an officer's "belief" that a person was removable. Because one database said Gonzalez's birthplace was Mexico and the officer could find no records of legal entry, Gonzalez was held for another five days after he was prepared to post bail for the state criminal charges. Here's how this worked out for Gonzalez:
On December 31, 2012, ICE issued the immigration detainer against him. Although the detainer had no effect on Gonzalez's custody when lodged due to a then-applicable parole hold, Gonzalez became eligible for release on bail from LASD custody on state criminal charges in May 2013 when the hold expired. He attempted to post bail with the assistance of his girlfriend, who went to a bondsman. The bondsman informed her that Gonzalez was subject to an immigration detainer. The detainer requested that LASD keep him in custody for up to five additional days after his release from custody on state criminal charges. The detainer, however, prevented him from posting bail. Even if he posted the $95,000 bail as he had intended to do, Gonzalez would remain in custody. Indeed, it was LASD policy to comply with all ICE detainers.
ICE dropped the detained when Gonzalez sued, presumably in hopes of getting him to drop the lawsuit. It didn't happen. And now there's precedent on the books that says ICE can't do this sort of thing in future.The lower court said ICE can't rely solely on the database used in this case to make probable cause determinations. The database is too inaccurate to be relied on, according to the district court.
In finding for Plaintiffs on this Database Claim, the district court concluded that the databases are unreliable for determining probable cause of removability, and thus the Government violates the Fourth Amendment by issuing detainers based solely on searches of the databases.
The Ninth Circuit says the district court didn't do enough fact-finding to make this determination. However, the Appeals Court does reach this conclusion, which has the potential to vastly alter the way ICE enforces detainers. Without probable cause, ICE can't hold people more than 48 hours on a detainer or, as in this case, five days past the point the person was due to be released by local law enforcement. Detainees should be treated the same as arrestees and given their day before the judge as soon as possible.
[T]he panel concluded that, because the Fourth Amendment requires probable cause to seize or detain an individual for a civil immigration offense, it follows that the Fourth Amendment requires a prompt probable cause determination by a neutral and detached magistrate to justify continued detention pursuant to an immigration detainer.
Thanks to Trump, our immigration courts are already overloaded. And again, thanks to Trump, ICE keeps loading them up even more by going after anyone it believes is subject to removal, rather than concentrating on the "dangerous" immigrants this Administration claims infest our nation. If ICE can't get them before a judge within 48 hours, they should be free to go, just like anyone arrested on actual criminal charges.It hardly makes sense for the Fourth Amendment to be less effective for people detained on civil violations. The Ninth Circuit Appeals Court has corrected that error and its reach covers a whole lot of border territory.

Read more here

---
posted at: 12:00am on 30-Sep-2020
path: /Policy | permalink | edit (requires password)
0 comments, click here to add the first
---
---
BrewDog's 'Elvis Juice' Now An Approved Trademark In The UK, But Not the EU

Furnished content.


You will hopefully recall that a few years back we discussed a trademark dispute between BrewDog, a UK-based brewery, and the Elvis Presley estate. At issue was BrewDog's grapefruit IPA dubbed "Elvis Juice" and the trademark application BrewDog had filed for it. Somehow, on first review, the UK IPO managed to side with the Presley estate, despite the fact that Elvis is a common first name, that the trade dress for the brew had nothing to do with Elvis Presley, and that this was all occurring in a country where Elvis Presley might not even be the most famous singing Elvis on the market. Fortunately, BrewDog appealed and won, so Elvis Juice is a registered trademark in the UK.But not the European Union. Side note: did you guys know that the UK stupidly got out of the EU? Crazy! Anywho, BrewDog also had an application to trademark Elvis Juice in the EU. The Elvis Presley estate also opposed that trademark. And, this time, the Presley estate won.
The craft brewing company, based in Ellon, had won the right to register the brand as a trademark in the UK in 2018. However, they have been denied exclusive rights to the name in Europe – potentially threatening sales on the continent.
Unlike its UK counterpart, the EU bought the Presley estate's line that throughout Europe people buying an IPA called Elvis Juice would somehow think it was associated with a crooner from the American 50s as opposed to, say, Elvis Costello. Or the two Elvises that legally changed their name to Elvis that also own BrewDog. How that makes any sense, or how anyone is making this connection in, for instance, Spain is beyond me.
In the case documents, the EU Intellectual Property Office ruled: "It is clear that the applicant's submission based on the peaceful coexistence of the marks cannot succeed. No evidence actually demonstrating such peaceful existence on the pertinent market has been shown. In short…there exists a likelihood of confusion… A likelihood of confusion for only part of the relevant public of the European Union is sufficient to reject the contested application."
I mean, if this were two years ago, when the UK IPO decision came down, the UK would have been part of that pertinent market. And that should have been all that was needed to side with BrewDog. This, somehow, went the other way.And, as a result, it's an open question as to whether BrewDog will keep its Elvis Juice branding as a whole, given the EU decision. Meanwhile, the EU IPO also ordered the brewery to pay the Presley estate costs.

Read more here

---
posted at: 12:00am on 29-Sep-2020
path: /Policy | permalink | edit (requires password)
0 comments, click here to add the first
---
---
Smart Locks Could Make Heartless COVID Evictions More Efficient

Furnished content.


Like most internet of broken things products, we've noted how "smart" door locks often aren't all that smart. More than a few times we've written about smart lock consumers getting locked out of their own homes without much recourse. Other times we've noted how the devices simply aren't particularly secure, with one study finding that 12 of 16 smart locks that they tested could be relatively easily hacked thanks to flimsy security standards, something that's the primary feature of many internet of broken things devices.In addition to being easily compromised, there are additional layers of concerns arising from the use of such locks. Privacy experts, for example, say many smart lock vendors' terms of service are overly broad, allowing the sharing of too much data with valued partners and landlords. And as smart locks become the norm in "smart" cities, there's also growing concern that such technology could make it easier than ever for landlords to evict users without much in the way of transparency or renter rights.While the smart technology in this case is advertised as an increase in efficiency, ethicists studying the rise of "smart" cities worry that the detachment created by the removal of physical interactions will make it easier to distance a landlord from the impact of his decision:
Adam Henschke, an applied ethicist working on areas that cross over between ethics, technology and security at the Australian National University, tells me that one of the concerns that people like himself have with smart cities is exactly this the power that such technologies have over access to basic goods and services. Henschke admits that while it's not uncommon for landlords to have the power to change people's locks as part of normal eviction processes, this technology obviously raises a bunch of other issues."His first concern is that it could be psychologically easier for a landlord, real estate agent or building manager to lock a person out. If this is done in person, then whoever changes the locks likely has to confront the tenant in person, says Henschke. Whereas, as this is being done remotely, it can be psychologically easier to make the decision to lock the tenant out.
That said, the piece includes some quotes by folks who believe existing legal protections will simply extend to protect renters and homeowners under an automated system where eviction becomes less of a physical affair and simply a cold few lines of code. And you'd certainly hope that's the case. But when you look at some of the new companies being created to make evictions a more efficient, gig-economy affair, fused with massive COVID-19 financial headaches, smart locks, and an apathetic/incompetent government, you have to pause and at least think about the potential ramifications of making eviction too automated and efficient:
"Civvl aims to marry the gig economy with the devastation of a pandemic, complete with signature gig startup language like "be your own boss," and "flexible hours," and "looking for self-motivated individuals with positive attitudes:" "FASTEST GROWING MONEY MAKING GIG DUE TO COVID-19," its website says. "Literally thousands of process servers are needed in the coming months due courts being backed up in judgements that needs to be served to defendants."
You'd hope that existing law and oversight steps up to protect the consumer, but as we work to make the eviction process a more automated and gig-worker backed affair (as usual only thinking about any potential problems after the fact if at all), it's kind of hard not to think we're going to find some creative ways to make existing problems worse.

Read more here

---
posted at: 12:00am on 29-Sep-2020
path: /Policy | permalink | edit (requires password)
0 comments, click here to add the first
---
---
This Week In Techdirt History: September 20th - 26th

Furnished content.


Five Years AgoThis week in 2015, a major scandal began when Volkswagen was accused of using software to cheat emissions tests. The White House was the FBI, CIA and much of the military were not doing basic email encryption — but in India things were going in the opposite direction. The monkey selfie saga began a new chapter with PETA filing a lawsuit on behalf of the monkey, and then an even bigger copyright bombshell hit when a judge ruled that Warner Chappell doesn't hold the copyright on happy birthday. Plus the world got a new famous villain with a sudden hike in drug prices introducing everyone to a man named Martin Shkreli.Ten Years AgoThis week in 2010, Intel was threatening to break out the DMCA anti-circumvention lawsuits against anyone using the recently-leaked HDCP master key, state AGs were turning their attention to Backpage (which was gearing up to fight back), and movie studios were freaking out about fan pages. The MPAA was apparently fishing for censorship tools in ACTA by talking about Wikileaks, while the Senate was offering them a gift with a new bill that would enable global censorship of "pirate sites" (with a special loophole allowing the DOJ to avoid due process. And we saw a variety of interesting developments in various lawsuits: one judge was entertaining the notion of implied licenses in a Righthaven lawsuit while another was shutting down US Copyright Group subpoenas, a UK judge was similarly not impressed by copyright pre-settlement campaigns, and a judge in Spain smartly ruled that Google is not liable for user uploads.Fifteen Years AgoThis week in 2005, there was a mess of internet jurisdiction cases in Canada with one ruling being overturned on appeal while another court muddied the waters with a ruling based on the overturned ruling. Hollywood was pouring money into an ill-fated attempt to build better DRM technology, which could be described as them calling their own bluff. Following the Supreme Court's decision in their case, Grokster was scrambling to sell to a "legit" company, as were several other file-sharing software providers. And one judge in a RIAA lawsuit thankfully recognized that parents aren't liable for their kids downloading music.

Read more here

---
posted at: 12:00am on 27-Sep-2020
path: /Policy | permalink | edit (requires password)
0 comments, click here to add the first
---
---
Content Moderation Case Study: Twitter's Algorithm Misidentifies Harmless Tweet As 'Sensitive Content' (April 2018)

Furnished content.


Summary: While some Twitter users welcome the chance to view and interact with "sensitive" content, most do not. Twitter utilizes algorithms to detect content average users would like to avoid seeing, especially if they've opted in to Twitter's content filtering via their user preferences.
Unfortunately, software can't always tell what's offensive and what just looks offensive to the programmable eye that constantly scans uploads for anything that should be hidden from public view unless the viewer has expressed a preference to see it.A long-running and well-respected Twitter account that focused on the weirder aspects of Nintendo's history found itself caught in Twitter's filters. The tweeted image featured an actor putting on his Princess Peach costume. It focused on the massive Princess Peach head, which apparently contained enough flesh color and "sensitive" shapes to get it -- and the Twitter account -- flagged as "sensitive."The user behind the account tested Twitter to see if it was its algorithm or something else setting off the "sensitive" filter. Dummy accounts tweeting the image were flagged almost immediately, indicating it was the image -- rather than other content contained in the user's original account -- that had triggered the automatic moderation.Unfortunately, the account was likely followed by several users who never expected it to suddenly shift to "sensitive" content. Thanks to the algorithm, the entire account was flagged as "sensitive," possibly resulting in the account losing followers.Twitter ultimately removed the block, but the user was never directly contacted by Twitter about the alleged violation.Decisions to be made by Twitter:
Are false positives common enough that a notification process should be implemented?
Should the process be stop-gapped by human moderators? If so, at what point does double-checking the algorithm become unprofitable?
Would a challenge process that involved affected users limit collateral damage caused by AI mistakes?
Does sensitive content negatively affect enough users that over-blocking/over-moderation is acceptable?
Questions and policy implications to consider:
Should Twitter change its content rules to further deter the posting of sensitive content?
Given Twitter's reputation as a porn-friendly social media platform, would stricter moderation of sensitive content result in a noticeable loss of users?
Should Twitter continue to remain one of the only social media outlets that welcomes "adult" content?
If users are able to opt out of filtering at any point, is Twitter doing anything to ensure younger users aren't exposed to sensitive material?
Resolution: Twitter removed the flag on the user's account. According to the user behind the account, it took the work of an employee "behind the scenes" to remove the "sensitive content" warning. Since there was no communication between Twitter and the user, it's unknown if Twitter has implemented any measures to limit future mischaracterizations of uploaded content.

Read more here

---
posted at: 12:00am on 26-Sep-2020
path: /Policy | permalink | edit (requires password)
0 comments, click here to add the first
---
---
TikTok And The DOJ Still Fighting It Out In Court Despite Oracle 'Deal'

Furnished content.


Even though Trump gave his supposed okay to the grifty TikTok/Oracle hosting deal, it appears that TikTok, ByteDance and the Trump administration are still busy fighting this out in court. The Trump rules to ban the app are still set to go into effect on Sunday. And while WeChat users were able to block the rules from going into effect, they still technically are scheduled to go into effect for TikTok this weekend.TikTok has asked for an injunction to stop the ban and the court is going to decide at the last minute whether to issue an injunction in the TikTok case as well. This is, in part, because the Oracle deal (which is not a sale and accomplishes none of the stated goals of the original executive order) still needs approval from the Chinese side -- and there are indications that China wants a better deal.After a hearing on Thursday, the judge ordered the government to either respond to the request for an injunction or to submit "a notice describing [the DOJ's] plan to delay the effective date of the subset of prohibited transactions directed against TikTok that are scheduled to go into effect" on Sunday at midnight. The DOJ, rather than say they were delaying the TikTok ban, instead, filed an opposition to the proposed injunction, though it did so under seal so we can't see what the DOJ said.The judge is expected to rule by Sunday, and it's possible (likely) that he'll drag the lawyers from both sides into (virtual) court this weekend. The whole thing remains insane. The President should never have the right to just ban a random social media app like this. Hopefully, the court agrees to an injunction while everything else gets worked out.

Read more here

---
posted at: 12:00am on 26-Sep-2020
path: /Policy | permalink | edit (requires password)
0 comments, click here to add the first
---
---
If Patents Are So Important To Innovation, Why Do Innovative Companies Keep Opening Up Their Patents Rather Than Enforcing Them?

Furnished content.


To hear many politicians (and, tragically, many academics) tell the story, patents and patent policy are keys to innovation. Indeed, many studies trying to measure innovation use the number of patents as a proxy. For years, we've argued that there is little evidence that patents are in any way correlated with innovation. Indeed, in practice, we often see patents get in the way of innovation, rather than being a sign of innovation. If anything, an influx of patents seems to indicate a decline in innovation, because as the saying goes, smart companies innovate, while failed companies litigate. Litigating patents tends to happen when a more established company no longer is able to compete by innovation, and has to bring in the courts to block and stop more nimble competitors.Indeed, over and over again we seem to see the most innovative companies eschewing the anti-competitive powers that patents give them. I was reminded of this recently with the announcement that payments company Square had agreed to put all of its crypto patents into a new non-profit called the Crypto Open Patent Alliance to help fight off the unfortunate number of crypto patent trolls that are showing up.

Of course, we see this throughout the companies generally considered to be the most innovative. A decade ago, Twitter came up with a very clever Innovator's Patent Agreement, which effectively would block patent trolls from ever being able to use Twitter's patents, should they somehow fall into trollish hands. A bunch of other top internet companies including Google, Dropbox, Asana, and Newegg launched the License on Transfer network, as a basic poison pill to, again, stop patent trolls.And, most famously, Elon Musk flat out gave away Tesla's patents and encouraged anyone else to use them to compete with Tesla, license-free.If patents really were so vital to innovation, why would all of these innovative companies be so quick to give them up? And why is it so incredibly rare that any of them assert patents against competitors? Instead, so much of the patent litigation we see is against those innovative companies coming from a variety of patent trolls (frequently lawyers who never innovated at all) or also ran companies which may have been innovative in the past but have long since seen their innovative days in the rearview mirror.It would be nice if policymakers, the media, and academics finally started recognizing the idea that patents are not just a bad proxy for actual innovation, but often antithetical to innovation, and we can see all the evidence we need for that in the fact that the most innovative companies are "devaluing" in their own patents to improve the ecosystem, rather than enforce those patents.

Read more here

---
posted at: 12:00am on 25-Sep-2020
path: /Policy | permalink | edit (requires password)
0 comments, click here to add the first
---
---
Woof: Jack Daniels Takes Fight Over Doggy Chew Toy To The Supreme Court

Furnished content.


Back in April, we wrote about a trademark dispute between Jack Daniels and VIP Products LLC. At issue was a doggy chew toy made as clear parody of the Jack Daniels bottle, with the branding changed to "Bad Spaniels", along with other parody references. While Jack Daniels had initially won in court when VIP sought declaratory judgement that its use was non-infringing, upon appeal to the U.S. Court of Appeals for the 9th District, that decision was reversed. Key to that ruling was the court's assessment that, due to the parody nature of the product, it was an "expressive work", and the lower court ought to therefore have applied the Rogers test, and vacated an injunction the lower court had applied.
Accordingly, the court held that, as a threshold matter, the Rogers test needed to be applied. Under that test, a trademark infringement plaintiff must show that the defendant's use of the mark either (1) is "not artistically relevant to the underlying work" or (2) "explicitly misleads consumers as to the source or content of the work." Id. at 9 (quoting Gordon, 909 F.3d at 265). The Ninth Circuit vacated the district court's finding of infringement and remanded for a determination, in the first instance, of whether Jack Daniel's can satisfy either element of the Rogers test.
But instead of proceeding along those lines, it seems that Jack Daniels instead wants to have a fight at the U.S. Supreme Court over whether a parody dog chew toy truly is expressive. The appeal takes particular umbrage at the lower court's sense of humor.
Because the court of appeals thought [VIP Products'] notorious copying was funny, it held that the company has a First Amendment interest in confusing consumers into believing that Jack Daniel's sponsors a dog toy spotlighting poop.
The more serious aspects of the filing focus on just where and how Fair Use can be applied in trademark law.
The Lanham Act provides that certain categories of use "shall not be actionable" as dilution. One excluded category is "[a]ny fair use . . . other than as a designation of source for the person's own goods or services." 15 U.S.C. § 1125(c)(3)(A) (emphasis added). The Act identifies parody as a permitted fair use, but it excludes the parodist from liability only so long as the parodist does not use a trademark as its own designation of source. Id. § 1125(c)(3)(A)(ii). The Ninth Circuit did not apply that exclusion here, presumably because it had no basis to reverse the district court's conclusion that VIP Products used Jack Daniel's trademarks as a designation of source.
Which is one hell of a presumption. What the court actually did, instead, is recognize the product as parody, deem it expressive because of that, and then indicated that the use of any trade dress or marks therefore didn't act as a source identifier. In other words, the lower court indicated that this ought to be a fight over customer confusion rather than how closely the parody's branding compared with the subject of that parody.Which is exactly the correct arena for this to be fought in. Because of the clear parody nature of the product, the proper question is will the public be confused into thinking it was buying a product that has any actual association with Jack Daniels. That Jack Daniels doesn't want to have this fight on those grounds should tell you everything you need know.

Read more here

---
posted at: 12:00am on 25-Sep-2020
path: /Policy | permalink | edit (requires password)
0 comments, click here to add the first
---
---
Company Owning 'Evel Knievel' Rights Sues Disney Over 'Toy Story 4' Amalgam Parody Character

Furnished content.


Evel Knievel, it seems, is as litigious in death as he was in life. The famed motorcycle stuntman found his way into our pages previously, having mistaken common modern parlance for defamation and for once suing AOL of all companies because its search engine could be used to get to a Kanye West video. And, while Knievel passed away in 2007, the lawsuits keep coming.A company called K&K Promotions has sued Disney over the depiction of a character in Toy Story 4.
If the "Toy Story 4" character Duke Caboom reminded you of Evel Knievel, you're not alone -- the folks in charge of his image and likeness thought so too ... and now they're suing.A company called K&K Promotions just filed suit against Disney, Pixar and whole a bunch of their subsidiaries ... claiming the stuntman driver toy that Keanu Reeves voiced in the latest 'Toy Story' flick is a clear and obvious rip-off of the legendary American motorcycle daredevil.
The suit itself (embedded below) goes into Evel's life story, details the rights K&K has to his trademarks and likeness, reminds the court that an Evel Knievel motorcycle toy was created decades ago, and culminates in asserting that Disney's character has infringed on those trademark and likeness rights. There is also the assertion that Disney asked the film's cast members not to compare characters to the trademarks of others' when doing media hits.Below is some footage of Duke Caboom from the film.Now, let's get the easy stuff out of the way. Does Duke Caboom conjure to the mind the memory of Evel Knievel? Yes, it most certainly does! Have folks from Disney actually said that Knievel was part of the inspiration behind the character? As the lawsuit itself points out: uh huh! Producers Mark Nielsen and Jonas Rivera have indicated that the stuntmen from the 70s were absolutely the inspiring force behind Caboom, with the latter going so far as to state that the character was built as "a stuntman evocative of Evel Knievel's era."So does that make this character infringing on K&K's trademark and likeness rights?Well, no, probably not. After all, there are marked differences between the characters, such as the country of their origin, the exact makeup of their outfits, what their personages look like in appearance, and so on. It's also worth highlighting the "era" in the Rivera quote, because Evel Knievel was merely the most famous of a series of motorcycle stuntmen in the 70s and 80s. And those stuntmen often had similar routines, motorcycles, and outfits. Dale Buggins is an example of this.In fact, this all brings to mind Lindsay Lohan's attempt to sue over a Grand Theft Auto character, in that the character was actually an amalgam of tropes for famous Hollywood celebrities. She lost her case for that reason. Here, too, we have a character that is not specifically an Evel Knievel character, but rather an amalgam of motorcycle stuntmen tropes of which Knievel is the most famous. The assertion that Disney asked cast members to avoid getting the company in trouble by invoking the specific names of inspirational forces isn't all that surprising either. Why would the company want to get sued over a cast member's otherwise innocent comment, after all?This could be a money grab, I suppose. But if it is, you really have to wonder if it's the smartest play. Disney's character, after all, probably caused a great many people to remember the era of motorcycle stuntmen for the first time in a long time, with Knievel coming along for the ride. Why not simply try to capitalize off of that?

Read more here

---
posted at: 12:00am on 24-Sep-2020
path: /Policy | permalink | edit (requires password)
0 comments, click here to add the first
---
---
Content Moderation Case Study: Twitter Freezes Accounts Trying To Fact Check Misinformation (2020)

Furnished content.


Summary: President Trump appeared on Fox News' Fox & Friends and made some comments that were considered by many experts to be misinformation regarding the COVID-19 pandemic. One quote that particularly stood out was: "If you look at children, children are almost -- and I would almost say definitely -- but almost immune from this disease. They don't have a problem. They just don't have a problem." This is false. While it has been shown that children are less likely to get seriously ill or die from the disease, that is very different from being immune.
In response to this both Twitter and Facebook decided to remove clips of the video including those posted by the Trump Campaign. Given both platforms' aggressive policies regarding COVID-19 disinformation (and the criticism that both have received for being too slow to act) this was not all that surprising. For additional context, just a week and half earlier there was tremendous controversy over a decision to remove a video of some doctors giving speeches in front of the Supreme Court that also presented misleading information regarding COVID-19. While the major platforms all blocked the video, they received criticism from both sides for it. Some argued the video should not have been taken down, while others argued it took the platforms too long to take it down.Thus it was not surprising that Facebook and Twitter reacted quickly to this video, even though it was statements made by the President of the United States. However, more controversy arose because in taking down those video clips, Twitter also ended up removing reporters, such as Aaron Rupar, who were fact checking the claims, and activists, like Bobby Lewis, who were highlighting the absurdity of the clip.Decisions to be made by Twitter:
How aggressively should content moderation rules be applied to statements from the President of the United States?
How important is it to remove potentially harmful information regarding health and immunity to a disease like COVID-19?
Is it better to have such videos taken down too quickly, or too slowly?
How do you determine who is fact-checking or debunking a video and who is spreading the misinformation?
How do you handle situations where different people are sharing the same video for divergent purposes (some to spread misinformation, some to debunk it)?
Questions and policy implications to consider:
Should the President's speech receive special consideration?
The same content can be used by different users for different reasons. Should content moderation take into account how the content is being used?
Counterspeech can often be useful in responding to disinformation. What role is there in content moderation to promote or allow counterspeech?
Resolution: The Twitter accounts that were temporarily suspended removed the offending tweets in order to continue tweeting. There is no indication of any change in policy so far from Twitter, which has focused on removing all such videos, regardless of context of the tweet surrounding them.

Read more here

---
posted at: 12:00am on 24-Sep-2020
path: /Policy | permalink | edit (requires password)
0 comments, click here to add the first
---
---
How To Nuke Your Reputation: The Nikola Edition

Furnished content.


This isn't so much in vogue as it was in the past, but it still remains true that one's reputation is a scarce resource that can be frittered away easily. And, on these pages at least, it is often equal parts perplexing and funny to watch some folks in the tech space torpedo their own reputations for various reasons. The more shrewd don't always seem to care about this sort of thing, which is how you get the MPAA pirating clips from Google to make its videos, or a law school taking a critic to court only to have the court declare said critic's critique was totally true. Good times.Which brings us to Trevor Milton, the founder of Nikola Motor Company. Nikola is playing in the electric truck vehicle space. In 2016, Milton announced in an official video that the Nikola One Semi was "fully functional." In fact, one of Milton's chief public concerns at the time was ensuring that nobody could come by and drive away with one of the trucks. The companion video for the Nikola One was posted to YouTube in January of 2018. This video shows the Nikola One chugging down a lonely one-lane road.Despite all of the fanfare, it's worth noting that the Nikola One never made it into production. Why? Well...
Hindenburg Research published a bombshell report claiming that the Nikola One wasn't close to being fully functional in December 2016. Indeed, Hindenburg published a 2017 text message exchange in which a Nikola employee stated that the company didn't resume work on the truck in the months after the show.Even more incredible, Hindenburg reported that the truck in the "Nikola One in motion" video wasn't moving under its own power. Rather, Nikola had towed the truck to the top of a shallow hill and let it roll down. The company allegedly tilted the camera to make it look like the truck was traveling under its own power on a level roadway.
Now, on the one hand, that's objectively funny. It's sort of an Adam West's Batman approach to product demonstration. But, on the other hand, now that Milton has admitted the charges above, he's likely in a whole world of trouble. The company has tried to weasel out of this in fairly absurd fashion.
"Nikola never stated its truck was driving under its own propulsion in the video," Nikola wrote. "Nikola described this third-party video on the Company's social media as 'In Motion.' It was never described as 'under its own propulsion' or 'powertrain driven.' Nikola investors who invested during this period, in which the Company was privately held, knew the technical capability of the Nikola One at the time of their investment."
Not everyone seems to think that's true. The SEC and DOJ are reported to have opened investigations into the company's behavior after these revelations. And, as to the point of Milton's reputation personally, he's out at Nikola.
Milton's resignation came just 10 days after a bombshell research report revealed that Milton wasn't telling the truth in 2016 when he unveiled the company's first product, the Nikola One, and claimed that it "fully functions." Over the weekend, Milton offered (voluntarily, he says) to resign as executive chairman, and Nikola's board accepted his offer. Milton will also relinquish his seat on Nikola's board.
Now, a few items of note. First, Nikola does now have a functioning prototype, the Nikola Two. It's also partnering with several automobile companies and has contracts in place with them.But for Milton, he loses his position at the company he founded, millions in stock and consulting fees, and has gained infamy as someone who is willing to, at best, mislead the public about his companies' products. Your reputation is a scarce good. Frittering it away by turning the camera on an angle probably isn't the best move.

Read more here

---
posted at: 12:00am on 23-Sep-2020
path: /Policy | permalink | edit (requires password)
0 comments, click here to add the first
---
---
Senator Lindsey Graham Must Be Desperate For Donations; Announces Terrible Bill That Mashes Up Bad 230 Reform With Bad Copyright Reform

Furnished content.


Senator Lindsey Graham is in a tight re-election campaign that he might just lose. And he's doing what politicians desperate for campaign cash tend to do: releasing a lot of absolutely batshit crazy bills that will pressure big donors to donate to him to either support the bill, or to get him not to move forward on it. It's corrupt as hell, but is standard practice. And the best of these kinds of bills are ones that pit two large industries with lots of lobbyists and cash to throw around against one another. For many years the favorite such bill for this was a bill about performance rights royalties for radio play. This would pit radio broadcasters against the music industry, and the cash would flow. Every two years, as the election was coming, such a bill would be released that was unlikely to go anywhere, but the cash would flow in.More recently, the goal has been to target the big internet companies. And, boy, Linsdey Graham's campaign must be struggling, because he's decided to take two horrible, awful bills that would harm the internet and mash them together into a single bill that is set for markup by the Senate Judiciary Committee next week. This new bill, entitled the "Online Content Policy Modernization Act" simply combines the terrible and unconstitutional CASE Act (to create a quasi-judicial court in the Copyright Office to review copyright claims) with some of the recently released (and also horrible and unconstitutional) "Online Freedom and Viewpoint Diversity Act" which would rewrite Section 230 to remove the ability to moderate "otherwise objectionable" content without liability, and would, instead, insert a limited list of what kinds of content could be moderated without liability.Both of these are bad ideas, but both of them are specific threats to the open internet -- and the kinds of things that Senator Graham knows he can fundraise on. Both bills are garbage, and Senator Graham likely knows this -- but he's not in the Senate to actually legislate. He's there to stay in power, and there's a real chance he might lose this November. So I guess it's time to break out the really stupid bills.

Read more here

---
posted at: 12:00am on 23-Sep-2020
path: /Policy | permalink | edit (requires password)
0 comments, click here to add the first
---
---
Fourth Circuit Appeals Court Seems Skeptical That Baltimore's Aerial Surveillance System Violates The Fourth Amendment

Furnished content.


The legal fight over Baltimore's aerial surveillance system continues. Airplanes armed with powerful cameras fly constantly over the city, allowing law enforcement to view the movements of people and vehicles over a 32-square mile area. The resolution may be high (192 million megapixels) but the area covered reduces people to (nearly) unidentifiable dots on a screen. However, these recordings can be accessed to trace movements of pixels/people as they move to and from suspected crime scenes.The city isn't paying a dime for these cameras and airplanes. The equipment -- provided by Persistent Surveillance Systems -- is paid for by a private donor. This perhaps explains why the city chose to roll it out with zero public notice back in 2016. After a brief shutdown, it has resumed, with a bit more public involvement. It may be audacious, but it hasn't been all that successful. Reports show the program logged 700 flights but only one arrest.The ACLU sued, claiming this persistent surveillance of nearly everyone in the city violated the Fourth Amendment. The federal court disagreed, even taking into consideration the ability of the program to engage in persistent tracking of individuals when combined with the PD's cameras on the ground. Despite the word "persistent" being used by the company itself, the program is far from persistent, with darkness preventing recording and inclement weather occasionally grounding spy planes.There's an appeal underway, but as Louis Krass reports for Baltimore Brew, the ACLU doesn't appear to have found much more sympathy one level up. The ACLU argued the untargeted surveillance system is an unreasonable search. In other words, Baltimore residents would not consider it reasonable to have their public movements surveilled for up to 12 hours a day for six months straight.Judge J. Harvie Wilkinson disagrees.
"Whose constitutional rights is this violating?" Wilkinson, a Reagan appointee, asked."These are simple observations of public movements, and it's not inside someone's dwelling, it's public streets, where someone's expectancy of privacy is minimal," he said. "We're not talking about excessive police force, so is it the right of the pixel whose rights are being violated?"
The judge is right that the expectation of privacy is lower in public areas. But this is too reductive. A pixel isn't just a pixel -- incapable of having its rights violated. It's a person, even if that person can't be clearly identified using these recordings alone. The entire purpose of the aerial surveillance system is to help police identify criminal suspects. And police do this by cross-referencing this footage with surveillance equipment on the ground, which is completely capable of turning a "pixel" into a person.But Wilkinson isn't the only judge being asked to rule on this. Judge Roger Gregory is far more critical of the government's arguments. The government said there were no Constitutional concerns in tracking the movements of millions of Baltimore "pixels" since the PD was only interested in the "pixels" who may have been near a crime scene. Most of the recordings collected are never used by the Baltimore PD's analysts.That doesn't make it okay, says Judge Gregory.
Gregory, a Clinton appointee, countered that it is unconstitutional to gather such information in the first place."That would turn the Fourth Amendment on its head," he said. "That's like invading someone's home with a camera and taking a photograph of you, then say, 'It's no problem because we never developed the film.'"
It seems unlikely the Appeals Court will be any more impressed with the ACLU's arguments. As long as people are still rendered as pixels -- and planes incapable of capturing footage 24 hours a day -- there appears to be very little violation of privacy. If there's no sympathy for the mosaic theory of the Fourth Amendment -- where multiple Constitutional surveillance techniques combine to form an unconstitutional invasion of privacy -- Baltimore residents will still be watched by multiple eyes in the sky.

Read more here

---
posted at: 12:00am on 22-Sep-2020
path: /Policy | permalink | edit (requires password)
0 comments, click here to add the first
---
---
Portland Passes Ban On Facial Recognition Use By City Agencies And Private Businesses

Furnished content.


Portland, Oregon has now joined parts of Massachusetts and all of California in protecting its residents from the sketchy surveillance method known as "facial recognition." For something that's supposed to recognize faces, it's usually pretty bad at it and gets worse when it has to deal with minorities. Of course, the same can be said about the law enforcement agencies deploying it, which might explain their love of tech that gives them more people to arrest but rarely the probable cause to do so.Portland's ban is more restrictive than others already in place. It doesn't just affect the local government.
In addition to halting city use of the surveillance technology, the new rule prevents "private entities in places of public accommodation" in Portland from using it, too, referring to businesses that serve the general public — a grocery store or a pizza place, for instance. It does not prevent individuals from setting up facial-recognition technology at home, such as a Google Nest camera that can spot familiar faces, or gadgets that use facial-recognition software for authenticating users, like Apple's Face ID feature for unlocking an iPhone.
This means no one gets to use it but private citizens surveilling their own doorways. Sure, that's going to capture people moving up and down the street, but unlike law enforcement agencies, private citizens can't deprive someone of their freedom just because the tech thought it recognized someone.The hit to businesses doesn't take effect until 2021. The rest of it starts immediately. Portland is still in the throes of civil unrest -- something that started in late May and shows no sign of letting up, no matter how many federal officers the Administration throws at the "problem." There's the obvious concern facial recognition is being used to identify people engaged in First Amendment activity for reasons unknown to anyone but those deploying the tech. The local cops will be blocked from doing this going forward (if they were ever doing it at all) but it will have no effect on facial recognition deployment by federal officers.It seems inevitable some business owners will challenge the law. This tech allows internal security to keep an eye out for banned individuals and suspected shoplifters. But private tools don't appear to be any better at identifying people than the tech being sold to government agencies. Allowing private companies to use the tech puts law enforcement only a phone call away. And it can lead to the same results (false positives, bogus arrests) despite being owned and operated by non-government entities. It's a bold move by the city of Portland. But it's probably also a necessary one if you're serious about protecting residents from unproven tech that has the latent ability to destroy lives.More bans are sure to come, especially now that everything law enforcement-related is under the microscope. Portland has set the ban bar pretty high. Other cities that believe they're serious about keeping their residents safe from surveillance creep now have something to shoot for.

Read more here

---
posted at: 12:00am on 22-Sep-2020
path: /Policy | permalink | edit (requires password)
0 comments, click here to add the first
---
---
This Week In Techdirt History: September 13th - 19th

Furnished content.


Five Years AgoThis week in 2015, we got a big, confusing mess of a ruling on fair use and the DMCA in the famous "dancing baby" video lawsuit. We also saw a loss for the Motion Picture Academy after its five-year crusade to make GoDaddy pay for "infringing" websites, and the owner of the Miami Heat was hit with $155,000 in legal fees after losing his bogus copyright lawsuit against a blogger. Meanwhile, China was beginning a big push to get American tech companies to agree to its rules, while the DOJ was backing down from charges against a professor driven by China hysteria.Ten Years AgoThis week in 2010, Yelp got yet another Section 230 victory against an attempt to hold it liable for bad reviews, while a reputation management company was threatening to launch a similar lawsuit against TripAdvisor in the UK, in what appeared to be a publicity stunt. A terrible appeals court ruling was killing the first sale doctrine, while Craigslist was engaged in a fight with South Carolina's attorney general and we wondered why other internet companies weren't standing up for it. And the latest big DRM-breaking event happened with the apparent leak of the HDCP master key which was soon confirmed by Intel.Fifteen Years AgoThis week in 2005, the fights over online reviews were in their infancy, with doctors leading the charge. Ebay spent an eyewatering amount of money to purchase Skype, and we noted this meant the company needed to become an expert on net neutrality, fast. The RIAA was going around overstating the results of the Grokster case, while the courts in Taiwan were contradicting an earlier ruling on the legality of file sharing software by sending file sharing executives to jail. And Lego was suing a Danish artist for using her middle name — "Lego" — to sign her paintings.

Read more here

---
posted at: 12:00am on 20-Sep-2020
path: /Policy | permalink | edit (requires password)
0 comments, click here to add the first
---
---
Content Moderation Case Study: Usenet Has To Figure Out How To Deal With Spam (April 1994)

Furnished content.


Summary: In the early 1990s, facing increased pressure from the commercial sector who sensed there might be some value in the nascent Internet, the National Science Foundation began easing informal restrictions on commercial activity over the Internet. This gave rise to the earliest internet companies -- but also to spam. Before the World Wide Web had really taken off, the place where a great deal of internet communication took place was Usenet, created in 1980, which was what one might think of as a proto-Reddit, with a variety of newsgroups dedicated to different subjects that users could post to.Usenet was a decentralized service based on the Network News Transfer Protocol. Users needed a Usenet reader, from which they would connect to any number of Usenet servers and pull down the latest content in the newsgroups they followed. In early 1994, a husband and wife lawyer team, Laurence Canter and Martha Siegel, decided that they would advertise their legal services regarding immigration to the US (specifically help with the infamous Green Card Lottery to get a green card to the US) on Usenet.They hired a programmer to write a perl script that posted their advertisement on 5,500 separate news groups. While cross-posting was possible (a single post designated for multiple newsgroups), this particular message was posted individually to each newsgroup, which made it even more annoying for users -- since most Usenet reader applications would have recognized the same message as read in different newsgroups if it had merely been cross-posted. Posting it this way guaranteed that many people saw the message over and over and over again.
It is generally considered one of the earliest examples of commercial spam on the internet -- and certainly the most successful at the time. It also angered a ton of people. According to Time Magazine, Canter and Siegel faced immediate backlash:
In the eyes of many Internet regulars, it was a provocation so bald-faced and deliberate that it could not be ignored. And all over the world, Internet users responded spontaneously by answering the Spammers with angry electronic- mail messages called "flames." Within minutes, the flames -- filled with unprintable epithets -- began pouring into Canter and Siegel's Internet mailbox, first by the dozen, then by the hundreds, then by the thousands. A user in Australia sent in 1,000 phony requests for information every day. A 16-year-old threatened to visit the couple's "crappy law firm" and "burn it to the ground." The volume of traffic grew so heavy that the computer delivering the E-mail crashed repeatedly under the load. After three days, Internet Direct of Phoenix, the company that provided the lawyers with access to the Net, pulled the plug on their account.
It wasn't just Usenet users. Immigration lawyers were also upset in part because Canter and Siegel were asking for money to do what most people could easily do for free:
Unfortunately, it also provided an opportunity for charlatans to charge exorbitant fees to file lottery entries for hopeful immigrants.In truth, all it took to enter the drawing was a postcard with your name and address mailed to the designated location.Canter and Siegel, a husband-and-wife law firm, decided to join the lottery frenzy by pitching their own overpriced services to immigrant communities.
The two were unrepentant, later claiming they made over $100,000 from the advertisement. They quickly set up a new company called Cybersell to do this for others -- and signed a contract to write a book for HarperCollins originally called "How To Make A Fortune On The Information Superhighway."Decisions to be made by Usenet server providers:
Would they need to start being more aggressive in monitoring and moderating their newsgroups?
Would it even be possible to prevent spam?
Should they even carry news groups that allowed for open contributions?
Decisions to be made by ISPs:
Should they allow Canter and Siegel to use their internet access to spam newsgroups?
How should they handle the backlash from users angry about the spam campaigns?
Questions and policy implications to consider:
What is the boundary between allowed commercial speech or advertising and spam? How do you distinguish it?
Is it possible to have distributed systems (as opposed to centralized ones) that don't end up filled with spam?
What are the legal implications of spam?
Resolution: Canter and Siegel remained a scourge on the internet for some time. Various service providers were quick to kick them off as soon as it was discovered that they were using them. Indeed, many seemed willing to talk publicly about their decisions, such as Netcom, which shut down their account soon after the original spam happened and after Canter and Siegel had announced plans to continue spamming:
NETCOM On-Line Communications has taken the step ofcancelling the service of Laurence Canter of Canter andSiegel, the lawyer commonly referred to as the "GreenCard Lawyer". Mr. Canter had been a customer of NETCOMin the past. He had been cautioned for what we considerabuse of NETCOM's system resources and his systematic andwillful actions that do not comply with the codes ofbehavior of USENET.Mr. Canter has been widely quoted in the print andon-line media about his intention to continue hispractice of advertising the services of his law firmusing USENET newsgroups. He has also widely posted hisintention to sell his services to advertise for othersusing the newsgroups. We do not choose to be theprovider that will carry his messages.
That link also has notices from other service providers, such as Pipeline and PerformanceSystems, saying they were removing internet access.Others focused on trying to help Usenet server operators get rid of the spam. Programmer Arnt Gulbrandsen quickly put together a tool to help fight this kind of spam by cancelling the messages when spotted. This actually helped establish the early norm that it was okay to block and remove spam.As for Canter and Siegel, they divorced a couple years later, though both kept promoting themselves as internet marketing experts. Canter was disbarred in Tennessee for his internet advertising practices, though he had already moved on from practicing law. Cybersell, the company they had setup to do internet advertising, was apparently dissolved in 1998.

Read more here

---
posted at: 12:00am on 19-Sep-2020
path: /Policy | permalink | edit (requires password)
0 comments, click here to add the first
---
---
Ubisoft Bows To Monster Energy To Rename An Upcoming Game Horribly

Furnished content.


Veteran Techdirt readers will have been so tempered by stories about Monster Energy playing the trademark bully at this point that the mere mention of the company should cause them to roll their eyes. Still, the history of what we've covered in the Monster's attempt to win the trademark-protectionist championship are still constructive in one very important way: Monster Energy regularly loses these disputes. That in itself shouldn't be terribly surprising; the company's decisions on just how often to enforce the trademark rights it has are often so absurd that it would be a shock if it put together any sort of real winning streak. But what is surprising is when victims of Monster's bullying choose to actually concede to the bullying, given that losing track record.But it happens, even when the victim is a large enough entity that it could fight if it wanted to. A recent example of this is how Ubisoft changed the name of an upcoming video game after Monster Energy opposed its trademark application for it.
Ubisoft's Gods & Monsters recently underwent some rebranding, switching its name to the demonstrably-worse Immortals Fenyx Rising a few weeks ago. It has gone over like a lead balloon. In fact, it had our team wondering if we should just refuse the new name and stick with the old one!As uncovered by TechRaptor, Monster Energy opposed Ubisoft's trademark for the title "Gods & Monsters." The logic goes that Monster has enough of a presence within video games that Ubisoft's use could reasonably cause confusion among consumers.
Logic which runs counter to the purpose of trademark law, to how trademark law actually works in terms of market designations, as well as to good business and marketing. Taking those in reverse order: the name change is almost objectively terrible. I have yet to find any publication that thinks the title switch was even a wash for Ubisoft, never mind beneficial. The universal opinion seems to be, and I agree with it, that Ubisoft to one extent or another participated in a bit of self-harm by this rebranding.Now, on to the actual legal question. The consensus here too seems to be that Ubisoft could have easily have won this battle on the merits, but didn't want to simply to avoid any delay stemming from a legal battle.
Playing armchair attorney, this seems like something Ubisoft probably could've won, no? My guess is that it has less to do with whether or not Ubisoft cared to spend the money on this legal battle, and more to do with just getting the game out on shelves. Immortals has been delayed already, and its sales factor into Ubisoft's fiscal year that ends in March 2021. Fighting a protracted trademark infringement case would further delay the game. Going ahead with the name Gods & Monsters would result in an injunction. Ubisoft may be in the right, but it doesn't have the time to prove it.
Which is all probably true, but only if Ubisoft couldn't have gotten a declaratory judgement when Monster Energy first opposed the trademark application. Because it is quite clear that there is no infringement here. Whatever participation Monster Energy has in the video game space, most of which is mere sponsorship and advertising, it still isn't a maker of video games. Ubisoft should have needed merely to point that out to get its use declared legit. Couple that with the broader question as to whether literally anyone would make the association between a video game called Gods & Monsters and an energy drink company and I would guess getting a court to side with it would have been fairly easy for Ubisoft.But Ubisoft decided against that route and bowed to Monster Energy's bullying. Which is how we get Immortals Fenyx Rising instead of Gods & Monsters. An objectively worse name. For no reason, other than trademark bullying.Cool.

Read more here

---
posted at: 12:00am on 19-Sep-2020
path: /Policy | permalink | edit (requires password)
0 comments, click here to add the first
---
---
Top Court In Massachusetts Says Prosecutors Must Provide Info On Bad Cops To Criminal Defendants

Furnished content.


Cops lie. Cops lie enough there's a term for it: testilying. Honest prosecutors don't want lying cops on the stand dirtying up their case with their impeachable testimony. Unfortunately, police unions are powerful enough to thwart this small bit of accountability. "Brady lists" are compiled by prosecutors. They contain the names of officers whose track record for telling the truth is so terrible prosecutors don't want to have to rely on their... shall we say... misstatements in court.Unfortunately, these lists are often closely-guarded secrets. Judges aren't made aware of officers' penchant for lying. Neither are defendants in many cases. But they're called "Brady" lists because they're supposed to be disclosed to defendants. The "Brady" refers to Brady v. Maryland, where it was decided prosecutors are obligated to turn over possibly exculpatory information to defendants to ensure their right to a fair trial. This includes anything that might indicate the cop offering testimony might not be telling the truth.The Massachusetts Supreme Judicial Court has ruled [PDF] prosecutors have an obligation to inform defendants of officers who have made their "Brady" lists. Two cops who made false statements in a use-of-force report were granted immunity for their testimony in front of a grand jury. The district attorney prosecuting a different criminal case handed this information over to the defendant. The cops challenged this move, claiming their grand jury immunity should have prevented this exculpatory information from being given to the defendant and discussed in open court. (h/t Matthew Segal)The cops argued there's no constitutional duty to disclose this information (under the US Constitution or the Commonwealth's) unless failing to do so would alter the outcome of the trial by creating reasonable doubt where none previously existed. The Supreme Judicial Court says that argument is wrong under both Constitutions.
First, prosecutors have more than a constitutional duty to disclose exculpatory information; they also have a broad duty under Mass. R. Crim. P. 14 (a)(1)(iii) to disclose "[a]ny facts of an exculpatory nature." This duty is not limited to information so important that its disclosure would create a reasonable doubt that otherwise would not exist; it includes all information that would "tend to" indicate that the defendant might not be guilty or "tend to" show that a lesser conviction or sentence would be appropriate.[...]Second, even if prosecutors had only their constitutional obligation to disclose, and not the broad duty under our rules, we would not want prosecutors to withhold exculpatory information if they thought they could do so without crossing the line into a violation of the defendant's right to a fair trial.
The acceptable standard under the Constitution is not "see what you can get away with." This is an obligation, not a nicety to be deployed at the prosecutor's discretion.
A prosecutor should not attempt to determine how much exculpatory information can be withheld without violating a defendant's right to a fair trial. Rather, once the information is determined to be exculpatory, it should be disclosed -- period. And where a prosecutor is uncertain whether information is exculpatory, the prosecutor should err on the side of caution and disclose it.
In this case, the information was definitely of the possibly exculpatory variety. Lying cops who've admitted before a grand jury they falsified reports should definitely be considered impeachable witnesses. Whether or not the information is determined admissible at trial is beside the point.
[T]he ultimate admissibility of the information is not determinative of the prosecutor's Brady obligation to disclose it. Where the information, as here, demonstrates that a potential police witness lied to conceal a fellow officer's unlawful use of excessive force or lied about a defendant's conduct and thereby allowed a false or inflated criminal charge to be prosecuted, disclosing such information may cause defense counsel, or his or her investigator, to probe more deeply into the prior statements and conduct of the officer to determine whether the officer might again have lied to conceal the misconduct of a fellow police officer or to fabricate or exaggerate the criminal conduct of the accused.
The cops also argued their immunity from prosecution during their grand jury testimony should shield them from any adverse consequences. Wrong again, says the court. The immunity only covers prosecution for the admitted crimes. It is not a shield against reputational damage that may result from this information being made public or handed over to defendants.
An immunized witness, like others who are not immunized, may prefer that the testimony not be disseminated by the prosecutor, especially if it would reveal the witness's dirty deeds, but that preference does not affect whether the information is exculpatory or whether it should be furnished to other defendants. Once disclosed, the immunized testimony may be used to impeach the immunized witness, provided that the testimony is not being used against the witness in a criminal or civil prosecution other than for perjury. In sum, a prosecutor's obligation to disclose exculpatory information is the same for immunized testimony as for all other testimony. There is no higher Brady standard applied for a prosecutor to disclose immunized testimony.
The Court wraps this up by laying down the law: this is Brady info and it needs to be disclosed to defendants. The SJC is not fucking around.
[W]e conclude, as did the district attorney, that the prosecutors here have a Brady obligation to disclose the exculpatory information at issue to unrelated criminal defendants in cases where a petitioner is a potential witness or prepared a report in the criminal investigation. That obligation remains even though that information was obtained in grand jury testimony compelled by an immunity order. And the district attorney may fulfill that obligation without prior judicial approval; a judge's order is needed only for issuance of a protective order limiting the dissemination of grand jury information.More broadly, we conclude that where a prosecutor determines from information in his or her possession that a police officer lied to conceal the unlawful use of excessive force, whether by him or herself or another officer, or lied about a defendant's conduct and thereby allowed a false or inflated criminal charge to be prosecuted, the prosecutor's obligation to disclose exculpatory information requires that the information be disclosed to defense counsel in any criminal case where the officer is a potential witness or prepared a report in the criminal investigation.
That's the standard in Massachusetts. And bad cops are on notice there's pretty much nothing they can do to escape the consequences of their own actions. This is as it should be. Now, if the courts could just make sure prosecutors and police departments are actually compiling Brady lists, we'd be set. At least in this Commonwealth.

Read more here

---
posted at: 12:00am on 18-Sep-2020
path: /Policy | permalink | edit (requires password)
0 comments, click here to add the first
---
---
Twitch Experiments With Intrusive Ads That Piss Off Its Most Important Asset, Its Talent

Furnished content.


As any internet platform matures, the growth it undergoes will inevitably lead to experimenting with revenue models. For a healthy chunk of the internet, advertising plays some role in those experiments. And, like anything else, there are good experiments and bad experiments.But I am very much struggling to understand who in the hell at Twitch thought that breaking away from live streams to force viewers to watch commercials, all without the control or input of Twitch streamers, could possibly be a good idea.
"Beginning in September, as part of an ad experiment, some viewers may begin to notice that they are receiving ads during streams that others in a channel aren't receiving," the company wrote on its website. "Like pre-rolls, these are ads triggered by Twitch, not by the creator."Crucially, these ads utilize Twitch's "picture-by-picture" functionality, which basically means that the stream you're watching pops out into a smaller window while the ad rolls in the main window. However, ads will still steal the show from some viewers, with streamers none the wiser as to who can hear what they're saying (picture-by-picture mutes streams) and, therefore, understand what's happening on stream while ads are playing.
If this reads as though Twitch were trying to turn its platform into some flavor of broadcast television, where the content is broken away from in the service of displaying advertising, that's because that's exactly what this is. Which doesn't make any sense. Twitch is not television. Sure, some streamers choose to break away from their own content for advertising. In fact, doing so staves off this new process of forced breakaways. But many streamers don't do that. For a viewer to be torn away from the content that continues on, muted, all while they're forced to view ads, would be stupid on its own. To give streamers not only almost zero control over whether this happens, but also zero visibility into when and to whom it's happening, can only serve to piss everyone off.Which is exactly what it did.
"You're not YouTube," said Twitch partner ThatBronzeGirl on Twitter in response to Twitch's announcement. "When ads play in the middle of the stream, viewers actively miss out on content (muted or not). Add this to the fact that viewers are hit with an ad as soon as they enter a stream, so channel surfing is cumbersome. Idk why y'all hate viewer retention.""This means either one of two things happens: 1) I schedule a break in the stream to have control over ads running that are proven to drive viewers away. 2) Viewers get an ad randomly that is all but guaranteed to drive them away. Which of those is for us though?" said variety streamer Deejay Knight."If I don't play enough ads, Jeff Bezos literally comes to my stream and pushes the ad button, what do I do," said former Overwatch pro Seagull.
Let's be clear, Twitch is a thing because of the talent that chooses to use it. It's bad enough to put a new advertising model in place that pisses off viewers. But piss the talent off and they'll simply go somewhere else, particularly when the viewers voice their frustration by removing their eyeballs. Some of this seems to also be Twitch not understanding that the platform is no longer video game let's-plays. The content is wide and varied and much of it cannot function with this sort of intrusive advertising.
"A streamer could be talking about suicide prevention, and up pops an ad," said Scottish Twitch partner Limmy. "Depending on the implementation, the streamer would either be unaware, which is bad, or the streamer has to announce a forced ad break at an inappropriate time.""We're not all Overwatch and Fortnite," said dungeon master MontyGlu. "In narrative streams such as DnD live shows and RPG game streams, 10-30 seconds removed could completely deprive people of story, context and investment."
As the Kotaku post notes, part of the problem here is that all the monetary incentives for streamers compared with the platform are horribly misaligned. Many streamers make most of their money through subscriptions and brand partnerships. The money they get from Twitch is mostly an afterthought. Twitch, on the other hand, makes gobs of money from advertisements. It's a scenario in which the platform is incentivized by advertising while the talent is very specifically incentivized by a lack of advertising. More ads drive eyeballs away, which means less lucrative partnerships and subscriptions.If Twitch wants to push more ads, it desperately needs to get the streamers on board.
"While I'm not allowed to say specifics, Twitch has the worst CPM ad-revenue share to creators with their standard contracts (read: not the big shots with custom negotiated rates)," said Minecraft YouTuber and Twitch streamer KurtJMac. "They want ads to run because they make bank. Pay a fair rate to creators and we'd be glad to run ads!"
Somewhat amazingly, Twitch has stated that it isn't backing down. The experiment will run its course, the company said, and it will review the data afterwards. I simply can't imagine that said data will show that intrusive ads that everyone hates are good for the company.

Read more here

---
posted at: 12:00am on 18-Sep-2020
path: /Policy | permalink | edit (requires password)
0 comments, click here to add the first
---
---
EA To Rebrand Its Origin Platform As It Bows Out Of The PC Gaming Platform Wars

Furnished content.


It has been a long and largely fruitless road for Origin, EA's PC gaming client that it had planned on building into a rival of Valve's Steam. What was originally supposed to have been the chief antagonist to Steam in the ongoing PC gaming platform wars instead is best described as a failure to launch. Released in 2011, Origin began life as it lived in total: the walled garden for most EA games. Critics appeared almost immediately, stemming from odious requirements to relinquish personal information, the use of DRM, and security flaws. Couple that with a game library that was relatively stilted compared with Steam, by design mind you, and it's not difficult to understand why the adoption numbers for the game client just never took off.Several weeks ago, to the surprise of many, EA suddenly released its gaming catalog on Steam. Given the long history of the company keeping its toys for itself, it left many scratching their heads in confusion. This week, the inevitable occurred, with EA announcing that Origin will be no more. Instead, the PC gaming client will rebrand, rebuild, and become an optional place for EA gamers to play, rather than a Fort Knox for EA games.
EA has yet another piece of interconnected news to share: it's rebranding its Origin desktop app to simply be called the EA desktop app, alongside giving its PC platform a visual refresh.Speaking to GamesIndustry.biz, EA SVP, strategic growth Mike Blank says the overhaul is intended "to create a more frictionless, fast, socially-oriented experience for our players, where it becomes the best place for them to connect with the people they want to play with in the games they want to play."
I'm frankly not used to giving EA a ton of kudos in these pages, but the overall strategy is a good one. The company appears to have finally realized that being permissive with gamers that just want to play the company's games is better business than trying to lock them into a failed client few want to use. The revamping of the UX was long needed, too, but the real star of the show here is that EA is looking to be more open in general.
"All of that is signaled by creating a common and consistent brand that is centered around EA and what EA stands for," Blank says. "And what signals it is this inflection about how EA stands for bringing your players together around the games they want to play on the platforms they want to play on. So yeah, it's not just a name change. It really signals an ethos that is critically important to us and that we know that's important to our players.It's been a long journey for EA in this regard to where our games show up and where they don't. One of the things that we value is democratizing gaming, which is: how do you enable more people to play? And how do you make it easy for them to do so? And by bringing our games to Steam, we are doing just that. So whether we were there in the past or not, I look towards the future. And what I think today is that we are stronger and healthier. And I think we're responding more effectively to the needs of our players today than we ever have, and Steam is part of that journey."
Again, this is EA we're talking about, so it's going to take more than just the right words to convince most of us that this truly is a new direction for the company. Still, these are the right words. EA has long built a reputation for itself as being anti-consumer in many ways, but all of those ways come down to one thing: control. For a company with that history to suddenly start giving up that control, not out of surrender but out of a belief that it's good business, is a positive step.

Read more here

---
posted at: 12:00am on 17-Sep-2020
path: /Policy | permalink | edit (requires password)
0 comments, click here to add the first
---
---
Content Moderation Case Study: Twitter Removes Account For Pointing Users To Leaked Documents Obtained By A Hacking Collective (June 2020)

Furnished content.


Summary: Late in June 2020, a leak-focused group known as "Distributed Denial of Secrets" (a.k.a., "DDoSecrets") published a large collection of law enforcement documents apparently obtained by the hacking collective Anonymous.The DDoSecrets' data dump was timely, released as protests over the killing of a Black man by a white police officer continued around the nation neared their second consecutive month. Links to the files hosted at DDoSecrets' website spread quickly across Twitter, identified by the hashtag #BlueLeaks.
The 269-gigabyte trove of law enforcement data, emails, and other documents was taken from Netsential, which confirmed a security breach had led to the exfiltration of these files. The exfiltration was further acknowledged by the National Fusion Center Association, which told affected government agencies the stash included personally identifiable information. While this trove of data proved useful to activists and others seeking uncensored information about police activities, some expressed concern the personal info could be used to identify undercover officers or jeopardize ongoing investigations.The first response from Twitter was to mark links to the DDoSecret files as potentially harmful to users. Users clicking on links to the data were told it might be unsafe to continue. The warning suggested the site might steal passwords, install malicious software, or harvest personal data. The final item on the list in the warning was a more accurate representation of the link destination: it said the link led to content that violated Twitter's terms of service.Twitter's terms of service forbid users from "distributing" hacked content. This ban includes links to other sites hosting hacked content, as well as screenshots of forbidden content residing elsewhere on the web.Shortly after the initial publication of the document trove, Twitter went further. It permanently banned DDoSecrets' Twitter account over its tweets about the hacked data. It also began removing tweets from other accounts that linked to the site.Decisions to be made by Twitter:
Should the policy against the posting of hacked material be as strictly enforced when the hacked content is potentially of public interest?
Should Twitter have different rules for journalists or journalism organizations with regards to the distribution of information?
How should Twitter distinguish hacked information from leaked information?
Should all hacked content be treated as a violation of site terms, even if it does not contain personal info and/or trade secrets?
How should Twitter handle mirrors of such content?
How should Twitter deal with the scenario in which someone links to the materials because of their newsworthiness, without even knowing the material was hacked?
Questions and policy implications to consider:
Does a strict policy against "distributing" hacked content negatively affect Twitter's value as a source of breaking news?
Does the mirroring of hacked content significantly increase the difficulty and cost of moderation efforts?
Resolution: While DDoSecrets' site remains up and running, its Twitter account does not. The permanent suspension of the account and additional moderation efforts have limited the spread of URLs linking to the apparently illicitly-obtained documents.

Read more here

---
posted at: 12:00am on 17-Sep-2020
path: /Policy | permalink | edit (requires password)
0 comments, click here to add the first
---
---
How Not To Be A School District Superintendent: The Elmhurst, IL Edition

Furnished content.


It should serve as no surprise that school district superintendents are not somehow universally amazing people. Like any population, there will be good ones and bad ones. All of that being said, it seems that the COVID-19 pandemic has been particularly good at highlighting just how bad at the job, not to mention at public relations, some superintendents can be. The most useful example of this came from Georgia, where a school district suspended, then un-suspended, students for posting pictures of just how badly their schools were failing at managing bringing students back during the pandemic.But a more recent example comes to us from -- checks notes -- huh, my hometown of Elmhurst, Illinois. Dave Moyer, the superintendent for the Elmhurst public schools, kicked up a local shit-storm for himself a couple of weeks ago when he decided to have an exchange with a revered teacher in his district over the use of masks by teachers.
Last week, District 205 technology teacher Jennifer Leban tweeted, "Maybe I'm in the minority here, but I feel like parents would much rather have teachers talking to students via Zoom WITHOUT masks on instead of WITH... Seems like an obvious choice?"Moyer responded, "Then take your mask off."But Leban, a 2020 Illinois Teacher of the Year finalist, said she does not have her own room, so state regulations bar her from taking off her mask.
For context, while new case counts have been dropping across much of the country, the same is not true for the Midwest. Here in Illinois specifically, new cases have been on the rise since July, including a breathtaking day mere weeks after Moyer's suggestion that a teacher remove her mask where the state saw nearly six thousand new cases get reported. Leban, by the way, is immunocompromised, making Moyer's suggestion that she simply remove her mask all the more idiotic. She presented the district with a doctor's note that recommended she get a remote placement, for which there are some slots in the district, but that request was denied without explanation.Others, of course, saw the Twitter exchange as well.
In the Twitter discussion, Kim Gwizdala, an English teacher from Glenbard West High School, said it was "absolutely wild to me that your own superintendent would suggest a thing when it is in direct violation with health guidelines and science."Moyer took exception to that comment."Excuse me. The attorneys have indicated that the interpretation from the State is as follows: Teachers can take their mask off when they are in their rooms by themselves facilitating remote learning. Get your facts straight before you pontificate."To Leban, he wrote, "Your entire media center isn't good enough? OK then."
Shortly after that, for reasons that should be obvious, Moyer deleted several of those tweets. No public apology came, however. Also, as parents began jumping into the conversation, Moyer chose to block them on Twitter, even though his account is that of the school district's website, not a personal account. It's worth noting here that the courts recently ruled that Donald Trump, as a public official, could not block the public from his official account because his control over the account and his status as a public official made that specific space a public forum. Why Moyer's account, tied to the district's website, should be any different is anyone's guess.
In a Twitter discussion last week about an Elmhurst teacher's position on masks, Alicia Duell, the director of technology and information services at Wheeling School District 21, said Moyer blocked her from his Twitter account. An Elmhurst resident, Duell noted Moyer was the superintendent of her children's school district.Meanwhile, an Elmhurst resident emailed Patch over the weekend that she, too, had been banned from the superintendent's account.
Which brings us to the present, where the public has taken notice of Moyer's behavior at a recent board meeting and is voicing their complaints.
Last Monday, a number of written comments were read during the public comment portion of the meeting, including those critical of Moyer. Eileen Espinosa, a local resident who once served on a school council in Chicago, said she has "extended grace" to Moyer during the pandemic, but could no longer remain silent."His utter lack of leadership is overwhelming and you're ignoring it is no longer acceptable," Espinosa said to the board in her comments. "Dr. Moyer's inability to send communications that help the community to come together in the spring and throughout the summer and into the school year are a repeated reminder that he does not lead our district. He continues to air his grievances and personal opinions on social media."
There are more, as well. The ultimate lesson here is in just how badly Moyer handled this at every step. One-liners to immunocompromised teachers advising them to take of their masks against both state regulations and common sense is an obvious misstep. Doubling down with sarcasm and snark when called on it, all the more so. Deleting those tweets and thinking this would all go away, rather than simply apologizing, put this on the tee at the Streisand National Open. Going on a parent-Twitter-blocking spree to try to stifle dissent hit the ball right in the middle of the fairway. And the refusal to publicly comment to date on the matter made the Streisand crowd go wild.
When asked for comment about his deleted tweets late last month, Moyer did not directly answer. In an email, he said his public messages should be interpreted as seeking "a balance between safety for all and creating the healthiest learning environment for students. It is time for all of us to move beyond the negativity and keep the focus where it belongs."
Right now the focus may just be on whether Moyer is the best person to be leading a school district during a pandemic in a state that is suffering under a surge of the virus.

Read more here

---
posted at: 12:00am on 16-Sep-2020
path: /Policy | permalink | edit (requires password)
0 comments, click here to add the first
---
---
Because Too Many People Still Don't Know Why The EARN IT Bill Is Terrible, Here's A Video

Furnished content.


The biggest problem with all the proposals to reform Section 230 is that way too many people don't understand *why* they are a terrible idea. And the EARN IT bill is one of the worst of the worst, because it does not just break Section 230 but also so much more, yet too many people remain oblivious to the issues.Obviously there's more education to be done, and towards that end Stanford's Riana Pfefferkorn and I recently gave this presentation at the Crypto and Privacy Village at Defcon. The first part is a crash course in Section 230 and how it does the important work it does in protecting the online ecosystem. The second part is an articulation of all the reasons the EARN IT bill in particular is terrible and the specific damage it would do to encryption and civil liberties, along with ruining Section 230 and everything important that it advances.We'll keep explaining in every way we can why Section 230 should be preserved and the EARN IT bill should be repudiated, but if you're the kind of person who prefers AV explanations, then this video is for you.(Note: there's a glitch in the video at the beginning. Once it goes dark, skip ahead to about 3 minutes 20 seconds and it will continue.)

Read more here

---
posted at: 12:00am on 16-Sep-2020
path: /Policy | permalink | edit (requires password)
0 comments, click here to add the first
---
---
Minnesota Cops Are Dismantling Criminal Organizations At Less Than $1,000 A Pop

Furnished content.


Law enforcement officials love to defend asset forfeiture. While sidestepping the fact that it almost always directly enriches the agency doing the forfeiting, these officials love to claim it's an invaluable tool that helps cops dismantle dangerous criminal organizations.This is why they fight reporting requirements. No one knows you're just making poor people poorer unless you're required to report all of your forfeitures. Up in Minnesota -- like far too many other places around the country -- law enforcement officers roll Sheriff of Nottingham style. Unfortunately, there's no Robin Hood lurking in the forests patrolled by opportunistic officers.Here's state auditor Julie Blaha offering her opinion about forfeitures in Minnesota after digging into the data the agencies provided:
"The data shows that when it comes to the impact of forfeitures, the big story is in the small numbers," Blaha said in a statement. "Those kinds of amounts have a small impact on government systems, but they have a big impact at the individual level."[...]"If you are managing a public safety budget, small forfeitures are a minor and unpredictable part of your revenue stream," Blaha continued. "But if you are a low income person experiencing a forfeiture, those amounts can have a big effect on your life. Having a few hundred dollars seized can mean the difference between making rent or homelessness. Losing that old car can lead to missing work and losing your job."
The program punishes the poor. Very few law enforcement agencies which rely on forfeiture for their discretionary funds want to tangle with an actually organized criminal organization. Those guys can afford lawyers. Most citizens can't. That's why most seizures are so small they're not worth fighting in court. At the end of the jurisprudence day, citizens may win back their cash or cars, but they'll lose the war, having paid more in court and legal fees than what their property is worth.Everything adds up to real money if you have enough of it. Here's the ugly truth, straight from the auditor's report [PDF].
523 (12 percent) forfeitures were less than $100.
1,414 (32 percent) forfeitures ranged from $100 to $499.
858 (20 percent) forfeitures ranged from $500 to $999.
1,252 (29 percent) forfeitures ranged from $1,000 to $4,999.
304 (7 percent) forfeitures were equal to or greater than $5,000.
Only seven percent targeted amounts that might actually do damage to criminal organizations. 64% of forfeitures targeted less than $1,000.Here's the list of crimes associated with these seizures, which shows officers are willing to take easy wins and easy cash, rather than actually tangle with criminal enterprises far more harmful and dangerous.
In 2019, DUI-related and controlled substance accounted for 94 percent of the forfeitures. DUI-related forfeitures accounted for 3,654, or 47 percent, of reported forfeitures, while forfeitures involving a controlled substance accounted for 3,611, or 47 percent, of reported forfeitures. The remaining forfeitures involved fleeing (251), prostitution (69), "other" crimes (36), weapons (31), robbery/theft (23), assault (20), and burglary (13). Figure 5 on the following page shows completed forfeitures by type of crime.
Oh thank god. They're dismantling Big Drunk. We won't have to fear the scourge of alcohol/drug consumers for much longer. #Heroes. And if that wasn't enough, the dangerous Sinola Fleeing Cartel is being destroyed bit-by-bit. Abandoned property is so much easier to seize and forfeit than stuff people are still standing next to and stating their claim for.This is how asset forfeiture works: easy wins predicated on criminal activity that rarely affects anyone besides the person stopped and their property. It all adds up though. For the state of Minnesota, the total was $7.5 million. And what did it accomplish? Did it cripple the non-organized crime of driving under the influence? Did it make it less likely for people to carry their personal stashes of illicit substances? No one dismantled a drug cartel. No one ensured Minnesotans would be subjected to fewer violent crimes. All that happened was cops took stuff that was easy to take and spent the money once it rolled in.

Read more here

---
posted at: 12:00am on 15-Sep-2020
path: /Policy | permalink | edit (requires password)
0 comments, click here to add the first
---
---
Craft Brewing Trade Mag Argues Beer Is The Most IP Product Ever, Ignores History Of The Industry

Furnished content.


And now, we shall talk about one of life's great pleasures: beer. This nectar of the gods has been something of a focus of mine, particularly given the explosion of the craft brewing industry and how that explosion has created an ever-increasing trademark apocalypse over the past decade. It is important context for the purposes of this post that you understand that the craft brewing industry, before it exploded but was steadily growing, had for years operated under a congenial and fraternal practice when it came to all things intellectual property. Everything from relaxed attitudes on trademarks, to an artistic bent when it came to beer labels, up to and including the regular willingness of industry rivals to regularly collaborate on specific concoctions: this was the basic theme of the industry up until the past decade or so. It was, frankly, one of the things that made craft beer so popular and fun.With big business, however, came corporatized mentalities. Suddenly, once small craft breweries doubled in size or more. Legal teams were hired and there was a rush to trademark all kinds of creative names. The label art, once the fun hallmark of the industry, became a wing of the marketing department. This is how, now in 2020, you get trade publications like Craft Brewing Business arguing that beer is one of the most all-encompassing products when it comes to intellectual property.To be fair, given the current climate, you can see some of the logic in the following:
Beer aficionados worldwide can easily describe the nuances of pilsners, IPAs, milkstouts, and lagers. More hazy is the fact that beer is a product that touches upon nearly every type of intellectual property. Indeed, the names of breweries and beers are subject to trademark; label art and packaging are works of authorship covered by copyright law; and hops—that critical component of a beer's aroma and flavor—can be patented.
It's a fair point, certainly. Though, left entirely unsaid in the entire post is whether any of this is a good thing. Instead, the post goes on to explore in some detail just how all things IP can be applied to brewers' products. Even when it gets absurd, the post hand-waives away any concerns. We'll start with the patenting of hop varieties.
The short answer to this seemingly straightforward query is the plant patent. By statute in the United States, whoever:" invents or discovers and asexually reproduces any distinct and new variety of plant, including cultivated sports, mutants, hybrids, and newly found seedlings, . . . may obtain a patent therefor. . . ."Hops can be among these new plant varietals, and as part of the bargain for inventing a novel strain, brewing innovators release their work into the public domain after 20 years. But until that two-decade window closes, the creator and owner of a plant patent gets to cash in exclusively on the agricultural brainchild.
A couple of things here. First, the idea that mild differences in varieties of particular plants should get patents doesn't strike me as a great thing. And, given the longstanding practice of patent-extending by making minor tweaks to the biology of the plants and then re-patenting them, I can't imagine why the craft beer industry, once rife with creative brews, would want any of this protectionism.Second, as the post mentions, though barely, patent holders for even some of the most well-known hop varieties regularly fail to hold up their end of the patent deal with the public.
Of note, if a patent owner does not adequately teach the world (translation: the public domain) about the plant at issue and how to make it upon the patent's expiration, the patent's owner—by effectively keeping the invention secret and taking advantage of the 20-year monopoly bestowed by patent law—has not kept up its side of the bargain. This unfortunately seems to be the case with respect to the Citra hops patent, which does not offer much in the way of substantive direction for replication of this varietal, meaning it may not be enabled and, therefore, subject to challenge.
Great.When it comes to trademarks, the post does a decent job of articulating how trademarks are chiefly meant to avoid customer confusion. While true, the industry survived for decades without putting any real emphasis on trademarks. That seems worth mentioning. Instead, the post goes on to use an absolutely awful example of trademarks being used to protect an industry brand.
To be clear, marketplace confusion is what trademarks are meant to prevent. That being said, if a shopper strolls down a grocery aisle, peruses the beer selection, and confuses a bottle of Stone IPA with and a Keystone Light by virtue of packaging—and advertisement—encouraging drinkers to "grab a Stone," Molson Coors Beverage Company (owner of the Keystone brand) may be infringing upon Stone IPA's trademark. If this scenario sounds familiar, that is because this very dispute between Stone Brewing and Molson Coors is scheduled for an October trial in federal court.
Here again we have errors of omission. While Stone is indeed in a fight with Molson Coors as described above, the article fails to point out that Stone Brewing, in service of getting a huge judgement in this court case, has turned on a ton of other craft breweries with which they used to coexist peacefully, and has started bullying them with its trademarks as well. And, what's more, Stone went on to piss and moan when the wider public thought it was behaving like bullying dickheads in all of this. This seems like exactly the sort of thing craft breweries could learn from, yet it's all totally absent from the post.And, while the post goes on to ignore the question of copyright in label art, the most glaring absence of information has to do with the history of the industry. Again, this is an industry that exploded before everyone decided to have corporatized legal firms challenging every trademark application that's even close to infringement. If there is a lesson in the last decade for the craft beer industry, it's that it should have striven really hard to retain its roots when it became big business.And the real shame of it is that new brewers reading trade magazines like Craft Brewing Business may not know, and now won't learn, of those far better times.

Read more here

---
posted at: 12:00am on 15-Sep-2020
path: /Policy | permalink | edit (requires password)
0 comments, click here to add the first
---
---
Would You Believe That Infamous Copyright Troll Richard Liebowitz Is In Trouble Again?

Furnished content.


I think if I stopped writing about other stuff, I could still fill Techdirt with the same number of posts just covering the problems facing copyright trolling lawyer Richard Liebowitz. Today we have a story of Liebowitz being in trouble, yet again. This is in the Chevrestt v. Barstool Sports case. We mentioned this one back in May, where a judge sanctioned Liebowitz and benchslapped him pretty significantly for failing to follow "simple" orders from the court. The judge in that case noted that in the case last year where Liebowitz lied about the death of his grandfather, that he had promised to attend some courses on how to better manage his legal practice. The judge asked for some details about whether or not he actually carried that out:
As noted above, this Order is neither the only time the Undersigned has sanctioned Mr. Liebowitz nor is the Undersigned the only judge in this district who has sanctioned him. In Berger v. Imagina Consulting, Inc., 18-CV-8956 , in responding to a contempt citation that was precipitated by Mr. Liebowitz having lied to Judge Siebel, Mr. Liebowitz's attorney argued that Mr. Liebowitz should not be held in contempt and recommended a number of steps Mr. Liebowitz should take to improve the professionalism of his practice. Among counsel's recommendations was professional psychological help and a CLE course on small law firm management. See 18-CV-8956, Dkt. 61 at 4. While both may be helpful, psychological help is best obtained because the patient wants help. Whether Mr. Liebowitz wants to improve or not (and the Court questions whether he does), this Court concurs with Mr. Liebowitz's attorney in Berger that management training is in order. Accordingly, Mr. Liebowitz is ordered to participate in CLE training regarding management of a small law firm. Mr. Liebowitz must attend such training on or before September 1, 2020. The course must cover the basics of setting up and running a law practice, including how to maintain systems so that Court obligations are tracked and obeyed. Mr. Liebowitz is directed to provide the Court with information about the course he wishes to attend for the Court's approval. He will, at the end of the course, be required to present proof of attendance and to provide a sworn statement to the Court on what he learned from the course and what concrete steps he has instituted in his practice to improve compliance with the Federal Rules of Civil Procedure and Court orders.
That was back in May. You may note that we are now in September. Liebowitz had many months to write up the required book report for Judge Valerie Caproni. But what he actually turned in would embarrass your average 3rd grader who forgot to do the book report he had a month to write up and then tried to write something on the bus to school. First, he did apparently take some CLE (Continuing Legal Education) classes -- though not all the ones the judge required. He lists out six classes he claims he attended. The judge did require him to not just present proof of attending the courses, but also the "sworn statement" about "what he learned" and "what concrete steps he has instituted in his practice to improve compliance with the Federal Rules of Civil Procedures and Court orders."That second part is... lacking. First he notes:
One program entitled Panel of Lawyers Who are Doing it: Practice Management Technology toGrow Your Solo/Small Law Practice Ethically was not recorded and thus I was unable to watchthis program on-line. However, instead of watching only two of the following in number 5 inyour Honor's Order, I watched all three programs. What I learned in Admitting our mistakes:Owning up to Lawyer Missteps, is relevant here because I didn't realize that this program wasonly available as a live event and was not going to be recorded like the other programs identifiedabove. I apologize to the Court for this mistake.
Then he just copy/pasted the outlines of each of the courses into the filing. This is, literally, the least he could do. And it's not the kind of effort that tells anyone from your 3rd grade teacher to the federal judge who has significant power of your future livelihood that you actually did the work you were required to do. Then, he adds two more paragraphs at the end that... do not actually answer what the judge ordered, and again sounds like he scribbled it down just in time to meet the deadline. It's the legal equivalent of "this book is a book that I read, that is called [x] and has so and so many pages."
Based upon what I learned in the above CLE's, I am continuing to learn new things in mypractice management software to run things more efficiently and smoothly. I also am makingsure to own up to my mistakes that do happen. I am also improving my time management skillsby implementing some of the essential guidelines learned such as managing a plan at thebeginning of the day. I am changing the way I use technology such as calendaring to make suretasks get done on time and items get docketed correctly. I have also learned to delegate tasks thatcan be delegated to make the work flow more efficient.I thank the Court for recommending these CLE programs and look forward to continuing toimplement what I learned into my practice.
I cringe just reading that.Guess who else was not impressed. Judge Caproni responded the very next day saying "um, no, try again." Also, points docked for typos.
Mr. Liebowitz was directed to submit a report detailing "how he is changing the practices in his firmbased on what he learned" in these courses. Dkt. 28. Mr. Liebowitz's above-statement that he is"changing the way I use technology such as calendaring to make sure tasks get done on time and itemsget docketed correctly" is insufficient. No later than September 8, 2020, Mr. Liebowitz is directed tofile a letter detailing the specific and concrete changes he is making to his practice. Additionally, nolater than September 8, 2020, Mr. Liebowitz is directed to explain why he unilaterally substitutedanother course in direct violation of a previous Court order and without the Court's permission. Mr.Liebowitz is also directed to proofread carefully his submissions before submitting them. His letterdated August 31, 2020, is riddled with typos that presumably would have been caught had Mr.Liebowitz proofread the letter prior to submission.
Oof. Now, to a normal person, you might recognize that this judge is not happy and maybe, just maybe, try a little harder for the next time. But, come on, this is Richard Liebowitz we're talking about. He basically submitted the same work over again with slight modifications:
The reason why I took all three of the courses in Number 5 is because one program inNumber 4 entitled Panel of Lawyers Who are Doing it: Practice Management Technology toGrow Your Solo/Small Law Practice Ethically was not recorded on video but was only availableas a live event. Thus, I was unable to watch this program on-line. I did not realize that thisprogram was only available as a live event and was not video recorded as was the case with theother programs identified above. I apologize to the Court for this mistake.Based upon what I learned in the CLE's, the specific and concrete changes I have made -and will continue to make - include delegating tasks to employees to make the Firm moreefficient in managing cases. This includes tasks such as client intake, discovery, motions,calendaring, etc. I am doing this by implementing a plan at the beginning of each week. Also, bymaking a weekly plan this will improve my time management. In addition, I am actively trainingand supervising new staff and current staff on new calendaring/scheduling/client protocols in theoffice while maintaining a well-balanced and flexible work schedule for employees. Thecontinued education on our practice management software is ongoing. In addition, I plan ontaking more CLE courses dedicated to management for small law firms so that I can becontinually educated by professionals in the field.
That's it. That's literally it. I mean, even I can hardly believe that this is all Liebowitz would do. I mean, holy shit, dude. Do you really think this would suffice?Judge Caproni is... not happy. She wants young Richard in court in person tomorrow to explain himself. In detail.
WHEREAS on September 8, 2020 Mr. Liebowitz submitted a letter that fails to addressadequately these two issues (Dkt. 31);IT IS HEREBY ORDERED THAT: Mr. Liebowitz must appear in-person on September15, 2020 at 2:00 p.m. in Courtroom 518 of the Thurgood Marshall Courthouse, 40 FoleySquare, New York, New York, 10007. Mr. Liebowitz should be prepared to explain in detailwhat concrete steps he has taken, based on the CLE courses he took, to improve his practice orotherwise ensure that the non-compliance that gave rise to the sanctions in the first instance willnot be repeated. He should also be prepared to explain why, when he learned that due to his owninattention to detail one of the courses he was ordered to take was unavailable, he did not ask theCourt to modify its prior order rather than unilaterally deciding he could take a different course.
I get the feeling tomorrow is going to be another bad day for Liebowitz.

Read more here

---
posted at: 2:32pm on 14-Sep-2020
path: /Policy | permalink | edit (requires password)
0 comments, click here to add the first
---
---
Daily Deal: The Complete 2020 Learn Linux Bundle

Furnished content.


The Complete 2020 Learn Linux Bundle has 12 courses to help you learn Linux OS concepts and processes. You'll start with an introduction to Linux and progress to more advanced topics like shell scripting, data encryption, supporting virtual machines, and more. Other courses cover Red Hat Enterprise Linux 8 (RHEL 8), virtualizing Linux OS using Docker, AWS, and Azure, how to build and manage an enterprise Linux infrastructure, and much more. It's on sale for $69.
Note: The Techdirt Deals Store is powered and curated by StackCommerce. A portion of all sales from Techdirt Deals helps support Techdirt. The products featured do not reflect endorsements by our editorial team.

Read more here

---
posted at: 2:32pm on 14-Sep-2020
path: /Policy | permalink | edit (requires password)
0 comments, click here to add the first
---
---
Get Your Otherwise Objectionable Gear Before The Senate Takes It Away!

Furnished content.



Get your Otherwise Objectionable gear in the Techdirt store on Threadless »On Monday we released our line of Otherwise Objectionable gear in our store on Threadless and, the very next day, GOP Senators unveiled their latest attempt at truly stupid Section 230 reform: a bill that would remove those two critical words from the law. Of course, those who understand how important Section 230's moderation protections are to the internet will fight to prevent this bill from passing, and then there's the fact that it's pretty obviously unconstitutional — but while the fight continues, there's never been a better time to declare your Otherwise Objectionable status with pride.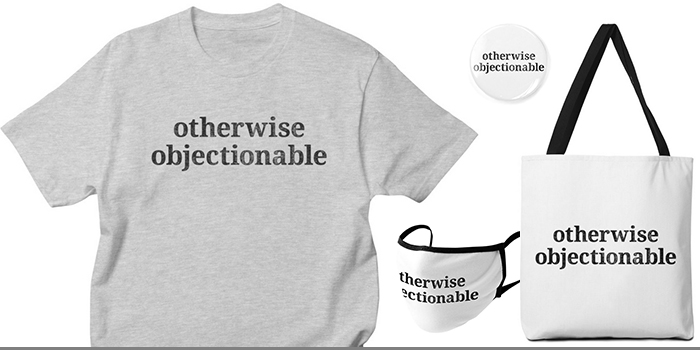 As usual, there's a wide variety of gear available in this and other designs — including t-shirts, hoodies, notebooks, buttons, phone cases, mugs, stickers, and of course the now-standard face masks. Check out all our designs and items in the Techdirt store on Threadless!

Read more here

---
posted at: 12:00am on 13-Sep-2020
path: /Policy | permalink | edit (requires password)
0 comments, click here to add the first
---
---
Content Moderation Case Study: Pinterest's Moderation Efforts Still Leave Potentially Illegal Content Where Users Can Find It (July 2020)

Furnished content.


Summary: Researchers at OneZero have been following and monitoring Pinterest's content moderation efforts for several months. The "inspiration board" website hosts millions of images and other content uploaded by users.Pinterest's moderation efforts are somewhat unique. Very little content is actually removed, even when it might violate the site's guidelines. Instead, as OneZero researchers discovered, Pinterest has chosen to prevent the content from surfacing by blocking certain keywords for generating search results.The problem, as OneZero noted, is that hiding content and blocking keywords doesn't actually prevent users from finding questionable content. Some of this content includes images that sexually exploit children.While normal users may never see this using Pinterest's built-in search tools, users more familiar with how search functions work can still access content Pinterest feels violates its guidelines, but hasn't actually removed from its platform. By navigating to a user's page, logged-out users can perform searches that seem to bypass Pinterest's keyword-blocking. Using Google to search the site -- instead of the site's own search engine -- can also surface content hidden by Pinterest.Pinterest's content moderation policy appears to be mostly hands-off. Users can upload nearly anything they want to with the company only deleting (and reporting) clearly illegal content. For everything else that's questionable (or potentially harms other users), Pinterest opts for suppression, rather than deletion.Generally speaking, we limit the distribution of or remove hateful content and content and accounts that promote hateful activities, false or misleading content that may harm Pinterest users or the public's well-being, safety or trust, and content and accounts that encourage, praise, promote, or provide aid to dangerous actors or groups and their activities, Pinterest's spokesperson said of the company's guidelines.Unfortunately, users who manage to bypass keyword filters or otherwise stumble across buried content will likely find themselves directed to other buried content. Pinterest's algorithms surface content related to whatever users are currently viewing, potentially leading users even deeper into the site's "hidden" content.Decisions to be made by Pinterest:
Is hiding content effective in steering users away from subject matter/content Pinterest would rather they didn't access?
Would deletion -- rather than hiding -- result in affected users leaving the platform?
Is questionable content a severe enough problem the company should rethink its moderation protocols?
Should "related content" algorithms be altered to prevent the surfacing of hidden content?
Questions and policy implications to consider:
Does hiding -- rather than removing -- content potentially encourage users to use this invisibility to engage in surreptitious distribution of questionable or illegal content?
Does the possibility of hidden content resurfacing steer ad buyers away from the platform?
Will this approach to moderation -- hidden vs. deletion -- remain feasible as pressure for sites to aggressively police misinformation and "fake news" continues to mount?
Resolution: Pinterest's content moderation strategy remains mostly unchanged. As the site's spokesperson stated, the site appears to feel the hiding of content addresses most raised concerns, even if it does allow more determined site users to locate content the site would rather they never saw.

Read more here

---
posted at: 12:01am on 12-Sep-2020
path: /Policy | permalink | edit (requires password)
0 comments, click here to add the first
---
---
The Next Generation Of Video Game Consoles Could Be The Beginning Of GameStop's Death

Furnished content.


Predictions about the death of video game retailer GameStop have been with us for at least a decade. There have been many reasons for such predictions, ranging from the emergence of digital downloaded games gobbling up market share to declines in retail stores generally. But there are two recent new headwinds that might frankly be the end of this once ubiquitous franchise as we know it.The first headwind is one common to all kinds of retailers currently: the COVID-19 pandemic. The pandemic is actually almost certainly worse for GameStop compared with retailers for other industries. As noted above, sales for the industry have long been trending towards digital downloads. Yes, there are still those out there who insist on buying physical media games, and in many cases there are good reasons for doing so, but the truth is that market was shrinking steadily for a long, long time. With the pandemic both shuttering many retail stores and keeping scared consumers out of those that remain open, the digital market share in the gaming industry has grown quickly. Whether anyone will want to go back to buying physical copies of games, new or used, is an open question.All of which might not ultimately matter, as the other headwind is the next generation of consoles being released with options for no built in disc drive at all.
The latest quarterly earnings report from GameStop doesn't show much sign of a turnaround for the long-troubled game retailer. Sales were down 26.7 percent year over year for the April through June quarter. Even accounting for permanent store closures and COVID-related reduced operating hours, so-called comparable "same-store" sales were still down 12.7 percent year over year. GameStop's already depressed stock is down nearly 8 percent on the news, as of this writing.GameStop still publicly sees an "opportunity to capitalize" on the upcoming release of new Sony and Microsoft consoles, which could help turn its business around in the short term. But there's some reason to believe the coming generation of consoles could actually make GameStop's long-term prospects worse, thanks to console options that get rid of disc drives entirely.
During a recent earnings call, CEO George Sherman tried to spin this in the opposite direction, pointing out that the new consoles include an option for a disc drive as a reason for optimism. A huge chunk of GameStop's money is made reselling used games that are marked up considerably. If the best a cheerleader for the company can muster is pointing out that, at least for this generation, some of the consoles will still have drives... well, that isn't great.Especially when you put this all in context. Both Microsoft's Xbox and Sony's PlayStation forthcoming consoles have options for discless devices that are priced significantly less than the alternative. That represents yet another reason why some gamers, who might not have gone all digital otherwise, will be jumping ship. Between the virus pushing more gamers to download games digitally, lower priced consoles in the middle of an economic downturn, and the general trends that pre-date the pandemic, the analogies some are drawing to GameStop's future aren't pretty.
Sherman confirmed in the earnings call that GameStop will sell these disc-drive-free consoles in its stores, a move akin to a world where Tower Records decided to sell iPods as its physical album sales cratered.
Yikes.Now, none of this suggests that every gamer everywhere is ready to give up discs. Nor should this be taken to indicate that retail game stores are going to become fully extinct. In fact, I don't think the Tower Records analogy is the best that can be drawn, even if we stay in the music space. Instead, it is beginning to feel inevitable that GameStop, or other companies, will be become like modern day record stores: there to cater to the niche market of those that want CDs and vinyl, with all of the nostalgia that's as important for buyers as the product itself.But it sure as hell won't be the GameStop of the last two decades.

Read more here

---
posted at: 12:01am on 12-Sep-2020
path: /Policy | permalink | edit (requires password)
0 comments, click here to add the first
---
---
Content Moderation Case Study: Detecting Sarcasm Is Not Easy (2018)

Furnished content.


Summary: Content moderation becomes even more difficult when you realize that there may be additional meaning to words or phrases beyond their most literal translation. One very clear example of that is the use of sarcasm, in which a word or phrase is used either in the opposite of its literal translation or as a greatly exaggerated way to express humor.In March of 2018, facing increasing criticism regarding certain content that was appearing on Twitter, the company did a mass purge of accounts, including many popular accounts that were accused of simply copying and retweeting jokes and memes that others had created. Part of the accusation for those that were shut down, was that there was a network of accounts (referred to as Tweetdeckers for the user of the Twitter application Tweetdeck) who would agree to mass retweet some of those jokes and memes. Twitter suggested that these retweet brigades were inauthentic and thus banned from the platform.In the midst of all of these suspensions, however, there was another set of accounts and content suspended, allegedly for talking about self -harm. Twitter has policies regarding glorifying self-harm which it had just updated a few weeks before this new round of bans.sarcastically using the phrase kill me. This included suddenly suspending many accounts despite many of those tweets being from many years earlier. It appeared that Twitter may have just done a search on kill me or other similar words and phrases including kill myself, cut myself, hang myself, suicide, or I wanna die.While some of these may indicate intentions for self-harm, in many other cases they were clearly sarcastic or just people saying odd things, and yet Twitter temporarily suspended many of those accounts and asked the users to delete the tweets. In at least some cases, the messages from Twitter did include some encouraging words, such as Please know that there are people out there who care about you, and you are not alone. But that did not appear to be on all of the messages. That language, at least, suggested a specific response to concerns about self-harm.Decisions to be made by Twitter:
How do you handle situations where users indicate they may engage in self-harm?
Should such content be removed or are there other approaches?
How do you distinguish between sarcastic phrases and real threats of self-harm?
What is the best way to track and monitor claims of self-harm? Does a keyword or key phrase list search help?
Does automated tracking of self-harm messages work? Or is it better to rely on user reports?
Does it change if the supposed messages regarding self-harm are years old?
Questions and policy implications to consider:
Is suspending people for self-harm likely to prevent the harm? Or is it just hiding useful information from friends, family, officials, who might help?
Detecting sarcasm creates many challenges; should internet platforms be the arbiters of what counts as reasonable sarcasm? Or must it take all content literally?
Automated solutions to detect things like self-harm may cover a wider corpus of material, but is also more likely to misunderstand context. How should these issues be balanced?
Resolution: This continues to be a challenge for various platforms, including Twitter. The company has continued to tweak its policies regarding self-harm over the year, including partnering with suicide prevention groups in various locations to seek to help those who indicate that they are considering self-harm.

Read more here

---
posted at: 12:00am on 11-Sep-2020
path: /Policy | permalink | edit (requires password)
0 comments, click here to add the first
---
---
AB InBev And Patagonia Trademark Dispute Will Proceed To Trial

Furnished content.


A little over a year ago, we discussed a lawsuit brought by Patagonia, famed West Coast clothier for all things outdoor lifestyle, against AB/InBev, famed macro-brewer. At issue was AB/InBev's decision to sell a Patagonia-branded beer line at pop up stores at ski resorts, the exact place where Patagonia clothing is quite popular. Within those stores, AB/InBev also sold Patagonia-branded clothing. Coupled with the beer maker's decision to do absolutely nothing with its "Patagonia" trademark for six years, you can see why Patagonia sought to invalidate AB/InBev's trademark. It's also understandable that the court ruled against AB/InBev's attempt to have the suit tossed last summer, with the absurd claim that the Patagonia brand for clothing isn't actually well-known at all. In the meantime, Patagonia asserted in filings that AB/InBev actually defrauded the USPTO when it got its trademark in the first place.Which brings us to the present, where the beer maker attempted to get at least some of the claims against it dismissed, arguing that the claims about defrauding the USPTO were simple clerical errors and that Patagonia had failed to protect its mark for too long. The court ruled in favor of Patagonia, meaning this will now go to trial. We'll start with the claims of Patagonia failing to protect its mark, which center around AB/InBev's registration for trademark indicating the company had been using "Patagonia" continually for five years.
Argentinian brewer Warsteiner Importers Agency Inc. first filed the intent-to-use application for a Patagonia beer trademark in 2006, based on its intent to sell its beer in the U.S., the court said. It filed several extension requests, including one in 2011 that said it still intended to use the mark, but didn't intend to import its beer. Anheuser-Busch asked it to file one more extension and then bought the application in March 2012. It filed a statement of use, claiming it began using the trademark in July 2012 and received the trademark registration later that year.Patagonia learned of the trademark in 2013 but believed that Anheuser-Busch had legitimate rights, according to the opinion. But shortly after the beermaker launched Patagonia beer at a pop-up stores at ski resorts in 2019, with the beer and promotional apparel featuring a mountain logo that allegedly infringed Patagonia's trademarks, Patagonia sued.
In other words, the company picked up on a long-delayed application by another beer maker, bought the application rights to the trademark, and then claimed it had been using the mark for five years, which it had not. When Patagonia learned of the application, it thought AB/InBev's application was legit, but learned after the pop-up stores began selling clothing that it was not. Patagonia, to add to all of this, sells some beer under its mark as well. Trademark law includes "anti-trafficking" rules that prevent companies from buying applications like this prior to the mark in question actually being used in commerce. The rules for this are complicated, but the claims Patagonia is making as to how AB/InBev tried to get around these rules most certainly are not.
Patagoina also argued that the beermaker fraudulently had Warsteiner change the date on the document assigning the trademark to suggest compliance with the anti-trafficking rule. Anheuser Busch said the change was to correct an error.The court rejected Anheuser-Busch's bid for a judgment that its Patagonia trademark had become incontestable, finding it hadn't been used continuously for five years as required. Incontestable marks can only be challenged if they became generic, abandoned for nonuse, or acquired by fraud.Anheuser- Busch also still faces allegations of fraud through its alleged violation of the anti-trafficking rule and false claims of continuous use.
In addition to all of the above, the court also decided that the branding AB/InBev decided to use was similar enough that a jury should decide if there was true trademark infringement here.What should perhaps be most striking in all of this is just how callous AB/InBev appears to be when it comes to the trademark rights of others, especially compared with how protective and expansionist the company is of its own trademarks. It is quite silly to expect virtue and consistency from a multi-national corporation, of course, but the hypocrisy is still quite glaring.

Read more here

---
posted at: 12:00am on 11-Sep-2020
path: /Policy | permalink | edit (requires password)
0 comments, click here to add the first
---
---
Esports Milestone: Guild Esports Looks For London Stock Exchange Listing

Furnished content.


For years now, we've covered various milestones the esports industry has hit as it has exploded in popularity. Once relegated primarily to a few overseas markets, the past decade has seen an acceleration of the industry hitting the mainstream, from features in sports media on participants, college scholarships for esports, IRL leagues getting in the game, and even the betting markets opening up to esports gambling. While this trend began long before the world's current predicament, it's also true that the COVID-19 pandemic, which shuttered live sports for months, acted as a supercharger for all of this.All of which contributed to the latest milestone the esports industry has managed to hit, as famed footballer David Beckham's Guild Esports franchise has announced it plans to get listed on the London Stock Exchange.
Guild Esports, a UK-based owner and developer of esports teams, confirmed plans for an initial public offering in a statement Wednesday. The company said it wants to build a global sports franchise modeled on the English Premier League, NBA and NFL. It will float 40% of its shares next month and hopes to raise £20 million ($25.9 million) to recruit new players and invest in the business.Beckham, a former Manchester United and England footballer, will use his global influence and following to support the Guild Esports brand, the company added. Beckham is also co-owner of Inter Miami CF, a Major League Soccer team in the United States.
The CNN post goes on to note that ad revenue in the industry for 2019 was just under a billion dollars. The point in all of this is that the difference between a beloved hobby and professional sports is the "professional" part. In other words, money. Now that esports has not only emerged as a major force in competition when it comes to ad revenues and eyeballs, but also now a place for potential owners of sporting franchises to invest very real money, the only question is just how popular and dominant esports will grow to become.Based on the company's plans, it has some very lofty goals.
The company plans to recruit up to 20 esports players by the end of next year, modeling player training and scouting on the talent academies pioneered by Premier League football teams.
The last milestone is probably one we're hurtling toward at speed: when the maturity of the esports industry is so accepted that these posts on Techdirt no longer make sense to write.

Read more here

---
posted at: 12:00am on 10-Sep-2020
path: /Policy | permalink | edit (requires password)
0 comments, click here to add the first
---
---
French Government To Make Insulting Mayors A Criminal Offense

Furnished content.


French government entities continue to clamp down on speech. Following a terrorist attack on a French satirical newspaper, government leaders vowed to double down on protecting controversial speech. The govenment then fast-tracked several prosecutions under its anti-terrorism laws, which included arresting a comedian for posting some anti-semitic content. It further celebrated its embrace of free speech by arresting a man for mocking the death of three police officers.A half-decade later, that same commitment to protecting speech no one might object to continues. The country's government passed a terrible hate speech law that would have allowed law enforcement to decide what content was acceptable (and what was arrestable.) Fortunately for its citizens, the country's Constitutional Court decided the law was unlawful and struck down most of it roughly a month later.But that's not the end of bad speech laws in France. Government officials seem to have an unlimited amount of bad ideas. Some government officials are being hit with far more than objectionable words. Assaults of French mayors continue to occur at the rate of about once a day. Mayors assaulted and unassaulted have asked the French government to do more to protect them from these literal attacks.The government has responded. And it's not going to make mayors any more popular or make them less likely to be physically attacked.
Any insult targeted at a French mayor will now be treated as contempt - an offence that carries a maximum penalty of community service or a €7,500 fine - France's justice minister has announced."Any attack perpetuated against a mayor is an attack perpetuated against the Republic", warned French Minister of Justice Eric Dupond-Moretti on Wednesday after a ministerial meeting to which local mayor associations were invited, according to BFMTV.
Assault is already a crime, so the government has ways to deal with those who physically attack government officials. This new wrinkle makes being mean to them a crime. The Republic as a whole will feel every insult targeting a town mayor. So will the people uttering the insults. $7,500 fines and/or 280 hours of community service await those who like to fight with their words, rather than their fists.This may trim down the number of public insults but it's hardly going to make the government any more popular with the governed. If French citizens are physically attacking mayors 300+ times a year, there's something more going on that just a little bit of assholishness that's gotten out of hand. Protecting people from violence is something any government should do. But protecting them from being insulted is something only authoritarians do.

Read more here

---
posted at: 12:00am on 10-Sep-2020
path: /Policy | permalink | edit (requires password)
0 comments, click here to add the first
---
---
Game Creator Has His YouTube Video Of Game Demonetized Over Soundtrack He Also Created

Furnished content.


Content moderation, whether over social or intellectual property issues, is impossible to do well. It just is. The scale of content platforms means that automated systems have to do most of this work and those automated systems are always completely rife with avenues for error and abuse. While this goes for takedowns and copyright strikes, it is also the case for demonetization practices for the big players like YouTube.But how bad are these systems, really? Well, take, for instance, the case of a man who created a video game, and the soundtrack for that game, having his YouTube videos of the game demonetized due to copyright.
Doki Doki Literature Club creator Dan Salvato is being demonetized for his own music on YouTube because the platform claims the soundtrack included in his videos - which he himself composed - is "someone else's content."Salvato took to Twitter in order to share his grievances. Apparently, his videos have been subjected to demonetization for several months due to purported copyright infringement for the music he used in them - however, Salvato himself composed all of said music, meaning that YouTube is claiming that he is essentially stealing his own intellectual property.
We have of course heard of this sort of thing in the past: a person has videos demonetized despite the content being of their own creation. Still, there is something perfectly simplistic about this case. A game and music maker puts videos up of his own game and music...and it gets demonetized. While no system is ever perfect, that YouTube's system allows for this sort of thing to not only happen, but to go on for months without correction, is an indication that the system sucks and something else should be done.Now, as often happens, once Salvato complained publicly, YouTube got in touch to investigate. People will point to this as though future rectification made all of this acceptable. But that's absurd. After all, you're forced to wonder just how often this sort of thing occurs and doesn't ever get fixed.

Read more here

---
posted at: 12:00am on 09-Sep-2020
path: /Policy | permalink | edit (requires password)
0 comments, click here to add the first
---
---
Prosecutor Who Used Bite Mark Analysis Even The Analyst Called 'Junk Science' Can Be Sued For Wrongful Jailing Of Innocent Woman

Furnished content.


A lot of stuff that looks like science but hasn't actually been subjected to the rigors of the scientific process has been used by the government to wrongly deprive people of their freedom. As time moves forward, more and more of the forensic science used by law enforcement has been exposed as junk -- complicated-looking mumbo-jumbo that should have been laughed out of the crime lab years ago.Tire marks, bite marks, hair analysis… even the DNA "gold standard" has come under fire. If it's not the questionable lab processes, it's the testimony of government expert witnesses who routinely overstated the certainty of their findings.Bite mark analysis has long been considered junk science. But for a far longer period, it was considered good science -- a tool to be used to solve crimes and lock up perps. This case, handled by the Third Circuit Court of Appeals, contains an anomaly: the bite mark expert who helped wrongly convict a woman of murder -- taking away eleven years of her life -- actually stated on record that bite mark analysis is junk science.This case starts with some DNA testing. Supposedly, this is as scientific as it gets. But the prosecutor appeared to have wanted to pin this crime on Crystal Dawn Weimer. So investigators chose to ignore what the DNA evidence told them. Investigating the murder of Curtis Haith, who had been beaten and shot in the face, investigators started talking to party guests who had been at Haith's apartment the night before. They zeroed in on Weimer even when available evidence seemed to point elsewhere.From the decision [PDF]:
When officers arrived at her house, Weimer was still dressed in the clothes she had been wearing the night before. She had minor injuries to her face and foot, and officers observed what looked like mud and blood on her clothes. Weimer told officers that she, Haith, and others had attended a party the night before and that she had given Haith a ride from that party and dropped him off at another party. She then spent the rest of the night at the housing community where her mother and sisters lived. Her cousin, sisters, and then-boyfriend Michael Gibson confirmed her story. Weimer and Gibson also told officers that Weimer injured her foot when they were "horseplaying" a few days earlier. App. 87 ¶ 31. And Weimer said that the blood on her shirt and the injury to her eye were caused by a fight with Gibson. DNA testing later confirmed that the blood on Weimer's clothes belonged to Gibson, and none of the DNA samples collected from the crime scene matched Weimer—in fact, the samples suggested a male DNA profile.
Almost two years later, an ex-boyfriend of Weimer's (Thomas Beal) told investigators that she had shot Haith and told him that the blood on her clothes came from the victim. Of course, DNA evidence had already ruled this out, which should have made this witness' statement a bit more suspect. But investigators went back over the photographs taken at the scene and found something they could possibly use to tie Weimer to a crime DNA evidence heavily suggested she hadn't committed. The first attempt to implicate Weimer failed.
When reviewing Haith's autopsy photos, a state investigator saw what she believed to be a bite mark on Haith's hand. A Fayette County dentist analyzed the injury. The dentist first concluded that Gibson bit Haith, but after examining teeth impressions for Weimer, she reported she could not identify which set of teeth caused the mark.
The investigator sought a second opinion and got the one she wanted.
A bite-mark expert then reviewed Beal's statement, photos of the injury to Haith's hand, and teeth impressions from Gibson and Weimer. He concluded the bite mark matched Weimer.
The investigation continued. This ended up raising questions about the origin of this bite mark. Some evidence suggested the bite could have taken place hours or days before the murder. The prosecutor went back to the "expert" and, conveniently, secured a revision that turned Weimer back into the prime suspect.
Without reviewing additional evidence, he determined the bite occurred seven to ten minutes before Haith's death.
The prosecutor went back to the state's key witness -- the ex-boyfriend who was already wrong about the blood on Weimer's clothes. His story changed. The witness claimed "a black man named Lonnie" had helped Weimer with the murder. But this "Lonnie" had been in jail at the time the murder took place, further distancing the state's key witness from anything resembling the truth. Somehow this failed to dissuade the state from relying on this very sketchy testimony. Adding this questionable testimony to other questionable testimony from a jailhouse informant -- one who claimed the state's favorite witness was involved in the murder -- prosecutors went after Weimer.The case fell apart immediately. Weimer's ex-boyfriend recanted his story on the stand, claiming a police officer "kind of like coaxed me along" when preparing his statement. The state remained immune from dissuasion and took another swing at Weimer after the first trial had ended in a dismissal of all charges. The second time around it worked. Weimer was convicted of third-degree murder and conspiracy to commit murder.Nine years later, Weimer had her charges vacated by a judge who found enough evidence to suggest she had been wrongly incarcerated and imprisoned. A whole bunch more evidence came to light during her retrial. That's where the state's bite mark "expert" performed his own Perry Mason move.
The bite-mark expert also disavowed his trial testimony, stating that his opinion that the bite mark was Weimer's was based on "junk science."
Also uncovered were letters from jailhouse informants that showed investigators and prosecutors handing out unspecified deals in exchange for testimony against Weimer. In June 2016, the charges were dropped with prejudice, ending eleven years of wrongful imprisonment.Unfortunately, the ending for Weimer is far from happy. Too many layers of immunity stand in the way of prosecutors, experts, and investigators being held personally accountable for destroying an innocent woman's life. The prosecutor who led this witch hunt-esque "investigation" -- DA Nancy Vernon -- will escape some of the claims brought by Weimer. Most significantly -- at least in terms of what this post is highlighting -- she'll dodge any responsibility for using junk science to help press a very shaky case against Weimer. According to the court, everyone was still in the bite mark Dark Ages and can't be held responsible for the collective ignorance of law enforcement forensic techniques.
During the relevant time period—from late 2002 to early 2006—the unreliability of bite-mark evidence was not widely recognized such that "any reasonable official in [Vernon's] shoes would have understood that [s]he was violating" Weimer's rights by directing officers to investigate the timing of the bite mark on Haith's hand. Despite allegations that the bite-mark expert later referred to such evidence as "junk science" during Weimer's post-conviction proceedings, such evidence was widely used in criminal proceedings during and after Weimer's trial, see Erica Beecher-Monas, Reality Bites: The Illusion of Science in Bite-Mark Evidence, 30 Cardozo L. Rev. 1369, 1375–87, 1408 (2009) (outlining the scientific unreliability of bite-mark evidence and arguing that judges "circumvent[] their gate-keeping responsibilities" by "continu[ing] to admit bite-mark testimony into evidence"); see also Brewer v. Hayne, 860 F.3d 819, 824–25 (5th Cir. 2017) (holding forensic odontologists were entitled to qualified immunity when the plaintiffs showed only that the evidence the experts presented at trial in the 1990s was no longer considered trustworthy by later standards and that the experts may have been negligent in their analysis). Thus, based on the law as it existed at the time, Vernon was not on notice that her alleged conduct of directing further investigation into the bitemark evidence would violate Weimer's rights.
But almost every other claim survives. The prosecutor who ignored the evidence she didn't like (DNA evidence suggesting a male committed a crime/the lack of victim's DNA on Weimer) in favor of the stuff she did (bite mark "analysis," a bunch of jailhouse informants being offered deals) will have to face Weimer's malicious prosecution and civil rights conspiracy claim without the shields of qualified or absolute immunity.

Read more here

---
posted at: 12:00am on 09-Sep-2020
path: /Policy | permalink | edit (requires password)
0 comments, click here to add the first
---
---
New Gear For Section 230 Fans: Otherwise Objectionable

Furnished content.



Get your Otherwise Objectionable gear in the Techdirt store on Threadless »If Section 230(c)(1) contains "the twenty-six words that created the internet", then (c)(2) contains the words that gave them some critical help. Among those words are two that are especially important, "otherwise objectionable", as they turn a limited list of specific content that can be removed into an open-ended protection for platform operators to moderate as they choose — and now you can wear them proudly with our new gear on Threadless.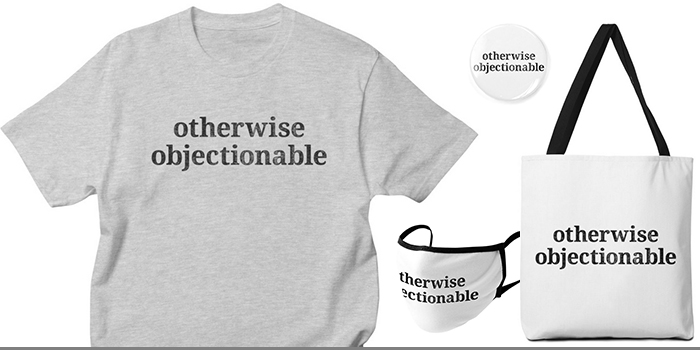 As usual, there's a wide variety of gear available in this and other designs — including t-shirts, hoodies, notebooks, buttons, phone cases, mugs, stickers, and of course the now-standard face masks. Check out all our designs and items in the Techdirt store on Threadless!

Read more here

---
posted at: 12:00am on 08-Sep-2020
path: /Policy | permalink | edit (requires password)
0 comments, click here to add the first
---
---
This Week In Techdirt History: August 30th - September 5th

Furnished content.


Five Years AgoThis week in 2015, the NSA was renewing its bulk records collection after a worrying and slightly suspicious court ruling. The FBI was somehow using Hurricane Katrina as an excuse to get more Stingray devices, just before the Wall Street Journal got a "win" (though the devil was in the details) in a lawsuit related to Stingray surveillance orders, and the DOJ told federal agents that they need warrants to use the devices. Meanwhile, the NYPD was volunteering to be copyright cops in Times Square, Sony was downplaying the damage done by the same hack it was hyping up before, and the entertainment industry was freaking out about Popcorn Time.Ten Years AgoThis week in 2010, we were saddened to see the US Commerce Secretary siding with the RIAA and telling ISPs to become copyright cops, even as more ISPs were stepping up to fight subpoenas from the US Copyright Group (and in France, some ISPs were fighting back against Hadopi, which was also becoming a tool of scammers). One court refused to dismiss a Righthaven lawsuit involving a copyright that was bought after the alleged infringement happened, while another court was seeking ways to minimize a Righthaven win with minuscule damages — and the LVRJ was defending the Righthaven suits and mocking a competitor for criticizing them.Fifteen Years AgoThis week in 2005, we were pleased to see that the judge in one of the first instances of someone fighting back against RIAA lawsuits seemed to recognize the issues, and less pleased to see another court give its assent to yet another form of DMCA abuse. It wasn't as crazy as what was happening in India, though, where it appeared that their equivalent of the MPAA got an open search warrant for the entire city of New Delhi to look for pirated movies. And even that didn't match the panic over mobile porn that was gripping parts of the world, leading to things like Malaysian police performing random porn spot-checks on people's phones.

Read more here

---
posted at: 12:00am on 06-Sep-2020
path: /Policy | permalink | edit (requires password)
0 comments, click here to add the first
---
---
Students, Parents Figure Out School Is Using AI To Grade Exams And Immediately Game The System

Furnished content.


With the COVID-19 pandemic still working its way through the United States and many other countries, we've finally arrived at the episode of this apocalypse drama where school has resumed (or will be shortly) for our kids. It seems that one useful outcome of the pandemic, if we're looking for some kind of silver lining, is that it has put on full display just how inept we are as a nation in so many ways. Federal responses, personal behavior, our medical system, and our financial system are all basically getting failing grades at every turn.Speaking of grades, schools that are now trying to suddenly pull off remote learning for kids are relying on technology to do so. Unfortunately, here too we see that we simply weren't prepared for this kind of thing. Aside from all of the other complaints you've probably heard or uttered yourselves -- internet connections are too shitty for all of this, teachers aren't properly trained for distance learning, the technology being handed out by schools mostly sucks -- we can also add to that unfortunate attempts by school districts to get AI to grade exams.This story begins with a parent seeing her 12 year old son, Lazare Simmons, fail a virtual exam. Taking an active role, Dana Simmons went on to watch her son complete more tests and assignments using the remote learning platform the school had set students up on, Edgenuity. While watching, it became quickly apparent how the platform was performing its scoring function.
She looked at the correct answers, which Edgenuity revealed at the end. She surmised that Edgenuity's AI was scanning for specific keywords that it expected to see in students' answers. And she decided to game it. Now, for every short-answer question, Lazare writes two long sentences followed by a disjointed list of keywords — anything that seems relevant to the question. "The questions are things like... 'What was the advantage of Constantinople's location for the power of the Byzantine empire,'" Simmons says. "So you go through, okay, what are the possible keywords that are associated with this? Wealth, caravan, ship, India, China, Middle East, he just threw all of those words in.""I wanted to game it because I felt like it was an easy way to get a good grade," Lazare told The Verge. He usually digs the keywords out of the article or video the question is based on.
And Lazare appears to have been right, as he now gets perfect scores on all of his tests. This is obviously both lazy teaching and lazy technology. Relying on software to grade tests that are essentially short-form essay tests, as opposed to multiple-choice Scantron style tests, make zero sense. Human grading is needed.But the technology is quite lazy as well. How can a platform that is grading exams of this nature not build in a check against proper grammar, for instance? The fact that a student can simply toss in a bunch of disjointed words at the end of an answer, like some kind of keyword metadata, and get away with it is crazy. Especially when Edgenuity informs everyone that it's supposed to work this way.
According to the website, answers to certain questions receive 0% if they include no keywords, and 100% if they include at least one. Other questions earn a certain percentage based on the number of keywords included.
Whatever that is, it sure as hell isn't good education. And while testing practices in education are generally under scrutiny wholesale at the moment, there is little reason to issue tests at all if everyone involved is going to be this lazy about it.And, to be clear, this is happening all over the place, with students finding more than one way to game the system.
More than 20,000 schools currently use the platform, according to the company's website, including 20 of the country's 25 largest school districts, and two students from different high schools to Lazare told me they found a similar way to cheat. They often copy the text of their questions and paste it into the answer field, assuming it's likely to contain the relevant keywords. One told me they used the trick all throughout last semester and received full credit "pretty much every time."Another high school student, who used Edgenuity a few years ago, said he would sometimes try submitting batches of words related to the questions "only when I was completely clueless." The method worked "more often than not."
I think it's fair to say that Edgenuity probably doesn't get a passing grade for its platform, now widely used thanks to COVID-19.

Read more here

---
posted at: 12:00am on 05-Sep-2020
path: /Policy | permalink | edit (requires password)
0 comments, click here to add the first
---
---
Content Moderation Case Studies: Stopping Malware In Search Leads To Unsupported Claims Of Bias (2007)

Furnished content.


Summary: As detailed in a thorough oral history in Wired back in 2017, it's hard to overstate the importance of Google's Safe Browsing blocklist effort that began as a project in 2005, but really launched in 2007. The effort was in response to a recognition that there were malicious websites out there that were attempting to trick people into visiting in order to install various forms of malware. Google's Safe Browsing list, and its corresponding API (used by pretty much every other major browser, including Safari, Firefox and more) has become a crucial part of stopping people from being lured to dangerous websites that may damage or compromise their computers.Of course, as with any set of filters and blocklists, questions are always raised about the error rate, and whether or not you have too many false positives (or false negatives). And, not surprisingly, when sites are added to the blocklist, many website operators become upset. Part of the problem was that, all too often, the websites had become compromised without the operator knowing about it -- leading them to claim they were falsely being blocked. From the oral history:
One interesting thing that happened was related to how we communicated with web masters who were affected by Safe Browsing alerts. Because very quickly when we started looking into the problem of how users might be exposed to malware on the web, we realized that a lot of it came from websites that were actually benign, but were compromised and started delivering malware via exploits. The site owners or administrators typically did not realize that this was happening.
Of course, at the same time, when sites are being put on blocklists when they don't even realize that their sites are compromised, they often assume that there is some sort of bias against them or the content of their websites.Matt Cutts, who for many years was in charge of stopping web spam at Google, wrote a few blog posts in the early years responding to people who accused Google of blocking websites whose content they disagreed with, with Matt explaining how he responds to such complaints. In that linked post, Cutts responds to complaints from a vocal Google critic, who claims that it was blocking the website of a think tank that had expressed opinions that were different than Google's regarding net neutrality.Cutts points out that this is not accurate and that Google had only blocked a specific page on that think tank's website, and the reason was that that page itself was compromised and visiting it would install malware on the visitor's computer:
If you visit pff.org/issues-pubs/, you'll see that it's a web form. It looks like pff.org stored their data in a SQL database but didn't correctly sanitize/escape input from users, which led to a SQL injection attack where regular users got exposed to malicious code. As a result, normal users appear to have loaded urls like hxxp://www.ausbnr .com/ngg.js and hxxp://www.westpacsecuresite .com/b.js < --- Don't go to urls like this unless you are 1) a security researcher or 2) want to infect your machine. Notice that even in this case, Google didn't flag the entire pff.org site, just the one directory on the site that appeared to be dangerous for users. I never like it when people accuse Google of flagging a site as malware just because we don't like it for some reason. The bright side of this incident is that pff.org will find out about a security hole on their site that was hurting their users (it looks like pff.org has disabled the search on the vulnerable page in the last few hours, so it appears that they're responding quickly to this issue). Flagging malware on the web doesn't earn any money for Google, but it's clearly a Good Thing for users and for the web. I'm glad we do it, even if it means that sometimes we have to write a generic malware post to debunk misconceptions.
Decisions for Google:
How do you determine which sites are included in the Safe Browsing blocklist?
Should the blocklist cover entire domains, or just specific pages within a domain?
How should Google inform website operators that their sites are distributing malware?
How do you determine which sites are deliberately distributing malware, and which are simply compromised?
How should Google respond to accusations of false positives?
Questions and policy implications to consider:
If Google is too transparent, will that actually help those with malicious intent get around the blocklists?
Since Google is not making money from this blocklist, how many resources will it take to keep the list accurate and to handle appeals and questions from blocked sites?
Should a single company be making these decisions?
Resolution: Google took a number of steps to try to alleviate the concerns, starting initially with a diagnostic tool for sites that were put on the blocklist.
Over time that expanded to Google's Search Console for websites. From Wired's oral history of Safe Browsing, here is Panos Mavrommatis, the Engineering Director of the program describing how and why they built the Search Console:
In our first interactions with web masters they would often be surprised. So we started building tools dedicated to web masters, now called Search Console. The basic feature was that we would try to guide the web master to the reason that their website was infected, or if we didn't know the exact reason we would at least tell them which pages on their server were distributing malware, or we would show them a snippet of code that was injected into their site.
Along the way, they have faced mistakes and errors, including a technical error in 2009 that, for a time, labeled every single Google search result an error.
Google also put together an appeals process for those who felt their site did not belong on the blocklist, and enlisted a third party, the non-profit StopBadware.org which was formed out of Harvard's Berkman Klein Center in 2006, to help with reviewing appeals when a site gets listed in Safe Browsing.This partnership represents an early version of having an independent third party help review content moderation choices on a platform.

Read more here

---
posted at: 12:00am on 05-Sep-2020
path: /Policy | permalink | edit (requires password)
0 comments, click here to add the first
---
---
Appeals Court Says Address Mistakes On Warrants Are Mostly Harmless, Not Worth Getting Excited About

Furnished content.


In a case involving a drug bust utilizing a warrant with erroneous information, the Sixth Circuit Court of Appeals had this to say [PDF] about the use of boilerplate language and typographical errors:
Challenges to warrants based on typographical errors or factual inaccuracies typically fall under this Circuit's clerical error exception. We have consistently found that inadvertent drafting mistakes, for instance transposing a number in a street address or listing an incorrect nearby address, do not violate the Fourth Amendment's prohibition on unreasonable searches and seizures. That is because those errors create little risk of a mistaken search or a general warrant granting police an unconstitutionally broad authority to conduct searches.
The order to search listed the wrong address. Here's why:
This description at the beginning of the warrant correctly directed officers to Abdalla's precise New Hope Road address in DeKalb County. But the warrant's final paragraph "commanded" officers "to search the . . . premises located at 245 Carey Road, Hartsville, Trousdale Tennessee." (R. 20-1, Search Warrant, Page ID # 59.) Agent Gooch testified that the Carey Road address came from using a previous warrant as a template. Although Judge Patterson had jurisdiction over Abdalla's residence in DeKalb County, he lacked jurisdiction in Trousdale County, which encompassed the Carey Road property listed on the warrant's final page.
The court says this is harmless. Rather than suppress evidence in hopes that cops won't just copy-paste "sworn statements" before running them by a judge, the Appeals Court says this creates "little risk" of "mistaken searches." Perhaps in this case the risk was minimal. The rest of the warrant correctly described the residence and how to locate it. But to pretend careless warrant crafting rarely results in "mistaken searches" ignores how often it happens -- and how often this supposed low-risk "mistake" results in real harm."Little risk?" Here's what's actually happening in the Sixth Circuit, which covers Kentucky, Michigan, Ohio, and Tennessee.
Oak Park, Michigan (November 2019): Police raid the wrong side of a duplex, breaking windows and the front door before realizing their mistake.Flint, Michigan (October 2014): Troopers go to the wrong house to locate a fugitive, shoot family's dog in the face.Detroit, Michigan (May 2017): After conducting a one-day(!) human trafficking investigation, a SWAT teams raids the wrong house, handcuffs everyone present (including two children) before discovering their mistake.Detroit, Michigan (September 2017): DEA agents raid two(!) wrong addresses. The forty officers(!!) recover no drugs. Search warrants and property receipts left at the properties by the feds were blank, according to this report.Detroit, MIchigan (April 2017): Police raid wrong house, kill homeowner's dog.Nashville, Tennessee (August 2020): Three cops raid wrong house, traumatizing the resident and two young children. Officers predicated the search on housing information that hadn't been updated since November 2018.Lebanon, Tennessee (January 2006) - Officers raid wrong house, kill 61-year-old man while his wife is handcuffed in another room.Louisville, Kentucky (October 2018) - Officers (three of whom shot and killed Breonna Taylor during another botched raid) using outdated information raid a house looking for someone who had moved out four months earlier.Bowling Green, Kentucky (July 2016) - Police raid the wrong house looking for a Black suspect. Officers handcuff and question the homeowner, who weighs 100 pounds less than the suspect they're looking for. The interrogated homeowner is also one foot taller than the suspect. He's also white.Louisville, Kentucky (January 2020) - Officers enter the wrong house seeking a shooting suspect, handcuffing one of the residents.Louisville, Kentucky (July 2020) - Cops raid a vacant house looking for a drug suspect who had already been arrested and was in jail. Officers break windows, destroy a door, and handcuff the man hired to paint the interior of the vacant residence.Cleveland, Ohio (November 2018) - Wrong house raided during a shooting investigation. Cops cause over $8,000 of physical damage to the house and spend an hour interrogating all the residents -- some of whom are disabled -- before realizing their mistake.Strongsville, Ohio (May 2010) - A man and his 14-year-old daughter are forced out of their house and made to lay face down on the lawn until officers realize they have the wrong address.Cleveland, Tennessee (May 2018) - DEA and local cops raid wrong house in search of murder suspect. Flashbangs are deployed into the house despite the presence of young children -- something officers should have been able to discern from the number of toys around the front entry of the residence.
This is just a small sampling. And this is just from this circuit, which covers only four of the 50 states. This happens far too frequently for it to be shrugged off by an Appeals Court, even if the facts of the case might lead the court to conclude a mistake in an affidavit doesn't warrant the suppression of evidence.The Fourth Amendment places the sanctity of the home above all else. And yet, officers continue to perform searches without performing the due diligence required to support a home invasion. Outdated info, unverified claims by informants, minimal investigative work… it all adds up to situations where rights are violated and residents are recklessly subjected to violence and deadly force.How bad can it get? Here's a true horror story that shows just how little law enforcement agencies care about the people they're supposed to protect and serve:
Embarrassed cops on Thursday cited a "computer glitch" as the reason police targeted the home of an elderly, law-abiding couple more than 50 times in futile hunts for bad guys.Apparently, the address of Walter and Rose Martin's Brooklyn home was used to test a department-wide computer system in 2002.What followed was years of cops appearing at the Martins' door looking for murderers, robbers and rapists - as often as three times a week.
Every wrong visit to the house was a chance for officers to respond with deadly force to perceived threats. That these residents managed to survive 50+ incidents with cops looking for violent criminals is a miracle. "Mistaken searches" are not an acceptable outcome. Blanket statements like these issued by courts just give cops more reasons to cut corners before banging their way into someone's home in search of nonexistent criminals or criminal activity.

Read more here

---
posted at: 12:00am on 04-Sep-2020
path: /Policy | permalink | edit (requires password)
0 comments, click here to add the first
---
---
Sony May Just Be Loosening The Reigns As Gaming Brings In A Plurality Of Its Revenue

Furnished content.


Any trip down Techdirt's memory lane when it comes to Sony is not going to leave you with a good taste in your mouth. This is a company that has been almost comically protective of all things intellectual property, engaged in all manner of anti-consumer behavior, and is arguably most famous for either using an update to remove features from its gaming console that generated sales of that console or for installing rootkits on people's computers. When it comes to any positive stories about the company, in fact, they mostly have to do with the immense success Sony had in the most recent Console Wars with its PlayStation 4 device.Positive results and gaming aren't a crosstab of coincidence for Sony, it seems. There are couple of converging stories about Sony, one dealing with its revenue and another with its plans for its gaming divisions opening up a bit, that point to positive developments. To set the stage, let's start with the fact that the video game industry is now the biggest revenue generator for Sony.
Sony's full year corporate report was published over the weekend Australian time, and as always it covers Sony's PlayStation division as well as the other units within its business. Naturally, the coronavirus was a big factor, with Sony estimating a ¥68.2 billion loss ($876.3 million) in operating income just from COVID-19.But gaming has done well for Sony. The PlayStation business now generates more sales and operating income than any other part of Sony:
Now, it's worth noting that Sony's gaming revenue is actually down for 2019, but the percentage as revenue generator for the company is up. And, as noted above, gaming is now the single largest revenue generator of any market Sony is in. And what's really interesting in all of that is that it's happening while Sony has famously limited its own reach with walled gardens. PlayStation exclusives have been the norm wherever Sony can sign them. Sony's first-party games, many of them among the best that gaming has to offer, have of course been siloed on PlayStation consoles. For years, Sony limited PS4's remote play function to Sony Xperia phones that never broke ground in market share. Everything, it seemed, was designed to be as locked into Sony's walled garden as possible.But we're starting to see signs that the company has recognized that it needs to change.
All that said, explicitly mentioning the potential for PC ports in its annual report is the latest sign that Sony continues to slowly loosen its tight, walled-garden approach to game hardware and software. In 2017, for instance, Sony expanded its PlayStation Now streaming service to work on Windows PCs as well as PS4 hardware. That service now has 2.2 million regular subscribers, Sony says, up significantly from the 1 million subscribers claimed last November.In 2018, Sony finally opened PS4 titles to cross-platform online play with other consoles after years of public reluctance on that score. Then, earlier this year, Sony said MLB: The Show will come to non-PlayStation consoles as soon as 2021, after decades of PlayStation exclusivity.It all speaks to a company that's more aware that "competition from online PC games and players from other industries is expected to continue to intensify," as it says in its annual report. Even as Sony pushes hard for the exclusive "speed, haptics, and sound" improvements of the upcoming PlayStation 5 this year, it is hedging its bets somewhat with support for non-Sony hardware as well.
If gaming is your best revenue generator, these moves only make sense. MLB The Show is fantastic; why should Sony only sell it to PlayStation owners? While Horizon: Zero Dawn took over three years to make it to the PC... it still made it. Why wouldn't Sony want to sell its game to PC gamers that may never want to buy a PlayStation, but would love to play some of the games previously exclusive to it?It's long past time Sony teared the walls of its garden down. Let the revenue streams in. Increase availability of its products. Make more money.The only surprising aspect of all of this is how much work it took to convince Sony that more money was good.

Read more here

---
posted at: 12:00am on 04-Sep-2020
path: /Policy | permalink | edit (requires password)
0 comments, click here to add the first
---
---
Content Moderation Case Study: Amazon Alters Publishing Rules To Deter Kindle Unlimited Scammers (April 2016)

Furnished content.


Summary: In July 2014, Amazon announced its "Netflix, but for ebooks" service, Kindle Unlimited. Kindle Unlimited allowed readers access to hundreds of thousands of ebooks for a flat rate of $9.99/month.Amazon paid authors from a subscriber fee pool. Authors were paid per page read by readers -- a system that was meant to reward more popular writers with a larger share of the Kindle Unlimited payment pool.This system was abused by scammers once it became clear Amazon wasn't spying on Kindle Users to ensure books were actually being read -- i.e., keeping track of time spent on pages of text by readers or total amount of time spent reading. Since Amazon had no way to verify if readers were actually reading the content, scammers deployed a variety of tricks to increase their unearned earnings.Part of the scam relied on Amazon's willingness to pay authors for partially-read books. If only 100 pages of a 500-page book were read, the author still got credit for the 100 pages read by an Unlimited user. Scammers inflated "pages read" counts by moving the table of contents to the end of the book or offering dozens of different languages in the same ebook, relying on readers skipping hundreds of pages into the ebook to access the most popular translation. Other scammers offered readers chances to win free products and gift cards via hyperlinks that brought readers to the end of the scammers' ebooks -- books that sometimes contained thousands of pages.The other part of the scam equation was Amazon's hands-off approach to self-publishing. Amazon has opened its platform and appears to do very little to police the content of ebooks, other than requiring authors to follow certain formatting rules. Amazon is neither a publisher nor an editor, which has created a market for algorithmically-generated content as well as a home for writers seeking a distribution outlet for their bigoted and hateful writing.Once Amazon realized the payout system was being gamed, it altered the way Kindle Unlimited operated. It began removing scammers, notifying authors and customers that it was doing this in response to Unlimited readers' complaints.
Some in the community have contacted us about the activities of a small minority of publishers who may attempt to inflate sales or pages read through the use of various techniques, such as adding unnecessary or confusing hyperlinks, misplacing the TOC [table of contents] or adding distracting content.
Unfortunately, Amazon's moderation efforts did affect a very small number of legitimate authors. Writer Walter Jon Williams was blocked from selling his ebook because his table of contents was located near the end of his book. Williams pointed out he had done this to maximize the amount of content prospective readers/purchasers could access using Amazon's "Look Inside" feature. After some back-and-forth, Williams' book and buy button were restored by Amazon.Amazon continues to work to minimize abuse of the Kindle Unlimited system. The most noticeable and major change has been to cap earnings at 3,000 pages per ebook per reader. This limits the amount of money scammers can pull from the Unlimited payout pool. It also limits the number of times Kindle Unlimited readers will find themselves scrolling through ebooks solely designed to inflate page counts.Decisions to be made by Amazon:
Can automated moderation alone determine whether an uploaded ebook is a legitimate offering?
Does altering the payout rules for Kindle Unlimited negatively affect legitimate authors?
Does the ongoing abuse of various Amazon ebook programs justify more data collection on customers and their reading habits?
Should authors be notified ahead of changes to Amazon services or would more transparency result in more abuse by scammers?
Questions and policy implications to consider:
Does the flat rate subscriber fee cover the costs of policing an ebook publishing ecosystem of this size?
Who deserves more protection? Sellers/writers or customers? How do you strike the correct balance that provides more value to both sides of the transaction?
Is more vetting needed on the front end (ID verification, etc.) to prevent further abuse?
Resolution: Amazon reacted to abuse of its Unlimited system by clarifying rules for content placement and removing ebooks that violated the company's publishing guidelines. It also changed the way the pool of Kindle Unlimited funds were paid out, limiting the amount of pool money scammers could remove from the system by artificially inflating "read pages" counts.

Read more here

---
posted at: 12:00am on 03-Sep-2020
path: /Policy | permalink | edit (requires password)
0 comments, click here to add the first
---
---
Animal Crossing Continues To Be An Innovative Playground As Biden Campaign Begins Advertising On It

Furnished content.


For nearly half a year now, especially when this damned pandemic really took off, we've been bringing you the occasional story of how Nintendo's Animal Crossing keeps popping up with folks finding innovative ways to use the game as a platform. Protesters advocating for freedom in Hong Kong gathered in the game. Sidelined reality show stars took to the game to ply their trade. Very real people enduring very real layoffs used the game's currency as a method for making very real money. As someone who has never played the game, the picture I'm left with is of a game that is both inherently malleable to what you want to do within it and immensely social in nature.So perhaps it was only a matter of time before one of the major Presidential candidates got involved.
Joe Biden's presidential campaign is rolling out a series of official virtual yard signs designed for display on islands in Animal Crossing: New Horizons for the Nintendo Switch.As first reported by The Verge, the four virtual sign designs squeeze supportive messages for the Democratic candidate into a 32 x 32 pixel, 16-color custom pattern square, suitable for displaying on a sign in front of your virtual house. In addition to the standard "Biden Harris" and "Team Joe" designs, the campaign has also released a version with a rainbow pride logo integrated into the "JOE" branding and a design featuring Biden's signature aviator sunglasses in red, white, and blue.
Putting any thoughts about individual candidates aside, it's a pretty fun and low-risk use of a social video game by the Biden team. How much effort did it take to put these images and in-game items together? Not very long, to be sure. And, with turning out the youth vote being such a premier goal of literally any political campaign, this is at least an innovative way to try to build some momentum with younger voters.And, thankfully, it won't be terribly intrusive, unlike the politics of this stupid real life hellscape we all live in. Nobody is going to see these signs unless they visit the island of the person using them. This isn't any more in-your-face than real life yard signs for a candidate.All that being said, the Biden campaign should probably be on the lookout for some unintended fuckery, given historical attempts to do this sort of thing.
Political campaigns using video games to get their message out has a short and spotty history. Former Virginia Gov. Mark Warner was among the first politicians to be interviewed in Second Life's virtual world back in 2006, an interview locale which later became known for attacks by flying penis griefers.
Not going to lie, I'm sort of sorry I missed that one. Either way, it remains interesting to see how folks are finding new ways to use open and social worlds like Animal Crossing.

Read more here

---
posted at: 12:00am on 03-Sep-2020
path: /Policy | permalink | edit (requires password)
0 comments, click here to add the first
---
---
Federal Court Temporarily Extends The NYPD's Famous Opacity, Blocks Release Of Misconduct Records

Furnished content.


The NYPD barely bothers to punish officers who misbehave. This "misbehavior" often includes violations of rights and extrajudicial killings, but it appears the NYPD feels New York's "finest" should be above reproach. Consequently, NYPD internal investigations often conclude no officers should be reproached, allowing them to remain the "finest" even when they're really the worst.A new wrinkle in the law fabric might change that. After years of doing nothing (and after years of the NYPD never bothering to invoke the law), the state repealed "50a," the statute that allowed the NYPD to withhold misconduct records from the public. For several years, the NYPD posted the outcome of internal investigations. Then it decided it was no longer going to do that. First, it blamed the high cost of printer ink. Then it cited the law that allowed it to stop posting reports where the press could access them.Lawsuits followed. And -- as is the case whenever law enforcement opacity is threatened -- the NYPD's unions have intervened. It was too little too late. An injunction was sought and obtained, but ProPublica -- which wasn't a party to the lawsuit over 50a records -- published what it had already received from the NYPD. But the battle continues because future opacity is at stake. Unfortunately, a federal court has decided opacity must win out for the moment.
A federal court has halted the release of police misconduct records until a coalition of New York City's police, fire and corrections unions can make their case to the United States Second Circuit of Appeals.The ruling came Wednesday afternoon — just days after Manhattan Federal Judge Katherine Polk Failla ruled on a lawsuit brought by the unions over the repeal of the law shielding police personnel records known as 50a.
That's right. The union doesn't just want records blocked from release. It wants the law back on the books. This is all very procedural so it probably doesn't wipe away Judge Faila's distaste for this lawsuit. Five days prior to this temporary injunction, Faila had this to say about the union's challenge of the repeal.
The lawsuit, brought by the coalition of unions over the repeal of 50a, argued that releasing unsubstantiated or unfounded allegations would put officers and firefighters at risk and would affect their employment prospects if they leave their department.But Failla said the unions failed to explain why an "officer in charge of hiring would be incapable of interpreting the records" and she had been "presented with no evidence of increased violence or threat of violence."The disclosures plaintiffs' argument also seems to overlook the disclosures that have historically been made," Failla said, noting that the NYPD had previously published disciplinary records in recent years at NYPD headquarters."Any injunctive relief that I would order, could not put that particular horse back in the barn," she added.
And yet this ad hoc collection of union legal cowboys is desperate to do just that. The horse cannot be re-barned but maybe enough union members' money can be blown delaying the inevitable. This will be the trophy brought back to the rank-and-file. Money was spent in an attempt to thwart transparency. And -- in the absence of any real victories -- this will have to do.Maybe in the end the courts will decide the repeal of 50a violates the many, many collective bargaining agreements the city has agreed to over the years. If so, New York City needs to let these expire and write new ones that actually give taxpayers a bit more bang for their buck. Accountability is a must. The city's unions continue to insist it's a luxury even the nation's largest city can't afford.

Read more here

---
posted at: 12:00am on 02-Sep-2020
path: /Policy | permalink | edit (requires password)
0 comments, click here to add the first
---
---
SafeSpeed Executive Charged With Bribing Cook County Officials For Red Light Camera Contracts

Furnished content.


In January of this year, we discussed how the Illinois Comptroller had decided to opt out of collecting red light camera fees for motorists ticketed by these automated revenue generators. Susan Mendoza said in a statement that while her office was taking this action due to the feds investigating the contractor for the cameras, a company called SafeSpeed, it was also her position that red light cameras were revenue generators with little efficacy at impacting public safety.All very true... but about that federal investigation.
Omar Maani, a former co-owner of politically-connected red light camera company SafeSpeed, has been charged with scheming with a former high-ranking Cook County official to bribe the relative of an Oak Lawn village trustee in order to install new red light cameras in the southwest suburb.Maani is charged with one count of bribery conspiracy in a two-page document known as a "criminal information," which is typically used in cases [w]here the defendant intends to plead guilty.
If true, such a guilty plea and quick conviction would lay bare the truth that red light cameras for years have been used to bilk money from taxpaying citizens to fill the coffers of both state governments and the contractors those governments work with. In this specific instance, the accusations against Maani suggest fairly brazen behavior. Maani is accused of attempting to pay a close family member of trustee from a Chicago suburb in exchange for installing SafeSpeed cameras in the city. While that is good old fashioned Chicago area politics, it's also textbook bribery.And if you might think this was some one-off scheme, it came about in coordination with the chief of staff for Cook County's Commissioner, Patrick Doherty, among others.
In February, Doherty was indicted on two counts of bribery and one count of conspiracy to defraud, accused of conspiring with a fellow SafeSpeed sales agent and one of the company's owners to pay $4,000 in bribes to the relative of an Oak Lawn village trustee, in exchange for influencing that trustee to help approve the installation of additional cameras.The charges against Doherty came about two weeks after former Illinois State Sen. Martin Sandoval pleaded guilty to taking $70,000 in bribes to act as a "protector" for red light camera company SafeSpeed. Sandoval said he agreed to take bribes in exchange for blocking proposed legislation to ban red light cameras.
This again should lay to rest what the purpose of red light cameras is: revenue generation. They aren't about safety. They aren't about the law. They aren't about influencing driving habits. They are about money, full stop.Which is why they should not exist.

Read more here

---
posted at: 12:00am on 02-Sep-2020
path: /Policy | permalink | edit (requires password)
0 comments, click here to add the first
---
---
If A College Is Going To Make COVID-19 Contact Tracing Apps Mandatory, They Should At Least Be Secure

Furnished content.


One of the more frustrating aspects of the ongoing COVID-19 pandemic has been the frankly haphazard manner in which too many folks are tossing around ideas for bringing it all under control without fully thinking things through. I'm as guilty of this as anyone, desperate as I am for life to return to normal. "Give me the option to get a vaccine candidate even though it's in phase 3 trials," I have found myself saying more than once, each time immediately realizing how stupid and selfish it would be to not let the scientific community do its work and do it right. Challenge trials, some people say, should be considered. There's a reason we don't do that, actually.And contact tracing. While contact tracing can be a key part of siloing the spread of a virus as infectious as COVID-19, how we contact trace is immensely important. Like many problems we encounter these days, there is this sense that we should just throw technology at the problem. We can contract trace through our connected phones, after all. Except there are privacy concerns. We can use dedicated apps on our phones for this as well, except this is all happening so fast that it's a damn-near certainty that there are going to be mistakes made in those apps.This is what Albion College in Michigan found out recently. Albion told students two weeks prior to on-campus classes resuming that they would be required to use Aura, a contact tracing app. The app collects a ton of real-time and personal data on students in order to pull off the tracing.
Aura, however, goes all in on real-time location-tracking instead, as TechCrunch reports. The app collects students' names, location, and COVID-19 status, then generates a QR code containing that information. The code either comes up "certified" if the data indicates a student has tested negative, or "denied" if the student has a positive test or no test data. In addition to tracking students' COVID-19 status, the app will also lock a student's ID card and revoke access to campus buildings if it detects that a student has left campus "without permission."TechCrunch used a network analysis tool to discover that the code was not generated on a device but rather on a hidden Aura website—and that TechCrunch could then easily change the account number in the URL to generate new QR codes for other accounts and receive access to other individuals' personal data.
It gets worse. One Albion student was able to discover that the app's source code also included security keys for Albion's servers. Using those, other researchers into the app found that they could gain access to all kinds of data from the app's users, including test results and personal identifying information.Now, Aura's developers fixed these security flaws...after the researchers brought them to light and after the school had made the use of the app mandatory. If anyone would like to place a bet that these are the only two privacy and security flaws in this app, then they must certainly not like having money very much.To be clear, plenty of other schools are trying to figure out how to use technology to contact trace as well. And there's probably a use for technology in all of this, with an acceptable level of risk versus the benefit of bringing this awful pandemic under control.But going off half-cocked isn't going to help. In fact, it's only going to make the public less trustful of contact tracing attempts in the future, which is the last thing we need.

Read more here

---
posted at: 12:00am on 01-Sep-2020
path: /Policy | permalink | edit (requires password)
0 comments, click here to add the first
---
---
Appeals Court Says Not Allowing Federal Officers To Pepper Spray Journalists Makes Law Enforcement Too Difficult

Furnished content.


The Ninth Circuit Appeals Court has just stripped away the protections granted to journalists and legal observers covering ongoing protests in Portland, Oregon. After journalists secured an agreement from local police to stop assaulting journalists and make them exempt from dispersal orders, the DHS's ad hoc riot control force (composed of CBP, ICE, and Federal Protective Services) showed up and started tossing people into unmarked vans and assaulting pretty much everyone, no matter what credentials they displayed. Shortly after that, a federal court in Oregon granted a restraining order forbidding federal agents from attacking journalists and observers.Not that granting the restraining order did much to prevent federal officers from beating journalists with batons, spraying them with pepper spray, or making sure they weren't left out of any tear gassings. The plaintiffs were soon back in court seeking sanctions against federal violators of the order. The DHS said it couldn't identify any of the officers and stated it had punished no one for violating the order. This prompted the judge to add more stipulations to the order, including the wearing of identification numbers by officers engaging in riot control.Unfortunately for journalists and legal observers, the restraining order is no longer in place. It was rolled back by the Appeals Court in a very short order [PDF] with the court finding that a blanket order protecting journalists and observers from being assaulted makes things too tough for federal cops. (via Courthouse News)
Based on our preliminary review, appellants have made a strong showing of likely success on the merits that the district court's injunction exempting "Journalists" and "Legal Observers" from generally applicable dispersal orders is without adequate legal basis. Given the order's breadth and lack of clarity, particularly in its non-exclusive indicia of who qualifies as "Journalists" and "Legal Observers," appellants have also demonstrated that, in the absence of a stay, the order will cause irreparable harm to law enforcement efforts and personnel.
DHS personnel will still have to comply with the stipulation of the now dead restraining order requiring them to ID themselves:
This order does not disturb the portion of the district court's August 20, 2020 order directing the parties to confer regarding identifying markings…
The equally short dissent disagrees. The restraining order has been in place for more than a month at this point and the federal task force hasn't found itself unable to engage in crowd control and riot suppression efforts.
In light of the deferential review accorded to the district court's factual finding at this stage, the district court's extensive factual findings with respect to journalists and legal observers, including the finding that the injunction would not impair law enforcement operations to protect federal property and personnel, and the fact that a temporary restraining order has been in place since July 23, 2020, the government has failed to meet its burden to demonstrate either an emergency or irreparable harm to support an immediate administrative stay.
This will be appealed. And it may end up being something the Supreme Court will feel like addressing. There's a question that needs to be answered since the future will contain plenty of protests and plenty of people covering them. This was how the district court judge explained it in an earlier hearing:
Simon initially said at a hearing Tuesday that the question of whether journalists have different rights under the First Amendment than those of protesters, who legally must leave an area after a riot has been declared, was likely to end up before the U.S. Supreme Court.
But Judge Simon took a pass on that question in his decision -- the one now rejected by the Appeals Court.
Someday, a court may need to decide whether the First Amendment protects journalists and authorized legal observers, as distinct from the public generally, from having to comply with an otherwise lawful order to disperse from city streets when journalists and legal observers seek to observe, document, and report the conduct of law enforcement personnel; but today is not that day.
With this rejection by the Appeals Court, that "someday" may be much closer than it was a little more than a week ago, when journalists and observers were still shielded from being assaulted by federal officers. The gloves are off now and federal agents are free to treat them like the rest of the crowd when deploying force.

Read more here

---
posted at: 12:00am on 01-Sep-2020
path: /Policy | permalink | edit (requires password)
0 comments, click here to add the first
---
---