---
Last Call: $10 Face Masks, $20 T-Shirts And More In Our Black Friday Gear Sale!

Furnished content.




Last chance for storewide savings on Techdirt Gear! Sale ends tonight »Today is the last day of our Black Friday weekend sale in the Techdirt Gear store on Threadless! We're offering discounts on all our designs, from old hits like our Takedown gear to new offerings like Otherwise Objectionable. The sale ends tonight, so hurry up and get yours while there's still time!

all apparel including premium tees and pullover hoodies. If you've had your eye on some Techdirt gear, now's the time to stock up!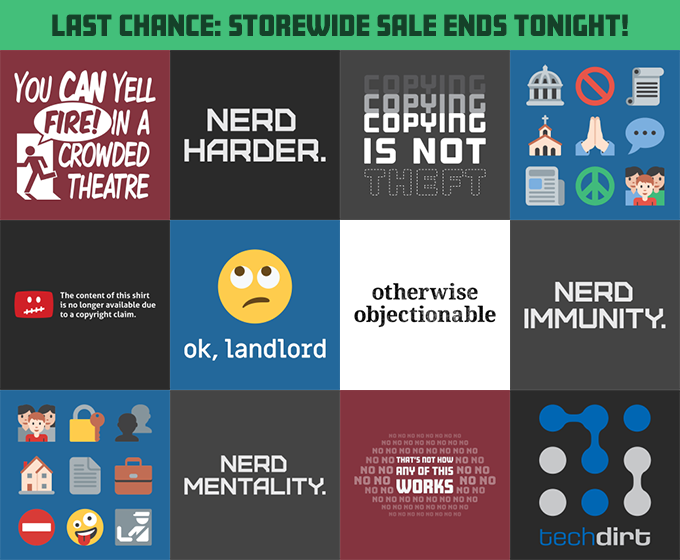 Read more here

---
posted at: 12:00am on 30-Nov-2020
path: /Policy | permalink | edit (requires password)
0 comments, click here to add the first
---
---
This Week In Techdirt History: November 22nd - 28th

Furnished content.


Five Years AgoThis week in 2015, the attacks on encryption continued, with David Cameron's former speechwriter publishing an incredibly dumb article in the Telegraph and Dianne Feinstein contradicting her month-old fearmongering about cybersecurity with demands for encryption backdoors — while a supposed ISIS encryption manual that people had been freaking out about turned out to be a guide for journalists. Meanwhile, we learned about widespread illegal wiretaps by police in California, and that reports of the end of NSA domestic email collection were incorrect — and, long before he was the Supreme Court's most prominent alleged rapist, Judge Brett Kavanaugh was offering up a strident defense of the NSA's bulk metadata collection.Ten Years AgoThis week in 2010, the TSA was on everyone's minds thanks to its still-new naked scanners, which suddenly had the support of the president after he traveled with the CEO of a company that makes them. Some were trying to find out if the TSA had ever actually caught a terrorist, and being told it's a state secret, while the stories of incredibly invasive and demeaning searches for people who don't get scanned continued to flood in. One airport tried to claim that recording the TSA's gropings was an arrestable offense, and the agency's attempt to demonstrate to congress that the searches are fine completely backfired — and Homeland Security investigators were discovering that TSA agents weren't even good at spotting prohibited items in the scans.Fifteen Years AgoThis week in 2005, we continued to watch the fallout from the Sony rootkit fiasco, with anti-virus firms trying to explain why their products couldn't catch it and the state of Texas filing a lawsuit against Sony, all while the label's sales plummeted and got it in hot water with many of its artists. TiVo was trying to thread the needle with a new offering that included copy protection but it unsurprisingly wasn't enough to stop TV executives from threatening to sue. And finally, for anyone who is currently trying to get their hands on a next-gen console, enjoy this fifteen-year-old post about people paying thousands for Xbox 360 consoles on eBay.

Read more here

---
posted at: 12:00am on 29-Nov-2020
path: /Policy | permalink | edit (requires password)
0 comments, click here to add the first
---
---
Get $5 Off All Apparel In The Techdirt Gear Store! Sale Ends Tomorrow

Furnished content.




Get $5 off all Techdirt apparel before the sale ends tomorrow night »It's the second day of our storewide Black Friday weekend sale in the Techdirt Gear store on Threadless! We've knocked $5 off the price of standard face masks and all apparel, including the popular trio of Nerd Mentality, Nerd Mentality and Nerd Harder, as well as our classic Techdirt logo gear and all our other designs.

The sale ends Sunday night, so get yours today! In addition to the $10 standard face masks and $20 basic t-shirts, the discount applies to all apparel including premium tees and pullover hoodies.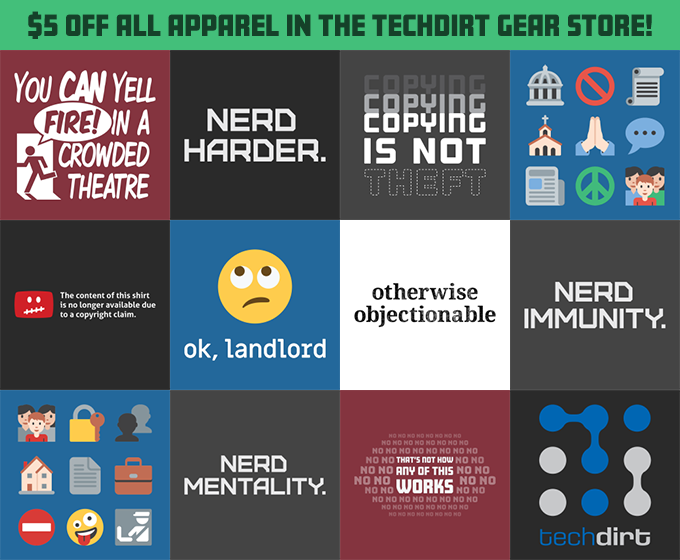 Read more here

---
posted at: 12:00am on 29-Nov-2020
path: /Policy | permalink | edit (requires password)
0 comments, click here to add the first
---
---
Black Friday Gear Sale: $10 Face Masks, $20 T-Shirts, And More!

Furnished content.




Get storewide savings on all Techdirt Gear from now until Sunday night »Our Black Friday weekend sale has begun! From today through the end of the weekend, we're offering discounts on standard face masks and all apparel for all of the designs in the Techdirt Gear store on Threadless. Whether it's one of our new offerings like That's Not How Any Of This Works or an old favorite like Nerd Harder, now's the time to grab that gear you've had your eye on!

all apparel including premium tees and pullover hoodies. The sale runs through this weekend and ends Sunday night, so get yours today!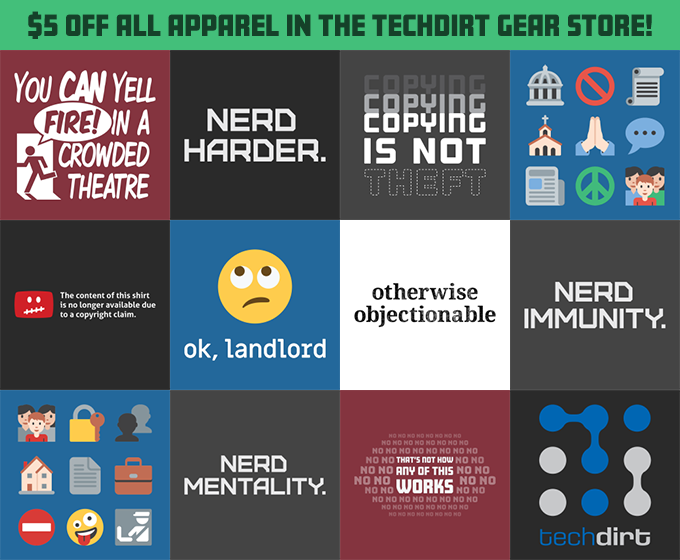 Read more here

---
posted at: 12:00am on 28-Nov-2020
path: /Policy | permalink | edit (requires password)
0 comments, click here to add the first
---
---
Daily Deal: Black Friday Roundup

Furnished content.


It's Black Friday and we've got some great deals for you! Use the following codes for additional savings throughout the store: BFSAVE20 to save 20% on physical goods sitewide, BFSAVE40 to save 40% off apps and software, and BFSAVE70 to save 70% off of online courses. Check out our highlighted deals below.Learn Spanish, French, Italian, German, and many more languages with Babbel, the popular language-learning app. Developed by over 100 expert linguists, Babbel is helping millions of people speak a new language quickly and with confidence. After just one month, you will be able to speak confidently about practical topics, such as transportation, dining, shopping, directions, making friends, and much more! Get unlimited access to all languages offered for $199.2020 Adobe Graphic Design School has 3 courses to help you learn more about top Adobe apps and elements of graphic design. The first course covers Adobe Photoshop and all aspects of the design process from the importing of images right through to final production considerations for finished artwork. The second course covers Adobe Illustrator and will lead you through the design process, where you'll learn a variety of ways to produce artwork and understand the issues involved with professional graphic design. The third course will help you discover how to harness the power of Adobe InDesign to develop different types of documents, from simple flyers to newsletters, and more. The bundle is on sale for $49.Premium A to Z Microsoft Excel Bundle has 10 courses to help you discover the power of Excel. You'll start off learning the basics like building your own spreadsheets, using formulas, and creating Macros to help automate your work. You'll move on to learning how to program in VBA, how to easily sort your data using cell protection, named ranges, multi-level storing, advanced filters, and more. You will gain skills for better collaboration, including password protection and tracking changes, learn to audit worksheets, validate data to ensure consistency, and use other essential business tools in Microsoft Excel. The bundle is on sale for $40.Game Developer and Player Bundle featuring PlayStation Plus will help you learn to create your own amazing games. Courses cover Unity Engine, the fundamentals of C# programming, how to set your games apart from the crowd by polishing them with Unity's latest features, including post-processing effects and the animation system, how to create gorgeous cutscenes w/ Timeline & Cinemachine in Unity, and much more. The bundle also includes a one year subscription to PlayStation Plus. Connect with an enormous online community via PlayStation Plus to compete in PS classics like Star Wars: Battlefront, Uncharted, and many more. If that's not reason enough to pull the trigger, the subscription also delivers an epic monthly collection of free games, in a library that is constantly expanding. The bundle is on sale for $100.iOS 14 and SwiftUI Bootcamp Bundle is here to help you master iOS14 and SwiftUI so you can develop Apple apps and widgets. If you're not familiar with SwiftUI, it's a new way to program that uses a declarative approach, which lets us build incredibly cool apps, using about 5 times less code than previous programming paradigms. SwiftUI includes all of Apple's platforms, so build the app once and deploy it on the other platforms very easily. You'll learn how to create a Currency Converter, Emoji Dictionary, Daily Journal, and API/JSON apps. The bundle is on sale for $25.Note: The Techdirt Deals Store is powered and curated by StackCommerce. A portion of all sales from Techdirt Deals helps support Techdirt. The products featured do not reflect endorsements by our editorial team.

Read more here

---
posted at: 12:00am on 28-Nov-2020
path: /Policy | permalink | edit (requires password)
0 comments, click here to add the first
---
---
Techdirt Gear: Black Friday Weekend Sale Starts Tomorrow!

Furnished content.



Our Black Friday weekend gear sale starts tomorrow in the Techdirt store on Threadless »Ever since Teespring took down our Copying Is Not Theft gear and refused to offer an explanation last December, we've been launching our new designs (and gradually moving over old favorites) on Threadless — and now, it's time for our first storewide sale!Starting tomorrow, we're taking $5 off all t-shirts, hoodies, and sweatshirts and selling standard face masks for just $10 each! The sale applies to all our designs on Threadless, and runs through to the end of Sunday — so if you've had your eye on some Techdirt gear, or you haven't yet checked out our store, now's the time to get your wish-list ready!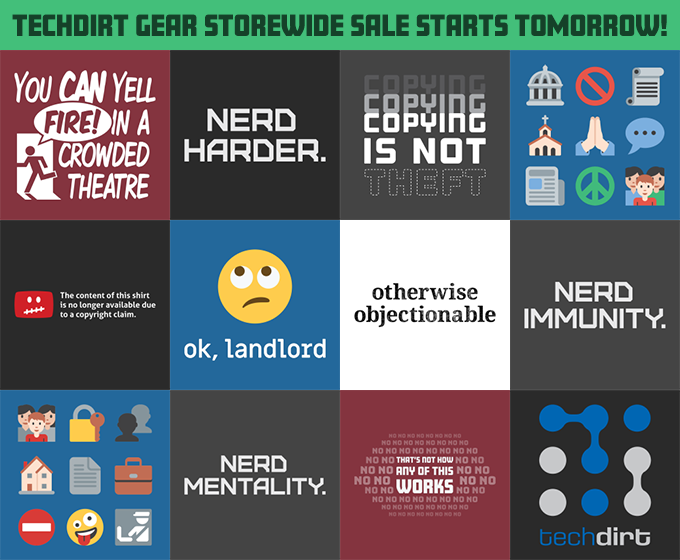 Read more here

---
posted at: 12:00am on 27-Nov-2020
path: /Policy | permalink | edit (requires password)
0 comments, click here to add the first
---
---
Good News: Academics Can Make Their Articles Published In Top Journal Nature Freely Available As Open Access. Bad News: They Must Pay $11,000 For Each One

Furnished content.


Two years ago, Techdirt wrote about Plan S, an initiative from top research funders that requires all work they support to be published as open access. It's one of the most important moves to get publicly-funded work made freely available, and as such has been widely welcomed. Except by publishers, of course, who have enjoyed profit margins of 35-40% under the current system, which sees libraries and others pay for subscriptions in order to read public research. But Plan S is too big to ignore, not least after the powerful Bill & Melinda Gates Foundation joined the coalition behind it. So publishers have instead come up with ways to subvert the whole idea of making knowledge freely available in order to maintain profits. The latest and perhaps most blatant example of this has come from Springer Nature, the publisher of the journal Nature, widely regarded as one of the top two science titles in the world (the other being Science). Here's what Nature the publisher is doing, reported by Nature the journal:
From 2021, the publisher will charge €9,500, US$11,390 or 8,290 to make a paper open access (OA) in Nature and 32 other journals that currently keep most of their articles behind paywalls and are financed by subscriptions. It is also trialing a scheme that would halve that price for some journals, under a common-review system that might guide papers to a number of titles.OA advocates are pleased that the publisher has found ways to offer open access to all authors, which it first committed to in April. But they are concerned about the price. The development is a "very significant" moment in the movement to make scientific articles free for all to read, but "it looks very expensive," says Stephen Curry, a structural biologist at Imperial College London.
The research will indeed by freely available to the world, but the authors' institutions have to cough up the massive sum of $11,000 for every article. That will make Nature compliant with Plan S, while ensuring that loads of money continues to roll in. It also means that educational institutions won't be saving any money when their researchers can read some Nature publishing papers for free, since they must pay out huge sums for their own academics to appear in these titles. This is a classic example of double-dipping -- what is more politely called "hybrid open access." Nature the publisher will get paid by institutions to make some articles freely available, but it will continue to be paid by subscribers to access material that has already been paid for. Plan S may mean that Nature and other publishers make even more money.That's problematic, because more money for Nature and other journals means more money that the academic world has to pay as whole. One of the big hopes was that open access would not only provide free access to all publicly-funded research, but that the overall cost to institutions would come down dramatically. If they don't, then researchers in poorer countries are unlikely to be able to publish their work in leading journals, because their universities can't afford charges of $11,000 per article. Waiver schemes exist in some cases, but are unsatisfactory, because they effectively require researchers to beg for charity -- hardly what global access to knowledge is supposed to bring about.At the heart of the problem lies the issue of a title's supposed prestige. Nature can probably get away with charging its extremely high open access rate because researchers are so keen to appear in it for the sake of their careers:
Peter Suber, director of the Harvard Office for Scholarly Communication in Cambridge, Massachusetts, says it is a "prestige tax", because it will pay for the journals' high rejection rates, but will not, in his opinion, guarantee higher quality or discoverability. "I think it would be absurd for any funder, university or author to pay it," he says.
A possible solution is to move to a publishing system based around preprints, which have proved invaluable during the COVID-19 pandemic as a way of getting important research out fast. With this approach, the issue of prestige is irrelevant, since papers are simply placed online directly, for anyone to access freely. That's going to be a hard transition. Not because there are deep problems with the idea, but because academics prefer to appear in journals like Nature and Science. Open access won't succeed until they realize that this is not just selfish but also ultimately harmful to their own academic work, which becomes warped by the perceived need to publish in prominent titles.Follow me @glynmoody on Twitter, Diaspora, or Mastodon.

Read more here

---
posted at: 12:00am on 26-Nov-2020
path: /Policy | permalink | edit (requires password)
0 comments, click here to add the first
---
---
Fifth Circuit Denies Immunity To Cops Who Beat And Tased An Unresisting Man To Death

Furnished content.


The Fifth Circuit is a bit infamous for allowing law enforcement to do what it wants without worrying about too much pushback from judges. This is due in part to the Supreme Court's increasing insistence lower courts take a hands off approach to qualified immunity by encouraging them to avoid determining whether any rights violation has occurred. Instead, the Supreme Court has pushed lower courts to only determine whether or not a similar rights violation has occurred in the past, and whether past precedent justifies the stripping of immunity.The end result has been less precedent established, which results in fewer determinations officers should have known their actions violated people's rights. Fortunately, the Supreme Court seems to be slowly recognizing the damage it's done over the past forty years. And the Fifth Circuit Appeals Court is now the home of Judge Don Willett, who issued a scathing attack on qualified immunity in 2018 in an opinion dealing with an allegedly unconstitutional search of a doctor's office.
Section 1983 meets Catch-22. Plaintiffs must produce precedent even as fewer courts are producing precedent. Important constitutional questions go unanswered precisely because those questions are yet unanswered. Courts then rely on that judicial silence to conclude there's no equivalent case on the books. No precedent = no clearly established law = no liability. An Escherian Stairwell. Heads defendants win, tails plaintiffs lose.
Don Willett wrote this recent opinion [PDF] upholding the stripping of qualified immunity from officers who beat and tased an unresisting man as he suffered a mental health crisis. Here's how it opens, which gives you a good idea of where it's headed.
"What is the virtue of a proportional response?" an exasperated President Bartlet demands in a memorable scene from the first season of The West Wing. Anything more, the Chairman of the Joint Chiefs of Staff coolly advises, would be a "staggering overreaction . . . you'll have doled out a $5,000 punishment for a fifty-buck crime."For those in positions of public trust—from Commanders in Chief (who must "take Care that the Laws be faithfully executed" ) to City of Gretna Police Officers (who "vow to protect life and property while safeguarding constitutional guarantees")—proportional responses are good policy. We expect those charged with executing and enforcing our laws to take measured actions that ascend in severity only as circumstances require. A disproportionate response is unreasonable. And if it describes physical force inflicted by a police officer, it is unconstitutional.
After a middle school official reported a man "acting strange" near the school grounds, the "strange" man -- Kendole Joseph -- ran into a nearby convenience store and hid behind the counter. The two school resource officers were soon joined by twelve(!) Gretna police officers. Some of these 12 officers severely beat Joseph, ultimately ending his life.The first officers went over the counter to "secure" Joseph. Somehow this involved multiple tasings and a nearly uninterrupted beating.
The convenience-store manager, who was behind the counter at the time, testified that Joseph looked scared and immediately "went face down." Once on the ground, Joseph covered his face with his hands and assumed the fetal position. Seconds later, Officers Martin and Leduff followed Joseph over the counter. Officer Martin, weighing 300 pounds, immediately placed his full weight onto Joseph, who was still lying on the floor with his legs bent toward his chest. Officer Leduff began holding Joseph's upper body down.
Apparently, this wasn't enough restraint. More force was deployed on the Joseph.
At that point, approximately thirty seconds after Officer Martin jumped over the counter, he ordered Joseph to put his hands behind his back and deployed his taser for eleven seconds.
As more officers poured into the store, the assault continued.
Officer Dugas handed a baton to Officer Martin, who jabbed it downward, striking Joseph at least twice with the pointed end.
Apparently nothing else was happening in Gretna that afternoon.
A few seconds later, Officers Varisco, Costa, and Rolland entered the store, followed shortly by Officer Faison. Officers Varisco and Faison observed from the front side of the counter, and Officers Costa and Rolland walked behind the counter. Officer Varisco reached over to offer his taser to the officers behind the counter. Officer Costa briefly observed from behind the counter, then entered the scrum, holding Joseph's lower body down.
Yet another officer entered and the Taser was deployed again.
Officer Verrett then entered the store. Two seconds later, Officer Martin deployed his taser again, for three seconds.
The officers attempted to pull Joseph out from behind the counter. The methods used were… questionable.
Officers Martin, Thompson, Dugas, and Costa began attempting to drag Joseph from the narrower area behind the counter to the wider area, on the path to the door.Officer Costa then kicked Joseph twelve to thirteen times while holding onto the counter. During this time, Officer Verrett entered the scrum. Officer Martin then punched Joseph in the head three times. Officers Martin, Thompson, Dugas, Costa, Faison, and Verrett resumed their efforts to drag Joseph toward the wider area, while Officer Leduff observed. Once in the wider area, Officer Martin punched Joseph in the face three times. Officer Bartlett then jumped over the counter and began holding Joseph down. Seconds later, Officer Costa punched Joseph in the head six times.
A little over three minutes later, the beaten man was in cuffs and lying prone in the backseat of a cop car, face down. Medical professionals noted Joseph was unresponsive and performed CPR. Two days later, Joseph died from injuries suffered at the hands of these officers. The injuries were extensive.
In total, Joseph endured twenty-six blunt-force injuries to his face, chest, back, extremities, scrotum, and testes.
And it doesn't appear any of them were justified.
Throughout the eight-minute encounter, Joseph was on the ground, experiencing acute psychosis, and continuously yelling. Officer Bartlett recalled Joseph "yelling random things" and pleading for someone to "call the police." Officer Faison and the store manager recalled him pleading for someone to "call the real police." Officer Leduff recalled Joseph calling for his mother and "saying all types of things," including that he was "about to be killed." The store manager recalled Joseph calling out for his mother and repeatedly yelling, "My name is Kendole Joseph," and "I do not have a weapon."
This isn't just the plaintiff's testimony. Joseph's health crisis and the officers' reactions were captured by the store's CCTV system.
[A]lthough Joseph may have disobeyed officer commands by entering the store, Joseph did not attempt to leave the store. Rather, he immediately dropped onto the floor in the fetal position. Joseph did not attempt to strike any officer; he flailed his legs and wiggled his body but made no contact with any officer. This version of the facts, the district court ascertained, was consistent with the video evidence. What is more, the district court observed, the video suggested that Joseph was not struggling against the officers at all "[f]or substantial portions" of the encounter.
Once a suspect is "subdued," force deployment needs to cease. This doesn't just mean once the suspect is cuffed and in the back of a squad car. As the Fifth Circuit points out, Joseph was "subdued" during pretty much the entirety of this encounter.
If the suspect lacks any means of evading custody—for example, by being pinned to the ground by multiple police officers—force is not justified. So even if Joseph failed to comply and struggled against the officers at certain points throughout the encounter, that resistance did not justify force indefinitely.
This is where you can tell it's Willett writing the opinion. There's a path the Fifth Circuit could have taken -- one wholly supported by Supreme Court rulings. But Willett decides he's not going to take the path of least resistance and simply search for on point precedent.
While we have discretion to leapfrog the merits and go straight to whether the alleged violation offended clearly established law, we think it better to address both steps in order to provide clarity and guidance for officers and courts.
The Fifth Circuit says the case must go to trial. There are potentially provable rights violations in the plaintiff's allegations. More importantly, the Fifth Circuit says it does not need a prior case on point to strip immunity. There's enough caselaw in the circuit that would have made officers aware severely beating a man who was both pinned to the ground and prevented from escaping by as many as 12 officers was unconstitutional.
On Plaintiffs' facts, as Joseph lay on the floor behind the convenience-store counter in the fetal position, repeatedly asking for help and exclaiming that he was not armed, Officer Martin did not request compliance or warn Joseph before tasing him, using his baton on him, or punching him. Officer Costa did not command or warn Joseph before kicking or punching him. Officers Martin and Costa did not reserve their tasings, punches, and kicks as responses to active resistance. They put force first. The evidence here permits a finding that—unlike the proportionately responding officers in Pratt and, instead, like the disproportionately responding officers in Newman, Ramirez, and Cooper—Officers Martin and Costa violated clearly established law by failing to attempt less forceful alternatives and by continuing to inflict force despite Joseph committing no crime, posing no threat, and giving no active resistance.
To sum up:
We are entitled to count on law enforcement to use no more force than necessary. And we are entitled to enforce that standard as a matter of constitutional law when officers fail to honor it.
No qualified immunity will be standing between two officers and the trial awaiting them. And it's more precedent that puts cops on notice that excessive force won't be rewarded with judicial passes in the future.

Read more here

---
posted at: 12:00am on 26-Nov-2020
path: /Policy | permalink | edit (requires password)
0 comments, click here to add the first
---
---
Another Drug Lab Scandal -- One That Took Kids From Their Parents -- Ends In Prison Time

Furnished content.


Another horror story involving the government and a drug-testing lab is finally coming to a close. And the owner of the drug lab is going to jail.Unlike others we've covered, this drug lab didn't contain employees who falsified drug tests that landed people in jail. But the outcome for the innocent was nearly as miserable. Faked drug tests performed by Brandy Murrah, the owner of A & J Lab Collections, resulted in parents losing their children.
As Ozark police continue to investigate reports of falsified drug and paternity cases involving a company contracted by the Department of Human Resources, families are coming forward with claims forged documents impacted their homes.Jennifer Seavers is one of them."There's not a day that goes by that I don't cry, and I just want to bring my babies home as any parent would want to do," Seavers said.Seavers says she used the Department of Human Resource's Pike County drug testing vendor, Brandy Murrah of A & J Lab Collections, as part of her custody battle for her youngest girls, Madilyn and Jennifer Grace.Seavers said Murrah provided false positive drug tests, which prompted a judge to order restrictions on her access to her children - further complicating the custody battle.
This victim dug into the lab work supposedly performed by Murrah and found her test had been faked. The doctor that supposedly signed off on it had never seen the paperwork or reports generated by Murrah, who forged the doctor's signature on the documents.The county also began digging into Murrah's drug testing and found more of the same.
Murrah had an agreement with the Dale County Department of Human Resources to perform drugs test on individuals involved in dependency, or custody, cases. She was not involved in any criminal cases.Investigators said they launched their probe May 2 after evidence of drug screening reports that were provided to the Dale County Department of Human Resources by Murrah were found to be falsified. Ozark police Sgt. Cody Evans said multiple other drug screening reports provided to DHR are also believed to have been forged by Murrah.
It's unclear whether Murrah's actions were prompted by animosity towards her victims or just plain laziness. It really doesn't matter. Her actions ripped families apart and destroyed people's futures. But in the end, at least some justice was served.
Judge William Filmore decided Murrah, the former owner of an Ozark lab test collection company, will spend 15 years in prison after hearing testimony from those who said she falsified lab reports that led to their children being taken away.Murrah pleaded guilty in September, agreeing to 15 years on a felony charge of perjury and 12 months on each of 16 misdemeanor counts of forgery to run concurrently.
This will give victims some closure. But it will only provide limited comfort. Their lives went through serious upheaval. Seavers isn't the only victim. Grace Newton went through the same nightmare. She fought through her drug problems to get her kids back only to have the state take away her three-month-old infant after a drug test handled by Murrah came back positive. This was reversed after a negative drug test, but for three weeks, the state became her baby's new parent, thanks to Murrah.But here's the thing: it shouldn't take citizens wronged by a government contractor to suss out malfeasance and wrongdoing. The system residents are paying for with their tax dollars needs to be more proactive with its oversight. Rigorous oversight is difficult. But, ultimately, it's worth the time and effort. It's better to be perceived as skeptical than as a group of public servants willing to throw the public to the subcontracted wolves.

Read more here

---
posted at: 12:00am on 25-Nov-2020
path: /Policy | permalink | edit (requires password)
0 comments, click here to add the first
---
---
Mine, Mine, Mine! Nintendo Neuters The Cool Ways People, Groups Are Using 'Animal Crossing'

Furnished content.


To be honest, Animal Crossing was always going to be a hit. It's just the perfect distillation of the Nintendo experience: a cutesy social experience couched in harmless video game fun. Still, one unanticipated side effect of the global COVID-19 pandemic was how plenty of people and groups turned to the game for new and innovative ways of connecting with others. Examples abound, including players building a real-world economy around the game's resources, TV stars plying a version of their trade in the game, protests and social movements springing up in the game's world, and even the use of the game as part of the presidential election campaign. Mostly absent was any pushback from the gaming community. Instead, these few instances of crossover from real world to gaming world appeared to simply show the power of what Nintendo had created: an open and innovative gaming experience based on community and unbridled social interaction.That description, of course, is about as historically un-Nintendo as it gets, so perhaps it's not entirely surprising that a recent update from Nintendo over its usage terms for the game seems to squarely aim to neuter much of this. In a post titled "Animal Crossing: New Horizons usage guidelines for businesses and organizations", which you can read for yourself in its entirety, Nintendo prohibits groups and organizations from doing the following:
However, please observe the following points when you engage in these activities.Please be aware of the game rating and do not engage in activities that go beyond the rating.Please refrain from using the Game inappropriately or creating any content within the Game that would be considered vulgar, discriminatory, or offensive. Please also refrain from bringing politics into the Game.Please do not share false information about the Game with anyone, and do not deceive others while using the Game (e.g. falsely indicating you are separately licensed or otherwise approved by Nintendo).Please do not leverage the Game as a marketing platform that directs people to activities or campaigns outside the game (including directing people to a sales page, distributing coupons, sweepstakes, giveaways, requiring consumers to follow social network services accounts, gathering customers' information, or other invitational activities).You are not allowed to obtain any financial benefit from using the Game (including selling your Custom Design or earning any advertising revenue with the Game content).
Now, some of these prohibitions are reasonable, albeit quite vague. No, you shouldn't falsely imply sanctioning by Nintendo; no, you shouldn't break the game's age rating through your actions.But reading those guidelines pretty clearly also prohibits several of the cool interactions we detailed in the opening. Making any money from selling the game's resources to other gamers. Starting social movements within the game. And if all politics in the game are banned, there goes the innovative organizing use by Biden or other politicians as well.And on that last bit about removing all politics from the game world: good fucking luck. This is a game built on social interaction and, since politics in 2020 has managed to invade every last crevice of our over-bloated society, it's going to come up. I imagine Nintendo mostly wants to limit official campaign actions within the game, which is stupid in and of itself. Still, building a social game and then telling customers how they can be social is simply not going to work.Again, it's not surprising: this is as Nintendo as it gets. But it is certainly disappointing.

Read more here

---
posted at: 12:00am on 25-Nov-2020
path: /Policy | permalink | edit (requires password)
0 comments, click here to add the first
---
---
Portland, Maine Passes Facial Recognition Ban That Says The City Can Fire Employees For Violating It

Furnished content.


Another facial recognition ban has been passed, bringing a bit more enforceable privacy to the eastern side of the nation. Most of the ban action to date has been on the West Coast, with small pockets of resistance popping up elsewhere. Well, mainly just Massachusetts. The latest ban passed during the most recent election, gives Portland, Maine residents the freedom to live their lives with a little less panopticon.
In Maine, voters in the state's largest city recently enacted one of the toughest facial recognition bans in the country in the Nov. 3 elections, outlawing both use of the technology by local police and the city government.
The ban that passed during this referendum is an improvement over the original proposal. This version makes it enforceable. There are consequences for violating that go beyond the expected fines and fees that just shift tax dollars from one government agency to another.
The new law allows citizens to sue the city for illegal facial recognition surveillance by the city police or government. Citizens could get up to $1,000 per violation plus legal fees, if they prevail in court. Municipal employees can be fired for violating the ban.
Of course, these fines and fees just refund some tax dollars to taxpayers. But this is better than allowing the city to collect the fines, which isn't much of a deterrent to government agencies which can expect to see some of their paid fines dumped back into their pockets with the next budget approval.The firing threat may be even more effective than giving taxpayers some of their taxes back. When a job's on the line, government employees are far less likely to abuse their power.This ban was originally passed by the city council three months ahead of the election. But that ban did not include the possible firing of violators. It was the city's residents who insisted on this additional accountability measure. The ban goes into effect next year and cannot be removed for the next five years. That's five years of surveillance creep mitigation. The people have spoken. And what they're saying more and more frequently is they don't want their lives and bodies to be little more than data points for law enforcement surveillance programs.

Read more here

---
posted at: 12:00am on 24-Nov-2020
path: /Policy | permalink | edit (requires password)
0 comments, click here to add the first
---
---
Despite Not Finding Drugs Nearly 95 Percent Of The Time, Judges Keep Approving Drug Warrants For Chicago Cops

Furnished content.


The Chicago Police Department has firmly established itself as one of the worst police forces in America. From running an off-the-books, Constitution-evading "black site" to interrogate detainees without bringing in their lawyers or rights to loading up its gang database with thousands of non-gang members, the department is a horrific mess.The basic duty of warrant service is similarly infected by the PD's lackadaisical attitude towards the rights of the people they serve. An investigation into search warrants by a local CBS affiliate found that an alarming amount of drug related search warrants fail to turn up any drugs. The report [PDF] -- which examines several thousand warrants executed by the PD -- shows that, far too often, there's nothing illegal going on in the residences the PD chooses to raid.
Total search warrants where property recovered: 6,067 (88.5% of the time)
Total search warrants where guns were found: 1,992 (29% of the time)
Total search warrants where drugs were turned over: 286 (4% of the time)
Search warrants where an arrest was made: 3,931 (57% of the time)
Search warrants where no arrest was made: 2,924 (Nearly 43% of the time)
Search warrants that were completely negative (no arrest, no guns or property recovered): 679 (nearly 10%, or 1 in 10 search warrants were negative)
Almost half the time, the only result of a house search is a destroyed house. If officers decide they don't need to destroy the door (and windows or whatever) on their way in, tossing a house leaves it in complete disarray. When officers are wrong, it's the citizens who pay. And for all the claims that drugs are contributing to Chicago's spike in violent crime, drugs are so rarely found officers could achieve the same success rate by raiding random houses, rather than those they've bothered to copy-paste affidavit boilerplate about.Eliminating non-drug related search warrants doesn't make anything any better. 72% of warrants detailed in this report were drug related. But the increase in drugs recovered doesn't even amount to a rounding error.
Out of the 4,921, drugs were turned over in 221 cases. That's 4.4% of the time.
Given this hit rate, there doesn't appear to be a whole lot of probable cause supporting these warrants. So why do they keep getting approved? Because officers know which judges to approach to get an affidavit rubber-stamped.
In Cook County, approximately 70 judges can approve search warrants, according to the Cook County Chief Judge's Office.[Judge Mauricio] Araujo signed off on more search warrants in Chicago than any other judge in a three-year period, according to police search warrant data analyzed by CBS 2. More than 1,166 search warrants listed his name as the judge.
Judge Araujo's relationships with PD officers certainly makes any claims of impartiality suspect.
Araujo had signed warrants for two former officers, David Salgado and Xavier Elizondo, who used the warrants to raid and rob people. The officers were later convicted.Araujo described to the FBI his relationship with Salgado as "more than an acquaintance, but not quite a friend," the Chicago Tribune reported, adding Araujo had attended multiple events with Salgado, including the wake for Salgado's mother, the officer's bachelor party in Colombia and his wedding in 2017.
Two things have changed which make Judge Araujo less of a threat to people's civil liberties. Policy changes in the court system randomized judge selection for warrant approval, partially preventing officers from going to the most compliant judges. Second, Judge Araujo resigned in September after the state's judicial commission ruled there was "clear and convincing evidence" Araujo had sexually harassed female police officers and county attorneys.That won't undo the damage done by cops acting with almost zero judicial restraint. It might prevent some damage in the future. Police officers may not be able to engage in the hard work of internal reform, but they're pretty good at finding loopholes that allow them to act the way they want to. But they can't ignore the facts: Chicago's local drug warriors are rarely racking up wins in the War on Drugs. And judges who won't demand more from officers and their sworn statements are just making the problem worse.

Read more here

---
posted at: 12:00am on 24-Nov-2020
path: /Policy | permalink | edit (requires password)
0 comments, click here to add the first
---
---
This Week In Techdirt History: November 15th - 21st

Furnished content.


Five Years AgoThis week in 2015, the world was reeling from the Paris attacks that killed 130 people. Unfortunately, many were also treating it as an opportunity: haters of encryption quickly started somehow blaming Edward Snowden, and defenders of the surveillance state began using the attacks to justify mass surveillance and push to expand it (which France had already done twice in the past year. Senators were moving to legislate backdoors to encryption and extend NSA programs, and Manhattan's DA got in on the act with a white paper seeking an encryption ban... and then it turned out that the Paris attackers had coordinated via unencrypted text messages. The whole thing was a failure of the intelligence community that had long been fighting for surveillance despite little evidence that it works. But this didn't stop anyone from treating encryption as a bogeyman, and by the end of the week France had rushed through an internet censorship law and Hillary Clinton had vocally joined the anti-encryption brigade.Ten Years AgoThis week in 2010, in keeping with its strategy of pretending the government can save it, the entertainment industry was ramping up its astroturf campaigns and generally lying about stuff in order to supportthe COICA online censorship bill that was back up for another vote later in the week. As was expected, the lame duck Senate Judiciary Committee unanimously voted to move forward with COICA, and Ron Wyden was one of the few senators speaking out vocally against the bill and saying he planned to block it. Meanwhile, Bernie Sanders and Sherrod Brown were seeking more information on the legality of certain provisions in ACTA (the latest text of which still had plenty of issues) only to be stonewalled by the USPTO, while many defenders continued to insist that ACTA didn't need Senate approval anyway because it was somehow not a treaty.Fifteen Years AgoThis week in 2005, things just kept getting worse for Sony in the wake of the rootkit fiasco. First, it turned out that the copy protection rootkit included copyright-infringing code. Then, security researchers discovered that the web-based uninstaller Sony was offering opened up a new and serious security hole on users' machines that would let any other website easily hijack them. The rootkit was looking like it might be the most widespread malware of the month and finally, after dragging its feet for over a week, the company announced that it would pull all CDs with the rootkit from stores, and offer swaps to people who bought them, but it really felt like too little, too late. By the end of the week, Sony started offering unprotected MP3 downloads in exchange for the CDs in a final attempt to make good, which seemed like a fittingly ironic end for a misadventure that began with music DRM.

Read more here

---
posted at: 12:00am on 22-Nov-2020
path: /Policy | permalink | edit (requires password)
0 comments, click here to add the first
---
---
Content Moderation Case Study: Facebook Attracts International Attention When It Removes A Historic Vietnam War Photo Posted By The Editor-in-Chief Of Norway's Biggest Newspaper (2016)

Furnished content.


Summary: Tom Egeland, a Norwegian author of a number of best-selling fiction books, posted a well-known photo known as "The Terror of War" to Facebook. The historic photograph (taken by Vietnamese-American photographer Nick Ut) depicts a naked Vietnamese girl running from a napalm attack during the Vietnam War.
Ut's iconic photo brought the horrors of the war in Vietnam to viewers around the world. But it was not without controversy. Given the full-frontal nudity of the child depicted in the image, the Associated Press pushed back against Ut, citing the paper's policy against publishing nudity. In this case, the nudity of the child resulted in more resistance than usual. Ultimately, the AP decided to run the photo, resulting in a Pulitzer Prize for Ut in 1973.Despite the photo's historical significance, Facebook decided to suspend Tom Egeland's account. It also deleted his post.Facebook's decision was based on its terms of service. While the photo was undeniably a historical artifact, moderation efforts by the platform were not attuned to the history.A notice sent to Egeland pointed out that any displayed genitalia would result in moderation. Also, given the platform's obligation to inform the government about Child Sexual Assault Material (CSAM), leaving a photo of a naked prepubscent up posed problems the algorithms couldn't necessarily handle on their own.The decision to remove the post and suspend the author's account resulted in an open letter being sent by Norwegian journalist Epsen Hansen. The letter -- addressed to Facebook founder and CEO Mark Zuckerberg -- asked what negative effects moderation efforts like these would have on a "democratic society."Decisions to be made by Facebook:
Should automatic moderation that aids law enforcement be overridden when context shows posts are not attempting to sidestep rules put in place to prevent Facebook users from being subjected to abusive content?
What value is placed on context-considerate moderation? Does it add or subtract from financial obligations to shareholders?
Does it serve users better to be more responsive -- and helpful -- when context is a primary consideration?
Questions and policy implications to consider:
Is the collateral damage of negative press like this offset by Facebook's willingness to be proactive when removing questionable content?
Is it more important to serve private users than the numerous governments making moderation demands?
Do inexact or seemingly-incoherent responses to controversial content raise the risk of government intervention?
Resolution: Despite the letter from a prominent Norwegian journalist, Facebook refused to reinstate the photo. Instead, it offered boilerplate stating its objection to "nude genitalia." While it stated it did make "allowances" for "educational, humorous, and satirical purposes." Ut's photo did not make the cut apparently. Facebook asked Aftenposten, Egeland, and/or Hansen to "pixelate" the iconic photo before reposting. This was the response from Aftenposten's Hegeland:
Unfortunately, Facebook did not see the pointed humor of Hansen's modification. Facebook's deletion of the original -- as well as its suspension of author Tom Egeland's account -- remained in force. While public shaming has had some effect on moderation efforts by social media companies, Facebook's stance on nudity -- especially the nudity of minors -- prevented it from backing down in the face of negative publicity.

Read more here

---
posted at: 12:00am on 21-Nov-2020
path: /Policy | permalink | edit (requires password)
0 comments, click here to add the first
---
---
Microsoft: Bethesda Games Will Be 'First, Best' On Xbox, PC

Furnished content.


Several weeks back, we discussed how Microsoft and its newly acquired property, Bethesda Softworks, were making seemingly conflicting statements on what the purchase of the studio meant for beloved franchises like Fallout and Elder Scrolls, among others. Concerns popped up immediately after the acquisition, with people wondering whether the next Fallout game would be siloed to the Xbox and/or PC, as opposed to showing up on other consoles, such as Sony's PlayStation. Xbox's Phil Spencer kicked the concern into overdrive by noting that he thought Microsoft could recoup its purchase price of Bethesda even if the studio's games weren't sold for the PlayStation. Todd Howard of Bethesda, however, said the studio is committed to making its games available across platforms, while also acknowledging such details with Microsoft hadn't been ironed out.And so the public was left wondering. Well, now Microsoft has once again commented publicly, this time stating that it doesn't plan to restrict Bethesda games from other consoles, but would instead look to make those games "first and best" on the Xbox and PC.
Speaking at the Jeffries Interactive Entertainment Virtual Conference last Friday (as transcribed by Seeking Alpha), Stuart said directly that "in the long run... we don't have intentions of just pulling all of Bethesda content out of Sony or Nintendo or otherwise. But what we want is we want that content, in the long run, to be either first or better or best or pick your differentiated experience, on our platforms.""That's not a point about being exclusive," Stuart continued. "That's not a point about... adjusting timing or content or road map. But if you think about something like Game Pass, if it shows up best in Game Pass, that's what we want to see, and we want to drive our Game Pass subscriber base through that Bethesda pipeline."
This, frankly, clarifies nothing. Stating that perhaps games will be "first" on Microsoft's platforms and then stating that it has nothing to do with timing of the release on other platforms is contradictory. If it's "first" on one platform, it must therefore be at least "second" on others. Likewise, stating you want a game to be "best" on Microsoft platforms and then stating it has nothing to do with content is, again, contradictory. If not the content, what could possibly make a game better on one platform than the other.It's unclear why Microsoft is remaining so opaque about all of this, but it sure sounds like some version of either EPIC's timed exclusives or Sony's exclusive content for games. Both are controversial in their own rights, and likely not great for the gaming ecosystem as a whole, but at least both companies play it straight with their customers.In this case, we all just have to wait and see how high a fence Microsoft does or does not want to put around these beloved game franchises.

Read more here

---
posted at: 12:00am on 21-Nov-2020
path: /Policy | permalink | edit (requires password)
0 comments, click here to add the first
---
---
Beijing Tightens Grip On Hong Kong With Arrest Of Pro-Democracy Lawmakers

Furnished content.


Literally everyone saw this coming. On the heels of a rushed through resolution out of mainland China that ousted four pro-democracy Hong Kong lawmakers, leading to the resignation of every other pro-democracy lawmaker as well, the question was when, not if, Beijing would continue to tighten its communist grip. The answer to that question appears to be "almost immediately", with China announcing the arrest of three pro-democracy former lawmakers, likely a signal to any other opposition forces who might want to make any noise.
Posts on the Facebook accounts of Ted Hui, Eddie Chu and Raymond Chan said they were arrested in relation to the incidents in the legislature's main chamber. The trio separately disrupted legislative meetings by splashing pungent liquids and other items on two occasions.Hong Kong police said in a statement that they arrested three former lawmakers on charges of contempt in the legislature and intent to cause harm to others. Police did not identify them by name.
The information offered up by Beijing is made to make all of this sound like it is arresting lawmakers for putting other legislators in danger. Given the source, that accusation should be taken with a grain of salt. For example, Chi-Fung (Ted) Hui's antics in disrupting the legislature were very much about the disruption and nothing to do with putting anyone in danger. For Christ's sake, the "weapon" for his intent to cause harm to others appears to be some rotted plant material.
On 28 May 2020, Hui disrupted the second reading of the National Anthem Bill in the Legislative Council by dropping a container containing rotten plant matter inside the chamber. A fellow lawmaker was taken to hospital after being exposed to the smell. On 4 June 2020, Hui and two other lawmakers, Eddie Chu and Raymond Chan, were alleged with hindering the business of the Legislative Council and violating the Powers and Privileges Ordinance, with Hui having dropped foul smelling liquid during the LegCo session on that day.
For this, apparently, Hui is under arrest. But what should really be striking you about all of this is the complete absence of international pushback generally and the dereliction of American leadership in promoting democracy specifically. Our government is all but absent on the international stage at the moment, with the gears of government mostly churning out a plan for COVID-19 vaccination while senior leadership is focused on promoting nonsense conspiracy theories over an election it lost and otherwise sulking.It appears that China views the remaining few weeks of the current administration as its window for the takeover of Hong Kong. And, given the absence of leadership at the present, it's not hard to see why. The only remaining question is just what the state of affairs in Hong Kong will be when Joe Biden is sworn in as President.

Read more here

---
posted at: 12:00am on 20-Nov-2020
path: /Policy | permalink | edit (requires password)
0 comments, click here to add the first
---
---
Content Moderation Case Study: Documenting Police Brutality (2007)

Furnished content.


Summary: Wael Abbas is an Egyption journalist/activist who began documenting protests in Egypt in 2006, including multiple examples of Egyptian police brutality, which he would then upload to YouTube.
In 2007, after posting a few explicit examples of Egyptian police brutality, he discovered that his entire YouTube account was shut down, taking down 181 videos covering not just police brutality, but also voting irregularities, and street protests. At first YouTube refused to comment on this, and only told Abbas that the account was shut down due to multiple complaints about the content.Later, after the US press got ahold of the story, YouTube put out a statement saying:
Our general policy against graphic violence led to the removal of videos documenting alleged human rights abuses because the context was not apparentHaving reviewed the case, we have restored the account of Egyptian blogger Wael Abbas. And if he chooses to upload the video again with sufficient context so that users can understand his important message, we will of course leave it on the site
Wael believes that if large media organizations like Reuters and CNN hadn't covered his case, that it was unlikely his account would have been restored, or that he would have been allowed to re-upload the videos.Decisions to be made by YouTube:
How do you determine the difference between a journalist/activist documenting violence and an account that is glorifying violence?
Is there a way to determine the context of a video showing police brutality?
Should content moderation decisions change based on whether or not a specific situation is getting mainstream press attention?
Are there alternatives beyond shutting down an entire account based on complaints about some videos?
Questions and policy implications to consider:
Should context play a bigger role in content moderation and if so, how can you take that into account? Or is it the responsibility of the account holder to supply the context?
How do you manage moderation of content from a country with different rules than in the US?
Will suspensions by US social media companies be used as evidence against the content creators in certain countries?
Resolution: As noted above, YouTube did reinstate his account, but as issues like this continued to arise, the company has adjusted its policies for handling violent but newsworthy content multiple times in the intervening years. At the time of writing this case study, Abbas' videos showing Egyptian police brutality from many years ago now contain content warnings saying that the content may be inappropriate for some viewers and asking users to acknowledge that before being able to view the videos.
Abbas has faced many more content moderation challenges since then with his work in Egypt. Yahoo shut down his email account after getting complaints. Both Twitter and Facebook have suspended his accounts at times as well.In both 2010 and 2018 Abbas was arrested in Egypt for his work, with Egyptian authorities using the social media account suspensions as evidence of his alleged crimes in spreading fake news.

Read more here

---
posted at: 12:00am on 20-Nov-2020
path: /Policy | permalink | edit (requires password)
0 comments, click here to add the first
---
---
Twitch's No Good, Very Bad Time Continues: Part 1

Furnished content.


I'm beginning to wonder if the folks that run Twitch are secretly attempting to commit corporate suicide. The past several weeks have seen the popular streaming platform embroiled in controversy. It began when, in response to the RIAA labels DMCA attacks on streamers, Twitch took the unprecedented step to simply nuke a zillion hours of recorded content without warning its creators. In the wake of that, the platform kept essentially silent on its actions, simply advising its creators that they should "learn about copyright". In lieu of any real crisis communication, Twitch instead rolled out the release of a new emoji, pissing everyone off. Then came Twitch's apology, where the Amazon-owned platform acknowledged that it really should have had a method for letting streamers know which content was accused of infringement instead of nuking it all, while also continuing the DMCApocalypse, getting so granular as to allow streamers to be targeted by DMCA claims on game music and sound effects, including on videos that had already been taken down.With its creators and patrons both in full revolt, it probably wasn't the best timing that Twitch's GlitchCon remote convention took place mid-November. Complaints about the convention were far-reaching, but much of it centered on the coin spent promoting it instead of Amazon simply licensing music so streamers could stream, along with the terse commentary on the turmoil itself.We'll start with the promotion of the event.
The convention took place on November 14, but a difficult-to-ignore sensation of dissonance began to creep in before it even kicked off. To promote the event, Twitch sent themed trailers decked out with Twitch merch to select streamers—which streamers began tweeting about on November 13. While the streamers who'd received the vehicles seemed pleased, the response from many others was uniform: Why was Twitch spending money on glitzy trailers when it should've been putting every penny it could toward licensing music, thereby beheading the DMCA dragon currently terrorizing the platform?Of course, the teams at Twitch that handle event planning and DMCA-related matters are very different, and this question ignores the reality of how budgeting tends to work at large companies. However, the broader sentiment from streamers was understandable; over the course of the past month, Twitch has massively eroded community trust by leaving streamers high and dry when the music industry finally came to collect its toll, forcing streamers to delete their entire histories instead of providing them with alternatives—or even accessible means of contesting copyright claims. During the lead-up to GlitchCon, streamers were not exactly in a celebratory mood.
As Kotaku notes, it's not entirely fair to simply claim that the money spent promoting GlitchCon should have been spent on music licensing instead. But it's not entirely unfair either, and the larger point is that Twitch did this to itself. By acting so callous with the work of its creators, and by then spending promotional budget dollars in a way that reminds everyone that this is a company backed by Amazon, it was inevitable that creators would throw up their hands in disgust. Whatever we might want to say about the imperfection of copyright laws, or the broken method by which copyright is policed at scale by platforms like Twitch, it most certainly is true that Amazon/Twitch could have avoided literally all of this by simply licensing a bunch of RIAA music. It's not like Amazon couldn't have afforded it. But, instead, Twitch's creators got screwed.But when Twitch CEO Emmett Shear gave his keynote to kick off GlitchCon, the pushing of any information off to a future Q&A coupled with the highlighting just how bad a job his company did in supporting streamers felt like the worst of all worlds.
"It's obvious that many of you want and deserve a lot more information from us, and a 10-minute Q&A session wouldn't even come close to the level of depth of conversation that we want to have with you," he said, noting that there will be a town hall devoted to the topic of DMCAs next month. He proceeded to apologize, largely reiterating what Twitch said in an apology letter it posted last week."If you receive a DMCA takedown, you should be able to know exactly what the content is or, if you believe you are authorized, you should know how to contest the takedown. I believe it's a failing of our email to creators on October 20 that we didn't include enough of this information, and it's an issue with our current systems that we're working to improve," Shear said during the GlitchCon keynote. "We should have had better tools for you to manage your content, and we wish we did. We're sorry those tools weren't available when you needed them and that so many creators had to delete their videos capturing their communities' best moments and accomplishments."
Who this message was supposed to please is entirely unclear to me. Great, Twitch has acknowledged that it failed to support its creators with the tools necessary to do DMCA takedowns and restoration correctly. The first step to correcting a problem, as they say, is acknowledging you have a problem. But then announcing that the Twitch community deserves a ton of answers here, but they won't get them for another month? That's damned near self-immolation in the tech space. A glitzy convention put on without addressing a community in near revolt...why? Why in the world would you even take that virtual stage without being prepared to address the controversy?It's not surprising that the reaction from the Twitch community was largely negative. And, because of Twitch's bullheaded approach to mostly ignoring all of this, that negativity overshadowed the rest of the convention, including some fairly positive happenings at Twitch.Attempted corporate suicide is starting to look like a term bereft of exaggeration.

Read more here

---
posted at: 12:00am on 19-Nov-2020
path: /Policy | permalink | edit (requires password)
0 comments, click here to add the first
---
---
Devin Nunes Files Another SLAPP Suit; Sues The Washington Post Again

Furnished content.


Devin Nunes is one of the most vocal supporters of Parler, regularly insisting that he supports Parler because Parler supports free speech (of course, as we've highlighted, Parler blocks users quite frequently, contrary to its marketing claims). Of course, Nunes is a free speech hypocrite. As we've highlighted over the last few years, he seems to have an itchy trigger finger when it comes to suing the media and various critics for their free speech, in a variety of SLAPP lawsuits -- with no clear answer yet on who is actually paying for these lawsuits designed to stifle and suppress free speech.Earlier this year, Nunes sued the Washington Post and reporter Shane Harris in the Eastern District of Virginia. That case was was transferred to the federal district court in DC where it continues to move forward (slowly). Now Nunes, with his regular lawyer Steven Biss, have sued the Washington Post yet again, this time with reporter Ellen Nakashima. Once again, it was filed in the Eastern District of Virginia, meaning that the Washington Post is likely to go through the same process again to try to transfer the case to the DC court.Like so many Nunes/Biss SLAPP suits, this one is... bad. At issue is the news from right after the election that a Trump loyalist and former Nunes staffer had been made the NSA's General Counsel apparently over the objections of the NSA's own director. This has raised a bunch of alarms for a variety of reasons -- and is seen as evidence that for all of the bullshit talk of "the deep state" being out to get Trump, he's spending his last couple months in office trying to construct his own deep state.It was Ellen Nakashima at the Washington Post who broke the story of the Ellis appointment, and that's the article that Nunes is now suing over. The lawsuit -- somewhat laughably -- argues that two sentences in the article are defamatory. Neither are defamatory. These are the two sentences:
In March 2017, [Michael Ellis]gained publicity for hisinvolvement in a questionableepisode involving Nunes, whowas given access at the WhiteHouse to intelligence files thatNunes believed would buttress hisbaseless claims of the Obamaadministration spying on TrumpTowerNews reports stated that Elliswas among the White Houseofficials who helped Nunes seethe documents reportedly lateat night, earning the episode thenickname 'the midnight run.'[Three White House officials tiedto sharing of intelligence fileswith Devin Nunes]
The filing nitpicks at both of these statements, but has a difficult time alleging false statements of fact, which is kind of necessary for there to be defamation. For example, with that second statement while the WaPo article talks about the alleged midnight run, Nunes first says it "never happened." But then almost immediately admits that he did, in fact, go to the White House -- it just wasn't at night. Whether or not the meeting was at night or "when the sun was out," as Nunes claims, is not defamatory. Even more to the point, the WaPo article highlights that its citing "news reports" and that the nighttime aspect of the meeting was "reportedly" what happened, and noting (accurately) that others have referred to this as "the midnight run." In other words, the article appropriately hedged those points and highlighted that it was covering what others were saying.And then there's this: even though the Washington Post was basing this statement on "news reports" Biss/Nunes tries to argue that those news reports somehow don't count, because they were from the NY Times which is "well-known for spreading false statements." I kid you not.
Upon information and belief, one of the News reports referred to in theArticle is a report manufactured by New York Times reporters Adam Goldman,Matthew Rosenberg and Maggie Haberman, well-known for spreading false statementsand defamation on behalf of anonymous sources at the FBI and State Department.
This is conspiracy theory fan fiction masquerading as a lawsuit.There is basically no attempt to get over the actual malice standard necessary for any of this to be defamation of a public figure. The complaint tries to twist some minor potential inaccuracies into evidence of knowledge that the statements were false, but that is not at all supported by the complaint. It argues, ridiculously, that she should have known certain statements from Rep. Adam Schiff should not be trusted because Schiff and his staff "had an axe to grind against Plaintiff and a reason to lie." What? That is not at all how the actual malice standard works.This is yet another ridiculously weak complaint that is hard to see as anything other than yet another nuisance SLAPP suit from an incredibly thin-skinned Devin Nunes who has now sued multiple media outlets and reporters (not to mention a satirical cow). For all his talk about supporting free speech and being against the suppression of speech, these lawsuits suggest that no one in Congress is more engaged in the blatant suppression of speech than Devin Nunes.Once again, these kinds of intimidation tactics by lawsuit are exactly why we need a federal anti-SLAPP law (and why Virginia needs to get its act together early next year and pass the anti-SLAPP bill it almost passed earlier this year).

Read more here

---
posted at: 12:00am on 19-Nov-2020
path: /Policy | permalink | edit (requires password)
0 comments, click here to add the first
---
---
Hugo Boss And Art Teacher Reach 'Amicable Solution' Over 'Be Boss, Be Kind' Trademark Application

Furnished content.


Several weeks back, we discussed how Hugo Boss, German upscale clothier, had opposed the trademark application for an artist who has taken to teaching online art classes during the pandemic. At issue was John Charles' decision to apply for a trademark on the phrase he used to sign off at the end of these classes: "Be Boss, Be Kind." That he had begun selling shirts and hats with the slogan on it, alongside the trademark application, was enough to get Hugo Boss' lawyers working on opposing the application and sending a legal threat letter to Charles, despite the fact that any claims about potential customer confusion between the two entities is laughable at best.As we noted at the time, while any legal letter such as this is at least mildly scary for someone like Charles, it should be stated that Hugo Boss wasn't overly threatening in the letter. Instead, the letter stated that the company would be opposing the trademark application, but was willing to drop the matter entirely if that application was withdrawn. In public comments, too, Hugo Boss made it clear that it was looking for an amicable resolution to the situation.And that, almost certainly in large part to the swift public backlash that occurred, is precisely what happened.
Now, Hugo Boss and the popular artist have reached an 'amicable solution' - and John has said 'it was all worth it.'John said: 'We've now reached an amicable solution and the key thing is that we're able to continue our free online art classes and release our merchandise to the public officially. I'd like to say a massive thank you to the public for all their support, it's been really overwhelming."
As usual, the exact details of this amicable solution aren't explained publicly, but it's worth noting that nowhere in any of the coverage currently is the acknowledgement that Charles has been allowed to proceed with his trademark application. And that, frankly, is the detail we should be focused on. Yes, it's good that Hugo Boss isn't threatening Charles with legal action. Yes, it's also good that he's being allowed to continue his art classes and even sell his merch with the slogan. That's somewhat more permissive than I expected out of Hugo Boss.But there was never a valid trademark issue here in the first place and, while I don't really see why Charles needs this trademark for which he applied, he certainly should have gotten it. "Be Boss, Be Kind" is not going to confuse someone into thinking a t-shirt is a Hugo Boss t-shirt. The reach of Charles' audience isn't a threat to Hugo Boss, either. No part of this screamed for a resolution of anything at all, amicable or otherwise.It's sort of an offshoot of how trademark bullying is effective. On the one hand, a large enough company can bully smaller entities into not using anything remotely like its registered trademark, validly or otherwise, just because of the costs associated with those threats. Or there are cases such as this, where the big company can bully the smaller entity until it gets news coverage talking about a supposedly amicable deal.Both are pernicious, if not equally so.

Read more here

---
posted at: 12:00am on 18-Nov-2020
path: /Policy | permalink | edit (requires password)
0 comments, click here to add the first
---
---
Instructors And School Administrators Are Somehow Managing To Make Intrusive Testing Spyware Even Worse

Furnished content.


The COVIDian dystopia continues. After a brief respite, infections and deaths have surged, strongly suggesting the "we're not doing anything about it" plan adopted by many states is fattening the curve. With infections spreading once again, the ushering of children back to school seems to have been short-sighted.But not all the kids are in school. Some are still engaged in distance learning. For many, this means nothing more than logging in and completing posted assignments using suites of tools that slurp up plenty of user data. For others, it feels more being forced to bring their schools home. In an effort to stop cheating and ensure "attendance," schools are deploying spyware that makes the most of built-in cameras, biometric scanning, and a host of other intrusions that make staying home at least as irritating as actually being in school.The EFF covered some of these disturbing developments back in August, when some schools were kicking off their school years. Bad news abounded.
Recorded patterns of keystrokes and facial recognition supposedly confirm whether the student signing up for a test is the one taking it; gaze-monitoring or eye-tracking is meant to ensure that students don't look off-screen too long, where they might have answers written down; microphones and cameras record students' surroundings, broadcasting them to a proctor, who must ensure that no one else is in the room.
So much for the sanctity of the home -- the location regarded as the most private of private spaces, worthy of the utmost in Fourth Amendment protections. Unfortunately, the tradeoff for distance learning appears to mean students must give up almost all of their privacy in exchange for not being arrested for truancy.School isn't out yet. And there's even more intrusiveness to report. It's not just the stripping of privacy that's adding to the dystopian atmosphere hovering oppressively over 2020. It's also the Kafka+Orwell aspects of at-home monitoring, as Todd Feathers and Janus Rose report for Vice.The first part of this aligns with the EFF's earlier reporting: exam software developers are giving school administrators an insane amount of access to students' devices.
Like its competitors in the exam surveillance industry, Respondus uses a combination of facial detection, eye tracking, and algorithms that measure "anomalies" in metrics like head movement, mouse clicks, and scrolling rates to flag students exhibiting behavior that differs from the class norm.
Then it just gets surreal.
These programs also often require students to do 360-degree webcam scans of the rooms in which they're testing to ensure they don't have any illicit learning material in sight.
Not surreal enough for Respondus and its customers, apparently. Instructions vary from school to school, but Wilfrid Laurier University students are given an entire gauntlet to run through just for the privilege of taking a test. One set of instructions seems to ask students to roll the dice on permanently damaging their ears.
[O]ne WLU professor wrote that anyone who wished to use foam noise-cancelling ear plugs must "in plain view of your webcam … place the ear plugs on your desk and use a hard object to hit each ear plug before putting it in your ear—if they are indeed just foam ear plugs they will not be harmed."
And there's so much more! Instructors are taking the intrusiveness baked into Respondus' exam spyware and adding their own twists. If these weren't tied to education products, one might assume sexual predators were on the prowl. (One might still assume that, perhaps not even incorrectly. We'll see how this all shakes out!)
Other instructors required students to buy hand mirrors and hold them up to their webcams prior to beginning a test to ensure they hadn't written anything on the webcam.
Not every instructor is adding more evil. Some seem to be concerned about the software itself -- mainly its reliability and its willingness to see everything unexpected as cheating. But it's not much less dystopian to advise students on how best to ensure the school's spyware functions properly during tests. Advice from profs includes telling students to keep everyone else at home off the internet while testing (presumably so no one pings out while submitting answers) and to avoid sitting in front of posters or decorations featuring people or animals so the spyware won't flag them for having other people in the room during a test.And it's not just Canada. An email sent by an instructor at Arkansas Tech told students to engage in a whole bunch of pre-test setup just to assure this small-minded prof they weren't cheating.
Before beginning an exam, students were required to hold a mirror or their phone's front-facing camera to reflect the computer screen, and then adjust the webcam so the instructor can "see your face, both hands, your scratch paper, calculator, and the surface of your desk," according to an email obtained by Motherboard.
If students failed to jump through all these distance learning hoops, the instructor would "set [their] exam score to 0%."The coupling of intrusive spyware with increasingly ridiculous demands from instructors has led to open, if mostly remote, revolt. Petitions have been circulated demanding software like this be banned. Feedback sites like ratemyprofessor have been bombed with negative reviews. Unfortunately, the schools have almost all the leverage. It's not that simple to take your "being educated" business elsewhere, especially in the middle of a global pandemic.That's not to say there haven't been any successes. Blowback from Wilfrid Laurier students forced the Canadian university to withdraw its demand that students set up their own in-home surveillance system by purchasing both an external webcam and a tripod. And some school administrators are at least responding with statements that indicate they recognize the people paying their salaries are unhappy. WLU administrators are promising to "look into" the reported problems, but it seems unlikely it will ditch its proctoring software. What it may do is clarify what instructors can actually ask students to do, which would address at least some of the complaints.But half-assing it isn't going to change the intrusive nature of the software itself. But, as noted earlier, students already well on their way to degrees or diplomas can't just head to the nearest competitor. And there's a good chance the nearest competitor is using something similar to reduce cheating, which means students will be jumping through one set of hoops just to find themselves jumping through another set at another school.This pandemic isn't going to be forever. If it's in the best interests of everyone to remain as distanced as possible, schools just need to accept the fact that cheating may be a bit more common. Accepting the reality of the situation would be healthier for everyone. Making a bad situation even worse with pervasive surveillance and insane instructions from administrators is the last thing students (and teachers) need right now.

Read more here

---
posted at: 12:00am on 18-Nov-2020
path: /Policy | permalink | edit (requires password)
0 comments, click here to add the first
---
---
Twitch Continues To Trip Over Itself In Response To DMCA Apocalypse

Furnished content.


What a few weeks for Twitch. You will recall that the platform went about pissing a ton of its talent and viewers off by nuking a metric ton of video content on the site in response to a flood of DMCA takedown notices, most of them from the RIAA. And this truly was the nuclear option, far different from the notice/counternotice system most platforms use. In fact, it was so extraordinary that it arguably lost Twitch its DMCA safe harbor. Regardless, when the company then followed up with a message to all Twitch creators that they should go educate themselves on matters of copyright and proactively delete any recordings or clips that might run afoul of copyright law, it created a cluster-fuck with virtually nobody having any idea how or what they should be doing. In response to the turmoil, Twitch brilliantly rolled out an announcement for a new emoji.And it just keeps getting worse. This week, Twitch has finally come out with an apology to its talent, noting that the company, bought by Amazon in 2014, probably should have been able to provide better tools and a system that wouldn't have required the mass deletion of millions of hours of recorded content.
"You're rightly upset that the only option we provided was a mass deletion tool for Clips, and that we only gave you three-days notice to use this tool," the company wrote. "We could have developed more sophisticated, user-friendly tools awhile ago. That we didn't is on us. And we could have provided creators with a longer time period to address their VOD and Clip libraries—that was a miss as well. We're truly sorry for these mistakes, and we'll do better."Twitch also committed to developing additional tools that will hopefully grant streamers more granular control over their recorded content, audio, and reviewing/contesting copyright claims, but it did not provide a release date for those much-needed features. It went on to try and explain why it doesn't just obtain music licensing rights like Facebook has for its livestreaming platform, but while it said that those solutions won't work for Twitch in particular, it stopped short of explaining exactly why.
So, apology with a side of obfuscation that doesn't actually put creators in any better a place than they were yesterday. There's still no way to counternotice. No commitment from Twitch to supporting creators' rights when it comes to fair use. And the explanation that a licensing deal with the music labels would take too much money away from Twitch creators considering how sparingly they use music in their streams comes along with two problems. The first problem is that the statement leads to an obvious question: You're Amazon; why don't you just eat the licensing costs and let us create?But the second problem is that the DCMA apocalypse is continuing and it's starting to get ridiculously granular.
This comes during an especially turbulent week on the DMCA front. In the past few days, streamers have reported getting targeted by copyright claims and Twitch's automated systems for music and sound effects in games, as well as clips they've already deleted. One streamer, MichalRonin, had his audio auto-muted for broadcasting a wind gust sound in World of Warcraft."Only music I've had on stream was in-game WoW music, played by the game itself," MichalRonin wrote on Twitter yesterday. "Yet I've got 'muted audio' on the latest VOD, apparently in Sen'Jin village." He then posted a screenshot that mentioned a "Medium Wind Storm with Gusts, Whistles and Low Rumble" sound effect from the Hollywood Edge Sound Effects Library.
This example was one of many. If DMCA notices are suddenly going to start coming in and being acted upon over video game sound effects, never mind the game music that comes along with streaming a let's-play, then Twitch is essentially over. On top of that, some streamers report that even covers of video game music are getting caught up in the DMCA takedowns. Still others received strikes for content that had already been deleted.
Streamer JasonParadise deleted all of his clips on October 23, the day Twitch resumed regular DMCA processing after holding back thousands for a handful of months."What the fuck was the point of deleting all of my VODs/clips back on October 23rd? The strike on an old clip (that no longer existed) came in ten days later," he wrote on Twitter.
Questions to Twitch about all of the above by the media have gone entirely unanswered as of the time of this writing. It all paints a picture of a popular and well-traveled platform with a parent company that ought to be able to provide all of the capital, platform tools, and public messaging in the world... instead having none of that.And with YouTube once again making a strong play for these kinds of streamers, one wonders just how long it all can last.

Read more here

---
posted at: 12:00am on 17-Nov-2020
path: /Policy | permalink | edit (requires password)
0 comments, click here to add the first
---
---
Appeals Court Says Baltimore PD's Aerial Surveillance Program Doesn't Violate The Constitution

Furnished content.


The Baltimore PD can still use its flying spies, says the Fourth Circuit Court of Appeals. The aerial surveillance program -- first "introduced" on accident in 2016 -- allows the PD to track the movement of people across the entire city, thanks to high-powered cameras mounted on airplanes. The surveillance system (created by Persistent Surveillance Systems) can capture 32-square miles. People and vehicles are reduced to pixels despite the power of the 192-million-megapixel cameras, but combining this footage with street-level surveillance allows the PD to deanonymize moving pixels observed near crime scenes.The entire system was paid for by a private donor, allowing the PD to sidestep its transparency obligations to the public. After the initial run ended, the PD resurrected it -- this time following the proper processes for introducing new surveillance systems to the city.Earlier this year, a federal court rejected requests for an injunction, stating that the observations of moving pixels didn't amount to a Constitutional violation. Even though these pixels could be identified using ground-based surveillance, the court didn't see anything in the system that amounted to persistent, intrusive surveillance with Fourth Amendment implications.The case went to the Fourth Circuit Court of Appeals. During oral arguments, the judges appeared mostly sympathetic to the city's arguments, claiming it was almost impossible to violate the rights of unidentified pixels whose movements have been observed on public streets.The Appeals Court has delivered its decision [PDF]. And, as expected, it has declared the program to be Constitutional. The opinion opens with something suggesting the judges feel the ends justify the means.
Baltimore sadly has experienced a serious recent rise in homicides. For each of the past five years, Baltimore has been victimized by at least three hundred murders. In 2017, Baltimore experienced a higher absolute number of murders than New York City, a city with fourteen times Baltimore's population.
It also presents this fact as though it were something that justifies persistent surveillance, rather than pointing out the shortcomings of the Baltimore PD's investigators.
Moreover, the Baltimore Police Department (BPD) has struggled to respond effectively to this increase in murders. In 2019, it cleared just 32.1% of homicide investigations, its lowest rate in several decades.
So, because murders continue to happen and the Baltimore PD seems mostly incapable of solving murders, the system is justified. As the court sees it, because it doesn't flagrantly violate rights, any rights violations it might enable are acceptable.
It is a carefully limited program of aerial observations of public movements presented as dots, and it is important at the outset to say all the things the program does not do. It does not search a person's home, car, personal information or effects. It does not photograph a person's features.
There are other limitations to the program. Planes can't fly in bad weather and the high-powered cameras are useless after sundown. But the planes still fly daily, if possible. The court's assumption this system will help Baltimore get a handle on its murder problem seems suspect. Data obtained through records requests show the system's failed to produce results. 700 hours of flights occurred but only led to a single arrest.The court also claims the system can't be used to track people because [reads opinion] it can only be used to track people's movements.
There will be no live tracking of individuals. Analysts can only use AIR's photographs to look at past movements.
So, tracking someone's past movements is apparently more Constitutional than tracking their current movements. Weird take, especially given the Supreme Court's Carpenter decision, which found that tracking people's past movements via cell site location info is unconstitutional without a warrant.The Appeals Court says this is all very legal and very Constitutional.
In light of these precedents, we cannot hold that AIR [Aerial Investigation Research] violates a reasonable expectation of privacy. AIR is merely a tool used to track short-term movements in public, where the expectation of privacy is lessened. Such an activity is lawful in light of Knotts and Jones. And the specific tool which the BPD will use for the surveillance, aerial photography, has been sanctioned by the Supreme Court in several cases.
And this is how the Fourth Circuit says Carpenter doesn't apply:
Whereas CSLI could be used to reliably track an individual's movement from day to day, AIR can only be used to track someone's outdoor movements for twelve hours at most.
If there's anything positive about this decision, it's that the court has confined its decision solely to this particular surveillance program, which should prevent more intrusive programs from sneaking in under the Fourth Circuit's ruling.
Our opinion should not be overread. Although we conclude that AIR does not invade a reasonable expectation of privacy, our decision should not be interpreted as endorsing all forms of aerial surveillance. We only address the AIR program, which has built-in limitations designed to minimize invasions of individual privacy. We do not address a surveillance program that includes, for example, twenty-four hour surveillance of indoor and outdoor spaces using photographs that allow analysts to immediately identify the specific people being photographed.
The dissenting opinion says the other two judges have it wrong. There are Fourth Amendment implications and they're being ignored by the majority.
These conclusions rest on a fundamentally warped understanding of the facts, accepting the Government's promises about the AIR program and ignoring the plaintiffs' contrary evidence. The AIR program does, indeed, amount to long-term surveillance that compiles "a detailed and comprehensive record" of a person's past movements. See Carpenter, 138 S. Ct. at 2215–19. Thus, Carpenter is not only relevant to this case. It controls the outcome.
The dissent goes on to point out that the arguments the majority uses to justify the surveillance under its "there's no Constitutional violation here" conclusion.
Applying that broader perspective to this case, the limitations of the AIR program that the majority emphasizes do little to distinguish Carpenter and Jones. Indeed, it is hard to reconcile the majority's portrayal of the AIR program's capabilities with its insistence that the program is justified because it helps BPD police crime. That the AIR program's surveillance planes will fly only during the daylight hours and capture individuals as solitary pixels does not mean that AIR program data cannot be used to track specific individuals over time.Presumably, the vast majority of Baltimore's residents start and end most days in the same place: their homes. Who resides at a given address is often public information. Likewise, many people begin each day at home, then travel during the daytime based on a daily routine, and then return home again. In just one possible application, law enforcement could use AIR data to track a person's movements from a crime scene to, eventually, a residential location where the person remains. Police could then look through time and track the movements of people from that residence. Police could use any number of context clues to distinguish individuals and deduce identity. After all, that is the very purpose of the program.
But it's the majority whose opinion counts. The Baltimore PD can continue to track residents' movements for up to twelve hours a day, day after day (weather permitting). Perhaps the Supreme Court will take up the inevitable appeal and apply its own Carpenter decision a little more rationally.

Read more here

---
posted at: 9:44pm on 16-Nov-2020
path: /Policy | permalink | edit (requires password)
0 comments, click here to add the first
---
---
Trump Campaign's Ridiculous SLAPP Suit Against CNN Tossed Out Easily

Furnished content.


Back in March you may remember that we wrote about yet another ridiculous SLAPP suit filed by the Donald Trump campaign (using lawyer Charles Harder, who, you may also remember, was the lawyer in the lawsuit against us as well). Harder's track record in these performative cases continues to be... rather lacking. Last week, you may have missed that amidst all the other legal disputes Trump's campaign was losing, this particular case was also dismissed -- though, not quite as easily as I had expected. And it does leave it open for an amended complaint to be filed, though I still can't see how it passes muster.If you don't recall, this particular lawsuit was about an opinion piece on CNN by Larry Noble, a former general counsel for the Federal Election Commission, who laid out a detailed analysis of the Mueller report about Russian interference in the 2016 election, and how it likely violated Federal Elections laws. The article expressed Noble's opinions, based on clearly disclosed facts. And that, by definition, should not be defamatory. District court judge Michael L. Brown -- who was appointed to the bench by Trump -- rejects the complaint, but not because it was opinion and therefore not defamatory.The case focuses on a single statement in Noble's CNN article:
The Trumpcampaign assessed the potential risks and benefits of again seekingRussia's help in 2020 and has decided to leave that option on the table
While many other statements in the article include language making it clear that these are Noble's opinion, that one sentence doesn't have that specific language, and that opens it up to being seen as a statement of fact, provable true or false.
A reasonable reader could readilyunderstand the first part as alleging a weighing of the risks and benefits.It has a precise meaning. Defendants argue the second part is couchedin figurative, imprecise language, and thus is not actionable under NewYork [l]aw. (Id. at 16.) The Court disagrees. While [s]tatements'couched in loose, figurative or hyperbolic language in chargedcircumstances' are more likely to be deemed opinions, it is not aninflexible rule, and the court should weigh the totality of thecircumstances..... Thus, while lefton the table is figurative language, it is also precise language. Areasonable reader could readily understand it to mean available forconsideration. The Statement satisfies the first factor of the test.
However, what kills the lawsuit is the failure of Harder and the Trump Campaign to make much of an effort at all to get over the NYT v. Sullivan standard of defamation of a public figure. In order to meet that standard, they need to show that CNN/Noble knew that what was written was false, or had "reckless disregard" for the truth (which doesn't just mean they were sloppy -- it has to mean some actual action to avoid the truth). It seems that Harder barely even bothered to try to get over this "actual malice" bar, and the judge is not impressed:
Most of the allegations in the complaint regarding actual malice areconclusory. Plaintiff, for example, alleges in a purely conclusory mannerthat Defendants clearly had a malicious motive and knowinglydisregarded all . . . information when it published the DefamatoryArticle.... The complaint's allegation that Defendants wereaware at the time of publication that the Statement was false due to[e]xtensive public information is also conclusory and without factualsupport.... Allegations such as these amount to little more than[t]hreadbare recitals of the elements of a cause of action, supported bymere conclusory statements, which are insufficient to support a cause ofaction....Plaintiff's only other allegation of actual malice is that Mr. Noblehad a record of malice and bias against the President as evidenced by a tweet and previous articles he had written.... In the tweet,Mr. Noble wrote: Trump cheats and lies, and when caught, lies againand claims the right to make the rules. He claims defeats as victories,takes credit for anyone's success and blames his failures on others . . . .(Id.) The Supreme Court has emphasized that the actual malicestandard is not satisfied merely through a showing of ill will or 'malice'in the ordinary sense of the term.... The tweet might show Mr.Noble's ill will towards the President, but it fails to plead actual malicein the constitutional sensethat is, it does not show Mr. Noble made theStatement with knowledge that it was false or with reckless disregard ofwhether it was false.
And thus the case is dismissed, though they can try to amend the complaint to plead actual malice. That seems quite unlikely to get anywhere.In the meantime, this should be another reminder of why we need better state anti-SLAPP laws (that can apply in federal court) and a full federal anti-SLAPP law.

Read more here

---
posted at: 9:44pm on 16-Nov-2020
path: /Policy | permalink | edit (requires password)
0 comments, click here to add the first
---
---
This Week In Techdirt History: November 8th - 14th

Furnished content.


Five Years AgoThis week in 2015, we looked at early warnings of the EU's all-out attack on hyperlinks, while the silly Monkey Selfie lawsuit was winding forward, and a new surprise player entered the copyright fight over Happy Birthday. The MPAA's attempt to sneak SOPA in the back door was rejected, but the agency was getting cozy with the House Judiciary Committee. And we looked at the unsurprising trio of industries that most loved the TPP agreement.Ten Years AgoThis week in 2010, the USPTO was going in the wrong direction when it came to standards for patents, while we were sad to see the MIT Tech Review come out in favor of patent trolls. We saw some examples of overly draconian punishment with a sentence of 30 months in prison and over $50,000 in fines for a DDoS attack, an arrest in Japan for a leak of a new Pokemon character, and a university promising to report file sharing to police and warning students about five-year prison terms — so it was a good week to also take a look at just how insane statutory damages for file sharing are.Fifteen Years AgoThis week in 2005, Sony was not-really-dealing with the fallout from the previous week's rootkit fiasco. As a class-action lawsuit was being prepared, the company was flubbing its media response and claiming rootkits aren't a problem because most people don't know what they are — never mind the fact that virus writers were already taking advantage of Sony's technology to hide their tracks. This prompted some to take a deeper dive into Sony's EULA, and find some ridiculous provisions like requiring you to delete all your music if you go bankrupt. Finally, at the end of the week, the company was browbeaten into "temporarily" stopping production of the rootkits, though apologies or admissions of wrongdoing were not forthcoming.

Read more here

---
posted at: 12:00am on 15-Nov-2020
path: /Policy | permalink | edit (requires password)
0 comments, click here to add the first
---
---
Donald Trump Argues That Use Of 'Electric Avenue' In Campaign Video Was Transformative

Furnished content.


The election is over and, no matter the current administration's flailings, Joe Biden is now President Elect. It was, well, quite a campaign season, filled with loud interruptions, a deluge of lies, and some of the most bizarre presidential behavior on record. And, rather than running on his own record, the Trump Campaign mostly went 100% negative, filling the digital space with all kinds of hits on Biden.One of those was a crudely put together video that showed a Trump/Pence train zipping by on some tracks, with a Biden hand-car chugging behind him. On the Biden train car were fun references to smelling hair and other childish digs. Some clips of Biden speaking made up the audio for the spot, along with the hit song from 1983 "Electric Avenue." Tweeted out on Trump's personal Twitter account, it turns out that nobody had licensed the song for the video, leading Eddy Grant to sue the President.Trump's defense in a motion to dismiss is... fair use. How? Well...
His campaign argues that it was transformative to use the song over a cartoon version of Joe Biden driving an old-fashioned train car interspersed with his rival's speeches."The purpose of the Animation is not to disseminate the Song or to supplant sales of the original Song," states the motion. The motion points to lyrics from "Electric Carnival": "[N]ow in the street, there is violence... And a lots of work to be done.""These lyrics, however, stand in stark juxtaposition to the comedic nature of the animated caricature of Former VP Biden, squatting and pumping a handcar with a sign that says, 'Your Hair Smells Terrific', and to the excerpt of the overlayed speech that references 'hairy legs' and kids playing with his leg hair. Obviously, Mr. Grant's purpose of creating a meaningful song for the pop music market is completely different from the Animation creator's purpose of using the song 'to denigrate ... Former Vice President Joseph Biden.'"
On that last bit, we can agree. However, using the song in a campaign ad meant to denigrate Joe Biden no more makes that use transformative than if a grocery store used it to sell steaks. That isn't what makes the use transformative, despite my near certainty that Eddy Grant didn't intend to sell steaks with "Electric Avenue".The motion goes on to suggest that nobody is going to go watch the campaign video instead of buying Grant's song, therefore the use doesn't effect the market for the song. While true, the claims about the other two factors in considering fair use -- the nature of the copyrighted work and the portion of the work used -- don't sound particularly convincing. The motion says that the video only used 17% of the song in the video, or forty seconds of the song in total. Again, true, except that the video itself is something like 50 seconds long, so the copyrighted work is playing for nearly the entire video. And it's played prominently.As to the nature of the copyrighted work... hoo boy.
Here, the Song is a creative work, but it was published in 1983 (Compl. ¶ 25), and it remains, more than 37 years later, available to the public. This weighs in favor of fair use.
Um, no. The fact that it's a creative work, as opposed to one comprised of factual information, weighs against fair use, not for it. It being published in the 80s and still available now is, well, completely besides the fucking point.I will be absolutely shocked if this motion isn't laughed out of the courthouse.

Read more here

---
posted at: 12:00am on 14-Nov-2020
path: /Policy | permalink | edit (requires password)
0 comments, click here to add the first
---
---
Content Moderation Case Study: GoFundMe Addresses Controversial Fundraising Efforts (2020)

Furnished content.


Summary: Shortly after protests began in Kenosha, Wisconsin over the killing of Jacob Blake by police officers, armed citizens began showing up ostensibly to protect businesses and homes from violent protesters. One of these citizens was Kyle Rittenhouse, an Illinois native who traveled to Kenosha as a self-appointed peacekeeping force.
Following an altercation at a Kenosha car dealership, Rittenhouse shot three protesters, killing two of them. Shortly after it became apparent Rittenhouse was going to be criminally-charged, fundraisers for his legal defense were set up in his name at GoFundMe.As controversy continued to swirl, GoFundMe deleted the fundraisers from its platform and refunded all donations. When asked for the reason, GoFundMe stated the fundraisers had violated its terms of service. While nothing was specifically cited by GoFundMe as the violation triggering the removals, its terms of service allow it to remove "any other activity" the site deems "unacceptable."Decisions to be made by GoFundMe:
Should moderation decisions be influenced by public outcry? Or should objectivity remain in place even if controversial fundraisers result in considerable public pushback?
Does a policy of deleting fundraisers for people charged with serious criminal activity give users the impression that everyone accused of criminal acts is guilty? Does this prevent the wrongfully accused from securing competent legal help?
Can fundraisers that violate the terms of service be detected prior to public posting? If this isn't possible at this time, would it be worth implementing to lower the possibility of controversial fundraisers gaining public attention before GoFundMe can address them?
Questions and policy implications to consider:
Does a perceived lack of consistency in moderation decisions encourage more direct regulation by government agencies?
Does GoFundMe have any obligation to treat accused criminals as innocent until proven guilty?
Does treating the terms of service as fluid and subject to constant change deter fundraisers from using the site?
Resolution: GoFundMe removed the fundraisers linked to Kyle Rittenhouse shortly after they appeared. While its explanation to queries was non-specific, the site's terms of use allow GoFundMe almost unlimited discretion when it comes to hosting fundraising efforts.This decision follows others GoFundMe has made in the past to take down controversial fundraising attempts. In 2015, it removed a fundraiser for Baltimore police officers facing criminal charges in the death of Freddie Gray. The stated reason for the removal was the fundraiser's attempt to "benefit" people charged with serious crimes. However, that same violation was not cited during the removal of Rittenhouse-related fundraisers, despite his being charged with first degree homicide.

Read more here

---
posted at: 12:00am on 14-Nov-2020
path: /Policy | permalink | edit (requires password)
0 comments, click here to add the first
---
---
Beijing Ends Democracy In Hong Kong By Ousting Pro-Democracy Lawmakers

Furnished content.


In the aftermath of our recent election, with all of the exuberance on one side and the laughable claims of stolen elections on the other, one underlying concern discussed before the election seems to have gone by the wayside: what happens in the last days of the Trump presidency if he loses? You heard the most prevalent concerns in the immediate runup to election day, which typically amounted to wondering aloud what unhinged or corrupt shit Dear Leader would get up to when his Dear-Leadership suddenly carried an expiration date? It was, frankly, a fair concern to have.But there is a flip side to that fear: what will other countries do in the final days of the Trump presidency, particularly those that have gotten used to his lax attitude towards authoritarianism, human rights abuses, and most of the goings-on around the world? Would Russia attempt to gobble up more previously-Soviet territory, a la Crimea? Would Saudi Arabia carry out more brutal attacks on journalists critical of the Saudi Royal Family? Would China give up its slow-crawl dismantling of democracy in Hong Kong and just try to take over?Well, on that last one at least, we now know the answer is yes. In fact, it was only in the wake of the election in America being called for President Elect Biden that China rushed through a resolution to oust four pro-democracy members of the Hong Kong government, seemingly for being too anti-Beijing.
The Chinese Parliament on Wednesday adopted a resolution that pushed out four pro-democracy lawmakers in Hong Kong, prompting more than a dozen of their colleagues to resign en masse. According to The Associated Press, China's National People's Congress Standing Committee passed a directive stating that any lawmaker may be removed from their position if they support Hong Kong's independence, refuse to recognize China's authority over the city, threaten national security or call for external intervention in its affairs.
Pay no mind to that language in the directive. As with all things mainland China, one must look at all of this through Orwellian eyes. The language in the directive is meant to sound just reasonable enough to remain full vague, which allows Beijing to yank away any lawmakers that say things the Communist Party doesn't like. Those sorts of utterances include anything pro-American, anything pro-democracy, or anything that promotes independent governance of Hong Kong. That the ouster of four members of the government immediately prompted fifteen more assembly members to resign, leaving literally zero assembly members that are not Beijing sycophants should tell you everything you need to know.It's hard to overstate how brazen a ramp up of aggression this move represents. It was only months ago that protests in Hong Kong were raging and Carrie Lam pretended to back off from the mainland's odious new laws over the island city. What changed?Well, between the COVID-19 pandemic gobbling up all the world's attention for a good chunk of the year combined with the vacuum left by a man-baby refusing to leave office gracefully, the Chinese government has probably determined that now is the time to make a move before the new administration sits in power. But if Beijing thought Hong Kong would go quietly, it hasn't been paying attention these past few years.
During the news conference, the lawmakers reportedly held hands and chanted, "Hong Kong add oil! Together we stand!" According to the AP, the phrase "add oil" is a direct translation of a Chinese expression of encouragement."My mission as a legislator to fight for democracy and freedom cannot continue, but I would certainly go along if Hong Kong people continue to fight for the core values of Hong Kong," one of the disqualified members, Kwok Ka-Ki, told reporters, according to Reuters.
The protests will rage once more. And, whereas the American government as it currently stands once gave lip service to those protests, now the Chief Executive for the next several weeks is far too busy golfing and raging at election results to concern himself with democracy abroad.

Read more here

---
posted at: 12:00am on 13-Nov-2020
path: /Policy | permalink | edit (requires password)
0 comments, click here to add the first
---
---
About Time: NY Governor Cuomo Signs Anti-SLAPP Law

Furnished content.


Back in July, we noted that after years of living with a pathetically weak anti-SLAPP bill, the NY legislature had finally approved a more significant anti-SLAPP bill. It's incredible that it has taken this long, given that much of the media industry is based in New York, and for so many years has been open to a barrage of ridiculous SLAPP suits, since the old law only covered speech made in the process of petitioning the government. Also, unlike most anti-SLAPP bills, New York's did not have automatic fee shifting, which would make the vexatious litigant have to pay for the legal costs of the defendant.For unclear reasons, the bill sat on Governor Andrew Cuomo's desk unsigned for months. However, that finally ended yesterday as he has now signed the bill into law:
Governor Andrew M. Cuomo today signed legislation that protects citizens' rights to free speech and petition by deterring abusive "strategic lawsuits against public participation," known as SLAPPs. SLAPP lawsuits are frivolous litigation brought by affluent plaintiffs who have the ability to spend large sums of money by using expensive and time-consuming litigation to obstruct those exercising their right to free speech. The legislation amends the Civil Rights Law to require costs and attorney's fees to be recovered regarding these frivolous lawsuits, which will deter plaintiffs from bringing such lawsuits in the first place."For too long, powerful and wealthy interests have used frivolous lawsuits to harass and intimidate critics by burdening them with exorbitant legal fees and time consuming legal processes. That ends now," Governor Cuomo said. "I am proud to sign this legislation, which protects New Yorkers' fundamental right to free speech without fear of harassment or bullying by those who happen to have more money than they do."
It's good to see yet another state improve their anti-SLAPP laws. There are still many states with no anti-SLAPP laws or weak ones -- and there still is no federal anti-SLAPP law at all. It's about time that the new Congress and a new President support such a law next year. Over the last four years, we've seen a massive flurry of SLAPP suits, designed to intimidate and suppress speech, even by thin-skinned members of Congress (one assumes Devin Nunes is a no vote on any federal anti-SLAPP law). Such a bill should receive overwhelming support in Congress and would protect the free expression rights of every American.

Read more here

---
posted at: 12:00am on 13-Nov-2020
path: /Policy | permalink | edit (requires password)
0 comments, click here to add the first
---
---
Happy 20th Birthday To 'No One Lives Forever', The Classic PC Game That Can't Be Sold Today Thanks To IP

Furnished content.


There are a great many interesting arguments we tend to have over both the purpose of copyright law and how effectively its current application aligns with that purpose. Still, we are on fairly solid legal footing when we state that the main thrust of copyright was supposed to be to drive more and better content to the public. Much of the disagreement we tend to have with naysayers revolves around whether ever expanding rights coupled with protectionist attitudes truly results in more and better content for the public. We, to a large extent, say the current copyright bargain is horribly one-sided against the public interest. Detractors say, essentially, "nuh-uh!".But if one were to distill the problems with the current state of copyright to their most basic forms, you would get No One Lives Forever. The classic PC shooter/spy game was released way back in 2000, times of antiquity in the PC gaming space. It was a critically acclaimed hit, mixing Deus Ex style shooter missions, spycraft, and an aesthetic style built on 1960s classic spy films. And, as RockPaperShotgun reminds us, No One Lives Forever celebrated its 20th birthday this November.If you remember the game fondly, or perhaps if you never played it and are curious as to why there's so much love for the game, you might be thinking about going and getting a copy for yourself to play. Well, too bad. You can't.
FPS spy romp No One Lives Forever turns 20 today but alas Cate Archer is still confined to her room, unable to come out and play. The secret agent shooter has been tied up in legal gridlock for years. You'll not find it for sale online aside from second-hand, but that hasn't stopped RPS singing its praises all this time. A remaster still seems unlikely, but Nightdive Studios say they aren't done trying to make it happen.
Legal gridlock is being extremely kind. Why you cannot buy this game is one of the most frustrating stories in intellectual property. We discussed much of this back in 2015. Nightdive Studios is a company that buys up the rights to older video games, updates and/or remasters them for modern gaming hardware, and then rereleases them. And we're talking about a professional operation that has managed to rerelease games like Doom 64, 7th Guest, and System Shock. In other words, these guys are legit and they know what they're doing.And they really, really wanted to give No One Lives Forever the treatment. There was just one problem: nobody seems to know who holds the copyright for the game, but everyone independently has told Nightdive that they'll sue if they make the game. Warner Bros., Activision, and 20th Centry Fox all might own the copyright to the game, except that the paperwork for how the rights all shake out was contrived in a time before such records were digitized. So, someone owns the rights to this game. And Nightdive very much wants to work out an arrangement with whoever that someone is. But none of the three potential owners are willing to go hunt down the paperwork so such a deal could be worked out.You can get a sense of how each is communicating with Nightdive from our original post on the subject.
"So we went back to Activision and, [after] numerous correspondence going back and forth, they replied that they thought they might have some rights, but that any records predated digital storage. So we're talking about a contract in a box someplace." Kuperman laughed. "The image I get is the end of Indiana Jones… somewhere in a box, maybe in the bowels of Activision, maybe it was shipped off to Iron Mountain or somewhere. And they confessed, they didn't have [their] hands on it. And they weren't sure that they even had any of those rights."
And yet Nightdive was also told by all three entities, independently mind you, that they might own some rights and would go find out if Nightdive tried to rerelease the game to see if they could sue over it. The end result is a game that can't be released legitimately to the public over rights three companies insist are important enough to sue over, but not so important that they should know if they even have those rights to begin with.Which brings us back to the RPS post, five years later on the 20th birthday of No One Lives Forever, where we find out that essentially zero progress has been made.
As one of the best FPS games on PC, it seems plenty worthy of a remaster or re-release, but efforts on that front have died in the water over the past decade or more. Hit any one of those quoted links to get the evolving story, but the short version is this: Nightdive Studios, who want to modernise No One Lives Forever, don't own the rights to it. More than one company might have legal claim to it, but none of them are terribly motivated to unearth stacks of paper contracts literally hidden in basements. They're just sure they don't want anyone else making money off it without them. So Cate's all tied up in the super villain's lair without a Deus Ex Machina to save her.On that front, Nightdive recently told The Gamer that they aren't done trying to make it happen. "It is a process that we're continuing," said director of business development Larry Kuperman. "We continue on with our mission to unearth and bring back these classic games."
And so the public is flatly denied legitimate access to content that is a piece of our culture over copyrights nobody can say for sure if they have. I can't claim to crawl into the founding fathers' heads to say precisely how they wanted copyright to work, but it sure as shit can't be like this.

Read more here

---
posted at: 12:00am on 12-Nov-2020
path: /Policy | permalink | edit (requires password)
0 comments, click here to add the first
---
---
Content Moderation Case Study: Using Fact Checkers To Create A Misogynist Meme (2019)

Furnished content.


Summary: Many social media sites include fact checkers in order to either block or at least highlight information that is determined to be false or misleading. However, in some ways, that alone can create a content moderation challenge.
Alan Kyle, a privacy and policy analyst, noticed this in late 2019 when he came across a meme picture on Instagram from a meme account called memealpyro showing what appeared to be a great white shark leaping majestically out of the ocean. When he spotted the image, it had been blurred, with a notice that it had been deemed to be false information after being reviewed by independent fact checkers. When he clicked through to unblur the image, next to the image there was a small line of text saying women are funny. And beneath that the fact checking flag: See why fact checkers say this is false.The implication of someone coming across this image with this fact check is that the fact check is on the statement, leading to the ridiculous/misogynistic conclusion that women are not funny and that an independent fact checking organization had to flag a meme image suggesting otherwise.As Kyle discusses, however, this seemed to be an attempt to rely on fact checkers checking one part of the content, in order to create the misogynistic meme. Others had been using the same image -- which was computer generated and not an actual photo -- and claiming that it was National Geographic's Picture of the Year. This belief was so widespread that National Geographic had to debunk the claim (though it did so by releasing other, quite real, images of sharks to appease those looking for cool shark images).The issue, then, was that fact checkers had been trained to debunk the use of the photo, on the assumption it was being posted with the false claim that it was National Geographic's Photo of the Year, and Instagram's system didn't seem to expect that other, different claims might be appended to the same image. When Kyle clicked through to see the explanation, it was only about the Picture of the Year claim (which was not made on this image), and (obviously) not on the statement about women.Kyle's hypothesis is that Instagram's algorithms were trained to flag the picture as false, and then possibly send the flagged image to a human reviewer -- who may have just missed that the text associated with this image was unrelated to the text for the fact check.
Decisions to be made by Instagram:
If the caption and a picture need to be combined to be designated as false information, how should Instagram fact checkers handle cases where that information is separated?
How should fact checkers handle mixed media content, in which text and graphics or video may be deliberately unrelated?
Should automated tools be used to flag viral false information in a way that might be gamed?
How much human review should be used for algorithmically flagged false information?
Questions and policy implications to consider:
When there is an automated fact checking flagging algorithm, how will users with malicious intent try to game the system, as in the above example?
Is fact checking the right approach to meme'd information that is misleading, but not in a meaningful way?
Would requiring fact checking across social media lead to more gaming of the system as in the case above?
Resolution: As Kyle himself concludes, situations like this are somewhat inevitable, as the setup of content moderation works against those trying to accurately deal with content such as the piece described above:
There are many factors working against the moderator making the right decision. Facebook (Instagram's parent company) outsources several thousand workers to sift through flagged content, much of it horrific. Workers, who moderate hundreds of posts per day, have little time to decide a post's fate in light of frequently changing internal policies. On top of that, much of these outsourced workers are based in places like the Philippines and India, where they are less aware of the cultural context of what they are moderating.The Instagram moderator may not have understood that it's the image of the shark in connection to the claim that it won a NatGeo award that deserves the false information label.The challenges of content moderation at scale are well documented, and this shark tale joins countless others in a sea of content moderation mishaps. Indeed, this case study reflects Instagram's own challenged content moderation model: to move fast and moderate things. Even if it means moderating the wrong things.


Read more here

---
posted at: 12:00am on 12-Nov-2020
path: /Policy | permalink | edit (requires password)
0 comments, click here to add the first
---
---
The DOJ Will Finally Allow Local Cops To Wear Body Cameras When Working With Federal Agencies

Furnished content.


The federal government is finally coming around to body cameras. While law enforcement agencies around the nation continue to buy body cameras for their officers, federal agencies have been less receptive to these tools of incremental accountability and transparency.First, let's address body cameras. They're not a panacea. They don't turn bad cops into good cops. They're far more useful to prosecutors then they are to criminal defendants or plaintiffs in civil rights lawsuits. They tend to "malfunction" with alarming regularity during confrontations with members of the public. And they can be manipulated to act as corroboration for falsified police reports.That being said, they do offer one thing we haven't seen since the advent of dashcams: another version of events normally only memorialized by exonerative statements and questionable report narratives.Five years ago, the DOJ was throwing federal money at body camera programs. But only for local law enforcement agencies. The feds wanted none of it. A mandate issued by the DOJ said its agencies wouldn't partner with cop shops using the tech, even if the cameras were purchased with federal money. According to the DOJ, it was "looking into the issue," but strongly felt the presence of body cameras would "expose police methods." It said this with a straight face despite "police methods" remaining largely unchanged since the invention of the door ram.Five years later -- and while under the now-temporary thumb of cop cheerleader Bill Barr -- the DOJ has finally decided to join the present (already in progress).
Today, the Justice Department announced that it will permit state, local, territorial, and tribal task force officers to use body-worn cameras on federal task forces around the nation. The department's policy will permit federally deputized officers to activate a body-worn camera while serving arrest warrants, or during other planned arrest operations, and during the execution of search warrants.
This doesn't mean federal officers and agents will be wearing body cameras. Oh my no. That accountability bridge will presumably be crossed sometime in the next decade. But it will no longer require local officers to leave their cameras at the station before assisting in warrant service. According to the DOJ's official guidance [PDF], this will finally allow the local boys to stop violating their own policies when performing arrests or searches.
To the extent state and local law enforcement agencies mandate BWCs [body-worn cameras] for TFOs [task force officers] while engaged in federal task force operations, the Department will permit federally deputized TFOs from those agencies to use their BWCs under the following circumstances.
How gracious of the federal government to allow local agencies to follow their own policies. But there are some catches. And one of those catches will allow officers to engage in searches without providing unbiased documentation of the search.
TFOs are authorized to activate their BWCs upon approaching a subject or premises, and must deactivate their BWCs when the scene is secured as determined by the federal supervisor on the scene as designated by the sponsoring federal agency.
More DOJ caveats await, ensuring even fewer recordings will occur.
TFOs are prohibited from recording: (1) undercover personnel; (2) confidential informants or confidential sources; (3) on-scene witness interviews prior to or after the operation; (4) personnel using specialized or sensitive investigative techniques or equipment; or (5) onscene actions by any non-law enforcement persons who are assisting law enforcement personnel prior to or after the operation.
So, the FBI will continue to conduct "interviews" without unbiased documentation and nearly anything involved with a task force operation will go unrecorded because pretty much everything other than breaching an entrance or placing someone in cuffs will fall into these expansive, malleable exceptions.And if the public wants access to this footage, good luck with that. Whatever local policies and laws that normally govern public access to recordings are null and void. According to the DOJ, it retains control of recordings and will preemptively declare all recordings exempt from public records requests.
In all circumstances, TFO BWC recordings shall be treated as law enforcement sensitive information, the premature disclosure of which could reasonably be expected to interfere with enforcement proceedings, and as potential evidence in a federal investigation subject to applicable federal laws, rules, and policy concerning any disclosure or dissemination; and therefore deemed privileged absent appropriate redaction prior to disclosure or dissemination. Nothing in this policy shall be deemed to provide a right of public access to TFO BWC recordings.
The good news is there is one exception: if anyone on the task force -- federal or otherwise -- kills or seriously injures someone, the recordings will be "expeditiously reviewed" and approved for public release as soon as is "practical." Granted, the dictionary definition of "expeditious" and "practical" will differ greatly from the DOJ's definition of those terms. But it's something. And it's something that fills a void the DOJ proactively chose to leave unfilled for years.

Read more here

---
posted at: 12:00am on 11-Nov-2020
path: /Policy | permalink | edit (requires password)
0 comments, click here to add the first
---
---
Netflix Gets Cute Using DMCA Notices To Take Down Tweets Critical Of 'Cuties'

Furnished content.


Cuties, the stupid non-controversy against Netflix that simply will not go away. The film, which won awards at international film festivals, centers on a pre-teen and is a coming of age story about a young lady growing up in both a strictly conservative upbringing combined with living in the hyper-sexualized Western culture. While the whole story is about this juxtaposition, Netflix rather stupidly promoted the film using images that focused on the latter. The result was chaos, with large swaths of Quaker-Twitter screaming about boycotting Netflix entirely and one pandering prosecutor in Texas bringing an indictment against Netflix for promotion of lewd visual material depicting a child.With everyone very quickly lighting themselves on fire over an award winning film, Netflix sat back and calmly explained what the film was about and why it had... just kidding, Netflix is now out here issuing DMCA takedowns for those tweeting critiques of its decision to distribute the film.
Netflix's takedown requests, which are still rolling in today, seem only to have targeted tweets that described the film negatively, although some more than others."IMAGINE A CHILD SEEING THIS #Cuties #Netflix #CancelNetflixCuties," one message read. "WARNING CONTAINS EXPLICIT CONTENT," another similar message said. "Go ahead and try to justify how this film is an appropriate representation of 11 year olds. I'll wait. #CancelNetfilx."Some of the dozens of tweets Netflix issued DMCA claims against used clips from the actual movie, TorrentFreak reports, in which case Netflix's claims are understandable. However, many of the tweets in question shared the film's trailer, which is widely and publicly available on YouTube for anyone to view or share.
DMCA takedowns of trailers, as we've explained before, never make sense. Ever. Ever ever. What Netflix is doing instead is lay bare its intentions behind these takedown notices, which are obviously centered on attempting to censor critical commentary around its decisions surrounding the film. This becomes especially apparent when put in the context for how and for what Netflix has, in the past, bothered issuing DMCA takedowns.
TorrentFreak notes that the cluster of claims is unusual for Netflix, which has sent roughly 300 DMCA claims to Twitter in the past month, half of which centered on tweets related to Cuties. Before Netflix started targeting Cuties tweets, most of the claims it sent were related to accounts known for distributing pirated content.
And so the Streisand Effect kicks in. By trying to bury criticism, the public becomes all the more aware of that criticism. By trying to censor a controversy that was probably juuuuuuust about to go away, instead it gets recycled back into the news cycle.Netflix, tech company as it is, should absolutely know better. Reliant on the First Amendment as it is, it should absolutely not be taking actions like this that tamp down speech. And given that Netflix is not entirely without blame for the controversy in the first place, it sure would be nice if the company demonstrated skin thick enough to take a little heat now and again.

Read more here

---
posted at: 12:00am on 11-Nov-2020
path: /Policy | permalink | edit (requires password)
0 comments, click here to add the first
---
---
Supreme Court Reverses Decision Granting Qualified Immunity To Guards Who Threw An Inmate Into A 'Feces-Covered' Cell

Furnished content.


Late last year, the Fifth Circuit Appeals Court reached a truly horrendous decision. Judge Don Willett's scathing takedown of the "rigged game" that is qualified immunity -- delivered in a different opinion -- failed to move the dial in the Fifth Circuit, which found this doctrine could still cover a host of abusive behavior by government employees.Making it easier to arrive at this dismal conclusion was the Supreme Court's qualified immunity related efforts over the years. The nation's top court has continuously tilted the scales in favor of misbehaving government employees, removing any common sense reading of the Constitution in favor of discussions about "clearly established" rights violations. This made it tougher to create precedent as plaintiffs had to show government employees were clearly aware their violations of rights were actually rights violations. The end result was more dismissals and less precedent.Riding this lack of precedent to its illogical conclusion was this decision by the Fifth Circuit, handed down in late December of last year. Here's what the inmate suing prison officials and guards had to deal with:
Taylor stayed in the first cell starting September 6, 2013. He alleged that almost the entire surface—including the floor, ceiling, window, walls, and water faucet—was covered with "massive amounts" of feces that emitted a "strong fecal odor." Taylor had to stay in the cell naked. He said that he couldn't eat in the cell, because he feared contamination. And he couldn't drink water, because feces were "packed inside the water faucet." Taylor stated that the prison officials were aware that the cell was covered in feces, but instead of cleaning it, Cortez, Davison, and Hunter laughed at Taylor and remarked that he was "going to have a long weekend." Swaney criticized Taylor for complaining, stating "[d]ude, this is [M]ontford, there is shit in all these cells from years of psych patients." On September 10, Taylor left the cell.A day later, September 11, Taylor was moved to a "seclusion cell," but its conditions were no better. It didn't have a toilet, water fountain, or bunk. There was a drain in the floor where Taylor was ordered to urinate. The cell was extremely cold because the air conditioning was always on. And the cell was anything but clean.[Trent] Taylor alleged that the floor drain was clogged, leaving raw sewage on the floor. The drain smelled strongly of ammonia, which made it hard for Taylor to breathe. Yet, he alleged, the defendants repeatedly told him that if he needed to urinate, he had to do so in the clogged drain instead of being escorted to the restroom. Taylor refused. He worried that, because the drain was clogged, his urine would spill onto the already-soiled floor, where he had to sleep because he lacked a bed. So, he held his urine for twenty-four hours before involuntarily urinating on himself.
And here's the conclusion reached by the Appeals Court:
The law wasn't clearly established. Taylor stayed in his extremely dirty cells for only six days. Though the law was clear that prisoners couldn't be housed in cells teeming with human waste for months on end, see, e.g., McCord, 927 F.2d at 848, we hadn't previously held that a time period so short violated the Constitution, e.g., Davis, 157 F.3d at 1005–06 (finding no violation partly because the defendant stayed in the cell for only three days). That dooms Taylor's claim.
The decision quoted the Supreme Court, which previously held that it wasn't "intolerably cruel" to house prisoners in "filthy" cells for "a few days." Fortunately, the Supreme Court [PDF] has reversed the Fifth Circuit's inexplicable decision, finding that this was a clear violation of rights.
The Fifth Circuit erred in granting the officers qualified immunity on this basis. "Qualified immunity shields an officer from suit when she makes a decision that, even if constitutionally deficient, reasonably misapprehends the law governing the circumstances she confronted." Brosseau v. Haugen, 543 U. S. 194, 198 (2004) (per curiam). But no reasonable correctional officer could have concluded that, under the extreme circumstances of this case, it was constitutionally permissible to house Taylor in such deplorably unsanitary conditions for such an extended period of time.[...]The Fifth Circuit identified no evidence that the conditions of Taylor's confinement were compelled by necessity or exigency. Nor does the summary-judgment record reveal any reason to suspect that the conditions of Taylor's confinement could not have been mitigated, either in degree or duration.
The Supreme Court says there appears to be deliberate indifference on the part of at least a couple of the guards, given their remarks to Taylor.
[O]ne officer, upon placing Taylor in the first feces-covered cell, remarked to another that Taylor was "going to have a long weekend" [...] another officer, upon placing Taylor in the second cell, told Taylor he hoped Taylor would "f***ing freeze"...
Of course, this never would have reached this stage if it wasn't for the Supreme Court's deliberate indifference towards plaintiffs suing over rights violations. But this at least upends one terrible decision from a lower court and suggests the nation's top court might finally be willing to start undoing the damage it's done.

Read more here

---
posted at: 12:00am on 10-Nov-2020
path: /Policy | permalink | edit (requires password)
0 comments, click here to add the first
---
---
Aussie Brewer Keeps Digging Holes With Trademark Lawsuits, Now Owes Court Costs

Furnished content.


If you can believe it, despite my storied fascination with the intersection of trademark law and alcohol, one battle between two Australian breweries flew under my radar. Sorry, okay? But it is worth writing about now, if only as it demonstrates the length to which some trademark protectionists will go, even when it ultimately causes that protectionist harm.Laneway Brewery in Melbourne sued nearby La Sirene Brewing over its use of the word "Urban" in its "Urban Pale" offering. Laneway has a brew called "Once Bitter" and uses the term "Urban Ale" as its tagline, for which it had a registered trademark.
Laneway argues it has established a "substantial, exclusive and valuable reputation and goodwill" in Australia by reference to the Urban Ale trade mark."In addition, the Laneway Brewery products have become widely and favourably known and identified by the general public in Australia by reference to the trade mark," the company says in documents lodged with the Federal Court.
The problems for Laneway started almost immediately. La Sirene immediately began arguing that the word "Urban" was generic in the brewing space, which, yes it is. On top of that, the use of "Urban Pale" is, in large part, descriptive of the product itself. La Sirene didn't seek trademarks for the term for that very reason. And, if that term is too generic and descriptive in the brewing industry to warrant trademark protection, then so too is Laneway's.
"The words 'urban' and 'ale' are in ordinary use and other persons would wish to use those words to describe beer and related products," La Sirene argues in its cross claim.La Sirene argues the urban ale trade mark should be cancelled, and is liable to be removed, given prior use by La Sirene and also Rockpool Dining Group (née Urban Purveyor Group Pty Ltd) on its Urban Brewing Company trade mark, registered March 2016.
And guess what? The court agreed. So, in trying to be a protectionist bully over a generic trademark it held, Laneway managed to get its own trademark cancelled as a result. Rather than admitting defeat, discontinuing the legal spend on this nonsense, and moving on... Laneway appealed. And will now have pay court costs for Las Sirene on top of it. Note in the quote below: Laneway does business currently as Urban Alley.
The notice of appeal it filed contended that the primary judge had made a mistake by cancelling the word mark, but the appeals court judges today said they were not persuaded that the primary judge had erred in his evaluation of the two marks.Following the short hearing today, the court ruled that not only is the case to be dismissed, but Urban Alley will now have to pay for La Sirène's legal costs.
Whoops. The only real silver lining here for Laneway is that it probably has finally found bedrock in this hole it's kept digging for itself. Though, if any brewery were capable of finding new and creative ways to continue its quest for self-harm, I suppose it would them.

Read more here

---
posted at: 12:00am on 10-Nov-2020
path: /Policy | permalink | edit (requires password)
0 comments, click here to add the first
---
---
This Week In Techdirt History: November 1st - 7th

Furnished content.


Five Years AgoThis week in 2015, the UK government released its "Snooper's Charter" surveillance bill after pretending it had backed down on the worst provisions — when in fact the bill mandated backdoors to encryption and aimed to legalize over a decade of illegal mass surveillance. In the US, documents from the DOJ confirmed the extensive powers of Stingray devices, while legislators were moving to turn the agency's "guidance" on the devices into law. The think-tank behind SOPA was now pushing for the US to encourage other countries to block the Pirate Bay, while attacks on Section 230 were still mainly the realm of some law professors. And then the biggest release of the week came on Friday: the full, very bad text of the TPP.Ten Years AgoThis week in 2010, we were surprised to see the DOJ weigh in against gene patents, and the USPTO was not happy about it. The Jammie Thomas trial got its third jury verdict with another huge award of damages that highlighted how the framing of the jury instructions changes everything in such a case. A YouTube star was being threatened by music publishers claiming parody isn't fair use, a reality show was sued for copying an idea, and a pizza shop sued a former employee for "stealing" their recipe — while librarians in Brazil were forcefully speaking out against copyright, calling it a fear-based reaction to open access to knowledge. Also, this is the week that the proposal of a Right To Be Forgotten started making the rounds in Europe.Fifteen Years AgoThis week in 2005, the FCC okayed the big telco mergers of SBC/AT&T and Verizon/MCI, while SBC was making demands of Google, and Sprint was launching its mobile broadband network. The movie industry was trying to plug the "analog hole" and Congress appeared to be going through the motions to appease them without much enthusiasm. But the most memorable development of the week was the discovery that Sony's new copy protection on CDs was a dangerous rootkit, and that other malware could piggyback on it, and that the same DRM was on CDs from other companies... all of which forced Sony to scramble to release a "patch" which didn't really fix the problem, and which itself turned out to come with a bunch of highly questionable baggage.

Read more here

---
posted at: 12:00am on 08-Nov-2020
path: /Policy | permalink | edit (requires password)
0 comments, click here to add the first
---
---
Content Moderation Case Study: Google Refuses A Law Enforcement Agency Demand To Remove A Video Depicting Police Brutality (2011)

Furnished content.


Summary: Google began documenting government requests for content removal in 2009. Periodic transparency reports informed users about demands made by government agencies, breaking requests down by country and targeted service (YouTube, Google search, Blogspot, etc.)In October 2011, the section dealing with US government agency requests included a note indicating Google had refused a questionable demand to take down a YouTube video.
We received a request from a local law enforcement agency to remove YouTube videos of police brutality, which we did not remove. Separately, we received requests from a different local law enforcement agency for removal of videos allegedly defaming law enforcement officials. We did not comply with those requests, which we have categorized in this Report as defamation requests.
News coverage about the unusual request pointed out YouTube's value as an archive of public interest recordings. Later reports issued by Google added the name of the law enforcement agency: the Greensboro Police Department -- one that apparently has a history of officers deploying excessive force.
This isn't the only time Google has rejected an apparent effort to remove content that does not reflect well on the agency making the request. Subsequent reports show Google has rejected government requests targeting recordings of abuse of inmates by corrections officers, articles detailing a police officer's work history, videos containing information about a law enforcement investigation, and five requests to remove videos that "criticized local and state government agencies."Decisions to be made by Google:
Does targeted content contain sufficient public interest to justify rejecting government demands?
Does pushing back on requests usually result in government agencies withdrawing or dropping questionable takedown demands?
If copyright claims are raised as justification for seemingly inappropriate requests, is fair use raised in defense of leaving the video up?
Questions and policy implications to consider:
Does YouTube have a duty to preserve content with sufficient public interest, even if the original uploader/creator tries to remove it?
Does Google/YouTube have a duty to the public in general, even though it's a private company? If so, does this conflict with Google's obligations to its shareholders?
Does challenging questionable government demands provide more value to users?
Resolution: As noted in Google's transparency report, the targeted video was not taken down. This initial oddity was followed by other questionable requests over the years. Following this showdown with a local law enforcement agency, Google began highlighting requests that "may be of public interest," allowing users to gain more insight into questionable government activities, as well as similarly-notable requests made by private citizens and businesses.

Read more here

---
posted at: 12:00am on 07-Nov-2020
path: /Policy | permalink | edit (requires password)
0 comments, click here to add the first
---
---
WISPs Are Helping Communities Stay Connected And Safe During The Crisis... And Beyond

Furnished content.


Almost universally, COVID-19 and its associated stay-at-home orders challenged networks with crushes of Internet traffic. Big, medium and small networks; urban, suburban and rural – all experienced a massive shift in use as Americans, locked into a single spot for an indefinite amount of time, depended on the Internet to communicate with friends and families, go to work, learn, get healthcare, and generally ride out the storm.Fixed wireless providers (a.k.a. WISPs) were no exception in serving the public's needs during the health safety crisis. These generally small, rural companies use primarily unlicensed spectrum to deliver broadband to nearly 7 million residential and business customers throughout America. Not to be confused with mobile wireless technology, WISPs purchase Internet access, run that to a tower or other vertical structure (such as a grain silo or water tower), then shoot that data wirelessly to fixed receiver-antennas on houses and businesses, connecting a robust, two-way broadband connection.Not surprisingly, WISPs have been busy during the crisis, seeing an average change of download traffic at peak of 43%; and upload at peak of 70%. To support this, 83% of WISPs upgraded their networks to better manage the new traffic dynamics. Importantly, no WISP buckled, as users changed their favorite apps from streaming and email to "Zoom" teleconferencing and distance learning. During the pandemic, WISPs were also on the frontlines of keeping their communities connected.Some of this work was recently highlighted by FCC Commissioner Geoffrey Starks in his inaugural Digital Opportunity Equity Recognition (DOER) program. WISPA members Midco, Starry and Triad Wireless were lauded by the Commissioner for demonstrating "a true commitment to serving communities through acts of substance and consequence, big and small, generosity and selflessness both during the pandemic and prior to the recent events that have changed our nation."What did they do? Midco worked with the State of North Dakota and local school districts to deliver free Internet service for families to help kids stay "in" school. Starry created a budget $15 a month package, connecting communities across Boston, New York City, Denver, and Los Angeles with 30 Mbps service and no data caps or long-term contracts. And Triad Wireless launched its "Education Everywhere" program, which for $10 per month brought needy families Internet access in communities across Arizona.All told 75% of America's 2,000 plus WISPs helped out with some sort of free access, Wi-Fi hotspots, community connectivity or other broadband deployments to keep their local communities online and safe during the pandemic.An example of the industry's other "doers" include companies like Byhalia.net in Bellefontaine, OH, which set up a free Wi-Fi location at their local public school so kids in their rural area with limited or no Internet could get assignments via drive-up Wi-Fi. And, BPS Networks, located in Bernie, MO, which deployed nine free Wi-Fi hotspots for local school districts in SE Missouri, as well as a dedicated high-speed link for the local hospital's COVID-19 pre-screening tents. Or, Portative Technologies in Corydon, IN, which deployed 10 free hotspots in the area's parks, fire houses, parking lots and elsewhere in their county.The FCC played an integral part in many of these connectivity efforts, too. More than 100 WISPs applied for and received an innovative, temporary 45 MHz assignment of 5.9 GHz spectrum from the Commission to rapidly boost and promote broadband connectivity. That band was "reserved" for the automotive industry two decades ago, but has gone essentially fallow, seeing little to no use since its inception. Because the spectrum sits adjacent to unlicensed providers in the 5 GHz band, it represented a perfect candidate to quickly increase capacity, alleviating some of "COVID-crunch" on WISP and Wi-Fi networks.To this end, Amplex in Luckey, OH, used its 5.9 GHz spectrum to increase bandwidth by 50% across its suburban and rural network of 8,000 subscribers, greatly improving capacity not only for the equipment using the new spectrum, but also reducing congestion on the existing spectrum. And Nextlink, based in Hudson Oaks, TX, achieved less network interference by utilizing the 5.9 GHz band, allowing over 2,000 of its subscribers to upgrade their speed plans to higher levels than possible before.WISPs' underlying nimbleness made the effects of C-19 less devastating. But it also hints at something more powerful and lasting at work. While the U.S. economy significantly contracted during the crisis, WISP networks grew. Over 80% of WISPs added customers during the pandemic. Interestingly, however, COVID didn't create this. Rather, it only accelerated the velocity of growth, which for the past several years has been about 15% annually.How can this happen when other sectors remain flat or experience only meager growth?First, WISPs often serve broadband-neglected communities in the digital divide – areas that have been left behind by legacy providers because they're deemed too unprofitable to serve. Perhaps tragically, there's a huge, nearly 20 million strong untapped market there, representing a lot of room to grow.Second, though many WISPs provide fiber connectivity, too, the fixed wireless model can be rolled-out almost overnight and at about 15% of the cost of fiber, quickly providing a cost-effective and evolutionary tool to connect to the Internet where it was absent or deficient.And third, they're not beholden to a "mother-may-I" regulatory regime, enabling them to innovate without permission, more nimbly extending services to those who need it. It is the exact opposite of monopoly and franchise-driven plays, which work to limit service options, innovation and regulatorily mandated "growth."For many individuals in the rural and urban digital divide, WISPs are an essential lifeline, built to evolve, expand and scale to meet the needs of the markets they serve. This flexibility and industry "get 'er done" ethos have allowed WISPs across America to help their communities stay connected and safe during the crisis. And beyond.The WISP model helps more and more Americans thrive in good and in challenging times. Policymakers would do well to promote their broadband deployment model to continue this good and vital work.Claude Aiken is WISPA's president and CEO. A leader on broadband policy, Aiken joined WISPA in 2018 after nearly a decade at the FCC. While there, he served as a trusted advisor to Chairman Wheeler and Commissioner Clyburn. He held senior leadership positions in the Wireline Bureau and Office of General Counsel, as well key staff attorney roles throughout the FCC.

Read more here

---
posted at: 12:00am on 07-Nov-2020
path: /Policy | permalink | edit (requires password)
0 comments, click here to add the first
---
---
'Enola Holmes' Producers Go In Hard On Conan Doyle Estate In Motion To Dismiss Its Bullshit Lawsuit

Furnished content.


Over the summer, we wrote about a very strange lawsuit brought by the Estate of Sir Arthur Conan Doyle against Netflix and the makers of the forthcoming film Enola Holmes. What made much of this head-scratching is that the vast majority of ACD's Sherlock Holmes works are old enough to have entered the public domain. In the lawsuit, the Estate points out that there are ten Sherlock stories that are not in the public domain, however. And that because the Holmes character in those stories is both more emotional and -- checks notes -- likes dogs, that somehow that makes any depiction of the Holmes character having emotions and liking dogs as somehow copyright infringement. Also, there is a trademark claim for using "Holmes" in the film's title, which is dumb because it's a work of art and the public domain character's name being part of the film's title is of artistic merit.So let's focus on the copyright claim, instead. Or, rather, let's let the filmmaker's motion to dismiss focus on it, so thoroughly did they excoriate the Estate. We'll start with two claims made by the Estate as to protectable elements of the Holmes character: that the later works showed his warming relationship with his sidekick Watson and -- checks notes again in disbelief -- sigh, that he likes dogs. Well, the filmmakers suggest that those are sort of irrelevant since the film doesn't depict Holmes interacting with either Watson or dogs.
Dr. Watson is not even a character in the Film. Accordingly, the Film does not develop Watson's relationship with Sherlock Holmes and Watson does not remarry in the Film.The Film does not show Sherlock interacting with dogs, and accordingly, does not demonstrate any "great interest" in dogs by Sherlock.
As such, the motion points out that the only relevant claim is on the emotional and demeanor traits the Estate claims are later protectable developments of the Holmes character. To succeed on this, the Estate would have to be able to demonstrate first that these are protectable elements for copyright and that those elements only appear in the later, not public domain Sherlock works. On the matter of whether emotions are somehow protectable, the motion points out that this goes against copyright's idea/expression dichotomy.
It is a "fundamental tenet" of copyright law that "protection extends only to the author's original expression and not to the ideas embodied in that expression." - Gates Rubber Co. v. Bando Chem. Indus.).See also 17 U.S.C. § 102(b) ("In no case does copyright protection for an original work for authorship extend to any idea … [or] concept… regardless of the form in which it is described, explained, illustrated, or embodied in suchwork"). As the Tenth Circuit has explained, courts " must separate unprotected ideas from expression" because copyright law only protects "the 'particularized expression' of [an] idea,"and not the idea itself - Blehm v. Jacobs. See also Golan v. Gonzalez (original expressionin the literary context "refers to the particular pattern of words … that comprise a work").
And that should be enough by itself to get this lawsuit tossed in the trash heap where it belongs. In case that doesn't do the trick, the motion goes on to note that the very traits the Estate is wrongly claiming are protectable, namely a softer, kinder Sherlock Holmes, also happen to show up in earlier works now in the public domain. In all, the lawyers for the film provided six examples of Holmes exhibiting these traits in earlier, public domain works. To be honest, this whole thing might have been worth it if only so I could picture a bunch of lawyers pouring through old Sherlock Holmes stories and arguing over which ones showed the most emotional development.But beyond that, this whole lawsuit is dumb and the court should dismiss it as requested.

Read more here

---
posted at: 12:00am on 06-Nov-2020
path: /Policy | permalink | edit (requires password)
0 comments, click here to add the first
---
---
Texas Cops Engage In Millions Of Roadside Searches, Find Nothing Illegal 80 Percent Of The Time

Furnished content.


Pretextual stops are bread-and-butter for cops. There's plenty of real crime out there waiting to be solved, but that requires time and attention that law enforcement apparently just doesn't have. So, a lot of what passes for "law enforcement" is just officers rolling the dice on vehicle searches, hoping to find something illegal (or at least some cash) to justify the roadside harassment.Here are the depressing facts about the crime solving abilities of law enforcement:
In 2018, the most recent year for which data is available, just 45.5% of all violent crime cases reported to police in America were "cleared," typically meaning a suspect was arrested, according to the FBI's Uniform Crime Reporting Program.When it came to property crimes, the clearance rate was much lower, at just 17.6%.
While these crimes go (mostly) unsolved, police officers are operating with nearly the same success rates on the nation's streets and highways. There are plenty of traffic stops. But there's actually very little "crime solving" happening. The Houston Chronicle has looked into local law enforcement activity and found almost nothing that justifies pretextual stops or the extended amount of time that elapses between when the lights go on and citizens are free to go.Law enforcement has a fondness for junk science. Training seminars and Dunning-Kreuger have convinced cops they can do something almost no person can: determine guilt just by talking to people. So far, nothing has talked officers out of this self-delusion. Roadside stops are numerous. Evidence of criminal activity is almost nonexistent.
Statistically, police are terrible at determining which motorists are worthy of being detained and searched. Most turn up nothing. Often relying on signs of a driver's deception that research has long debunked, officers distinguish liars from truth-tellers at a rate barely above chance, studies show.
Since so few of these pretextual stops result in criminal charges, these Constitutional violations are rarely challenged. The cost of pursuing a lawsuit is prohibitive, as is the qualified immunity doctrine which relies on precedent very few courts are in any hurry to set. As long as a cop violates rights in a way courts haven't already addressed, the citizen gets nothing from the lawsuit but a hole in their wallet and a handful of violated rights.This lack of deterrent has made harassing motorists a pretty safe bet for officers who think pretty much anything a motorist does in the presence of law enforcement is suspicious. But citizens are getting zero bang for their taxpaying buck when officers focus on drivers rather than actual criminal activity.
Texas police performed just under a million searches during traffic stops last year, according to figures reported to the Texas Commission on Law Enforcement. About one in five resulted in contraband being found. The agency's numbers aren't perfect; it combines several types of searches, and some police departments appear to have entered data incorrectly; TCOLE has re-written its form for more precise reporting in the future.
In other words, cops' instincts are wrong at least 80% of the time. And even when they do get a "hit" (i.e., discovering contraband), there's still a chance whatever's been found won't be enough to justify filing criminal charges.Citizens have a problem with this. Not that they can do much about it. Lawsuits are often futile and law enforcement officials support this harassment with unchallenged and unverified claims about "crime prevention," which seems to talk most local legislators out of engaging in much oversight.Of course, the entity that most firmly believes millions of stops are acceptable isn't even a law enforcement agency. It's the local police union, represented by VP Douglas Griffith. Griffith cites that one time officers stopped Timothy McVeigh as justification for years of harassment that has yet to produce another terrorist arrest from a traffic stop. Going further, Griffith says this is the public's cross to bear if it would like to continue living in a society.
Tolerating searches that turn up nothing is a reasonable public price for the law enforcement benefit, Griffith said: "To me, if I know I didn't do anything wrong, it's nothing more than a minor annoyance."
That's not how rights work, you fuckmook. Whether or not someone did something wrong is beside the point. The cops can't engage in suspicionless searches. The public's rights aren't secondary to law enforcement wants or needs. And citizens should be doubly upset if they have done nothing wrong.Fortunately, not everyone is so stupid and dismissive of other people's rights. Here's one law enforcement official who actually recognizes the permanent damage excessive stops and searches can do to community relations.
"I think the payoff is not worth it," said Major Mike Lee, who oversees the Harris County Sheriff's Office's Patrol Bureau. Say "we stop a thousand cars a day. And we make a great arrest that day and we put it all over social media. But in the meantime, you pissed off 999 citizens who may have all been pro-law enforcement before you stop them, and now have such a bad taste in their mouth after that stop."
In most cases, the only thing "justifying" a stop is a melange of faulty assumptions and contradictory logic. With enough creativity, any stop will look clean on the paperwork.
Officers have cited a driver's pulsing veins, "limbic movements" (twitching), shifty eyes and windows that don't roll down (suggesting drugs hidden in the door panels) as signs of potential criminal activity. Based on their "training and experience," they've flagged as suspicious cars smelling too much like air freshener, vehicles that are too clean or too messy, erratic driving and driving that appears too cautious.
The science is against cops and their supposedly preternatural ability to suss out liars and cons.
"There are no nonverbal and verbal cues uniquely related to deceit," a 2011 review of deception research concluded.
Their own failure rate should have clued them in years ago.
A 2005 study of Texas police found officers performed barely above random chance in being able to discern a person telling the truth from a liar.
And yet they persist. It takes several court decisions to deter this activity. And the lack of deterrence shows there haven't been enough court decisions yet. It's convenient for cops to treat everyone as a criminal suspect, even when all they've done is crossed a fog line. Precedent gives them the leeway to turn minor violations into major headaches for motorists. But 80% of the time, all the public gets from this use of their tax dollars is harassed motorists.

Read more here

---
posted at: 12:00am on 06-Nov-2020
path: /Policy | permalink | edit (requires password)
0 comments, click here to add the first
---
---
Content Moderation Case Study: Moderating An Anonymous Social Network (2015)

Furnished content.


Summary: Between around 2013 and 2015 there was a sudden popularity of so-called anonymous social networks. A few had existed before, but suddenly the market was full of them: Whisper, Secret and Yik Yak received the most attention. All of them argued that by allowing people to post content anonymously, they were helping people, allowing them to express their true thoughts rather than repress them. Whisper and Secret both worked by letting people anonymously post short text, which would be shown over an image in the background.
In practice, many of the apps filled up with harassment, bullying, hateful content and the like. Whisper, as one of the bigger companies in the space, invested heavily in content moderation from early on, saying that it had set up an outsourced team (via TaskUs in the Philippines) to handle moderation. However, questions of scalability became an issue, and the company also built software to help with content moderation, called The Arbiter. In press reports, Whisper employees suggested The Arbiter was almost perfect:
On Whisper, the golden rule is don't be mean, don't be gross, and don't use Whisper to break the law, says the company's chief data officer, Ulas Bardak, who spearheaded development of the Arbiter along with data scientist Nick Stucky-Mack. That's not a philosophy that you can boil down to a simple list of banned words. The Arbiter is smart enough to deal with an array of situations, and even knows when it's not sure if a particular item meets the service's guidelines.
However, even with The Arbiter, the company insisted that it needed humans, since Arbiter learned from the human moderators.
In its first few months of operation, the Arbiter has had a huge impact on how Whisper moderates itself. But even though there's plenty of opportunity to fine-tune it over time, Whisper has no plans to eliminate the human touch in moderation altogether. After all, the only reason the Arbiter is effective is because it bases its decisions on those of human moderators. Which is why the company is continuing to shovel data from human-moderated Whispers into the software's knowledge bank.There's always going to be a hybrid approach, says Heyward. The truth is, the way we use people today is very different from the way we used them a year ago or six months ago. With the Arbiter humming along and handling much of the grunt work, the humans can focus more on the material that isn't an easy call. And maybe Whisper will be able to pull off the not-so-easy feat of improving the quality of its content even as its community continues to grow.
Another article about Whisper's approach to content moderation detailed how humans and the software work together.
Moderators look at Whispers surfaced by both machines and people: Users flag inappropriate posts and algorithms analyze text and images for anything that might have slipped through the cracks. That way, the company is less likely to miss cyberbullying, sex, and suicide messages. Moderators delete the bad stuff, shuffle cyberbullies into a posts-must-be-approved-before-publishing category, and stamp suicide Whispers with a watermark the number for the National Suicide Hotline.As you might imagine, the man power and operational systems required for that execution are huge. Whisper's content moderation manual is nearly 30 pages. The standards get into the nitty-gritty, specifying minutia like whether a picture of a man shirtless outside is appropriate, but a selfie shirtless indoors is not.When the TaskUs team comes across physical threats, it escalates the message to Whisper itself. If someone posts, 'I killed her and buried her in the backyard,' then that's a piece of content the company will report to the authorities, TaskUs CEO Bryce Maddock says. They're going to pull the UID on your cell phone from Verizon or AT&T and the FBI and local police will show up at your door. It happens quite a bit.
Even so there was significant controversy over how Whisper handled bullying and hateful content on its site, as well as how it maintained actual anonymity for its users. There were concerns raised that the app was not actually anonymous, and tracked its users. Whisper disputed some of these reports and claimed that some of the tracking was done both with permission and for good reasons (such as to do research on how to decrease suicide rates).Decisions to be made by Whisper:
How do you keep an anonymous social network from becoming abusive?
How aggressive should you be in moderating content on an anonymous social network?
What are the tradeoffs between tracking users to prevent bad behavior and providing true anonymity?
Can an algorithm successfully determine and block detrimental content on a platform like Whisper?
Questions and policy implications to consider:
Is an anonymous social media network net positive or net negative?
Does anonymity make content moderation more difficult?
How do you protect users on an anonymous social network?
Resolution: One interesting aspect of having an anonymous social media application is that users might not even realize if their content is restricted. An academic paper from 2014 that explored Whisper's content moderation features suggested that the app deleted significantly more content than other forms of social media.
Anonymity facilitates free speech, but also inevitably fosters abusive content and behavior. Like other anonymous communities, Whisper faces the same challenge of dealing with abusive content (e.g., nudity, pornography or obscenity) in their network.In addition to a crowdsourcing-based user reporting mechanism, Whisper also has dedicated employees to moderate whispers. Our basic measurements... also suggest this has a significant impact on the system, as we observed a large volume of whispers (>1.7 million) has been deleted during the 3 months of our study. The ratio of Whisper's deleted content (18%) is much higher than traditional social networks like Twitter (<4%)
The research dug into what kinds of content was deleted and from what types of users. Part of what it found is that people with deleted content often try to repost it (and frequently get the reposts blocked as well).
Finally, we take a closer look at the authors of deleted whispers to check for signs of suspicious behavior. In total, 263K users (25.4%) out of all users in our dataset have at least one deleted whisper. The distribution of deleted whispers is highly skewed across these users: 24% of users are responsible for 80% of all deleted whispers. The worst offender is a user who had 1230 whisper deleted during the time period of our study, while roughly half of the users only have a single deletion.We observed anecdotal evidence of duplicate whispers in the set of deleted whispers. We find that frequently reposted duplicate whispers are highly likely to be deleted. Among our 263K users with at least 1 deleted whisper, we find 25K users have posted duplicate whispers.
As for Whisper itself, the company has gone through many changes and problems. It's biggest competitors, Secret and YikYak, both shut down, but Whisper remains in business -- though not without problems. Whisper laid off a significant amount of its staff and all of its large institutional investors quit the board in 2017.In the spring of 2020, security researchers discovered that nearly all of Whisper's content was available for download via an unsecured database, allowing researchers to search through all of the content posted on the site. While the company insisted that the only data that was in the database was the same as what was publicly available through the app, they conceded that within the app, you did not have the ability to run queries on the database. Even years after the app was popular, it seems that concerns about anonymity and privacy remain.

Read more here

---
posted at: 12:00am on 05-Nov-2020
path: /Policy | permalink | edit (requires password)
0 comments, click here to add the first
---
---
To Prevent Free, Frictionless Access To Human Knowledge, Publishers Want Librarians To Be Afraid, Very Afraid

Furnished content.


After many years of fierce resistance to open access, academic publishers have largely embraced -- and extended -- the idea, ensuring that their 35-40% profit margins live on. In the light of this subversion of the original hopes for open access, people have come up with other ways to provide free and frictionless access to knowledge -- most of which is paid for by taxpayers around the world. One is preprints, which are increasingly used by researchers to disseminate their results widely, without needing to worry about payment or gatekeepers. The other is through sites that have taken it upon themselves to offer immediate access to large numbers of academic papers -- so-called "shadow libraries". The most famous of these sites is Sci-Hub, created by Alexandra Elbakyan. At the time of writing, Sci-Hub claims to hold 79 million papers.Even academics with access to publications through their institutional subscriptions often prefer to use Sci-Hub, because it is so much simpler and quicker. In this respect, Sci-Hub stands as a constant reproach to academic publishers, emphasizing that their products aren't very good in terms of serving libraries, which are paying expensive subscriptions for access. Not surprisingly, then, Sci-Hub has become Enemy No. 1 for academic publishers in general, and the leading company Elsevier in particular. The German site Netzpolitik has spotted the latest approach being taken by publishers to tackle this inconvenient and hugely successful rival, and other shadow libraries. At its heart lies the Scholarly Networks Security Initiative (SNSI), which was founded by Elsevier and other large publishers earlier this year. Netzpolitik explains that the idea is to track and analyze every access to libraries, because "security":
Elsevier is campaigning for libraries to be upgraded with security technology. In a SNSI webinar entitled "Cybersecurity Landscape -- Protecting the Scholarly Infrastructure", hosted by two high-ranking Elsevier managers, one speaker recommended that publishers develop their own proxy or a proxy plug-in for libraries to access more (usage) data ("develop or subsidize a low cost proxy or a plug-in to existing proxies").With the help of an "analysis engine", not only could the location of access be better narrowed down, but biometric data (e.g. typing speed) or conspicuous usage patterns (e.g. a pharmacy student suddenly interested in astrophysics) could also be recorded. Any doubts that this software could also be used -- if not primarily -- against shadow libraries were dispelled by the next speaker. An ex-FBI analyst and IT security consultant spoke about the security risks associated with the use of Sci-Hub.
Since academic publishers can't compete against Sci-Hub on ease of use or convenience, they are trying the old "security risk" angle -- also used by traditional software companies against open source in the early days. Yes, they say, Sci-Hub/open source may seem free and better, but think of the terrible security risks An FAQ on the main SNSI site provides an "explanation" of why Sci-Hub is supposedly a security risk:
Sci-Hub may fall into the category of state-sponsored actors. It hosts stolen research papers which have been harvested from publisher platforms often using stolen user credentials. According to the Washington Post, the US Justice Department is currently investigating the founder of Sci-Hub, Alexandra Elbakayan, for links between her and Russian Intelligence. If there is substance to this investigation, then using Sci-Hub to access research papers could have much wider ramifications than just getting access to content that sits behind a paywall.
As Techdirt pointed out when that Washington Post article came out, there is no evidence of any connections between Elbakyan and Russian Intelligence. Indeed, it's hard not to see the investigation as simply the result of whining academic publishers making the same baseless accusation, and demanding that something be "done". An article in Research Information provides more details about what those "wider ramifications than just getting access to content that sits behind a paywall" might be:
In the specific case of Sci-Hub, academic content (journal articles and books) is illegally harvested using a variety of methods, such as abusing legitimate log in credentials to access the secure computer networks of major universities and by hijacking "proxy" credentials of legitimate users that facilitate off campus remote access to university computer systems and databases. These actions result in a front door being opened up into universities' networks through which Sci-Hub, and potentially others, can gain access to other valuable institutional databases such as personnel and medical records, patent information, and grant details.
But that's not how things work in this context. The credentials of legitimate users that Sci-Hub draws on -- often gladly "lent" by academics who believe papers should be made widely available -- are purely to access articles held on the system. They do not provide access to "other valuable institutional databases" -- and certainly not sensitive information such as "personnel and medical records" -- unless they are designed by complete idiots. That is pure scaremongering, while this further claim is just ridiculous:
Such activities threaten the scholarly communications ecosystem and the integrity of the academic record. Sci-Hub has no incentive to ensure the accuracy of the research articles being accessed, no incentive to ensure research meets ethical standards, and no incentive to retract or correct if issues arise.
Sci-Hub simply provides free, frictionless access for everyone to existing articles from academic publishers. The articles are still as accurate and ethical as they were when they first appeared. To accuse Sci-Hub of "threatening" the scholarly communications ecosystem by providing universal access is absurd. It's also revealing of the traditional publishers' attitude to the uncontrolled dissemination of publicly-funded human knowledge, which is what they really fear and are attacking with the new SNSI campaign.Follow me @glynmoody on Twitter, Diaspora, or Mastodon.

Read more here

---
posted at: 12:00am on 05-Nov-2020
path: /Policy | permalink | edit (requires password)
0 comments, click here to add the first
---
---
NZ Supreme Court Gives A Mixed Bag Extradition Ruling To Kim Dotcom; Extradition Still Alive, But He Can Raise Procedural Issues

Furnished content.


It's been almost a decade since US and New Zealand forces did a silly made-for-Hollywood (and possibly by Hollywood) raid of Kim Dotcom's home in New Zealand for the crime of running a cloud storage service that some people used for infringing works. Since that time, Dotcom has been fighting extradition charges to the US. The case has taken many crazy twists and turns, including the US government seizing his assets by claiming he's a fugitive, even as he's been going through the standard legal process to determine if extradition is proper (and there's a very strong legal argument it is not even remotely proper).That said, while Dotcom has won rulings showing illegal activity in how he was surveilled and arrested, he's also lost his attempts to block the extradition.The latest ruling, from New Zealand's Supreme Court is unfortunately more of the same. The court has found that he can be extradited on 12 of the 13 charges against him, but also noted the procedural problems that have plagued the case mean that he still cannot be extradited. Specifically, the Supreme Court found that Dotcom (and his colleagues who were also arrested) were denied judicial review of the original ruling in the district court in 2015.Dotcom and his lawyers have (accurately) stated that the ruling "is a mixed bag." But it's mostly mixed with bad news for Dotcom. The good part is just that he doesn't have to get shipped off to the US right away.But on the whole this is a bad ruling for Dotcom. The key issue at play gets deep into the copyright weeds, about theories regarding criminal inducement of infringement, and whether or not New Zealand and the US have matching crimes. Unfortunately, so far it looks like the New Zealand courts (like too many of the US courts) don't really care to look at the actual specifics of what's in the law and just lump together a bunch of different concepts around "copyright infringement bad," without being willing to understand that building a platform that is used for infringement is not the same thing as infringing yourself. The court didn't seem to understand the difference here -- which is unfortunately not that surprising, but it is disappointing. These kinds of rulings damage the open internet, limit the kinds of services that can be built, and bring us closer to a locked down broadcast-only internet, the kind which Hollywood wants.

Read more here

---
posted at: 12:00am on 04-Nov-2020
path: /Policy | permalink | edit (requires password)
0 comments, click here to add the first
---
---
Thanks To Fair Use, One Man Is Trying To Preserve Old School Video Game Manuals

Furnished content.


We have discussed at some length the intersection of copyright laws and antiquated video game preservation. Going back at least a decade now, most of that focus has been on whether the use of emulators and the digitization of games that no longer have systems to run them ought to qualify as fair use. You can couple that with the more recent trend of some museums with a focus on the art of video games seeking to get exceptions to the DMCA's anti-circumvention rules in order to preserve both offline and online games that might otherwise be lost to the ether. When viewed properly through the lens that copyright law exists for the purpose of promoting more culture, not less, it should be immediately obvious that preserving culture in this manner is one of the chief aims of fair use and copyright law in general.But it's not just the games themselves being preserved by fair use provisions. One dedicated man has led a six year effort to digitize and preserve the game manuals for every Super Nintendo game ever created.
In some cases, they're lost forever! Other times, we're lucky to have folks like Peebs, who devote an incredible amount of time to collecting, cataloguing and then ensuring manuals to every Super Nintendo game ever released are scanned and uploaded, so that future generations can enjoy them as much as we did.For the last six years he's also been hosting a Twitch channel, where he's been slowly trying to beat every single Super Nintendo game. A lot of the time, in order to complete a section or just look something up, he'd need to consult the manual. "It didn't take long to realize that most of the time when I went to look for a scan of a manual for control schemes or just backstory, they mostly either didn't exist or they were all scattered to the far corners of the Internet," Peebs says. "There was a severe lack of organization: mislabeled files/links, old defunct websites with broken interface/files, incomplete scans, etc."
Now, I do not expect everyone to particularly care about the preservation of old video game manuals. I do, but then I'm precisely the right target audience for this sort of thing. Cartridge console gaming was a thing at the exact right time in my youth and I loved going through the manuals for games. The art, instructions for play, backstory, and detailed explanations for the setting were part of the fun of buying a new game. If you're of the tabletop gaming sort, think of it as a truncated version of going through player handbooks and monster manuals.But even if you don't give two poops about video game manuals from the 90s, it's still important to recognize that fair use is what enables this sort of preservation. This sort of non-commercial categorization and preservation, frankly the kind of thing that museums do, would certainly run afoul of copyright law otherwise. But thanks to his efforts, Peebs nearly has every manual available to anyone, free of charge. And a grateful clique of the gaming community is actively trying to help him complete his goal.
There were around 600 manual scans available on the SNES Manual Archive when it opened to the public in September 2020. Since then, a community has sprung up around the project, with fans around the world eager to help out with their own submissions."I got approximately 20 scans sent in on the first day, and since then I've received about one per day," Peebs says. "People have started letting me know when they buy a manual so I can mark it off as incoming so other people don't buy the same thing. I'd say we probably have a total of another 15-20 manuals in the mail from people around the world right now that will be scanned and uploaded when we get them."That leaves just over 100 manuals, at least for Western games or versions of games. Though the project is looking to expand its Super Famicom collection in the future. "The support of people contributing to the project has been super surprising and I'm very thankful for every manual that has been submitted."
There have apparently been no game publishers, nor Nintendo itself, coming by to lob copyright shots at this project. That's a good thing, so clearly an endeavor of appreciation of the art in these manuals this project is. One hopes that, with this new notoriety Peebs is receiving, he isn't suddenly forced to confront just how much fair use protection his project has. To have this part of gaming culture under threat just because copyright would be a shame.

Read more here

---
posted at: 12:00am on 04-Nov-2020
path: /Policy | permalink | edit (requires password)
0 comments, click here to add the first
---
---
Bethesda, Microsoft Make Conflicting Statements About Game Exclusivity After Studio Purchase

Furnished content.


Several weeks ago, Microsoft bought Zenimax Media, the parent organization of Bethesda Softworks for over $7 billion. Bethesda is a celebrated studio best known for its Fallout and Elder Scrolls titles. Both series have long histories of being published across a wide range of gaming platforms, including the PC, PlayStation, and Xbox markets. Almost immediately after the deal, however, many gamers openly worried that Microsoft would warehouse the properties to either the PC or Xbox markets exclusively.The worry didn't cease when Kotaku interviewed Xbox chief Phil Spencer about the implications of the deal and Spencer's remarks were decidedly noncommittal.
"Is it possible to recoup a $7.5 billion investment if you don't sell Elder Scrolls VI on the PlayStation?" I asked."Yes," Spencer quickly replied.Then he paused."I don't want to be flip about that," he added. "This deal was not done to take games away from another player base like that. Nowhere in the documentation that we put together was: 'How do we keep other players from playing these games?' We want more people to be able to play games, not fewer people to be able to go play games. But I'll also say in the model—I'm just answering directly the question that you had—when I think about where people are going to be playing and the number of devices that we had, and we have xCloud and PC and Game Pass and our console base, I don't have to go ship those games on any other platform other than the platforms that we support in order to kind of make the deal work for us. Whatever that means."
Whatever that means. Well, what it means is that there has been enough conversation of how Bethesda franchises will be distributed and sold that Spencer felt confident saying that those games didn't need to be multi-platform in order for the deal to still be profitable. Couching this all in the fact that the specific language of the acquisition didn't mention exclusivity is all fine and good, but Spencer had this answer ready to go. That likely means that there has been at least some discussion about taking those games exclusive to the Xbox, or Microsoft's forthcoming game-streaming services. Coupled with a growing trend in exclusivity both in the console and PC gaming spaces, this wasn't exactly encouraging for those that think exclusivity deals are a terrible idea and terrible for the industry.Todd Howard, one of the creative leads at Bethesda, was at least a bit more forceful in his remarks to Ars Technica when asked if this was about to become a thing.
"I would agree that is hard to imagine" The Elder Scrolls VI restricted to Microsoft platforms, Howard said in response to a direct question on the matter.Elsewhere in the interview, Howard admits that the parties haven't fully discussed the details of multiplatform publishing as part of the purchase deal, which won't be finalized until next year. "We haven't gone through all of that, to be honest," he said. Howard also stressed Bethesda's autonomy to "[run] our games and [push] everything the way that we have," even as a Microsoft subsidiary. "We felt very strongly about their view of access; games for everybody that we can bring to anybody regardless of where they are, what devices they're playing on. We're very, very passionate about that, and at the end of the day we're convinced we'll make better products and get them to more people easily by being part of Xbox as opposed to being just a third party."
But that's still not really a firm answer. Bethesda's vision can be whatever it wants, but its part of Microsoft now. If you're into reading industry tea leaves, it doesn't look like there are any serious plans by Microsoft for locking up these beloved franchises. But sans a commitment by the company to not do so, there is still much worry that access to them may go away for many.Why anyone would think that would push more people to buy an Xbox in significant numbers is an mystery.

Read more here

---
posted at: 12:00am on 03-Nov-2020
path: /Policy | permalink | edit (requires password)
0 comments, click here to add the first
---
---
Google Kills Nest Secure, Can't Be Bothered To Explain Support Roadmap

Furnished content.


Three years ago, Google jumped into the home security market. After a troubled development cycle it launched Nest Secure, a $500 home security system that competes with the likes of Abode and Simplisafe. But things didn't go quite as planned. Last year, the company took some deserved heat for failing to mention the system's "Nest Guard" keypad control base included a hidden microphone, creating ample paranoia among owners. Google also took heat for failing to really deploy updates at the same pace that other Nest products had seen, and for making changes that locked you into the Google ecosystem at the cost of interoperability.Last week the company quietly told Android Police it would be killing the Nest Secure completely. The company didn't really explain why, or what happens next, only to state that the product will still work. For now. Of course when Ars Technica pressed the company as to how long existing users can expect their expensive security service to get support, the company apparently couldn't be bothered to answer:
"We tried asking Google about all this a few days ago when we got a tip that the Nest Secure was listed as "no longer available" (thanks, Bill!) but the company wouldn't answer. Included in our email were questions about what the future looks like for existing Nest Secure users, like if they'll ever be able to buy more sensors or replacement sensors for their existing setups (these have been out of stock for a while now) or how much longer the Nest Secure will be supported for. Even if Google doesn't immediately turn off the software support, a system with no replacement parts can only die a slow death."
So not just murky answers, but no answers at all.Hyping products and entire ecosystems, then destroying them with a casual wave without transparent communications isn't a great way to develop consumer trust. Quite the opposite, in fact. It's part and parcel for a hardware industry that routinely bricks or stops supporting hardware and ecosystems you just got done shelling out hundreds to thousands of dollars for. That's especially true in home automation and security, where users have to shell out an arm and a leg for various household sensors that in many instances won't work with any other systems due to companies that view interoperability as a threat to walled gardens.In this case, users have invested upwards of thousands of dollars for a home security ecosystem with an uncertain support future. And despite the fact that Google may be cooking up a new system with its partners at ADT, when it inevitably comes time to replace these expensive systems, or invest hundreds to thousands of dollars in a new ecosystem (be it Stadia game streaming or anything else), the message being sent is that you can't trust Google to stick around and truly support the ecosystems their marketing department just got done claiming you couldn't live without.

Read more here

---
posted at: 12:00am on 03-Nov-2020
path: /Policy | permalink | edit (requires password)
0 comments, click here to add the first
---
---
This Week In Techdirt History: October 25th - 31st

Furnished content.


Five Years AgoThis week in 2015, the fight over the CISA cybersecurity bill was on, but it looked like Facebook was secretly on the wrong side of this somewhat-disguised surveillance bill (a true purpose that was occasionally admitted if you looked in the right places). But none of this stopped the Senate from rejecting all the amendments that would have protected privacy and passing CISA with a 74-21 vote. Elsewhere, the EU was working on net neutrality rules that were full of loopholes and other problems. Meanwhile, the DOJ was saying Apple should decrypt customers' phones because the company still owns their copies of iOS, James Comey was blaming violent crime on citizens with cameras, and the Library of Congress released new DMCA anti-circumvention exemptions that were a complete mess.Ten Years AgoFive years earlier in 2010, in the same week, there was a prime example of a DMCA exemption mess when we noted that jailbreaking iPhones was legal, but jailbreaking an Xbox could land you in jail for three years. The Lenz v. Universal case was moving forward as Universal argued that the dancing baby video was not obvious fair use, a judge ordered Limewire to shut down entirely, and Myriad Genetics officially appealed the ruling that invalidated gene patents. The US was basically saying it would just ignore anything in ACTA it didn't like, while a group of law professors was urging Obama to drop support for the agreement and we were looking at how it could create insanely broad new criminal copyright liabilities. And we had an early mention of the brewing controversy around a little company you might have heard of, at the time still known as UberCab.Fifteen Years AgoThis week in 2005, some prominent technology commentators were still missing the point of the rise of amateur content online, while the online world of self-published movies was set to take off and even television networks were, ever so slightly, starting to grasp the need for change. The mobile web was still being hampered by attempts to section it off and pre-decide how it would work, while mobile email was beginning to move beyond the world of BlackBerry (and BlackBerry seemed to have suffered a bit of a glitch in the UK that got the devices temporarily banned by the BBC). MP3 player makers who weren't Apple were complaining about the Apple-induced shortage of flash memory, and Google abandoned its attempts to appease authors and publishers and went back to scanning books after a temporary pause.

Read more here

---
posted at: 12:00am on 01-Nov-2020
path: /Policy | permalink | edit (requires password)
0 comments, click here to add the first
---
---