---
Game Jam Winner Spotlight: Art Apart and There Are No Eyes Here

Furnished content.


So far, we've featured ~THE GREAT GATSBY~ and The Great Gatsby Tabletop Roleplaying Game in this series of posts about the winners of our public domain game jam, Gaming Like It's 1925. Today, we move on the pair of games that were tied as winners in the Best Remix category: Art Apart by Ryan Sullivan and There Are No Eyes Here by jukel.Both games were obvious contenders for the category, and ultimately it proved too difficult to choose one over the other, because they are so intriguingly similar yet completely different. Both could be described as "art puzzles", and both remix multiple public domain works, but neither clearly rises above the other.Art Apart is the more straightforward of the two: it's just a plain old jigsaw puzzle game using a series of paintings from 1925 and a fairly unpolished interface. But while this meant our judges didn't expect much from it at first glance, it proved to be a very pleasant surprise: carefully made, easy to use, employing a great selection of paintings complemented by public domain background music, all put together with an elegance that drew people in and had them solving entire puzzles when all they intended to do was poke around for a few minutes. In the process, they got to spend some time closely examining and appreciating five paintings that entered the public domain this year.
There Are No Eyes Here is the more abstract of the two games, which is fitting since it focuses on a single artist: Wassily Kandinsky, the pioneer of abstract art. Kandinsky's works made an appearance in one of last year's winners, which explored a series of paintings he created in 1924, and this game picks up the following year with five Kandinsky paintings from 1925. While Art Apart is a traditional jigsaw puzzle, There Are No Eyes Here is about custom-made manipulations of its subject works: the player finds the elements of each painting that can be clicked to trigger animations in which Kandinsky's abstract shapes and forms begin shifting around, eventually unlocking the next painting in the series. Our judges noted that, to the artistically-inexperienced, the game was a perfect invitation to study this seminal artist's work with a level of attention to detail they might otherwise never have given it.
So there you have it: two games, both remixing multiple paintings and turning them into puzzles, both doing it completely different ways. One more traditional, one more abstract, both successful at making the player take time to admire and enjoy some of the 1925 work that now belongs to us all — and both well deserving of the Best Remix award.Play Art Apart and There Are No Eyes Here in your browser on Itch, and check out the other jam entries too. Congratulations to both designers for the win! We'll be back next week with another game jam winner spotlight.

Read more here
---
posted at: 12:01am on 28-Feb-2021
path: /Policy | permalink | edit (requires password)
0 comments, click here to add the first
---
---
The Best Summary Of Australia's News Link Tax / 'Bargaining Code'

Furnished content.


I've been somewhat amazed at the response to Facebook's decision in Australia to first block news links, in response to a dangerous new law, and then to cave in and cut deals with news organizations to pay for links. Most amazing to me is that otherwise reasonable people in Australia got very angry at me, insisting that I was misrepresenting the tax. They keep insisting it's not a tax, and that it's a "competition" response to "unfair bargaining power." Except, as I've discussed previously, there's nothing to bargain over when you should never have to pay for links. The links are free. There's no bargaining imbalance, because there's nothing to bargain over. And, it's clearly a tax if the only end result is that Google and Facebook have to fork over money because the government tells them to. That's... a tax.Anyway, that's why I'm happy to see The Juice Media, an Australian outfit that is famous for making hilarious "Honest Government Ads", usually for the Australian government (but sometimes for elsewhere) has put out a new "ad" about the link tax in which they explain how it was a fight to take money from one set of giant rich companies, and give it to another set of giant rich companies, and not to do anything useful in between:It's worth watching. It also highlights some of the other awful aspects of the "code" which will give news organizations more access to data, as well as advance notice of algorithmic changes that no one else gets -- allowing them to better hijack attention away from anyone else. The whole deal is dangerous and corrupt, and no one should be supporting it.

Read more here

---
posted at: 12:00am on 27-Feb-2021
path: /Policy | permalink | edit (requires password)
0 comments, click here to add the first
---
---
Content Moderation Case Study: Removing Nigerian Police Protest Content Due To Confusion With COVID Misinfo Rules (2020)

Furnished content.


Summary: With the beginning of the COVID-19 pandemic, most of the large social media companies very quickly put in place policies to try to handle the flood of disinformation about the disease, responses, and treatments. How successful those new policies have been is subject to debate, but in at least one case, the effort to fact check and moderate COVID information ran into a conflict with people reporting on violent protests (totally unrelated to COVID) in Nigeria.
In Nigeria, there's a notorious division called the Special Anti-Robbery Squad, known as SARS in the country. For years there have been widespread reports of corruption and violence in the police unit, including stories of how it often robs people itself (despite its name). There have been reports about SARS activities for many years, but in the Fall of 2020 things came to a head as a video was released of SARS officers dragging two men out of a hotel in Lago and shooting one of them in the street.Protests erupted around Lagos in response to the video, and as the government and police sought to crack down on the protests, violence began, including reports of the police killing multiple protesters. The Nigerian government and military denied this, calling it fake news.Around this time, users on both Instagram and Facebook found that some of their own posts detailing the violence brought by law enforcement on the protesters were being labeled as False Information by Facebook's fact checking system. In particular an image of the Nigerian flag, covered in blood of shot protesters, which had become a symbolic representation of the violence at the protests, was flagged as false information multiple times.Given the government's own claims of violence against protesters being fake news many quickly assumed that the Nigerian government had convinced Facebook fact checkers that the reports of violence at the protests were, themselves, false information.However, the actual story turned out to be that Facebook's policies to combat COVID-19 misinformation were the actual problem. At issue: the name of the police division, SARS, is the same as the more technical name of COVID-19: SARS-CoV-2 (itself short for: severe acute respiratory syndrome coronavirus 2). Many of the posts from protesters and their supporters in Lagos used the tag #EndSARS, talking about the police division, not the disease. And it appeared that the conflict between those two things, combined with some automated flagging, resulted in the Nigerian protest posts being mislabeled by Facebook's fact checking system.Decisions to be made by Facebook:
How should the company review content that includes specific geographical, regional, or country specific knowledge, especially when it might (accidentally) clash with other regional or global issues?
In dealing with an issue like COVID misinformation, where there's an urgency in flagging posts, how should Facebook handle the possibility of over-blocking of unrelated information as happened here?
What measures can be put in place to prevent mistakes like this from happening again?
Questions and policy implications to consider:
While large companies like Facebook now go beyond simplistic keyword matching for content moderation, automated systems are always going to make mistakes like this. How can policies be developed to limit the collateral damage and false marking of unrelated information?
If regulations require removal of misinformation or disinformation, what would likely happen in scenarios like this case study?
Is there any way to create regulations or policies that would avoid the mistakes described above?
Resolution: After the incorrectly labeled content began to get attention both Instagram and Facebook apologized and took down the false information flag on the content.
Yesterday our systems were incorrectly flagging content in support of #EndSARS, and marking posts as false. We are deeply sorry for this. The issue has now been resolved, and we apologize for letting our community down in such a time of need.
Facebook's head of communications for sub-Saharan Africa, Kezia Anim-Addo, gave Tomiwa Ilori, writing for Slate, some more details on the combination of errors that resulted in this unfortunate situation:
In our efforts to address misinformation, once a post is marked false by a third party face checker, we can use technology to fan out and find duplicates of that post so if someone sees an exact match of the debunked post, there will also be a warning label on it that it's been marked as false.In this situation, there was a post with a doctored image about the SARS virus that was debunked by a Third-Party Fact Checking partnerThe original false image was matched as debunked, and then our systems began fanning out to auto-match to other imagesA technical system error occurred where the doctored images was connected to another different image, which then also incorrectly started to be matched as debunked. This created a chain of fan outs pulling in more images and continuing to match them as debunked.This is why the system error accidentally matched some of the #EndSARS posts as misinformation.
Thus, it seems like a combination of factors was at work here, including a technical error and the similarities in the SARS name.Originally posted to the Trust & Safety Foundation website.

Read more here

---
posted at: 12:00am on 27-Feb-2021
path: /Policy | permalink | edit (requires password)
0 comments, click here to add the first
---
---
The Internet Has Enabled Independent Journalism To Flourish In Russia (For Now, At Least)

Furnished content.


Ben Smith has a fascinating piece in the New York Times about how independent investigative journalism is flourishing in Russia, despite an oppressive (and literally murderous) autocrat in power. There are a bunch of interesting points in the article about the various techniques they use -- some of which raise interesting ethical dilemmas -- but what caught my eye is just how vital it turns out the internet is to these organizations to be able to do what they do. Indeed, Smith points out that this is the flip side to the current moral panic in the US and elsewhere about "alternative media" and social media being the death of journalism:
There's a tendency in parts of the American media right now to reflexively decry the rise of alternative voices and open platforms on social media, seeing them solely as vectors for misinformation or tools of Donald J. Trump. Russia is a potent reminder of the other side of that story, the power of these new platforms to challenge one of the world's most corrupt governments....The new Russian investigative media is also resolutely of the internet. And much of it began with Mr. Navalny, a lawyer and blogger who created a style of YouTube investigation that draws more from the lightweight, meme-y formats of that platform than from heavily produced documentaries or newsmagazine investigations.
The other interesting tidbit is that these independent investigative reporting outfits are not just figuring out how to break astounding stories, but also how to build up support and a business model -- again, using the internet.
Mr. Badanin, who modeled Proekt on the American nonprofit news organization ProPublica, said he had begun to see another sign of intense interest: financial support from his audience. About a third of the budget that supports a staff of 12, he said, now comes from donations averaging $8, mirroring the global trend toward news organizations relying on their readers. In Russia, some of this is still nascent. For instance, a colleague in Russia, Anton Troianovski, tells me that there's a cafe near the Kurskaya Metro station where you can add to your bill a donation to MediaZona, which was founded by two members of the protest group Pussy Riot to hold the Russian justice system to account. But the protests against Mr. Navalny's imprisonment also seem to be driving support for independent media, a phenomenon that The Bell, another of the new independent websites, christened the Navalny Effect.
Of course, the article does end on something of a dark note -- with many of the journalists Smith spoke to saying they fully expect a Putin crackdown on their efforts before long. And, of course, that's nothing new in Putin's Russia. But, it's still fascinating, for at least this moment in time, to see these operations springing up, breaking very big stories, and actually being able to thrive thanks to the internet. Perhaps if news organizations elsewhere focused more on building a supportive audience instead of whining to the government about how evil Facebook and Google are, they'd find support as well.

Read more here

---
posted at: 12:00am on 26-Feb-2021
path: /Policy | permalink | edit (requires password)
0 comments, click here to add the first
---
---
Monster Energy Goes After Autobody Shop Because Of It's 'M' Logo And Use Of Green Color

Furnished content.


For regular readers of Techdirt, Monster Energy is one of those companies that need only appear in the headline of a post before the reader knows that said post will be about some ridiculous trademark bullying Monster is doing. The company has a reputation for being about as belligerent on trademark matters as it could possibly be, lobbing lawsuits and trademark oppositions as though the company lawyers had literally nothing else to do with their time. And, while many, many, many of these bullying attempts fail when the merits are considered, the fact is that the bullying still often succeeds in its goal to use the massive Monster Energy coffers to bully victims into either submission or corporate death.The really frustrating part in all of this is how often Monster Energy attempts to trademark bully companies that aren't remotely competing in their market. One recent example of this is Monster going after MPT Autobody in South Carolina. For disclosure, one of the founders of MPT reached out to me personally to inform me of exactly what was going on. Based on our conversation and what I can see in public records, the order of events appears to go something like this:
MPT Autobody submits an application to trademark its name and branding (pictures will be below)
Monster Energy opposes the application, citing that MPT's branding in part includes a stylized "M" and the color "green" and will therefore confuse the public into thinking it's associated with Monster Energy
After consulting with a lawyer, MPT Autobody drops the application, intending to simply do business without the trademark
Despite that, Monster Energy then sends a C&D notice, arguing that the continued use of "M"s and "green" constitutes copyright infringement, along with a demand that MPT pay Monster Energy's attorney's fees
I have embedded the entire C&D notice below so you can go see the details for yourself. That said, let's start with a couple of facts at the top of all of this. Monster Energy does not have the right to block other companies from using the letter "M" in their branding. Monster Energy also does not have the right to block other companies from using the colors green or black in their branding. Monster Energy also generally does not have the right to block other companies from using green or black "M"s in their branding.And, yet, simply because Monster Energy sponsors some auto race activities, its letter claims exactly that and, as a result, it includes in its letter the following pictures as to what will confuse the public.
Now, if any of that branding out in the wild brings to mind Monster Energy, you need help. And keep in mind that for all of Monster Energy's reference to its sponsorship of trucks and cars, it is not in the autobody industry. Given that, there is a hell of a high bar to climb to prove that any of this is infringement.All of which may end up being besides the point. MPT is going to have hefty bills on its hands if it wants to fight this out, even as it seems to be trying to play nicely with Monster Energy as much as it can. For instance, the company's site now has a disclaimer on it, noting that they are not affiliated with Monster Energy. The company is also looking into the potential of using a different shade of green on branding, though it's anyone's guess if that would satisfy Monster Energy. The trademark app has been withdrawn.But trademark bullies are never satisfied with that sort of thing. Instead, they want to grind their victims into the ground. Here's hoping that doesn't end up being the case with MPT Autobody.

Read more here

---
posted at: 12:00am on 26-Feb-2021
path: /Policy | permalink | edit (requires password)
0 comments, click here to add the first
---
---
Content Moderation Case Study: Chatroulette Leverages New AI To Combat Unwanted Nudity (2020)

Furnished content.


Summary: Chatroulette rose to fame shortly after its creation in late 2009. The platform offered a new take on video chat, pairing users with other random users with each spin of the virtual wheel.
The novelty of the experience soon wore off when it became apparent Chatroulette was host to a large assortment of pranksters and exhibitionists. Users hoping to luck into some scintillating video chat were instead greeted with exposed penises and other body parts. (But mostly penises.)This especially unsavory aspect of the service was assumed to be its legacy -- one that would see it resigned to the junkheap of failed social platforms. Chatroulette attempted to handle its content problem by giving users the power to flag other users and deployed a rudimentary AI to block possibly-offensive users.The site soldiered on, partially supported by a premium service that paired users with other users in their area or who shared the same interests. Then something unexpected happened that drove a whole new set of users to Chatroulette: the COVID-19 pandemic. More people than ever were trapped at home and starved for human interaction. Very few of those were hoping to see an assortment of penises.Faced with an influx of users and content to moderate, Chatroulette brought in AI moderation specialist Hive, the same company that currently moderates content on Reddit. With Chatroulette experiencing a resurgence, the company is hoping a system capable of processing millions of frames of chat video will keep its channels clear of unwanted content.Decisions to be made by Chatroulette:
Is it possible to filter live content quickly and accurately enough to prevent a return to the "old" Chatroulette?
Is the cost of moderation AI affordable given the site's seeming inability to attract or sustain a large user base?
If user growth continues, will it still be possible to backstop AI moderation with human moderators?
What metrics should Chatroulette consider as measures of success here?
Questions and policy implications to consider:
Is over-moderation a foreseeable problem, given the challenges of moderating live video streams?
Is it possible to attract a more-dedicated user base while still respecting their apparent desire for anonymity?
Is it wise to maintain an unmoderated channel given the historical issues the site has had with unsolicited nudity and its exposure to/of minors?
Resolution: Chatroulette's new moderation efforts appear to be successfully distancing it from its inauspicious beginnings. However, the site's operating team still wryly acknowledges the reputation for nudity that defined the service for much of the last decade. But the site also points out that only a little more than 3% of its millions of monthly interactions contain explicit material, indicating Chatroulette feels the way forward is offering something that might have seemed boring ten years ago: a predictable and safe random chat experience.Originally published on the Trust & Safety Foundation website.

Read more here

---
posted at: 12:00am on 25-Feb-2021
path: /Policy | permalink | edit (requires password)
0 comments, click here to add the first
---
---
Stadia Fallout: Nobody Can Address Stadia Games' Bugs Because Google Fired All The Developers

Furnished content.


More bad news for Stadia. We were just discussing Google's decision to axe its own game development studios. In and of itself, such a move to cut staff like this would be a worrying sign for the platform, especially given just how much growing interest there has been in video games and game-streaming surrounding the COVID-19 pandemic. But when it's instead one more indication that Google isn't fully committed to its own platform, alongside the poor reception from the public and concerns about whether it can deliver the gaming experience it promised, these things tend to pile up on one another. I have attempted to drive home the point of just how important the development of trust with customers is for Stadia, given that those buying into the platform are gaming entirely at the pleasure of Google's desire to keep Stadia going.And the hits to trust keep coming. In direct fallout from its decision to cut the development teams, Stadia customers are finding themselves unable to get support for Google's internally developed game.
One of the few games that Google actually owns — although it was released first on consoles and PC before making its Stadia debut — was Journey to the Savage Planet. Google acquired Typhon Studios before the end of 2019, and the deal meant that Journey to the Savage Planet was one of the few games that came free with the Stadia Pro subscription.Typhon Studios was the first studio acquired by Google, but with the effective closure of Google's gaming ambitions, the developers there were let go with everyone else. For users who are still playing on Stadia however — at least the ones who aren't suing Google — that's caused a bit of a problem, because there's nobody around to fix their games.
And in the case of Journey to the Savage Planet, fixes are definitely needed. Crashes and glitches appear to be the normal experience for those playing the game. Still others report that the game regularly freezes at the start menu. Worse yet, it appears that some reporting these bugs are being told by Google reps that they are going to work with the now-axed developers to address their concerns.Said axed-developers, however, are telling everyone that will listen that, no, they can't, because they were laid off.
Unable to play Journey in single-player or co-op, one user reached out to the game's publisher, 505 Games. After being told by Stadia's social team that they would work with the publisher on a fix, the publisher said: Actually, we can't fix this for you at all."Unfortunately, there is nothing we can do from our end right now since all of the game code and data on Stadia is owned by Google," 505's support staffer said in an email.In a follow-up a few days ago, another 505 Games support staffer suggested the user remind Google that, actually, Google are the ones responsible for publishing everything on Google Stadia.
There's literally no way for those now ex-Google employees to make fixes on games when the code resides on Google's systems. And if Google itself cannot fix the bugs, well, then the bugs go unfixed, full stop.All of this comes as Stadia reps are telling people that more games are coming to the platform in a pitch to drive adoption of Stadia among the public. But given the experience that public has with Google's own game, it's hard to imagine many trusting the platform enough to buy in. This has all the earmarks of other abandoned Google projects in the past, where the company never seems to decide whether it is fully invested in the product or not. In the past, that has led to those projects withering on the vine. Why the public should expect something different out of Stadia is an open question.

Read more here

---
posted at: 12:00am on 25-Feb-2021
path: /Policy | permalink | edit (requires password)
0 comments, click here to add the first
---
---
Facebook's Australian News Ban Did Demonstrate The Evil Of Zero Rating

Furnished content.


People have been very angry at me for pointing out that Facebook's decision to ban links to news down under actually made sense -- even though Facebook has now cut a deal to return the links. The move was in response to an incredibly poorly thought out law to force Facebook and Google to pay giant news organizations, just because those news organizations couldn't figure out how to innovate online. One key point: I said that even if Facebook is the worst representative of the "open web," this move is the right one for the open web. That's because the alternative is much worse. Since the Australian law would force Google and Facebook to pay for the crime of linking to news, it would set up the incredibly anti-open web concept that you could be forced to pay to link.Again, as we've already explained, this is idiotic. The links give websites free web traffic. Most news organizations, including those down in Australia, employ SEO and social media managers to try to get more links and more traffic from these websites because the links themselves are valuable. And thus, this entire bill is bizarre. It's saying that not only do you have to give us valuable traffic for free... you also have to pay us. I still can't think of any reasonable analog, the situation is so insane.But -- some people argue back -- Facebook is no champion of the open web. Indeed. I've never argued otherwise. It's not. But this move was important to protect the open internet (and it's now disappointing that the company has caved). But, of course, this move also has demonstrated why Facebook has, historically, been a danger to the open web as well. And that's because when it blocked access to news links in Australia, it also did the same for many Pacific islands. And while we've mocked Australians who don't seem to realize they can just go to the websites of news organizations, for some of these Pacific islands, that's not actually the case. Because of Facebook's other attacks on the open web.For years, we've pointed out the evil that is Facebook's "Free Basics" program. This is a form of "zero rating," in which Facebook would subsidize (or even make free) access in remote parts of the world... but only to Facebook. Facebook, of course, framed this as a way of "connecting the poor" and helping to get affordable internet access to places that didn't have it. But that's not true. It only gave them access to Facebook. As many people have pointed out over the years, if Facebook really wanted to subsidize internet access in these parts of the world, it should have have subsidized real access to the wider internet, not just Facebook.So, now, these two things have collided in the South Pacific. Facebook's anti-open internet policies with zero rating, and Facebook's pro-open internet decision to not link if it requires payment. And those who bought into the false prophet of Free Basics, are now suffering:
Across the Pacific, thousands of people are on pre-paid data phone plans which include cheap access to Facebook. Those on limited incomes can get news through the social network, but cannot go to original source websites without using more data, and spending more money.The region's largest telco provider, Digicel, with a presence in Fiji, Nauru, Papua New Guinea, Samoa, Tonga and Vanuatu, offers affordable mobile data plans with free or cheap access to Facebook.In Australia, news from Pacific sites also appeared to be blocked, a significant impediment for diaspora communities and seasonal workers.
And this, in turn, is creating disinformation risks:
Articles reposted from Australian news sources are often used in the Pacific to rebut misinformation being spread on Facebook, Watson and Howarth said.One very popular page in PNG seems to attract more than its fair share of long-longs [an ill-informed person in pidgin] opposing vaccination as the Covid pandemic quietly spreads daily, Howarth said.
It's not clear why Facebook cut off news to those Pacific islands in addition to Australia, but it might just be because they cut up the map by regions and lumped the south Pacific islands in with Australia. And, even if it wasn't that, since Facebook is blocking all links to news sources from Australia to the rest of the world, the Australian news sources that many of the small islands rely on are cut off for users on Facebook's zero rated plan.So, yes, of course Facebook itself is no great friend of the open internet. And these two moves have combined to mess up news in the South Pacific. If Facebook actually wanted to support the open internet, it should keep banning news links where governments demand payments, but it should drop the silly "Facebook only" limitation of its zero rating program.

Read more here

---
posted at: 12:00am on 24-Feb-2021
path: /Policy | permalink | edit (requires password)
0 comments, click here to add the first
---
---
Google Disbands Stadia Game Developers And Signals Potential For More Trouble Ahead

Furnished content.


It's no secret that in the year and a half since Google launched its video game streaming platform, Stadia, things haven't gone particularly well. Game developers were wary at the onset that Google, as it has with projects like this in the past, might simply one day shut the whole thing down if it thinks the venture is a loser. The launch of Stadia itself was mostly met with meager interest, due to scant games available on the platform. Even then, the rollout was a mix of chaos and glitch, critiques of its promise for true 4k game streaming, very low adoption rates, and some at the company appearing to want to go to war with game-streamers.And now, there are signals that the trouble is worsening. Google recently announced, completely without warning, that it was shuttering its in-house Stadia game development studio.
According to the report, developers at the studio were "shocked" by the sudden shutdown, since, only a week earlier, Stadia's leading executive, game industry veteran Phil Harrison, told the group "[SG&E] has made great progress building a diverse and talented team and establishing a strong lineup of Stadia exclusive games." The one-week flip-flop was "part of an apparent pattern of Stadia leadership not being honest and upfront with the company's developers," according to Kotaku, adding that many developers "upended their lives and careers to join the team."The report says Stadia's developers found out about the studio closure at "almost the same time as everyone else." Stadia's developers had to wait three days before Harrison was available for a Q&A conference call, which the report describes as "contentious." The most chilling line in the report details Harrison's response to a question asking why the Studio was "making great progress" one week and then fired the next: "When asked what changed from the week prior, Harrison admitted nothing had and told those on the call, 'We knew.'"
If that strikes you as fairly shitty, well, yes it is. And if it feels like a flavor of exactly what game developers originally feared -- Google's penchant for quickly bailing on hyped up projects -- well, yeah, it's that, too.But while the plight of developers and Stadia employees is a very real and non-trivial thing, for Stadia to succeed, it needs the trust of its customers. Trust is particularly key for Stadia because, as we so often point out, gamers don't actually own the games they play on Stadia. They, instead, pay for access to the platform. So, with PC gaming as an option and the new generation of consoles now released, the public has to decide whether to go with Stadia or choose a traditional option. And when Google comes out with statements like the following, that trust feels quite hard to come by.
Google doesn't publicly share how well (or poorly) Stadia is doing, but that blog post mentions that Google is looking for "the best path to building Stadia into a long-term, sustainable business," strongly hinting that Stadia is not currently a sustainable business. The post details what sounds like a pretty strong change in strategy, pivoting from the direct-to-consumer "game console" business and more toward being a technology provider for gaming companies.If Stadia was ever going to be successful, it seems like that should have happened over the last several months. The pandemic is making gaming more popular than ever, and everyone else's sales are up across the board. Stadia was also one of the best systems to play the long-awaited Cyberpunk 2077 on, especially given that the other best options were next-gen consoles that were perpetually sold out. If Google isn't seeing success now, it's hard to imagine a better opportunity for the service.
Which puts potential customers for Stadia in exactly the same place as the game developers that were fretting a year ago: if I game on Stadia, am I suddenly going to lose everything when Google decides to pull the plug?Whatever else we might want to say for Stadia or the future of game streaming as a service, that question is the highest of hurdles.

Read more here

---
posted at: 12:00am on 24-Feb-2021
path: /Policy | permalink | edit (requires password)
0 comments, click here to add the first
---
---
Apple Settles Trademark Opposition With PrePear Recipe App After The Latter Makes A Barely Perceptible Change In Logo

Furnished content.


Last summer, we discussed Apple opposing the trademark application for recipe app PrePear. While the tech company and a company that attempts to promote healthy eating aren't competing with one another, Apple argued that PrePear's logo was deceptively similar to its own. Here they are, side by side.
As we pointed out previously, it should be immediately obvious how dumb Apple's claims are. The two logos look nothing alike, have different color schemes and style types, and consist of totally different fruits. That PrePear has a pear in its logo and name only drives the point home further. Despite that, rather than backing down in shame, Apple expanded its attack to Canada, where it also opposed the trademark application there. PrePear had to lay off at least one of its handful of employees as a direct results of the costs associated with the opposition.Which probably makes it all the more irritating to find that this has all now been settled such that Apple's demands for action are so frustratingly insignificant so as to make everyone wonder what the hell the point of all this was to begin with.
Six months later, the case is now settled, and it seems Apple didn't actually have a pear-shaped problem after all — because Super Healthy Kids has agreed to change the shape of the leaf atop that pear, and Apple has agreed that's good enough to let the trademark go forward.
And here is the change that PrePear agreed to.
You really do have to squint at the image to even make out what change was made, didn't you? The change is so minor that its only real use is in calling into question why Apple's lawyers pursued this at all. It's not as though this dispute wasn't painful for the PrePear folks. It was. There was cost, both in terms of money and its ability to retain its employees.So how insulting must it be for Apple's big ask... to be barely altering the shape of a pear leaf?

Read more here

---
posted at: 12:00am on 23-Feb-2021
path: /Policy | permalink | edit (requires password)
0 comments, click here to add the first
---
---
What Landing On Mars Again Can Teach Us, Again

Furnished content.


It seems I'm always writing about Section 230 or copyright or some sort of regulatory effort driven by antipathy toward technology. But one of my favorite posts I've ever written here is this one, "We Interrupt All The Hating On Technology To Remind Everyone We Just Landed On Mars." Given that we just landed on Mars again it seems a good time to revisit it, because it seems no less important today than it was in 2018 when I originally wrote it. Just as it seems no less important that we just landed on Mars again. In fact, it all may matter even more now.Today we find ourselves even more mired in a world full of technological nihilism. It has become a well-honed reflex: if it involves technology, it must be bad. And in the wake of this prevailing distrust we've developed a political culture that is, at best, indifferent to innovation if not often downright eager to stamp it out.It's a poisonous attitude that threatens to trap us in our currently imperfect world, with no way to solve our way out of our problems. But recognizing what an amazing achievement it was to successfully land on Mars can work as an antidote, in at least two important ways:First, it can remind us of what wonder feels like. To dream the most fantastic dreams, and then to go make those dreams happen. Mankind hasn't gazed at the stars in ambivalence; the heavens have been one of our greatest sources of inspiration throughout the ages. That we have now managed, for the first time in the history of human civilization, to put another planet within our grasp should not extinguish that wonder, with a glib "been there, done that" shrug. Rather, it is a cause for enormous celebration and should do nothing but inspire us to keep dreaming, next time even bigger.Because if there's one thing this landing teaches us, apart from the tangible fruits of our exploration, it is to believe in ourselves. Our failures and disappointments here on Earth are serious indeed. But what this success demonstrates is that we can overcome what was once thought impossible. It may take diligence, hard work, and faithful adherence to science. And our human imperfections can sometimes make it hard to manage these things.But landing on Mars reminds us that we can and provides us with an amazing example of how.

Read more here

---
posted at: 12:00am on 23-Feb-2021
path: /Policy | permalink | edit (requires password)
0 comments, click here to add the first
---
---
Game Jam Winner Spotlight: The Great Gatsby Tabletop Roleplaying Game

Furnished content.


Last week, we took a look at ~THE GREAT GATSBY~, one of the recently-announced winners of our public domain game jam, Gaming Like It's 1925. Today, we're moving on to our second spotlight, and looking at the winner of the Best Adaptation category, The Great Gatsby: The Tabletop Roleplaying Game by Segoli.Best Adaptation is always an interesting category in these jams, because every entry is on some level an adaptation, but that doesn't mean they are all truly good candidates for the prize. Some make use of elements of a public domain work in a way that detaches them from their source, others focus so closely on the source that it is more like a study of the original — both those things can be amazing, and both approaches show up among our winners this year. But there's also something special about a game that turns a public domain work into something brand new while also carrying forth and further exploring its original meaning and context. That's the kind of game that is a candidate for Best Adaptation, and that's the kind of game The Great Gatsby: The Tabletop Roleplaying Game is.As the name suggests, the game follows the contours of a typical TTRPG, with players taking on various characters and participating in a story (in this case, the story of The Great Gatsby, at least to begin with...) aided by a game master and some dice rolls. What makes it especially interesting as an adaptation is how it frames things for the game master: they are given a concise synopsis of the events of the novel, and encouraged to focus on whether their players are making more traditional choices that adhere to the original story, or wilder choices that rapidly diverge from it. Whichever way the players are leaning, the GM is encouraged to act as a counterbalance, throwing in fresh twists to push a traditional story off-course, or adding period-appropriate obstacles that force more divergent players to remember and address the setting. A lot of conventional wisdom says GMs should always try to flow with their players and take the game in the stylistic direction they want to take it, and downplay the idea that the GM acts "in opposition" to the players, but the framing of the advice in this game is actually quite brilliant: it means the players' tastes will shape the challenges they face in a satisfying way, while also keeping the game orbiting around the work it is adapting, and examining that work from different angles depending on the way the players want to interact with it.Of course, there's another great way to win our hearts here at Techdirt, and that's by putting ideas around copyright and the public domain directly inside a game. The Gatsby TTRPG does exactly that, and it's just great. See, there's something I haven't mentioned yet: while the setting and story is firmly rooted in the novel, the player characters are not. Rather, players are required to be other public domain characters, turning the game into a mashup of Gatsby and any number of other works. And the instructions include a list of possible options, and a whole bunch of great intellectual property jokes that our audience here will surely appreciate:
Please note that several of the characters listed are temporally locked, which means you may not play as them until they enter the public domain in the year listed next to their name. Additionally, keep in mind that copyright law varies from country to country. If you are playing this game in Europe, you may have access to a greatly expanded list of public domain characters.

Dracula
Mrs. Claus
Sherlock Holmes (empathy-free)
Dr. Jekyll and Mr. Hyde
Dr. Frankenstein (not the monster)
Feral child raised by apes (see below)
Bambi (the novel character) (2022)
Sherlock Holmes (with empathy) (2023)
Walt Disney's mouse OC (2024)
Peter Pan (UK only: the destruction of a specific children's hospital in London)

Please note that if you are playing as the feral child raised by apes, the trademark to that character's name is owned by Edgar Rice Burroughs, Inc., a company located in Tarzana, California. They are extremely protective of their trademark, so you may not refer to this character by name, despite the fact that the character himself is in the public domain. Additionally, please note that if you are playing this game in the UK, you may not play as Peter Pan as long as Great Ormond Street Hospitalcontinues to exist. Elsewhere, he's free game.
For those not in the know, those are some excellent references that highlight absurd minutiae of copyright. Sherlock Holmes has entered the public domain via earlier stories, but the Doyle estate is trying to assert that portraying him with emotions and empathy is still copyright infringement because he gained those qualities in later stories. Tarzan is a prime example of a recurring problem: the use of trademark law as a backdoor to perpetual copyright. And the situation with the rights to Peter Pan, a character that is nearly 120 years old but still under copyright in the UK, is just plain weird.As you can imagine, a lot of our judges got a huge kick out of this, as did we. The copyright themes continue into the gameplay, with the difficulty of player actions being partly based on whether they are invoking something from a public domain work or one that is still covered by copyright, and it's just masterful how the game weaves together these themes, and the wackiness of combining all these public domain characters, with a genuine exploration of the original novel. For all those reasons and more, it's this year's Best Adaptation.Get the rules for The Great Gatsby: The Tabletop Roleplaying Game on Itch, and check out the other jam entries too. Congratulations to Segoli for the win! We'll be back next week with another game jam winner spotlight.

Read more here

---
posted at: 12:00am on 21-Feb-2021
path: /Policy | permalink | edit (requires password)
0 comments, click here to add the first
---
---
FyreTV Porn Service Asks 11th Circuit Panel To Resurrect Dumb Trademark Suit Against Amazon Over FireTV

Furnished content.


Somehow we missed covering this in 2019, but in those much more innocent times the company behind FyreTV, which bills itself as a service that is "the Netflix of porn", sued Amazon over its Fire TV product. The claim by FyreTV's Wreal LLC ownership was that the public would be confused into thinking that Amazon was somehow behind its pornographic offerings, or that some affiliation between the two entities was in place. The claims rested on exactly what you'd expect, essentially that the two product names are phonetically identical and that both involve providing video-based entertainment. That the types of that entertainment are as wildly different as could possibly be apparently didn't concern Wreal LLC. Instead, they came to court with a couple of social media posts essentially poking fun at the similar names as though it were some kind of proof of confusion.The court tossed the lawsuit in 2019, but Wreal LLC has now asked an 11th circuit panel to bring the suit back to life. To revive the suit, lawyers for Wreal LLC provided literally nothing new in its claims.
An attorney for Wreal told a three-judge panel of the Atlanta-based appeals court Thursday morning that the potential for consumer confusion was obvious: "One just needs to hear the words 'Fire TV.' They sound exactly the same," Carlos Nunez-Vivas of Waserstein & Nunez said.
According to FyreTV, Amazon throwing its name on Fire TV actually made the confusion worse instead of the opposite. The FyreTV argument for this is, apparently, that Amazon has a strong brand. And from there, the attorney argued that, hey, maybe someday FyreTV would like to get into non-pornographic content.
"They're saturating the market. They're spending eye-popping numbers in advertising," he said, referring to Amazon. "Let's say Wreal would've liked to go into mainstream content. Well, they're going to have a difficult time doing that when there's a mammoth company that is controlling that market and associating the mark with its own name."
Which is all apropos of nothing, unfortunately. The fact is that the two products don't compete with one another, aren't offered in the same places for purchase, and anyone who tries to look into a FyreTV service is going to be so bombarded with pornographic material that they aren't going to be able to be under any kind of assumption that this is somehow an Amazon product.The "undisputed facts" listed in the original ruling pretty much lay out all you need to know. Some highlights are below.
Wreal has lost money every year from its founding in 2007 to the present.Wreal's FyreTV.com homepage shows several rows of highly explicit pornographic images.Amazon markets the Amazon Fire TV's family-friendly features, advertising that the "FreeTime" service "revolutionizes parental controls – parents can choose what your kids see and set time limits for types of content and times of day."Wreal does not believe its use of the "Netflix" mark infringes any trademarks because it believes Netflix operates in a different market.
And it goes on from there. Nothing about this suit made sense in the beginning as anything other than a money-grab. To revive it now when a court recognized it for what it was would make even less sense.

Read more here

---
posted at: 12:00am on 20-Feb-2021
path: /Policy | permalink | edit (requires password)
0 comments, click here to add the first
---
---
Reminder: Just A Few Days Left Before Our '230 Matters' Conversation With Section 230 Authors Ron Wyden & Chris Cox

Furnished content.



Get your tickets for Section 230 Matters before February 23rd »There are just a few days left until Tuesday, February 23rd, and our Section 230 Matters event, celebrating Section 230, including a discussion with the two coauthors of the law, Chris Cox and Senator Ron Wyden. The event starts at 12:30pm PT. We're using a cool virtual events platform called Remo that will allow for networking/conversation prior to the panel. We'll take audience questions, via a built in system during the discussion, and then have post-panel table discussions.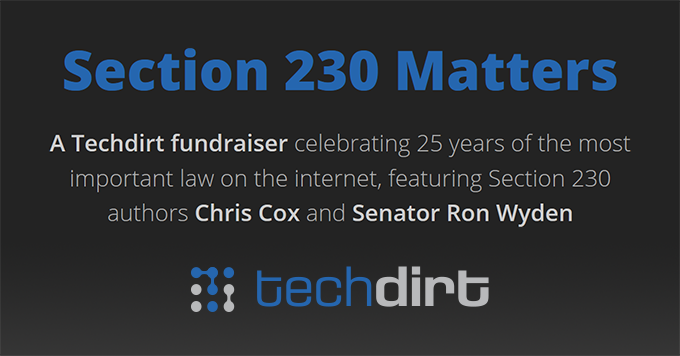 This will be a fun and interesting event -- and also a way to support Techdirt, helping us to continue our reporting on Section 230 at a moment when it is literally front page news (for all sorts of ridiculous reasons). We look forward to seeing many of you next week!

Read more here
---
posted at: 12:00am on 20-Feb-2021
path: /Policy | permalink | edit (requires password)
0 comments, click here to add the first
---
---
Peloton Seeks To Invalidate 'Spinning' Trademark Held By Trademark Bully

Furnished content.


Back in 2010, we discussed that the at-the-time "spin class" craze in the fitness world was encountering the fact that one company, Mad Dogg Athletics, held a trademark on the term "spinning" for use in the fitness industry. Mad Dogg had taken to going around the world and threatening anyone else using the term with trademark infringement as a result. And, to be clear, they had a lot of targets for these threats, which factored into the argument that term was now generic and hadn't been properly enforced as a trademark for years.Since 2010, the spin class craze has morphed out of the brick and mortar gym and into home fitness, with the current fad being app-driven home stationary spin bikes. The leader in that field is, of course, Peloton. Mad Dogg sued Peloton for trademark infringement last year over patents it holds for core features of its bikes. In what may be something of a clap back in that dispute, however, Peloton has now petitioned to have Mad Dogg's "spinning" trademark canceled entirely.
Peloton claimed that rival fitness company Mad Dogg Athletics is "abusively enforcing" its trademark rights of 'Spinning' and 'Spin' across the indoor biking industry in a petition filed to the US Patent and Trademark Office's Trademark Trial and Appeal Board (USPTO) yesterday.The petition argued that the terms are generic and that Mad Dogg's lawyers have been ceaseless in their campaign to chase down infringers. It also cites John Baudhuin, co-founder of Mad Dogg, admitting to spending "hundreds of thousands of dollars a year" on litigation.
This is Peloton calling out the game, which is very useful. Rather than focusing primarily on the business of selling spin bikes, Mad Dogg instead seems to be focused on policing its trademark. The argument that the term "spinning" has become generic is only bolstered by the high volume of victims of Mad Dogg's bullying. In addition, it would be interesting to see Mad Dogg attempt to come up with any evidence that the wider public currently associates the term with its products, because that feels like it would be a stretch to say the least.Peloton's petition calls out the extremes to which Mad Dogg has gone in its bullying.
"Enough is enough. It is time to put a stop to Mad Dogg's tactic of profiting by threatening competitors, marketplaces and even journalists with enforcement of generic trademarks."
Imagine the instant good the USPTO could do simply by invalidating a trademark for what has become a generic term in the fitness industry.

Read more here

---
posted at: 12:00am on 19-Feb-2021
path: /Policy | permalink | edit (requires password)
0 comments, click here to add the first
---
---
A Teenaged Tech CEO Tries To Sneak In After Curfew And Finds His Mom Waited Up For Him

Furnished content.


With Congress spending a lot of time these days demanding answers from big tech firms, you may have noticed a notable similarity in style regarding how they respond to these kinds of inquiries.Thank you very much for inviting my input on the topic of being grounded. I appreciate the opportunity to engage with Mom regarding this important discussion.I take living under your roof very seriously. I am proud to be a recognized leader in crucial household initiatives such as making the bed and setting the table. Last year, data rigorously collected by the chores chart on the refrigerator[1] shows that I folded the laundry 48 times, a 200% increase year over year. [2] My contributions in these areas demonstrate my ongoing commitment to this family.From time to time, I may adjust my going-out policies based on data-driven decision-making and evaluation of the current regulatory environment. My interpretation of curfew is based upon guidance from Dad who said 1:00 a.m. was OK, but you weren't there, I think you were at the store. If the conclusions I drew from this guidance do not reflect parental intent, I regret the miscommunication and appreciate the chance for clarification.My policies are consistent with industry best practices in this area. According to my most recent review, Jennifer's mom lets her come home at 1:00 a.m. on Fridays and Saturdays, and Denise's mom lets her sleep over at a boy's house so long as his mom calls her mom first. Accordingly, I believe that my going-out policy reflects standard parental expectations in the community where I operate.Should you have any additional requests for information, I can be reached in my room via text message. Mom, gawd, just text me like a normal person. No I won't hear you knock because I always have my earbuds in. Well I put them in because you complained I was playing my music too loud, JEEZ I CAN'T DO ANYTHING RIGHT I HATE IT HERE [bursts into tears, storms upstairs]Thank you again for the opportunity to continue the dialogue on this critical issue. I look forward to answering your questions.[1] See Attachment A.
[2] Id.; see also [REDACTED].When Riana Pfefferkorn is not writing satirical letters to Congress Mom, she's a Research Scholar at the Stanford Internet Observatory. She can be found online at @Riana_Crypto.

Read more here

---
posted at: 12:00am on 19-Feb-2021
path: /Policy | permalink | edit (requires password)
0 comments, click here to add the first
---
---
Random Jackass Attempts To Trademark 'Mayor Of Mar-A-Lago' In The Most Hilarious Way

Furnished content.


For years now, I have railed on the USPTO for its overly permissive posture when it comes to granting trademarks. The whole thing is far too easy, with far too little concern shown by examiners as to how distinct or useful proposed marks actually are. All of that being said, there are still some hoops you have to jump through to get a trademark. And there are some rules governing how to get through those hoops.It appears someone needs to give Natale Passaro some lessons in how trademarks work, then. See, Passaro recently filed for a trademark on the term "Mayor of Mar-A-Lago." The proposed classes for the mark are to be for "shirts" and "consulting services". Part of the application requirements, however, is documentation on "specimen of use." This is basically the USPTO asking the applicant to show evidence of the mark's current or proposed use.
A specimen of use is a real-world example of how the mark is being used on goods and/or services. A real-world example means that it is an actual object that bears the mark, not just a photo or drawing of the mark. For goods, a person can submit tags, instruction manuals, containers, labels, or packaging materials.
What the Passaro submitted for his specimen, um, doesn't cut it.

Now, I truly wish that it was Donald Trump's hand that scrawled the phrase over a picture of a building at the club and a cartoon depiction of himself, because that makes all of this funnier. Unfortunately, it appears that this application came instead from someone just trying to cash in on the club and former President. That this initially confused a bunch of people, including me, is also a pretty good argument against any approval for this trademark.But, again, that isn't how this works when it comes to the specimen of use. The USPTO is not going to take some scribbles of a proposed... I don't know, logo? That simply doesn't work for a specimen of use, it isn't in any way the behavior of a professional organization, and it calls into question just how serious this trademark application is if this really is the best Passaro can do on a trademark application. Given that this all also seems to be some strange attempt to get Mar-A-Lago incorporated as its own township and out of the jurisdiction of Palm Beach for... reasons, this all probably doesn't bode well for the success on that effort, either.

Read more here

---
posted at: 12:00am on 18-Feb-2021
path: /Policy | permalink | edit (requires password)
0 comments, click here to add the first
---
---
Content Moderation Case Study: Google 'Removes' German Residences From Street View By Request (2010)

Furnished content.


Summary: Google's Street View is a powerful mapping tool that allows users to visit places they'll possibly never be able to visit and allows local users to see homes and businesses they're trying to locate.But Google's Street View hasn't been warmly welcomed everywhere. In Germany -- a country with a long history of pervasive surveillance by government agencies -- Google's mapping project hit a roadblock. In an effort to comply with German privacy laws, Google worked with data protection authorities to ensure all requirements were met before its cars and cameras hit the road.Restrictions on data collection have resulted in Germany being one of the least-mapped countries in Europe.
After meeting with considerable public opposition to Google's street mapping, Google allowed residents to opt out. This resulted in opted-out locations being blurred in Street View, providing owners with more privacy inside Street View than they enjoyed outside it.Decisions to be made by Google:
Should the normal lack of an expectation of privacy in publicly-viewable areas override local restrictions on data-gathering?
Is an opt-out plan cost effective (as compared to simply not mapping at all in restricted areas)?
Do "holes" in map coverage increase risks to drivers and travelers?
Is there a possibility the opt-out function could be abused by trolls and/or opponents of Google's Street View project?
Questions and policy implications to consider:
Does following local privacy laws possibly make Google's Street View less useful than competing products that may not follow laws or that receive more deference from local authorities?
Is the mapping project likely to run into greater resistance in the future, given world legislators' ongoing concerns with lax privacy laws?
Could Google be considered culpable for harm resulting from incomplete maps, especially when coupled with Google's built-in live navigation software?
What tools does Google have at its disposal to push back against legal restrictions?
Resolution: Given the chance to opt out, most Germans chose not to. According to Google, less than 3% of affected households asked Google to blur their residences, resulting in a little more than 244,000 blurred houses in Street View.The opt-out program also led to an unfortunate, unforeseen, and completely unintended consequence. A small group of rogue "transparency advocates" sought out "blurred" houses and egged them. Some of those who opted out were also treated to handwritten notes informing them that Google was "cool." Very little actual damage was done.Despite the early opposition -- which resulted in Google shutting down its attempted mapping of Germany in 2011 -- Google has taken a second run at the country and its resistance to the Street View project. Its site lists a large number of German cities and towns that have recently been mapped by Google during its latest attempt, which began in July 2020 and will wrap up early next year.Google "removes" German residences from Street View by request (2010)

Read more here

---
posted at: 12:00am on 18-Feb-2021
path: /Policy | permalink | edit (requires password)
0 comments, click here to add the first
---
---
Texas Power, Phone Outages Again Highlight How Infrastructure Underinvestment Will Be Fatal Moving Forward

Furnished content.


If you hadn't noticed, the United States isn't really prepared for climate change. In part because corporations and disinformation mills have convinced countless Americans a destabilizing climate isn't actually happening. But also because we were already perpetually underinvesting in our core infrastructure before the symptoms of an unstable climate began to manifest. It's a massive problem that, as John Oliver highlighted six years ago, doesn't get the same attention as other pressing issues of the day. You know, like the latest influencer drama or mortal threat posed by TikTok.Infrastructure policy is treated as annoying and boring... until a crisis hits and suddenly everybody cares. As millions of Texans found out this week when the state's energy infrastructure crumbled like a rotten old house under the weight of heating energy demands, leaving millions without power during a major cold snap. While outlets like the Wall Street Journal and Fox News quickly tried to weaponize the crisis by blaming the renewable energy sector for the problems, deeper, more technical dives seem to indicate a lack of wind power output wasn't the underlying problem:
"While some early reports indicated that frozen wind turbines were causing significant shortfalls, 30GW is roughly equal to the entire state's wind capacity if every turbine is producing all the power it's rated for. Since wind in Texas generally tends to produce less during winter, there's no way that the grid operators would have planned for getting 30GW from wind generation; in fact, a chart at ERCOT indicates that wind is producing significantly more than forecast."
While it will obviously require a deeper investigation to flesh out the failure points, the real culprit appears to be entirely predictable and notably more banal. Namely, inconsistent regulatory oversight and a systemic underinvestment in essential infrastructure:
"Ed Hirs, an energy fellow in the Department of Economics at the University of Houston, blamed the failures on the state's deregulated power system, which doesn't provide power generators with the returns needed to invest in maintaining and improving power plants.The ERCOT grid has collapsed in exactly the same manner as the old Soviet Union, said Hirs. It limped along on underinvestment and neglect until it finally broke under predictable circumstances."
Texas' issues are somewhat unique by nature of the way the Texas utility grid is structured. It's isolated in part because of the state's unwillingness to be regulated by the federal government. And while deregulation efforts in the late nineties and early aughts were supposed to fix the state's power monopoly problems, the policy wound up being a bit of a mixed bag:
"from 2002 to 2013, the average household in deregulated areas paid a total of about $4,800 more than residents of cities like Austin and San Antonio served by just one municipal utility, or those served by electric cooperatives, the analysis said."
Either way, these problems could have been avoided. In fact, a decade-old report pointed out precisely how to avoid them via weatherization, investment, and greater emergency natural gas reserves. Many Texas utilities talked about how they were doing these things, but didn't actually follow through, the 2011 report politely noted:
"Although generators and gas producers reported having winterization procedures and practices in place, responses were generally reactive in their approach to winterization and preparedness."
And of course because gutting state and federal regulatory oversight is treated as a panacea on many fronts, government didn't do enough to ensure these companies were disaster-proofing their network. Going this extra mile also requires spending money on preparing for climate change, something that's hard to do when you've got millions of folks running around -- especially in Ted Cruz' state of Texas -- who don't believe in climate change. In fact as the crisis has become more and more pronounced, many political leaders did the exact opposite of responsible leadership, by turning infrastructure investment and competent regulatory oversight into another idiotic political trolling opportunity:

In addition to the power outages, millions of Texans lost access to voice services. While old copper phone lines still work, cable voice or VOIP services quickly fell apart -- in part because we stopped mandating back up batteries in many internet-based phone services. Meanwhile, cell phones don't work if there's no power going to your local tower, and a lack of backup power options at those sites:

After Hurricane Katrina, in 2008, the FCC passed rules mandating that cellular towers be upgraded to include battery backups or generators capable of delivering at least 8 hours of backup power, if not 24 or more. But the US cellular industry, you know, the one whose rates are some of the highest in the developed world, cried like a petulant child about the requirement and sued to scuttle the rules.Backed by the then Bush White House, cellular carriers told anybody who'd listen that the requirement would create "a huge economic and bureaucratic burden" for the industry. A better approach, the industry proclaimed, would be to let the industry self-regulate and adhere to entirely voluntary guidelines, leaving it with the "flexibility" to adapt to problems as the industry saw fit. It didn't work, and as a result outages were equally dire during Hurricanes Katrina, Sandy, and Irma. And now again in Texas.Infrastructure policy is often dismissed as droll wonkery and largely ignored... until a crisis. But these problems are made all the more frustrating because experts know what to do to prevent disruption and save lives... we just refuse to do it. Regardless, it's increasingly clear that letting powerful regional companies (be they in energy or telecom) self-regulate, while underinvesting all the while, is going to prove increasingly fatal as the climate increasingly destabilizes. The real question is: how many people are going to die before we actually learn something from the experience?

Read more here

---
posted at: 12:00am on 17-Feb-2021
path: /Policy | permalink | edit (requires password)
0 comments, click here to add the first
---
---
Conservative News Outlet Ordered To Pay More Than $250,000 In Legal Fees To Rachel Maddow, MSNBC

Furnished content.


Last summer, California's anti-SLAPP law gave MSNBC host Rachel Maddow an early exit from a bogus defamation lawsuit brought by one of the few "news" outlets that's farther to the right than Fox News, One America News.OAN claimed it had been defamed when Maddow referred to one of its hosts as a "Kremlin-paid journalist." This comment referred to OAN "reporter" Kristian Rouz's concurrent employment as a Sputnik "journalist." Sputnik is owned by the Russian government and tends to produce exactly the sort of reporting you'd expect from such an arrangement.As the court noted during its dismissal of the suit, Maddow's position at MSNBC is one of a commentator -- someone expected to give their opinion on world events. Thus, the stuff OAN was arguing (badly) was defamatory was actually protected opinion. And it was informed opinion that had basis in fact: Rouz did work for Sputnik and did produce propaganda on the Russian government's behalf.Now, OAN owes MSNBC and Maddow some money. Losing a defamation suit via an anti-SLAPP motion means the victorious party can ask for legal fees. As Mary Papenfuss reports for Huffington Post, OAN's parent company (Herring Networks) has been ordered to write a very big check.
A federal judge in California has ordered the parent company of far-right One America News Network to pay Rachel Maddow and MSNBC $250,000 in lawyers' fees for a failed defamation lawsuit.
Of course, the check isn't as good as written quite yet.
Herring Networks President Charles Herring told the website Law & Crime in a statement that the company will appeal the costs.
No doubt Herring hopes to recoup the losses it inflicted on itself by engaging in this BS lawsuit. But it seems unlikely the Ninth Circuit Appeals Court will find in favor of the failed plaintiffs. This was a spectacular loss by OAN and its parent company. The lower court shut the door on any rewrites by OAN, setting the stage for this court-ordered opening of OAN's wallet.
Because there is no set of facts that could support a claim for defamation based on Maddow's statement, the complaint is dismissed with prejudice.
The court's order [PDF] discusses all the procedural stuff -- including OAN's multiple arguments in favor of lower costs -- before settling on a total:
The Court awards Defendants fees in the amount of $247,667.50 representing 53.5 hours billed by Mr. Boutrous at $1,150 per hour, 19.1 hours billed by Mr. Edelman at $1,050 per hour, 130.6 hours billed by Mr. Bach at $720 per hour, 127.9 hours billed by Ms. Moshell at $470 per hour, 15.8 hours billed by Mr. Rubin at $470 per hour, 14.9 hours billed by Ms. Gadberry at $280 per hour, and 1.3 hours billed by Mr. Amponsah at $265 per hour, and costs in the amount of $10,724.36.
The real lesson being taught here is how expensive it is to defend yourself from a bogus defamation lawsuit. Even in a state with a solid anti-SLAPP law, it still costs hundreds of thousands of dollars to get a lawsuit dismissed. States without anti-SLAPP laws subject defendants to additional rounds of litigation, all of which increase the cost of defending against even the most ridiculous allegations.That being said, strong anti-SLAPP laws are a great deterrent. Would-be plaintiffs tend to be a bit more cautious when there's a chance they'll be paying everyone's legal bills, rather than just their own.

Read more here

---
posted at: 12:00am on 17-Feb-2021
path: /Policy | permalink | edit (requires password)
0 comments, click here to add the first
---
---
Game Jam Winner Spotlight: ~THE GREAT GATSBY~

Furnished content.


This week, we announced the winners of Gaming Like It's 1925, our third annual game jam celebrating works that entered the public domain in the US this year. Over the next few weeks, we'll be taking a closer look at each of the winning games from the six categories (in no particular order), starting today with the winner of Best Visuals: ~THE GREAT GATSBY~ by Floatingtable Games.The first thing that strikes you about ~THE GREAT GATSBY~ is just how robust the graphics are for a game jam entry. It's a platformer presented in a retro pixel-art style — the designer explains that it has the same screen resolution as a Nintendo Game Boy, but one more color in its palette. The player is immediately presented with a beautiful title screen depicting one of the most iconic pieces of imagery from the novel:
From there, the game reveals itself to be more than just the mechanical prototype one might expect from a platformer in a game jam — rather, it's a fully-formed (albeit very short) experience that includes an opening "cinematic", some RPG-style interactions with NPC characters including simple dialogue choices, two main platforming levels (the first of which requires you to retrace your steps, finding the path more challenging in reverse — a classic level design technique — and the second of which feels distinctly different and introduces a new kind of obstacle), and a clear conclusion. In other words, there's some genuine thought put into the game design here, and an effort to make the game "complete" that really paid off. But it's still the graphics that stand out the most, from the detailed cityscapes with parallax-animated skylines in the background and pixelated haze drifting through the air...
...to the interior scene with its own set of unique sprites, the stylish character portraits, and the simple, easily-understood interface elements:
Note the attention to detail — it would have been easy and perfectly acceptable to slap the same simple window graphic from the outdoor scenes onto the interior wall, but instead we get a brand new custom sprite that includes the skyline visible outside in the distance. That kind of extra effort is apparent all throughout the graphics of the game, and that's why it was an easy pick for the Best Visuals award.Play ~THE GREAT GATSBY~ in your browser on Itch, and check out the other jam entries too. Congratulations to Floatingtable Games for the win! We'll be back next week with another game jam winner spotlight.

Read more here
---
posted at: 12:00am on 14-Feb-2021
path: /Policy | permalink | edit (requires password)
0 comments, click here to add the first
---
---
Content Moderation Case Study: Valve Takes A Hands Off Approach To Porn Via Steam (2018)

Furnished content.


Summary: Different platforms have different rules regarding adult content, but they often prove difficult to enforce. Even the US judicial system has declared that there is no easy way to define pornography, leading to Justice Potter Stewart's famous line, I know it when I see it.Many, if not most, internet websites have rules regarding such adult content, and in 2017 Valve's online game platform, Steam, started trying to get more serious about enforcing its rules, leading to some smaller independent games being banned from the platform. Over the next few months more and more games were removed, though some started pointing out that this policy and the removals were doing the most harm to independent game developers.
In June of 2018, Valve announced that it had listened to various discussions on this and decided that it was going to take a very hands off approach to moderating content, including adult content. After admitting that there are widespread debates over this, the company said that it would basically allow absolutely anything on the platform, with very, very few exceptions:
So we ended up going back to one of the principles in the forefront of our minds when we started Steam, and more recently as we worked on Steam Direct to open up the Store to many more developers: Valve shouldn't be the ones deciding this. If you're a player, we shouldn't be choosing for you what content you can or can't buy. If you're a developer, we shouldn't be choosing what content you're allowed to create. Those choices should be yours to make. Our role should be to provide systems and tools to support your efforts to make these choices for yourself, and to help you do it in a way that makes you feel comfortable.With that principle in mind, we've decided that the right approach is to allow everything onto the Steam Store, except for things that we decide are illegal, or straight up trolling. Taking this approach allows us to focus less on trying to police what should be on Steam, and more on building those tools to give people control over what kinds of content they see. We already have some tools, but they're too hidden and not nearly comprehensive enough. We are going to enable you to override our recommendation algorithms and hide games containing the topics you're not interested in. So if you don't want to see anime games on your Store, you'll be able to make that choice. If you want more options to control exactly what kinds of games your kids see when they browse the Store, you'll be able to do that. And it's not just players that need better tools either - developers who build controversial content shouldn't have to deal with harassment because their game exists, and we'll be building tools and options to support them too.
The company admitted that it would likely struggle with this plan, especially given different laws around the globe, but that it wanted to put the onus on end users, rather than itself.Decisions to be made by Valve:
Is it really possible to allow anything that isn't illegal or straight up trolling?
How do you define straight up trolling?
How do you make sure that parts of the Steam store are safe for younger users?
What tools need to be provided to users to set their own filters?
Questions and policy implications to consider:
With more and more pressure from governments to clean up the internet, will taking a hands off approach lead to even more regulatory threats?
Does taking such a hands off approach create greater legal liability?
Can a hands off approach make users feel that the company is putting all of the responsibility on them, rather than itself?
Resolution: In the following few months, Valve released more ways to filter content in its store, including an adult filter. It also began approving more explicit games, as suggested by the policy.At around the same time, it did continue to remove games, supposedly for violating its new no trolling policy. The company admitted that the no trolling policy is intentionally vague.
It is vague and we'll tell you why. You're a denizen of the internet so you know that trolls come in all forms. On Steam, some are simply trying to rile people up with something we call "a game shaped object" (ie: a crudely made piece of software that technically and just barely passes our bar as a functioning video game but isn't what 99.9% of folks would say is "good"). Some trolls are trying to scam folks out of their Steam inventory items, others are looking for a way to generate a small amount of money off Steam through a series of schemes that revolve around how we let developers use Steam keys. Others are just trying to incite and sow discord. Trolls are figuring out new ways to be loathsome as we write this. But the thing these folks have in common is that they aren't actually interested in good faith efforts to make and sell games to you or anyone. When a developer's motives aren't that, they're probably a troll.Our review of something that may be "a troll game" is a deep assessment that actually begins with the developer. We investigate who this developer is, what they've done in the past, their behavior on Steam as a developer, as a customer, their banking information, developers they associate with, and more. All of this is done to answer the question "who are we partnering with and why do they want to sell this game?" We get as much context around the creation and creator of the game and then make an assessment. A trend we're seeing is that we often ban these people from Steam altogether instead of cherry-picking through their individual game submissions. In the words of someone here in the office: "it really does seem like bad games are made by bad people."This doesn't mean there aren't some crude or lower quality games on Steam, but it does mean we believe the developers behind them aren't out to do anything more than sell a game they hope some folks will want to play.
The company has still faced some criticism over these policies. In 2019 an anti-pornography group complained publicly that it was too easy to find adult content on Steam despite the new filters that were put in place, saying that the filters were mere speedbumps.In late 2020, Steam started to experiment with a revamp of how it organizes content, and that may include an explicit games area.Originally published to the Trust & Safety Foundation website.

Read more here

---
posted at: 12:00am on 13-Feb-2021
path: /Policy | permalink | edit (requires password)
0 comments, click here to add the first
---
---
Hacked Florida Water Plant Found To Have Been Using Unsupported Windows 7 Machines And Shared Passwords

Furnished content.


By now, you have likely heard about the recent hack into a Florida water treatment plant which resulted in the attacker remotely raising the levels of sodium hydroxide to 100 times the normal level for the city's water supply. While those changes were remediated manually by onsite staff, it should be noted that this represents an outside attacker attempting to literally poison an entire city's water supply. Once the dangerous part of all of this was over, attention rightfully turned to figuring out how in the world this happened.The answer, as is far too often the case, is poor security practices at the treatment plant.
According to an advisory from the state of Massachusetts, employees with the Oldsmar facility used a computer running Windows 7 to remotely access plant controls known as a SCADA—short for "supervisory control and data acquisition"—system. What's more, the computer had no firewall installed and used a password that was shared among employees for remotely logging in to city systems with the TeamViewer application.
If you're not in the IT space, this is base level stuff. Have your computer systems on operating systems that are under active support and are being patched. That is doubly so for any systems that are critical, or which have access to critical systems. And to not have any client security, such as a local software firewall, on such a machine is IT malpractice. On top of the above, it appears that TeamViewer hadn't been actively used by the staff there for nearly six months. So there, again, was poor administration of the environment, with an antiquated remote access application not being removed from the production environment.Instead, the save in all of this came from the meatware that was fortunately sitting at the machine and actively watching.
The breach occurred around 1:30pm, when an employee watched the mouse on his city computer moving on its own as an unknown party remotely accessed an interface that controlled the water treatment process. The person on the other end changed the amount of lye added to the water from about 100 parts per million to 11,100ppm. Lye is used in small amounts to adjust drinking water alkalinity and remove metals and other contaminants. In larger doses, the chemical is a health hazard.Christopher Krebs, the former head of the Cybersecurity and Infrastructure Security Agency, reportedly told a House of Representatives Homeland Security committee on Wednesday that the breach was "very likely" the work of "a disgruntled employee."
It's a water treatment plant for an entire city. In an era where there is an extreme lack of trust in government, dumb stuff like this acts as a supercharger.

Read more here

---
posted at: 12:00am on 13-Feb-2021
path: /Policy | permalink | edit (requires password)
0 comments, click here to add the first
---
---
Epic Games' Case Against Teenage Fortnite Cheater Finally Settles

Furnished content.


As you may recall, back in 2017 Epic Games went on something of a crusade against cheating in its online hit game Fortnite. While much of Epic's attention was focused on websites that sold cheating software for the game, the company also set its sights on individuals who were actively promoting the use of cheating software in online videos. One of those Epic sued was a 14 year old who, if I'm being frank, sounds like a bit of a jackass. While the teen, identified in court documents only as "C.R.", was having his own mother defend him in letters to the judge in the case, he was also then going around uploading still more videos advocating the use of cheating software and taunting Epic Games. Epic's lawyers defeated the teen's mother, which, real feather in their cap for that I suppose. And so the trial continued.Until recently, when, as Epic has done in other cases against underage targets for its litigation, the company and the defendant managed to come to a settlement.
Epic Games has settled a three-year-long lawsuit against a teenage Fortnite player who was accused of using cheats in the game (thanks Law360). C.R., who was 14-years-old at the time of the 2017 lawsuit, was alleged to have been using and advertising Fortnite hacks on his YouTube channel.The Notice of Voluntary Dismissal doesn't reveal any details about the settlement, just that Epic, C.R. and his court-appointed guardian have agreed to dismiss all claims and action following the Court's approval of the settlement agreement.
It is unlikely that any serious money changed hands as part of this. What Epic Games was after was a cessation of advocating of cheating software in order to curb its use. But, still, a three year long case against a large company for a teenager and his family had to come at a massive price tag in legal bills alone. And, frankly, the real question is what the point of this all was? If it was the stomping out of cheating in Fortnite that Epic was after, well, it sure as hell didn't accomplish that mission.Hell, it was just over the past summer that cheating in Fortnite tournaments appeared to reach its crises apex.
For the last couple of years, Fortnite has been considered one of the few titles that catches and removes cheaters fairly effectively. However, with cases recently skyrocketing, it seems that a lot of foul play may simply go undetected.Following Sunday's fourth and final round of FNCS qualification, Twitter was flooded with posts relating to a player named Kona. They openly used cheats to get through opens and semis, and were only banned after going live on Twitch with the client still onscreen.
So the company went legal on a teenager and his mother to combat cheating, an effort that completely failed. That was really worth all the trouble, Epic?

Read more here

---
posted at: 12:00am on 12-Feb-2021
path: /Policy | permalink | edit (requires password)
0 comments, click here to add the first
---
---
Louisiana AG Sues Journalists To Keep Them From Obtaining Documents Detailing Sexual Harassment By Top Prosecutor

Furnished content.


Another public official is attempting to make the public records request process even more aggravating and expensive than it already is.In many cases, the public does what it's allowed to do: request records. And, in many cases, governments refuse to do what they're obligated to do. So, people sue. They dig into their own pockets and force the government to do what they were always supposed to do. And when they do this, the general public digs deep into their own pockets to pay government agencies to argue against the public's interests.This is diabolical enough. It's also, unfortunately, the standard M.O. for government agencies. Pay-to-play. Every FOIA request is a truth-or-dare game played on a field slanted towards the government, which has unlimited public funds to gamble with.But when just being dicks about isn't diabolical enough, government agencies and officials go further. When it's simply not enough to engage in litigation as defendants and argue against accountability and transparency, these entities go on the offensive.That's right. Government agencies and officials occasionally engage in proactive lawsuits, daring the defendants (i.e., citizens making public records requests) to prove they're entitled to the documents. This shifts the burden away from the government and onto the person with limited funds and almost nonexistent power. It's no different than demanding millions for the production of PDFs. It's an option deployed solely for the purpose of keeping everything under wraps.The latest participant in the "fuck the public and our obligations as public servants" is Louisiana's Attorney General.
Louisiana Attorney General Jeff Landry on Friday sued a reporter for The Advocate and The Times-Picayune over a public-records request she filed, asking a judge to issue a declaratory judgment denying the request and seal the proceedings.The unusual action came a few days after the newspaper warned Landry that it intended to sue him if he didn't turn over the requested records.
Welcome to Louisiana -- a state where government officials and employees don't even need to camouflage their desire to screw the people they're supposed to be serving because a whole bunch of local laws encourage this screwing. In this case, the AG undid the lawsuit threat -- one predicated on the state's refusal to hand over requested documents -- by firing off a lawsuit of his own. And just like that, the burden of proof needed to keep these documents out of the public's hands has been shifted to the public, as represented by the Times-Picayune.One has to ask why the AG would need to keep these records hidden. There's alleged malfeasance afoot, and the sooner the public has some straight answers, the sooner this can be taken care of. The AG's decision to insert himself and his disingenuous lawsuit into the proceedings makes everyone involved look guilty... especially since the malfeasance is coming from inside the house.
The matter dates to Dec. 14, when the reporter, Andrea Gallo, first filed a public records request with Landry's office seeking copies of sexual harassment complaints against Pat Magee, the head of the office's criminal division, and records of how the complaints were handled. Magee was placed on administrative leave pending an investigation that day.
It's a terrible move in terms of optics. But it's a brilliant move if you care less about optics than protecting your government brothers (and, to a much lesser extent, sisters).This is the sort of thing that would be greatly served by proactive transparency. Maybe the allegations are false. Maybe they're substantiated. But deciding to sue records requesters rather than turn over documents suggests it's the latter. And it suggests a cover-up in the works -- one that, at the very least, will allow the accused to resign before it can affect the accused's career or pension.Optics matter. And they matter even before the facts are in. Being upfront with the people you serve generates goodwill -- something that's valuable to have in your pocket when government employees screw up. Suing the public before they can sue you says the public is subservient to their supposed public servants. It says the government would rather anger people and drain them of their money than engage honestly with the problem and carry out their obligations to the public.This is garbage. But it's the same overheated garbage we've seen for years. And nothing will change as long as government agencies can use tax dollars to pay for legal arguments against transparency and accountability.

Read more here

---
posted at: 12:00am on 12-Feb-2021
path: /Policy | permalink | edit (requires password)
0 comments, click here to add the first
---
---
Content Moderation Case Study: Twitter Attempts To Tackle COVID-related Vaccine Misinformation (2020)

Furnished content.


Summary: Following on its efforts in tamping down on election-related misinformation, Twitter's latest moderation efforts target misleading posts about COVID and the coronavirus, with a specific focus on vaccine related information.Despite being months into a global pandemic, there has been a lack of clear, consistent communication from all levels of government in the United States, which has given conspiracy theorists and anti-vaccination activists plenty of room to ply their dubious trades. Twitter is hoping to reduce exposure to tweets containing misleading information as the nation continues to deal with multiple COVID outbreaks.
Since early in the pandemic, Twitter had been aggressive in moderating misleading content regarding how the virus spreads, unproven remedies and treatments, and other health related info. Its new policy expands on that, mainly to focus on false information and conspiracy theories regarding vaccines.Twitter won't be limiting itself to applying warnings to tweets with dubious content. The platform will force users to delete tweets that don't comply with its expanded code of conduct. Added to restrictions on misinformation about the spread of the disease and its morbidity rates are bans on false claims about immunization safety or COVID's dangers.Decisions for Twitter:
If there are actual stories of harm or side effects from vaccines, how will Twitter distinguish those reports from the conspiracy theories?
Who will Twitter consider to be trusted sources for determining which information is factual, and which are conspiracy theories?
Is there an effective way to teach users that they are sharing false information, rather than simply banning them?
Questions and policy implications to consider:
Does moderating COVID conspiracy theories inadvertently lend "credence" to conspiracy theorists?
Does more direct moderation of certain content invite even more Congressional scrutiny and calls for direct government regulation?
Will human moderation help mitigate possible collateral damage to "good faith" users who aren't aware they're spreading misinformation?
Resolution: Twitter's expanded ban on misinformation is crafted to specifically target conspiracy theories about vaccinations or the disease's existence. The site will use a combination of AI and human moderators to determine whether flagged tweets should be labeled as questionable or removed entirely. Repeat violators can expect to have their accounts suspended or deleted.The company also suggests that in early 2021 it will likely expand this fight against vaccine misinformation by placing warnings or labels on content that is unsubstantiated, disputed, or without necessary context.Originally posted to the Trust & Safety Foundation website.

Read more here

---
posted at: 12:00am on 11-Feb-2021
path: /Policy | permalink | edit (requires password)
0 comments, click here to add the first
---
---
Steam Becomes Available In China, Offers 53 Whole Games To Customers

Furnished content.


There is no shortage of critiques for Valve's online PC game store, Steam. That's to be expected, frankly, given how big the platform is. Still, on the ground with individual gamers, one of the most common complaints you hear will be that the sheer volume of games on Steam is somewhat paralyzing for customers deciding where to spend their money. Steam tried to combat this for years with its Steam Curators program, where gamers put their trust in curators to pare down game search results. It never really worked, though, as the program encountered the same issue as the game: the sheer volume of curators.And so nothing really got solved. Except for in China, it seems, where Steam recently launched with a grand total of 53 whole games available to buyers.
Steam is now available in China, and if you thought that would give Chinese gamers instant access to the weird, wonderful and sometimes deeply offensive depths of the service's catalogue, well lol, no, of course it doesn't.At time of posting this custom, localised version of Valve's shopfront only has 53 games available, with the main ones being Counter-Strike and DOTA 2. That's it. If you visit the store and click on "all games" you can see everything in a single screenshot.
You already know why this is happening. In order to be available in China, games have to go through an approval process with the Chinese government. Given the insanely strict rules for approval, few publishers even try to get approval. That, plus the related apathy for entering the market, gets you 53 games on Chinese Steam.In addition, the forums on Steam are blocked as well, ostensibly to keep any speech Beijing would disapprove of from appearing on the site. Oddly, user reviews are available, however.Honestly, it's enough to make you wonder why this release was worth it for Steam at all. Put another way, if gaining approval from the Chinese government to release a video game is so difficult and/or arduous to keep most game publishers away, why would a game storefront be any different?

Read more here

---
posted at: 12:00am on 11-Feb-2021
path: /Policy | permalink | edit (requires password)
0 comments, click here to add the first
---
---
Why Is Congress Pushing For Locking Up More Culture?

Furnished content.


In a weird bit of performative nonsense, Senators Thom Tillis and Pat Leahy, along with Representatives Hakeem Jeffries and Nancy Mace, have come together to... try to help kids lock up culture under copyright. Specifically, they want a bill that would allow kids to register a copyright for free for participants in the Congressional Art Competition and the Congressional App Competition. It is not at all clear why this is necessary, other than to perpetuate the myth that you need a copyright to be creative.First, to be clear, any such unique and original artwork is already covered by copyright. For better or for worse (by which I mean, for worse), the US now says that copyright is automatic from the time the work is "fixed" in a tangible medium (and if you try to point out that computer code is not a tangible medium, it gets them very, very angry, so don't bother...). So no one needs to register their copyright to be protected. Not registering does limit the ability of the copyright holder to sue or to get statutory damages. But if anyone creating works for a Congressional Art Competition is seeking to sue others, well, that seems like a bigger problem right there.But here's the key point: copyright is supposed to be there solely as an incentive for creation. The entire setup and basis for copyright in the Constitution is so that Congress can create incentives to promote the progress of science and the useful arts (and, copyright was meant for the "science" part, patents are the "useful arts"). I can pretty much assure you that no one creating artwork or apps for a Congressional competition is doing so because they're incentivized by the copyright. They're doing so because of the competition itself and the desire to express themselves (and maybe get some attention for what they've done).So encouraging locking these things up is bizarre and counterproductive. More to the point, why aren't these elected officials suggesting that the artists and developers entering these competitions explore the many Creative Commons options to help get their works more widely known?The answer, tragically, is as obvious as it is cynical. This is all driven by the legacy copyright industries who keep trying to push the myth that copyright = creation. And these are their favorite elected officials. Hollywood backed Tillis strongly in the last election, in which he was expected to lose, so he clearly owes them. Leahy has always been extremely close to Hollywood. Beyond being the Senate supporter of SOPA (his version was PIPA), Hollywood always rewards Leahy by giving him small roles in every Batman film. His daughter is also a Vice President and top lobbyist for the Motion Picture Academy, Hollywood's top lobbying body.On the House side, the legacy copyright industry has been cultivating a close relationship with Jeffries for a while now, including setting up a neat fundraiser for him in which if you just pay him (and Jerry Nadler) $5k each you get to hang out with Jeffries at the Grammies. Nice work if you can get it. Nancy Mace is new to Congress, so she may just be along for the ride here.The problem with all of this is just how cynically corrupt this seems. Even if it's in the form of "soft corruption," the connection of a few Senators and Representatives pushing a misguided line of thinking -- that completely undermines the very basis for copyright law -- in favor of the myth pushed by Hollywood and the legacy recording industry, it just makes everyone actually respect copyright even less.This isn't what copyright is for, and it's shameful that these elected officials are pushing the myth forward.

Read more here

---
posted at: 12:00am on 10-Feb-2021
path: /Policy | permalink | edit (requires password)
0 comments, click here to add the first
---
---
Chastity Penis Lock Company That Was Hacked Says It's Now Totally Safe To Put Your Penis Back In That Chastity Lock

Furnished content.


While we've covered the Internet of Broken Things for some time, where companies fail to secure the devices they sell which connect to the internet, the entire genre sort of jumped the shark in October of last year. That's when Qiui, a Chinese company, was found to have sold a penis chastity lock that communicates with an API that was wide open and sans any password protection. The end result is that users of a device that locks up their private parts could enjoy those private parts entirely at the pleasure of nefarious third parties. Qiui pushed out a fix to the API... but didn't do so for existing users, only new devices. Why? Well, the company stated that pushing it out to existing devices would again cause them to all lock up, with no override available. Understandably, there wasn't a whole lot of interest in the company's devices at that point.But fear not, target market for penis chastity locks! Qiui says it's now totally safe to use the product again!
Now, the European distributor of the chastity cage, which is called CELLMATE, wants everyone to know that it's safe to use the device after the release of a new app, which it says fixed the vulnerabilities in the API used to control it."Our product and brand (CELLMATE) has received quite a bit of negative attention because of this publication. Now, you can think 'negative publicity is also publicity,' but unfortunately it turned out completely different for the CELLMATE," Dennis Jansen, who works for Desudo, a distributor of the CELLMATE device, told Motherboard in an email, referring to our first story on the hack. "This wrongly created the image that our product could be hacked, after which the genitals of the wearer would be permanently locked up. Although such a situation was not even realistic at the time of publication (as you can read and see here), this story has made current and potential users unfairly frightened of our product. You will understand that this has had absolutely no positive effect on the attention and interest in using the CELLMATE."
A couple of things to note here. First, this whining about press coverage is roughly as tone deaf as it could possibly be. Second, while an emergency release accessible with a screwdriver may indeed by a thing, it seems not every user of the device is aware of that, given that at least one victim claims he had to use bolt cutters which left him bleeding. "It fucking hurt," he told Motherboard. Which, yeah.But perhaps most important to this story is that anyone that actually wants to see the third party pen test for the API can go pound sand. Pen Test Partners, who originally discovered and reported the flaw, was reportedly brought in to assess the third party pen test as well. Asked if they would sign off that the device was now safe to use, reps from the company basically shrugged.
The founder of Pen Test Partners, Ken Munro, and the researcher who audited the CELLMATE, Alex Lomas, both confirmed to Motherboard that they did receive the third-party assessment and that the document says the issues are now resolved. But they also said they can't confirm the results, as they have not audited the device and its app and API since last year. "I don't think I can comment more about the safety or otherwise of the product at this stage, I think people hopefully have enough information to make their own judgements," Lomas told Motherboard in an online chat.
Not exactly a ringing endorsement, obviously. The point is that the reputation cost for any company that allows this kind of vulnerability doesn't normally put a company in the position of trust for these kinds of fixes. That lack of trust likely becomes supercharged when people's naughty bits are involved. What's really needed here, should the companies and their distributors want to restore trust with the public, is transparency. Sadly, that doesn't seem to be in the offering.

Read more here

---
posted at: 12:00am on 10-Feb-2021
path: /Policy | permalink | edit (requires password)
0 comments, click here to add the first
---
---
25 Years Later: A Celebration Of The Declaration Of The Independence Of Cyberspace

Furnished content.


As we've been noting in posts throughout the day, today is the day that, 25 years ago, then President Bill Clinton signed into law the Telecommunications Act of 1996. That large telco bill included, among many other things, the Communications Decency Act, a dangerous censorial bill written by Senator James Exon. However, buried in the CDA was a separate bill, written by now Senator Ron Wyden and then Representative Chris Cox, the Internet Freedom and Family Empowerment Act, which today is generally known as Section 230 of the CDA. A legal challenge later tossed out all of Exon's bill as blatantly unconstitutional.However, on the day of the signing, most of the internet activist space wasn't even thinking about Section 230. They were greatly concerned by Exon's parts of the CDA and some other provisions in the Telecommunications Act that they feared could cause more harm than good. This inspired John Perry Barlow to write his now famous Declaration of the Independence of Cyberspace, which was also released 25 years ago today. It's worth reading and reflecting on it 25 years later:
A Declaration of the Independence of CyberspaceGovernments of the Industrial World, you weary giants of flesh and steel, I come from Cyberspace, the new home of Mind. On behalf of the future, I ask you of the past to leave us alone. You are not welcome among us. You have no sovereignty where we gather.We have no elected government, nor are we likely to have one, so I address you with no greater authority than that with which liberty itself always speaks. I declare the global social space we are building to be naturally independent of the tyrannies you seek to impose on us. You have no moral right to rule us nor do you possess any methods of enforcement we have true reason to fear.Governments derive their just powers from the consent of the governed. You have neither solicited nor received ours. We did not invite you. You do not know us, nor do you know our world. Cyberspace does not lie within your borders. Do not think that you can build it, as though it were a public construction project. You cannot. It is an act of nature and it grows itself through our collective actions.You have not engaged in our great and gathering conversation, nor did you create the wealth of our marketplaces. You do not know our culture, our ethics, or the unwritten codes that already provide our society more order than could be obtained by any of your impositions.You claim there are problems among us that you need to solve. You use this claim as an excuse to invade our precincts. Many of these problems don't exist. Where there are real conflicts, where there are wrongs, we will identify them and address them by our means. We are forming our own Social Contract. This governance will arise according to the conditions of our world, not yours. Our world is different.Cyberspace consists of transactions, relationships, and thought itself, arrayed like a standing wave in the web of our communications. Ours is a world that is both everywhere and nowhere, but it is not where bodies live.We are creating a world that all may enter without privilege or prejudice accorded by race, economic power, military force, or station of birth.We are creating a world where anyone, anywhere may express his or her beliefs, no matter how singular, without fear of being coerced into silence or conformity.Your legal concepts of property, expression, identity, movement, and context do not apply to us. They are all based on matter, and there is no matter here.Our identities have no bodies, so, unlike you, we cannot obtain order by physical coercion. We believe that from ethics, enlightened self-interest, and the commonweal, our governance will emerge. Our identities may be distributed across many of your jurisdictions. The only law that all our constituent cultures would generally recognize is the Golden Rule. We hope we will be able to build our particular solutions on that basis. But we cannot accept the solutions you are attempting to impose.In the United States, you have today created a law, the Telecommunications Reform Act, which repudiates your own Constitution and insults the dreams of Jefferson, Washington, Mill, Madison, DeToqueville, and Brandeis. These dreams must now be born anew in us.You are terrified of your own children, since they are natives in a world where you will always be immigrants. Because you fear them, you entrust your bureaucracies with the parental responsibilities you are too cowardly to confront yourselves. In our world, all the sentiments and expressions of humanity, from the debasing to the angelic, are parts of a seamless whole, the global conversation of bits. We cannot separate the air that chokes from the air upon which wings beat.In China, Germany, France, Russia, Singapore, Italy and the United States, you are trying to ward off the virus of liberty by erecting guard posts at the frontiers of Cyberspace. These may keep out the contagion for a small time, but they will not work in a world that will soon be blanketed in bit-bearing media.Your increasingly obsolete information industries would perpetuate themselves by proposing laws, in America and elsewhere, that claim to own speech itself throughout the world. These laws would declare ideas to be another industrial product, no more noble than pig iron. In our world, whatever the human mind may create can be reproduced and distributed infinitely at no cost. The global conveyance of thought no longer requires your factories to accomplish.These increasingly hostile and colonial measures place us in the same position as those previous lovers of freedom and self-determination who had to reject the authorities of distant, uninformed powers. We must declare our virtual selves immune to your sovereignty, even as we continue to consent to your rule over our bodies. We will spread ourselves across the Planet so that no one can arrest our thoughts.We will create a civilization of the Mind in Cyberspace. May it be more humane and fair than the world your governments have made before.Davos, Switzerland
February 8, 1996
Barlow later admitted that he wrote it in a somewhat rushed fashion while attending a party at the World Economic Forum, saying that he would write parts of it, go dance, and then go back to writing. He said that "less distraction might have yielded a more thoughtful document, but things were as they were."And yet, the document lives on -- celebrated by some, denigrated by some. It's used by some to highlight the special place the internet holds in our lives, while used by others as the quintessential example of techno-exceptionalism run amok.I still think of it as more of a vision -- a goal for what an internet could be, rather than a declaration of what it was. It was a shining star for what the internet might be possible to achieve, with an underlying recognition that policymakers and regulators who never truly understood the internet and its usefulness, would seek to undermine or destroy. People can see in it whatever they wish to see -- good or bad -- and that too is part of the promise and wonder of today's modern internet.At the very least, it's worthwhile to read again on its 25th anniversary and to remember that possibility. The internet was and is something different than we've seen before in society. That has enabled so many wonderful things -- and some less pleasant things. But let's not forget the good just because we've now recognized the bad abuses of the internet as well.

Read more here

---
posted at: 12:00am on 09-Feb-2021
path: /Policy | permalink | edit (requires password)
0 comments, click here to add the first
---
---
Appeals Court Tells Lying Cop No 'Reasonable' Officer Would Think It's OK To Tear Gas Journalists For Performing Journalism

Furnished content.


For some reason, we, the people, keep having to shell out cash to employ a lot of unreasonable law enforcement officers.We've already seen some federal courts respond to violent law enforcement responses to the mere presence of journalists and legal observers during protests. The targeting of non-participants by law enforcement has been met with injunctions and harsh words for the officers participating in these attacks.Much of what's been covered here deals with months of ongoing protests in Portland, Oregon and violent responses by federal officers. But this appeals court ruling (via Mike Scarcella) shows the problem isn't confined to the Northwest or federal law enforcement. Cops are attacking journalists in other cities as they try to do nothing more than cover highly newsworthy events.And the problem isn't new either. This case [PDF], handled by the Eighth Circuit Court of Appeals, deals with an attack on three Al Jazeera reporters covering protests in Ferguson, Missouri following the killing of Michael Brown.Local law enforcement officers may not have been wearing cameras, but the journalists brought their own. The events that transpired were captured in the course of their attempted coverage of Ferguson protests. Fortunately, this footage exists. The version of events offered by the sued deputy is a lie. Here's what was captured by Al Jazeera cameras:
The SWAT Team approached the reporters as they prepared the live broadcast, a block and a half from the street where most of the protests occurred. Their video shows a calm scene. An unidentified officer begins shooting rubber bullets at them. They yell, identifying themselves as reporters. Anderson then deploys a single canister of CS gas (also known as "tear-gas"). It lands in front of the reporters. They move away from the camera, but can be heard talking in the background. An unidentified person walks past the camera. Other people stop in front of it. The police do not fire at them. One reporter re-appears in front of the camera, is shot at, and leaves. Another person walks past the camera (possibly the same unidentified person as before). A second group poses in front of the camera, thinking they are on CNN. They talk to the camera for over two minutes.Minutes later, police deploy another canister of tear-gas at men standing on the corner, several feet from the camera. Over a speaker, the SWAT Team appears to ask the reporters to "turn the spotlight off." SWAT Team members then lay down the lights and turn the camera lens toward the ground. The reporters re-appear. After speaking to the officers, they pack their equipment and leave.
As the court notes, this narrative (the one captured by cameras) is "disputed." But it's only "disputed" because Deputy Michael Anderson (the defendant) would prefer to use an alternate history to exonerate himself.
Anderson claims the reporters were told to disperse and turn off the lights but refused. He also claims he saw projectiles launched from the area of the bright lights. He says he had difficulty seeing what was going on. He believes there was an imminent threat to safety. He stresses that his sergeant ordered him to deploy the tear-gas.
Submitted in support of this narrative is Anderson's sworn declaration that everything he said is true, even when nothing on record supports his version of the incident.
Before the SWAT Team arrived, the reporters counter that their location was a calm scene. The videos support this. None records any orders to disperse. They also do not show any projectiles thrown from the reporters' area. They do not show orders to turn off the light before Anderson deployed the tear-gas.
The court doesn't call Anderson a liar. It might have, if other questions had been presented. It's limited to determining whether or not Deputy Anderson should be awarded qualified immunity. Once this returns to the lower court, Anderson will get another chance to prove he's not lying. It seems unlikely he'll be able to, but he is definitely going back to the lower court and is definitely going to have to defend himself against at least one allegation.The Appeals Court says Anderson's actions clearly violated the reporters' First Amendment rights. No qualified immunity on this count.
The videos confirm the reporters' version of the facts. They do not show dispersal orders or flying projectiles. They do not show orders to turn off the lights before the tear-gas. Rather, they show a peaceful scene interrupted by rubber bullets and tear-gas. Anderson presumes disputed facts in his favor, which this court cannot do because he moved for summary judgment. See Duncan, 687 F.3d at 957. Taking the facts most favorably to the reporters, Anderson did not have arguable probable cause to use the tear-gas.
Even if the court were inclined to believe Anderson's apparent bullshit, he still wouldn't be granted qualified immunity.
Anderson is not entitled to qualified immunity even if his sergeant told him to deploy the tear-gas. Anderson cites the Heartland case for the proposition that §1983 "does not sanction tort by association." Heartland Acad. Cmty. Church v. Waddle, 595 F.3d 798, 806 (8th Cir. 2010). True, but nothing in Heartland says that a government official is immune if a superior instructs him to engage in unconstitutional conduct. Instead, Heartland says that defendants must be individually involved in the unconstitutional act to be liable under §1983. Id. See also White, 865 F.3d at 1076 ("[A] plaintiff must be able to prove 'that each Government-official defendant, through the official's own individual actions, has violated the Constitution.' "), quoting Ashcroft v. Iqbal, 556 U.S. 662, 676 (2009). Here, it is undisputed Anderson was involved. He is the one who deployed the teargas at the reporters.
The deputy argued the reporters weren't engaged in First Amendment activity. Instead, they were ignoring a dispersal order. Again, the court points to the recording which shows no dispersal order being given during the entirety of the incident. Even if one had been, there's no reason to assume a dispersal order requires reporters to leave the scene. Reporters reporting on newsworthy events are not engaged in unlawful activity.The deputy also argued the plaintiffs were required to provide proof of his motive -- his alleged desire to retaliate against the reporters for engaging in protected activities. Wrong again, says the court. There's enough doubt in here a jury should examine it.
To support its conclusion that the reporters had alleged enough about causation to survive summary judgment, the district court noted that the videos show a peaceful scene interrupted by Anderson's tear-gassing of the reporters, but not others. Quraishi, 2019 WL 2423321, at *7 ("The raw footage from Al Jazeera, however, showed that numerous people came into the area where the reporters were standing, but only the reporters were shot at and tear gassed."). The reporters were singled out—other people were in their immediate area but only the reporters were tear-gassed at the scene. (Minutes later, men were tear-gassed several feet from the camera.) Anderson's motive is not "so free from doubt as to justify taking it from the jury."
And, again, the court highlights the video that shows a chain of events that contradicts Anderson's claims.
The district court's summary judgment facts are not based on allegations of actions by unknown individuals. They come from videos showing Anderson deploying the tear-gas. As noted, the district court does not have to rely solely on Anderson's account of events to discern what motivated him.
It is clearly established that firing tear gas at journalists to prevent them from covering newsworthy events is a violation of their rights, the Appeals Court says, rattling off a list of ten previous decisions reaching the same conclusion. Any assumption otherwise is unreasonable.
A reasonable officer would have understood that deploying a tear-gas canister at law-abiding reporters is impermissible.
Deputy Anderson is headed back to the district court to face the reporters' First Amendment allegations, as well as state-level excessive force claims. (The Appeals Court grants qualified immunity on the Fourth Amendment claims, noting that being tear-gassed is not a "seizure" as there is no detention or other form of police custody.) And it would seem he's destined to lose. His version of the events isn't supported by anything tangible. The other side has plenty of footage showing things didn't happen the way Deputy Anderson apparently wishes they would have happened. This isn't a "factual dispute." This is a recording contradicting a law enforcement officer's lies. Hopefully, the district court will further highlight this, shall we say, "disparity" upon his return.

Read more here

---
posted at: 12:00am on 09-Feb-2021
path: /Policy | permalink | edit (requires password)
0 comments, click here to add the first
---
---
Judging Has Begun! Check Out The Entries In Our Public Domain Game Jam

Furnished content.



View all of this year's entries on itch.io »Our public domain game jam, Gaming Like It's 1925, has come to a close, and the entries are now being reviewed by our amazing panel of judges. They need a bit of time to work through all the games, but while you wait, you can check out the entries for yourself.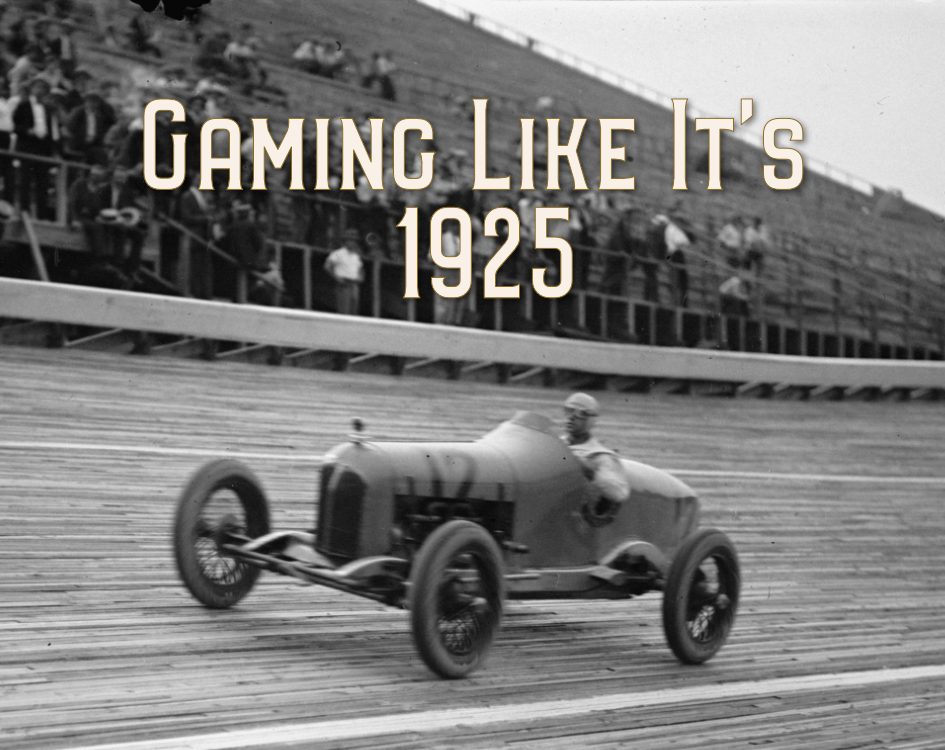 We got more entries than last year, though there are a couple that don't quite qualify for the jam because they aren't clearly based on 1925 works. The designers had lots of clever and creative ideas this year, and some of the games are nicely polished. As expected, we got lots of entries based on The Great Gatsby, but plenty of designers also explored other corners of the public domain and built games based on 1925 art, poetry, film, and music. All the games are either playable in the browser or downloadable as PDFs and other game materials, and you can dig through them all over on the game jam page.Once again, a big thanks to all the designers who submitted games this year, and to all our judges who are reviewing the entries and selecting winners in six categories, which we'll announce later this month. And if you didn't manage to get an entry in this year, it's never to early to start looking into works that will enter the public domain in 2022, when we'll be back with Gaming Like It's 1926!

Read more here

---
posted at: 12:00am on 07-Feb-2021
path: /Policy | permalink | edit (requires password)
0 comments, click here to add the first
---
---
Content Moderation Case Study: Twitch Allows Users To Enable Emote-Only Chats (2016)

Furnished content.


Summary: Dealing with content moderation during real-time chats always presents an interesting challenge. Whether it's being able to police language in real time, or dealing with trolling and harassment, chat has always been one of the most difficult content moderation challenges going back to its earliest days.In 2016, Twitch decided to enable a new feature for its users: an emote-only mode for the chat. Emotes, on Twitch, are basically a custom set of what are more traditionally called emoji on most other websites/platforms. With Twitch, though, they are almost entirely custom, and users at certain levels are able to add their own.
Emote-only is one of a bunch of different modes and features that Twitch streamers can use to try to tame their chat. Twitch itself suggests using this as a way to stop harassment in the chats.Turning on and off the feature is a choice for the streamer themselves, rather than Twitch. It's just one of a few tools that Twitch users can enable to deal with potentially harassing behavior in the chat alongside their streams.Decisions for Twitch:
What tools should you provide to users to deal with abusive or harassing chat participants?
Do features like this give more power to Twitch users, or are they offloading moderation demands from the company itself?
Should there be any exceptions to emote-only mode?
Are there times where a custom emote would be considered a policy violation because it takes on a harassing meaning in a certain context?
What sort of emote review processes should be put in place?
Questions and policy implications to consider:
Rather than offering entirely binary options (allow/disallow) are there more creative alternatives for dealing with harassing behavior?
Are there ways in which even emote-only mode might be abused for harassment?
Resolution: Emote-only mode was launched quietly with little fanfare from Twitch in 2016. While it may not be widely used, many streamers do find it useful. It is not just used for stopping harassment, but sometimes to stop people in a chat from revealing spoilers or other information that may impact what they're streaming (such as information about the video game they are playing).Originally posted to the Trust & Safety Foundation website.

Read more here

---
posted at: 12:00am on 06-Feb-2021
path: /Policy | permalink | edit (requires password)
0 comments, click here to add the first
---
---
Texas Dept. Of Public Safety Issues Amber Alert For Victim Of Horror Doll Chucky

Furnished content.


There's a rule in IT: don't test on live systems in production. There's debate over this, of course, but the general idea is that testing on live systems is a great way to screw up something with the live system, rather than some test environment. The more important the system is, the more true that mantra becomes.Which brings us to the Texas Amber Alert system. See, Texans subscribed to get Amber Alerts via email got one last week that seemed a little... off.
First... terrifying. As someone who absolutely hates horror movies because I'm a big scared wimp, getting this alert is pure nightmare fuel. But it's also sort of funny, except that this kind of testing on the live Amber Alert system is pretty dumb. The whole thing apparently happened due to a test being run on the system and it accidentally got sent out to email subscribers. Give the folks responsible for this high marks for going into detail on the joke, though.
The alert, which was sent by email on Friday, warned of a 16-pound suspect wearing "blue denim overalls" and "wielding a huge kitchen knife." It included an image of Chucky, the killer doll introduced in the 1988 slasher film "Child's Play," the first of a series of Chucky films.The Texas Department of Public Safety has since apologized, saying in a statement that the alert was sent as a "result of a test malfunction.""We apologize for the confusion this may have caused and are diligently working to ensure this does not happen again," the department said.
Meanwhile, with the media asking the agency for more details on how all this happened and why, they aren't talking. Don Mancini, who created the Chucky character, is however.

Look, mistakes happen. But that's why you don't run these sorts of tests on a live system as important as the Amber Alert system.

Read more here

---
posted at: 12:00am on 06-Feb-2021
path: /Policy | permalink | edit (requires password)
0 comments, click here to add the first
---
---
Utah Theme Park Sues Taylor Swift Over Album Title After Exploiting It

Furnished content.


It really is kind of crazy just how often Taylor Swift shows up in Techdirt's pages. One reason for this is that she seems to seesaw in the news between being the victim of and perpetrator of ridiculous intellectual property disputes. The whole "Shake It Off" thing was really silly, for instance, but so were Swift's attacks on fans and journalists over spurious trademark concerns. And, so, she doesn't neatly fit as a hero or villain. Instead, every time her name pops up in intellectual property news, the immediate question becomes, "Which side of it is she on this time?"Today, that answer is as the victim. See, Swift recently released her album, Evermore, and applied for trademarks for the term, too. Meanwhile, the owner of a Utah theme park that goes by the same name has decided to file a trademark lawsuit against her for using the term, claiming that the album and associated merchandise are creating real confusion in the marketplace.
Federal court documents filed in the Utah District Court show Ken Bretschneider, the chief executive officer of Evermore Park in Pleasant Grove, Utah, has filed a lawsuit against Taylor Swift over her latest album, 'Evermore.'Documents filed on Tuesday show 12 exhibits of evidence supporting Bretschneider's case, including Google search results for Evermore, items of clothing with branding, and two different letters from Swift's counsel.
The suit makes some of the claims you would expect. And then a couple you wouldn't. It states that the company has poured millions into the branding of Evermore Park, including the purchase of domain names, advertising, etc. $37 million dollars, to be precise. Point of note: Bretschneider himself indicates that the park has had 140k guests since its genesis in 2018. That's roughly $265 in just branding costs per guest...ever. None of that takes into account operational costs for the park, HR, legal, etc. Unless the park charges attendees hundreds of dollars per entry, it's tough to see how this math makes any sense, but I digress.Because the filing goes on to note that the park commissioned two original songs that it sells on Apple Music under the Evermore trademark it has and that this somehow means it's in the same general marketplace as Taylor Swift. Also, the filing complains that before Swift released her album, the park consisted of the majority of Google search results for "Evermore". Now, not so much.Is any of this trademark infringement? Of course not! Swift's response to the suit is both good on the merits and quite thorough. It points out that the claims are baseless due to the park and Swift not being remotely in the same marketplace generally, that Swift's use of "Evermore" is actually "Taylor Swift Evermore Album" which is different as a mark, and that the claims of confusion are nonsense... but with a twist!
Second, you have not identified any evidence of actual confusion, likely because there is none. You make the conclusory statement that "Evermore's web traffic and digital marketing have been negatively impacted since your adoption of the Evermore trademark" and claim that "[d]uring the week of December 6-12, 2020, [your client's] website traffic experienced a dramatic departure from typical levels." As a preliminary matter, a change in website traffic does not equate to trademark confusion. Furthermore, even if it did, any dramatic departure from typical levels that occurred from December 6 – December 9 are in no way attributable to the Swift Parties because Ms. Swift's album name was not announced until December 10. Your attempt to fully impute an alleged decline in email traffic to Ms. Swift's new album is similarly misguided given the reality of the industry-wide impacts COVID-19 has had on theme parks,4 particularly in winter months as temperatures decline and as case counts are soaring across the country. Lastly, and perhaps most importantly, your client's social media posts belie this claim as they have intentionally traded off and taken advantage of this alleged attention in a transparent attempt to try to create an association between your client and ours.
Yeah, that's right, the very confusion the park is complaining of is confusion the park itself attempted to foster for publicity.Bottom line: this is a lawsuit almost certain to go nowhere fast. Claims of confusion are silly, the markets aren't remotely the same, and the marks themselves are different. So, Swift is the victim in this chapter. We'll have to see where she lands next time.

Read more here

---
posted at: 12:00am on 05-Feb-2021
path: /Policy | permalink | edit (requires password)
0 comments, click here to add the first
---
---
We're Living Our Lives On The Internet, And We Can't Be Free If It Isn't.

Furnished content.


Last year, as a consequence of the COVID-19 pandemic, the offline world suddenly became a lot more online. All around the world, people have struggled to adapt. Worst off are those who can't take internet access for granted. The Federal Communications Commission will spend many resources on the domestic side of this challenge, further investing in internet connectivity reach, quality, and affordability. But the international side, known as internet freedom, is a harder question.Internet freedom may generate fewer headlines than a decade ago, when it was a signature issue of then-Secretary of State Hillary Clinton. But internet freedom is just as necessary now as it was then. For example, in China, crucial information about the spread of COVID-19 was often unavailable, and citizens resorted to using technical workarounds to upload and view videos about the pandemic on government-blocked YouTube. And in Iran, those who follow the Baháí faith are denied access to education, and depend on internet freedom technologies to give themselves the most basic opportunities. There are many more such examples in internet repressive countries around the world.Fortunately, bipartisan support for internet freedom in Congress has kept funding levels robust over the past four years, and consistent leadership from within the Department of State and other funders has kept this work strong. But as with so many other areas of policy, the Trump administration not only did not add value, but actively made things worse by engaging in a harmful turf war. Partisan leadership at the U.S. Agency for Global Media (USAGM) disrupted the funding and operations of its independent grantee Open Technology Fund (OTF) when OTF chose to pursue good policy over bad politics, an approach that - to give one example - led the organization to support early development of the now-popular Signal secure messaging service.The first internet freedom action by the Biden administration should be to reverse course and install leadership at USAGM that can work constructively with OTF, the State Department, and other funders to support scalable open source technology and community internet freedom solutions. Congress did its part through the defense funding bill passed on New Year's Day (in the first-ever override of a veto by Trump), allocating substantial resources and setting the tone for open source to be at the heart of internet freedom efforts. And President Biden has cleared the way by firing Michael Pack, head of USAGM, on inauguration day. Now it's President Biden's move again, to make a better appointment at USAGM than his predecessor did.Internet freedom is a human rights issue, but it isn't just a human rights issue. As 2020 demonstrated so clearly, the internet is connective tissue for massive parts of our economy and our society. Thus, China's Great Firewall does far more than just repress free expression: it also implements an economic protectionist agenda, and is a powerful tool for fostering nationalist support at home. To counter these challenges, the Biden administration should adopt a positive agenda of supporting the global free flow of data and information, to prove in practice the superiority of digital globalization over repression and protectionism. That means growing the internet freedom agenda further, well above and beyond the State Department's Bureau of Democracy, Human Rights, and Labor where it was incubated, to embrace the economic and political divisions at State as well as the Department of Commerce.Perhaps more than any other federal agency, the State Department is in need of a hard reboot. Under Trump, the United States reverted to being a unilateral bully, bringing back the Team America: World Police spirit of the George W. Bush administration, forcing out centuries of institutional knowledge and expertise. Unsurprisingly, that strategy has failed. China in particular possesses many advantages on the global stage, and will be in an even better position in many respects after 2020. The United States faces a drastically weakened foreign policy position, and cannot turn any tides alone. In the context of internet freedom, the American agenda should include expanding efforts with the Freedom Online Coalition and other diplomatic avenues where we can work arm-in-arm with other countries who, frankly, possess more goodwill on the global stage than the U.S. does right now.Finally, leadership starts at home. For at least the past decade, the U.S. approach to digital government surveillance has been outright hostile, highlighted by frequent battles in an ill-conceived war on encryption. President Biden has an opportunity to show strong support for privacy and security by shaping the interagency and National Security Council to better balance law enforcement with civil rights and internet freedom champions. The newly created role of a White House coordinator for democracy and human rights is a good start. It's past time the U.S. stops pursuing backdoors that would put everyday internet users at great risk.Where the internet isn't open, the people aren't free. Although the challenges facing the Biden administration in putting the United States back together will be many and broad-ranging, restoring American leadership on internet freedom should be a top priority.Adam Fisk is the founder and president of Brave New Software, a leading 501(c)(3) developer of internet freedom technologies including Lantern and a recipient of U.S. government internet freedom support. Chris Riley is a strategic advisor to Brave New Software and a former member of the internet freedom program team at the State Department.

Read more here

---
posted at: 12:00am on 05-Feb-2021
path: /Policy | permalink | edit (requires password)
0 comments, click here to add the first
---
---
Content Moderation Case Study: GitHub Attempts To Moderate Banned Words Contained In Hosted Repositories (2015)

Furnished content.


Summary: GitHub solidified its position as the world's foremost host of open source software not long after its formation in 2008. Twelve years after its founding, GitHub is host to 190 million repositories and 40 million users.Even though its third-party content is software code, GitHub still polices this content for violations of its terms of service. Some violations are more overt, like possible copyright infringement. But much of it is a bit tougher to track down.
A GitHub user found themself targeted by a GitHub demand to remove certain comments from their code. The user's code contained the word "retard" -- a term that, while offensive in certain contexts, isn't offensive when used as a verb to describe an intentional delay in progress or development. But rather than inform the user of this violation, GitHub chose to remove the entire repository, resulting in users who had forked this code to lose access to their repositories as well.It wasn't until the user demanded an explanation that GitHub finally provided one. In an email sent to the user, GitHub said the code contained content the site viewed as "unlawful, offensive, threatening, libelous, defamatory, pornographic, obscene, or otherwise objectionable." More specifically, GitHub told the user to remove the words "retard" and "retarded," restoring the repository for 24 hours to allow this change to be made.Decisions for GitHub:
Is the blanket banning of certain words a wise decision, considering the idiosyncratic language of coding (and coders)?
Should GitHub account for downstream repositories that may be negatively affected by removal of the original code when making content moderation decisions, and how?
Could banned words inside code comments be moderated by only removing the comments, which would avoid impacting the functionality of the code?
Questions and policy implications to consider:
Is context considered when moderating possible terms of service violations?
Is it possible to police speech effectively when the content hosted isn't what's normally considered speech?
Does proactive moderation of certain terms deter users from deploying code designed to offend?
Resolution: The user's repository was ultimately restored after the offending terms were removed. So were the repositories that relied on the original code GitHub decided was too offensive to allow to remain unaltered.Unfortunately for GitHub, this drew attention to its less-than-consistent approach to terms of service violations. Searches for words considered "offensive" by GitHub turned up dozens of other potential violations -- none of which appeared to have been targeted for removal despite the inclusion of far more offensive terms/code/notes.And the original offending code was modified with a tweak that substituted the word "retard" with the word "git" -- terms that are pretty much interchangeable in other parts of the world. The not-so-subtle dig at GitHub and its inability to detect nuance may have pushed the platform towards reinstating content it had perhaps pulled too hastily.Originally posted on the Trust & Safety Foundation website.

Read more here

---
posted at: 12:00am on 04-Feb-2021
path: /Policy | permalink | edit (requires password)
0 comments, click here to add the first
---
---
Annual Reminder: You Can Probably Just Call The Super Bowl The Super Bowl

Furnished content.


It's that special time of year again where we here at Techdirt need to remind you that, no, the NFL cannot keep you from referring to The Super Bowl as The Super Bowl, full stop. While the NFL stomps around the entire country every year, slapping down bars and churches for hosting Super Bowl parties, all while an extremely unhelpful media plays along, the truth is that most of the bullying the NFL does isn't over actual trademark infringement. Sure, if some business advertises some association or endorsement by the NFL, that would be trademark infringement. Or if they claimed endorsement of the game or the NFL, that too would be infringing use. But a church simply hosting a Super Bowl party is not trademark infringement.And, of course, the silliest output of this confusion is people and companies using half-baked euphemisms to refer to the Super Bowl instead. Everyone knows what they're talking about and, yet, this somehow isn't infringing. So, were there any confusion, it would still exist, and yet the NFL relents. The most common of these has been "The Big Game", of course, and its use continues to this day.
Restaurants have taken to calling it the Big Game because the NFL trademarked the name "Super Bowl" and jealously defends its use. But whatever you call it, Dallas restaurants are offering a superabundance of specials and takeout options for Sunday's game. We'll just call them Super Bowl specials because we can.
And so can everyone else. Really. Go ahead. This "the Big Game" nonsense is modernity's "fire in a crowded theater." But, because trademark bullying works, and everyone is so terrified of the NFL, instead you get this...
Not to be tripped up by trademark hassles, GAPCo got creative in naming their game-day deal. The Superb Owl Sampler includes 12 garlic knots, 12 toasted ravioli (six cheese, six beef), 12 pizza poppers with large ranch and sauces for dipping. The sampler ($55) feeds up to 10 people.
How the hell do you even parody something like that?But if you really want to get yourself irritated, actual United States government agencies are getting in on this euphemistic bullshit. And the US Consumer Product Safety Commission actually made this all sillier with its own messaging on Twitter.

Why in the name of Tom Brady's sweaty jock strap would you put out a tweet that names the Super Bowl and then put out an image that uses a euphemism for it? And, related: "the Large Football Game"? I'm frankly tempted to see that graphic as an attempt to poke fun at the NFL for its protectionist nonsense, but somehow I don't think the USPSC has that much of a sense of humor.Stop. STOP. Stop giving the NFL a power it doesn't actually have. Stop acting like the league can somehow gatekeep reality. It can't. Just call the Super Bowl by its damned name. It's not Voldemort, after all.

Read more here

---
posted at: 12:00am on 04-Feb-2021
path: /Policy | permalink | edit (requires password)
0 comments, click here to add the first
---
---
Japan Looks To Amend Copyright Law To Force Some Cosplayers To Pay To Cosplay

Furnished content.


When it comes to copyright enforcement, there is always this tension between protection against true copying of expression of content or characters and the benefits of having wider attention paid to the original content. This tension is perhaps most distinctly exhibited when it comes to works and activities done and enjoyed by fans. Fan-fiction, fan-art, fan-made games: these all tend to ride the gray zone between cost and benefit to original creators such that the reactions to them by copyright holders tend to be all over the place. Some creators recognize that most of this expression is a net benefit, while others go the full protectionist route.Cosplay is in this same boat. As with the above examples, there is nuance when it comes to cosplay. Most cosplay is pure fandom, labors of love enjoyed by participants and viewers alike. In other cases, cosplayers can make serious money from cosplaying. And it's for the latter that the Japanese government appears to think new copyright laws are needed.
Currently, anyone in Japan is free to dress as their favorite characters. But it might not stay free for them to do so. The Japanese government is proposing big copyright law changes for those who make money from cosplaying—and possibly, even for those who don't.As writer and translator Matt Alt points out, the Japanese government is currently considering changing the country's copyright laws, so that professional cosplayers would pay for use of characters.
Where to begin? To be clear, this all targeting only cosplayers who are making money off of character costumes for characters created by other parties. The idea appears to be that those original creators should be getting some kind of a cut, through a license, for the cosplayers ability to dress like the character and make money from doing so.That may sound reasonable to you, but this is also opening the door to yet another encroachment on fan-created works. The long-tail of this is almost certainly further restrictions on cosplayers, on what is defined as "professional" cosplaying, and on what will or won't require such a license. If you think Nintendo, for instance, isn't eyeing this discussion while drooling, you just haven't been paying attention.And why are these conversations always so one-sided? Sure, one can argue that cosplayers dressing up as famous characters are getting some value from those original works. That's certainly true. But it works in reverse as well. Widespread interest and participation in cosplaying certainly drives some value back towards the original creator! That's how expression and enjoyment among fans work. So why is there never any discussion about that value?The answer is that, for basically ever, the world has operated just fine calling the whole thing a wash and letting cosplayers, professional or otherwise, do their thing. Put another way: what is the marginal value any individual manga, anime, or video game creator is providing to the average individual cosplayer? Whatever that number is in dollar value, I can promise you it will be less than the cost of any of these licenses.Besides, where permission from original authors makes sense, it's already happening.
On Twitter (via SoraNews), Enako discussed the issue, explaining that when she goes on television or appears at paid events, she dresses as original characters to avoid copyright infringement. Moreover, she adds that she also gets permission when she cosplays as characters created by others.
So why is Japan amending copyright law to codify what's already happening organically? And especially in a way that is almost certainly going to drive more protectionism and less cosplay culture as a result.

Read more here

---
posted at: 12:02am on 03-Feb-2021
path: /Policy | permalink | edit (requires password)
0 comments, click here to add the first
---
---
After Years Of Ignoring Abuse At A Women's Prison, Department Of Corrections Suspends Nearly Three Dozen Employees

Furnished content.


How does something horrific become an epidemic? Well, if you ignore any problem long enough, it's pretty much guaranteed to get worse.Early last year, the DOJ released its report [PDF] on New Jersey's Edna Mahan Correctional Facility. The facility houses around 400 female inmates and is overseen by a little over 400 employees. Years of complaints from inmates prompted the DOJ to open an investigation in 2018. It found a pattern of rights violations, pointing out that five corrections officers had been convicted of sexual abuse charges from October 2016 to November 2019, including these three:
In May 2018, an Edna Mahan correction officer was found guilty of five counts of sexually abusing prisoners. According to the sentencing judge, the "pervasive culture" at Edna Mahan allowed this correction officer to abuse his "position of authority to indulge in [his] own sexual stimulation."In July 2018, another Edna Mahan correction officer pled guilty to three counts of official misconduct after he admitted sexually abusing three separate prisoners.In January 2019, another correction officer pled guilty to official misconduct charges after admitting that he repeatedly sexually abused two Edna Mahan prisoners over a period of several years. In sentencing him, the New Jersey court concluded that the officer had "sexually assaulted a vulnerable population."
That's only the tip of this iceberg. The Wikipedia page for the corrections facility lists seventeen instances of corrections officers being convicted, charged, or fired for sexual misconduct, rape, or sexual assault. The list dates back to 1994, showing this to be an ongoing problem that the New Jersey Department of Corrections has yet to bring under control.This failure to address the problem made it systemic. Here's the conclusion reached by the DOJ following its two-year investigation:
The Department's investigation has uncovered facts that provide reasonable cause to conclude that Edna Mahan (1) fails to protect women prisoners from sexual abuse by staff in violation of the Eighth Amendment; and (2) exposes women prisoners to substantial risk of serious harm from sexual abuse in violation of the Eighth Amendment. Systemic failures in Edna Mahan's policies and practices discourage reporting of sexual abuse; do not provide an adequate response to and investigations of allegations of prisoner sexual abuse; and result in inadequate supervision that provides opportunities for further sexual abuse.
The details in the report are extremely disturbing.
Substantiated incidents of staff sexual abuse of prisoners at Edna Mahan are varied and disturbing. Some staff abused prisoners through unwanted and coerced "sexual contact" or "sexual penetration." In other instances, prisoners were forced to perform fellatio on or touch the "intimate body part" of staff. In still other instances, staff required prisoners to undress or masturbate in their cells—or even engage in sexual acts with other prisoners—while staff watched. In at least one instance, a correction officer forced a prisoner to keep watch as he sexually abused her to prevent detection of his crimes.
And it gets worse:
Similarly, numerous prisoners report that, during unnecessarily close contact with male correction officers, some correction officers "rub" or "press themselves" – that is, their clothed genitals – against prisoners. Others report being strip searched with several other women at the same time or while male correction officers watched. In one instance, a prisoner reported that a male officer watched as she inserted a tampon. In another instance, it was reported that a group of officers had "viewing parties" of a prisoner with mental illness on suicide watch who believed she was a male and would follow officers' instructions to dance and show her "penis" while undressed.
Much worse:
Correction officers and staff at Edna Mahan routinely refer to prisoners as "bitches," "hoes," "assholes," "dyke," "stripper," "faggot-assed bitch," "motherfuckers," and "whores." They graphically comment on prisoners' physical appearance or remark about their perceived sexual inclinations and histories.
Prisoners reporting sexual abuse by corrections officers were retaliated against, sent to solitary confinement after being shackled and placed on a Body Orifice Security Scanner, supposedly to check for evidence of assault. (Even if true, these examinations could be performed without shackling prisoners to a chair and subjecting them to a device that searches for hidden contraband, rather than evidence of rape.) Additional privileges were also stripped from those reporting assaults by officers, with some of them losing personal possessions or work opportunities.In addition, the reporting system was inadequate to handle complaints. And investigations by the prison were deliberately less than thorough, resulting in unearned exonerations and abandoned cases.Almost a year after the release of this damning report, the trickle of disciplined corrections officers has become a deluge. Following these horrifying allegations, heads have finally begun to roll en masse.
One woman, Ajila Nelson, told NJ.com that officers at the Edna Mahan Correctional Facility on Jan. 11 handcuffed her and others, before punching, kicking, stripping and dragging her to a shower, after which she says an unidentified male officer got on top of her and groped and sexually assaulted her.
And there's more:
Prisoners have told family members and advocates that at least three women at the Edna Mahan Correctional Facility were hurt by officers Jan. 11, including one inmate who now has a broken eye socket and a transgender woman beaten so badly she cannot walk and is now in a wheelchair.
That got the attention of state lawmakers. And with their attention engaged, the NJ Department of Corrections finally decided -- almost a year after the DOJ released its report -- to start taking the problem seriously.
Thirty-one staff members at the Edna Mahan Correctional Facility, New Jersey's only women's state prison, have been suspended following reports of inmate abuse by prison guards.The New York Times reports 22 guards, nine supervisors and the prison's top administrator have all been suspended. The New Jersey attorney general's office has opened an investigation into the matter and the State Assembly announced it will be holding hearings to look into the accounts of abuse.
The prison that refused to properly investigate itself is now under two new microscopes. And it has responded by suspending 7 percent of its staff. That's huge. And there will likely be more names added to the list before these concurrent investigations are concluded.As a nation, we claim to believe in justice: the payment of debt for wrongs against society. But what we're really doing is handing human beings to people who don't believe those in their charge are anything more than receptacles for abuse. It's not enough to take their freedom away. They must also be stripped of their humanity and agency. And when crime goes down we applaud the improvement. But the criminal acts that occur in prisons and jails go ignored because it's easier to believe whatever happens to incarcerated citizens is something they're obligated to endure.It's this attitude that allows behavior like this to fester and expand until it can no longer be ignored. Edna Mahan isn't an anomaly. It's just the way things are. Most of it flies under the radar. Every so often, the ugliness pokes its head out of the ground and it's no longer able to be ignored. The NJ Department of Corrections had years to address this and it chose not to. That it's doing it now is better than nothing. But any agency that gives a damn about the people it's overseeing would have dumped these abusers and enablers years ago -- not just when faced with a bunch of bad press and government investigations.

Read more here

---
posted at: 12:02am on 03-Feb-2021
path: /Policy | permalink | edit (requires password)
0 comments, click here to add the first
---
---
RIAA Launches Brand New Front Group Pretending To Represent Independent Artists

Furnished content.


A few days ago, a friend asked if I'd ever heard of the "Digital Creators Coalition," an apparently new group that claimed to be representing independent artists. I was unfamiliar with it, and its website provided basically no information about who was actually behind it, beyond this vague statement on its "who we are" page:
The Digital Creators Coalition (DCC) is a group of associations, companies and organizations that represent individual creators, independent producers, small-and-medium-size enterprises (SMEs), large businesses, and labor organizations from the American creative communities. We contribute significantly to U.S. GDP, exports and employment - collectively employing or representing millions of American creators, and contributing billions of dollars to the U.S. economy.
Right... but... uh... who? There's no named staff. There's nothing that shows who these associations, companies, and organizations actually are. Though, if you click through on the website to their "comments" page, it takes you to two separate letters that were sent nearly a year ago to negotiators trying to sort out a US-UK trade agreement, asking for the most extreme versions of copyright possible, including copyright term extension, secondary liability on websites that host content, no language on "balance" or "fair use" (yes, they explicitly say neither term should be mentioned). It's insanity.
Of course, that letter also reveals who they are, and it's a who's who of industry associations that lobby for the interests of the largest gatekeepers, and not, as the organization's website suggests, small and independent creators:
I mean, you've got basically all the copyright maximalist extremist groups there: the RIAA, the MPA, the Author's Guild, Creative Future, the Recording Academy, ASCAP, SoundExchange, NMPA, the IIPA. Not surprisingly, but incredibly disappointing is that the News Media Alliance is there. The News Media Alliance used to be the Newspaper Association of America, and, as such, you'd think would be supportive of free speech and the 1st Amendment. Considering how much newspapers rely on fair use, you'd think it would be odd that they're now against fair use. But, over the past few years, the leaders of the News Media Alliance have become so obsessed and infatuated with "GOOGLE BAD!" that apparently they have no problem throwing their lot in with copyright maximalists against their own members' interests. The organization literally came out against fair use a few years ago, and has since become just as bad (in some ways worse!) than some of the other organizations here.But, just as if to prove that this group has nothing to do with small and independent creators, and is just a front for the big gatekeepers who screw over small and independent creators, the RIAA itself put out a press release announcing this group's official launch. Oh, and in case there was any doubt who is really behind this group, a simple whois lookup on who registered the website reveals all:
Yup. This organization set up to supposedly support small and independent artists... was literally set up by the RIAA itself.This would be the same RIAA whose chairman and CEO's key claim to fame is that while he was a Congressional staffer, he snuck four words into an unrelated bill that literally would take the copyrights from artists and give them to record labels. No one realized he had done this until after it was passed and became law, at which point, the RIAA immediately hired him, and where he's moved up the ranks until he was in charge. This move set off a huge fight with tons of artists screaming about how the RIAA had actually "stolen" their copyrights out from under them, and Congress had to go in and fix this.That's who's protecting the interests of small and independent creators? Don't make me laugh.This is also the same RIAA made up of the major labels who have a long and detailed history of screwing over some of its biggest artists through creative accounting (the only thing the RIAA really does that is creative) to make sure it never needs to pay artists and to keep them tied to the system. These are not the friends of independent artists.Notice who is not a part of this coalition? Any of the companies who have made it possible for actual small and independent artists to make, distribute, promote, build an audience, and make a living these days. No Apple. No YouTube. No TikTok. No Kickstarter. No Patreon. No Spotify. No Bandcamp. No Substack. Odd, isn't it? Then again, maybe not.But seeing as this group is now officially "launched" you can expect to see a bunch of bullshit quotes from them that gullible reporters will repeat without question, saying that it's a group to support artists. Don't believe them. This is an organization to support the copyright maximalism of groups that have spent decades screwing over independent artists.

Read more here

---
posted at: 12:00am on 02-Feb-2021
path: /Policy | permalink | edit (requires password)
0 comments, click here to add the first
---
---
Six More Houston Cops Involved In Deadly Drug Raid Are Now Facing Criminal Charges

Furnished content.


We still haven't seen an end to the fallout resulting from a botched (and bogus) drug raid in Houston that ended with two residents killed by police officers. It also ended with five officers wounded -- one of them paralyzed. The raid was predicated on false statements made by Officer Gerald Goines, who secured permission from a judge to perform a no-knock raid, claiming the residents were armed and selling heroin.While guns were recovered, no heroin was. Indeed, no evidence of drug dealing was recovered -- just personal amounts of marijuana and cocaine. The informant that supposedly made the heroin buy never existed and the supposed result of this controlled buy was actually heroin pulled from an officer's squad car. All of Goines' lies led to two deaths and five injured officers. Goines is currently facing a slew of charges, including two counts of felony murder.Other participants in the raid are facing charges as well. KHOU reports six more Houston PD officers have been indicted for their involvement in the raid or for other criminal acts they engaged in while working in the department's narcotics unit.
On Monday, a Harris County grand jury indicted another officer for murder and five others for engaging in criminal activity.The six officers indicted Monday are in addition to the six officers who have already been indicted.Felix Gallegos, the officer charged with murder, fired the shot that killed Dennis Tuttle, according to court documents.
That's 12 officers, all under indictment, and all involved in the drug raid. Following the ill-fated raid, the Houston PD investigated its own narcotics unit, "discovering" that it had been given free rein for years. Paperwork routinely went unreviewed and unapproved. And that's when there was any case-related paperwork to be found. In some cases, no warrants were filed. In others, supporting documents were missing. Multiple discrepancies in evidence and expense reporting were also uncovered. This hands-off approach is directly responsible for the travesty the Houston PD calls a "narcotics unit."And it's this hands-off approach that's led to the charges facing five of these recently indicted officers -- all accused of falsifying records to obtain pay for overtime hours they apparently didn't work. Some of this has been going on for a long time, which means the resulting sentences will be longer, too. Three officers are facing hefty felony charges for this time theft, ones that carry with them a maximum sentence of life in prison:
Oscar Pardo – (HPD) Engaging in Organized Criminal Activity, to wit: Aggregate Theft by a Public Servant ($30,000 or more but less than $150,000) and Tampering with a Governmental Record (1st degree)Cedell Lovings – (Status Unclear) Engaging in Organized Criminal Activity, to wit: Aggregate Theft by a Public Servant ($30,000 or more but less than $150,000) and Tampering with a Governmental Record (1st degree)Nadeem Ashraf – (HPD) Engaging in Organized Criminal Activity, to wit: Aggregate Theft by a Public Servant ($30,000 or more but less than $150,000) and Tampering with a Governmental Record (1st degree)
Two more officers -- Clemente Reyna and Thomas Wood -- have had identical theft charges added to the charges they're already facing for their participation in the drug raid.And another two officers are facing lesser theft charges, but ones that still carry potential 20-year sentences. Five of these officers retired as soon as it became clear they might face criminal charges. The other seven are apparently still employed, though that will likely change now that they're under indictment.There was a lot of trust to go around in the Houston Police Department. Not a lot of verification, though. It took the senseless killing of two harmless Houston residents to force the PD to take a look at what its officers were doing. And it's probably going to take several criminal trials to force the PD to actually care about officer accountability so it doesn't get to the point of felony murder charges and hundreds of thousands of dollars of illegally obtained paychecks before the PD can be bothered to police its own.This isn't the final postscript on this horrific incident. There will certainly be more to come, what with a dozen officers facing the possibility of a trial and the PD forced to provide what will certainly be damning information in response to discovery requests.

Read more here

---
posted at: 12:00am on 02-Feb-2021
path: /Policy | permalink | edit (requires password)
0 comments, click here to add the first
---
---