---
Another 1.2 Million Consumers Ditched Traditional Cable TV Last Quarter

Furnished content.


Surprising nobody, the traditional cable TV industry lost another 1.2 million paying subscribers last quarter as users flee to other alternatives. Largely those alternatives consist of streaming video services that are cheaper, more flexible, and feature better customer service. Many others are rediscovering free over the air broadcasts. Others have simply shifted away from TV entirely, choosing to embrace YouTube or TikTok.According to Leichtman Research, the top cable companies lost 587,649 customers in just the last quarter, compared to 698,000 for telco and satellite providers. Over the last year, traditional pay TV providers saw a net loss of about 4,520,000 subscribers, compared to a loss of about 5,460,000 over the year prior (impressive for a trend that the industry spent years pretending wasn't actually happening). Fortunately for the industry, the cord cutting revolution appears to be slowing somewhat:
"Pay-TV net losses of 1,230,000 in 2Q 2021 were about 275,000 fewer than in 2Q 2020 on a pro forma basis, said Bruce Leichtman, president and principal analyst for Leichtman Research Group, Inc. Over the past year, top pay-TV providers had a net loss of about 4,520,000 subscribers, compared to a loss of about 5,460,000 over the prior year."
While the rate of decline is slowing there's still a lot of room to fall. The top traditional pay TV providers still serve roughly 77.6 million subscribers in the US, many of which stick around thanks to sports programming. As sports increasingly shifts away from traditional cable providers and toward streaming alternatives you can expect subscriber counts to follow suit.Users continue to flee traditional cable for the usual reasons: high prices, terrible customer service, and bloated and inflexible cable channel bundles. There continues to be some headway in these arena by entrenched cable TV providers, but there's a contingent of execs that simply refuse to seriously compete on price. In large part because many of these companies (Comcast) enjoy regional monopolies over broadband access, allowing them to squeeze those subscribers tighter than ever with bizarre fees and broadband usage caps and surcharges.Meanwhile increased competition in the streaming TV space has also made things a bit rougher on sector leader Netflix as well, which has been bleeding subscribers in both the US and Canada thanks to growing new entrants like Disney Plus. All in all the shift away from dominant cable TV providers toward more flexible, cheaper alternatives and actual competition (instead of the "wink wink, nod nod" non-price competition we saw between satellite TV and traditional cable TV for years) continues to be a great thing.

Read more here

---
posted at: 12:00am on 31-Aug-2021
path: /Policy | permalink | edit (requires password)
0 comments, click here to add the first
---
---
Netflix's Announced 'Video Game Streaming' Foray Fizzles Into Some Mobile Games Using Netflix IP

Furnished content.


You may recall that my colleague Karl Bode discussed Netflix's response to real competition last month, dealing mostly with how Netflix has attempted to hand-waive concerns over losing subscribers in the face of increasing streaming options from the likes of Amazon, Disney, and Comcast. But buried down in the last paragraph was a reference to Netflix's reported interest in video game streaming. Reports indicated that Netflix had hired an executive that had previously worked for EA, speculating that the company was getting into game publishing. There was no official word from Netflix as to what this game studio would actually look like, and the speculation was roughly what you would expect.
While Netflix has not yet confirmed what shape its video game publishing arm might take, Bloomberg reporter Mark Gurman has suggested that the effort could lead to "video games [as part of] its service in the next year." The use of "video games" as a descriptor is key, as that differentiates the effort from the "choose your own adventure" TV specials that have become more common on the service since Black Mirror's "Bandersnatch" special debuted in 2018.
A tantalizing thought, to be sure. Would Netflix, the company that largely changed the way the public consumes television and movie content, jump into video game streaming in some way to compete with Amazon, Google Prime, and the like? Given the lackluster adoption of such video game streaming services, and given Netflix's reputation for redefining content via streamed services, such speculation certainly made sense.But, no, Netflix is not getting into that sort of video game streaming service. Instead, the studio will build mobile gaming apps available to Netflix subscribers, chiefly utilizing Netflix intellectual property.
One month after its vague announcement of a new gaming-centric strategy, Netflix has explained how it will "publish" video games in the foreseeable future: as downloadable smartphone apps, available exclusively for paying video-streaming subscribers.The news coincides with the company's public launch of Netflix Gaming on Thursday as part of the service's smartphone app... but only in Poland—and only on Android. The company's American Twitter translated Thursday's Polish announcement, which explains how the service works. It also announced the two games launching as part of the service today: Stranger Things 3, a 16-bit beat-'em-up that was previously available as a standalone Google Play purchase (and is still live on PC and consoles); and Stranger Things: 1984, a rebranding of a 2017 smartphone-exclusive game that revolve around slow, puzzle-solving movement through pixelated TV-series environments.
Yawn. The more detailed announcement is honestly underwhelming. On top of that, the way Netflix is attempting to silo this new gaming content behind the Netflix app for subscribers sounds like an absolute user experience nightmare.
To access this content, you'll need to log in to Netflix's Android app while using a Polish IP address, then open the region's new "N Gaming" row of icons (pictured below). From there, pick either of those games, and the app will direct you to their Google Play download listings. Once downloaded, the apps in question will request your Netflix credentials before loading, and they will not work without an active Netflix membership.
The Polish IP part of this equation is a function of this all being in beta, so we'll leave that aside. But accessing the Google Play store by first navigating a complicated menu in the Netflix app... only to then have to re-input your user name and password for Netflix into the game application? Come on now, this isn't the efficient user experience Netflix made its name on.And I'm also terribly confused why Netflix would even want to restrict selling its games only to Netflix subscribers. Why not sell to, you know, everyone? This reeks of console exclusivity, where gaming console companies strike deals with developers to only appear on their consoles as a way to drive more console sales. Is Netflix's strategy really to use these mobile games to drive more people to subscribe or stay subscribed to its main offering?If so, it's a terribly weak move, and unlikely to work. Maybe the game catalogue will grow, but I can't imagine anyone considering unsubscribing to Netflix changing their minds simply to play a Stranger Things mobile game.

Read more here

---
posted at: 12:00am on 31-Aug-2021
path: /Policy | permalink | edit (requires password)
0 comments, click here to add the first
---
---
This Week In Techdirt History: August 22nd - 28th

Furnished content.


Five Years AgoThis week in 2016, we watched as telcos tapdanced around net neutrality requirements, and also took a look yet again at the clear evidence that net neutrality didn't hurt broadband investment. The think tank that originally proposed SOPA claimed to have "proof" that it would have been great, Obama was pushing to ratify the TPP, and India made it a criminal act to merely visit a site that was "blocked" for copyright infringement. On the podcast, we had an interview with Kim Dotcom's lawyer, while it also came out that the FBI had let its seized Megaupload domains lapse and they were now enhanced darkweb child porn sites in its efforts to combat them). This was also the week that we launched our Copying Is Not Theft t-shirt (which was much later taken down by Teespring with no explanation, so you can now get it on Threadless.Ten Years AgoThis week in 2011, the chorus of mainstream press talking about how the patent system is broken was getting louder, with even the Wall Street Journal getting in on the action. The RIAA filed a predictable appeal over the judge's decision to decrease the jury award in the Jammie Thomas trial, the ruling in the MP3Tunes lawsuit thankfully protected DMCA safe harbors, and we looked at an important but often overlooked aspect of the fair use ruling over South Park's What What (In The Butt)? parody. Meanwhile, the fight was on over PROTECT IP, with Don Henley supporting it due to his irrational hatred of YouTube and the Washington Post promoting it with an editorial full of questionable claims, while Paul Vixie issued a thorough explanation of how it would break the internet. And we also had one of our first posts about what, at the time, was a "side show" in the Oracle/Google patent fight: API copyrights.Fifteen Years AgoThis week in 2006, we took a look at how takedown notices were challenging the internet's usual ability to route around censorship, and discussed the failures of the RIAA's automated lawsuit threat strategy (as well as looking at a way to stupidly lose such a lawsuit, and another way to get one dismissed). Heads were rolling inside AOL over its search data leak, while researchers were conflicted about making use of the potentially very useful data. This was also the week that Amazon rolled out something that would become a central component of so many modern internet services, by offering processing power at utility rates for people to use in building products.

Read more here

---
posted at: 12:00am on 29-Aug-2021
path: /Policy | permalink | edit (requires password)
0 comments, click here to add the first
---
---
Copyright Scammers Getting More Sophisticated, Just As The US Is About To Make It Easier For Them

Furnished content.


Back in May, we wrote about the growing number of pure copyright scammers, using completely made up claims of copyright infringement as a form of a phishing technique. As I mentioned in a comment, we get multiple such messages every week here at Techdirt -- with almost identical comments being placed (or attempted at least -- since our spam filter seems to have caught all or most of them) on various Techdirt articles claiming infringement. They always came with a link to "the evidence," (which we never clicked of course).These scams are different than standard copyright trolling, in which there may even be a kernel of truth in the initial copyright claim. Here, the scammers are just phishing for logins or other private data, and using the ridiculously overbroad power of copyright statutory damages to frighten people into coughing up the information. And, not surprisingly, the scam is evolving. Sophos recently reported that it's now seeing scammers sending the copyright threats with phone numbers to call, rather than phishing links.
In this case, the crooks are deliberately avoiding using a call to action link that leads to a fake login page or an unlikely domain name, which could easily be blocked by cybersecurity products or even by your browser.They've copied a trick that tech support scammers have been using for years, and that some ransomware scammers have recently adopted, namely giving you a toll-free phone number to call for help.Given that the call is free, and given that phoning up doesn't directly expose your computer or your browser to fake websites or booby-trapped downloadsit feels as though dialling the number ought to be a low-risk option by means of which you can quickly find out whether this is a scam or not.All we can say is, Don't do it!Never feel bullied, pressurised, lured, seduced or cajoled into contacting someone you don't know on their say-so.Remember that the crooks at the other end of the phone line in this case are almost certainly not in the US, even though the contact number is directed via a US tollfree service.And these scammers take calls like this for a living, so they know every trick in the social engineering book.The best that can happen if you do call back is that you will reveal nothing about yourself that you didn't mean to; the worst is that you might just blurt out something you later wish you hadn't.
Of course, what's really concerning about all this is that, very soon, these scammers will have another tool to use to intimidate people. At the end of this year, the Copyright Office is supposed to be launching the Copyright Claims Board, the key part of the CASE Act that Congress slipped into a "must pass" government funding bill at the end of last year.Defenders of the CASE Act insisted that the system can't be abused, because it includes an "opt-out." We've already detailed why that's not going to work -- but it also ignores that not all abuse actually involves using the system in the first place. Instead, merely threatening people with taking them to the Copyright Claims Board will almost certainly be added to the playbook of these scammers. Since there will be news articles and coverage about the CCB and what it means for people, it will feel that much more "legitimate" to potential victims of these scammers.

Read more here

---
posted at: 12:00am on 28-Aug-2021
path: /Policy | permalink | edit (requires password)
0 comments, click here to add the first
---
---
Canadian Cops Blow Off Drone Operation Laws, Crash Their Drone Into A Landing Airplane

Furnished content.


Someone finally hit an airplane with a drone while flying it near an airport. And of all people, it was the cops. (h/t Justin England, via Hackaday)
The Transportation Safety Board is investigating after a York regional police drone collided with an airplane approaching Buttonville Airport in Markham last week.Police confirmed to CityNews they had deployed a Remote Piloted Vehicle (RPV), known more commonly as a drone, as part of an investigation near the airport on August 10.While it was being operated, the drone collided with a Cessna 172 operated by Canadian Flyers International that was attempting to land. There was an instructor and student pilot on board.No injuries were reported and the plane was able to land without any further incidents.
This may sound like an open and transparent response by the York police about its irresponsible drone piloting, but this admission about the incident at the Toronto airport was prompted by the Canadian government's report on the incident, which was released eight days after the accident.And the police haven't had much else to say about its errant drone, which apparently came only inches from killing everyone on board.
Dario Matrundola, who is one of the owners of the flight school Canadian Flyers, said had the drone struck a few inches further away, both occupants could've been killed."It would have been a tragedy, it would've been loss of life or injuries for sure. The pilots are very lucky they were able to land the plane and avoid injuries," said Matrundola.
Here's Transport Canada's summary of the accident:
The instructor for a Canadian Flyers International Inc. Cessna 172N (C-GKWL) reported that they had just turned from base leg to final for Runway 15 at Toronto/Buttonville, ON (CYKZ) and were established and stable at 1100 ASL, or about 500 AGL, when they felt a jolt that pushed them back on their seat. They thought they had hit a large bird. They proceeded to land. There was no change in configuration or power since they were about to land. When exiting the aircraft, they were shocked to see a major dent on the left underside of the engine cowling. The airbox was also bent. A few hours later, a police detective confirmed a York Regional Police drone had struck their aircraft. The aircraft suffered major damage, including a propeller strike.
The report also points out NavCanada, which oversees the country's civil air navigation system, was not made aware of the drone flight nor the York Police's interest in sending a drone up into the airport's airspace to engage in an investigation.If this had been a "civilian" drone, the public would have been informed immediately and regularly updated with progress on catching the perp. But this was a cop flight, so the cops acknowledged the flight when they could no longer deny it, and only because they were now the subject of an investigation by another government body.It is indeed illegal to fly a drone within three nautical miles of an airport. This ban on operation can only be temporarily lifted with the explicit permission of NavCanada. Obviously this didn't happen. The only question now should be whether the York Police is an individual or a corporation.
Fines for individuals

up to $1,000 for flying without a drone pilot certificate

up to $1,000 for flying unregistered or unmarked drones

up to $1,000 for flying where you are not allowed

up to $3,000 for putting aircraft and people at risk

Fines for corporations

up to $5,000 for flying without a drone pilot certificate

up to $5,000 for flying unregistered or unmarked drones

up to $5,000 for flying where you are not allowed

up to $15,000 for putting aircraft and people at risk
And don't forget to stack the charges!
If you break more than one rule, you could receive multiple penalties.
Supposedly, everyone is just waiting for the TSB to conclude its investigation. And then there will be more waiting while the York Police engages in its own investigation. Possibly in the next few weeks or months, the news will have cycled often enough someone can fire off a press release late in the afternoon just ahead of the next convenient bank holiday.Maybe we'll be pleasantly surprised. Maybe someone will get rung up for being completely irresponsible on top of actually violating federal law. But I doubt it. When a citizen does it, nothing can get the police to shut up about it. But when the police do it, no member of the public can get them to start talking, much less treat their own internal lawbreaking as seriously as they treat lawbreaking by outsiders.

Read more here

---
posted at: 12:00am on 28-Aug-2021
path: /Policy | permalink | edit (requires password)
0 comments, click here to add the first
---
---
Massachusetts District Attorney Delays Forfeiture Proceedings For Years, Some Involving As Little As $10

Furnished content.


We all know how lousy civil asset forfeiture is. In lieu of actual criminal charges, cops (and feds) just seize any property they can get their hands on, turning other people's money into pure profit for law enforcement agencies. Money they can often spend with little to no oversight.It's a profitable venture. Cops steal more than actual crooks do, netting billions a year across the nation. The legal process for forfeiture asks very little from law enforcement -- rarely more than a mild hunch the seized funds are linked to criminal acts. The government has a very low bar to meet in most cases. For the people who've suddenly seen their money taken away, the bar is much higher.In most cases, the government gets to decide when forfeiture proceedings begin. It also doesn't have to make much of an effort to notify forfeiture victims that proceedings have begun. That leads to a lot of default wins for government agencies. The amount of money it takes to hire a lawyer to challenge a forfeiture is often more costly than the funds seized, leading to even more government "wins." Every cheap win is treated like a victory in the war on crime, even when it's usually nothing more than the government making some random person poorer.In the state of Massachusetts, one particular District Attorney is ensuring there's no due process when it comes to asset forfeiture. Thanks to severely lax laws, there's no lower limit for seizures, which means the DA's office is more than happy to help cops nickel-and-dime people to figurative death. There's also no legal obligation for the office to move forward with forfeitures in a timely fashion.This has led to the DA's office waiting for as long as possible to initiate some proceedings. And, since the office takes home a percentage of every successful forfeiture, it does as little as possible to ensure those who've had their money seized are made aware that proceedings are imminent. Saurabah Datar and Shannon Dooling have done some digging to produce this enraging report for ProPublica. (h/t @pakanukeha)
In an investigation with ProPublica, WBUR also found that Worcester County District Attorney Joseph D. Early Jr. regularly stockpiles seized money, including that of people not charged with a crime, for years, and sometimes decades.In more than 500 instances between 2016 and 2019, WBUR found that funds had been in the custody of the DA's office for a decade or more before officials had attempted to notify people and give them a chance to get their money back. One case dated back to 1990.
This is an obvious mockery of due process. And it has been the standard operating procedure for the Worcester County DA for more than 20 years. Not that anyone cares. Or could even be allowed to care. Nearly nonexistent reporting requirements means state and county oversight likely have no idea this is how the DA is handling forfeitures. Since there are no better rules on the books, there's nothing compelling DA Early to change how he handles his forfeiture business.Operating in an accountability vacuum, the DA's office engages in bullshit like this:
Take, for instance, Commonwealth of Massachusetts vs. Twenty Eight Thousand Three Hundred Fifty Six Dollars Fifty Cents ($28,356.50) In United States Currency. At first glance, the sum seems to reflect proceeds from a substantial drug bust. But court documents actually list 109 separate names and seizures — including one as low as $11 — spanning nearly 20 years.Among the names in this giant batch in 2018 was Jones-Bernier, whose $95 had been taken four years prior. He was listed in an ad the DA's office ran in the Worcester Telegram & Gazette, as having no known address. Jones-Bernier didn't know his name had appeared there until he was contacted by WBUR. He said Early's office could have sent a letter to his home address, which was on his driver's license at the time of the arrest.
This is how you end up with default "victories" that ensure the DA's office scores some cash while doing nothing to serve the interests of the public. Nothing about this deters criminal activity. The DA's office isn't helping cops put bad people away and disrupt major criminal organizations. This is the work of a government-funded pickpocket.
WBUR's analysis of Worcester County forfeitures from 2017 through 2019 found that more than half of the seizures in these cases were for less than $500. In one incident, Fitchburg police seized $10 from a man listed as homeless. In another, Sturbridge police took $10 from a 14-year-old boy.
Stealing is the DA's business. And business is good.
His office brought in nearly $4 million in forfeitures in just the latest four years, from fiscal 2017 through 2020, according to analyses by the state's trial court.
Despite all evidence to the contrary, the DA continues to claim this is a worthwhile venture, rather than the petty theft it appears to be.
Early said he's proud that his office has spent large sums of confiscated money on youth programs and drug prevention. "I love taking the drug dealers' money. I love taking their lifeblood and putting it back into the community," he said.
Taking $10 from a 14-year-old is giving back to the community? Did you at least throw the homeless person's $10 bill into the general fund to support shelters? Is your county more free of drugs since you've thrown your weight behind shaking down citizens for spare change?All signs point to no. Here's the data: Worcester County is still one of the most dangerous counties in the nation. Lifting loose cash from random residents hasn't improved things at all. If there's any downward trend noticeable here, it's got nothing to do with the supposedly drug warring DA. It has to do with the general trend towards lower crime rates that has been ongoing for years all around the nation. Here's the county's crime rate per 100,000 people, sourced from the FBI's crime data.
And the cops in Worcester are just as lousy as the District Attorney.
Worcester taxpayers have paid more than $4 million since 2010 to settle almost 30 lawsuits against the police department, according to records gathered by the group Defund WPD.[...]The payouts across the 27 settlements range from as low as $8,000 up into the millions. There are also more than a dozen lawsuits against Worcester police that haven't been settled yet.
Seems like the $4 million forfeited by the DA's office over the last four years would have covered the PD's lawsuits for an entire decade. Maybe that's where those funds should go. But until legislators in Massachusetts get serious about reforming this obvious abuse of an ideal, government employees like DA Early will continue to treat residents like ATMs.

Read more here

---
posted at: 12:00am on 27-Aug-2021
path: /Policy | permalink | edit (requires password)
0 comments, click here to add the first
---
---
Doing It Right: Bethesda Likes 'Fallout' Mod So Much It Hires Some Of The Team That Made It

Furnished content.


How gaming companies treat their modding communities that spring up around their games is something of a fault line in the industry. Game studios tend to be either pro-modding or not, with very little space in between. Nintendo, for instance, is notoriously anti-modding of its games. Bethesda, on the other hand, has traditionally been quite open-minded when it comes to the modding communities that have sprung up around its games. We've made the point for a long, long time that embracing modding communities is typically a massive boon to gaming companies and the restrictive attitude companies like Nintendo take makes little sense. Mods extend the shelf life and interest of games, driving attention and elongating the sales cycle and windows for those games. Giving up a little control for more sales seems to only make sense.But, speaking of Bethesda, some developers go even further. For instance, there is a forthcoming Fallout mod made by an independent team that is entitled Fallout: London, and it looks amazing.Now, I am very much a fan of this franchise, so I'm comfortable saying that if you can see a quality difference between what appears in this trailer and what has appeared in official trailers for the franchise, you're a much bigger stickler for details than I am. The mod changes more than just the location, though. It puts an emphasis on different types of gameplay to reflect a more British sensibility.
Fallout: London is an ambitious Fallout 4 modification that was officially revealed earlier this year. Taking place in the time between the first two games and set leagues away from the franchise's traditional Americana-inspired stomping grounds, Fallout: London features a massive new map to explore, fresh-faced factions to join, and an added focus on melee weapons over firearms.
Now, the whole thing has been created on a volunteer basis and I haven't seen any request for money or monetary support on its website, so there is that. Still, little would stand in Bethesda's way if it wanted to shut this whole thing down. Plenty of gaming companies have done that sort of thing with fan-made projects in the past, citing copyright and/or trademark concerns. So, really, are we just waiting for the Bethesda hammer to drop on this project?If so, it won't be the hammer you were expecting. Instead, Bethesda's folks seemed to be so impressed by the work on the mod that it is hiring some of its team directly.
Stephanie Zachariadis, head writer of the highly anticipated Fallout: London mod, is leaving the development team after being hired as an associate quest designer at Bethesda Game Studios, project lead Dean Carter announced recently."This is utterly fantastic news and something that all of the team here at Fallout: London stand behind and we wholeheartedly wish her the best on her endeavors," Carter wrote in the mod's official Discord server. "We hope that she will give them the same groundbreaking story and quests that she gave us."
We often talk about how companies can be cool and human with their own fans, rather than restrictive assbags, and what a boon this can be to the company. It's a whole new level when a gaming company decides to take that same tact with its modding community. Bethesda obviously recognizes the value in its modding community and is now leveraging it in multiple ways.
The mod itself makes Fallout 4 continue to be relevant and perhaps even more relevant for the UK audience.
Allowing the work on the mod to come to fruition revealed a talent-hiring opportunity for Bethesda in the form of Zachariadis.
That hiring decision should only encourage the modding community to work on labors of love even harder, with the understanding that Bethesda is both cool with it and might even reward them for it down the road.
The public gets to see the company behave in a human and awesome way, a PR benefit.
I am failing to see a single downside for Bethesda to any of this, making me wonder yet again why other companies ever do it differently than this.

Read more here

---
posted at: 12:00am on 27-Aug-2021
path: /Policy | permalink | edit (requires password)
0 comments, click here to add the first
---
---
Content Moderation Case Study: YouTube Deals With Disturbing Content Disguised As Videos For Kids (2017)

Furnished content.


Summary: YouTube offers an endless stream of videos that cater to the preferences of users, no matter their age and has become a go-to content provider for kids and their parents. The market for kid-oriented videos remains wide-open, with new competitors surfacing daily and utilizing repetition, familiarity, and strings of keywords to get their videos in front of kids willing to spend hours clicking on whatever thumbnails pique their interest, and YouTube is leading this market.
Taking advantage of the low expectations of extremely youthful viewers, YouTube videos for kids are filled with low-effort, low-cost content - videos that use familiar songs, bright colors, and pop culture fixtures to attract and hold the attention of children.Most of this content is innocuous. But a much darker strain of content was exposed by amateur internet sleuths, which was swiftly dubbed "Elsagate," borrowing the name of the main character of Disney's massively popular animated hit, Frozen. At the r/ElsaGate subreddit, redditors tracked down videos aimed at children that contained adult themes, sexual activity, or other non-kid-friendly content.Among the decidedly not-safe-for-kids subject matter listed by r/ElsaGate are injections, gore, suicide, pregnancy, BDSM, assault, rape, murder, cannibalism, and use of alcohol. Most of these acts were performed by animated characters (or actors dressed as the characters), including the titular Elsa as well as Spiderman, Peppa Pig, Paw Patrol, and Mickey Mouse. According to parents, users, and members of the r/Elsagate subreddit, some of this content could be accessed via the YouTube Kids app — a kid-oriented version of YouTube subject to stricter controls and home to curated content meant to steer child users clear of adult subject matter.Further attention was drawn to the issue by James Bridle's post on the subject, entitled "Something is Wrong on the Internet." The post — preceded by numerous content warnings — detailed the considerable amount of disturbing content that was easily finding its way to youthful viewers, mainly thanks to its kid-friendly tags and innocuous thumbnails.The end result, according to Bridle, was nothing short of horrific:
"To expose children to this content is abuse. We're not talking about the debatable but undoubtedly real effects of film or videogame violence on teenagers, or the effects of pornography or extreme images on young minds, which were alluded to in my opening description of my own teenage internet use. Those are important debates, but they're not what is being discussed here. What we're talking about is very young children, effectively from birth, being deliberately targeted with content which will traumatise and disturb them, via networks which are extremely vulnerable to exactly this form of abuse. It's not about trolls, but about a kind of violence inherent in the combination of digital systems and capitalist incentives. It's down to that level of the metal." — James Bridle
"Elsagate" received more mainstream coverage as well. A New York Times article on the subject wondered what had happened and suggested the videos had eluded YouTube's algorithms that were meant to ensure content that made its way to its Kids channel was actually appropriate for children. YouTube's response when asked for comment was that this content was the "extreme needle in the haystack," perhaps, an immeasurably small percentage of the total amount of content available on YouTube Kids. Needless to say, this answer did not make critics happy, and many suggested the online content giant rely less on automated moderation when dealing with content targeting kids.Company Considerations:
How should content review and moderation be different for content targeting younger YouTube users?
How could a verification process be deployed to vet users creating content for children?
What processes can be used to make it easier to find and remove/restrict content that appears to be kid-friendly but is actually filled with adult content?
When content like what was described in the case study does get through the moderation process, what can be done to restore the trust of users, especially those with younger children?
Issue Considerations:
Should a product targeting children be siloed off from the main product to ensure the integrity of the content, as well as make it easier to manage moderation issues?
Does creating a product specifically for children increase the chance of direct regulation or intervention by government entities? If so, how can a company prepare itself for this inevitability?
If creating a "restricted" product for children, should it require all content be fully and thoroughly vetted? If so, would that become prohibitively costly, making it significantly less likely that companies will create products for children? Is there a way to balance those things?
Resolution: Immediately following these reports, YouTube purged content from YouTube Kids that did not meet its standards. It delisted videos and issued new guidelines for contributors. It added a large number of new human moderators, bringing its total of moderators to 10,000. YouTube also removed the extremely popular "Toy Freaks" channel, which users had suggested contained child abuse, after investigating its content.YouTube wasn't the only entity to act after the worldwide exposure of "Elsagate" videos. Many of these videos originated in China, prompting the Chinese government to block certain search keywords to limit local access to the disturbing content, as well as shuttering at least one company involved in the creation of these videos.Originally posted to the Trust & Safety Foundation website.

Read more here

---
posted at: 12:00am on 26-Aug-2021
path: /Policy | permalink | edit (requires password)
0 comments, click here to add the first
---
---
Fake 'U.S. Copyright Office' Imposter Gets Google To Delist URLs On Section 1201 Grounds

Furnished content.


We've done more than our share of posts in the past about the problems within the DMCA takedown system as currently practiced. The reason for so many posts is in part due to the sheer number of problems with how this all works. For starters, when notices go out to search engines like Google to delist "problem" URLs, those notices are often times generated by automated systems that unsurprisingly result in a vast majority of notices targeting URLs that are non-infringing. As in, over 99% of those notices. And even once we get past the malpractice of using automation buckshot notices that result in an incredible amount of collateral damage, we then have to add the wide open avenues for fraud and abuse of the DMCA system. That type of fraud runs the gamut, from trolls merely trying to cause chaos for the fun of it to competitors of certain forms of content trying to hurt the competition. In the immortal words of former NFL coach John Fox: "It's all a problem."And, on the fraud and abuse side, it's such a problem that perfectly legit URLs can get delisted by Google due to a request from "The U.S. Copyright Office", even though that office doesn't make those sorts of requests.
Google has received several takedown notices that claim to come from the 'U.S. Copyright Office', requesting the search engine to remove 'problematic' URLs. The Government body, which is generally not involved in copyright enforcement, informs TorrentFreak that it has nothing to do with these notices. Unfortunately, Google didn't immediately spot the imposter. The Copyright Office is not supposed to take sides in these matters. So, we were quite surprised to see its name on several takedown notices that were sent to Google over the past few days.The takedown requests are not typical 'Section 512' notices. Instead, they point out sites that circumvent technical protection measures, which is in violation of the DMCA's 'Section 1201.' That's also how Google processed them.
And process at least some of them, Google did. The notices claiming to be from the Copyright Office indicated they were sent on behalf of the Video Industry Association of America, which doesn't appear to exist based on a Google search I performed. Even if it does, the Copyright Office is not a party to these sorts of takedown requests on behalf of any organization. The URLs targeted appear to be mostly related to stream-ripping sites, but not just sites that offer that service. Instead, some of the URLs targeted merely mention sites that offer stream-ripping services, which is how several TorrentFreak posts got targeted.Whoever is doing this, it is most certainly not the Copyright Office.
This suspicion was confirmed by the U.S. Copyright Office. A spokesperson informs TorrentFreak that the notices in question were not submitted by them.This doesn't mean that the takedown requests were ignored by Google. While our links are still indexed, several of the URLs listed in the notices have indeed been removed because of the notices, which is a problem.
It's a huge problem, actually. In fact, it demonstrates quite well how broken the current DMCA system has become. The fact that this sort of impersonation is so easy is an issue. The fact that Google is so inundated with these types of requests, which again are overwhelmingly illegitimate, that it cannot review them thoroughly enough to notice the clear impersonation of the Copyright Office at work here is another issue. And the fact that the DMCA process is obviously viewed by some bad actors as a wide open tool to attack their own competition is yet another issue.And, notably, there isn't even an appeal process for Section 1201 takedown requests.
Unfortunately, there is no counter-notification option for 'Section 1201' takedown notices. This means that sites and services that are affected by these bogus notices have no official appeal process they can use.But perhaps the U.S. Copyright Office can help with that?
Or maybe someone can just pretend to be the Copyright Office and help. You know, on its "behalf." It works for the bad actors, after all.

Read more here

---
posted at: 12:00am on 26-Aug-2021
path: /Policy | permalink | edit (requires password)
0 comments, click here to add the first
---
---
Sony Takes Down Leaked Unfinished Spider-Man Trailer, Releases Finished One Days Later

Furnished content.


We've talked plenty of times in the past about instances in which publishers of content, typically movies, get copyright takedowns performed on trailers. These takedowns are, frankly, never a great idea, but they are particularly stupid when companies like Marvel, Disney, and Warner Bros. takedown trailers, otherwise known as advertisements, and then release an identical or nearly identical trailer days later. What in the actual hell is the point of that? Killing off your own word of mouth and free advertising for your film?Now, Sony just went through this experience itself, having attempted to DMCA to death a leaked and, importantly, unfinished trailer for Spider-Man: No Way Home.
The way in which the trailer apparently leaked is obviously a concern. It surfaced via the video sharing app TikTok and immediately went viral, but it wasn't long before Twitter, Reddit, and YouTube had nabbed it. The trailer footage was clearly cut before most of the VFX were added, and was presented in the kind of disastrous way that would give Christopher Nolan nightmares – with a phone filming another phone screen filming another screen – but that didn't stop fans getting the gist of the trailer.
So, part of the desire to put the trailer genie back in the bottle was surely the unfinished nature of the trailer and some of the fan reactions to seeing it without special effects being added in. So, does that make Sony's decision to try and DMCA it out of existence the right move?Hell no. And there are several reasons why. The first and most obvious is that, not surprisingly, it didn't freaking work. You can still today go out on several sites and find the leaked version of the trailer. There are YouTube videos and videos on other platforms of the trailer being shown and discussions being had about its contents. In fact, you could rightly suggest that Sony trying to kill the trailer generated even more buzz around it, leading even more people to watch than might have otherwise. The Streisand Effect at work, in other words. So, one strike against this move was how ineffectual and counterproductive it was.But then note that Sony dropped the official and finished trailer days later. And the coverage of the official release was generally quite positive. The story incorporates the MCU's multiverse, perhaps most famously utilized in another Spider-Man related film, Into the Spiderverse, in which there are multiple realities in which different personalities are in control of different superheroes who make different decisions.So imagine for a moment that we live in such a multiverse, something that is a studied possibility. What if there were another universe in which Sony's lawyers, instead of trying to ineffectually un-leak a widely shared trailer for a hot property, said instead something like this:
Hey, Spider-Man and Marvel fans! We know an unfinished version of 'Spider-Man: No Way Home' leaked yesterday. We didn't authorize the leak because the work on it wasn't completed. In fact, it looks a hell of a lot different than what we actually have prepared for you. But we also know how passionate you all are as fans, so we're guessing a great many of you went out and watched it. That's awesome! We love how much you love Spider-Man!And that's why we definitely want you to see the finished version. Unlike the leaked version, the official trailer adds in the awesome effects you can expect when you actually go see the movie in theaters! In fact, we think you should definitely watch both trailers so that you get an idea of the insanely good work our effects studio does. See you in the theaters in December!
I wrote that in three minutes. How many billable hours did Sony's lawyers log instead failing to un-leak the previous trailer? And which move builds more good will in the community of Spider-Man fans? Which one had a greater positive effect?The answer is obvious. And, yet, we still see studios trying to treat the internet as though it were a place where you can disappear content.

Read more here

---
posted at: 12:00am on 25-Aug-2021
path: /Policy | permalink | edit (requires password)
0 comments, click here to add the first
---
---
Appeals Court Shuts Down Kansas' 30-Year-Old Ag Gag Law

Furnished content.


Another "ag gag" law has been shown the door by the courts. The Tenth Circuit Court of Appeals has declared Kansas' "Farm Animal and Field Crop and Research Facilities Protection Act" (whew!) nothing more than a bunch of First Amendment violations trying to present themselves as a legitimate restriction on access to agricultural facilities. (via Courthouse News Service)This law dates all the way back to 1990, but it's finally being shut down after a successful challenge by the Animal Legal Defense Fund. The ALDF sued in 2018, pointing out the law's obvious constitutional problems. The law criminalizes certain deception in the service of trespassing. Why trespassing couldn't have been handled by existing laws was never explained, but one should never underestimate legislators' desire to please some of their biggest local donors.What the law sought to criminalize were investigations performed by the ALDF, which necessarily involved some form of deception to gain access to farms and dairies. How the ALDF does its work is detailed in the opening of the Tenth Circuit's decision [PDF]:
ALDF is a national non-profit organization that seeks in part to expose wrongdoing at animal facilities. ALDF conducts undercover operations through investigators who seek employment at animal facilities. Although these investigators do not falsify qualifications, they will not reveal their association with ALDF or their purpose in seeking a job; if asked directly, the investigators will falsely state they were not sent by an animal rights organization.Once employed by an animal facility, investigators wear hidden cameras, often in violation of posted notices forbidding recording. An investigator may accept a supervisory position through which she might exercise authority over, or temporarily close off a portion of, a facility to record conditions without being caught. Although investigators do not take animals or property or intentionally cause any physical harm to the facility or animals, the investigators' actions could uncover conditions warranting public officials' seizing and removing animals. ALDF will seek that result if an investigator uncovers evidence ALDF believes warrants criminal investigation or removal of animals for their welfare.
Rather than do better as business owners and facility operators, new laws were requested and passed. According to the ALDF, it has not performed any of its investigations in Kansas because of the new law, which would subject investigators to criminal charges. It managed to secure an injunction from the district court after the state failed to even try to argue its law met the strict scrutiny standard for the regulation of speech. Nonetheless, it appealed the lower court's decision, resulting in it being told the same thing from the next level up.Citing its own precedent, the Tenth Circuit says gathering information is protected speech, even if falsehoods are used to enable the information gathering.
"An individual who photographs animals or takes notes about habitat conditions is creating speech in the same manner as an individual who records a police encounter." Id. We held the restricted activities fell "within the ambit of the First Amendment." Id. at 1197. Western Watersheds Project thus unambiguously holds that recording—and even more specifically, recording of animals or the conditions in which they live—is speech-creation and, consequently, is not mere conduct.
The parts of the law being challenged by the ALDF are unconstitutional, the court says.
Subsections (b), (c), and (d) of the operative section involve speech rather than merely conduct because they regulate what may be permissibly said to gain access to or control over an animal facility. Subsection (c) also directly proscribes recording, which we have held is speech-creating activity within the ambit of the First Amendment. All three subsections specifically forbid speech that is made with the intent "to damage the enterprise conducted at the animal facility." §§ 1427(b), (c), (d). [...] Because the intent to damage the enterprise element present in all three subsections does not necessarily constitute the sort of harm required for false speech to be unprotected under Alvarez, we conclude the viewpoint discrimination on this basis subjects the relevant subsections of the Act to strict scrutiny. Kansas has not attempted to meet its burden under that standard; we therefore affirm.[...]The Act's broad proscriptions include prohibiting speech, such as a statement made to obtain the consent of the owner of an animal facility to exercise control over it. The Act thus regulates not only what ALDF investigators may or may not do, but what they "may or may not say."
While it may be true that ALDF investigations will eventually cause harm to these facilities, the harms are not directly related to the false speech. And, indeed, ALDF investigators have no intention of causing direct harm to these businesses' property. Merely being duped into granting access cannot be criminalized, because it directly limits the free speech rights that flow from that access. And the harms the law attempts to address are not harms flowing from that false speech. The harms that may result come from facts these businesses would rather not have publicly disseminated.
The damage to the enterprise intended from ALDF's investigations does not flow directly from deceiving the animal facility owner into allowing entry. Damage occurs only if the investigators uncover evidence of wrongdoing and share that information, resulting in other actors choosing to take further actions. This is too attenuated from the false speech to be the sort of harm Alvarez is concerned with. It is not like defamation, where the false speech directly causes reputational harm; fraud, where the false speech causes someone to hand over a thing a value; or perjury, lies to the government, or impersonating a government official, where the speech itself harms our institutions. Rather, there are numerous further causal links between the false speech and the animal facility suffering damage.Whatever legally cognizable harm is, it cannot be harm from protected, true, speech. The damage Kansas fears is that animal facilities may face "negative publicity, lost business[,] or boycotts." Appellant Br. at 22. But these harms would be accomplished by ALDF disseminating true information—to the extent that information is injurious, it does not cause legally cognizable harm.
The court says this sort of harm is not only not criminal, it's legally-protected. The blowback from the exposure of wrongdoing is the fault of the wrongdoer, not the person who exposes it. In that sense, the law not only criminalizes outside investigations, but whistleblowing by employees, who may have to engage in deception to document wrongdoing.And with that, the three challenged sections of the law are no longer valid. They're unconstitutional and the injunction forbidding the state from enforcing those sections is permanent. If local businesses want to avoid the harms that come from whistleblowing and undercover investigations, the best thing to do would be to end abuse and wrongdoing in their facilities. Allowing the state to shelter them from the consequences of their own wrongdoing is not only morally suspect, it's officially unconstitutional.

Read more here

---
posted at: 12:00am on 25-Aug-2021
path: /Policy | permalink | edit (requires password)
0 comments, click here to add the first
---
---
Understanding The California Ruling That Said Prop 22, The Gig Worker Ballot Initiative, Was Unconstitutional

Furnished content.


Opponents of Uber et al. have been cheering the recent California court decision declaring Proposition 22 unconstitutional. Proposition 22 was a ballot measure passed to override significant parts of the legislature's AB 5 bill, which affected all sorts of untraditional employment arrangements, including those of "gig workers." Some people unhappy with the policy effects of Proposition 22 then sued to challenge its validity under the California Constitution. And, at least initially, have won.Whether it actually is a victory for labor is debatable but also somewhat besides the point. The relative merits of any of these things (Uber, Prop. 22, AB 5) is not what's at issue. Instead, the question is whether the decision correctly interprets the California Constitution.The California Constitution is, let's face it, kind of weird. Many state constitutions mirror the US Constitution with the way they are articulated. Not so the California Constitution, which reads much more like a laundry list of specific policies. As a result, it is more changeable than other constitutions, although given all the specific policies that can get baked into it, perhaps not always changeable enough.Ultimately the court found two aspects of Prop. 22 (but only two aspects, despite the challengers' arguments) to be unconstitutional given the current incarnation of the California Constitution: the language in Section 7451 about Workman's Compensation, and the language in Section 7465(c)(4) about amending the law put on the books by the proposition. Each had a different constitutional problem.The problem with the latter related to those potential future amendments. In general, the legislative effects of propositions are not easily changeable, which is something we've taken issue with before. If they were easily changeable then the legislature could simply pass a new law by a normal majority. But with ballot measures, the changes would require another ballot measure, which someone would need to be able to spend millions of dollars to underwrite. It's this unchangeability that has allowed wealthy parties to essentially blackmail the legislature into passing laws they like (see, e.g., the CCPA), because if they were able to fund the passage of these laws directly via a ballot measure, then there would be little the legislature could ever do to change them later, no matter how much they might need to be changed. Sometimes ballot measures include eased requirements for the legislature to make changes, but by default they do not. As the decision itself explains:
The California Constitution provides that the people of the state may enact laws through the initiative process. (Cal. Const. art. I, 8.) When the people pass an initiative statute, the Legislature's power to amend that statute is limited by the California Constitution: The Legislature may amend or repeal an initiative statute by another statute that becomes effective only when approved by the electors unless the initiative statute permits amendment or repeal without the electors' approval. (Cal. Const. art. I, 10, subd. (c).) Because the voters have the power to limit or allow amendment to their initiative statutes, they also have the power, a fortiori, to attach conditions to permissible amendments. (See Howard Jarvis Taxpayers Assn. v. Newsom (2019) 39 Cal. App.5th 158, 167.) [p.5]
In other words, as the decision itself drives home, the California Constitution, by design, creates a path for essentially permanent legislating via direct democracy. Whether that's a good thing or not is a separate question. But that's what the Constitution allows, so that's what the proponents of Prop. 22 did. The question before the court is if there might have been some exception to that general rule that this particular proposition fell into. Here the court found one, after digging around a bit.First, it was fine that the proposition made it hard to be changed, because it was always going to be hard.
Everything in Section 7465 is in the nature of an exception to the default amendment rule in Article I, Section 10, Subdivision (c). If Section 7465 had not been included, the Legislature could amend Proposition 22 by a simple majority vote according to each house's rules, followed by a popular referendum. With Section 7465 enacted, the Legislature can still amend Proposition 22 by a simple majority vote according to each house's rules, followed by a popular referendum. (See Cal. Const. art. II, 10., subd. 4 (2). All Section 7465 provides is another way to amend the initiative statute, albeit one that is difficult to the point of near impossibility. [p. 6-7]
But the court decided it didn't like how Prop. 22 made it hard.
Proposition 22 also included an unusual provision allowing the Legislature to amend its provisions using an unusual procedure. The legislature may amend Proposition 22 by a statute passed in each house of the Legislature by rollcall vote entered into the journal, seven-eighths of the membership concurring, provided that the statute is consistent with, and furthers the purpose of, this chapter. (Bus. & Prof. Code, 7465, subd. (2),) Any statute that amends Section 7451 does not further the purposes of this chapter. (Id., subd. (c)(2).) [p. 5]
Therein lies the rub, because what did it mean to be "for purposes of this chapter"? The proposition had some language on that, which the court cited:
Proposition 22 also provides two additional specific definitions of what constitutes an amendment: [a] statute that prohibits app-based drivers from performing a particular rideshare service or delivery service while allowing other individuals or entities to perform the same rideshare service or delivery service, or otherwise imposes unequal regulatory burdens upon app-based drivers based on their classification status (id, subd. (c)(3)) and a statute that authorizes any entity or organization to represent the interests of app-based drivers in connection with drivers' contractual relationships with network companies, or drivers' compensation, benefits, or working conditions (id., subd. (c)(4)). [p. 5]
And that's the language the court took issue with. Not with (c)(3) - that language passed muster - but with the language of (c)(4), because it appeared to impact collective bargaining relationships.
Subdivision (c)(4) is not so simple. There is no other language in Proposition 22 that 20 directly relates to labor representation or collective bargaining. The Proposition proponents argue that independent contractor status is incompatible with collective bargaining: that [o]ne of the fundamental issues Prop 22 addresses is the right of app-based drivers to work as independent contractorsa status that precludes them from collective bargaining under a century of state and federal law. (Proponents' Mem. P&A Opp. Pet. at p24.) They further argue that any subsequent attempt by the Legislature to reimpose on app-based drivers traditional employment relationships like collective bargaining rights would 'undo' this choice. (ibid) But the most maximal state law covered only by Subdivision (c)(4) would create a guild through which independent contractors would bargain collectively their contract terms and working conditions. This may alter their bargaining power vis-a-vis the network companies they contract with, but the Court cannot find that it would diminish their independence or transmute them into employees. The Court therefore finds that Subdivision (c)(4) unconstitutionally purports to limit the Legislature's ability to pass future legislation that does not constitute an amendment under Article I, Section 10, Subdivision (c). [p. 9-10]
To the court, the problem was that propositions were limited to being only about a single "subject":
Initiative statutes must be limited to a single subject (Cal. Const. art. I, 8(d) [An initiative measure embracing more than one subject may not be submitted to the electors or have any effect") Courts interpret the term subject liberally to uphold initiative statutes which disclose a reasonable and common-sense relationship among their various components in furtherance of a common purpose. (Brosnahan v. Brown (1982) 32 Cal 3d 236,253.) The general test is whether the parts of a statute are reasonably germane to a common theme, purpose, or subject. (Brown v. Superior Court (2016) 63 Cal 4th 335, 350.) [p. 10]
And to the court, the collective bargaining had nothing to do with the subject of the proposition.
The common theme, purpose, or subject of Proposition 22, then, is protecting the opportunity for Californians to drive their cars on an independent contract basis, to provide those drivers with certain minimum welfare standards, and to set minimum consumer protection and safety standards to protect the public. [] No other part of Proposition 22 deals with collective bargaining rights other than Section 7465, subdivision (4), and it does so only obliquely and indirectly, as a side effect of a contested construction of certain antitrust laws as barring independent contractors from bargaining collectively. This is related to Proposition 22's subject but it is utterly unrelated to its stated common purpose. A prohibition on legislation authorizing collective bargaining by app-based drivers does not promote the right to work as an independent contractor, nor does it protect work flexibility, nor does it provide minimum workplace safety and pay standards for those: workers. It appears only to protect the economic interests of the network companies in having a divided, ununionized workforce, which is not a stated goal of the legislation. [p. 11]
Meanwhile, the court also found a constitutional problem with Section 7451, which impacted eligibility for Workman's Compensation. The issue here is that one of the policies baked into the Constitution is that the Legislature gets to decide who is eligible for Workman's Compensation. The court calls this power "plenary," meaning that it's built into the Legislature, and, per the court, can only be affected by a constitutional amendment. Now, a constitutional amendment could be passed by ballot initiative, but Proposition 22 was an initiative statute, not an initiative amendment, and so, per the court, it did not get to meddle with that Legislature authority.
Proposition 22 is constitutionally problematic for another reason that defies such easy resolution. Petitioners and amici law professors also make the more subtle argument that the Independent Energy Producers case is distinguishable because the statutory initiative in that case increased the power to the Public Utilities Commission, whereas Proposition 22 limits a power vested in the state legislature by the Constitution. (See Independent Energy Producers Assn., (supra, 38 Cal.4th at p.1044 fn.9.) Article XIV, Section 4 also provides that the Legislature shall have the power to create worker's compensation laws unlimited by any provision of this Constitution. (Cal. Const. art. XIV, 4.) However, the Constitution also provides that the Legislature may not act to amend or repeal an initiative statute without a subsequent vote of the 5 people. These two provisions are in conflict. If the Legislature's authority is limited by an initiative statute, its authority is not plenary or unlimited by any provision of [the] Constitution (Cal. Const. art. XIV, 4); rather, it would be limited by Article I, Section 10, subdivision (c). The Supreme Court has held that, as an interpretive guide, the initiative power should be zealously protected and any reasonable doubts should be resolved in favor of the exercise of this precious right (Kennedy Wholesale, Inc. v. State Bd. of Equalization (1991) 53 Cal.3d 245,250) But here, the plain language of Article XIV, Section 4 indicates that it is unlimited by any provision of the California Constitution. (Cal. Const. art. XIV, 4) When Section 4 was ratified in 1918, the statutory initiative power already existed in the Constitution. The grant of plenary power to the Legislature conflicts with a limitation on its power to amend an initiative statute under Article If Section 10. The grant of power is not plenary if the Legislature's power to include app-based drivers in the worker's compensation program is limited by initiative statute. It is not unlimited by any provision of this Constitution if it is limited by an initiative statute. The plain meaning of Article XIV, Section 4's plenary-and-unlimited clause governs over the more general limitation on amendment in Article II Section 10. In short, if the People wish to use their initiative power to restrict or qualify a plenary and unlimited power granted to the Legislature, they must first do so by initiative constitutional amendment, not by initiative statute. [p. 3-4]
In theory neither of these apparent defects, with subsection (c)(4) of 7465 or Section 7451, would be fatal to the entire proposition, as both included severability provisions, meaning that if either were found to be invalid then they could essentially be excised from the proposition but the rest could stay in force. But, in a mere two lines, the court decides that Section 7451 was not severable, and so therefore the entire proposition is nullified. [p. 12].So that's where we are, with the whole statute thrown out. But whether that will remain the result after appeal, or should remain the result, is far from clear.First, the decision hardly defends why Section 7451 is not severable. While its analysis on why either it or Section 7465(c)(4) is unconstitutional may end up vindicated later, it seems quite possible that a later court would instead opt to excise the problematic language without invalidating the whole statute (or at least require the question of whether it could be to be reconsidered).As for the unconstitutionality of each provision, it is really more a matter of constitutional interpretation than a matter of labor policy, although as it happens the interpretation is not completely divorced from labor policy since aspects of labor policy are inherently part of the constitutional language, at least vis-à-vis the Workman's Compensation part affected by Section 7541. If the court is right about the significance of that "plenary" language, then it may also be right that the Prop. 22's proponents used the wrong type of ballot initiative to speak on that issue with this proposition.But the "single subject" analysis of the Section 7465(c)(4) changeability provision seems more dubious. The court here made much more of a leap to decide that collective bargaining arrangements were beyond the "purpose" of the proposition, and thus not something that the changeability provision could impact. Here the court appeared to be projecting a more subjective understanding about the interplay between gig workers and collective bargaining arrangements, and in a way that, while perhaps plausible, does not seem to be well-substantiated or inevitable. This aspect of the holding seems vulnerable to being overruled on appeal, or at least remanded for further consideration.In sum, it's all an uncertain mess of questionable labor policy and quixotic constitutional mechanics for which we are a long way off from any resolution. Proposition 22 will continue to grind through the courts, but even once all the proceedings have been concluded we'll still be left with thorny questions of both labor policy and constitutional order.The effective permanence of ballot measures raises huge governability issues. It is hard to thus root for any ballot measure, regardless of topic, to succeed in the face of a constitutional challenge. At the same time, however, as long as those are the rules, those are the rules, and we shouldn't favor a proposition being treated differently by the courts just because we might prefer the substantive result if it were.On the other hand, while we tend to favor legislating by legislature in order to avoid those problems of permanence, labor policy is one area where the legislature did not get things right. One other upside to legislating via legislature is that legislation can be more considered and based upon a thorough and thoughtful legislative record. But AB 5 is an example of one law where the legislature failed to adequately consider the impact of its policy and ended up producing a law that had all sorts of harmful consequences to the very worker interests they were ostensibly trying to support.For better or for worse, the ballot initiative process exists for cases like these where the legislature gets policy wrong and then doesn't fix it (although, to be fair, it did mitigate a few of the problems with AB 5, but not all). Overturning a legislative decision via direct democracy is exactly the political process the California Constitution envisions and invites with the ballot initiative process. Whether, however, it's a process the California Constitution should invite may be something worth reconsidering, particularly in its current, overly-permanent form. But not on the backs of a single initiative on a single issue of political contention. Because even if you hate the policy that resulted from it, it's the result of the system working as designed. To change that result you have to first change the system.

Read more here

---
posted at: 12:01am on 24-Aug-2021
path: /Policy | permalink | edit (requires password)
0 comments, click here to add the first
---
---
Washington State Supreme Court Says $547 Fine Imposed On A Homeless Man Violates The Constitution

Furnished content.


It seems all but impossible to completely do away with civil asset forfeiture, but advances are being made around the country. Criminal asset forfeiture remains a thing -- one that's rarely troubled by reform legislation. But it can be just as absurd, even if it comes with an adjacent or attached criminal conviction.The Supreme Court recently upheld a decision finding that the seizure of a $42,000 vehicle (via civil forfeiture) over a crime that only generated a maximum fine of $10,000 was excessive, violating Eighth Amendment protections. That decision has the potential to generate more successful challenges of forfeitures, given that many forfeitures don't come attached to criminal convictions, which would seem to indicate almost any seizure at all would be excessive.Another case dealing with the "excessive" aspect of forfeitures and fees has made its way to the top court in the state of Washington. It involves the seizure of a man's vehicle -- one that was also serving as his housing while he tried to find a place to live. (h/t Volokh Conspiracy)The decision [PDF] opens with a description of the unfortunate series of events that left the truck's owner homeless and in further financial trouble after the city's decision to provide code enforcement, rather than solutions.
In 2016, Long was living in his truck. Long, then a 56-year-old member of the Confederated Salish and Kootenai Tribes of the Flathead Nation, worked as a general tradesman and stored work tools as well as personal items in his vehicle. One day, Long was driving to an appointment when the truck began making "grinding" noises. On July 5, 2016, Long parked in a gravel lot owned by the city of Seattle. Long stayed on the property for the next three months.On October 5, 2016, police alerted Long that he was violating the SMC by parking in one location for more than 72 hours. SMC [Seattle Municipal Code] 11.72.440(B). Long claims he told the officers that he lived in the truck. Later that day, a parking enforcement officer posted a 72-hour notice on the truck, noting it would be impounded if not moved at least one city block. SMC 11.30.060. Long did not move the truck. While Long was at work on October 12, 2016, a city-contracted company towed his truck. Without it, Long slept outside on the ground before seeking shelter nearby to escape the rain and wind.
The court reduced his fines to $547 (from $947) and set up a payment plan of $50/month. Despite these concessions, Long was still unable to afford paying back the city while still trying to find permanent housing. Long challenged the citation and the impoundment of his truck/home, claiming it violated state and federal excessive fine clauses, as well as the homestead act.Two courts handled Long's challenge and arrived at different conclusions.
On a RALJ appeal, the superior court affirmed and reversed in part: it rejected the substantive due process claim, and it held that the impoundment costs were unconstitutionally excessive under the federal constitution and that the payment plan violated the homestead act. The court concluded that the impoundment itself did not violate the Eighth Amendment to the United States Constitution.The parties then sought review at the Court of Appeals. In a published decision, the court concluded that the payment plan was invalid under the homestead act and rejected the constitutional argument that the impoundment and associated costs were excessive.
The state Supreme Court says the homestead act applies, even if it wasn't violated.
RCW 6.13.040(1) automatically protects occupied personal property as a homestead, and no declaration is required. Long's truck therefore constitutes a homestead. However, we agree with Seattle that no attachment, execution, or forced sale occurred. The homestead act protections were not triggered at this point in Long's case because no party sought to collect on Long's debt.
The court also says the city had the authority and justification to tow Long's truck off its property, The truck wasn't running so Long couldn't drive it away, leaving towing the only option. It also had the authority to impound the vehicle for violating the parking law.But the court says the fine -- even reduced and with a payment plan in place -- was still excessive, given Long's financial situation. Citing both the Supreme Court's recent Timbs decision and this country's desire to shift away from excessive fines after declaring its independence nearly 250 years ago, the court says even this seemingly-small amount went too far.First, there's the matter of the infraction, which carries with it a fee far smaller than what the city ended up charging Long for the violation.
The city certainly has an interest in keeping its streets clear and free of traffic, but the offense of overstaying one's welcome in a specific location is not particularly egregious. See Seattle's Suppl. Br. at 13. Moreover, the city has suspended enforcement of the 72-hour parking violation during COVID-19, signaling that the city views it as a relatively minor offense. See Amici Br. of Pub. Justice et al. at 8. Second, there is no evidence that the infraction was related to any other criminal activity. Third, the only penalty identified is the $44 ticket and towing/storage costs.
Once the towing and storage costs were added back in, the $44 fine (which was waived by the judge) became nearly $947. Even its eventual reduction to $547 still put it out of reach for Long.
Long's circumstances were such that he had little ability to pay $547.12. When his vehicle was impounded, Long earned between $300.00 and $600.00 in addition to $100.00 in tribal fees per month. He told the magistrate at his impoundment hearing that he lived in his truck and had only $50.00 to his name. Long was attempting to move himself out of homelessness by saving for an apartment. During that time, Long's truck held his clothes, food, bedding, and various work tools essential to his job as a general tradesman. After the truck was towed, Long slept outside before seeking shelter from the cold weather, and he contracted influenza. These facts indicate Long could not afford to pay the $547.12 assessment. From October 13 until November 3, Long did not have his truck and could not access his tools, thus he could not find skilled labor jobs. During that period, he was homeless and sick, likely making very little money. The impoundment severely compromised Long's ability to work—in other words, his livelihood.
The payment plan, while reducing the cost to only $50/month, was also excessive, given Long's circumstances.
Moreover, paying $50 per month when Long made at most $700, would leave him $650 with which to live. Cf. Hr'g at 57 (the superior court stated that Long's "income per month is something like $300 at best."); see also Amici Br. of Pub. Justice et al. at 18 & n.12 (the self-sufficiency standard or minimum amount of money to adequate meet one's needs for a Seattle resident is $2,270 per month). It is difficult to conceive how Long would be able to save money for an apartment and lift himself out of homelessness while paying the fine and affording the expenses of daily life.
The city argued that $50/month could not possibly violate the Eighth Amendment. The state Supreme Court says the city is wrong.
Seattle asserts that treating the payment plan as excessive punishment is to "trivialize the Eighth Amendment." Yet to do what the city asks is to ignore the Eighth Amendment entirely. This we cannot do.
The court says this won't prevent the city from enforcing statutes. But it will require it to better means testing when hitting residents with fines and fees to ensure it doesn't violate their Constitutional protections. And if it finds these fines and fees are excessive -- especially when depriving someone of their most valuable assets -- it's unlikely to court will have much sympathy for forfeitures that are similarly excessive.

Read more here

---
posted at: 12:01am on 24-Aug-2021
path: /Policy | permalink | edit (requires password)
0 comments, click here to add the first
---
---
This Week In Techdirt History: August 15th - 21st

Furnished content.


Five Years AgoThis week in 2016, a wave of newspapers that had tried out paywall models were discovering they didn't work as well as hoped, and those that had come to rely almost solely on Facebook for traffic were realizing that might have been a mistake. Snowden documents revealed that the NSA and New Zealand had been spying on pro-democracy activists, the DNC set up a Cybersecurity Board that was devoid of cybersecurity experts, and Donald Trump was promising to keep terrorists off the internet. Peter Thiel was taking a weird victory lap regarding Gawker, and we were disappointed to see LinkedIn abusing the CFAA and DMCA to sue scraping bots. Also, an episode of our podcast featured an early discussion of what would become a major theme for us over the past few years: the difference between platforms and protocols.Ten Years AgoThis week in 2011, some cops were trying to fight citizen recordings with wiretapping charges, and other cops were making excuses about why they can detain harmless photographers. Google spent a cool $12.5-billion to buy Motorola Mobility for all its patents, and we took a look at just what it was getting out of the deal and how it represented the loss to innovation caused by patents. We had a few other posts on the patent system too, looking at how they can be detrimental to the long-term success of startups, debunking the myth that they want or need them, and asking why monopolies for the first to invent something are really so important.Fifteen Years AgoThis week in 2006, Apple seemed to be on the warpath against any product with "pod" in the name, Jack Thompson was demanding early access to video games so he could get mad about them, and a mistake at Techdirt caused the deletion of a morning's worth of comments. The RIAA oh-so-graciously gave a family 60 days to grieve before continuing its case against a dead man, but then backed down in the face of widespread coverage and backlash, while the recording industry was taking petty revenge on a musician who supported free music and the movie industry was using push polls to defend the theater industry. We also took a look at how the more Hollywood attacks file sharing, the further underground it goes.

Read more here

---
posted at: 12:00am on 22-Aug-2021
path: /Policy | permalink | edit (requires password)
0 comments, click here to add the first
---
---
Edvard Eriksen Estate Goes After Another Danish City For Having A Mermaid Statue

Furnished content.


Who knew that a bronze statue of a mermaid could cause so much trouble. If you're not aware, there is a statue of the Little Mermaid on the shores of the Danish capital Copenhagen. It was created by Edvard Eriksen, who died decades ago. Eriksen's estate, however, is well known to try to claim copyright infringement on any other statues of mermaids that pop up in cities around the world, including in Michigan. Notably in that case, the estate ran away when a public backlash began to emerge. This is also, by the way, the same statue that Facebook has previously removed images of for showing too much "skin", or bronze in this case, as the mermaid is topless, because... mermaids.Notably, Eriksen based his own artwork on the famous Little Mermaid created by Hans Christian Anderson. Despite that, it seems that any remotely similar mermaid statues find their way into the estate's crosshairs, such as the statue that resides in Asaa, Denmark.
The mermaid that has been watching the harbor in the village of Asaa, in northern Denmark, since 2016 is not an exact replica of the monument in the Danish capital. But for the heirs of Edvard Eriksen, the artist who sculpted the Copenhagen statue, the mermaid Asaa bears too much resemblance. They took legal action, demanding not only financial compensation, but also the demolition of Asaa's sculpture."When I first received the email, I laughed," said Mikael Klitgaard, the mayor of Broenderslev, the municipality that includes Asaa. "I thought it was a joke."
The only joke here is the stance of the estate, which doesn't appear to understand the idea/expression dichotomy in copyright laws. Now, to be clear, I'm not 100% clear on whether Danish law differs significantly from American law on the idea/expression dichotomy, though this Thomson Reuters Q&A on the topic appears quite familiar.
Copyright infringement is generally assessed by comparing the works in question and determining whether the allegedly infringing work brings on the same aesthetic experience as the original work. This determination is based on the general impression of the works, as opposed to assessing each detail on its own. When assessing copyright infringement, the courts must take into consideration the general notion that ideas, motifs, information and the like are not protected in Danish copyright law.
Assuming that's accurate, any threat from the estate should be a nonstarter. If you are wondering how similar these works of art are, the answer is: very! But that is because they are bronze statues of mermaids sitting on a rock. Both kneel, both are topless, both are mermaids, and both have the mermaid's tail splayed slightly to one side. But, and this is important, they are not identical. In other words, the statue is not a replica of the Copenhagen statue, but rather a replica of the idea, or inspiration, of Hans Christian Anderson's mermaid. According to the source post, the lawyers on both sides are now talking, with much of the conversation coming down to how similar the statues are. And, it seems, a ton of that relies on the mermaid's posture. Which, as Klitgaard goes on to note, presents a problem.
Carved from granite and weighing three tons, the mermaid Asaa is more plump and her facial features coarser. His posture, however, is the same."How else is she going to sit down?" asked Klitgaard, the mayor. "It's a mermaid. You can't put her on a chair.
Exactly. Meanwhile, the artist that created the Asaa mermaid, Palle Moerk, is quite confused as to why any of this is a problem for the estate.
The mermaid Asaa was created by Palle Moerk, a local artist and stonemason who carves both tombstones and figurative sculptures; among these, pigs, owls and human hands making gestures (both obscene and not) are favored themes. He had sculpted the mermaid four years before it was purchased by a group of Asaa citizens and donated to the organization that runs the port to commemorate its 140th anniversary.In an interview, the artist said he resented the accusation of copying Eriksen's mermaid. "As an artist you understand all kinds of things – and of course I had seen pictures of the mermaid Langelinie," Moerk explained. "But it was my own inspiration."
Idea vs. expression. The idea of a mermaid resting on a rock is not protectable by copyright. Exact replicas of the Copenhagen statue are. If this statue is not a replica, nor an attempt at a replica, then the estate is suing over idea and not expression.In other words, the song from the film is "Under the Sea", not "Under the ©".

Read more here

---
posted at: 12:00am on 21-Aug-2021
path: /Policy | permalink | edit (requires password)
0 comments, click here to add the first
---
---
Sensitive Data On Afghan Allies Collected By The US Military Is Now In The Hands Of The Taliban

Furnished content.


The problem with harvesting reams of sensitive data is that it presents a very tempting target for malicious hackers, enemy governments, and other wrongdoers. That hasn't prevented anyone from collecting and storing all of this data, secure only in the knowledge this security will ultimately be breached.Hack after hack after hack after hack has shown entities seem to be far more interested in collecting data than protecting data. While steps are undoubtedly taken to protect the info gathered by government agencies and numerous super-snoopy private companies, sooner or later they're never enough. It's not that these data collections are always unnecessary. It's that a breach is pretty much inevitable. And yet that inevitability almost always gets greeted as a surprise by those on the end of a malicious hacking.What's happening in Afghanistan isn't exactly unprecedented. We saw the same thing happen when the United States military pulled out of Vietnam. The enemies that the US presence was supposed to deter were completely undeterred by local military (one we were supposed to be training to be self-reliant) left behind. We have exited one of our Forever Wars and the Taliban -- proud supporters of Al-Qaeda -- is taking over.The Taliban is getting everything we left behind. It's not just guns, gear, and aircraft. It's the massive biometric collections we amassed while serving as armed ambassadors of goodwill. The stuff the US government compiled to track its allies are now handy repositories that will allow the Taliban to hunt down its enemies. Ken Klippenstein and Sara Sirota have more details for The Intercept.
The devices, known as HIIDE, for Handheld Interagency Identity Detection Equipment, were seized last week during the Taliban's offensive, according to a Joint Special Operations Command official and three former U.S. military personnel, all of whom worried that sensitive data they contain could be used by the Taliban. HIIDE devices contain identifying biometric data such as iris scans and fingerprints, as well as biographical information, and are used to access large centralized databases. It's unclear how much of the U.S. military's biometric database on the Afghan population has been compromised.
At first, it might seem that this will only allow the Taliban to high-five each other for making the US government's shit list. But it wasn't just used to track terrorists. It was used to track allies.
While billed by the U.S. military as a means of tracking terrorists and other insurgents, biometric data on Afghans who assisted the U.S. was also widely collected and used in identification cards, sources said.
The Defense Intelligence Agency that oversaw these data collections understandably had no comment. I mean, what could it say? That this wasn't an inevitability? That pulling out of a country means taking all your stuff with you, including tons of data that won't even need to be exfiltrated to end up in enemy hands?And even as the fall of Afghanistan appeared to be the inevitable outcome of leaving the country, the US government was trying to add to the pile of sensitive data now in the Taliban's possession.
[A] recent job posting by a State Department contractor sought to recruit a biometric technician with experience using HIIDE and other similar equipment to help vet personnel and enroll local Afghans seeking employment at U.S. embassies and consulates.
To claim this couldn't be foreseen is ridiculous. Decades of propping up the Afghanistan government didn't make the area any more stable. The never-ending War on Terror ensured tons of sensitive data would be compiled, especially in countries where US-based constitutional rights don't apply. Pulling out may have been the right thing to do, but abandoning devices containing data on local allies and supporters is insane. Our government has had more than 200 years of practice. The people who helped us during our many years of ineffective occupation can now be targeted with ease. That should never be considered acceptable. Operational security shouldn't just protect the highest and mightiest in the US government. It should protect everyone the government relies on, including nationals abandoned by a government that had every opportunity to mitigate collateral damage.

Read more here

---
posted at: 12:00am on 21-Aug-2021
path: /Policy | permalink | edit (requires password)
0 comments, click here to add the first
---
---
Documents Show NYPD Has A Secret Surveillance Tech Slush Fund

Furnished content.


About a half-decade ago, public records requesters discovered the Chicago Police Department had been spending seized funds on surveillance equipment like Stingray devices. The forfeiture fund was apparently completely discretionary and the PD used this steady supply of cash to make purchases not specifically approved by the city. It also allowed the department to elude direct oversight of surveillance activities and ensure the public was unable to interrupt the procurement process with pesky comments and questions.It appears the New York Police Department has been doing the same thing for at least as long. But it's not doing it with "discretionary" funds lifted from New York residents using civil forfeiture. Documents obtained by Wired show the infamously secretive agency has even more secrecy up its sleeves -- a fund that is specifically exempt from its own oversight.
New York City police bought a range of surveillance tools—including facial-recognition software, predictive policing software, vans equipped with x-ray machines to detect weapons, and "stingray" cell site simulators—with no public oversight, according to documents released Tuesday.In all, the documents show that the NYPD spent at least $159 million since 2007 through a little-known "Special Expenses Fund" that did not require approval by the city council or other municipal officials. The documents were made public by two civil rights groups, the Legal Aid Society and the Surveillance Technology Oversight Project (STOP), which say the practice amounted to a "surveillance slush fund."
Millions of dollars went to Idemia Solutions, a facial recognition tech provider. Hundreds of thousands went to an Israeli defense contractor, which has provided some sort of "devices" to the PD (details on the devices are redacted). Three-quarters of a million went to a mobile x-ray van manufacturer. The list continues, encompassing a cell site simulator provider and other surveillance tech/software contractors whose documents have been redacted into near-uselessness.Unfortunately, it appears the city gave its explicit blessing to being cut out of the approval process. A memorandum of understanding between the NYPD and the city's Office of Management and Budget allows the NYPD to withhold contracts and other information dealing with tech/tools used in "confidential operations." So, the city is completely complicit here, which differentiates this from the situation in Chicago. In New York, taxpayers are (or rather, aren't) seeing their tax dollars spent on secret tech from a fund no one is allowed to oversee.Combining secret tech with zero accountability is only the NYPD's idea of a good time. Hopefully this national exposure will prompt the city to shred its memorandum of understanding and start over with some accountability measures in place.

Read more here

---
posted at: 12:00am on 20-Aug-2021
path: /Policy | permalink | edit (requires password)
0 comments, click here to add the first
---
---
Why The EU Needs To Get Audits For Tech Companies Right

Furnished content.


Discussions over the right – or at least a good – way to regulate big tech companies are heating up in the European Union (EU). Several legislative proposals are set to be negotiated, with public and behind-the-scenes lobbying in full swing already. As with any regulation, a key question is how to hold corporate decisionmakers accountable for their actions and how to create transparency. Some of the ways this has typically been done in other industries include legally mandated corporate compliance regimes, rules for financial or supply chain transparency and mandatory risk assessments and audits. These ideas are coming to the tech sector now, too, especially with the draft "Digital Services Act" (DSA). The DSA suggests new due diligence rules for platforms such as Facebook and YouTube, for example, regarding what processes are in place for content moderation and how they deal with potential infringements on users' fundamental rights. Audits are introduced to check whether companies comply with the DSA's due diligence rules.If done right, audits can be a valuable mechanism helping independent researchers, oversight bodies and the public hold tech companies accountable. If done poorly, audits will be mere check-the-box exercises with little value that might even hurt people and entrench platform power. That is why it will be crucial for the EU get the audit provisions in the DSA right. Four major issues, drawn from past experiences with audits and general risks associated with them, need to be taken into account.First, there is the risk of a weak auditor or an auditor with only limited powers. Facebook's and Google's "privacy audits" in the US can be taken as an example. Each company was subjected to legally mandated scrutiny by the US Federal Trade Commission over data protection issues. Yet, what were at times billed as "privacy audits" turned out to be mere assessments that were later criticized as almost meaningless due to vague language and powers for the regulator.Second, auditors can, conversely, be too powerful. If their mandate is ill-fitting or too broad, the auditing company or governmental agency that oversees global corporate giants like Facebook and Google might have quite a sway in what billions of people access, read and watch on the web. This could be abused for financial or political interests. Especially authoritarian leaders might try to tip the scale in their favors by controlling big tech companies, which has some lawmakers in the EU worried as well. Third, the auditing process itself can lack clear guidance and oversight. Without quality control, what is meant to be a safety measure and to incentivize corporate compliance can turn into a check-the-box exercise. Unfortunately, there are grave examples for this danger: "Social audits", aiming to certify suitable workplace conditions, especially in the clothing industry, have come under intense scrutiny, after audited companies' factories burned or crumbled, killing hundreds of workers. A for-profit auditing system with little checks can be partly to blame. In the financial industry, bad and sometimes illegal business practices could not be stopped despite auditing regimes being in place, as the WireCard case in Germany illustrates. Similarly, the international "Dieselgate" scandal showed the limitations of overseeing car manufacturers.Relatedly, fourth, audits need to have consequences if they reveal corporate malfeasance. An audit that shows how a company failed to follow the rules cannot only result in recommendations or a blow to the company's reputation. Fines and, more importantly, changes in business practices and compliance processes are necessary.In all four areas, the DSA needs improvement. To address the first two points on the strength or weakness of the auditor, it is crucial that the auditor's tasks and powers are clearly delineated. For tech companies offering people news and information spaces, a top priority should be that auditors check corporate processes, not individual pieces of content. This means that the auditor should, for instance, monitor whether companies have suitable notice-and-action mechanisms, meaningful reporting standards about their online advertising practices and recommender systems as well as consumer protection measures in place. Determining the legality of content should be left neither to corporations nor governmental regulators, but to independent courts. This would ensure that platforms are held accountable, without establishing an all-powerful auditor. The DSA draft goes in this direction, but the tasks of the auditor need to be spelled out in greater detail.In practical terms, it is not yet clear who could and should do the auditing. Looking towards established audits in other industries can be helpful but copying existing methods risks perpetuating its flaws (like with the social audits) and not accounting for the peculiarities of tech companies. It is presumptuous to assume that big accounting firms might just take on auditing tech companies. Auditing a company like Facebook, TikTok or Snapchat is not the same as auditing a bank or an insurer. Auditors need different skills and specific technical knowledge in this field, which many existing auditing outfits might not have yet. However, it is also ill-advised to blindly rely on young companies now claiming to audit tech companies or even "algorithms", as there is no common definition of what such "algorithmic auditing" entails. For example, the Ada Lovelace Institute, a UK-based NGO, has identified four different ways to assess algorithmic systems and those can, in turn, contain different approaches. An industry has sprung up offering to audit algorithmic systems for biases and legal compliance but there are no standards for such audits or auditors. To ensure high-quality auditors and a system of checks and balances, the EU should define what audits are supposed to achieve and what is expected of auditors. A vetting process regarding the financial independence of platforms and auditors could be discussed, as well as guidelines for oversight and quality control. Otherwise, audits risk being a fig leaf for tech companies or, worse, a cover-up for systemic failures like with some "social audits".Lastly, the DSA's remedies for failed audits and non-compliance need to be beefed up. An independent oversight entity should be enabled to stop abusive business practices and sanction companies. Promisingly, this idea on enforcement as well as some potential improvements to the auditing regime have been put forth by the European Parliament. With the DSA, the EU has the chance to build an auditing regime for digital platforms from scratch. It should strive to make it as structurally sound as possible to limit terrible outcomes like those described above. This is not far-fetched, because some platforms' business practices have been linked to genocide, election interference and invasions of privacy, just to name a few risks.Establishing clear rules for the content of audits, standards for the auditors themselves and consequences for tech companies would be a true EU innovation. It would ensure a watch-the-watchers approach for auditors and thus alleviate legitimate concerns that governmental or private auditors (especially if paid for by the platforms) undermine democratic oversight. Taken together, this would go a long way in improving accountability for tech companies.Julian Jaursch is a project director working on platform regulation topics at Stiftung Neue Verantwortung (SNV), a Berlin-based not-for-profit, non-partisan tech policy think tank.

Read more here

---
posted at: 12:00am on 20-Aug-2021
path: /Policy | permalink | edit (requires password)
0 comments, click here to add the first
---
---
Content Moderation Case Study: BoingBoing Begins Disemvoweling The Trolls (2007)

Furnished content.


Summary: One of the challenges for any website that allows for user content — no matter the size of the website — is how to deal with trollish behavior. There are a variety of options available, including just deleting such comments, but one option that got attention in the mid-2000s was the idea of disemvoweling: literally removing the vowels from any comment deemed trollish. This was something of an update on concept of merely "splatting out" letters (i.e., replacing certain letters with '*' to make them less searchable and to create some level of disassociation from the initial word).The history of disemvoweling is not entirely agreed upon, though it is clear that James Joyce used the word to describe writing without vowels in Finnegan's Wake, published in 1939. Many people associate the modern use of it with Teresa Nielsen Hayden, who wrote in the comments on her own blog (Making Light) about how she had removed the vowels from someone who was trolling.
Other users then referred to this as disemvoweling. The word and its usage as a moderation mechanism appeared in other places before, including in a 1990 version of the RISKS Digest newsletter discussing a proposed anti-hacking law.Nielsen Hayden embraced the power of disemvoweling, and supported efforts to make it easier to do. (She initially said she removed vowels by hand).In August of 2007, the popular blog (and former zine) Boing Boing announced that it had relaunched and brought back comments, with Nielsen Hayden joining the site to help with community management. This immediately resulted in questions about whether or not BoingBoing would now embrace disemvoweling as a technique to manage trolls as well. Nielsen Hayden suggested that it might, but she did not expect it to be that frequent:
"Glad to see comments back. With TNH moderating should we expect frequent dis-envoweling?Only if it's warranted. I doubt I'll have frequent cause to use it." --Teresa Nielsen Hayden
The blog did embrace disemvoweling as a technique, though. Others on the Boing Boing team talked about how it seemed to work quite well. Xeni Jardin noted that while it did involve a fair bit of human effort, it appeared to be mostly effective.
We hired a community manager, and equipped our comments system with a secret weapon: the "disemvoweller." If someone's misbehaving, she can remove all the vowels from their screed with one click. The dialogue stays, but the misanthrope looks ridiculous, and the emotional sting is neutralized.Now, once again, the balance mostly works. I still believe that there is no fully automated system capable of managing the complexities of online human interaction — no software fix I know of. But I'd underestimated the power of dedicated human attention.Plucking one early weed from a bed of germinating seeds changes everything. Small actions by focused participants change the tone of the whole. It is possible to maintain big healthy gardens online. The solution isn't cheap, or easy, or hands-free. Few things of value are. -- Xeni Jardin
In a separate piece, then BoingBoing writer Cory Doctorow talked about it as a way to "remove the poison" from online conversations.
For example, Teresa invented a technique called disemvowelling -- removing the vowels from some or all of a fiery message-board post. The advantage of this is that it leaves the words intact, but requires that you read them very slowly -- so slowly that it takes the sting out of them. And, as Teresa recently explained to me, disemvowelling part of a post lets the rest of the community know what kind of sentiment is and is not socially acceptable. -- Cory Doctorow
However, he also noted that it often needed tools to make it workable, as doing it by hand was not scalable:
When Teresa started out disemvowelling, she removed the vowels from the offending messages by hand, a tedious and slow process. But shortly thereafter, Bryant Darrell wrote a Movable Type plugin to automate the process. This is a perfect example of human-geek synergy: hacking tools for civilian use based on the civilian's observed needs.But there aren't enough Teresas to go around: how do we keep all the other message-boards troll-free? Again, the secret is in observing the troll whisperer in the field, looking for techniques that can be encapsulated in tutorials and code. There is a wealth of troll whisperer lore that isn't pure intuition and good sense, techniques that can be turned into tools for the rest of us to use. -- Cory Doctorow
The concept did get a bit more attention after that. The following year, Time Magazine described disemvoweling as one of the "Best Inventions of 2008" (even though disemvoweling was developed before that year). Almost exactly one year after BoingBoing did it, various Gawker blogs announced plans to also begin disemvoweling troll comments with a tool built into their content moderation system.Company Considerations:
What are other techniques like disemvoweling that can be alternatives to simply deleting trollish comments?
Is disemvoweling an effective strategy for dealing with trollish behavior in forums?
For making use of disemvoweling, is it worth investing in building tools to make the process usable across multiple moderators? If so, what features would those tools need to have? How would those tools be rolled out?
Should there be different types of moderation (deletion, disemvoweling, etc.) applied to different types of content? If so, what should those differences be?
In this case study, the websites' traffic was fairly small and moderation was by a handful of moderators. What would a company need to consider, in terms of content policy and moderation tools, if they want to use disemvoweling on websites that have much much larger communities and hundreds of moderators reviewing content?
Issue Considerations:
Would removing vowels simply make trolls angrier and more determined to troll a website?
Is disemvoweling more effective than simply deleting content since it also acts as a signal of what is not acceptable behavior on a particular site?
Do trolls adapt to techniques like disemvoweling and find other ways to troll, making it only a short term solution?
Does disemvoweling actually highlight the comments, making curious readers try to figure out what it's saying?
Resolution: The focus on disemvoweling eventually went out of favor. Boing Boing dropped the practice, as did other sites that had embraced it. In 2009, a writer for Albany's Times Union newspaper noted that a corporate lawyer had ordered him to stop disemvoweling comments on his blog posts for the newspaper, though it was not clearly explained why the lawyers were concerned about it.Most of the discussion about disemvoweling disappeared as well, other than a brief flare up when Washington Post owner Jeff Bezos apparently suggested in a brainstorming session that they should allow some users to pay to disemvowel entire stories (and other users can pay to re-vowel them later). It appears this idea did not gain any support.Originally posted to the Trust & Safety Foundation website.

Read more here

---
posted at: 12:00am on 19-Aug-2021
path: /Policy | permalink | edit (requires password)
0 comments, click here to add the first
---
---
Video Games, Once Demonized, More Regularly Utilized For Positive Health Benefits

Furnished content.


For decades now, video games have been largely demonized by a certain segment of the population that probably were annoyed when great evils like jazz music and chess were also demonized. Video games, say this group, make kids lazy and fat, degrade social skills, keep them from going outside and hitting each other with sticks or something, and also make them all violent school shooters. That many of these same charges were levied on such horrible activities as chess, Dungeons & Dragons, or any of the other moral panics we kicked off appears to be lost on most everyone. Video games are evil, full stop.Until they're not, of course. And, fortunately, the tide continues to turn as more and more people play video games more and more. Already we've seen studies suggesting that gaming can actually be a very healthy activity, even for children. But not just for children. Gaming can also, according to a new study, be beneficial for older folks when it comes to combatting depression.
Playing video games might look like a fun way to spend an afternoon. "They get addicting," said Laurie Featherstone, age 60, who lives in Millcreek. But it can also be so much more."When you go to someone like me and say, 'I'm depressed,' you expect me to say, 'Well, you should take some medicine or you should go to therapy.' So we're really proposing a third, very odd option to patients," said Shizuko Morimoto, a University of Utah population health sciences professor.Morimoto, a neuroscientist, treated Featherstone with video games designed to target the cognitive control center of the brain which malfunctions in depressed patients.
Morimoto ran several clinical trials with patients of depression between the ages of 60 and 85. The games were developed specifically to combat malfunctioning parts of the brain that lead to depression, so, no, this isn't Grandma mowing people down in Call of Duty. But that isn't really the point, as video games have been demonized beyond just shooters or violent games. But like anything else, a tool, or video game, can be good or bad depending on how you use it.
One is a word game; the other, a gardening game. "Flowers are growing and you're tapping on watering buckets and you're shooing away bugs and you're looking at the weather," he said.But there's much more going on behind the colorful flowers. The better you get at the game the harder it becomes. It also charts your progress, giving vital feedback and improving care.Featherstone said it's an intense workout. "It felt like I'd gone out and ran you know, a 5K race and but with my brain," she said.
The NIH has offered a $7.5 million grant to expand this study into a much larger population. The point here isn't that all video games are good for you, or that all of them are bad for you. Either assertion is self-evidently stupid. The point instead is that there is nuance to all of this and blanket policies or grand statements devoid of that nuance are silly.Are video games good for you, or bad? It depends, but we can now say for sure that the most panicked among us are wrong.

Read more here

---
posted at: 12:00am on 19-Aug-2021
path: /Policy | permalink | edit (requires password)
0 comments, click here to add the first
---
---
Court Urders Injunction Against RomUniverse To Permanently Shut Down, Destroy Nintendo ROMs

Furnished content.


What a ride for RomUniverse and its owner, Matthew Storman. By way of background, 2019 saw Nintendo start an all out assault on ROM sites, websites where users could download ROMs of old Nintendo games to play on emulators. When the company set its eyes on RomUniverse, Storman attempted to crowdfund a legal defense, which failed, only to represent himself in court and make a lame argument that somehow first sale doctrine allowed him to commit mass copyright infringement. When that all failed miserably and RomUniverse lost in court, Storman was ordered to pay $2.1 million in damages in monthly $50 installments. He failed to make even those payments.And so now this all comes to an unceremonious end, with Nintendo asking the court for a permanent injunction on RomUniverse and that injunction being granted.
A California court has ordered RomUniverse owner Matthew Storman to keep the website permanently offline and to destroy all illegal Nintendo ROMs.As reported by TorrentFreak, he has until August 17 to comply with the order. The publisher had filed a request for a permanent injunction in May to keep the website offline, but the court at the time denied it. Nintendo however asked that the decision be reconsidered in June as Storman didn't specifically dispute that the website would be revived.
To be clear, everyone in this story is somewhere on the spectrum of dumb. Storman's defenses were laughable and the fight he attempted to put up in court pitiful. When Nintendo specifically brought evidence that Storman had been directly involved in some of the infringing content either appearing on his site, or with him pushing rewards for uploaders to induce them, his argument of first sale doctrine was incredibly weak.Nintendo, for its part, has buried what mostly amounts to a current non-threat. Nintendo's sales of older consoles and older games, including on new consoles, has been wildly successful. It buried this site not because it acted as some major threat to Nintendo, but rather because it could. That is very much the Nintendo way, as is the total lack of acknowledgement as to how ROM sites like this, whatever you might want to say about their legality, certainly served for decades to keep interest in classic Nintendo games alive.But instead, Nintendo has gone through this entire process, spending whatever money it had to and cannot extract from Storman, just so RomUniverse is no longer online. If that's how the company wants to spend its money, mission accomplished, I suppose.

Read more here

---
posted at: 12:00am on 18-Aug-2021
path: /Policy | permalink | edit (requires password)
0 comments, click here to add the first
---
---
Illinois Governor Signs Law Banning Cops From Performing Background Searches On Public Speakers

Furnished content.


The Chicago PD has a host of problems. Ones that have gone unaddressed for years and appear to remain unaddressed even after the federal government has been forced to step in. Misconduct goes unpunished, investigations into officers are left uncompleted, the PD buys surveillance tech with forfeiture funds to dodge its oversight, and it operated a CIA-style black site in the city where arrestees and their rights vanished with alarming regularity.For years, the Chicago PD has also apparently investigated citizens who speak at public meetings. A 2019 investigation by the Chicago Tribune, aided by public records requests, uncovered this secret attack on the First Amendment.
Documents obtained by the Tribune under a public records request show the Police Department gathered the details on nearly 60 people in advance of their speaking at monthly meetings of the Chicago Police Board since at least January 2018. A police spokesman said the background checks go back further, to at least 2013.The checks appear to be extensive, with police searching at least one internal department database to determine if speakers have arrest or prison records, warrants outstanding for their arrest, investigative alerts issued for them by the department and even if they're registered sex offenders or missing persons. Police also searched comments that speakers had previously made on YouTube or on their Facebook and Twitter accounts, among other internet sites, the documents show.Among those subjected to background checks were a woman who alleged she was sexually assaulted decades ago by a Chicago police officer, a community activist who gained prominence after the fatal shooting of Laquan McDonald by a police officer and a 77-year-old man known for his frequent, flamboyant rants on a variety of topics at public meetings across the city.
It actually goes back further than 2013. Other public records indicate the Chicago PD has been doing this for more than 15 years, beginning in 2006.The background searches only targeted certain speakers at certain public meetings: those wishing to express their opinion during comment sessions hosted by the PD's oversight. Upon revelation of this practice, Police Superintendent Eddie Johnson offered up two useless comments. First, he claimed the PD had never acted on this information. Then he promised to end it, but seemingly because it was a pointless exercise in police overreach.
"I don't think we have a reason at this point to continue it," said Johnson, who often attends Police Board meetings with members of his command staff. "It's done."
It's really done now -- at least as far as one background search database goes. The involuntary decision to end the practice of running searches on public speakers has been codified.
Gov. J.B. Pritzker on Friday signed into law a measure that makes it illegal for police to use at least one commonly searched law enforcement database to conduct criminal background checks on citizens who sign up to speak at public meetings statewide.[...]The new law, which goes into effect immediately, bars police agencies throughout Illinois from conducting background checks on citizens "for the sole reason" of that person speaking "at an open meeting of a public body, including police disciplinary boards."
But the bill only forbids use of the LEADS (Law Enforcement Agencies Database System) database for these searches. It doesn't prevent the Chicago PD (and other agencies) from using other criminal record/background check databases they have access to. There's also a public safety exception that allows cops to run searches if they "reasonably" believe a speaker is a security threat or may engage in criminal conduct. That's a pretty massive exemption and one that can be abused without officers fearing they may be punished by employers that have shown little interest in punishing them for their misconduct.However, if LEADS is used and an officer can't find a way to justify the search, there are actual consequences. A violation of the law can lead to 30 days in jail and a fine of up to $1,500. Considering how hesitant governments are about punishing their own, it seems unlikely we'll see many officers punished for violating this new ban. If the cops want to dig up dirt on public speakers, they'll find a way to do it. The better deterrent is something law enforcement agencies can't control: speakers are allowed to sign up to speak at meetings 15 minutes ahead of its start, rather than 24 hours prior. That gives some power back to the people, making it far more difficult for dossiers to be compiled by police officers more interested in abusing their powers than respecting people's rights.

Read more here

---
posted at: 12:00am on 18-Aug-2021
path: /Policy | permalink | edit (requires password)
0 comments, click here to add the first
---
---
CIA: Collect It All Card Game, Now Available On Amazon

Furnished content.



Get your copy of CIA: Collect It All on Amazon »Some of you may remember that in 2018, we were able to take the (heavily redacted, but very much public domain) details of a CIA internal card game that was used to train analysts, and create our own version of it, which we crowdfunded on Kickstarter. After that was released successfully, we continued to sell remaining copies directly via our fulfillment partner. However, until last month, it was not available on Amazon -- even as we heard from multiple people who expected it to be there. That's finally been solved, and our game, CIA: Collect It All is now available on Amazon for those who'd like to get it that way.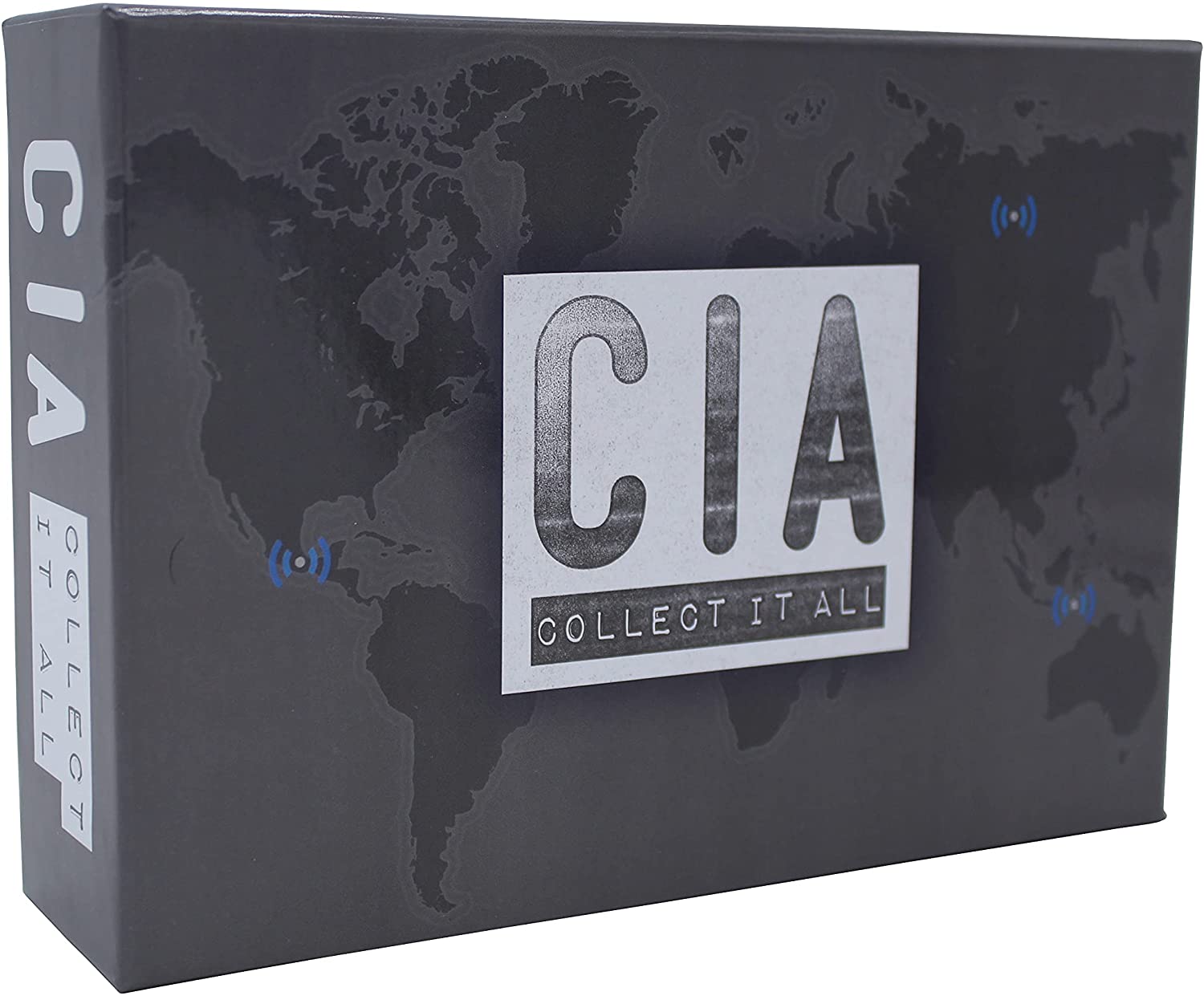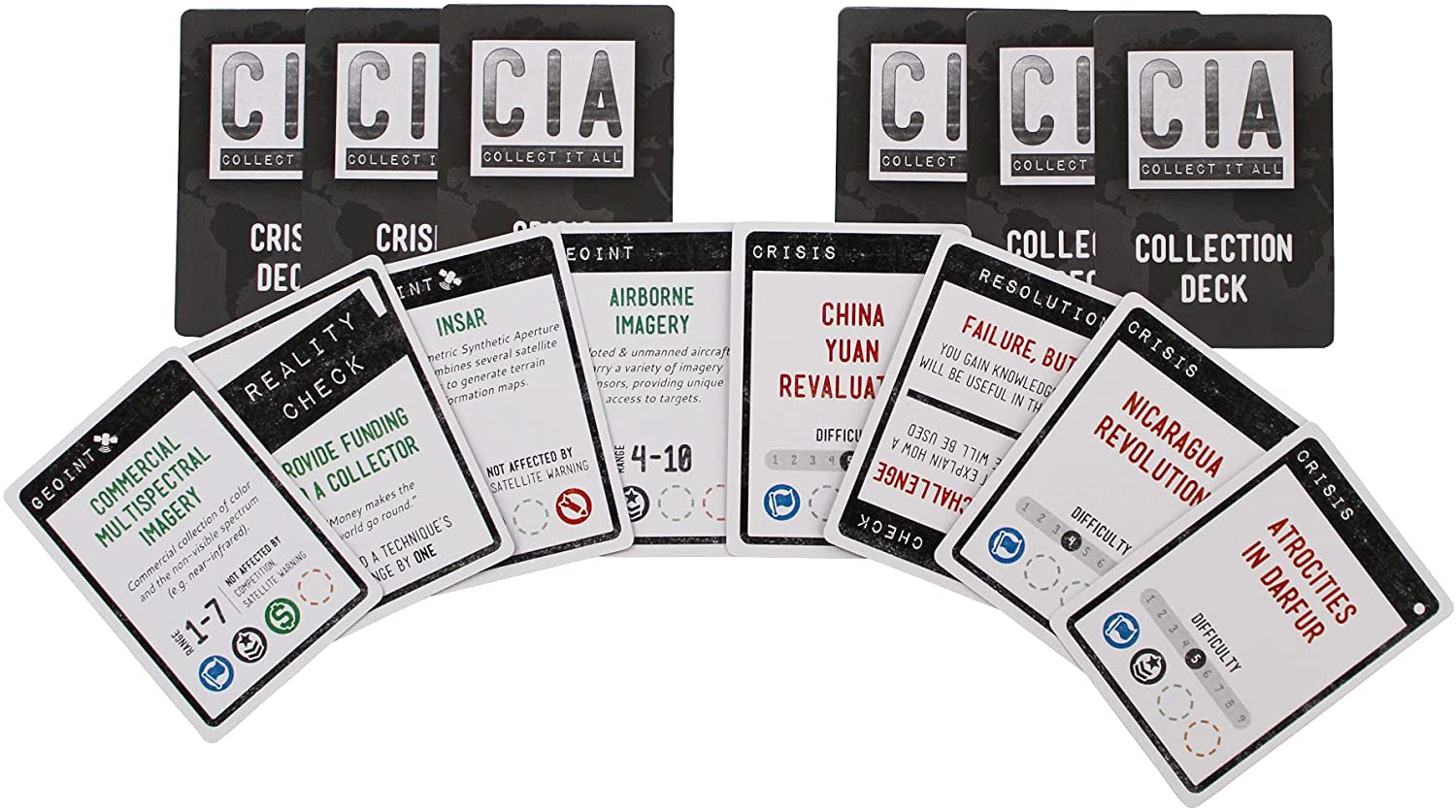 For what it's worth, they've actually been selling relatively quickly since being added to Amazon, and we're not sure when we'll get a chance to do another printing run, so if you want the game, you should consider ordering soon.Separately, we've been hard at work on a follow up game, designed entirely by us, but on a related theme. Though, I can assure you that our new game will not have the CIA's stamp of approval. Keep an eye out for that one, coming soon.
Get your copy of CIA: Collect It All on Amazon »

Read more here
---
posted at: 12:00am on 17-Aug-2021
path: /Policy | permalink | edit (requires password)
0 comments, click here to add the first
---
---
4 Dems Pushing Game Companies To Drop Loot Boxes Pointing At UK Law That Doesn't Mention Loot Boxes

Furnished content.


Somehow, despite all odds, the conversations between the public and the video game industry about loot boxes are still going on. If you're not familiar with loot boxes, they are a randomized reward, typically after a purchase, that provides some kind of in-game benefit, cosmetic or in gameplay, to the purchaser. Because of their random nature, a whole lot of people consider them both a form of gambling (kinda) and an affront to fair online competitive gameplay (definitely) because they allow those with money to be stronger in the game than those without money. This consternation has caught the eyes of politicians, who then attempt to trade off of it in order to build up some kind of goodwill with the gaming public. You will recall that Josh Hawley introduced a doomed bill in the Senate to "regulate play to win" practices of video game companies. The bill died in Congress without receiving a vote.Well, now a group of Democrats are trying to get larger gaming companies to self-regulate their own loot box practices by pointing to a UK law of all things.
Democrats are calling on some of the largest gaming companies to better protect children by extending new UK design rules to children in the US. The regulations could ban companies from selling in-game loot boxes to minors, among other restrictions. In letters to a dozen major gaming companies, including Blizzard, Epic Games, Microsoft, Nintendo, and Riot, Sen. Ed Markey (D-MA), Rep. Kathy Castor (D-FL), and Rep. Lori Trahan (D-MA) pressed executives to extend new UK design regulations to children in the US."It is imperative that Congress acts with urgency to enact a strong privacy law for children and teens in the 21st century," the lawmakers wrote. "As we work towards that goal, we urge you to extend to American children and teens any privacy enhancements that you implement to comply with the AADC."
You can read the entire letter here (PDF). One important section of that letter to gaming executives includes this.
Loot boxes go one step further, encouraging purchase before a child knows what the "bundle" contains— akin to gambling.3 Children are uniquely vulnerable to manipulation and peer pressure associated with in-game purchases and loot boxes. Experts suggest that Entertainment Software Rating Board (ESRB) ratings and parental controls are insufficient. 4 The AADC represents a monumental step towards child centric design by default.
And, with respect to loot boxes, that is a very interesting position to take for this group of politicians. Why? Well, primarily because the AADC has literally nothing to say about loot boxes. As in, it doesn't even mention them. The AADC is also not a "law", but a regulatory set of standards.
However, the code explicitly mentions neither loot boxes nor in-game gambling, nor ever really even alludes to them. While the subjects of loot boxes and IAPs came up during the UK regulator's research into "Detrimental use of data," it's not a factor of the final publication. It's certainly a stretch to see how the content of the AADC relates to what's raised in the letter sent to US publishers.
And so, to summarize: a group of Democrats are attempting to gaslight the gaming industry into doing what they want by citing a regulation from another country that doesn't even apply to its demands, all under threat of actual American legislation. "Do what we say even though our argument doesn't make sense or we'll force you to do it anyway" is not a great look for any politician, never-mind one attempting to apply this towards an industry that is absolutely protected by the First Amendment. The goal of introducing protections for children against micro-transaction practices in video games may well be a well-intentioned goal, but getting there by sneaky means doesn't fill the soul with confidence.But, then, so little about Congress does these days.

Read more here

---
posted at: 12:00am on 17-Aug-2021
path: /Policy | permalink | edit (requires password)
0 comments, click here to add the first
---
---
This Week In Techdirt History: August 8th - 14th

Furnished content.


Five Years AgoThis week in 2016, we looked at the recent emergence of the new "value gap" rhetoric" in music industry complaints about tech, while Kickass Torrents was trying to get the Justice Department to drop charges against it, and Ed Sheeran was facing lawsuits for songs that were merely inspired by older songs. The EFF was asking the FTC to enforce "truth in labeling" rules around DRM, a judge upheld his own problematic ruling concerning Cox's repeat infringer policy and the DMCA, and we were anticipating a deluge of copyright fights over viral news videos. One judge thankfully laughed off the notion that Twitter was liable for ISIS attacks, while another court said the FBI had to be much more frequent about reviewing NSL gag orders. And the Monkey Selfie case got even more silly with an amacus brief from a primatologist.Ten Years AgoThis week in 2011, some patent troll lawyers were smacked down and made to pay sanctions, while the website Fark got another patent troll to settle for nothing. We looked at a historical example of how even the death penalty doesn't stop infringement, just as New York was expanding anti-piracy laws for no reason and a court in India ruled that service providers are liable for copyright infringement by users — all while file sharing continued to grow, not shrink. A very worrying ruling by the Sixth Circuit said that sending too many emails can violate the CFAA, Apple advertised how frightened it was of the Samsung Galaxy tablet by getting a Europe-wide blockade of the device, and the San Mateo County District Attorney finally realized that Gizmodo didn't break the law by writing about the iPhone 4 prototype it found.Fifteen Years AgoThis week in 2006, AOL made a huge and astonishing unforced error by exposing the search queries of 500,000 users for research purposes, leading the CEO to eventually start calling individual customers to apologize — and the incident seemed to spark some recognition in government that data retention isn't a good thing. The Senate released a patent reform plan with some good aspects and a whole lot of bad ones, while a very interesting patent battle broke out over Amazon's infamous one-click patent. Major League Baseball failed in its attempt to claim ownership of stats, but decided to double down with a slightly different approach. And the RIAA was fighting against efforts to have its representatives deposed in a lawsuit by demanding sweeping gag orders on the depositions.

Read more here

---
posted at: 12:00am on 15-Aug-2021
path: /Policy | permalink | edit (requires password)
0 comments, click here to add the first
---
---
New Hampshire PD's Recruitment Pitch Lists Qualified Immunity As A Job Perk

Furnished content.


Every so often law enforcement forgets to keep the mask on. The public front is all about safety and providing a line of defense against criminal chaos. Behind the front, it's a bunch of people with the same flaws as regular humans, only with access to an incredible amount of power and an almost nonexistent amount of accountability.When law enforcement agencies are looking to hire, they're generally not looking for the best, most honest people. They're looking for the kind of people who desire power and disdain personal responsibility. A recent open call for applicants on Facebook -- posted by the Manchester, New Hampshire Police Department -- made the mistake of being a bit too direct.
The Manchester Police Department is looking for reliable, motivated, and personable recruits for both entry level and certified positions. Located less than an hour from Boston, Manchester enjoys proximity to great schools and attractions, the beach, and the White Mountains. The department offers many opportunities to advance and additional unique benefits including qualified immunity. Click the link and apply now! There is no application fee and remote testing is now available. Come enjoy the high quality of life NH offers and work for a great department backed by community support!
"Qualified immunity" is indeed a "unique benefit." You can't find it in the private sector. It's for public servants only. It is, however, a pretty effective benefit -- one that provides yet another avenue for misbehaving law enforcement officers to elude the consequences of their actions.But should agencies really be pitching qualified immunity as an employment perk? Pretty much everyone but the employee posting this to the PD's Facebook page says no. And that (belatedly) includes the head of the Manchester PD, Chief Allen Alderberg, who posted an apology for the hiring notice less than 24 hours later.
"Earlier today Manchester Police published a recruitment post that referenced qualified immunity. This post was not the place for the mention of qualified immunity and was not appropriate. The post was removed and archived appropriately. As Chief of Police I take full responsibility for this post and the inappropriate mention of qualified immunity".
This is a good (and appropriate) response. Hopefully the response from the chief includes more than simply manning the PR desk momentarily. If this sort of thing is being posted publicly, it would seem to indicate officers believe qualified immunity is a side benefit, rather than a litigation option they'll hopefully never have to use.

Read more here

---
posted at: 12:00am on 14-Aug-2021
path: /Policy | permalink | edit (requires password)
0 comments, click here to add the first
---
---
Rockstar Begins A War On Modders For 'GTA' Games For Totally Unclear Reasons

Furnished content.


There are two types of video game publishers: those that embrace their modding communities and those that do not. The latter group is in something of a spectrum. iD Software, for instance, has long kept the modding community open and operating on its Doom titles, while developer 1C embraced its modding community so much that it built some mods into official releases. Other publishers have gone into full restriction mode, shutting down modding communities and even going after them over supposed copyright infringement violations.Rockstar Games has previously had its own run-in with its modding community, banning modders who attempted to shift GTA5's online gameplay to dedicated servers that would allow mods to be used, since Rockstar's servers don't allow mods. What it's now doing in issuing copyright notices on modders who have been forklifting older Rockstar assets into newer GTA games, however, is totally different.
Grand Theft Auto publisher Take-Two has issued copyright takedown notices for several mods on LibertyCity.net, according to a post from the site. The mods either inserted content from older Rockstar games into newer ones, or combined content from similar Rockstar games into one larger game. The mods included material from Grand Theft Auto 3, San Andreas, Vice City, Mahunt, and Bully.This has been a legally active year for Take-Two, starting with takedown notices for reverse-engineered versions of GTA3 and Vice City. Those projects were later restored. Since then, Take-Two has issued takedowns for mods that move content from older Grand Theft Auto games into GTA5, as well as mods that combine older games from the GTA3 generation into one. That lead to a group of modders preemptively taking down their 14-year-old mod for San Andreas in case they were next on Take-Two's list.
All of this is partially notable because it's new. Like many games released for the PC, the GTA series has enjoyed a healthy modding community. And Rockstar, previously, has largely left this modding community alone. Which is generally smart, as mods such as the ones the community produces are fantastic ways to both keep a game fresh as it ages and lure in new players to the original game by enticing them with mods that meet their particular interests. I'll never forget a Doom mod that replaced all of the original MIDI soundtrack files with MIDI versions of 90's alternative grunge music. That mod caused me to play Doom all over again from start to finish.But now Rockstar Games has flipped the script and is busily taking these fan mods down. Why? Well, no one is certain, but likely for the most obvious reason of all.
One reason a company might become more concerned with this kind of copyright infringement is that it's planning to release a similar product and wants to be sure that its claim to the material can't be challenged. It's speculative at this point, but that tracks with the rumors we heard earlier this year that Take-Two is working on remakes of the PS2 Grand Theft Auto games.
In other words, Rockstar appears to be completely happy to reap all the benefits from the modding community right up until the moment it thinks it can make more money with re-releases, at which point the company cries "Copyright!" The company may well be within its rights to operate that way, but why in the world would the modding community ever work on Rockstar games again?

Read more here

---
posted at: 12:00am on 14-Aug-2021
path: /Policy | permalink | edit (requires password)
0 comments, click here to add the first
---
---
Content Moderation Case Study: Twitter Temporarily Locks Account Of Indian Technology Minister For Copyright Violations (2021)

Furnished content.


Summary: In late June 2021, Twitter briefly suspended the account of Ravi Shankar Prasad, the Indian government's Technology Minister because his content violated copyright. Although Prasad was given a copy of the DMCA (Digital Millennium Copyright Act) takedown request, he posted a short Twitter thread that claimed this moderation action was Twitter silencing him, rather than simply responding to a takedown notice targeting alleged copyright violations.
According to Prasad, the removal of his tweets and brief suspension were the result of him not aligning himself with Twitter's "agenda." He claimed Twitter would "arbitrarily" do the same to others who did not "tow the line that they draw."Prasad also claimed the takedown via DMCA notice violated Indian law. Specifically, the Technology Minister claimed Twitter violated local law by failing to provide him with prior notice before locking him out of his account. The law cited was Rule 4(8) of the Information Technology Rules 2021.Prasad's pushback against Twitter's decision to suspend his account based on claims of copyright violations came after weeks of Indian government officials' public criticism of American social media companies. Shortly after this critique, the new Information Technology Rules law went into effect on May 26, 2021.The new law affects multiple US social media platforms. It requires them to remove certain content within 24 hours of notification and forces them to set up local offices in India where complaints can be handled by newly-created compliance, contact, and grievance officers. While the new law has been in the works since 2018, its passage was accelerated by Twitter's refusal to block tweets/accounts associated with the long-running "Farmer's Protest" that greeted the Indian government's passage of laws that many farmers believe do more to aid corporate farms and large agricultural concerns than the many small, independent farmers that populate the country.Earlier in June, the Indian government issued a "final warning" to Twitter, ordering it to comply with the new law or "face consequences." Twitter has since temporarily removed nearly 500 tweets associated with the Farmer's Protests. During the same time period, its offices in India were raided by Indian law enforcement after Twitter labelled a tweet from a member of India's ruling party as "misinformation."Company Considerations:
Which country's laws should be applied to social media content? Should it be the country in which the tweet originated (in this case, India)? Or should it be the laws in which the headquarters of a platform is located (in this case, the US?)
Should a foreign person be subjected to another country's laws if they are using a platform of that other country?
Should Twitter process DMCA counternotices (if any) before removing content and/or suspending alleged infringers?
How should a company handle backlash from a government when moderating content violation issues such as a copyright violation?
When laws conflict (as in this case, where Indian law requires notice and the opportunity to challenge the claim before content is moderated, whereas US law does not), can platforms find a middle ground that removes some of the friction (for instance, temporarily "hiding" the content while waiting for a counternotice to be served rather than immediately suspending accounts)?
Does showing consistency in moderation efforts (like those involving the DMCA process) help head off claims that some of these efforts are "politically-motivated?"
Issue Considerations:
When it's impossible to please both sides (in this case, foreign government officials and content owners protecting their intellectual property), which party should be prioritized?
Should pressure from foreign government officials be allowed to alter moderation efforts involving intellectual property owners?
Resolution: This chain of events appears to have resulted in government officials like Prasad believing normal moderation actions by Twitter are actually a form of censorship targeting a government that was recently highly critical of US social media services. This has led to even more problems for Twitter: the Indian government has filed a request with a New Delhi court to strip Twitter of its liability protections for user-generated content. For the time being, Twitter's approach to the handling of DMCA takedown notices appears unchanged, even when it involves the accounts of foreign government officials.Originally posted to the Trust & Safety Foundation website.

Read more here

---
posted at: 12:00am on 13-Aug-2021
path: /Policy | permalink | edit (requires password)
0 comments, click here to add the first
---
---
DOJ Announces Investigation Of Phoenix PD's Use Of Excessive Force And Abuse Of Homeless People

Furnished content.


With a new Attorney General in charge and a new President in the White House, the Department of Justice is getting back to taking care of the uncomfortable business of investigating local law enforcement agencies. This part of the DOJ's responsibilities was largely abandoned under Trump, who opened up his presidency by declaring he would "end" the "dangerous anti-police atmosphere."Trump actually made it worse. His enthusiastic support for police and police violence did nothing to discourage the sorts of actions that create "anti-police atmosphere." Concurrently, the DOJ -- under AGs Sessions and Barr -- looked the other way as law enforcement agencies engaged in activities that violated the rights of the public.The latest law enforcement agency to under the DOJ's scope is the Phoenix, Arizona police department. The Phoenix PD last made news here at Techdirt after its union offered cops access to paid service that would "scrub" social media services of their posts. This was deployed in reaction to multiple investigations opened all around the nation after transparency activist group Plainview Project was able to link bigoted and violent social media posts to current law employment officers.There are some specifics to this investigation that indicate some parts of the Phoenix PD's enforcement efforts are more problematic than others.
This investigation will assess all types of use of force by PhxPD officers, including deadly force. The investigation will also seek to determine whether PhxPD engages in retaliatory activity against people for conduct protected by the First Amendment; whether PhxPD engages in discriminatory policing; and whether PhxPD unlawfully seizes or disposes of the belongings of individuals experiencing homelessness. In addition, the investigation will assess the City and PhxPD's systems and practices for responding to people with disabilities. The investigation will include a comprehensive review of PhxPD policies, training, supervision, and force investigations, as well as PhxPD's systems of accountability, including misconduct complaint intake, investigation, review, disposition, and discipline.
The city is also being investigated to see what culpability it carries for the PD's anti-homeless actions. It appears the city (and the PD it employs) has been unwilling to obey court precedent finding certain policies unlawful.
A 2018 ruling by the 9th Circuit Court of Appeals banned cities from arresting or imposing fines on people sleeping in public places in the absence of meaningful housing alternatives.As a result, local governments in western states have begun to reassess their urban camping ordinances. Among them are cities in Arizona like Glendale and Tempe, which have stopped enforcing urban camping laws.But little has changed in Phoenix, said Elizabeth Venable, treasurer for the Fund for Empowerment.Despite the court decision, the Phoenix Police Department is "doing the same thing they've always done," said Venable.
The state appears to believe the proper solution to being on the wrong end of court decisions is to change the law. A new proposal would create sanctioned "camps" for homeless people while still allowing the state to punish homeless people for sleeping in public areas without permission.
The bill would authorize the state to create designated camping areas on state land with access to water, electricity and bathrooms where people experiencing homelessness could stay. Residents of the designated camping area may be required to attend substance abuse treatment or mental health services.He said the camps would be similar to the temporary parking-lot shelters opened by Maricopa County last year to prevent the spread of COVID-19. Security would be provided at all camping areas.The bill would prohibit homeless encampments anywhere else on state property.
Yes, this would create other options for temporary housing of homeless people. But it won't do much to prevent police officers from harassing and arresting homeless people for simply existing in the wrong place at the wrong time. And it's this leeway that appears to have led to this investigation -- the encouragement of heavy-handed enforcement by city reps, which has manifested as the abuses the DOJ is now digging into.Unfortunately for the DOJ, it may soon discover it doesn't have a whole lot of information to work with. As was discovered by Justin Price of AZCentral last year, the city's contract with the police union allows misconduct records to be destroyed almost at will.
Over 500 of the city's 3,000 officers have had their pasts memory-holed by the union contract, covering over 600 misconduct incidents ranging from failure to complete reports to deployments of excessive force.The purging prevents even internal investigators from discovering patterns of misconduct that should result in harsher discipline or termination. It also prevents plaintiffs suing officers over violated rights from obtaining key background info that could indicate an officer is a longtime abuser of citizens. In one case cited in Price's report, the PD began purging an officer's records as soon as the officer had been served.
Beyond the impediments posed by a lack of documentation, there's the question of how much the DOJ can actually change by performing an investigation. At best, it prevents law enforcement agencies from claiming any abuses uncovered are just a matter of perception. At worst, it just forces agencies to keep their heads low for a while and wait for the DOJ (and the public's interest) to head elsewhere.It should be noted, however, that every closed DOJ investigation finds evidence of wrongdoing, usually of the "substantial" and "pervasive" varieties. By the time the DOJ decides to step in, the problem is generally too big to ignore. This means the agency being investigated is already aware of the problem but has done nothing to correct it. That mindset -- one that views bad cops as victims of public perception -- tends to stick around long after the DOJ has dropped off a consent decree and blown town.

Read more here

---
posted at: 12:00am on 13-Aug-2021
path: /Policy | permalink | edit (requires password)
0 comments, click here to add the first
---
---
Bad Faith Politicians Are Using Social Media Suspension To Boost Their Own Profiles

Furnished content.


You may have heard that conspiracy theorist and nonsense-spouting Rep. Marjorie Taylor Greene has, not for the first time, been temporarily suspended from Twitter for passing along conspiracy theory nonsense regarding vaccines. She's unable to tweet for 7 days. I, unfortunately, can't find the tweet now, but back in July when she was similarly suspended for just 12 hours, I saw someone jokingly note that temporarily suspending someone like Greene was the equivalent of Twitter throwing her a fundraiser, since she would immediately turn around, play the victim, and get her gullible, duped followers to throw more money at her. And, no doubt the same is true with this suspension as well. She's already put out a statement and the usual "conservative" media orgs are already talking about how "Twitter can't handle the truth" or some such nonsense.And then, of course, you have people who are reasonably ticked off at Twitter "only" temporarily suspending Greene for spreading nonsense info, rather than permanently banning her.So, in the end, you have both ends of the political spectrum mad about this setup, and trying to spin it to their own advantage. However, once again, it really seems to highlight the impossible nature of content moderation at scale, especially when some of the parties are clearly acting in bad faith.Twitter has its escalation policies in place, and they're designed (reasonably!) to deal with good faith users, who might not realize they're violating the rules or spreading dangerous disinformation. In that world, an escalating penalty system makes sense. Getting suspended for a few hours or a week generally sucks for users who actually like to use the site but it's a sort of "cool off" period combined with a gentle nudge to be a better participant on the internet. But, of course, that system kind of breaks down when you have not just bad faith actors who are deliberately testing the boundaries of what they can get away with, but who actually benefit from the suspension and the press attention that comes with it.At this point, some will say "well, that's a perfect reason to just suspend such people permanently." But, alas, that comes with its own challenges. Indeed, jumping straight to a permanent suspension only proves that the company would be treating some people differently, and would be treated by people like Greene as "proof" of "anti-conservative bias" (again, this would be bad faith, but it would allow the story to have some level of confirmation). So, Twitter can't do that without providing what a bunch of people will see as confirming evidence. So Twitter follows its rules, and continues to escalate the punishment (eventually MTG will get permanently suspended, it seems only a matter of time).Looked at realistically, the fact that Twitter is following its stated escalation policies, rather than doing an outright ban should be seen as evidence that it is not "biased against conservatives," but is treating everyone the same. If you violate the company's policies about COVID vaccines, then you go through the escalation process -- whether you made a mistake in good faith or whether your a bad faith grifter. Of course, that's not how it will play out anywhere, because no one does nuance any more.Some might argue that the obvious bad faith nature of MTG's arguments mean that Twitter should just have a policy of banning bad faith grifters. And that's certainly tempting, but how do you define bad faith grifter within a policy such that a large team of content moderation professionals can apply it consistently? The problem is that you really can't. The very nature of an escalation policy is that it does, eventually, take care of most bad faith grifters. It just takes time, and allows them to violate the rules a bunch of times before getting the final send-off.

Read more here

---
posted at: 12:00am on 12-Aug-2021
path: /Policy | permalink | edit (requires password)
0 comments, click here to add the first
---
---
Manchester United Becomes Manchester UFC In 'Football Manager 22' Over Dumb Trademark Spat

Furnished content.


It won't be a massive surprise that Manchester United, the famed Premier League football club, has made it onto our pages before. As the "Yankees of European soccer", it would be shocking if the club hadn't at some point taken aggressive action in the technology and IP space. Still, there isn't a great deal of posts in there, so you would be forgiven if you thought of Man-U as generally not bad on this sort of thing.But, no, the club is perfectly capable of being protectionist, and even occasionally taking outrageous positions. For instance, we can start with the fact that Sega's Football Manager 22 will no longer include the name of the club in the game, but will shift it to something barely different after a lawsuit was filed because of... reasons.
Manchester United will be renamed Manchester UFC from Football Manager 22 onwards after the resolution of a trademark dispute. The Premier League club sued Football Manager publisher Sega in May last year, 16 years after the release of Sports Interactive's first Football Manager game, and 28 years after the launch of the first Championship Manager game.
In the actual lawsuit, Sega pushed back and stated that including the club in the context of a football/soccer game was a legitimate use, indicating it as basically simply describing reality. Sega also noted that Man-U had appeared under its name in the Football Manager series for literally 30 years without any complaint from the club whatsoever. Why this suddenly became an issue comes down to the club's desire to sell exclusive licenses for use to Sega's competitors, of course, but soccer games have existed forever. Where has Man-U been this entire time?Further pushback came from Sega, indicating that the game designers went out of their way not to use Man-U's logos or crests, as that really would be a trademark violation. Somewhat amazingly, Man-U responded saying that was trademark infringement, too.
United also claimed Football Manager infringed its trademark of the Manchester United logo by not using the official Manchester United crest in the game. This "deprives the registered proprietor of its right to have the club crest licensed", Manchester United's lawyers said."Consumers expect to see the club crest next to the name Manchester United... and this failure to do so amounts to wrongful use," United argued, although the club's lawyer accepted this argument was "somewhat novel, and certainly in the context of video games, but it is certainly arguable".
Yes, it's novel, because I've never heard a trademark claimant suggest that not using trademarked iconography was infringement solely because it didn't result in a licensing deal to use the actual trademarked iconography. That's... not how this works. It would also be interesting to see how this claim would run up against any free speech rights Sega could point to in the UK. While obviously different from the laws in America, I'll just note that the 1st Amendment here would make this argument a complete non-starter. A 2nd party can't claim the right to force the 1st party to put something specifically in their game.But, alas, Sega changed the name to something barely different to get out of this whole mess, noting the entire time that it admitted no guilt.
This means that, from this year's game onwards, Manchester United will be named 'Manchester UFC' or 'Man UFC'."These name changes have been made purely to settle the dispute on a no admissions basis," Sports Interactive added. "SEGA and Sports Interactive maintain that they do not need a licence to use the Manchester United name but have made the change as a gesture of goodwill so that both parties can move on."
And so everyone playing the game will know precisely what the game is referring to with its "Manchester UFC" name, but the club won't actually get the exposure benefit of having its normal branding in there.Talk about an own-goal.

Read more here

---
posted at: 12:00am on 12-Aug-2021
path: /Policy | permalink | edit (requires password)
0 comments, click here to add the first
---
---
Brooklyn DA Releases 10,000 Police Misconduct Records To Gothamist, Exposing Cops Prosecutors Don't Want In Their Courtrooms

Furnished content.


Nearly two years ago -- prior to the 2020 repeal of 50-a, the statute that codified law enforcement opacity in the state of New York -- the Brooklyn DA's office released part of its "Brady list" to Gothamist. The "Brady" (or "Giglio," depending on who's naming it) list tells prosecutors (and [supposedly] defense attorneys) which cops aren't to be trusted, thanks to previous perjury/severe misconduct/evidence-planting/etc. This keeps prosecutors from calling witnesses who can be easily impeached. And it helps defense lawyers know which government witnesses are ripe for undermining.It's the latter reason that often keeps these lists shrouded in secrecy. While some law enforcement agencies are more than willing to share with prosecutors in order to keep convictions intact, they're far less willing to give the defense anything to work with. But some of this information can be obtained through public records requests. And some of it can be obtained through new transparency laws or court orders.The list handed to Gothamist in 2019 was far from complete. Now with 50-a repealed, the information is flowing more freely. The NYPD is still doing what it can to withhold its own version of its Brady list, but that's not stopping others in possession of at least part of this list from releasing what they have on hand.Once again, it's both the Brooklyn DA and Gothamist combining forces to provide more information about bad cops to the public. While others have attempted to compile Brady lists from public records requests, this proactive move by the Brooklyn DA's office far outpaces any independent collection of Brady-listed officers.The latest publication by Gothamist contains 679 records in a searchable database compiled by Tarak Shah, a data scientist for the Human Rights Data Analysis Group. There are redactions, but they do not serve the NYPD's interests. As Shah notes in his statement accompanying this release, the redactions only cover information that "could have put those involved with investigating this story at risk."More than 10,000 documents are now in the hands of Gothamist, courtesy of Brooklyn DA Eric Gonzalez. What's in there? Plenty of cop bullshit. Here are just a few highlights:
One officer had his honesty on the witness stand questioned by two separate judges in 2011. The next year, the NYPD busted him for asking colleagues to engage in ticket fixing. A few years later, yet another judge in another criminal case discredited portions of his sworn testimony.Another officer "misrepresented" his record of military service to his colleagues, and was later caught by department investigators for making false statements about his decision to shut down the music at a community concert. The next year, the department closed a substantiated case against him for failing to notify the NYPD that he was involved in five "domestic incidents."A third officer was disciplined in 2013 for speeding through red lights, using NYPD computers to make numerous searches unrelated to work, and failing to notify the department's Internal Affairs Bureau about serious misconduct or corruption allegations against several colleagues—a responsibility that NYPD officers take on when they join the force.
The only thing comparable to the size of this database is the one created by the NYPD in response to public pressure and the repeal of 50-a. But that's controlled by the NYPD, which is free to redact all sorts of information and make it deliberately unclear which officers have had complaints filed against them. The NYPD's database contains information on more officers, but the sortable fields do not include the number of complaints against an officer.
Instead, the NYPD has obscured this information and has chosen to highlight "Arrests Totals" and "Department Recognitions," which appears to indicate the department feels the end justifies the means. Only by clicking through on names can one access misconduct documents. But it's more miss than hit, which is good news for the NYPD (not many officers with complaints!) but worse for people seeking transparency and accountability. And it does not appear to contain records for officers who've been fired for misconduct or excessive force, allowing the NYPD to whitewash its troubled history.If police departments are really serious about ridding themselves of the low-value employees holding them down, they'll be more like the Brooklyn DA and less like the NYPD. A bad cop helps no one. Outing and eliminating cops who jeopardize prosecutions will do more for public safety than all the spy tech, sentence enhancements, and "proactive" policing combined.

Read more here

---
posted at: 12:00am on 11-Aug-2021
path: /Policy | permalink | edit (requires password)
0 comments, click here to add the first
---
---
It Happened Again: Antipiracy Outfit Asks Google To Delist 127.0.0.1 On Behalf Of Ukrainian TV Station

Furnished content.


We've made this point before, but the moment you attempt to scale up copyright enforcement, you run into problems. Collateral damage from automated systems mistaking non-infringing content for infringing, the possibility of fraud and abuse, the blind eye towards Fair Use all become problems. But sometimes those problems are so silly that they expose what a pure fiasco this has become. Several years back, we discussed Universal Pictures asking Google to delist a bunch of supposedly infringing sites, listing one of them as 127.0.0.1. Depending on how computer savvy you are, you may recognize that this IP address is how a computer or system refers to itself. In other words, it essentially means "home."And, yet, despite how silly this all is, it just keeps happening. Most recently, the anti-piracy outfit used by a Ukrainian television broadcaster may have outed its own client by also asking Google to delist 127.0.0.1.
Ukrainian TV channel TRK has sent a rather bizarre takedown request to Google. The company's anti-piracy partner Vindex asked the search engine to remove a search result that points to 127.0.0.1. Tech-savvy people will immediately recognize that the anti-piracy company apparently found copyright-infringing content on its own server.The request was sent by TKR's anti-piracy partner Vindex, which essentially flagged a file on its own machine. The 'infringing' link is 127.0.0.1:6878/ace/manifest.m3u. This points to a playlist file, possibly for the P2P streaming platform Ace Stream that's often used to pirate content.
Now, a number of things here should be unsurprising to our regular readers. That an antipiracy outfit sucks at identifying proper sites for delisting is no surprise. Likewise, the idea that a company that is crying about copyright infringement might be guilty of infringement itself also fails to shock the mind. But what is surprising is that the antipiracy outfit may have accidentally outed its own client through its own stupidity as a party infringing copyrights so thoroughly.Google obviously cannot delist the IP address, as there is nothing to delist. And, frankly, Vindex is known to suck at its one job.
Since 127.0.0.1 refers to the host computer, Google is technically asked to remove a file from its servers. A file that doesn't exist. Needless to say, Google hasn't taken any action in response.The above suggests that Vindex may want to take a good look at its takedown bots. The company doesn't have a stellar reputation when it comes to DMCA notices. Of all the links that were reported to Google, little more than 10% were removed by the search engine.
Adding to it that you imagine there are some uncomfortable conversations being had between Vindex and its client today and you're left with the impression that there is a ton of egg on its face right now.

Read more here

---
posted at: 12:00am on 11-Aug-2021
path: /Policy | permalink | edit (requires password)
0 comments, click here to add the first
---
---
NYPD Sued Over Its Illegal Use Of Sealed Arrest Records

Furnished content.


When police officers kill someone, the kneejerk reaction is to publicly disparage the dead, in hopes of making the deceased appear to have "deserved" to be killed, even if their actions during the incident didn't appear to justify the killing. To do this, officers dig into their databases and dredge up every arrest, citation, and documented interaction with law enforcement to make it appear as though the officers have (permanently) removed a threat from the streets, rather than simply applied excessive force until the person was dead.The NYPD is no different than other agencies. It did this following the killing of Eric Garner, leaking arrest records to press outlets in hopes of portraying the dead man as a persistent threat to public safety and police officers.But the NYPD breaks the law when it does this. State law is supposed to prevent access to sealed arrest records -- records that aren't tied to convictions. This law is in place to protect people from discrimination and harassment by making these unavailable to be used against them when being interviewed for jobs or seeking places to live, just to name a couple of examples.The NYPD isn't exempt from this law, but it sure seems to feel it is.
The New York Police Department has been training its officers to break a long-standing law that bars police from snooping in the sealed arrest records of millions of innocent people, according to court papers filed in a lawsuit last week.The news comes in a class-action lawsuit concerning the police department's practice of flouting a state law designed to protect people from discrimination, harassment, and further legal consequences over old arrests that didn't result in a conviction. The Bronx Defenders, a public defense organization, brought the legal action against New York City and the NYPD.
It's not just used to turn dead bodies into terminated threats. The records are also used in court to portray accused suspects as lifelong criminals, even if the arrests never resulted in convictions. The NYPD also pulls photos from sealed records and adds them to virtual lineups, giving people with sealed records the dubious opportunity to be arrested for new crimes they possibly didn't commit.This isn't the first time the NYPD's unlawful access has been challenged. It has not only been told by legislators it can't do this, it has been told by a judge.
In court, lawyers from the New York City Law Department, which represents the city and the NYPD, don't deny that they're accessing the records the law says should be sealed. Instead, they've argued that the law actually allows police to access sealed records without a court order. Judge Alexander Tisch rejected those arguments outright in a 2019 ruling, finding that NYPD is, in fact, bound by the law and that if the department "were seeking sealed information for an investigation, it would have to make an application to the court."
This admission by the NYPD that it's breaking the law should count against it in this lawsuit brought by the Bronx Defenders. Just as damning are the NYPD training materials obtained during discovery, which show that the NYPD instructs officers to break the law by telling them they don't need a court order to access these records. A redacted version of that training document is included in the Bronx Defenders' addendum [PDF] to its request for an injunction forcing the NYPD to respect the law.The actual instructions are redacted (at the moment) but the Defenders' motion makes it clear what's hidden in those blacked-out boxes:
The NYPD's trainings contain directions contrary to the Sealing Statutes while, at the same time, the NYPD provides officers with routine access to millions of sealed arrest records.
Law enforcement for thee, not for me, as the NYPD credo goes. The same officers willing to deploy force and make arrests over the smallest violations are willing to disobey laws that apply directly to them whenever it serves their purpose. If the Bronx Defenders secure this injunction, we'll have to see if being told twice to follow the law by judges will finally result in these law enforcers applying the law to themselves.

Read more here

---
posted at: 12:00am on 10-Aug-2021
path: /Policy | permalink | edit (requires password)
0 comments, click here to add the first
---
---
In-N-Out Burger Continues Suing Australian Burger Slingers Despite Having No Presence In The Country Other Than Popups

Furnished content.


For this post, we're going to need to provide some context when it comes to In-N-Out's fraught relationship with the entire country of Australia. The famous burger chain based here in America has made a habit of suing Australian entities that sell burgers using the same or similar names over trademark rights. If you're not familiar with the history here, that may not strike you as particularly noteworthy, especially given that some of the sued entities in question very much do use names and branding that serve as at least an homage to In-N-Out. The problem here is that In-N-Out has basically no presence in Australia. The company has no storefronts or brick and mortar businesses in Australia. As in... at all. Instead, the company has made a habit of doing pop-up restaurants in the country once every three years or so. Why? Well, because of a provision in Australian trademark law that allows this to satisfy the use-it-or-lose-it nature of trademark protection.In other words: In-N-Out has no real presence in Australia, has never shown any indication of having a real presence in Australia, and simply uses these once-in-a-while pop-up locations solely to keep its trademark registrations active.This has continued to the present, where In-N-Out is yet again suing another entity for violating the trademarks it's just barely using in Australia.
US burger giant In-N-Out has accused an Australian business of engaging in misleading or deceptive conduct and trademark infringement by selling burgers and fries on three delivery services as "In & Out Aussie Burgers".The burger chain is suing Rich Asians Pty Ltd and businessman Puneet Ahori in the Federal Court, alleging the operator passed itself off as In-N-Out when it sold food on Uber Eats, DoorDash and Menulog in at least four locations in Queensland.
Let's get one thing out of the way as a matter of throat-clearing: Rich Asians Pty Ltd was absolutely using deceptively similar trade dress and name to In-N-Out. After a cease and desist was sent, the company put new branding in place, changing the logo so as not to be so obvious.
On Wednesday, barrister Megan Evetts – appearing for the American burger chain – said the Australian restaurants initially used the name "In-N-Out Aussie Burgers", but when a cease and desist letter was sent the first part of the name was changed to "In & Out".She said the delivery listings previously used an "exact copy" of the American In-N-Out logo, and that had now been changed to a logo which still includes an arrow.
Which gets us to the present, where the logos are fairly different -- arrow use not withstanding -- the offering name of "In & Out Aussie Burgers" is somewhat different, and In-N-Out is claiming that the confusion with the public is resulting in "negative reviews" which is effecting the American burger chain.Which, again, is the entire problem. In-N-Out does not have any actual Australian presence. Much to the annoyance of Australians, it seems, given that there appears to be a healthy appetite for the chain's offerings in the country, such that these so-called knockoffs are selling burgers. So, it's not that In & Out Aussie Burgers isn't clearly looking to trade off of the fame of In-N-Out, because it absolutely is doing that. The question is why In-N-Out should have any say in the matter given the way it is perverting the trademark laws of Australia just to keep its marks in a marketplace it has no real intention of serving.

Read more here

---
posted at: 12:00am on 10-Aug-2021
path: /Policy | permalink | edit (requires password)
0 comments, click here to add the first
---
---
This Week In Techdirt History: August 1st - 7th

Furnished content.


Five Years AgoThis week in 2016, it was revealed that the FBI's hacking tool compromised dozens of computers in Australia, while new FOIA documents showed that the FISA court once refused the FBI's request to scoop up communications along with metadata, one FBI official was comparing encryption guru Moxie Marlinspike to the KKK, and the Manhattan DA was claiming he didn't want encryption backdoors even though he certainly did. Meanwhile, we were wondering why the Copyright Office was helping to protect the cable industry's monopoly on cable boxes, and why it was so intent on changing the part of copyright that protects libraries and archives. The RIAA's latest attacks on YouTube were drawing criticism even from usual defenders of the association, and the DOJ made a smart decision about music licensing that caused music publishers to freak out.Ten Years AgoThis week in 2011, we highlighted the latest evidence that copy protection does not increase sales, and discussed the question of whether ISPs should cut off the entertainment industry over its constant attempts to convince them to engage in censorship — just as a new paper was arguing that ISPs should be made liable for cybercrime efforts, and the Justice Minister in Switzerland decided that ISPs should have to retain data despite no legal basis for forcing them to do so. A court found that Megaupload could be guilty of direct infringement in the Perfect 10 case, but the biggest and most important Perfect 10 ruling from the 9th Circuit said that proving copyright infringement doesn't automatically mean irreparable harm was done. We also saw a major episode in the interminable (and fascinating) Mattel lawsuit over Bratz dolls.Fifteen Years AgoThis week in 2006, we marveled (and wondered) at the absurd glut of video sharing services appearing (a bunch of them specifically from Time Warner) while YouTube took the world by storm, and also noted the interesting (but likely unimportant) fact that MSN was technically considered the leader over YouTube. There was an early discussion about the influence of Google AdSense policies on journalism, Norway was talking about banning iTunes, and — in a somewhat historic move — AOL finally became a free portal with free email addresses. Also, as expected, Limewire got sued, beginning the first big fight over the inducement standard recently set down in the Supreme Court's Grokster decision.

Read more here

---
posted at: 12:00am on 08-Aug-2021
path: /Policy | permalink | edit (requires password)
0 comments, click here to add the first
---
---
Citizen Is Paying Users To Run The App And Their Mouths At Crime Scenes And Medical Emergencies

Furnished content.


The app formerly known as "Vigilante" is surreptitiously redefining the term "citizen journalist." The new definition will probably be capitalized and trademarked. The crime reporting app that once entertained plans to become part of the law enforcement community by partnering with private security companies is paying users to head out to crime scenes and annoy civil servants.
Want to make $200 a day in New York City? Rush to the scene of a murder, a three-alarm fire or a traffic accident — then pull out your phone and start filming.That's the pitch from Citizen, a controversial neighborhood watch app that's quietly hiring New Yorkers to livestream crime scenes and other public emergencies in an apparent effort to encourage more ordinary citizens to do the same, The Post has learned.
This seems like a bad idea. It's one thing for people to happen upon one of these incidents and start livestreaming. It's quite another to pay people to put themselves at risk in service of an app hoping to increase its user base and repair its reputation. And it's yet another thing to be dishonest about what's happening, as both Citizen and its paid contributors are doing.In June, the Daily Dot uncovered a Los Angeles Citizen app user who appeared to be a paid content contributor. The user known as Landon1129 just happened to be at the scene of eight separate incidents spanning 30 miles in a single day -- a day that also featured "Landon1129" being interviewed twice by Citizen's own live show. Eight incidents covered by the same user -- a user who frequently reminded viewers that he was "live on the Citizen app." What was probably supposed to look organic looked fake as fuck.Now, there's some confirmation, albeit obliquely. Citizen claims it has always used "street teams" to expand coverage, generate content, and, I assume, increase brand awareness. But it has never made this explicit and its ads seeking contributors make no mention of the app.
Citizen says that it doesn't hide its use of paid field team members.
But:
The company also doesn't post the jobs on its own Web site. And Citizen's name was not included in a since-deleted job posting Thursday on career board JournalismJobs.com seeking "field team members" to work for an unnamed "tech company with user-generated content."
It's probably not a good idea for a company with both a literal and figurative background in vigilantism to pay people to head to crime scenes and other emergencies. There are plenty of people who get paid to do that already, and they're better at doing their jobs and not getting in the way of others trying to do theirs than the average respondent to a vague Craigslist ad. Stringers may be interlopers seeking sellable content but at least they have some idea of what to expect when they arrive on the scene and (usually) have cultivated good relationships with the public servants they'll be working with (and around).To be sure, journalistic efforts shouldn't be restricted by gatekeepers who only believe certain people can perform journalism. But Citizen's history, along with its blatant desire to capitalize on people's fears, makes it a particularly questionable patron of the journalistic arts. If Citizen really wanted to put its resources behind expanding journalistic coverage of newsworthy incidents, it would do it without the use of a third-party contractor bound by an NDA that forbids telling journalists, who hired the contractor to place ads looking for journalists, who may ultimately not be pleased they're now working for an app with a terrible reputation.

Read more here

---
posted at: 12:01am on 07-Aug-2021
path: /Policy | permalink | edit (requires password)
0 comments, click here to add the first
---
---
CCO Of Activision Blizzard Busy Blocking Everyone, Including Employees, On Twitter Amid Fair Employment Lawsuit

Furnished content.


Good public relations, when mired in a controversy, isn't always easy, but it does tend to be quite simple. If you have a controversy on your hands, be direct, be honest, be transparent, do not attempt to paper over the controversy with other good works already done, and for the love of god do not give any indication that you're turning a deaf ear to those who are upset over the controversy.Or, if you're Activision Blizzard, do the exact opposite of all of the above and definitely trot out your own Chief Compliance Officer to do so. The context around this is that Activision Blizzard was recently sued by the state of California over its workplace practices, with specific issues revolving around reported treatment of women and people of color that, if true, are absolutely horrific.
Bloomberg reports that the suit, filed on July 20, is the culmination of a two-year investigation into the publisher by the Department, which says that Activision Blizzard's "compliance with California's broad workplace protections is long overdue.""To enforce such compliance," the case says, "DFEH brings this government enforcement action seeking to remedy, prevent and deter [Activision Blizzard's] violations of state's civil rights and equal pay laws."
The accusations contained in the suit and in the statements by purported victims range from the unfortunately common, women and PoCs not being paid and promoted at the rate of their white male counterparts, to the far more extreme and horrific. The other end of that spectrum includes accusations the "cubicle crawls" performed by male employees in which they crawl under the desks of female coworkers and grope them, women having to ward off unwanted sexual advances on the regular, and at least one female employee killing herself after a supervisor showed up on a business trip with sexual devices for reasons too obvious to need to state.
In a particularly tragic example, a female employee committed suicide during a business trip with a male supervisor who had brought butt plugs and lubricant with him on the trip.
The lawsuit, brought by California's Department of Fair Employment and Housing, was filed on July 20th. On July 23rd, Activision Blizzard's Chief Compliance Officer, Frances Townsend, is reported to have sent an email out to Blizzard staff that takes great pains to do the opposite of much of what I mentioned would have been good PR: talked about how great the company is on workplace and equality issues, downplayed the lawsuit, etc.

So, not a good start. Other Blizzard execs appeared to be trying to portray a listening posture to all of this, while Townsend instead downplayed and papered over the whole thing. Then, on July 30th, again in the context of the company she's the CCO for, she tweets out the following.

Reaction to Townsend's combined actions ranged from curious as to what in the world she was attempting to accomplish to the far more common reaction of absolute disgust and anger with her actions and statements. The Twitter reaction to her has been quite scathing. Duly so, in this writer's opinion. This, again, is the time when good PR needs to take over: apologize directly, be transparent, build a plan for doing better.But Townsend's gonna Townsend, I guess, so instead:
Taking all this into account, along with the content and timing of her tweet, public reaction has not been positive! It has been almost universally challenged or mocked, which is expected, it's Twitter and that happens every day, it's what the ratio is there for. But what's notable here is that rather acknowledging that she, as an executive employed in a leadership position at a company in turmoil, had made a bad tweet and responded accordingly—by doing something like locking her account, deleting the tweet or simply ignoring the criticism and getting on with whatever the rich do on the weekend—she began systematically blocking anyone even mildly critical of her decision to share a story about the perils of whistleblowing while her company is in the midst of historically shocking allegations brought on by employees testifying confidentially.That includes multiple journalists and developers from outside companies, but also many current and former employees of Activision Blizzard as well. Her employees, and colleagues. Now is as good a time as any to take a look at Blizzard's core corporate values, one of which is "every voice matters".
Every voice matters, unless the CCO doesn't like what that voice is voicing, in which case she will happily block even her own staff on social media. A staff that has staged walkouts over all of this. A staff that has reportedly been failed by its executive leadership, of which Townsend is a part. A staff that makes it possible for women like Townsend to make the salaries they do.Hiding from your own staff and journalists isn't good PR. In fact, it isn't good anything. If Activision Blizzard wants to start doing good, it may want to start with a staffing problem it has at the CCO position.

Read more here

---
posted at: 12:01am on 07-Aug-2021
path: /Policy | permalink | edit (requires password)
0 comments, click here to add the first
---
---
Australian Court Ridiculously Says That AI Can Be An Inventor, Get Patents

Furnished content.


There have been some questions raised about whether or not AI-created works deserve intellectual property protection. Indeed, while we (along with many others) laughed along at the trial about the monkey selfie, we had noted all along, that the law firm pushing to give the monkey (and with it, PETA) the copyright on the photo was almost certainly trying to tee up a useful case to argue that AI can get copyright and patents as well. Thankfully, the courts (and later the US Copyright Office) determined that copyrights require a human author.The question on patents, however, is still a little hazy (unfortunately). It should be the same as with copyright. The intent of both copyrights and patents is to create incentives (in the form of a "limited" monopoly) for the creation of the new creative work or invention. AI does not need such an incentive (nor do animals). Over the last few years, though, there has been a rush by some who control AI to try to patent AI creations. This is still somewhat up in the air. In the US, the USPTO has (ridiculously) suggested that AI created inventions could be patentable -- but then (rightfully) rejected a patent application from an AI. The EU has rejected AI-generated patents.Unfortunately, it looks like Australia has gone down the opposite path from the EU, after a court ruled that an AI can be an inventor for a patent. The case was brought by the same folks who were denied patents in the EU & US, and who are still seeking AI patents around the globe. Australia's patent office had followed suit with its EU & US counterparts, but the judge has now sent it back saying that there's nothing wrong with AI holding patents.
University of Surrey professor Ryan Abbott has launched more than a dozen patent applications across the globe, including in the UK, US, New Zealand and Australia, on behalf of US-based Dr Stephen Thaler. They seek to have Thaler's artificial intelligence device known as Dabus (a device for the autonomous bootstrapping of unified sentience) listed as the inventor.
Honestly, I remain perplexed by this weird attempt to demand something that makes no sense, though it seems like yet another attempt to scam the system to make money by shaking others down. Once again, AI needs no such incentive to invent, and it makes no sense at all to grant it patents. An AI also cannot assign the patents to others, or properly license a patent. The whole thing is stupid.It is, however, yet another point to show just how extreme the belief that every idea must be "owned" has become. And it's incredibly dangerous. Those pushing for this -- or the courts and patent offices agreeing with this -- don't seem to have any concept of how badly this will backfire.And, of course, the reality underlying this, which only underscores how dumb it is, the AI isn't actually getting the patent. It would go to the guy who "owns" the AI.
Beach said a non-human inventor could not be the applicant of a patent, and as the owner of the system, Thaler would be the owner of any patents that would be granted on inventions by Dabus.
At least some people are recognizing what a total clusterfuck it would be if AI-generated patents were allowed. The Guardian quotes an Australian patent attorney, Mark Summerfield, who raises just one of many valid concerns:
Allowing machine inventors could have numerous consequences, both foreseeable and unforeseeable. Allowing patents for inventions churned out by tireless machines with virtually unlimited capacity, without the further exercise of any human ingenuity, judgment, or intellectual effort, may simply incentivise large corporations to build 'patent thicket generators' that could only serve to stifle, rather than encourage, innovation overall.
Unfortunately, as the article notes, it's not just Australia making this dangerous decision. South Africa just granted DABUS a patent last week as well.

Read more here

---
posted at: 12:00am on 06-Aug-2021
path: /Policy | permalink | edit (requires password)
0 comments, click here to add the first
---
---
Oatly Loses Trademark Suit Against Glebe Farm Foods' PureOaty Product

Furnished content.


A couple of months back, we discussed something of a silly lawsuit overseas between Oatly, a large oat-milk manufacturer, and Glebe Farm Foods over its own PureOaty drink. At issue were Oatly's own trademarks and its claims that PureOaty infringed on those marks. As we noted at the time, because the word "oat" is descriptive of the products in both cases, and with PureOaty using the "pure" as a differentiator among other things, this was a trademark claim that essentially came down to the letter "y". And, yes, that is dumb. Especially when you consider that there are significant differences when it comes to PureOaty's trade dress.
There is simply little reason to be concerned about public confusion between those two products when you take everything in sum total. The colors in the branding are different, and the trade dress and placement generally doesn't lend itself towards public confusion.And it turns out that the courts in the UK agree.
Judge Nicholas Caddick at London's High Court dismissed claims by the Malmo-based group that Cambridgeshire-based Glebe Farm Foods, which specialises in gluten-free oats, of infringing trademarks including the Oatly brand name and pack design, and of "passing off" the beverage as Oatly.In his ruling, the judge said the visual similarity of the names were "very modest" and that there was no evidence of actual confusion among consumers regarding the two products.
Both parties were reached for comment after the ruling. Glebe Farm Foods was understandably pleased with the result, noting that it isn't always the case that smaller entities like its company can beat large enterprises like Oatly in court, even on the merits. Oatly, for its part, claims it will not appeal the ruling and accepts it, adding that it never actually wanted to harm Glebe Farm Foods in the first place.
Oatly added that it never brought the case to damage Glebe Farm and wanted them "to thrive and help bring products into the world that are good for the planet". "We wish Glebe Farm total success in their plant-based journey moving forward," it said.
Kind words, but somewhat tone-deaf given that even Oatly acknowledged that this entire lawsuit was initiated essentially over the letter "y". That this single character resulted in a lawsuit of all things doesn't lend a lot of credence to Oatly's "I'm okay, you're okay" posture.

Read more here

---
posted at: 12:00am on 06-Aug-2021
path: /Policy | permalink | edit (requires password)
0 comments, click here to add the first
---
---
FCC Blocks Elon Musk From Getting Millions In Subsidies For Delivering Broadband To Traffic Medians

Furnished content.


Late last year consumer group Free Press released a report showing how numerous broadband providers had been gaming the FCC's RDOF (Rural Digital Opportunity Fund) subsidy program to get money they didn't really deserve. The program doles out roughly $9.2 billion in subsidies paid for by money paid by consumers into the Universal Service Fund (USF). The study clearly showed that during the last RDOF auction a long list of ISPs gamed the system to gain millions in subsidies to deliver broadband to areas that didn't make any coherent sense.This ISP, for example, nabbed millions of dollars to deploy service to places that already had it -- like five feet outside of Apple's $5 billion new campus. Elon Musk's Starlink also managed to nab $886 million in subsidies to deploy broadband service to places like airport parking lots and traffic medians.The whole mess was just completely ignored by previous FCC Boss Ajit "what broadband competition problem" Pai. After months of withering criticism from numerous fronts, the FCC under interim boss Jessica Rosenworcel has stepped up and fired off letters to several of the worst offenders, giving them a second chance to apply for funding with proposals that actually serve the public interest:
"The Federal Communications Commission told SpaceX and other companies on Monday that the billions in rural broadband subsidies it doled out last year can't be used in already connected areas like parking lots and well-served urban areas, citing complaints. The commission, in an effort to clean up its subsidy auction program, offered the companies a chance to rescind their funding requests from areas that already have service."
Granted the problems with the RDOF subsidy process is just one small part of a much bigger problem. For years the government has doled out billions of dollars to telecom giants for fiber networks they then routinely half deploy. Inaccurate maps and availability data then mar the process further, obscuring not only the lack of access (up to 42 million Americans still can't access broadband) but the way a lack of overall competition harms consumers and raises rates (83 million Americans live under a broadband monopoly).Thanks to the immense political influence giant telecom providers have over Congress and regulators, efforts to improve the entire mess comes glacially, when they come at all. That's not to ignore the huge benefit subsidies can have on less affluent and disconnected areas of the country when applied correctly, but, for decades now, regional monopolies have dictated US telecom policy. And the result has generally what you'd expect: namely billions in pointless tax breaks and subsidies thrown at companies like AT&T in exchange for layoffs, pipe dreams, and perpetually half completed networks.

Read more here

---
posted at: 12:00am on 05-Aug-2021
path: /Policy | permalink | edit (requires password)
0 comments, click here to add the first
---
---
Everyone Being Dumb About IP: McDonald's No Longer Offering Dope Custom PS5 Controllers In Australia

Furnished content.


If you search for stories about McDonald's on Techdirt, you will come away with the impression that the company, like many large corporate entities, puts heavy emphasis on its intellectual property rights. Sony, the company responsible for the PlayStation consoles, exudes a similar reputation, despite some recent moves to loosen its IP grip as of late. So, just to be clear, everyone involved in this story tends to trend toward the more restrictive end of the IP spectrum.Which makes it super-duper stupid that McDonald's Australia had a plan to offer up customized PlayStation 5 controllers, but never bothered to formalize any part of this plan with Sony. And, if you're like me, that's a shame because the cosmetics on the controllers are pretty dang fun.

Shortly after the announcement, McDonald's Australia had to issue a follow up cancelling the whole thing. It turns out that nobody at the company bothered to get in touch with Sony before the announcement and, well, you know what happened next.
As of last week McDonalds Australia had been planning on giving away a bunch of custom PS5 controllers, each plastered with a burgers + fries motif in celebration of the company's 50th birthday (in Australia). Weirdly, the international dining behemoth forgot to ask Sony about this first.You'd think that would be the first thing a company with an actual legal team would have thought to do if you were going to be mentioning "PlayStation 5" and using a controller image as part of your own marketing, but nope! McDonalds just got straight to it, announcing plans to give the controllers away as part of a competition, along with sending some out to local streamers as well.
So, Sony stepped in and put an end to the entire promotion. While that is absolutely Sony's right, it's also incredibly stupid. What, really, is the end result of this promotion? Sure, McDonald's is attempting to sell more of its fast food. But it also would have served as essentially free advertising for Sony's PS5, wouldn't it? The giveaway was part of McDonald's upcoming "Stream Week", an event that also had to be canceled. And the communication to the public by McDonald's puts the blame squarely on Sony for that.
Sony PlayStation has not authorised the use of its controller in promotional materials related to the proposed Stream Week event and we apologise for any inconvenience caused. McDonald's stream week has been postponed and Sony PlayStation controllers will not be included in the giveaway.
Which is how Sony managed to turn an opportunity for the free promotion of its consoles in Australia into a PR negative, where the company is now blamed for the delay of McDonalds' Stream Week. It didn't have to be this way. Sony could have instead reached out to McDonald's and quickly worked something out, given that both sides in all of this would have benefited.But, no, instead the company is apparently reinvigorated with the IP maximalist attitude of control over everything. That this concerns the control over video game controllers is at least partial evidence that the universe is not without a sense of irony.

Read more here

---
posted at: 12:00am on 05-Aug-2021
path: /Policy | permalink | edit (requires password)
0 comments, click here to add the first
---
---
Oklahoma Deputies Steal $141,500 From Men Trying To Buy Land, Manage To Make $10,000 Of It Disappear

Furnished content.


Some regular, everyday highway robbery committed by an Oklahoma law enforcement agency is getting some airtime and additional scrutiny, which certainly isn't going to be beneficial to the Canadian County Sheriff's Office. (via Reason)Two businessmen from New Mexico were on their way to buy some land in Oklahoma when they were stopped by sheriff's deputies. After asking for the driver's license, the deputies began badgering the driver, Thai Nang, about the presumed existence of cash, hopefully lots of it.
"They keep asking like do I have cash, do we have cash, many times, many times. I say, 'Of course we have cash,'" Nang told News 4.He said that's when the deputy started searching their car and found the $141,500 in cash that they were going to use for the land purchase."That's our savings money to buy the agriculture land and he told me, 'I'm 300% sure that's illegal money,'" Nang said.
The deputies seized the cash and took Nang and his partner back to the Office for questioning. Several hours later they were released. But not their money. The $141,500 was confiscated by the Sheriff's Office, which obviously plans to forfeit it as illegally-obtained.On the way to the forfeiture proceedings, the Sheriff's Office made nearly $10,000 of it disappear.
According to the court documents, only $131,502 was seized, which is $10,000 short.The document also alleges that the money was "furnished, or intended to be furnished, in exchange for a controlled dangerous substance," "traceable to such an exchange" or was "intended to be used to facilitate a violation of the Uniform Controlled Dangerous Substances Act."
Those allegations are going to be pretty difficult to prove. And even the minimal level of proof needed to successfully steal property from drivers is unlikely to be met here. Reporters from KFOR did what the Sheriff's Office refused to do. They went out and attempted to verify Nang's claim the money was being used to purchase property. They were successful.
A Caddo County property owner is standing behind two New Mexico businessmen who told KFOR they were attempting to purchase land with thousands of dollars that was seized from them by the Canadian County Sheriff's Office."Why didn't they just send somebody out to ask me like you're asking me? I'd have told them the same thing," a Caddo County property owner, who wanted to keep his identity private, told News 4.
Not only did the property owner verify the story, he also provided documentation of the planned purchase, including the bill of sale. He also verified that dollar amount ($141,500) was accurate, stating that the land was being sold for $100,000 plus "$30-40,000 to upgrade the electricity and the water."Presumably these statements have already been converted into a notarized affidavit that Nang's lawyer will be bringing to court. Presumably the Sheriff's Office will be bringing nothing more than its speculative fiction about the money's innate illegality. And while it will be satisfying to see these badge-wearing crooks get their ill-gotten gains stripped away in a court of law, I imagine it would have been much more satisfying to Nang and his partner to be in possession of the property they were purchasing and putting their time and energy into that, rather than spending money righting a wrong that never should have been perpetrated on them.

Read more here

---
posted at: 12:00am on 04-Aug-2021
path: /Policy | permalink | edit (requires password)
0 comments, click here to add the first
---
---
Biden Warns That The Next Kinetic War Will Be The Result Of A Cyberattack, Which Is Stupid

Furnished content.


The cyberwar hype has been going on for nearly a decade now. And, while it is very much the case that cybersecurity to defend from international actors is very much a real need, it's also true that dangling the threat of cyberwarfare over the public's heads has been purposefully done to excuse governmental power grabs at the military and intelligence agency levels. It's also been true throughout this hype-fest that the US government has been practically begging for there to be a cyberwar in the first place... except that other nations mostly seem to play with this at the most minimal levels. And, in the past, the American government has indicated that real shooting wars may result from cyberwar activities.Now, none of the above is meant to suggest that there can't be a situation in which a foreign state actor engages in "cyber" actions so egregious that traditional military action would be warranted. Rather, the point is that such scenarios are both so egregious in their nature, and that they certainly haven't occurred to date, that to make threats of shooting wars as a result seems like a massive overreaction.Unless, of course, you're President Joe Biden, in which case you walk in front of the Office for the Director of National Intelligence and assert with certainty that the next kinetic war will absolutely start as a result of a "cyber breach."
"If we end up in a war, a real shooting war with a major power, it's going to be as a consequence of a cyber breach," the president said in a speech at the Office for the Director of National Intelligence, which oversees 18 US intelligence agencies.Although he did not say who such a war might be fought against, Biden immediately name-checked Russia's president Vladimir Putin, alleging that Russia was spreading misinformation ahead of the 2022 US midterm elections.
This is quite stupid for a variety of reasons. Let's start with the most obvious: when politicians talk about conflicts between "major powers", you can simply replace "major" with "nuclear" and it's the same message. And if we're talking about suffering a "cyber breach" conducted by a "nuclear power", then proactively escalating the engagement rules into the kinetic warfare realm puts the entire world in a suddenly more dangerous place.And this doesn't even work from a level of deterrence either. First, nations like Russia and China have generally shown themselves to be largely un-deterrable in the cyberwarfare space. It's not even entirely clear that our intelligence services are fully buttoned up on any given breach when it comes to who the attackers are and what level of state action is involved. For that to result in a kinetic war is, again, very stupid.The statement also gives full permission to America's rivals throughout the world to put out their own statements in kind. And does anyone seriously doubt that we are engaging in cyber breaches at some level against our rivals ourselves? So, given Biden's stance, would it be morally correct for Russia or China to suspect America of some kind of intrusion... and start shooting? That's really where we want to end up?Somehow I doubt it. Instead, this appears to be good, old-fashioned American myopic thinking at work. We do entirely too much of this: try to put out deterrence or threats without understanding that the result will be nations throughout the world lobbing those same threats right back at us. And if all of that were to result in warfare, never mind nuclear warfare, that would be abhorrent.

Read more here

---
posted at: 12:00am on 04-Aug-2021
path: /Policy | permalink | edit (requires password)
0 comments, click here to add the first
---
---
Israel, Ice Cream, Trademarks: This Year's Dumbest Controversy Results In Trademark Skullduggery

Furnished content.


Welcome to this year's dumbest controversy thus far. A couple of weeks ago, famed ice cream maker Ben & Jerry's announced that it would no longer be selling its products in "occupied Palestinian territory." Indicating that doing so would not align with the company's values, the idea here was that settlements that infringed on territory that was deemed to belong to the Palestinians by international law would be off the company's radar. Not all of Israel, mind you. Just the occupied territories. And that is when everyone lost their god damned minds. Ron DeSantis is seeking to have Florida put B&J and its parent company, Unilever, on a list of companies that should be scrutinized for "boycotting Israel". Jewish leaders indicated that the kosher rating of the ice cream could be altered for the same reason. Except that isn't what B&J are doing. It isn't boycotting Israel at all. It's simply refusing to sell its product in small sections of land that Israel currently occupies.And where this gets into Techdirt territory is that one law firm in Israel is going to so far as to try to screw with Ben & Jerry's trademark rights, arguing now that it can use the B&J trademarks in those territories because the company isn't selling products there any longer.
Ben & Jerry's is on its way to losing ownership of its brand in the settlements. The law association Shurat HaDin has submitted a request to the Registrar of Companies to register a company called "Ben & Jerry's Ice Cream of Judea and Samaria." This would be in keeping with US law under which a company loses the right to trademark protection in areas in which it has stopped selling its product.The law firm informed food giant Unilever that since it had given up selling Ben & Jerry's ice creams in the "West Bank," under US law, it had lost the right to protect the Ben & Jerry's trademark in those areas. Shurat HaDin has already submitted an application to the Israeli Registrar of Companies to register the new brand "Ben and Jerry's Ice Cream of Judea and Samaria," which will receive legal protection to sell the exact same ice cream, with the same trade name, and actually compete with the original company.
It should be obvious that this is absolutely not what trademark law is for. What is happening here is some combination of extortion and punishment simply because a private company has taken a very small stance on an international issue. This is typical of the maximal response that tends to be trotted out when Israel encounters these types of scenarios. I've heard this described by foreign policy experts as a form of "diplomatic deterrence", where a minor issue generates a response that's dialed to eleven simply to deter any like-minded companies or actors from taking the same actions.But that, again, is not what trademark law is designed to do. It's designed to keep the public from being confused as to what they're buying. And it's hard to imagine a more perfect scenario for creating public confusion than a fraction of territory being sold B&J branded ice cream that isn't legit while the rest of the country gets the legit stuff. And the idea that US law is being used to do all of this makes this all the more infuriating.
Shurat HaDin examined and found that under US law, in order to preserve the protection of a trademarked brand against use by other parties, there must be full intention to conduct business in a particular area. That is, in cases where a commercial brand is intended only to prevent another party from using the same label, without having any intention of operating in the same area, its request will not be approved. Therefore, once that person announces that he does not intend to operate in the same area, it means that he has no intention of using his trademark and his right to trademark will no longer stand.
It's not that simple, obviously. And hopefully the Trademark Office and any courts that might get involved will see this for the skullduggery that it absolutely is. Whatever stances you might want to take on political issues related to this, this simply isn't what trademark laws are for.

Read more here

---
posted at: 12:00am on 03-Aug-2021
path: /Policy | permalink | edit (requires password)
0 comments, click here to add the first
---
---
New York Congresswoman Thinks It's Too Hard To Be A Good Cop, Offers Up Bill That Would Codify Qualified Immunity

Furnished content.


Last summer, following the George Floyd killing, members of Congress introduced the Justice in Policing Act of 2020. Among other reforms, the bill (since renamed the George Floyd Justice in Policing Act) attempted to bring an end to qualified immunity, the Supreme Court-created legal doctrine that allows officers to escape civil rights lawsuits if the court decides no existing precedent would have put them on notice that the violation of rights they committed was actually a violation of rights.This doctrine has made it extremely easy for officers to escape accountability for their actions. If there's no case pretty much on point, the cop walks. While the Supreme Court has recently reconsidered its demands for cases on point, the prevailing rule pretty much still stands: as long as rights are violated in new ways, the rights violation must be suffered by the victim with no hope of compensation. In most cases, this also means the courts never get around to deciding this new violation of rights is a rights violation, so officers remain free to pretend they don't know any better.It's a terrible system and it needs to be changed. Legislation could do it. This legislation apparently can't, though. After being passed by the House on June 25th of last year, it went to the Senate to die. The bill has not moved forward since being placed on the Senate's legislative calendar more than a year ago.Some Congressional reps, however, think qualified immunity is a good thing. They believe police officers just don't have enough protections, even with their unions, large number of powerful political backers, their own set of rights, and the ability to just walk away from the job rather than be punished for their misconduct.Representative Claudia Tenney (New York) is one of those people. Despite facing no serious threat to the doctrine of qualified immunity, Tenney is seeking to have the Supreme Court's doctrine codified into law, preventing the court from walking it back at a future date. It also would punish any local governments that fail to "respect" law enforcement with the same fervor Tenney does.
Congresswoman Claudia Tenney (NY-22) today unveiled details of her legislation, the Local Law Enforcement Protection Act, that protects qualified immunity for police officers serving at the state and local level.Tenney's bill would prevent state and local governments that remove qualified immunity protections for police from applying for certain federal grants.
Still not sold? Here's more from Tenney, who appears ready to elevate each and every law enforcement officer into sainthood.
"Our Law Enforcement Officers put their lives on the line every day at great personal risk. In the last year alone, police have faced unprecedented challenges like the pandemic and increasing crime. Accountability and transparency are vital, but removing qualified immunity achieves neither. It opens police officers to unfair and frivolous attacks simply for doing their jobs. At a time when activists and politicians in Washington are demonizing and defunding our police, I'm honored to stand with them to deliver the resources and support to keep our communities safe," said Congresswoman Tenney.
One can almost imagine the red, white, but mostly blue flag flying behind her as Tenney boldly stands up for people with an immense amount of power that have, for years, barely been reined in by almost nonexistent accountability. No one's saying law enforcement isn't a difficult job. We just want law enforcement officers to do this job better and be accountable for their actions when they do it wrong. A litigation ejection seat only government employees can use hasn't done anything for accountability or transparency, so if these concepts are actually important to Rep. Tenney, maybe it's time to strip away the barrier to accountability erected by the Supreme Court.But there's more. Tenney also drops this truth bomb:
The past two years have marked the deadliest period for law enforcement in decades. In 2020 alone, 264 police officers died in the line of duty. So far this year, at least 148 officers have tragically died.
What's deliberately left unsaid here is that the past two years were the deadliest period for pretty much all of humanity in decades. Law enforcement couldn't escape COVID either. Here's what's left out of this selective statement:
Of the 264 officers who have died in the line of duty, there were 145 confirmed Covid-19 cases.
COVID-related deaths are 55% of that total. Tenney's effort to spin a narrative that it's more dangerous out there for cops than it's been in decades also ignores this factoid:
Forty-eight officers were shot and killed during the year compared to 51 during the same period in 2019, resulting in a 6% decrease.
It's not getting worse, in terms of the normal dangers of the job. It's still about the same as it's been for several years, which have seen historic lows in both the killing of officers by suspected criminals and crime rates in general. To read this in the context of Tenney's heated comments, it would appear officers actually need a little less protection than they've needed historically. Why not start with the end of qualified immunity?As is to be expected, a long line of law enforcement officials have offered their support for the bill, which directly caters to their interests. That's a natural reaction, albeit one that does nothing to bridge the gap between them and the people they're supposed to be serving. Rep. Tenney would prefer to serve the interests of other government employees, and that's not going to bridge any gaps either. This redundant bill is a yet-to-be-drafted sermon that aims to only engage with the already-converted. Hopefully, it will be ignored in the order it is received.

Read more here

---
posted at: 12:00am on 03-Aug-2021
path: /Policy | permalink | edit (requires password)
0 comments, click here to add the first
---
---
This Week In Techdirt History: July 25th - 31st

Furnished content.


Five Years AgoThis week in 2016, the hack of DNC emails was sweeping the news, revealing things that were important regardless of who conducted the hack (and some things that were just plain embarrassing) while we warned against any disastrous overreactions in response. We also highlighted Trump's worrying response as well as a ridiculous tidbit in the backlash from the DNC itself. IsoHunt settled the last of its lawsuits, an MPAA front group was attacking CloudFlare for not censoring the internet, and the TPP was meeting more resistance around the world. This was also the week that Verizon bought Yahoo, and of course it featured a continuation of the Monkey Selfie saga.Ten Years AgoThis week in 2011, governments were engaging in a propaganda war against hacktivist groups, Ron Wyden was pressing intelligence officials about their "secret" interpretation of the Patriot Act while other senators were trying to shift attention elsewhere, and Homeland Security was finally 'fessing up to the latest round of domain seizures. We saw worrying copyright rulings and laws in several countries including Sweden, Sierra Leone, and the UK (which offered up a double) — but perhaps the most concerning was in the US, where a judge put another nail in the coffin of the idea/expression dichotomy by allowing a photographer's lawsuit against Rihanna to move forward. But even more problematic than that was the CAFC ruling in the Myriad case that said individual genes can be patented.Fifteen Years AgoWell, this is an unusual one — as I was looking through posts for this section, I got a sense of deja vu, and had a realization: last month, I accidentally messed up the dates somehow and featured posts from this week in the flashback roundup for the final week of June. So you can go check out that link to see what happened this week in 2006, and today I've rounded up a few things that should have appeared in that post:There were trends of gimmicky WiFi offerings and people blaming Google for their own failures; people were still working to figure out what Nathan Myhrvold was up to with Intellectual Ventures while the Supreme Court agreed to look into the question of patent obviousness; the Sony Rootkit fiasco reared its head again as the makers of a virus that exploited the technology were arrested; we wondered why there was so little honesty in the net neutrality debate, and how Senators who voted against net neutrality could be in favor of the broadcast flag; and we looked at just how little impact the Grokster decision had on the world of file sharing.

Read more here

---
posted at: 12:00am on 01-Aug-2021
path: /Policy | permalink | edit (requires password)
0 comments, click here to add the first
---
---