---
Content Moderation Case Studies: Coca Cola Realizes Custom Bottle Labels Involve Moderation Issues (2021)

Furnished content.


Summary: Content moderation questions can come from all sorts of unexpected places — including custom soda bottle labels. Over the years, Coca Cola has experimented with a variety of different promotional efforts regarding more customized cans and bottles, and not without controversy. Back in 2013, as part of its "Share a Coke" campaign, the company offered bottles with common first names on the labels, which angered some who felt left out. In Israel, for example, people noticed that Arabic names were left off the list, although Coca Cola's Swedish operation said that this decision was made after the local Muslim community asked not to have their names included.This controversy was only the preamble to a bigger one in the summer of 2021, when Coca Cola began its latest version of the "Share a Coke" effort — this time allowing anyone to create a completely custom label up to 36 characters long. Opening up custom labels immediately raised content moderation questions.Some people quickly noticed some surprising terms and phrases that were blocked (such as "Black Lives Matter") while others that were surprisingly not blocked (like "Nazis").
As CNN reporter Alexis Benveniste noted, it was easy to get offensive terms through the blocks (often with a few tweaks), and there were some eye-opening contrasts:
For example, "Black Lives Matter," is blocked. But "White Lives Matter" isn't. Coke included a special rainbow label for pride month, but you can't write "Gay Pride" on the bottle. However, you can write "I hate gays." "Hitler" and "Nazi" are banned, but users can customize bottles with the phrases, "I am Hitler" or "I am a Nazi." — Alexis Benveniste
The fact that "I am Hitler" was allowed while "Hitler" by itself was not suggests that Coca Cola was using a filter that included blocking entire phrases, rather than just a list of words (enabling simple adjustments to get through — which might explain why "Nazi" is blocked but "Nazis" apparently was not).Coca Cola insisted that the automated blocks in its web tool were not the only system of review, just the first filter before being passed on to production, and that "actual bottles are not made with words that are inconsistent with the program's intent."Company Considerations:
What kinds of tools, systems, staff, and processes should be put in place to deal with potential "abuse" of a custom labels program?
How should the "intent" of the program be communicated to consumers who want their own bottles, but may ask for problematic content on the labels?
How could the website more clearly inform consumers that the final text will still be reviewed by staff before production, so as not to let the public assume that if a word or phrase was not rejected in the web form, it will be printed?
Issue Considerations:
Customization systems are often put in place because they are considered fun and engaging, and a way for consumers to connect with a brand. How should companies weigh such benefits against the likelihood of abuse?
How should companies wishing to use these types of customization options consider the potential consumer backlash to what those users believe is both over-moderation and under-moderation?
As it becomes easier to mass produce customized products, how should companies set up campaigns to minimize possible abuses, while balancing the backlash if they disallow certain words or phrases that are important to certain groups?
Resolution: Coca Cola admitted to CNN that the process is constantly being adjusted. "We're continuously refining and improving our Share A Coke personalization tool to ensure it is used only for its intended purpose." The company also noted that it added language to the preview screen to say that "proposed language may require further review." The company did not explain why terms like "Black Lives Matter" were not approved.Originally posted to the Trust & Safety Foundation website.

Read more here

---
posted at: 12:00am on 30-Sep-2021
path: /Policy | permalink | edit (requires password)
0 comments, click here to add the first
---
---
Misquoting Einstein Is Fast And Stupid, But Not Accurate

Furnished content.


I was writing something a while ago, and had reason to quote the famous aphorism Computers are incredibly fast, accurate, and stupid; humans are incredibly slow, inaccurate, and smart. I'll bet you've heard a variation on that quote before, and probably have seen a meme or two with it. It's usually attributed to Einstein.this article by Ben Shoemate, a web architect and developer who'd come across the same problem I had--in 2008.Ben had sought this quote as well, thinking that with tens of thousands of search results pointing to Einstein as the quote's author, there must be a source somewhere.Even at NASA's showcase at the conference called Supercomputing 2006, this quote was attributed to Einstein, and then later fact-checked. No one can find out who said it. The closest anyone had gotten was Ben finding a single page (page 691) of a screenshotted article that seemed to have it.Well, I was sitting in England, in a small room in Oxford to be precise, in lockdown, a short walk from the most extensive library on earth since the Library of Alexandria first smelled smoke. I had plenty of things better to do but a bee in my bonnet, nonetheless. I started trying to track down the source article Ben had mentioned; it was something from the Instrument Society of America. However, while I was a short walk from the Bodleian, the lockdown meant no one could go inside. Oddly, that turned out to be a boon for this little quest. Because most university libraries in the world right now are cooperating with each other to an extraordinary extent, I was able to talk the librarian at the Bod into calling whichever university would have the article I needed--the one surrounding page 691. It turned into a combination of Telephone and Who's On First.
"I need the article that contains page 691 in 1969 from the ISA." "Ok, what is the author name and the title of the article?" "I have no idea; that's what I'm trying to find out." "But the webform won't let me submit a request for an article if I don't know the name of the author and title." "But you know the page number in the article; can you request the five pages before and after that page?" "No, I can only scan and deliver one article at a time and that might be more than one article. We could breach our sharing agreement." "What about getting the entire paper journal issue shipped here on Interlibrary Loan?""We don't have the budget for that and it can take months to have a paper copy shipped, even if they're willing to do so with their only copy.""Can you call the library and see if someone will walk down there and look at the article?""I'm sorry, madam, they are eight hours behind us and we share no business hours in common.""AHA they're on the West Coast of the United States, AREN'T THEY??""Ahem. Perhaps I can send an email asking if someone could look around.""That would be lovely; thank you so much for your time."VICTORY.
Several weeks later, I had this article in my inbox. From the Instrument Society of America's 1969 proceedings, and written by H.D. Couture and Marion Keyes. patent holder. Keyes seems to have been an electrical engineer, and I say "seems to be" because although I am a reasonably intelligent person, I have no idea what most of the words in that patent search listing mean.Seriously: what does "A load control for a system comprised of a plurality of energy converters wherein the energy output of all converters is adjusted in parallel to maintain the total rate of energy output from the system equal to demand and wherein during steady-state conditions the rate of energy conversion for that converter having the lowest incremental cost is increased and simultaneously the rate of energy conversion for that converter having the highest incremental cost is decreased a like amount" even mean?I like to think that after decades in electrical engineering, Marion Keyes had seen it all. It turns out he was raised in Bellingham, Washington, just north of me here in Seattle. His obituary was lovely, and says he was survived by his wife, one of their three sons, and all six of his grandchildren.H.D. Couture is harder to find, but I do know now that his name was Herbert Daniel Couture, Jr. He was a correspondent for the Temple-Inland Employee Newsletter, which rarely mentioned him other than as a writer, but does have him as part of the Utilities group doing work on operational improvements. He is buried at the Resthaven Cemetery in Silsbee, Texas. I knew by this point that I wanted to write this down somewhere. One of the hardest issues in disinformation is that when there are hundreds of thousands of results saying that something inaccurate is true, computers cannot parse between them for the credible or true result. It might seem a bit nuts to go to these lengths to find a citation for a research paper, but it matters when I find a fact that people have been misusing. When it's a simple meme on Tumblr, it's just annoying. When it is a fact or part of history that we use to build technology, security, or health policy upon, it grows much more important. But who the heck was Ben Shoemate and how could I tell him that his quest to find the Grail of Quotes was at an end...and warn him that I was about to link his 13 year old Medium article? Back to the Googles I rode, finding his profiles on Twitter, LinkedIn, and more. I DMed him on Twitter. I connected with him on LinkedIn, I messaged him on his website's contact form, and emailed something I found on some lookup site. Crickets. Three different times I tried, and finally, I tried publicly tweeting him.Tarah Wheeler is an information security researcher and social scientist, and a cybersecurity fellow at the Harvard Kennedy School.

Read more here

---
posted at: 12:00am on 30-Sep-2021
path: /Policy | permalink | edit (requires password)
---
---
Our Crowdfund For Our Paper Exploring NFTs Will Be Ending Soon

Furnished content.


announced that we wanted to write a paper exploring the NFT phenomenon, and specifically what it meant with regards to the economics around scarce and infinitely available goods. To run this crowdfund, we're testing out a cool platform called Mirror that lets us mix crowdfunding and NFTs as part of the process (similarly, we're now experimenting with NFTs with our Plagiarism by Techdirt collection).We were overwhelmed by the support for the paper, which surpassed what we expected. The "podium" feature -- which gave special NFTs to our three biggest backers -- has closed with the winners being declared, but the rest of the crowdfund will remain open until this Thursday evening. We also offered up a special "Protocols, Not Platforms" NFT for the first 15 people who backed us at 1 ETH or above. So far, ten of those have been claimed, but five remain.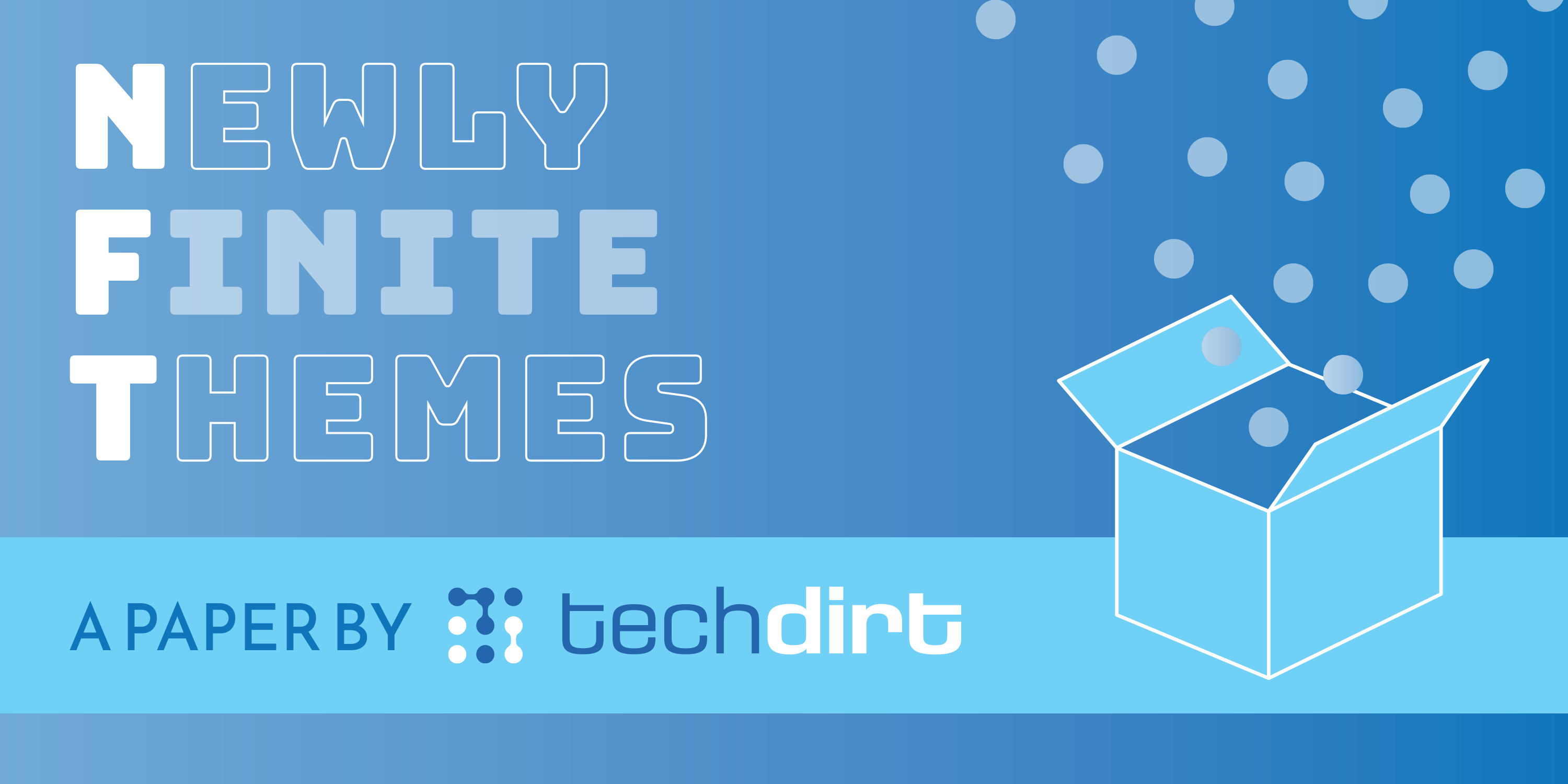 If anyone is interested in supporting this paper and our work exploring scarcity and abundance, please check it out.



Read more here

---
posted at: 12:00am on 29-Sep-2021
path: /Policy | permalink | edit (requires password)
0 comments, click here to add the first
---
---
Genshin Impact Developer Goes With Extremely Fan-Friendly Fan-Art For Commercial Sale Policy

Furnished content.


The manner in which content producers generally, and video game publishers specifically, handle art and content created by their biggest fans varies wildly. There's the Nintendo's of the world, where strict control over all things IP is favored over allowing fans to do much of anything with its properties. Other gaming companies at least allow fans to do some things with their properties, such as making let's play videos and that sort of thing. Still other gaming companies like Square have managed to let fans do some large and amazing projects with its IP.And then there is Chinese gaming studio miHoYo, makers of the hit title Genshin Impact, where the studio doesn't just allow fans to make their own art and merchandise... but also flatout tells them that they can go sell it, too.
On May 21, miHoYo released its Genshin Impact Overseas Fan-Made Merchandising Guide, which explicitly permits the commercial sale of fan-made items up to 200 units. There are only a few restrictions and artists do not have to contact the studio for small batches under the limit.The legal environment for fan art is so strained that conventions like NekoCon have limited the sale of non-official merch. Entertainment companies like FUNimation have explicitly stated in the past that creators at artist alleys, which are exhibition spaces at fan conventions where independent artists can sell unofficial merchandise, are "infringing Funimation's copyright rights." And it's generally understood among artists that properties owned by companies like Disney are completely off-limits.
With some rules in place over the quantities being sold, this means that when it comes to miHoYo properties, fans don't get sued over making merch. They don't get sued over selling that merch. Hell, fans don't even have to ask for permission to sell the merch. Instead, it's a refreshingly open policy.And because of that, as should be a shock to absolutely nobody save all the game publishers that want to go the lawsuit and DMCA route, Genshin Impact has an insanely active and vibrant fan community that keeps the game's name at the top of everyone's mind.
The studio's open policy has made it possible for Genshin Impact fans to make more varied products than the prints, keychains, and charms that are typically sold at artist alleys. At the time of writing, a quick search on Kickstarter shows unofficial earrings, sweaters, bookbags, plush toys, and berets. And fans were willing to put money towards their enthusiasm. At the time of writing, there were 28 Genshin Impact Kickstarters with at least $10,000 in funding.There are also numerous independent artists who advertise their fan-made items on Twitter. Olivinearc sells Genshin Impact merchandise in her online store, and despite only opening twice a year, she receives a couple hundred orders each time she opens. She uses the revenue to fund the development of her visual novel game, and she cites the revenue from unofficial Genshin Impact products as the reason she was able to expand its soundtrack.
This sort of symbiotic relationship that passionate Genshin Impact fans have for the game could be had by lots of other gaming companies, were they to only give up a bit of control over their properties to their biggest fans. It seems miHoYo understands this, rather than taking umbrage or offense at some fan out there making some amount of money from its properties. By treating these passionate fans in a manner that's real and human, the company instead reaps the reward of all that free advertising that merely solidifies the fandom it has worked to build.The only real mystery here is why more game companies don't follow this path.

Read more here

---
posted at: 12:00am on 29-Sep-2021
path: /Policy | permalink | edit (requires password)
0 comments, click here to add the first
---
---
The Future Of Streaming TV Looks Increasingly Like Cable, But Free

Furnished content.


There's been little doubt that the streaming TV revolution has been a decidedly good thing. Competition from streaming has resulted in more options, for less money, and greater programming flexibility than ever before. Streaming customer satisfaction is consistently higher than traditional cable TV as a result, and lumbering giants that fought against evolution for years (at times denying that cord cutting even existing) have been forced to actually try a little harder if they want to retain TV subscribers.Of course the more things change, the more they stay the same. And a lot of the problems that plagued the traditional TV experience have made their way to streaming. For example, since broadcasters (which were primarily responsible for the unsustainable cost of traditional cable TV) must have their pound of flesh to satiate investor needs for quarterly returns, price hikes in live streaming service have been arriving fast and furiously. And the more the industry attempts to innovate, the more it finds itself retreading fairly familiar territory.Case in point: to lure more users to its platforms and streaming hardware, Google is in talks with multiple companies to offer users free streaming TV channels, complete with ads:
"Google has held talks with companies distributing so-called FAST (free, ad-supported streaming television) channels, according to multiple industry insiders. These channels have the look and feel of traditional linear TV networks, complete with ad breaks and on-screen graphics. Free streaming channels could launch on Google TV as early as this fall, but the company may also wait to announce the initiative in conjunction with its smart TV partners in early 2022."
Some TV vendors, like LG, have taken to partnering with services like Pluto TV so when you get your new TV, and if you don't have cable, you get a viewing guide that sort of looks like cable. Namely a bunch of channels that usually offer (usually) dated content loaded with ads. This is usually tethered to on demand options in the hopes you'll pony up money for better content. As a result, the hot trend du jour in streaming right now involves offering users something that looks an awful lot like traditional cable:
"That approach mirrors the way TV makers like LG and Samsung have integrated free streaming channels into their platforms. For these TV makers, free channels have become an overnight success story. Samsung alone streams "billions of minutes" of linear programming via its TV Plus service every month, Samsung Electronics SVP Sang Kim told Protocol last year."
The difference, of course, is that this is all free. The money is made both off of ads, and off of collecting and selling access to your daily behavioral and viewing data, without telling consumers or letting them opt out (see the 2017 Vizio settlement with the FTC). Selling access to this data is so profitable, companies have made it clear that revenue from selling TVs themselves have become almost secondary. As with most "smart" devices there are often tradeoffs to this model, including the fact that not a whole lot of thought has gone toward security and privacy. And as hardware makers, streaming companies, telecoms, and big tech platforms all attempt to battle for control of this data flow, I can foresee more than a few unforseen potholes and shenanigans.Still, it's amazing to see a sector that was so obstinately resistant to evolution finally evolve and try new things, even if many of these new ideas look more familiar than you would have suspected.

Read more here

---
posted at: 12:00am on 28-Sep-2021
path: /Policy | permalink | edit (requires password)
0 comments, click here to add the first
---
---
Marvel Hit Once Again By Estate For Some Spider-Man, Doctor Strange Copyright Terminations

Furnished content.


It's no secret that we haven't been huge fans of the termination rights that exist in current copyright law. Not because we don't want original artists to be able to profit from their own work, of course. Rather, the problems are that copyright is already simply too long, which makes the termination issue far too often not about artists themselves profiting from their work, but rather about their families doing so. Add to that the more salient issue that these termination rights tend to be mostly useful for creating massive messes and disputes between parties over the validity of termination requests and the fact is that this stuff gets really icky really fast.But, the current reality is that termination rights in the law exist, so there is no reason why creators shouldn't use that part of the law. You may recall that a decade ago Marvel was hit by a series of termination requests for copyrights on all kinds of superhero stories and characters by Jack Kirby. Kirby's estate lost in court every step of the way up to the Supreme Court, with Marvel arguing that all of Kirby's work was work for hire, but Marvel and the estate reached a settlement before SCOTUS could take up the case. For termination requests for work that occurred prior to the Copyright Act of 1976 coming into force, how those requests should be ruled upon is still an open question.But perhaps we have another shot at getting clarity on this and, what do you know, it concerns Marvel yet again. Another creator has petitioned for termination on some specific copyrights around Spider-Man and Doctor Strange.
In a move that will have copyright lawyers at The Walt Disney Company sweating, the estate of comic book artist Steve Ditko has filed two notice of copyright termination with Disney/Marvel with regard to the copyright for both Spider-Man and Doctor Strange. What makes the notice of termination hard to achieve for creators and their families comes down to the classification of how it was created. Marvel will no doubt make the case that Ditko created Spider-Man and Doctor Strange as "Works for Hire," which would give Marvel the copyright permanently and not entitle the Ditko estate to any compensation. Ditko's family will make the argument that these creations were made by Ditko and then sold/licensed to Marvel at the time (perhaps under an unfair deal) which would make them not a work for hire creation.
I obviously don't currently have access to whatever contract was in place between Marvel and Ditko, if one even exists, so I cannot be certain that there wasn't some work for hire provision within it. But this sure as hell sounds like Jack Kirby all over again. I fully expect Marvel to make the work for hire argument, which will hopefully come along with some kind of written document. If it doesn't, it seems certain that this will once again end up in the courts. From there, the only question is whether or not we get final answers through the court system, or if this also ends up in a settlement.
As of this writing the notices from the Ditko estate say that the termination will become effective on June 2, 2023 and that for Doctor Strange the termination will become effective on June 9, 2023. Marvel and Disney will no doubt fight these copyright termination notices so look for further updates on this to happen in the coming years (this will almost certainly take a while).
But what is certainly not in question is that cases like this, successful for the original artists or not, throw into sharp relief the contrast between the messaging from Marvel as to the reason for its regular aggressive copyright enforcement -- to protect content creators and artists -- and Marvel's willingness to bus-toss those very same artists over copyright should it mean retaining all of that sweet, sweet cash it makes.

Read more here

---
posted at: 12:00am on 28-Sep-2021
path: /Policy | permalink | edit (requires password)
0 comments, click here to add the first
---
---
This Week In Techdirt History: September 19th - 25th

Furnished content.


Five Years AgoThis week in 2016, Donald Trump was doubling down on Ted Cruz's argument for blocking the transition of the IANA away from the commerce department (not the only stupid argument on the subject), but the Senate came to its senses and did not support the plan. The House Intelligence Committee released a list of "Snowden's Lies" that was almost entirely false, while the Washington Post was condemning Snowden and we wondered if it would give back its Pulitzer Prize, while Chelsea Manning was facing indefinite solitary confinement after a suicide attempt. The man arrested over KickassTorrents was being blocked from talking to his US attorney, while a former UMG executive was calling for the destruction of the DMCA. And we took a closer look at the more complex reasons for ridiculous bogus takedown demands in mass DMCA filings.Ten Years AgoThis week in 2011, Righthaven was failing to pay attorney fees ordered by the court and we looked at what would happen if the company declared bankruptcy. A lawyer was seeking to wipe out critical anonymous speech, the Authors Guild was trying to play "gotcha" with orphaned works instead of fixing the problem, and we looked at the entertainment industry's coordinated effort to blame third parties for piracy. In Italy, a proposed law would ban people from the internet based on a single accusation of infringement, leading an EU Parliament Member to ask the EU Commission what it would do if the law passed — while the Commissioner was busy asking big copyright to increase its lobbying efforts.Fifteen Years AgoThis week in 2006, Warner Music took the lead in signing deals with YouTube, while Microsoft was launching a YouTube copycat site (leading us to remember that, a few months prior, Bill Gates had explained why Microsoft would never try to do that). A Belgian court ordered Google to stop linking to news websites, prompting the company to fight back and hit a wall. Yahoo was timidly experimenting with DRM-free music, while the press was noticing how disappointing the early online video offerings from Apple and Amazon were. And, twenty years after the fact, The Knack noticed that their song My Sharona had been sampled by Run DMC and filed a very late lawsuit.

Read more here

---
posted at: 12:00am on 26-Sep-2021
path: /Policy | permalink | edit (requires password)
0 comments, click here to add the first
---
---
Texas' Unconstitutional Social Media Censorship Bill Challenged In Court, Just As Texas Joins The Legal Fight For Florida's Unconstitutional Social Media Bill

Furnished content.


Texas and Florida. Florida and Texas. Two states with governors who have decided that culture warrioring and "owning the libs" is way more important than the Constitution they swore to protect and uphold. As you'll recall, last month Texas Governor Greg Abbott decided to use the internet services he hates to livestream his signing of the clearly unconstitutional HB20 that seeks to block social media sites from moderating how they see fit.As we had pointed out, Florida had beaten Texas to the punch on that and a court had already tossed out the bill as an unconstitutional infringement of 1st Amendment rights. Now a state that was looking to actually do things correctly would maybe see that and recognize that maybe it's not worth wasting millions of taxpayer dollars to do the exact same thing, but Texas went ahead.And, now, the same two organizations that sued to strike down Florida's law, NetChoice and CCIA, have similarly sued to strike down Texas' law.
At bottom,H.B. 20 imposes impermissible content- and viewpoint-based classifications to compel a selectfew platforms to publish speech and speakers that violate the platforms' policiesand to presentthat speech the same way the platforms present other speech that does not violate their policies.Furthermore, H.B. 20 prohibits the platforms from engaging in their own expression to label orcomment on the expression they are now compelled to disseminate. And in light of the statute'svague operating provisions, every single editorial and operational choice platforms make couldsubject those companies to myriad lawsuits.These restrictionsby striking at the heart of protected expression and editorialjudgmentwill prohibit platforms from taking action to protect themselves, their users,advertisers, and the public more generally from harmful and objectionable matter. At a minimum,H.B. 20 would unconstitutionally require platforms like YouTube and Facebook to disseminate,for example, pro-Nazi speech, terrorist propaganda, foreign government disinformation, andmedical misinformation. In fact, legislators rejected amendments that would explicitly allowplatforms to exclude vaccine misinformation, terrorist content, and Holocaust denial.Additional H.B. 20 provisions will work to chill the exercise of platforms' FirstAmendment rights to exercise their own editorial discretion and to be free from state-compelledspeech. H.B. 20 will impose operational mandates and disclosure requirements designed toprescriptively manageand therefore interfere with and chillplatforms' exercise of editorialdiscretion. In a series of intrusive provisions, H.B. 20 requires social media platforms to publishhow they intend to exercise their discretion, document in excruciating detail how they exercisetheir editorial discretion over potentially billions of pieces of content, and operate inherentlyburdensome and unworkable individualized complaint mechanismsall of which together workto compel or otherwise challenge the platforms' countless daily uses of editorial discretion.
Notably, the lawsuit does not challenge the email filter provisions in the law, which effectively means that on December 2nd, if no one else tries to stop it, spam filters may be in violation of Texas' law. As Prof. Eric Goldman has noted, any spammer whose email is caught in a spam filter will then be able to sue the filter provider and seek statutory damages. Fun stuff!Meanwhile, also this week, just to show how totally committed Texas Attorney General Ken Paxton is to unconstitutional restrictions on the free exercise of editorial discretion, he also filed an amicus brief in the appeal of the Florida ruling. A bunch of other states (Alabama, Alaska, Arizona, Arkansas, Kentucky, Mississippi, Missouri, Montana, and South Carolina) all signed on, but this is a Texas product. Also, it's hot garbage. It insists that these bills don't regulate speech -- when they very, very clearly do.
But the district court's First Amendment analysis is riddledwith errors. It veered off course from the outset by concluding that S.B. 7072 regulates speech, when that law instead regulates conduct that is unprotected by the FirstAmendment: social media platforms' arbitrary application of their content moderation policies.
I mean, what? Of course, content moderation policies are protected by the 1st Amendment. It's basic editorial discretion.The entire amicus brief tries to claim that editorial discretion is "conduct" and not speech -- and that would upend basically all 1st Amendment precedent. And if Texas actually got its way with this, then that would enable the government to regulate who could appear on Fox News and other media organizations, claiming that those demands are "conduct, not speech."
Nothing in S.B. 7072's neutrality and disclosure provisions regulates the speechof Plaintiffs or the members of their trade associationsthey neither limit[] what[Plaintiffs or their members] may say nor require[] them to say anything. FAIR,547 U.S. at 60. Instead, at most these provisions regulate the conduct of Plaintiffs andtheir members: their arbitrary and blunderbuss content-moderation policies
This is... wrong. Requiring them not to moderate certain content (as the Florida bill does for political speech) is absolutely requiring them to associate with speech they may disagree with -- and such compelled association is a violation of the 1st Amendment. Did Ken Paxton actually graduate law school without learning this?Like Florida did in its case, the Texas Amicus brief relies heavily on Rumsfeld v. FAIR. The district court in Florida rightly pointed out that FAIR does not apply here and is easily distinguished:
The Florida statutes now at issue, unlike the state actionsin FAIR and PruneYard, explicitly forbid social media platforms from appendingtheir own statements to posts by some users. And the statutes compel the platformsto change their own speech in other respects, including, for example, by dictatinghow the platforms may arrange speech on their sites. This is a far greater burden onthe platforms' own speech than was involved in FAIR or PruneYard.
But, Texas insists otherwise -- and now we have to hope that the panel of Judges on the 11th Circuit recognizes the absolute garbage that is Texas' brief.

Read more here

---
posted at: 12:00am on 25-Sep-2021
path: /Policy | permalink | edit (requires password)
0 comments, click here to add the first
---
---
Italy Vows To Bring Entire Government To Bear To Oppose Croatian 'Prosek' Trademark

Furnished content.


We've written a couple of times about the Consorzio di Tutela della Denominazione di Origine Controllata Prosecco, whom I have nicknamed "The Prosecco People" because I'm not typing that every time. This organization with the sole goal of protecting the "Prosecco" name from being used, or nearly used, by anyone else has taken this mission to extreme lengths historically. Serving as examples were such times as The Prosecco People opposing a French company's non-alcoholic sparkling wine brand dubbed "Nosecco", as well as bullying a pet treat company that created a drink for pets called "Pawsecco". In both cases, if you can find any real reason to worry about public confusion as to the source of those goods, you're a crazy person.But those examples were parodies and puns that at least nodded at the Prosecco product. The latest bullying attempt to protect the Prosecco brand comes from Italian government ministers and targets the EU's consideration for protected status of a Croatian sweet wine called "Prosek."
Italy said on Wednesday it would protest to the European Commission over an attempt by Croatia to get EU-protected label status for a sweet white wine which Rome says has a name that is too similar to its own famed prosecco. Brussels agreed on Tuesday to consider an application by Croatia to have its Prosek wine classified as a recognised protected label (PDO), outraging Italian producers who said the name would create confusion among consumers.Agriculture Minister Stefano Patuanelli told state broadcaster RAI the whole Italian government would oppose the application "in an adequate and compact way".
The whole Italian government? Dang, I guess Italy is simply not fucking around on this one. Which is a bit silly, actually, as Prosek has nothing to do with Prosecco. While the EU originally did refuse to register the name of Prosek for protected status back in 2013, the fact is that Prosek has been around for literally thousands of years, isn't a sparkling wine, doesn't use the same grapes for production, and there is not a single ounce of shared history when it comes to the origin of each's name. In other words, Prosek is a thing in the world, whether Italy wants it to be or not. In addition, it's worth noting that Prosek is made with red grapes, so even the coloration of the drinks are different.But, despite all of that, apparently the Prosecco folks in Italy have absolutely lost their minds over this.
Luca Zaia, governor of the northerly Veneto region, which is a major prosecco producer, called Croatia's application "an absolute disgrace" and demanded vigorous opposition from Prime Minister Mario Draghi's government."They are stealing an important label from our country, it's as if they wanted to take away Ferrari," he said.
Yeah, not really. There is no stealing here at all. There is only Croatia seeking to get protected status on an age-old wine it has made for a long, long time. In remarks, the EU commission indicated that just because the two types of wine have some similarity in sound, that doesn't mean Prosek can't receive protected status. For that to be denied, there would need to be reasonable concern about customer confusion.But, as you can see above, very little about Italy's stance on this is reasonable. Nor has been its past bullying over Prosecco.

Read more here

---
posted at: 12:00am on 25-Sep-2021
path: /Policy | permalink | edit (requires password)
0 comments, click here to add the first
---
---
Content Moderation Beyond Platforms: A Rubric

Furnished content.


For decades, EFF and others have been documenting the monumental failures of content moderation at the platform level—inconsistent policies, inconsistently applied, with dangerous consequences for online expression and access to information. Yet despite mounting evidence that those consequences are inevitable, service providers at other levels are increasingly choosing to follow suit.The full infrastructure of the internet, or the "full stack," is made up of a range of entities, from consumer-facing platforms like Facebook or Pinterest, to ISPs like Comcast or AT&T. Somewhere in the middle are a wide array of intermediaries, such as upstream hosts like Amazon Web Services (AWS), domain name registrars, certificate authorities (such as Let's Encrypt), content delivery networks (CDNs), payment processors, and email services.For most of us, most of the stack is invisible. We send email, tweet, post, upload photos and read blog posts without thinking about all the services that help get content from the original creator onto the internet and in front of users' eyeballs all over the world. We may think about our ISP when it gets slow or breaks, but day-to-day, most of us don't think about intermediaries like AWS at all—until AWS decides to deny service to speech it doesn't like, as it did with the social media site Parler, and that decision gets press attention.Invisible or not, these intermediaries are potential speech "chokepoints" and their choices can significantly influence the future of online expression. Simply put, platform-level moderation is broken and infrastructure-level moderation is likely to be worse. That said, the pitfalls and risks for free expression and privacy may play out differently depending on what kind of provider is doing the moderating. To help companies, policymakers and users think through the relative dangers of infrastructure moderation at various levels of the stack, here's a set of guiding questions.
Is meaningful transparency, notice, and appeal possible? Given the inevitability of mistakes, human rights standards demand that service providers notify users that their speech has been, or will be, taken offline, and offer users an opportunity to seek redress. Unfortunately, many services do not have a direct relationship with either the speaker or the audience for the expression at issue, making all of these steps challenging. But without them, users will be held not only to their host's terms and conditions but also those of every service in the chain from speaker to audience, even though they may not know what those services are or how to contact them. Given the potential consequences of violations, and the difficulty of navigating the appeals processes of previously invisible services (assuming such a process even exists), many users will simply avoid sharing controversial opinions altogether. Relatedly, where a service provider has no relationship to the speaker or audience, takedowns will be much easier and cheaper than a nuanced analysis of a given user's speech.


Do viable competitive alternatives exist? One of the reasons net neutrality rules for ISPs are necessary is that users have so few options for high-quality internet access. If your ISP decides to shut down your account based on your expression (or that of someone else using the account), in much of the world, including the U.S., you can't go to another provider. At other layers of the stack, such as the domain name system, there are multiple providers from which to choose, so a speaker who has their domain name frozen can take their website elsewhere. But the existing of alternatives alone is not enough; answering this question also requires evaluating the costs of switching and whether it calls for technical savvy beyond the skill set of most users.


Is it technologically possible for the service to tailor its moderation practices to target only the specific offensive expression? At the infrastructure level, many services cannot target their response with the necessary precision human rights standards demand. Twitter can block specific tweets; Amazon Web Services can only deny service to an entire site, which means they inevitably affect far more than the objectionable speech that motivated the action. We can take a lesson here from the copyright context, where we have seen domain name registrars and hosting providers shut down entire sites in response to infringement notices targeting a single document. It may be possible for some services to communicate directly with customers where they are concerned about a specific piece of content, and request that it be taken down. But if that request is rejected, the service has only the blunt instrument of complete removal at its disposal.


Is moderation an effective remedy? The U.S. experience with online sex trafficking teaches that removing distasteful speech may not have the hoped-for impact. In 2017, Tennessee Bureau of Investigation special agent Russ Winkler explained that online platforms were the most important tool in his arsenal for catching sex traffickers. Today, legislation designed to prevent the use of online platforms for sex trafficking has made it harder for law enforcement to find traffickers. Indeed, several law enforcement agencies report that without these platforms, their work finding and arresting traffickers has hit a wall.


Will collateral damage, such as the stifling of lawful expression, disproportionally affect less powerful groups? Moderation choices may reflect and reinforce bias against marginalized communities. Take, for example, Facebook's decision, in the midst of the #MeToo movement's rise, that the statement "men are trash" constitutes hateful speech. Or Twitter's decision to use harassment provisions to shut down the verified account of a prominent Egyptian anti-torture activist. Or the content moderation decisions that have prevented women of color from sharing the harassment they receive with their friends and followers. Or the decision by Twitter to mark tweets containing the word "queer" as offensive, regardless of context. As with the competition inquiry, this analysis should consider whether the impacted speakers and audiences will have the ability to respond and/or find effective alternative venues.


Is there a user and speech friendly alternative to central moderation? Could there be? One of the key problems of content moderation at the social media level is that the moderator substitutes its policy preferences for those of its users. When infrastructure providers enter the game, with generally less accountability, users have even less ability to make their own choices about their own internet experience. If there are tools that allow users themselves to express and implement their own preferences, infrastructure providers should return to the business of servicing their customers -- and policymakers have a weaker argument for imposing new requirements.


Will governments seek to hijack any moderation pathway? We should be wary of moderation practices that will provide state and state-sponsored actors with additional tools for controlling public dialogue. Once processes and tools to takedown expression are developed or expanded, companies can expect a flood of demands to apply them to other speech. At the platform level, state and state-sponsored actors have weaponized flagging tools to silence dissent. In the U.S., the First Amendment and the safe harbor of Section 230 largely prevent moderation requirements. But policymakers have started to chip away at Section 230, and we expect to see more efforts along those lines. In other countries, such as Canada, the U.K., Turkey and Germany, policymakers are contemplating or have adopted draconian takedown rules for platforms and would doubtless like to extend them further.
Companies should ask all of these questions when they are considering whether to moderate content (in general or as a specific instance). And policymakers should ask them before they either demand or prohibit content moderation at the infrastructure level. If more than two decades of social media content moderation has taught us anything, it is that we cannot "tech" our way out of political and social problems. Social media companies have tried and failed to do so; infrastructure companies should refuse to replicate those failures—beginning with thinking through the consequences in advance, deciding whether they can mitigate them and, if not, whether they should simply stay out of it.Corynne McSherry is the Legal Director at EFF, specializing in copyright, intermediary liability, open access, and free expression issues.Techdirt and EFF are collaborating on this Techdirt Greenhouse discussion. On October 6th from 9am to noon PT, we'll have many of this series' authors discussing and debating their pieces in front of a live virtual audience (register to attend here). On October 7th, we'll be hosting a smaller workshop focused on coming up with concrete steps we can take to make sure providers, policymakers, and others understand the risks and challenges of infrastructure moderation, and how to respond to those risks.

Read more here

---
posted at: 12:00am on 24-Sep-2021
path: /Policy | permalink | edit (requires password)
0 comments, click here to add the first
---
---
Survey Suggests Eager Starlink Users Don't Understand Service Will Have Limited Reach

Furnished content.


So we've noted more than a few times that while Elon Musk's Starlink will be a good thing if you can actually get and afford the service, it's going to have a decidedly small impact on the broadband industry as a whole. Between 20 and 42 million Americans lack access to broadband entirely, 83 million live under a monopoly, and tens of millions more are stuck under a duopoly (usually your local cable company and a regional, apathetic phone company). In turn, Starlink is going to reach somewhere between 300,000 to 800,000 subscribers in its first few years, a drop in the overall bucket.Thanks to massive frustration with broadband market failure (and the high prices, dubious quality, and poor customer service that results), users are decidedly excited about something new. But not only are there limited slots due to limited capacity and physics, a lot of those slots are going to get gobbled up by die-hard Elon Musk fans excited to affix Starlink dishes to their boats, RVs, and Cybertrucks. As a result it will be extremely unlikely that most users who truly need the improved option will absolutely be able to get it.But a new PC Magazine survey continues to make it clear that most consumers don't quite understand they'll never actually have the option (especially if they live in a major metro market):
Starlink is expected to come out of beta next month for a broader commercial launch, and has seen 600,000 orders so far. But many of the customers who have signed up say getting a status update from Starlink customer service is effectively impossible. While major Wall Street analysts like Craig Moffett estimate the service may be able to scale to 6 million users over a period of many years, he also notes that guess is extremely optimistic, and will require a significantly updated fleet of 42,000 satellites to achieve.This all assumes that Starlink will remain financially viable as it works toward that goal, something that's not really guaranteed in a low-orbit satellite industry that has a history of major failures. And there will be questions about throttling and other restrictions once the network gets fully loaded with hungry users. Again, Starlink will be great for off the grid folks if they can get -- and afford -- it, but I suspect there's going to be some heartache when folks excited about the service realize the limitations of its actual reach. And this scarcity is only going to drive even greater interest in a service you probably won't be able to get anytime soon.

Read more here

---
posted at: 12:00am on 24-Sep-2021
path: /Policy | permalink | edit (requires password)
0 comments, click here to add the first
---
---
Content Moderation Case Study: Bing Search Results Erases Images Of 'Tank Man' On Anniversary Of Tiananmen Square Crackdown (2021)

Furnished content.


Summary: On the 32nd anniversary of the Tiananmen Square protests, internet users noticed Microsoft's Bing search engine was producing some interesting results. Or, rather, it wasn't producing expected search results for some possibly interesting reasons.Users searching for the most iconic image of the protests — that of the unidentified person known only as "Tank Man" — were coming up empty. It appeared that Microsoft's search engine was blocking results for an image that often serves as shorthand for rebellion against the Chinese government.As was reported by several web users, followed by several news outlets, the apparent blocking of search results could be observed in both the United States and the United Kingdom, leaving users with the impression the Chinese government had pressured Microsoft to moderate search results for "tank man" in hopes of reducing any remembrance of the Tiananmen Square Massacre, which resulted in the deaths of 2,500-3,500 protesters.
The apparent censorship was blamed on Microsoft's close relationship with the Chinese government, which allowed its search engine to be accessed by Chinese residents in exchange for complying with government censorship requests.This led to Microsoft being criticized by prominent politicians for apparently allowing the Chinese government to dictate what users around the world could access in relation to the Tiananmen Square protests.Company Considerations:
When complying to one government's interests, how can Microsoft ensure these considerations don't affect users located elsewhere in the world?
How can compliance departments assist in handling edge cases and/or overly-broad moderation demands?
What are the tradeoffs for content providers when weighing offended users against offended governments?
What ethical concerns should be taken into consideration when entering markets controlled by oppressive governments? Is there a line companies should not be willing to cross when seeking to expand their user base so as not to offend or alienate the user base they already have?
Issue Considerations:
What options can companies pursue when seeking to do business in countries with historically-censorial/repressive regimes to prevent collateral moderation damage to users located elsewhere?
What sort of cost/benefit analysis, both human and fiscal, should take place before offering a product in countries with known human rights issues?
Resolution: Shortly after the apparent censorship of the iconic "Tank Man" image was reported, Microsoft claimed the very timely removal of relevant search results was the byproduct of "accidental human error." However, the company refused to offer any additional explanation. And, while searching the term "Tank Man" produced search results in Bing, it did not generate the expected results.
Image via The Verge

Several hours after the first "fix," things returned to normal, with "Tank Man" searches bringing up the actual Tank Man, rather than just tanks or tanks with men near or on the tanks.
Image via Twitter user Steven F

More clarification and comment was sought, but Microsoft apparently had nothing more to say about this "human error" and its conspicuous timing. Nor did it offer any details on whether or not this "human error" originated with its Beijing team. It also didn't explain why the first fix resulted in images very few people would associate with the term "Tank Man."Originally posted to the Trust & Safety Foundation website.

Read more here

---
posted at: 12:00am on 23-Sep-2021
path: /Policy | permalink | edit (requires password)
0 comments, click here to add the first
---
---
Billy Mitchell Lets His Site Lapse, With A Critic Of His High Score Claims Swooping In To Take It Over

Furnished content.


It's been a minute since we last discussed Billy Mitchell, the man with the self-propelled reputation as an immense gamer with many high scores on record. He has also demonstrated a willingness to be quite litigious towards anyone who disagrees with this assessment of his gaming prowess. A couple of years back, he threatened to sue the Guinness Book of World Records for -- checks notes -- , huh, defamation. This defamation appeared to amount to the GBoWR rescinding his "record" for a high and perfect Pacman score, noting that there were evidenced claims that Mitchell had not earned the videotaped score on an official arcade cabinet, but rather using an emulator. These records were later reinstated, with GBoWR indicating it didn't have enough evidence to refuse the record. Mitchell also sued Twin Galaxies, an organization that acts as something of an arbiter for gaming records like this. That case failed to get dismissed on anti-SLAPP grounds and appears to still be active.As does the website Mitchell setup to proclaim his own glory, it seems, though it appears that Mitchell let his registration for the site lapse and now it is under decidedly new ownership.
If nothing else, you've gotta respect the bit. Billy Mitchell, the so-called "video game player of the century," appears to have let ownership over his old website, perfectpacman.com, lapse some years ago. Now someone else has commandeered the domain, and is using it to publish a multipart investigation into the oft-questioned legitimacy of Mitchell's world-record Pac-Man scores."Welcome to our new blog, www.perfectpacman.com. This blog will be dedicated to gaming related topics of interest to us. If you like what you see, just give us a whistle! Disclaimer: The new site administration has no affiliation with any liars and/or cheaters and/or narcissistic frauds who may have owned this web domain in the past. But we appreciate the free advertising lol."
The author of the posts has kept their identity hidden, but each subsequent post is part of a currently six-part series that is entirely dedicated to the claim that Mitchell's Pac-Man record is illegitimate. Many of those posts are also mirrored in a way on the Twin Galaxies website, which is sure to cause a great deal of ruckus within the ongoing litigation, though those Twin Galaxy posts appear to be user-generated, rather than official posts on the site. The posts on either site are incredibly detailed.
Since it's still a work in progress and covers a very contentious subject, the veracity of many aspects is up for debate. But while it's hard to miss that Walter C. has an axe to grind with the famous Pac-Man / Donkey Kong player, it's not like controversy surrounding some of Mitchell's claimed achievements hasn't been piling up over the last decade, either. If you've time to kill, you can read the series here—parts one, two, three, four, five, and six are currently up—and judge for yourself. Fair warning: Each section is looong.
Now, none of this is to say that these posts by whoever took over Mitchell's own site prove that Mitchell did anything untoward. But it sure does make one wonder why someone so obsessed with the world believing his claims about video game records couldn't also ensure that his website making those claims was maintained in his name.And, frankly, if this lawsuit can ever make it to the point where discovery is fully conducted and the public gets to see evidence presented on both sides... well, grab a bucket of popcorn.

Read more here

---
posted at: 12:00am on 23-Sep-2021
path: /Policy | permalink | edit (requires password)
0 comments, click here to add the first
---
---
DOJ Now Investigating Florida Sheriff's Office For Using A Federal Grant To Fund Its 'Predictive Policing' Harassment Programs

Furnished content.


The Pasco County (FL) Sheriff's Office believes in "intelligence-led policing." This is its formal slang for harassing residents until (in the office's own words) "they sue or move." The Sheriff's Office turns anyone with a criminal background into a suspect-for-life. Deputies visit residences and residents on the "intelligence-led" shit list multiple times a month, demanding answers to questions they have no business asking. When residents fail to comply, nuisance (in every sense of the word) citations are issued for things like uncut grass or missing mailbox numbers.It doesn't really matter whether the Sheriff's Office believes its own PR bullshit. It is fully engaged in harassing as many residents as possible. That's why it's allowed its so-called predictive policing program to infiltrate local schools, subjecting minors (and their families) to the same harassment previously limited to adults with criminal records. Almost anything can trigger unwelcome interactions with the office's deputies, including slipping grades, missed school days, or simply being the victim of, or witness to domestic violence.Local schools are apparently fine with this. They've been sharing student records with the Sheriff's Office. And the Sheriff's Office has been sharing this info with officers. Both of these actions appear to violate federal and local student privacy laws. Not that the Sheriff's Office cares. It says it has done nothing wrong -- only availed itself of records shared with it (unlawfully) by schools.The exposure of these programs by the Tampa Bay Times has led to multiple investigations and accusations of lawbreaking. One of these investigations involves the federal government, which makes it clear it's not just the locals that find the Sheriff's Office's programs abhorrent. The Department of Education opened an investigation in April to determine whether the in-school "intelligence-led policing" violated federal student privacy laws.There's a new federal investigation underway. The Department of Justice wants to know what the fuck is going on in Pasco County, Florida. (h/t WarOnPrivacy)
The U.S. Department of Justice is conducting an "intensive review" of the Pasco Sheriff's Office's latest intelligence program, federal officials said this week.The Justice Department sent a letter to the Sheriff's Office on Aug. 6 — two weeks after the Tampa Bay Times reported that the Sheriff's Office had promised increased police scrutiny for people whose criminal histories included violent crimes and drug offenses.The Justice Department's letter raised concerns about the methodology used to identify targets, communications with the community and the "insufficient" coordination with relevant law enforcement agencies.
The DOJ's interest no doubt has something to do with the Tampa Bay Times' incredible reporting. But it also wants to know why it gave the Sheriff's Office $700,000 if it was just going to use it to violate the terms of the Bureau of Justice Assistance grant.This is from the DOJ's letter [PDF] to the Pasco County Sheriff's Office:
Agencies that receive SPI funding are expected to engage members of their communities as allies in reducing violence, ensure transparency in their crime reduction approaches whenever feasible, and establish innovative and effective working relationships with citizens and community leaders to gain support for their proposed policing initiatives. Trust, and building trust, is at the core of SPI funding.
But:
PCSO recently circulated the attached letter to individuals regarding a PCSO-run program (the "PCSO program"), which claimed to be "in cooperation with the Department of Justice's Strategies for Policing Innovation Initiative." However, the letter does not adequately depict the dedicated training and technical resources under SPI provided by the Department, nor does it adequately describe the requirements for greater community engagement required for SPI's success.
And:
We also have concerns regarding the methodology used to identify individuals for inclusion in the PCSO program; the name of the program; communications about the program; the lack of involvement and communication with the greater community about the program; and the insufficient coordination with relevant law enforcement stakeholder groups. These shortcomings have the unfortunate consequence of eroding trust in the community, rather than building trust. Given this, and given the goals of SPI, BJA will undertake an immediate assessment of the activities funded under this grant award.
Brace for some federal damnation. Also, brace for opening up the Pasco County coffers to… um… cough up the $700,000 misused by the Sheriff's Office to (and I will quote here) "erode trust in the community."The Sheriff's Office has responded [PDF]. And it claims it is completely baffled that the DOJ would think its BS predictive policing/targeted harassment program would undermine trust in the community it's supposed to be serving. Instead, it says it followed the instructions given to it by the Trump DOJ.
The Pasco Sheriff's Office (PSO) is in receipt of your correspondence dated August 6, 2021 re- garding the Smart Policing Initiative grant awarded to PSO in 2018. After careful review of the letter, we are left confused as to the origins of the concerns and intentions expressed by the Bureau of Justice Assistance (BJA). Over the last two years, PSO has been working hand-in-hand with the subject matter experts (SMES)' assigned by BIA to implement this grant. In fulfilling the conditions of the grant, PSO actively collaborates with the BJA-assigned SMEs as well as the University of South Florida (USF) in research partnership and follows all guidance and directives they provide. The written feedback provided by these SMEs included phrases such as "excellent job!" and "the messaging was delivered well," and referenced the "fantastic partnerships" PSO established with the SPI project. Yet for reasons unknown to PSO, your letter directly contradicts the guidance we have been provided over the last two years.
No doubt the current DOJ (headed by Merrick Garland) takes a different view of community-oriented policing than the DOJ led by Jeff Sessions and Bill Barr did. If there's any confusion, it's due to the DOJ reining in its focus on civil rights violations under Donald Trump and its reemergence post Trump as an agency that will at least engage in investigations of problematic law enforcement agencies, even if it's not that great at delivering sustainable results.Too bad. Meet the new boss, not quite the same as the old boss. Flow my tears, the sheriff who didn't want to comprehend the new paradigm said:
We were excited to work with BJA on this innovative, research-driven initiative, and we are extremely disappointed by this abrupt change in direction.
That's weird. I thought law enforcement officers are trained experts on reacting to fast-moving situations. But maybe that only refers to the indiscriminate deployment of excessive and/or deadly force. Maybe the only ways cops can embrace change is with chokeholds and bullets.Sure, it doesn't help that the DOJ sent contradictory messages to the Pasco County Sheriff's Office. But as Pasco County Sheriff Chris Nocco surely is aware (being that his position is an elected position), the rules can change when the regime changes. The previous administration may have felt the public was the problem and shows of force by armed government employees was the solution. But the current administration doesn't feel that way. And it has every right to ask why the Pasco County Sheriff's Office spent nearly a million dollars in federal money alienating the community and harassing their kids.

Read more here

---
posted at: 12:00am on 22-Sep-2021
path: /Policy | permalink | edit (requires password)
0 comments, click here to add the first
---
---
North Carolina Sued By Flying Dog Brewery Over Regulatory Body Refusing To Allow Sales Due To 'Offensive' Label

Furnished content.


Normally, when we talk about beer in these pages, we're typically talking trademark infringement issues. Because of the creative way those in the exploding craft brewing industry have gone about naming their brews and designing their labels, far too often this results in disputes between parties over what is too similar to what, or who's design is too close to another's. While this specific story doesn't involve trademark law or disputes, it does still exist due to the creative practice of labeling.Flying Dog is a well known name in the craft beer industry. Not huge, but certainly not small, Flying Dog's labels have a certain aesthetic motif in the artwork that is easily recognizable. As part of the process for using those labels on cans and bottles of beer, the brewery has to gain a certificate of label approval from the ATF. It also then has to gain the approval for labels from individual state agencies as well. For its forthcoming "Freezin' Season" ale, Flying Dog was able to get the afore-mentioned approvals at both the federal and state levels in every case, except for North Carolina. There, the North Carolina Alcohol Beverage Control Board (ABC) denied approving the label, thereby disallowing Flying Dog to sell bottles within the state entirely. Why? Well...
Still having trouble figuring out what the problem is? Well, it's that little protrusion from between the outlined figure's legs. Is it a penis? Gasp! Maybe! Flying Dog hints that it's actually a little tail nubbin, but I'm not sure I believe them. Nor does that really matter, actually, since this beer label is absolutely constitutionally protected speech and the ABC's refusal to permit its sale in commerce not only serves as a violation of Flying Dog's speech rights, but also is prior restraint.
The offending label—like all Flying Dog beers—contains a distinctive cartoon image by illustrator Ralph Steadman, whose work with the Maryland-based brewery dates back to its roots in the gonzo-lands near Aspen, Colorado. It's not clear exactly what the state's regulators object to—though the naked, humanoid figure on the beer's label does sport a small appendage between its legs. Caruso says he suspects that "tail-like thing" is what triggered the ban."The regulation is, on its face, in constitutional 'bad taste,' as it is in clear violation of the First Amendment," attorneys for Flying Dog, including veteran First Amendment lawyers Greg Doucette and Marc Randazza, argue in court documents. They say banning the beer label is an unconstitutional viewpoint-based restriction on speech, similar to restrictions that the U.S. Supreme Court has repeatedly struck down.
It's hard to imagine what the counterargument in court will be, honestly. The puritanical viewpoint of North Carolina's ABC ought have no bearing on whether or not another entity's speech rights should be infringed. Given the approval for the label in literally every other state and the federal government, it's difficult to see how the state could even mount a serious case that there is anything offensive here.Thine own eyes should have you reaching the same conclusion. Even if we assume that the depiction includes a small, cartoon penis, it's certainly not pornographic in nature. Nor is it detailed enough to warrant concern amongst anyone at all. It's just a tiny blip on the artwork of a beer label.And, yet, it appears this is a regular thing in North Carolina.
This is not the first time that North Carolina's beer regulators have attempted to censor a product being sold in the state. WECT Channel 6, based in Wilmington, North Carolina, reported in 2019 that the state ABC had blacklisted about 230 beer and wine brands since 2002 for having labels or names that offended the board's sensibilities. Among the "inappropriate" products banned from the state are beers with names like "Daddy Needs His Juice," and "Beergasm."Ironically, the North Carolina ABC reportedly told Utah-based Wasatch Brewing Company that its "Polygamy Porter" could not be sold in the state because "polygamy is illegal." But the board also banned a beer named "Kissing Cousins" despite the fact that it is literally legal to marry your first cousin in North Carolina.
This is all very, very funny, but it's also a very real problem for Flying Dog. In its suit (embed below), Flying Dog states that it is currently taking orders on the seasonal beer in preparation for the winter months and it cannot currently sell in North Carolina due to all of this. Given that it also states that bottled beer is 90% of the company's business, even a single brew being disallowed in a single state means we're talking about very real money.This lawsuit should be a fairly easy winner. And, frankly, it appears as though it's well past time that North Carolina get a lesson in free speech when it comes to beer labels.

Read more here

---
posted at: 12:00am on 22-Sep-2021
path: /Policy | permalink | edit (requires password)
0 comments, click here to add the first
---
---
Turner Entertainment Forces Name Change Of 'Surrender Dorothy' Beer, Which Isn't Actually Referencing Wizard Of Oz

Furnished content.


It won't come as a total surprise that we have covered intellectual property stories involving The Wizard of Oz in the past. Both the book and film are iconic to say the least, so it would perhaps be a bit strange if such issues didn't arise from time to time. That being said, the relevant players here tend to be on the extreme end of the enforcement spectrum, which leads to extreme cases such as Warner Media opposing a trademark filing by a self-proclaimed "wicked witch" for some reason.The point is that the IP holders for the film tend to see anything remotely resembling a reference to the film as infringement of some kind or another. A recent example of this is Turner Entertainment, part of Warner Media, forcing 7 Locks Brewing to change its name and branding of its beer "Surrender Dorothy."
What was originally known as "Surrender Dorothy" is now simply called "Surrender." The Wicked Witch won and 7 Locks had to throw in the bar towel. In this case, it was Turner Entertainment that was no friend of Surrender Dorothy. Its lawyers dropped a house on 7 Locks Brewing's effort to trademark the name of their signature beer. (I think I may have mixed metaphors there.)"Basically, Turner owns the rights to 'The Wizard of Oz,' " said Keith Beutel, co-founder of 7 Locks. "They claimed that we were using the term 'Surrender Dorothy' and they didn't want any confusion with their branding."It wasn't just the name. It was the design on the can, too, which featured a curvy yellow thoroughfare that the media giant insisted was too similar to the "Yellow Brick Road."
So, "Surrender Dorothy," a yellow road, and also on the label that road leads to a castle or palace with several large spires. I know what you're thinking: those sure sound like references to Oz. But, no, it's actually a reference to a famous story and prank that occurred in Utah, where 7 Locks is located. The castle spires aren't Oz; they're the Mormon temple. The yellow road isn't the yellow brick road; it's the Beltway that leads to Salt Lake City. And the Dorothy? Well, that was the prank I mentioned.
A refresher for anyone unfamiliar with how the beer got its name: For years starting in the 1970s, graffiti would show up on a railway bridge over the Capital Beltway just west of Georgia Avenue. As motorists drove around the Outer Loop, the Oz-like spires of the Mormon temple looming ahead, they'd see "Surrender Dorothy." It was a bit of whimsy, refreshed whenever it was painted over by CSX, the railroad whose trains use the bridge.I've never been able to find out who first daubed the bridge with that expression, but I did find their inspiration: Catholic schoolgirls who had earlier created a temporary "Surrender Dorothy" message by stuffing wadded-up newspaper in the chain-link fence of a nearby vehicle bridge.
So there's a semblance of a reference to Dorothy from Oz, but it's a 2nd degree reference at best. It's not the brewery's fault that the temple and beltway look so much like Oz that they served as this inspiration. And that's not actually the point of 7 Locks' label. The point is in homage to a local legend of sorts.But, because trademark bullying works, and even though some commentators believe the brewery could prevail if it fought, the "Surrender Dorothy" branding has been, well, surrendered. But not without a bit of a middle finger on the brewery's new label.
So the new beer is called simply Surrender. The image on the can — unveiled early in the summer — still features the Mormon temple, but the Beltway is gray, not yellow. And the graffito on the bridge over it is being painted over by a man in a hard hat. All you can see are the letters "DORO . . ."
What a great victory for Warner Media...

Read more here

---
posted at: 12:00am on 21-Sep-2021
path: /Policy | permalink | edit (requires password)
0 comments, click here to add the first
---
---
Massachusetts' Top Court Says Police Need Warrants To Search Body Camera Recordings

Furnished content.


Body-worn cameras were supposed to usher in a new era of police accountability. That hasn't happened. At best, they've generated a ton of additional footage of interactions and arrests that may prove valuable to criminal defendants and people filing civil rights lawsuits. "May" is the operative word. Cops still control the footage, which limits public access and increases the odds that unflattering/unhelpful (to police) footage rarely ends up in the hands of the public. The end result is that prosecutors have been the biggest beneficiary of this so-called accountability tech.A case in Massachusetts has raised some interesting constitutional questions about body cameras and recordings. Officers responding to a domestic violence call recorded the interior of a home with their body cameras. Weeks after that call, they accessed the footage to find corroborating evidence that was used to apply for a search warrant. One of these is a constitutional violation, Massachusetts' Supreme Judicial Court has ruled. (via Courthouse News)Here's what happened during that domestic disturbance call, as recounted in the opinion [PDF]:
After the first responding officers had entered the apartment, another officer arrived who was equipped with a bodyworn camera, which recorded the areas of the home through which he moved, as well as his interactions with the defendant, his sister, and others in the apartment, including a number of police officers. The video footage obtained shows that when the officer arrived at the home, the door was ajar; he entered the living room, where at least two other officers were present…The officer wearing the camera walked past the defendant's sister and ascended the stairs. Standing at the top of the staircase, he spoke with the defendant, who was standing at the threshold of a bedroom. Through the open bedroom door, the camera captured a woman in the background. The woman was zipping her coat. Floral-printed curtains adorned the bedroom window just behind the area where the woman was dressing.The sister shouted from downstairs, and the defendant yelled "shut up." He explained to the officer with the camera that the girlfriend could not be rushed, as she was getting dressed, but that they would leave shortly. Once dressed, the girlfriend and the defendant moved toward the stairs; they were stopped by the officer.
The "floral-printed curtains" would later prove instrumental in building a case against the defendant. The officer who uploaded the photo informed detectives about its existence, since the defendant was one of several suspects being investigated by the Boston PD's gang task force. He was already under surveillance by the BPD, with a couple of officers managing to successfully "friend" the defendant on Facebook, giving them access to his posts.Here's where the distinctive curtains resurfaced:
Two weeks after the domestic disturbance call, the detective noticed that the defendant had posted what the officer believed to be a recently created video recording of the defendant holding a firearm in a bedroom, with floral-printed curtains visible in the background. After he saw the posted recording, the detective retrieved the DVD containing the body-worn camera footage from his colleague and reviewed it.Peering into the defendant's home caught on the body-worn camera footage, the detective saw the defendant's girlfriend zipping her coat in the defendant's bedroom, while standing next to what the detective believed were the same distinctive curtains visible in the posted video recording. This was significant to the detective because it established the location of the posted video recording that had showed the defendant apparently holding a firearm.
Using this information gleaned from the BWC recording made two weeks earlier, detectives obtained a search warrant for home, specifically noting the curtains seen in both the social media post and the officer's camera footage. The house was searched, resulting in the discovery of weapons and some marijuana.The defendant argued the initial recording violated his Fourth Amendment rights. The court disagrees, noting that the recording of areas in plain view of the officer merely duplicated what the officer could see with his own eyes.
We conclude that, where, as here, the officer was lawfully present in the home and the body-worn camera captured only the areas and items in the plain view of the officer as he or she traversed the home, in a manner consistent with the reasons for the officer's lawful presence, the recording is not a search in the constitutional sense and does not violate the Fourth Amendment or art. 14. This conclusion follows from our jurisprudence regarding the photographic preservation of a crime scene.
Even though a recording is more "permanent" than an officer's memory, there's still no violation. Precedent says officers can document crime scenes and domestic disturbances fall on the long list of criminal acts officers are sent to respond to. The recording was not a violation, even though it could be accessed at any point past its creation by investigators.However, the court says viewing the footage a few weeks later was unconstitutional.
[W]e conclude that while the plain view observation doctrine extended to the officer's recording of his interactions in the defendant's home in response to the domestic disturbance call, that doctrine cannot be stretched to sanction the subsequent review of the footage for reasons unrelated to the call.
The 21st century is no time to bring back some of the worst aspects of British rule, says the court.
The ability of police officers, at any later point, to trawl through video footage to look for evidence of crimes unrelated to the officers' lawful presence in the home when they were responding to a call for assistance is the virtual equivalent of a general warrant.
The BPD can't do that without a warrant, given the lack of connection between the domestic disturbance and any suspected gun/drug criminal activity.
Moreover, the subsequent review of the footage in connection with the unrelated investigation of the defendant falls outside the rationale justifying the recording in the first instance. Such a review is divorced from protecting police officers from false accusations of misconduct, ensuring police accountability, or preserving a record of police-civilian interaction. Instead, the use of body-worn camera footage in this manner, after the fact, for investigatory purposes unrelated to the domestic disturbance call, had the effect of allowing the gang unit detective to peer into the defendant's home for evidence to support an unrelated criminal investigation.
The government tried to salvage its warrantless search by claiming it was only a very small unconstitutional search. This argument is rejected as well.
[T]he Commonwealth contends that the BPD review of the body-camera footage was not extensive, and that the review was targeted at one specific detail, the floral-printed curtains in the defendant's bedroom. But the constitutional protection against unreasonable, warrantless searches is no less applicable to a targeted search than it is to a more extensive one.
With that detail removed from the warrant, the warrant most likely does not contain enough probable cause to justify the search of the house. The motion to suppress is granted and the case is kicked back down to the lower court, which will give the Boston PD one more chance to salvage its unconstitutionally gotten gains. But the line is clear. Recordings: good. Digging into saved recordings to aid in unrelated investigations: no good… not without a warrant.

Read more here

---
posted at: 12:00am on 21-Sep-2021
path: /Policy | permalink | edit (requires password)
0 comments, click here to add the first
---
---
This Week In Techdirt History: September 12th - 18th

Furnished content.


Five Years AgoThis week in 2016, Netflix was urging the FCC to crack down on broadband usage caps, Hollywood was struggling to keep its movie screeners secure (despite insisting that anti-piracy tech should be easy), and Paramount issued a DMCA takedown over an Ubuntu Linux torrent. Scientists were realizing that the recent ruling in Europe on infringement-by-linking was making science much more difficult, while the EU was barreling ahead with its absolutely ridiculous copyright proposal, and another bad EU ruling said that WiFi providers can be forced to require passwords if copyright holders demand it. The ACLU was launching a campaign to have President Obama pardon Ed Snowden, while the House Intelligence Committee was insisting that he doesn't qualify as a whistleblower. We also took a closer look at how corporate sovereignty provisions in trade deals are dangerous, while over 200 economics and law professors were urging Congress to reject such provisions. Also, this was the week that Prenda's Paul Hansmeier lost his law license.Ten Years AgoThis week in 2011, a new proposal in the UK would allow police to seize domain names without a court order, the US government was continuing to indict people for file sharing, the Authors Guild filed lawsuits against five universities for providing access to orphaned works, and Hotfile was fighting back against Warner Bros. with a countersuit for copyright misuse. Europe's recent retroactive copyright extension was leading to much well-deserved anger (considering it was costing the public a billion euros), while Canada was planning to reintroduce its terrible copyright plan. We also took a look at one of the starkest examples of the insanity of Hollywood accounting: the fact that the actor who played Darth Vader was still not getting paid because supposedly Return of the Jedi was still not profitable.Fifteen Years AgoThis week in 2006, record labels were being evasive about their own use of file sharing tech, Universal Music was publicly threatening to sue YouTube and MySpace, the USPTO was getting in on the game of brainwashing school kids about infringement, and we reiterated the arguments about why fashion copyright isn't necessary. Nearly a year after the original scandal, Sony's rootkit was still causing problems, while the company was trying to avoid having to pay out another settlement in Canada. The world's largest DVD manufacturer was bragging about yet another DRM scheme, and we noted how — after all the "significant blows" to piracy that had supposedly been happening — piracy still wasn't going down. Also this week, we saw a very early attempt by a Chinese car company at showing off a fully driverless vehicle.

Read more here

---
posted at: 12:00am on 19-Sep-2021
path: /Policy | permalink | edit (requires password)
0 comments, click here to add the first
---
---
California Legislators Continue To Anger Cops By Introducing Legislation Demanding More Transparency And Accountability

Furnished content.


An immense amount of reform has hit cops in California over the last few years.The state very recently made it possible for public records requesters to obtain records about police misconduct -- something that had been statutorily-shielded for decades. That, of course, made local law enforcement agencies unhappy. They sued. They let the state Attorney General argue against the interests of California residents. They fucked around and found out. And yet, they still pretended they could shred their way through this.There's more reform on the horizon. If cops didn't like having their misconduct records being made available to the public, they're really not going to like what's coming next. The general public could have access to even more records -- ones that may confirm assumptions about cops and their motivations.
In the two years since a state transparency law went into effect, San Francisco police have released previously secret disciplinary records from dozens of police shootings and a few incidents of police misconduct.Now the same state lawmaker behind Senate Bill 1421 is pushing new legislation that would expand the scope of disclosable records beyond the current parameters, which only include shootings and proven allegations of dishonesty or sexual assault.The new legislation, Senate Bill 16 by Sen. Nancy Skinner, D-Berkeley, would also require police to disclose cases involving sustained findings of bias or discrimination and unlawful searches or arrests.
All this bill needs is the governor's signature. That law enforcement failed to have this killed before it could make its way to the governor's desk perhaps indicates their unions and lobbyists are no longer as powerful as they once were. And police officers have no one to blame but themselves for the lack of sympathy displayed by politicians and the public they were supposed to be serving for all these years.BUT WAIT! THERE'S MORE.Let's sit back and enjoy the vicarious anguish of government employees who've gotten away with so much for so long. More trouble is on the way for the supposedly small group of "bad apples." (Cop shops love their bad apples, btw.)
Senate Bill 2, authored by Senator Steven Bradford (D-Gardena), would remove some immunity provisions for law enforcement and peace officers, as well as public entities employing them who are being sued because of something they did.Under the bill, if former officers are convicted of a felony, they can never return to any kind of peace officer position. Although, those who are later found to be innocent, or if their conviction is reversed or expunged, can. Likewise, applicants to law enforcement positions would be disqualified immediately if they are found to have committed crimes against public justice, such as bribery, falsification of records, and perjury, or if they had previously had peace officer certification revoked.
This seems so obvious it shouldn't be controversial. Bad cops shouldn't be allowed to become sign-able free agents if they've violated the law. They're in the law enforcement business. If they can't follow the law, they shouldn't be able to call themselves law enforcement officers.Of course, there's incoherent opposition.
Opposing lawmakers, as well as many law enforcement organizations, have charged that the bill leaves police officers at the risk of being denounced due to revenge against being the arresting officer, as well as bias concerns on the decertification board due to it being mostly members of the public."It is grossly unfair," said Republican Assemblyman Kelly Seyarto (R-Murrieta) on Friday. "None of the other 46 states [with decertification boards] have a similar composition. None of them are this lopsided."
I don't even know what "due to revenge against being the arresting officer" is supposed to mean. And the Assemblyman's comments do nothing to clarify the complaints. All it does is amplify the outrage officers are apparently feeling in response to being forced to be both accountable and transparent while collecting paychecks written by the public.If you can't handle the heat, give up your pensions and GTFO of the kitchen. It's time cops were given as much scrutiny as retail workers. If they can't handle that, they've got plenty of options in the private sector.

Read more here

---
posted at: 12:00am on 18-Sep-2021
path: /Policy | permalink | edit (requires password)
0 comments, click here to add the first
---
---
Judge In Scouts BSA Trademark Case Says He's Going To Rule In Scouts BSA's Favor On Summary Judgement

Furnished content.


Well, well, it appears that this particular story is going to move faster than I had thought. And, to be frank, I kinda sorta get it. We had just discussed Scouts BSA, formerly The Boy Scouts of America, seeking summary judgement in the trademark suit brought by The Girl Scouts of America. You can go back through the old posts for the detailed context, but the short version is that the Boy Scouts decided girls aren't as icky as they previously thought and rebranded as Scouts BSA to be more inclusive. This created a bunch of confusion with The Girl Scouts, some of it very much due to the actions of local Scouts BSA chapters, such as:
-"As a result of Boy Scouts' infringement, parents have mistakenly enrolled their daughters in Boy Scouts thinking it was Girl Scouts," the lawyers said, adding that this never occurred before 2018.-The lawyers said Boy Scouts councils in Illinois acknowledging improperly using the Girl Scouts' slogan in Cub Scout recruiting materials and pictures of Girl Scouts to promote a Boy Scouts "Scouts Sign-Up Night!"-They said a western Massachusetts Boy Scouts council posted a recruiting flyer on Facebook including a photograph of a girl depicted in her Girl Scouts Brownie uniform.-Meanwhile, Ohio Boy Scouts used the Girl Scouts trademark to try to get a local newspaper to write an article, suggesting a storyline entitled "Boy and Girl Scouts Looking for Members" even though the recruitment involved only the Boy Scouts, the lawyers said.-Minnesota families looking to sign up their girls were erroneously told the Girl Scouts and the Boy Scouts have merged. Meanwhile, in Indiana and South Dakota, some parents mistakenly signed up their daughters to girls' programs in the Boy Scouts.
It was due to those real examples of confusion that I had predicted the judge in the case would not rule for Scouts BSA on summary judgement... but it appears I was wrong. And perhaps specifically on the trademark question, the judge is right when he spoke openly about his intention to find in favor of Scouts BSA.
A Manhattan federal judge said Wednesday during a hearing that the Boy Scouts of America didn't infringe the Girl Scouts' trademarks by using the term "Scouting" to advertise to girls.Senior U.S. District Judge Alvin Hellerstein in what he called "temporary findings," said he planned to rule for the Boy Scouts on its summary judgment motion, finding the group can use the general word "Scouting" to describe its co-ed programs without causing confusion with the Girl Scouts."'Boy Scouts' is a brand, 'Girl Scouts' is a brand, but 'Scouting' alone is an activity," Hellerstein said.
And he's right about that. The truth is probably that nobody should have a trademark on the term "scouting". It's entirely descriptive of what the organization is and does. If this ruling is centered strictly on the claim of trademark infringement, I can see it making sense.Which leaves the issue of the actual customer confusion here and what to do about it. The GSA notes as much itself.
Ewing responded that the Girl Scouts weren't trying to stop the Boy Scouts from offering services to girls, and only wanted to stop the Boy Scouts from causing confusion."The issue is unfair competition and the way in which Boy Scouts is marketing and branding its services – it is not doing so in a way that communicates to the public who the sponsor is and what the organization is, and the law allows a remedy for that," Ewing said.
Given the examples of confusion born from the tactics of Scouts BSA marketing, it appears there would be a valid trademark infringement claim based on those actions, just not for the use of "scout" or "scouting" in general.Regardless, it appears the court is going to rule for Scouts BSA on this suit. I imagine the GSA may want to file suit instead for the individual infringement claims based on the marketing material, which I cannot imagine Scouts BSA winning at the summary judgement phase.

Read more here

---
posted at: 12:00am on 18-Sep-2021
path: /Policy | permalink | edit (requires password)
0 comments, click here to add the first
---
---
CD Projekt Red Issues Trademark Strike For Board Game With A Cyberpunk Theme On Itch.io

Furnished content.


Way back in 2017, years before CD Projekt Red released Cyberpunk 2077 in a poor enough state so as to kickoff lawsuits from investors and a shitstorm of criticism by the public, we discussed how CDPR had acquired the US trademark for "Cyberpunk" in its licensing arrangements and then applied for a mark on the same term in the EU. The problem, of course, is that "cyberpunk" isn't just the name of a series of tabletop and video games, but also the name of a broad genre of fiction. These are trademarks that should never have been granted, as they are akin to getting a trademark on something like "True Crime". Plenty of folks in American and the EU cried foul over this, leading to CDPR putting out a statement that, among other things, noted that the company is not a trademark bully and would not be aggressive in enforcing the mark for unrelated projects in the cyberpunk genre. Pay special attention to the tweet from CDPR below in the section headed "What does it mean that CD Projekt owns the trademark for "Cyberpunk"?

That's a pretty clear commitment that CDPR wouldn't prevent others from creating games or content in the cyberpunk genre, right? Well, intentionally or not, it appears that CDPR did not keep to this commitment, as at least one indie tabletop game developer on Itch.io has now had a trademark claim issued against his game, which has nothing to do with Cyberpunk 2077 and is instead just a game in the cyberpunk genre.
In a post published on Twitter recently, user and game developer Ethan H. Reynolds has struck out against CD Projekt Red, the studio behind Cyberpunk 2077, after their own game, Neon Nights, was issued with a trademark strike. The strike claims that Reynolds' game, specifically the artwork, is alleged to be "violating rights" despite the fact that their game is not related in any way to Cyberpunk. Reynolds says in their tweet that this could be down to a corporate bot that simply scans for the word "cyberpunk" despite the fact that, according to the tweet, the word can relate to a genre as well as a specific game name.
That's simply not an excuse that works. Not in general and most certainly not in this case, with CDPR having publicly stated that its mark wouldn't be used in this way. If it really was some bot that saw the description of the game and struck out due to it being in the cyberpunk genre, that really isn't any better. The end result is still the same: CDPR is enforcing its trademark in a way that is impeding the ability of others to create content in the cyberpunk genre.If I had to guess, I would agree with Reynolds that an automated system is likely the culprit here. But that too is on CDPR for using that system. And Reynolds is rightly pissed.
The indie developer goes on to say that they have tried to support CD Projekt Red in the past, particularly when it comes to their games, but now says "no more" to defending the company. It does seem as though this could be a case of mistaken identity. According to the game's page on Itch.io, Neon Nights is a tabletop role-playing game that just happens to have a "cyberpunk/dystopian" theme, and is not related to CDPR's title.
And who can blame him for being angry? Why should fellow creatives have to navigate trademark claims against their projects just because CDPR insisted on getting a trademark for a generic name of an entire genre of fiction? Why should anyone look kindly on the company that promised this wouldn't happen only to let it happen anyway?And, since it failed to keep that promise, why shouldn't we start asking once again why this trademark was applied for and approved in the first place?

Read more here

---
posted at: 12:00am on 17-Sep-2021
path: /Policy | permalink | edit (requires password)
0 comments, click here to add the first
---
---
China's Game Controllers Ignore Emergent Order

Furnished content.


Last week, China restricted children under 18 to three weekend hours of video games per week. If you're a parent of a Minecraft- or Fortnite-obsessed child, you may be wondering why the U.S. doesn't do something similar. But China's move against juvenile gaming is just the Chinese government's latest salvo in their barrage of attempts to control internet technology. Their centralized approach is one that we in the U.S. have historically rejected and should continue to reject.China's Great Firewall has long cut off the Chinese people's access to much of the global internet. But recent actions in China focus on its own tech companies. These moves include passing a stringent new privacy law (which offers no protection from government spying) and tough new antitrust restrictions. China also blocked internet finance company Ant's I.P.O., fined e-commerce company Alibaba 18.2 billion yuan and has heavily regulated online lenders, rapidly reducing their numbers from 5,000 to six as of September 2020. One prominent financial tycoon was abducted in Hong Kong, taken to China, and is apparently under house arrest while Chinese regulators seize and dismantle his companies. The crackdown expands beyond tech companies to users – Chinese police have arrested social media stars for on-camera eating as part of a campaign against food waste. It is, according to commentary circulated by Chinese state media, a "profound revolution" against "the chaos of big capital" and "a return to the Communist Party of China's initial aspirations, a return to people as the center, and a return to the essence of socialism."In short, China's leaders are grasping to centralize control. And their method is to label individualism as a vice rather than a virtue.China's leaders fear that they are losing control of markets and society, especially in the digital age.They are right. But as I argue in my forthcoming book, Getting Out of Control: Emergent Leadership in a Complex World, control is overrated – and often it is counterproductive. Complex systems like markets are characterized by emergent order, with robust and productive patterns forming from the interactions of many individual participants following relatively simple rules. These patterns cannot be anticipated or centrally designed, because the knowledge they embody is produced by the individuals grappling with the situations in front of them.Attempts to centrally control such systems eliminate much of the nuance and knowledge contained within them. The result is a simplistic, centralized system that leaves most participants worse off than they were under the emergent order produced by the complex, decentralized system. Unsurprisingly, those who are better off under centralized systems tend to be those at the center – those in control. Their control comes at the expense of everyone else's welfare.I don't expect this argument to persuade China's leaders to change their path, although for their citizens' sake I wish they would. But it might help guide our path here in the U.S. The U.S. character – and our Constitution - would never permit the kind of full-bore government centralization that China has undertaken. Yet the technocratic desire to be in control, especially in times of rapid change, is alive and well here. Indeed, many of the ideas China has adopted are floating around U.S. academia and even Capitol Hill. Breaking up big tech, regulating new technologies like blockchain and cryptocurrencies, regulating what kind of speech cannot or must be allowed on social media sites, limiting the use of encryption – these are increasingly common sentiments across the U.S. political spectrum. Sen. Josh Hawley's proposed bill to ban "infinite scroll" on phone apps would fit in seamlessly with the Chinese government's diktats.It's as if China is taking the most precautionary policies from US academics, advocates, and lawmakers and implementing them via boot, truncheon, and machine gun. In fact, China's commercial privacy law – created by a government that surveilles its citizens relentlessly – has drawn praise from some U.S. tech policy leaders who seem to wish we in the U.S. could ram through such onerous laws without the inconveniences of the democratic process.But America's strengths include our embrace of individualism, couched appropriately within functioning institutions (themselves artifacts of emergent order), and our willingness to participate in complex systems where no one seems to be in control. These strengths have made the U.S. an economic powerhouse, home to many great innovators in technology and businesses, and the source of creative expression that entertains and educates the world.As tech analyst Ben Thompson has argued, let's not do a pale imitation of China's attempt to stamp out individualism and centralize control. Instead, let's double down on freeing the individual to create solutions to the problems they and others face.Even if that means you, not the government, has to tell your kid to put down the game controller.Neil Chilson is a senior technology and innovation research fellow at Stand Together and former Chief Technologist at the Federal Trade Commission. His new book, "Getting Out of Control: Emergent Leadership in a Complex World," will be released on September 23.

Read more here

---
posted at: 12:00am on 17-Sep-2021
path: /Policy | permalink | edit (requires password)
0 comments, click here to add the first
---
---
Scouts BSA Seek To End Girl Scouts' Trademark Lawsuit By Brazenly Claiming No Confusion Does Or Will Exist

Furnished content.


We've been covering the lawsuit brought by The Girl Scouts of America against Scouts BSA, formerly The Boy Scouts of America, for some time. In the two posts that covered the suit, the GSA has alleged all kinds of very real confusion in the marketplace for female scoutting as a result of the branding change by Scouts BSA, which include:
-"As a result of Boy Scouts' infringement, parents have mistakenly enrolled their daughters in Boy Scouts thinking it was Girl Scouts," the lawyers said, adding that this never occurred before 2018.-The lawyers said Boy Scouts councils in Illinois acknowledging improperly using the Girl Scouts' slogan in Cub Scout recruiting materials and pictures of Girl Scouts to promote a Boy Scouts "Scouts Sign-Up Night!"-They said a western Massachusetts Boy Scouts council posted a recruiting flyer on Facebook including a photograph of a girl depicted in her Girl Scouts Brownie uniform.-Meanwhile, Ohio Boy Scouts used the Girl Scouts trademark to try to get a local newspaper to write an article, suggesting a storyline entitled "Boy and Girl Scouts Looking for Members" even though the recruitment involved only the Boy Scouts, the lawyers said.-Minnesota families looking to sign up their girls were erroneously told the Girl Scouts and the Boy Scouts have merged. Meanwhile, in Indiana and South Dakota, some parents mistakenly signed up their daughters to girls' programs in the Boy Scouts.
Those appear to be verifiable, real-world claims of confusion as a result of the BSA rebranding to a more generic name, all in the context of a world where the BSA and GSA have long been separated along gender lines. Why it should be any surprise that confusion exists here is beyond me. It seems like roughly the most predictable thing in the world to have happened, particularly when you account for the actions of local Scouts BSA organizations that seemed to actively attempt to instill such confusion.In fact, perhaps the most surprising thing now is that Scouts BSA is asking a judge for a summary judgement that no confusion has or will exist.
U.S. District Judge Alvin Hellerstein in Manhattan will hear oral arguments on the Boy Scouts' motion for summary judgment, in which it argued that rebranding as "Scouts BSA" and advertising to girls won't cause confusion with the Girl Scouts.The Boy Scouts said in a statement that it has been clear that the groups are separate organizations, and trusts that "families choose organizations for their children with great care." Rachel Kassabian of Quinn Emanuel Urquhart & Sullivan represents the Boy Scouts.
This is belied, again, by the examples of confusion that have not been specifically refuted as well as some of the confusion-inducing actions taken by Scouts BSA local chapters. It's also a simple matter to remind the public that the BSA has itself been extremely protective of all manner of its IP in the past, making this not solely a story about spurious claims of non-confusion, but also one of hypocrisy.We'll await the ruling by the judge on this motion, but it would be very strange if Scouts BSA prevailed.

Read more here

---
posted at: 12:00am on 16-Sep-2021
path: /Policy | permalink | edit (requires password)
0 comments, click here to add the first
---
---
Content Moderation Case Study: Twitter Removes 'Verified' Badge In Response To Policy Violations (2017)

Furnished content.


Summary: Many social networks have enabled users to use a pseudonym as their identity on that network. Since users could use whatever name they wanted, they could pretend to be someone else, creating certain challenges for those platforms. For example, for sites that allowed such pseudonyms, how would they identify who the actual person was and who was merely an impostor? Some companies, such as Facebook, went the route of requiring users to use their real names. Twitter went another way, allowing pseudonyms.But what can a company do when there are multiple accounts of the same, often famous, person?In 2009, Twitter began experimenting with a program to "verify" celebrities.The initial intent of this program was to identify which Twitter account actually belongs to the person or organization of that Twitter handle (or name). Twitter's announcement of this feature explains it in straightforward terms:
With this feature, you can easily see which accounts we know are 'real' and authentic. That means we've been in contact with the person or entity the account is representing and verified that it is approved. (This does not mean we have verified who, exactly, is writing the tweets.)This also does not mean that accounts without the 'Verified Account' badge are fake. The vast majority of accounts on the system are not impersonators, and we don't have the ability to check 100% of them. For now, we've only verified a handful of accounts to help with cases of mistaken identity or impersonation.
From the start, Twitter denoted "verified" accounts with a, now industry-standard, "blue checkmark." In the initial announcement, Twitter noted that this was experimental, and the company did not have time to verify everyone who wanted to be verified. It was not until 2016 that Twitter first opened up an application process for anyone to get verified.A year later, in late 2017, the company closed the application process, noting that people were interpreting "verification" as a stamp of endorsement, which it had not intended. Recognizing this unintended perception, Twitter began removing verification checkmarks from accounts that violated certain policies, starting with high-profile white supremacists.
While this policy received some criticism for "blurring" the line between speakers and speech, it was a recognition of the concerns about how the checkmark was seen as an "endorsement" of someone whose views and actions (even those off of Twitter) were not those Twitter wished to endorse. In that way, the removal of the verification became a content moderation tool for a type of subtle negative endorsement.Even though those users were "verified" as authentic, Twitter recognized that being verified was a privilege and that removing it was a tool in the content moderation toolbox. Rather than suspending or terminating accounts, the company said that it would also consider removing the verification on accounts that violated its new hateful conduct and abusive behavior policies.Company Considerations:
What is the purpose of a verification system on social media? Should it just be to prove that a person is who they say they are, or should it also signal some kind of endorsement? How should the company develop a verification system to match that purpose?
If the public views verification as a form of endorsement, how important is it for a company to reflect that in its verification program? Are there any realistic ways to have the program not be considered an endorsement?
Under what conditions does it make sense to use removal of verification as a content moderation tool? Is removing verification an effective content moderation tool? If not, are there ways to make it more effective?
Issue Considerations:
What are the consequences of using the verification (and de-verification) process as a content moderation tool to "punish" rule violators?
What are both the risks and benefits of embracing verification as a form of endorsement?
Are there other subtle forms of content moderation similar to the removal of privileges like the blue checkmark, and how effective can they be?
Resolution: It took many years until Twitter reopened its verification system, and then it did so only in a very limited manner. The system has already ran into problems, as journalists discovered multiple fake accounts that were verified.However, a larger concern over the new verification rules is that it allows for significant subjective decision-making by the company over how the rules are applied. Activist Albert Fox Cahn explained how the new program is making it "too easy" for journalists to get verified but "too difficult" for activists, showing the challenging nature of any such program.
"When Angela Lang, founder and executive director of the Milwaukee-based civic engagement group BLOC, decided to get a checkmark, she thought, 'I've done enough. Let's check out how to be verified.' Despite Lang and BLOC's nationally recognized work on Black civic engagement, she found herself shut out. When Detroit-based activist and Data 4 Black Lives national organizing director Tawana Petty applied, her request was promptly rejected. Posting on the platform that refused to verify her, Petty said, 'Unbelievable that creating a popular hashtag would even be a requirement. This process totally misses the point of why so many of us want to be verified.' Petty told me, 'I still live with the anxiety that my page might be duplicated and my contacts will be spammed.' Previously, she was forced to shut down pages on other social media platforms to protect loved ones from this sort of abuse."According to anti-racist economist Kim Crayton, verification is important because 'that blue check automatically means that what you have to say is of value, and without it, particularly if you're on the front lines, particularly if you're a Black woman, you're questioned.' As Lang says, 'Having that verification is another way of elevating those voices as trusted messengers.' According to Virginia Eubanks, an associate professor of political science at the University at Albany, SUNY, and author of Automating Inequality, 'The blue check isn't about social affirmation, it's a safety issue. Someone cloning my account could leave my family or friends vulnerable and could leave potential sources open to manipulation.'" — Albert Fox Cahn
Originally published to the Trust & Safety Foundation website.

Read more here

---
posted at: 12:00am on 16-Sep-2021
path: /Policy | permalink | edit (requires password)
0 comments, click here to add the first
---
---
Kickstarter For Hand-Drawn Video Game Manuals Shuts Down Due To IP Threat

Furnished content.


You may recall that about a year ago we discussed one man's attempt to digitize the game manuals for really old games. Notably, that project didn't appear to face any threats over copyright laws by the normal companies -- Nintendo, Konami, etc -- though that almost certainly was partially the result of the project not being a commercial endeavor, but a simple attempt at art preservation that would clearly be covered by fair use. But the overall point is that there is a thirst for this sort of thing, especially when you realize that some of these game manuals are endangered species, close to being lost for all eternity.Well, apparently there is at least one company out there that is not so keen on letting something similar to that go forward if it means anyone is going to collect money over it. A Kickstarter for hand-drawn recreations of the sorts of video game guides that were popular decades ago, which far exceeded its initial goal, voluntarily shut itself down after facing unspecified legal threats.
Near the end of a staggeringly successful Kickstarter campaign, Hand-Drawn Game Guides was cancelled. Philip Summers, the individual behind this campaign, cancelled his Kickstarter due to legal pressure from unknown parties. In a statement released on Hand-Drawn Game Guides' Kickstarter, Summers says:"Tonight I pulled the plug on the Hand-Drawn Game Guides Kickstarter. Yes, for exactly the reason you think it's for. I had hoped that I could successfully navigate any legal trouble, but alas I wasn't able to do so."
Summers made it clear elsewhere that none of this was unforeseen, nor is he particularly angry about it. The source of the legal threats was never specified, but it's clear that Summers is facing some kind of copyright or trademark threat by one of the gaming companies that owns the rights for the games he's creating new manuals/guides for. It could be one of many companies, of course, though it won't surprise regular readers here to learn that I very much suspect it's Nintendo. If it is, the company can certainly argue it has a valid copyright claim on these manuals, assuming it has the relevant IP rights for them. But, as is always the question, why does Nintendo or whichever company made these threats feel the need to go this route?Summers started his campaign seeking $20k, but ended up amassing over $300k in pledges for the project, all for hand-drawn video game guides for very old games.
Summers' guides deal with IPs by Nintendo, including The Legend of Zelda and Metroid. Just recently, Nintendo issued a cease and desist for Metroid Prime 2D, a game starring Samus Aran and based on the Metroid series, and not long ago they hit The Legend of Zelda: The Missing Link a fan-game that bridged Ocarina of Time and Majora's Mask. Contra and Ninja Gaiden guides backers could have purchased, so legal pressure Konami, Koei Tecmo, or Nintendo is possible but not confirmed by any party. As we've seen previously, fan-made projects ending due to legal reasons is nothing new for the industry.This campaign aimed to bring guides of retro video games to the masses, which were completely hand-drawn and went over the workings of each title. This included tips and tricks, maps of dungeons and other levels, and more.
If there is an actual threat in any of that to any of the named companies, I am failing to see it. Instead, I only see the desire for total control over intellectual property playing out in such a way so as to destroy an otherwise wildly successful Kickstarter by someone who is obviously a very big fan of retro video games and the guidebooks of the past. And if that doesn't sound like Nintendo, I don't know what does.For now, Summers and his publisher are making it clear that the project isn't necessarily 100% dead, asking backers to stay tuned. But in the meantime, the funding for the Kickstarter has been canceled, all because someone had to kill the fun.

Read more here

---
posted at: 12:00am on 15-Sep-2021
path: /Policy | permalink | edit (requires password)
0 comments, click here to add the first
---
---
Critics Of Patent Waivers Are Claiming They Were Right... Despite No Patent Waiver Actually Issuing Yet

Furnished content.


We were surprised, but pleased, when the US announced plans to support a patent waiver for COVID-19 treatments and vaccines (over Hollywood's strenuous objections). As you'll recall, the TRIPS agreement (an onerous, oppressive set of "intellectual property" rules that many countries have agreed to) includes a "waiver" process, in which the WTO will effectively waive international patent protection on certain patented items in an emergency situation. The COVID-19 crisis seemed to fit the exact intent of the waiver process, and yet there's been a lot of pushback from patent and copyright maximalists who hate the very idea of waiving copyright or patent monopoly rights on anything for any reason at all.Many of those against the waiver insisted that their reason for being against the waiver is that it wasn't patents that were holding up vaccines and treatments, but larger supply chain issues. They ignore, of course, that some of those supply chain issues are also because of overly aggressive intellectual property laws, or that both things can be true. Either way, Michael Rosen, who insisted that a waiver was a terrible idea, has now penned a piece for The Hill insisting that his view has proved correct because the waiver process has done nothing to help deal with COVID-19.Of course, the reason it's done nothing is because people like the author have been getting groups to protest the waiver and so it hasn't even been approved yet. I mean, the piece even admits that the problem here is not the waiver, so much as the slowness of the WTO in approving it.
... the WTO is uniquely unsuited to move quickly on the proposal given its bureaucratic and consensus-driven nature. Opposition to the waiver proposal in late July, primarily from the European Union (EU), has delayed further discussion until at least October, because disagreement persisted on the fundamental question of what is the appropriate and most effective way to address the shortage and inequitable access to vaccines and other COVID-related products. By the time the TRIPS waiver receives proper consideration, the Delta wave may have passed.
But... that's not an argument against the waiver. It's an argument for the WTO to get its shit together, and for people to stop trying to oppose the damn waiver.The other two reasons Rosen gives are no better.
First, the suspension of intellectual property (IP) rights will not quickly deliver shots in arms in the developing world, as the past four months have amply shown.
No one is saying that's the only thing that needs to be done -- but, also, how the hell can you say that it won't deliver shots when the waiver still hasn't come to pass yet?!?
... generic manufacturers cannot simply flip a switch and begin producing doses; instead, they must master the formulation of complex compounds (some of which involve mRNA), and their medicines must undergo local regulatory scrutiny for safety and effectiveness.
Yeah. You know what would help them get the ball rolling so that they can get those processes up and running sooner? Not having to worry about bogus patent infringement claims.And, of course, this kind of thing wouldn't be complete without a bogus claim of the great innovation incentive that patents bring.
Finally, the suspension of vaccine-related IP rights fundamentally undermines the global innovation regime that brought us these miraculous drugs in the first place wildly effective vaccines developed in absolute record time.
That's bullshit. The incentive to produce these vaccines was not patents, but saving the damn world. Second, the first of those vaccines, from Moderna, was developed in just two days because Chinese researchers uploaded the details of the coronavirus and made it openly available to researchers, rather than locking it up. In other words, it wasn't locking down information with patents that got us this vaccine, it was the opposite.

Read more here

---
posted at: 12:00am on 15-Sep-2021
path: /Policy | permalink | edit (requires password)
0 comments, click here to add the first
---
---
Appeals Court Says Police Ballistics Expert Can Be Sued Helping Wrongfully Imprison Two Men For More Than 17 Years

Furnished content.


Judge Alex Kozinski noted back in 2015 there was an "epidemic of Brady violations" occurring during prosecutions in this country. "Brady" refers to the Supreme Court case Brady v. Maryland -- one that established the right for defendants to have access to exculpatory evidence, creating an obligation for prosecutors and law enforcement to produce this evidence during trials.Obviously, this hasn't been an absolute since this ruling. Prosecutors aren't interested in handing over evidence that undermines their cases. And cops are equally unwilling to produce evidence that undercuts their arrests, narratives, and coerced confessions.Here's how it works out for defendants, according to Judge Kozinski, while excoriating an appeals court decision that basically blessed Brady violations as long as the government still presented some inculpatory evidence.
It effectively announces that the prosecution need not produce exculpatory or impeaching evidence so long as it's possible the defendant would've been convicted anyway. This will send a clear signal to prosecutors that, when a case is close, it's best to hide evidence helpful to the defense, as there will be a fair chance reviewing courts will look the other way, as happened here.
Grim stuff. But it's the way the government continues to play the game. That's highlighted in this recent decision [PDF] by the Second Circuit Court of Appeals. Fortunately, the court sides with the two men wrongly convicted of a robbery and murder. Unfortunately, that decision more than 17 years after the fact.Here are the allegations:
After each serving more than 17 years in prison for a robbery and murder they did not commit, plaintiffs Vernon Horn and Marquis Jackson brought civil rights actions against the City of New Haven and law enforcement officials under 42 U.S.C. § 1983. As relevant here, plaintiffs alleged that police forensic examiner James Stephenson violated their due process rights under the Fourteenth Amendment by withholding exculpatory ballistics reports in contravention of Brady v. Maryland.
And here's how police investigators developed their case against these two (at the time) teens, based on intuition not too far removed from the Sunday night quarterbacking of "Law & Order" viewers.
On January 23, 1999, Vernon Horn and Marquis Jackson went out on a Saturday night in downtown New Haven. The two teenagers met up with friends at the Alley Cat nightclub and then stopped by Dixwell Deli (the Deli), a 24-hour convenience store, at around 2:45 a.m. After purchasing a few items, they drove back to Jackson's apartment several blocks away.Around 3:30 a.m., three masked robbers burst into the Deli and opened fire. The shots hit an employee and a customer, Caprice Hardy, who died shortly thereafter. After stealing a cellphone from a store clerk and trying unsuccessfully to raid the cash register, the robbers fled the scene.A few minutes after the robbery, Horn walked back to the Deli. This raised the suspicions of the lead detective on the investigation, who believed that perpetrators of homicides tended to return to crime scenes.
The police decided these two were the best fit for the robbery and murder charges. Nothing would dissuade investigators from this predisposition -- not even contradictory evidence. To ensure their preferred theory succeeded in court, the PD almost literally buried all evidence to the contrary.
Numerous pieces of evidence, however, suggested that a group of drug dealers in Bridgeport, Connecticut, not Horn or Jackson, was responsible for the murder-robbery. Call records for the stolen cellphone showed that four out of five calls made after the incident were to the Bridgeport drug dealers or their associates. Because the records did not support the case against Horn and Jackson, NHPD officers suppressed the records for nearly 20 years, hiding them in the basement of a detective's house.
This is not even the issue being examined here, but let's read that last sentence again.
Because the records did not support the case against Horn and Jackson, NHPD officers suppressed the records for nearly 20 years, hiding them in the basement of a detective's house.
What even the fuck, he asked professionally. HOLY SHIT.But that's not even this issue here. The issue here is the supposed "ballistics expert," who also decided to not only bury exculpatory evidence, but whip up new "evidence" that supported the coerced confession the cops had obtained.Here's how we get to this case. A police investigator with a theory unsupported by evidence sent casings to a forensic expert in hopes of obtaining a report indicating the bullets came from a Beretta linked to the nominal suspects. Unfortunately for him, the ballistics report disproved that speculative theory.
On February 3, 1999, defendant James Stephenson, the assigned firearms examiner, generated a General Rifling Characteristics Report (the 1999 GRC Report) that listed all firearm models that potentially matched the ballistics evidence, using a margin of error of +/- 2 thousandths of an inch. A Beretta handgun was not among the possible matches.
The first report handed to investigators and the prosecution noted the mismatch. This was noticed by the prosecutor preparing for the trial, who saw that the ballistics report didn't match up with assumptions made by police investigators. Rather than entertain the possibility it was the cops who were wrong, the prosecutor assumed it was the ballistics tech who had screwed up.And, rather than stand by his original findings, the tech reran the test with a higher margin of error to ensure the Beretta cops and prosecutors wanted the murder weapon to be was included as a possible match.
On February 15, 2000, Stephenson generated a second GRC Report (the 2000 GRC Report). This time, using a larger margin of error of +/- 4 thousandths of an inch, the report listed multiple Beretta models as potential matches.
And he might have gotten away with it. But he failed to pass on these reports to the defendant -- not the one that said it wasn't a Beretta, nor the second pass which suddenly said it was a Beretta.It took nearly twenty years to expose the ballistics examiner's malfeasance:
In 2018, as part of a re-examination of the case by the Connecticut Federal Public Defender's Office, the NHPD produced the stolen cell phone's call records and both the 1999 GRC Report and the 2000 GRC Report. After reviewing the belatedly disclosed evidence, the State's Attorney's Office successfully moved to vacate the judgments of conviction for both men. In or around April 2018, after serving 17 and 19 years in prison, respectively, Horn and Jackson were released.
These men lost a combined 36 years of their lives. The forensics examiner hasn't lost anything… yet. And yet, he insists he should be allowed to walk away from this lawsuit.
On appeal, Stephenson argues that: (1) he is entitled to qualified immunity because it was not clearly established by 1999 that "firearms examiners" had an obligation under Brady to turn over exculpatory evidence to the prosecutor; and (2) he is entitled to absolute immunity with respect to the 2000 GRC Report because he prepared it at the prosecutor's direction.
Nope, says the court.
We disagree.
It was clearly established -- for at least seven years at that point -- that a police employee has similar obligations under Brady.
We disagree and conclude that a police forensic examiner, whether an analyst or technician fulfilling any of the roles associated with forensic analysis, in 1999 reasonably would have understood that he or she was required to turn over exculpatory information to the prosecutor.
As the analyst's own testimony pointed out, forensic techs are almost always former cops, at least in New Haven, Connecticut. And if police officers are subject to Brady obligations, it makes no sense to exclude former police officers who still work for the police department.And there's no absolute immunity for the analyst either. He attempted to argue that the prosecutor's call with questions about the possibility of the murder weapon being a Beretta prompted his subsequent report. But he was never asked to perform another analysis or generate another report. He was only asked a question about the certainty of his conclusions. This means Stephenson can't hide behind the immunity afforded to prosecutors. And that means he will have to continue to defend himself and, hopefully, be held responsible for his role in stealing a combined 36 years of life from two teens.

Read more here

---
posted at: 12:00am on 14-Sep-2021
path: /Policy | permalink | edit (requires password)
0 comments, click here to add the first
---
---
Forfeiture Case Shows Cops Don't Even Need Drug Dogs To Alert To Engage In A Warrantless Search

Furnished content.


Another magical drug dog case has surfaced, showing yet again why cops like having "probable cause on four legs" on hand to turn stops into searches and searches into seizures. This forfeiture motion [PDF] -- highlighted by Brad Heath -- starts with a stop and quickly devolves into ridiculousness.A drug investigation involving investigators working with ONSET (Ohio Northeast Smuggling Enforcement Team) culminated in the traffic stop of one of the targets, Emmanuel Trujillo Trujillo. Already suspected of drug trafficking, the stop got a whole lot more interesting for officers once some loose cash was spotted.
Deputy Spires approached the pick-up truck and made contact with the driver, Trujillo Trujillo. While speaking with Trujillo Trujillo, Deputy Spires learned that he did not possess a valid driver's license.Deputy Spires observed a large amount of United States currency below Trujillo Trujillo's feet on the floorboard of the pick-up truck and requested assistance from Franklin County, Ohio Sheriff's Office Canine Unit Deputy Zach Cooper ("Deputy Cooper") and his canine partner "Indy" to conduct an open-air sniff of the pick-up truck.
Roughly twenty minutes later, the drug dog arrived. And failed to do what the deputies wanted it to do.
Deputy Cooper arrived at the traffic stop at approximately 6:22 p.m. and approached the pick-up truck with canine Indy. Deputy Cooper noticed that Indy showed an extreme change in behavior when sniffing around the passenger side door and its open window. Indy's sniffing increased as he stayed and intently sniffed the passenger side door area. As the team moved on, Deputy Cooper noted similar behavior from Indy when he approached the tailgate area of the pick-up truck.
There was no alert from Indy. Just a lot of sniffing. But even the lack of an alert wasn't going to keep these officers from searching Trujillo's vehicle. Since the four-legged cop wouldn't give them permission for a search, the deputies decided to give that permission to each other, with Indy's apparently implicit consent.
Deputy Cooper advised Deputy Spires that Indy did not indicate on a pure odor source, but he believed that Indy's extreme sniffing behavior indicated that a narcotic odor was present within the pick-up truck.
And with that the search was on. The deputies discovered more cash, receipts for cash transfers, some paperwork from a Chase Manhattan account, and a non-contractor 1099 miscellaneous income form showing $27,815 in compensation to Trujillo. The search did not, however, turn up any drugs, despite the extreme sniffing allegedly demonstrated by the drug dog.The deputies took $19,104 from Trujillo at this stop. From there, they went to Trujillo's storage unit and took another $32,050. Finally, law enforcement -- using information gleaned from this extreme sniffing -- searched Trujillo's house, where officers found even more cash as well as the drugs the deputies assumed they would find during their initial search of the truck.And, as if to prove the deputies were right to assume the drug dog had meant to give them explicit permission to search the truck for drugs, there's this additional information in the forfeiture motion.
TFO Taylor changed gloves, obtained the bag containing the United States currency seized from the pick-up truck, and opened it. TFO Taylor took a MX908 test strip and wiped it on the rubber bands holding the currency together. TFO Taylor placed this test strip into the MX908 and received a positive result for the trace presence of cocaine.
So what? I'll bet if TFO Taylor borrowed some cash from someone in the HSI (Homeland Security Investigations) office and tested it, he would very likely have rung up another positive result for the trace presence of cocaine. This is an unlisted "feature" of most US currency. A positive test means nothing more than the bill tested has been in circulation.This is a stop worth challenging. The deputies admitted they did not see an alert from the drug dog before engaging in a search. That means it's also a seizure worth seizing. And it's yet another data point showing cops love drug dogs because their mere presence at a stop can be converted into probable cause. Even better, these "partners" can't offer up testimony that might undercut assertions made by their handlers. Win-win. Apparently, the drug war needs all the wins it can get, even if certain combatants have to obtain them dishonestly.

Read more here

---
posted at: 12:00am on 14-Sep-2021
path: /Policy | permalink | edit (requires password)
0 comments, click here to add the first
---
---
This Week In Techdirt History: September 5th - 11th

Furnished content.


Five Years AgoThis week in 2016, AT&ampT was tapdancing around its DirecTV merger obligations and tiptoeing past a sleepy FCC's net neutrality rules — perhaps because the FCC was busy weakening its cable box reform plans in response to industry lobbying, although this didn't stop Comcast from still finding things to whine about, nor the MPAA from freaking out about the new plan. Warner Bros. managed to issue DMCA takedowns for its own website, Take Two won its publicity rights lawsuits against Lindsay Lohan and Karen Gravano, and Google screwed over a bunch of media websites. We took a closer look at why the Copyright Office acts as Hollywood's lobbying arm, while a terrible ruling in the EU said that mere links can be direct infringement.Ten Years AgoThis week in 2011, the MPAA was so thrilled with the Zediva ruling that it was offering to help the court spread it around, and was also busy pushing bogus piracy numbers that suggested pirates would buy 200 more DVDs per year if they couldn't download stuff. France was placing copyright above human rights, Sweden was dismantling its online civil rights at the behest of US content industries, a Russian bureaucrat was calling for Google and Youtube to be shut down for facilitating infringement, a Canadian politician turned out to have secretly asked the US to ramp up diplomatic pressure for more draconian copyright laws, and Europe was adopting a copyright strategy that would see Europeans send as much money as possible to US companies — while also seizing the public domain by retroactively extending copyright. EMI was getting desperate with legal theories about pre-1972 songs, the RIAA was sending DMCA takedowns over free music being distributed directly from the Universal Music website, and Puerto 80 was continuing its fight over the DOJ's domain seizures.Fifteen Years AgoThis week in 2006, a patent dispute had the bizarre effect of forcing SanDisk to only show photos of a new MP3 player at a trade show, though the company managed to get the injunction overturned when it was too late. Clear Channel was fighting for relaxed rules so it could buy up even more radio stations, newspapers were still really struggling to understand the internet, and magazines were fumbling around trying to cash in on the online video craze. EMI was freaking out and demanding IP addresses over a popular new Beatles/Beach Boys mashup, while a settlement with Bertlesmann over its Napster investment was poised to make things complicated for investors. And we also had another of our early posts talking about Section 230 back when it was a relatively obscure law to most people, rather than a well-known political football (not that broad understanding of how it works has actually improved much since then).

Read more here

---
posted at: 12:00am on 12-Sep-2021
path: /Policy | permalink | edit (requires password)
0 comments, click here to add the first
---
---
Huge GTA4 Mod Started In 2014 Shuts Down Due To 'Hostility' From Take-Two Interactive

Furnished content.


For some reason, it seems that there is an industry issue heating up among video game developers and publishers over their modding communities. We've begun to see a flurry of stories on the topic lately and perhaps the most impressive thing about those stories is how wildly binary they are. Nintendo tends to Nintendo, for instance, where control is valued over building a community of fans. Other publishers, like CD Projekt Red and Bethesda go the completely opposite direction and not only embrace the modding communities for their games, but also sometimes simply hire talented modders directly to their payroll.Take-Two Interactive, the publishers of the Grand Theft Auto franchise and the subject of this post, has a history of bullying ambitious modders into shutting down. The company has recently put this practice into overdrive, going after all kinds of modding teams working on current and past GTA games, with the speculation being that it's all being done because of a forthcoming remaster of some of those older games.Well, the hostility has gotten bad enough that some fan-run projects are simply shutting down before the legal threats start flying. That appears to be the case with an incredibly ambitious mod for GTA: San Andreas.
As a result of this hostility, GTA Underground lead developer dkluin wrote in a post yesterday on the GTAForums that they and the other modders working on the project were now "officially ceasing the development" of GTA: Underground."Due to the increasing hostility towards the modding community and imminent danger to our mental and financial well-being," explained dkluin, "We sadly announce that we are officially ceasing the development of GTA: Underground and will be shortly taking all official uploads offline."
The mod had aimed at putting all the historical cities from GTA games on a single map, while also developing new home-grown cities for people to play in. Work on it began in 2014, when dkluin was a teenager. As is so often the case with this sort of thing, this was a labor of love by a modder and a community that clearly love the GTA games. But, with Take-Two again set to release a bunch of GTA remasters sometime in the future, the lawyers have been sic'd on all kinds of mods.In its fair well video by dkluin, where they announce the end of development and then thank all who contributed to it, the comments were almost universally negative towards Take-Two. Examples include:
I hate how anti-modding Take2 is towards modding, even for games that are nearly two decades old
Been watching this since evolve since 2014. Truly tragic, I don't even see the benefit of shutting these mods down from a business end unless T2 wants to achieve this same goal GTA Underground has but from a profit angle. But they'd never put all the cities from the 3D era in one map/client, so I don't understand the move. This is like watching part of my teenage years die. I was 17 when I subbed to this channel, I am 25 now.
One of the best mods we can see out there and this is the result, I hate Take-Two
It goes on from there, with hundreds of comments. Now replicate this anger across all the different mods that were developed or in development for a game that came out nearly 20 years ago. All of that very real anger felt by very real fans of GTA and all directed towards Take-Two is going to have some impact on the public's willingness to keep buying Take-Two games.Apparently the company is betting that such anger is not enough to outweigh the profits gained by remastering old GTA games and exerting strict control. I have my doubts that this was the best route for Take-Two to go.

Read more here

---
posted at: 12:01am on 11-Sep-2021
path: /Policy | permalink | edit (requires password)
0 comments, click here to add the first
---
---
US Judge Gets It Right: AI Doesn't Get Patents

Furnished content.


A month ago, we wrote about a perplexing (and dangerous) decision down in Australia ruling that an AI can be listed as the inventor of a patent. As we had explained, there was a concerted effort by a small group patent lawyers and this one dude, Stephen Thaler, to seek out patents for "inventions" that an AI created by Thaler called Dabus ("device for the autonomous bootstrapping of unified sentience"). As we explained in that and earlier posts, the entire point of the patent system is to provide incentives to humans to invent. An AI does not need such incentives. As we've highlighted in the past, the USPTO and the EU patent office have both rejected AI-generated patents. Australia's patent office had done the same, but a judge there rejected that and said an AI could be listed as an inventor.All of these situations involve Thaler/DABUS, as did a new ruling in the US which... thankfully has rejected the idea that an AI deserves patents after Thaler filed a lawsuit because of the USPTO rejection. I think there's a separate issue here: which is what standing does Thaler have in the first place? If the argument is that "DABUS" is the inventor, it seems that... um... only DABUS should have the necessary standing to challenge the rejection of its patent application. The fact that Thaler thinks he has standing more or less shows how ridiculous the entire claim is in the first place.After going through the background of the case, and discussing what level of deference the USPTO deserves, Judge Leonie Brinkema gets straight to the actual point, which is pretty simple: AI doesn't get a patent.
Even if no deference were due, the USPTO's conclusion is correct under the law. The question of whether the Patent Act requires that an "inventor" be a human is a question of statutory construction. Accordingly, the plain language of the statute controls.... As the Supreme Court has held: "The preeminent canon of statutory interpretation requires us to 'presume that [the] legislature says in a statute what it means and means in a statute what it says there.' Thus, our inquiry begins with the statutory text, and ends there as well if the text is unambiguous."...Using the legislative authority provided by the Constitution's Patent Clause... Congress codified the Patent Act in 1952... and has amended the Patent Act a number of times in the ensuing sixty years. In 2011, Congress promulgated the America Invents Act, which, as relevant here, formally amended the Patent Act to provide an explicit statutory definition for the term "inventor" to mean "the individual, or, if a joint invention, the individuals who invented or discovered the subject matter of the invention."... The America Invents Act also added that "joint inventor" means "any one of the individuals who invented or discovered the subject matter of a joint invention."... Additionally, Congress has required that "[a]n application for patent shall be made, or authorized to be made, by the inventor . . . in writing to the Director."... "[E]ach individual who is the inventor or a joint inventor of a claimed invention in an application for patent shall execute an oath or declaration in connection with the application" which "shall contain statements that--... such individual believes himself or herself to be the original inventor or joint inventor of [the] claimed invention."
See where this is going?
As the statutory language highlights above, both of the definitions provided by Congress for the terms "inventor" and "joint inventor" within the Patent Act reference an "individual" or "individuals."... Congress used the same term--"individual"--in other significant provisions of the Patnet Act which reference an "inventor," including requiring that "each individual who is the inventor or a joint inventor" execute an oath or declaration...
The court then notes that in analyzing other laws, courts have long said that "individual" means human. And it also highlights that the language in the Patent Act makes it clear that it was intended to apply to humans -- humans who can make a declaration about their own beliefs.
Congress's use of the term "individual" in the Patent Act strengthens the conclusion that an "inventor" must be a natural person. Congress provided that in executing the oath or declaration accompanying a patent application, the inventor must include a statement "such individual believes himself or herself to be the original inventor or an original joint inventor of a claimed invention in the application."... By using personal pronouns such as "himself or herself" and the verb "believes" in adjacent terms modifying "individual," Congress was clearly reference a natural person.
Then there's a fun bit of judicial eye-rolling, stating: "having neither facts nor law to support his argument," the judge notes that Thaler's argument is basically "but this is good for innovation." But that's not going to fly (leaving aside the fact that allowing AI to get patents would be objectively terrible for innovation, it's also not how any of this works):
Plaintiff provides no support for his argument that these policy considerations should override the plain meaning of a statutory term.
It gets even worse for Thaler's arguments. He argued that the PTO hadn't properly considered the policy ramifications of not allowing AI to get patents, but as the judge notes, that's clearly not true. It had. And it rejected the dumb idea.
Specifically, the USPTO points to a conference on artificial intelligence policy it held in January 2019, and to requests for public comment "on a whole host of issues related to the intersection of intellectual property policy and artificial intelligence" it issued in August and October 2019. In October 2020, the USPTO issued a comprehensive report on those comments.
And... what did that report say?
Many commentators disagreed with plaintiff's view that artificial intelligence machines should be recognized as inventors...
Given how active Thaler and his lawyer friends have been around the globe, I imagine this is hardly the end of these campaigns. I imagine this ruling will be appealed, and how long will it be until some sucker of a Senator or Member of Congress, convinced by Thaler's nonsense, will introduce a bill to amend the Patent Act to enable AI patents?

Read more here

---
posted at: 12:01am on 11-Sep-2021
path: /Policy | permalink | edit (requires password)
0 comments, click here to add the first
---
---
Another Mod War: Jagex Demands Shutdown Of HD RuneScape Mod, Retracts After Public Backlash

Furnished content.


The gaming industry modding wars continue. We had recently discussed Nintendo's continued war on anyone who mods its games, including shutting down tournaments for incredibly minor uses of mods that make those tournaments possible. We've also been discussing Take-Two's attack on its modding community for the Grand Theft Auto franchise. On the flip side, companies like CD Projekt Red and Bethesda have so embraced their own modding communities as to have hired some of them onto their teams as salaried employees.I have no idea why this has suddenly become a thing over the past several months, but these binary stories are coming far more frequently than they previously did. Everyone is in one camp or the other: embrace the modding community of fans or smack them around. There is a correct answer to all of this, of course, and it seems clear that the answer is to treat your greatest fans in a way that is cool and human. Nintendo, giant in the industry as they might be, loses good will and gains little by exerting strict control over how its games are played. Take-Two, same story. Meanwhile, those that embrace their biggest fans get to keep their games relevant for longer through mods, build up good will with their customers, and even get to pull from a talent pool that materializes all on its own.But some companies just don't get it and have to be educated in the court of public opinion. Jagex, makers of RuneScape, are just such a company. Just days ago, the company announced a shutdown of a major RuneScape mod that would bring HD graphics to the game, called Runelite HD. It was scheduled to be released on 9/8/21, but then...
In this blog we'd like to clarify our stance on third-party HD clients (and other projects which seek to radically change the visual appearance of the game). We know you've got lots of questions about them, and we think this will provide you with all the clarity we need.Yesterday we contacted the developers of known HD projects and we asked them to stop development of their projects, because this is a project we are directly investigating at Jagex. We look forward to being able to share progress as our own in-house project with Old School's visuals unfolds.
As Kotaku notes, there are a couple of problems with this. First off, nothing in what Runelite HD offers appears to violate the modding guidelines that Jagex has published. So, mods are allowed under certain rules, and Runelite HD developer 117 appears to have followed those rules, but the project was still shut down the day before its release. Second, based on 117's own public statements, Jagex's plan to have a graphical update to RuneScape was still essentially in the exploratory phase, leading 117 to offer a simple solution.
I offered a compromise of removing my project from RuneLite once they are ready to release theirs, in addition to allowing them collaborative control over the visual direction of my project. They declined outright.So, it appears that this is the end. Approximately 2000 of hours of work over two years. A huge outpouring of support from all of you. I could never have imagined the overwhelmingly positive response I've had to this project.
Jagex outright declined... and RuneScape fans absolutely lost their minds. And, as a result of in-game and IRL protests over its actions, Jagex reversed course the very next day.
We hear your feedback loud and clear and we've been discussing that feedback all day and, while discussions continue, we absolutely intend to act on it.Our conversations today have also included 117Scape and Adam from RuneLite and we are actively exploring options on how we can work together to offer 117Scape's plug-in as a bridge until our own version is ready for release.
The very compromise that 117 offered is now what's on the table. This whole thing could have been completely avoided if Jagex hadn't decided that direct profits and control were somehow worth pissing off a major swath of its biggest fans. It's a complete own-goal, in other words, where the end result is what the community wanted all along, only now they're absolutely furious with the company.Again, how is this smart? How is it good business? How does this desire for complete control keep happening, even when it regularly results in public blowback?

Read more here

---
posted at: 12:00am on 10-Sep-2021
path: /Policy | permalink | edit (requires password)
0 comments, click here to add the first
---
---
Body Cam Video Shows Cop Killing A Harmless Dog Within 15 Seconds Of Arriving At The Scene

Furnished content.


I don't often write about cops killing dogs. It's not that it's a rarity. It actually happens all the time.
Laurel Matthews, a supervisory program specialist with the Department of Justice's Community Oriented Policing Services (DOJ COPS) office, says it's an awful lot. She calls fatal police vs. dogs encounters an "epidemic" and estimates that 25 to 30 pet dogs are killed each day by law enforcement officers.
Cops kill dogs at an alarming rate. And it remains alarming, despite the increased possibility of them encountering actually dangerous dogs. True, cops are often the first to respond to calls about stray dogs. But they also put themselves in danger by wandering into fenced areas meant to keep dogs contained when pursuing suspects or just meandering around in hopes of finding something that justifies their intrusion.More than half of our federal court districts have held that killing or wounding a family pet is a "seizure" under the Fourth Amendment. Nonetheless, this behavior persists, with cops seemingly willing to shoot any animal that heads towards them, even when propelled by nothing more than their innate friendliness and curiosity.Being trigger-happy in the presence of animals can have more serious consequences. Cops have wounded and killed human beings while trying to shoot dogs that had the temerity to ignore shouted orders.A recent lawsuit [PDF] has highlighted another senseless killing of a family pet by a cop. (While multiple outlets covered this lawsuit, Law and Crime actually posted the complaint, which is why we're linking to that site.)According to the lawsuit, Wendy Love and Jay Hamm had stopped in the parking lot of a vacant business to do some work on a second-hand ice machine and give their three dogs a chance to stretch. The business had no name on the front and all the windows were covered. There were no other people or vehicles in the lot.However, the business owner was apparently monitoring still-live CCTV cameras. He called the Loveland (CO) police department, asking them to send someone out to remove them from the premises, claiming he was concerned the couple was going to tamper with his locked dumpster. The couple was parked nowhere near the apparently-sacred dumpster nor did they approach it at any time, something admitted by the business owner during his call to dispatch.Officer Mathew Grashorn was the first to arrive. Within 13 seconds, he had exited his vehicle and mortally wounded the couple's 14-month-old dog.There's body cam video of the shooting.It happens so fast it's entirely contained in the camera's 30-second rolling buffer, hence the initial lack of sound. What happens in these 15 seconds is the officer's arrival, which is followed almost immediately by the officer brandishing his weapon. It's unclear which threat justified this action. Was it the people hanging out in a vacant parking lot? Or was it the happy dog approaching him at a medium lope? Whatever it was, it resulted in the dog being shot by the officer. And those shots resulted in the dog dying, euthanized four days later because of the severity of the wounds.There's something incredibly eerie about the recording. The violence is silent. That disturbing silence is finally interrupted by the distressed shouts of Wendy Love, the first of which is rendered soundless by the body cam's built-in recording features.This probably won't have much legal relevance, but it's still worth pointing out: the couple accuses the city of fostering this shoot-first behavior in Loveland police officers by continually stressing the importance of protecting local businesses. As the lawsuit notes, this "business-first" mentality has resulted in other acts of police violence. (There are recordings of these incidents as well.)
On June 26, 2020, Walmart suffered no loss when dementia-sufferer and 73-year-old woman Karen Garner walked out of the store without paying for $13.88 of items. When confronted, she gave the items back and attempted to pay for them. Walmart refused and instead called LPD to deal with it. LPD sent multiple officers, including Sergeant Metzler, to locate and tackle Ms. Garner, causing her to suffer a broken and dislocated shoulder. The multiple officers involved did this knowing that Walmart hadn't suffered any loss. They did it pursuant to the aforementioned policy of making large, demonstrative showings of allegiance to Loveland businesses.On July 20, 2020, Target contacted Loveland PD to deal with a man (Keenan Stuckey) suffering from mental health issues in their parking lot, requesting that they arrest or remove him even though he was breaking no laws and bothering nobody. Loveland PD sent six officers there in minutes, and they promptly brutalized the man with batons, kicking him, punching him, and doing a pile-driver type of jump atop his lifeless body.
The lawsuit also notes the Loveland PD's internal investigation cleared the officer of any wrongdoing, claiming he reasonably feared for his safety. But if the officer was fearful, he didn't show it (other than the immediate use of his weapon). He could have retreated to the safety of the car he had just exited. He could have stepped behind his still-open door. He could have used any less-lethal weapon to subdue the animal. But he chose to kill.As if this isn't enough to show just how dangerous law enforcement officers can be, there's this:
Loveland sergeants and officers next discussed together concern that Ms. Love and Mr. Hamm had mentioned sharing what had happened with the media. Sergeant Metzler told Officer Grashorn that "since [Hamm's] saying he's going to go to the press, we better scratch him a ticket for something."The officers decided they would claim that Herkimer [the dog shot by the officer] had attacked Officer Grashorn. They did in fact tell this lie over and over again. They told this lie to Larimer County Animal Control and to the veterinarians attempting to treat Herkimer.[...]This lie was also at the foundation of the Defendant officers' decision to give Mr. Hamm a ticket for having a "dangerous dog," a charge that the Larimer County District Attorney's office later dismissed as not having any basis in fact.
It's not enough that officers can kill people (or their pets) with near impunity. They also have the power to punish people for having their pets killed by an officer. In this case, it appears this was done to get out ahead of the pet owner's attempt to tell his story via social media. With the only recording being in police possession, the "our word against theirs" would have ensured the cops' narrative -- the one about an unsecured, "dangerous" dog -- would receive the most air time and been immediately granted the most credibility.That's an absurd amount of power. And it comes with so very little accountability. The lawsuit -- even with the seemingly-damning recording -- is still a longshot. And the couple doesn't get to use tax dollars to move their allegations forward. It's coming out of their own pockets while the city gets to defend itself and its officers using unlimited funds provided by Loveland residents. And even if the officer is found to be at fault, he'll likely be indemnified, meaning it won't cost him anything either. The city will just take that judgment money from taxpayers as well.The whole thing was recorded. There can be no claims that something is being "taken out of context." It shows everything the cop did, which was respond to a possible trespass call with deadly force -- all within 15 seconds of arriving on the scene. The danger was entirely imagined. And it was justified by retconning the encounter with the issuing of a "dangerous animal" citation. It's ugly enough that a pet was killed for no justifiable reason. Attempting to punish the pet owner for witnessing an unjustified act of violence is disgusting.

Read more here

---
posted at: 12:00am on 10-Sep-2021
path: /Policy | permalink | edit (requires password)
0 comments, click here to add the first
---
---
New Texas Abortion Law Likely To Unleash A Torrent Of Lawsuits Against Online Education, Advocacy And Other Speech

Furnished content.


In addition to the drastic restrictions it places on a woman's reproductive and medical care rights, the new Texas abortion law, SB8, will have devastating effects on online speech. The law creates a cadre of bounty hunters who can use the courts to punish and silence anyone whose online advocacy, education, and other speech about abortion draws their ire. It will undoubtedly lead to a torrent of private lawsuits against online speakers who publish information about abortion rights and access in Texas, with little regard for the merits of those lawsuits or the First Amendment protections accorded to the speech. Individuals and organizations providing basic educational resources, sharing information, identifying locations of clinics, arranging rides and escorts, fundraising to support reproductive rights, or simply encouraging women to consider all their options now have to consider the risk that they might be sued for merely speaking. The result will be a chilling effect on speech and a litigation cudgel that will be used to silence those who seek to give women truthful information about their reproductive options. SB8, also known as the Texas Heartbeat Act, encourages private persons to file lawsuits against anyone who "knowingly engages in conduct that aids or abets the performance or inducement of an abortion." It doesn't matter whether that person "knew or should have known that the abortion would be performed or induced in violation of the law," that is, the law's new and broadly expansive definition of illegal abortion. And you can be liable even if you simply intend to help, regardless, apparently, of whether an illegal abortion actually resulted from your assistance.And although you may defend a lawsuit if you believed the doctor performing the abortion complied with the law, it is really hard to do so. You must prove that you conducted a "reasonable investigation," and as a result "reasonably believed" that the doctor was following the law. That's a lot to do before you simply post something to the internet, and of course you will probably have to hire a lawyer to help you do it.SB8 is a "bounty law": it doesn't just allow these lawsuits, it provides a significant financial incentive to file them. It guarantees that a person who files and wins such a lawsuit will receive at least $10,000 for each abortion that the speech "aided or abetted," plus their costs and attorney's fees. At the same time, SB8 may often shield these bounty hunters from having to pay the defendant's legal costs should they lose. This removes a key financial disincentive they might have had against bringing meritless lawsuits. Moreover, lawsuits may be filed up to six years after the purported "aiding and abetting" occurred. And the law allows for retroactive liability: you can be liable even if your "aiding and abetting" conduct was legal when you did it, if a later court decision changes the rules. Together this creates a ticking time bomb for anyone who dares to say anything that educates the public about, or even discusses, abortion online.Given this legal structure, and the law's vast application, there is no doubt that we will quickly see the emergence of anti-choice trolls: lawyers and plaintiffs dedicated to using the courts to extort money from a wide variety of speakers supporting reproductive rights.And unfortunately, it's not clear when speech encouraging someone to or instructing them how to commit a crime rises to the level of "aiding and abetting" unprotected by the First Amendment. Under the leading case on the issue, it is a fact-intensive analysis, which means that defending the case on First amendment grounds may be arduous and expensive. The result of all of this is the classic chilling effect: many would-be speakers will choose not to speak at all for fear of having to defend even the meritless lawsuits that SB8 encourages. And many speakers will choose to take down their speech if merely threatened with a lawsuit, rather than risk the law's penalties if they lose or take on the burdens of a fact-intensive case even if they were likely to win it. The law does include an empty clause providing that it may not be "construed to impose liability on any speech or conduct protected by the First Amendment of the United States Constitution, as made applicable to the states through the United States Supreme Court's interpretation of the Fourteenth Amendment of the United States Constitution." While that sounds nice, it offers no real protection—you can already raise the First Amendment in any case, and you don't need the Texas legislature to give you permission. Rather, that clause is included to try to insulate the law from a facial First Amendment challenge—a challenge to the mere existence of the law rather than its use against a specific person. In other words, the drafters are hoping to ensure that, even if the law is unconstitutional—which it is—each individual plaintiff will have to raise the First Amendment issues on their own, and bear the exorbitant costs—both financial and otherwise—of having to defend the lawsuit in the first place.One existing free speech bulwark—47 U.S.C. § 230 ("Section 230")—will provide some protection here, at least for the online intermediaries upon which many speakers depend. Section 230 immunizes online intermediaries from state law liability arising from the speech of their users, so it provides a way for online platforms and other services to get early dismissals of lawsuits against them based on their hosting of user speech. So although a user will still have to fully defend a lawsuit arising, for example, from posting clinic hours online, the platform they used to share that information will not. That is important, because without that protection, many platforms would preemptively take down abortion-related speech for fear of having to defend these lawsuits themselves. As a result, even a strong-willed abortion advocate willing to risk the burdens of litigation in order to defend their right to speak will find their speech limited if weak-kneed platforms refuse to publish it. This is exactly the way Section 230 is designed to work: to reduce the likelihood that platforms will censor in order to protect themselves from legal liability, and to enable speakers to make their own decisions about what to say and what risks to bear with their speech. But a powerful and dangerous chilling effect remains for users. Texas's anti-abortion law is an attack on many fundamental rights, including the First Amendment rights to advocate for abortion rights, to provide basic educational information, and to counsel those considering reproductive decisions. We will keep a close eye on the lawsuits the law spurs and the chilling effects that accompany them. If you experience such censorship, please contact info@eff.org.Originally published to the EFF Deeplinks blog.

Read more here

---
posted at: 12:00am on 09-Sep-2021
path: /Policy | permalink | edit (requires password)
0 comments, click here to add the first
---
---
Rupert Murdoch Learns Why Intermediary Liability Protections Matter: Australia Says Media Orgs Can Be Sued Over Facebook Comments

Furnished content.


Ah, Australia. The country down under has always taken an upside down view on intermediary liability laws -- quite quick to blame an intermediary for 3rd party content. Two years ago we wrote about a problematic ruling in Australia based on the idea that media companies (not just social media companies) could be held liable for comments on Facebook about their stories. Any common sense thinking would immediately reveal how ridiculous this is: how can a media company be held liable for someone else's comments on someone else's website? Well, the judge noted, because they could hack Facebook and insert a filter to block comments on their stories with the 100 most common English words, as a form of pre-vetting every comment. I'm not kidding:
The judge wrote that each company had the power to effectively delay reader comments on Facebook and monitor if they were defamatory before "releasing" them to the audience.This was based on evidence from social media expert Ryan Shelley, who testified that although you can't turn off comments on Facebook posts, you can deploy a "hack" to pre-moderate them.Shelley's hack involves putting 100 of the most commonly used words in the English language ("a", "the", etc) on a Facebook filter list, causing any comment containing those words to be automatically hidden from the public.
That ruling was appealed and Australia's High Court has... incredibly (though not surprisingly, given the country's other rulings on intermediary liability) upheld the ruling. Indeed, it points to earlier ridiculous rulings to say that, in Australia, it doesn't matter if the publisher's intention was not to publish anything defamatory. Instead, it says that if you are tangentially connected to a defamatory publication, you're liable:
... a person who has been instrumental in, or contributes to any extent to, the publication of defamatory matter is a publisher. All that is required is a voluntary act of participation in its communication.
This is, basically, the anti-230. It says if you have any role in publishing defamatory information, you can be treated as the publisher.The media organizations involved in the lawsuit pointed out that there is an "innocent dissemination" defense (defence down under) for distributors (a form of distributor liability), but the court doesn't think that really exists, and literally mocks the decisions where it was found to exist.
The defence cannot be said to be rooted in principle. In Thompson v Australian Capital Television Pty Ltd[44], its origins were described as "muddied". The decision in Emmens v Pottle has been described as more pragmatic than principled[45]. Lord Esher appears to have been motivated by a concern that the common law would appear to be unjust and unreasonable if some such accommodation was not made by the courts. In Thompson[46], it was said that his Lordship "rationalised rather than explained the decision".
And thus the end result is liability for absolutely everyone.
The Court of Appeal was correct to hold that the acts of the appellants in facilitating, encouraging and thereby assisting the posting of comments by the third-party Facebook users rendered them publishers of those comments.
A separate concurrence was even more ridiculous:
Each appellant became a publisher of each comment posted on its public Facebook page by a Facebook user as and when that comment was accessed in a comprehensible form by another Facebook user. Each appellant became a publisher at that time by reason of its intentional participation in the process by which the posted comment had become available to be accessed by the other Facebook user. In each case, the intentional participation in that process was sufficiently constituted by the appellant, having contracted with Facebook for the creation and ongoing provision of its public Facebook page, posting content on the page the effect of which was automatically to give Facebook users the option (in addition to "Like" or "Share") to "Comment" on the content by posting a comment which (if not "filtered" so as to be automatically "hidden" if it contained "moderated words") was automatically accessible in a comprehensible form by other Facebook users.
The whole thing just seems fundamentally ridiculous -- and a huge attack on speech. However, it's also a very clear lesson in why intermediary liability protections like Section 230 are so important. As Australian law professor David Rolph wrote in response to the ruling, there's a high likelihood that media organizations will end up shutting down their Facebook pages, and cutting off user comments because of this:
Today's ruling may inspire many social media account managers to make greater use of these features and tightly restrict comments or, where possible, switch them off completely.
In other words -- as we've said repeatedly over the years -- Section 230 protects free speech by making it possible for websites to host user comments in the first place. Without those protections, you get fewer places to speak. Unfortunately, this ruling fits with the trend we've seen elsewhere, such as the Defli decision in the European Court of Human Rights that held a publication liable for user comments.Of course, the real irony here is that Rupert Murdoch still owns a ton of news organizations in Australia impacted by this decision. Indeed, the person who originally brought the lawsuit wants to sue a bunch of media companies for (allegedly) defamatory comments on Facebook... including the Murdoch-owned Sky News Australia.And yet, over the last few years, Rupert Murdoch has been one of the most aggressive anti-Section 230 advocates around, and has had Fox News and the WSJ editorial page run all sorts of attacks on Section 230, and pushed for the government to undermine those protections. Yet now, down in his home country, he may face massive legal liability under the kind of regime he's pushing for in the US.There have been so many debates about intermediary liability and Section 230, but now Australia is really turning into a petri dish example of what happens when you have the exact opposite views on intermediary liability.

Read more here

---
posted at: 12:00am on 09-Sep-2021
path: /Policy | permalink | edit (requires password)
0 comments, click here to add the first
---
---
External Investigation Finds Small Number Of Aurora PD Officers Create The Most Problems (Plus 98 Other Reason To Improve)

Furnished content.


Maybe cops are too close to the action? Perhaps that's why it always seems it takes an outside entity to discover the problems (and problem officers) in police departments. The US Department of Justice frequently does this (less frequently from 2017-2020), although the long-term effects of its consent decrees and investigations seems to be pretty much negligible.So, why can't the police police themselves? The most obvious answer is there's no reason to. Few politicians are willing to go head-to-head with law enforcement agencies and even less willing to do so with their unions. Appearing to be tough on crime usually plays well enough it won't cost them votes. Looking the other way keeps legislators employed.Accountability activists are doing the work we're paying professional government employees to do, for the most part. But recent events have made some legislators realize sucking up to cops isn't as likely to result in lifetime employment as it used to. Changes will be made, if only because they're politically expedient.But back to the original question: why can't cop shops determine what's holding them back or which cops are a detriment to the force? We're still left to speculate, but there's no speculated answer that makes these agencies look good. And neither do the outside reports, which highlight tons of stuff that should have been obvious to those closest to the action.This report deals with a single agency in a Colorado city with a population of 369,000. And yet…
Here are the 99 ways Aurora police can improve, according to a comprehensive review launched by the city
Ninety. Nine. Only Jay-Z had this many problems and he was able to subtract at least one.The Aurora PD has problems. It cannot pretend it doesn't. There's too much on the record. And yet, it refuses to do anything about it. Prompted by a series of incidents in 2020 -- including an officer passed out drunk behind the wheel of a police car, the killing of Elijah McClain, and the wrongful detainment of a black woman and her four children, the City of Aurora decided to engage in some long-delayed oversight.Its findings are things the PD should have known. (And likely knew, but did nothing about.) There are terrible officers. And there are the rest of the officers, supervisors, and top-level management who look the other way, which definitely does not make them "good" cops.
Just 35 officers accounted for 40% of the officer misconduct cases between 2017 and 2020, a "disproportionately large share," according to investigators.
Can the PD operate without these officers? Most likely, yes. But it refuses to get rid of its worst employees, which turns city residents into ATMs for lawsuit settlements.Why haven't these officers been ousted? Well, it's the department itself, which is most likely hamstrung by its contract with the Aurora Police Association, the local union that stands as a bulwark between bad officers and the accountability that would result in a better police department. The report also states there's too much red tape for discipline to be effective, and that internal investigations take too long.And so, having ignored the problems for years, the list of problems is exceedingly long. (And, to be fair, it is, at times, somewhat repetitive.) One of the main areas needing improvement is the PD's use of force policies. What's in place is minimal and provides very little guidance. It needs more specifics and limitations. The report lists a large number of improvements, including de-escalation as the default and giving people the opportunity to comply with commands before handing out beatdowns.This, of course, will require more training, which the report recommends.And there should be a lot more transparency and accountability.
APD should require officers to document, and provide specific information about, all interactions with the public that are not voluntary.[...]APD should make information about complaints relating to bias, profiling, and discrimination available on its website, along with information about the adjudication of investigations of such complaints.
A large part of the report deals with the APD's handling of complaints against officers. The way it works now is that it doesn't work. It's (perhaps intentionally) convoluted, complex, and unlikely to result in thorough or timely investigations. The report says nearly everything about this needs to change.
Complaint and discipline procedures should be codified in separate directives with an emphasis on enhanced clarity.The current process for handling external complaints should be streamlined. Currently, it is convoluted and substantially more complex than it should be. Policies relating to administrative investigations and external complaints should be consolidated.Allegations of misconduct against employees that may result in discipline or other corrective actions should be identified and categorized by the severity of rule, policy, practice violation in the rewritten directive.
These are all recommendations. It's unclear whether the APD is under any obligation to implement them. And if the city does make these mandatory, it's unclear how much its existing agreement with the APD's union will prevent some of these from moving forward. But it's clear the department needs to change. The disappointing thing is that it took the city (and city residents' tax dollars) to point out problems the APD already should have been aware of… and problems it should have already been making efforts to address.

Read more here

---
posted at: 12:00am on 08-Sep-2021
path: /Policy | permalink | edit (requires password)
0 comments, click here to add the first
---
---
Backpage Founders Trial Finally Begins

Furnished content.


It's been over three years since Backpage.com was seized (the week before FOSTA was signed into law -- which is notable since every conversation about the need for FOSTA claimed it was because existing laws were useless to stop Backpage). However, in the intervening years we've seen that the loss of Backpage, rather than "protecting" women, seems to have put women at much greater risk. The recent Government Accountability Office (GAO) report highlighted how the loss of Backpage, combined with FOSTA, has made it difficult for law enforcement to track down actual sex traffickers.As more of the backstory behind the war on Backpage came out, the more ridiculous it looked. The company actually was incredibly helpful in working with law enforcement to track down and stop sex trafficking. The problem came when law enforcement wanted to stop more than actual sex trafficking, and started going after consensual sex work. Backpage pushed back, suggesting that was too far, and that's when the government turned Backpage into being a villain.With the trial beginning, the Daily Beast has as pretty comprehensive and pretty fair article detailing the whole thing, including raising serious questions about what exactly Backpage's founders actually did to deserve this criminal trial.
According to documents published by Reason, federal prosecutors in the Western District of Washington reviewed more than 100,000 documents and interviewed more than a dozen witnesses in 2012 in an attempt to bring a case against Backpage, but failed to find a smoking gun. In fact, according to a memo written by two assistant U.S. attorneys at the time, local FBI agents found the company remarkably responsive to law enforcement requests and said the site often takes proactive steps to assist in investigations.At the outset of this investigation, it was anticipated that we would find evidence of candid discussions among [Backpage] principals about the use of the site for juvenile prostitution which could be used as admissions of criminal conduct," the attorneys wrote in a 2013 update to the memo. "It was also anticipated that we would find numerous instances where Backpage learned that a site user was a juvenile prostitute and Backpage callously continued to post advertisements for her. To date, the investigation has revealed neither.
The article also notes how damaging FOSTA and (relatedly) the loss of Backpage has been:
In the weeks after its passage, FOSTA/SESTA felled not only Backpage, but other adult advertising sites like Massage Republic and Cityvibe, and even the Craigslist personal ads section. The impact was tangible: A survey from the sex worker advocacy group Hacking/Hustling found 33.8 percent of respondents reported an increase in violence from clients after the law was signed, and 72.5 percent reported they were facing increased financial insecurity. Advocates related stories of sex workers who were thrust into the arms of pimps in order to find work, or back into abusive relationships for want of somewhere to stay.
The article does note that the founders on trial, Jim Larkin and Michael Lacey, could be highlighting the harm to sex workers that came from taking down Backpage, but instead they've focused specifically on the "free speech" arguments.
Whether Larkin and Lacey want this status is less clear. Their pre-trial statement paints them as free-speech warriors valiantly defending offensive and unpopular speech. Conspicuously missing from the statement, as journalist Melissa Gira Grant pointed out on Twitter, are the words prostitution or sex work; there is only a glancing reference to adult advertising.Kaytlin Bailey, a former sex worker and host of The Oldest Profession Podcast, says the longtime newspapermen are now telling the wrong story.I were in their shoes, the story I would be telling is the story of the survival of their users, she said, referring to the sex workers who lost their source of income when the site was taken offline.They think of themselves as free speech warriors, and I think sex workers think of themselves as in a fight for survival.
The article also quotes Prof. Alexandra Yelderman, who has been one of the top scholars on the dangers of things like FOSTA and removing sites that facilitated speech, highlighting just how questionable this lawsuit actually is:
Alexandra Yelderman, a visiting assistant professor at the University of Notre Dame Law School, argues that the trial still holds serious significancemore so than the criminal prosecutions of RentBoy, myRedBook, and other adult websites. While those sites only advertised sex work, Yelderman said, Backpage advertised other services, such as housing, cars, and temporary jobs. And everyone should be concerned that the government would jeopardize that kind of speech to get at the other stuff.What the Backpage takedown and prosecution is an example of is the government's willingness to throw all sorts of speech under the bus here, in order to get at speech thataccording to the indictmentfacilities the crime of prostitution, she said.This is not a trafficking prosecution, she added. This is a case where allegations that [the founders] facilitated prostitution were an impetus for the government to take aim at this entire swath of speech.
Whether you liked Backpage or not -- and it's fair to criticize some of the company's business practices -- this trial is incredibly important. And given the nature of the subject matter (not to mention some serious concerns about the judge's conflicts--she's married to the state Attorney General who campaigned against the website), there's a decent chance of a ruling here that will set a terrible precedent both for free speech online and for sex workers.

Read more here

---
posted at: 12:00am on 08-Sep-2021
path: /Policy | permalink | edit (requires password)
0 comments, click here to add the first
---
---
This Week In Techdirt History: August 29th - September 4th

Furnished content.


Five Years AgoThis week in 2016, a leaked copyright proposal in the EU was a complete mess with lots of terrible ideas — though that didn't stop Hollywood from finding something in it to freak out about — while a report from the UK government pretty much accused Facebook, Twitter, and Google of being unrepentant supporters of terrorism. On the flipside, we were surprised that the EU adopted net neutrality guidelines that didn't suck. James Comey was calling for an "adult conversation" about encryption but still refusing to listen to experts, while the DHS's new Election Cybersecurity Committee also lacked any cybersecurity experts, and we noted the Clinton Campaign's hypocrisy on encryption. And, of course, the monkey selfie debacle continued, this time with PETA losing its "next friend" status.Ten Years AgoThis week in 2011, we saw more of how ridiculous the lawsuits were from US Copyright Group and the Hurt Locker producers, the DOJ was battling Puerto 80 in court over its domain seizures (leading the latter to appeal on First Amendment grounds), and we took another look at the total lack of evidence for the supposed necessity of a fashion copyright. A DMCA takedown "prank" led to all of Justin Bieber's videos being removed from YouTube, and so all of a sudden record label executives were concerned about DMCA abuse (while Twitter was having its own problems with highly questionable DMCA claims leading to account suspensions). Meanwhile, an appeals court ruled that arresting a man for filming the cops violated the First and Fourth Amendments, but at the same time a man who filmed the cops in Illinois was facing 75 years in jail at the hands of an Assistant AG who insisted there is no right to record the police.Fifteen Years AgoThis week in 2006, cablecos and telcos seemed to be suddenly realizing that their service sucks, not that they would be fixing that anytime soon, while we took a closer look at the telco shills polluting the net neutrality debate. A weird internal copyright battle at the UK Cabinet Office led to one part of the office pulling another part's videos off YouTube, while the New York Times was blocking an article for UK readers for fear of liability under the country's problematic laws. In the midst of the world learning about its highly questionable conditions, Foxconn was threatening reporters with life-destroying consequences, but then tried to back down. Meanwhile, the MPAA was using its rating powers to obstruct a documentary about its rating powers, and the RIAA (which at the same time was still fighting for the right to scour people's hard drives) was following the MPAA's lead and creating an "educational campaign" to brainwash people about the evils of piracy.

Read more here

---
posted at: 12:00am on 05-Sep-2021
path: /Policy | permalink | edit (requires password)
0 comments, click here to add the first
---
---
Mystery Over Fake Section 1201 Takedown Claims Sent By 'Video Industry Association of America' Deepens

Furnished content.


It was only a week or so ago that we discussed the latest example of the type of fake DMCA notices that Google gets to delist certain URLs from search results. In this instance, a couple of factors made these DMCA notices even more problematic than usual. For starters, they claim to be coming from the U.S. Copyright Office, which very much does not send in DMCA notices like this. On top of that, the notices claim they are being sent by the U.S. Copyright Office on behalf of the Video Industry Association of America which, as I noted in my original post, doesn't seem to actually exist. Finally, and perhaps most importantly, these are notices for Section 1201 claims, which deal with anti-circumvention aspects of copyright law, that target mostly stream-ripping sites and sites that cover or guide legit uses of those sites. Notably, Google does not have an appeal process for 1201 notices, leaving anyone who got delisted basically screwed.Well, now the mystery somewhat deepens. The Section 1201 DMCA notices have continued to flood Google, but now they are being supposedly sent directly by the Video Industry Association of America, with whoever is sending these dropping the pretense that they're coming from the US Copyright Office. But that isn't actually clearing much up other than to highlight, again, that the organization doesn't actually exist and is coming from Russia.
A mysterious group called the 'Video Industry Association of America' is trying to wipe the homepages of dozens of reputable sites from Google search. The targets, which stand accused of violating the DMCA's anti-circumvention policy, include Verizon, Pinterest, and Engadget. Google says that it's aware of these fraudulent notices but, thus far, they are not without damage.The 'American' organization starts one request off in Russian and finds it hard to construct proper English sentences. In another notice, it complains of sites and apps that circumvent the copyright protection of streaming services, while classifying these as "software cracks." Things get even more problematic when we look at the URLs that are reported. While these include tools such as DVDFab and YouTube-rippers, which some rightsholders see as problematic, various legitimate sites are targeted as well.
So what's going on here? Well, it seems that whoever is behind these DMCA notices is taking shotgun approach to them. Anything that has to do with providing or informing the public on matters of stream-ripping, legit or otherwise, are being targeted. Plenty of other tech news organizations have been targeted as well, such as Engadget and CNET. Most of the takedown requests have gone ignored by Google, but several have not. Many smaller tech sites have been delisted as a result of all this.For at least one of the sites, Google has acknowledged that the delist request was not legit, but also said there is no current appeals process.
Fossbytes reported the issue to Google, which informed the site that there is no official counter-notification process for these anti-circumvention takedowns. As such, the URLs remain deindexed for now."There is no formal counter notification process available under US law for circumvention, so we have not reinstated these URLs," Google replied, requesting a detailed explanation from the site.
Meaning the onus is still on the victims of this crap to get themselves re-listed. And, once TorrentFreak got its hands on a copy of the takedown request, it illuminates how blatantly fraudulent all of this is.
This reveals some interesting details that are not available in the Lumen database, including the name, email address, and geolocation of the 'Video Industry Association of America' representative.As can be seen above, the sender is actually located in Russia and identifies itself as "Wolf Fang," which isn't a typical name, not even in Russia. The email address, which we won't publish, comes from Gmail and references another animal's fangs.
Again, what's going on here? Is this some coordinated Russian effort to delist a bunch of prominent or otherwise American news sites? Not likely. Instead, this is more likely a form of the kind of fraud-based attack we've seen from overseas sites that abuse the DMCA process in order to take down both its competitors and references to competitors wherever possible.
For now, it remains a mystery who's behind these notices. It wouldn't surprise us if the "Video Industry Association of America' is actually a direct competitor of the stream-ripping and DRM circumvention tools that are reported.This is a strategy we have seen several times in the past. A competitor targets URLs from competing apps and sites, so their own site will end up higher in Google's search results.
In other words, the only real good these bullshit DMCA notices are doing is to further highlight the wide open avenues for fraud and abuse in our current DMCA takedown process.

Read more here

---
posted at: 12:00am on 04-Sep-2021
path: /Policy | permalink | edit (requires password)
0 comments, click here to add the first
---
---
Ten Seconds Of Doing Nothing Is Reasonably Suspicious, Says The Fifth Circuit Appeals Court

Furnished content.


How much does it take to establish reasonable suspicion needed to subject a person to an at least temporary removal of most of their rights? Not much, says the Fifth Circuit Appeals Court, which appears willing to keep poking the SCOTUS bear with its mind-boggling interpretations of Constitutional rights and the power of law enforcement to bypass them.This recent decision, highlighted by defense lawyer/"Constitutional cultist" Andrew Fleischman, says all cops need are a few seconds of observation and some vague assertions about criminal activity in the general area.Here's the setup, as presented by the Fifth Circuit [PDF]:
Otha Ray Flowers, convicted of a federal gun violation, appeals the denial of his motion to suppress evidence as a violation of his Fourth Amendment rights. The questions on appeal are whether Flowers and Jeremy Mayo were "seized" when five or six patrol cars parked behind and around Mayo's Cadillac with their patrol lights flashing, and if they were seized, whether Officer Stanton had reasonable suspicion to conduct a "Terry stop."
Some cops were doing some cop stuff in the area. According to the facts on record, the officers were "looking for suspicious behavior," a supposedly "proactive" effort in an allegedly high-crime area that is meant to deter criminal acts by, apparently, rolling up en masse on anyone viewed as suspicious by these Direct Action Response Team (yes, that spells DART) officers.Flowers and Mayo were sitting in the parking lot of a convenience store. The officers were in the area because their supervisor had directed them to patrol near there because of "recent violent crimes and burglaries." This sounds suspiciously like "predictive policing," which sends cops to where crimes have been committed under the assumption that lightning strikes twice/people are less white. The Jackson, Mississippi panopticon works, I guess. But only on the assumption that people living, working, or temporarily idling a vehicle in a high-crime area have fewer rights than those fortunate enough to be elsewhere.So, what were these two "suspects" doing that raised enough suspicion a stop involving five police cars and six officers was warranted? Failing to do anything other than sit in a car for less time than it takes to read the previous two paragraphs:
As Officer Stanton was turning from Capitol Street onto Road of Remembrance, he saw a silver Cadillac parked in the south end of a small parking lot connected to an open convenience store. It was dark outside, but Officer Stanton observed that the vehicle was occupied by two men, one in the driver's seat and one in the passenger's seat. Officer Stanton observed the vehicle "for approximately 10 to 15 seconds" and noticed the occupants "didn't appear to be exiting the vehicle, [and] didn't appear to be patronizing the establishment." Therefore, he decided to conduct what he characterized as a "field interview."
Apparently, even non-movements can be furtive. The response to this momentarily-observed lack of activity was a literal swarm of police officers.
Officer Stanton testified that at this point, he and five to six other officers, all in separate patrol cars, converged upon the silver vehicle with their blue lights activated. The parking lot in front of the store was narrow, with very little space or room to maneuver. Officer Stanton later acknowledged that it would have been impossible for the silver vehicle to leave the parking lot because of the way the officers parked their cars around it.
Behold the majestic absurdity of the following assertion:
Officer Stanton got out of his patrol car and approached the silver vehicle, as did other officers. He testified that the men in the vehicle were still free to leave at this point in the encounter, but he did not communicate that to them.
Who amongst us with five or six police cars surrounding our car would feel "free to leave," whether or not that option was communicated to us by one of the six surrounding the car? No one. Not a goddamn person would feel this encounter was still voluntary.At least the Fifth Circuit Appeals Court said it was a seizure under the Fourth Amendment. Pretending it was still consensual was a step too far for even this notoriously law enforcement-friendly circuit. But the very least a court should do when presented with this kind of assertion is to apprise officers that literally no one -- not even the officer making this sworn statement -- actually believes this kind of "interaction" is consensual.The end result was the discovery of some marijuana, a gun, and an outstanding warrant. This led to felony charges. And the Fifth Circuit is fine with this outcome because, hey, don't sit in a car in a high crime area, I guess.
It bears repeating that apart from the presence of a number of police cars, the tenor of Officer Stanton's encounter with Flowers was entirely benign until Stanton smelled marijuana. He conducted no physical frisk of Flowers's person but simply approached the Cadillac to ask some questions. If this course of conduct is constitutionally impermissible, then it is difficult to see how any active policing can take place in communities endangered and impoverished by high crime rates.
That's the takeaway from this decision. Cops can wander over Constitutional lines as long as a court is willing to grant their "high crime area" assertions credibility. There's no legal definition of "high crime," so it can be whatever cops want it to be. And when they assert this in front of judges prone to grant every benefit of a doubt to fellow government employees, it will work nearly every time.Flow our proxy tears, the court advocating on behalf of the policeman said:
Officers in such areas may well require safety in numbers, while the law-abiding citizens desperately need protection that will be denied if law enforcement officials believe that incriminating evidence will be suppressed or they will be sued for alleged violations of rights.
If the cops can't roll over rights to fight crime, how can they possibly fight crime? That's the question the Fifth Circuit is asking. And it should have an answer that says cops can't disregard rights just because they're patrolling areas where criminal activity is claimed to be "higher" than theoretical areas where it's apparently lower. But instead, the Appeals Court gives us this:
Under the circumstances of this case and viewing the facts in the light most favorable to the Government, assuming arguendo that these individuals were seized, there was reasonable suspicion to do so. We AFFIRM.
And that is that. The court has basically written a permission slip for stops based on nothing more than a few seconds of observation backed by officers' assertions that criminal activity has occurred nearby at some point in the past. Looking past the legalese, the Appeals Court is telling people their rights mean less if they happen to be in the wrong place at the wrong time, with the "wrong time" being a few seconds of non-movement while observed by officers trained to view literally anything as suspicious.If there's any saving grace to this published decision, it's the dissent, which casts a whole lot of shade on the majority's conclusions while taking a shot at the overreacting cops.
As for the "dawdling" of approximately ten to fifteen seconds, the men could have been finishing a conversation, responding to text messages, watching with curiosity as a six-car police caravan passed, or engaging in other reasonable behavior that explains the delay. The facts in this case simply do not support an officer's reasonable suspicion.
That should have been the majority's conclusion. Instead, it chose once again to elevate police officers over the policed, and ensured the poorest of the police can be treated the worst without officers feeling they might be held accountable in a court of law for the rights violations they've committed.

Read more here

---
posted at: 12:00am on 04-Sep-2021
path: /Policy | permalink | edit (requires password)
0 comments, click here to add the first
---
---
Indie Game Dev Decides To Leave Industry Due To Steam Returns On Short Game

Furnished content.


It has now been over six years since Valve finally put in a refund policy for video games purchased on its Steam platform. At the time of its announcement, I was very much in favor of this move by Valve, given how previously the prospect of buying games on the platform was laughably tilted in favor of publishers and developers. On top of that, a whole bunch of the outcry from publishers and developers over the policy seemed to mostly center around it existing at all, meaning such concerns were mostly just requests to go back to the one-sided policies that favored them. Some developers even saw large numbers of refunds as a good thing, arguing that those refunds were likely largely from people that never would have tried their games out if a potential refund weren't in place.But going way back to that first post over its announcement, one concern brought up by developers seemed legit. Given that the refund policy required the buyer to have bought the game within the past two calendar weeks and to have not played more than two hours of it, well, what about very short games that can be completed well within that timeframe?That exact scenario has now impacted one indie developer such that it is quitting the game development industry altogether.
Summer of '58 is the latest first-person horror title from indie developer Emika Games, which was released in July and features a video blogger investigating an abandoned and supposedly haunted Russian children's camp – which of course goes very badly indeed. At £6.19/$6.92 on Steam it's a cheap purchase even full-price, and it's currently 23% off.The game's Steam page makes it very clear that Summer of '58 only has an average play-time of around 90 minutes. However, according to Emika Games, Summer of '58 has received "a huge number of returns" – despite being rated 'very positive'. The developer blames this on the fact that its game "does not reach two hours of playing time" – under Steam's return policy, any game under two hours can be refunded.
As a result, Emika Games announced on Twitter that it is leaving the games industry entirely for an "indefinite time".Now, we could have a discussion about whether this is an overreaction or not. We could talk about how Steam's refund policy is completely public, meaning that Emika Games knew what it was getting into when it put its 2 hour game on the platform. We could talk about business models and all the other ways the game could have been sold to the public other than via Steam, or other ways the developer could have made money from it.But whatever side of those arguments you'd want to come down on, it wouldn't change the simple fact that this is an obvious flaw within Steam's refund policy. And, frankly, it's one that developers and industry commentators saw coming a mile away. Hell, in my first post on the announcement, I managed to come up with a simple solution to this myself.
It might be an even better solution to simply allow game-makers to have options on the game-time of their refund policy. Say, two hours, five hours, or thirty minutes. Then consumers could decide for themselves if less game-time was worth the risk of purchase. I imagine that would create more administrative work on Steam's end, but it ought to keep the indies happy.
It seems Steam decided not to keep the indies happy. And now one of them is leaving not just Steam, but the entire industry. Why? Because Steam caters primarily to the AAA publishers? That's probably part of it. Because Steam didn't want to give up that kind of control over its policies and platform to developers? Probably another part of it. Because this would have created work for Steam that it didn't want to do? Likely yet another part of it.But whether it is one of those explanations or the trifecta, a good indie gaming scene means this policy has to be altered to make it workable for those making shorter games.

Read more here

---
posted at: 12:00am on 03-Sep-2021
path: /Policy | permalink | edit (requires password)
0 comments, click here to add the first
---
---
Error 403: Syrians Blocked From Online Learning Platforms

Furnished content.


Individuals in dictatorships need more freedom not less. Syrians have for years been unable to work remotely or pay for remote services, even educational ones. Do we want to do the same now to Afghans, who are already in fear of the Taliban? Examining in detail the experiences of Syrians, can maybe lead us to a better solution.Major online distance learning platforms based in the US, such as Coursera, that have emerged as crucial tools during the pandemic, are partially or fully blocked in Syria because of U.S. sanctions. While intended to weaken the Syrian government, the sanctions have also restricted access to an online learning universe that could offer critical opportunities to ordinary Syrians trapped in difficult circumstances.With a global audience of 87 million learners, Coursera offers free lecture courses from universities around the world, including many top-tier American schools such as University of Pennsylvania, Princeton, Yale, Brown, Columbia, Stanford, Johns Hopkins and Northwestern.But in the war-torn country, people are unable to take advantage of the online high quality courses.Coursera is not alone: Its competitor, Udacity, is also banned in Syria. Of the major online learning platforms, the only one operating in Syria is edX, the nonprofit platform founded by MIT. However edX only offers a few courses. This is particularly problematic for a country that has often relied on these courses to innovate and create new job opportunities.But why is Syria sanctioned?Syria has been the target of economic sanctions imposed by the US Office of Foreign Assets Control ("OFAC") since 1979, when the Carter administration added Syria to the State Sponsors of Terrorism list. The program includes trade embargoes, import and export restrictions, investment bans, asset freezes, and travel bans.President Bush further expanded the U.S. Syria sanctions program in 2004 as part of the ongoing 'War on Terror' under the Syria Accountability and Lebanese Sovereignty Restoration Act of 2003 (SAA).In 2011, President Obama imposed new sanctions against Syria in response to the Assad regime's targeting of civilians in pro-democracy uprisings. The 2011 sanctions targeted the Syrian oil sector, freezing the assets of Syrian individuals and entities, prohibiting petroleum imports and investments, and prohibiting the sale of services to Syria.What does this mean for Syrians?The restrictions seem more symbolic than effective. IP address bans are notoriously easy to work around — to access the blocked websites, Syrians often resort to VPNs that mask their location. The problem is that VPNs are often unreliable and may interfere with the interactive experience offered by the platforms.Even if Syrians manage to access free online learning classes via a VPN, they are unable to obtain certificates of completion, since those require a fee as and no online payment methods are available from within the country due to these same sanctions.The same scenario applies to language tests. Syrians are unable to take TOEFL and IELTS, the two main English language proficiency tests accepted across the world, as payments made from within Syria are not accepted.The easiest option is to take these tests in neighboring countries, such as Lebanon, but the costs of travelling are too high for the large majority of Syrians (80% live in poverty, according to UN data released in March 2021).An alternative to IELTS and TOEFL is the Duolingo English Test, which became available in late 2020 after Duolingo managed to receive a special exemption from OFAC. While the exam can be taken online while in Syria, the fee must be paid from outside Syria. As such, people have to ask friends and relatives living in other countries to make the payment for them, a significant obstacle due to the difficulty of conducting wire transfers in the country.Computer science students and software engineers are also unable to access some essential services offered by Microsoft's GitHub, the world's most-used tool for software development.On top of all that, at a moment when much of the rest of the world is relying on digital tools to survive a pandemic, Syrians are also unable to access other online services, such as Amazon Books and Zoom, that have been crucial for online learning elsewhere.We Need Better Legal FrameworksPeople under military rule are essentially "Stateless" and should be provided opportunities to integrate into the global economy rather than kept out. The rationale for comprehensive sanctions seems to be that any money flowing into a country with a military dictator will end up in the dictator's hands. However, this is not always the case - and allowing people a way to make a living and to educate themselves, independent of the ruling class, is likely to be in everyone's interests in the long run.Raise the Voices is an International human rights project that supports victims and their families.

Read more here

---
posted at: 12:00am on 03-Sep-2021
path: /Policy | permalink | edit (requires password)
0 comments, click here to add the first
---
---
Nintendo Shuts Down Another 'Smash' Tournament Due To Mod Use, With No Piracy As A Concern

Furnished content.


Late last year, we discussed a predictably odd move by Nintendo to shut down a Smash Bros. tournament called The Big House over its use of a mod called "slippi." Slippi essentially unbreaks the 20 year old game when it comes to competitive online play. Otherwise, the whole thing basically doesn't work from a online play perspective. And, with all kinds of events going virtual, The Big House attempted to run its tournament virtually, meaning that participants would have to use a digitized version of the game they owned, along with the mod, in order to participate. After it nixed the tourney, Nintendo put out the following statement:
Unfortunately, the upcoming Big House tournament announced plans to host an online tournament for Super Smash Bros. Melee that requires use of illegally copied versions of the game in conjunction with a mod called 'Slippi' during their online event. Nintendo therefore contacted the tournament organizers to ask them to stop. They refused, leaving Nintendo no choice but to step in to protect its intellectual property and brands. Nintendo cannot condone or allow piracy of its intellectual property.
Many of us rolled our eyes at the statement. After all, digitizing your own owned game in order to participate in the tournament is not "piracy." The game was bought and paid for by participants. The use of slippi doesn't really factor into the equation and, yet, its use seemed to be the deciding factor in the shut down. In other words, the target seemed to be the mod and not piracy.Well, that appears to be confirmed now that Nintendo has shut down a tournament called "Riptide", hosted at a waterpark in Ohio in-person, due to its use of a mod called "Project+".
The inaugural Riptide Smash Bros. event was supposed to happen last year but was postponed due to the pandemic. But 2021 has introduced another hitch. The three-day fighting game extravaganza at the Kalahari Resort in Sandusky, Ohio will now no longer feature Project+, a variant of the popular Project M mod for Smash Bros. Brawl that makes the 2008 Wii game fit for high-level competitive play."Riptide was contacted recently by a Nintendo of America, Inc. representative regarding our Project+ events," the event's organizers wrote on Twitter last Friday. "As a result of that conversation, there will be no Project+ tournaments or setups at Riptide."
Note that the event was scheduled to go off on September 10th. Participants are getting refunds for their entry fees, given the last minute cancellation, but not for any money spent on transportation or accommodations needed to attend the event. Flights, hotels, etc. are all going unrefunded. And, understandably, people are pissed.
"Super cool of @NintendoAmerica to cancel an event that's been planned for months just 2 weeks before it happens!" wrote Melee pro JoSniffy on Twitter. "It's so considerate to all of the people that bought plane tickets and hotels months ago, which are now useless. Keep up the great work Nintendo!"
Notably, there are zero piracy concerns at play here. The event and mod require disc copies of the game to play. The entire competition was to be conducted in-person, with no online play. Nintendo has made no public statement at the time of this writing as to why the tourney was cancelled, leaving it completely open to confusion and speculation.
"This is unforgivable at this point," wrote past Melee champion Hungrybox on Twitter. "There's no legitimate reason for @Nintendo to do this that doesn't include a complete disconnect with the current culture of their consumers. Insanity."
And so the rest of the Riptide event will go on as scheduled, but this one tournament is shut down, leaving participants that paid for accommodations in the lurch. Why?Control, obviously. With no piracy to be concerned about, all we're left with is the use of the Project+ mod. Nintendo quite famously hates modding communities and takes every opportunity to retain strict control over how its games are played. Why it wants to go to war with its own fans and customers in this way, meanwhile, has been an open question for years.

Read more here

---
posted at: 12:00am on 02-Sep-2021
path: /Policy | permalink | edit (requires password)
0 comments, click here to add the first
---
---
Content Moderation Case Study: Spam "Hacks" in Among Us (2020)

Furnished content.


Summary: From August to October of 2020, as the COVID-19 pandemic had no end in sight and plenty of people were still stuck at home, on lockdown, unable to gather with others, the video game Among Us became incredibly popular as a kind of party game when there were no parties. The game had already been out for a while, but for unclear reasons it became the go-to game during the pandemic. It was so popular that the company behind it, InnerSloth, cancelled its plans for a sequel, promising instead to focus on fixing up the existing game and dealing with some of the bugs that were popping up from such widespread usage.
Among the bugs that InnerSloth had to deal with was the ability to hack the game with various apps and tools that allowed users to possess more powers in the game than they should be able to have.This came to a head in late October of 2020, when the game was apparently overrun by spam promoting a YouTuber named "Eris Loris." Some of the spam had political messaging, but all of it told people to subscribe to that user's YouTube account. Sometimes it came with vaguely worded threats of hacking if you didn't subscribe. Other times it just told people to subscribe.While this attack was variously described as both a "hack" and a "spammer," it appears that it was a combination of both at work. The end result was spamming players in the game and making it impossible to keep playing, but it was also carried out via a hack that filled the game with bots designed to spread the message. The person who goes by the name Eris Loris told the website Kotaku that he did it because he thought it was funny:
"I was curious to see what would happen, and personally I found it funny," Loris told Kotaku in a DM. "The anger and hatred is the part that makes it funny. If you care about a game and are willing to go and spam dislike some random dude on the internet because you can't play it for 3 minutes, it's stupid." — "Eris Loris" to Kotaku reporter Nathan Grayson
InnerSloth admitted that it was aware of the problem and asked players to "bare with us" [sic] and only play private games or with players they knew and trusted until updates were made to the server. A developer for the game separately warned users that he was rolling out changes using a "faster method than I've done before" and, as such, that things might break.Company Considerations:
How much effort should be put towards preventative measures to try to block spamming, even before an app or service becomes wildly popular?
At what level does spamming reach a point that it is critical to change the code of a game, perhaps even using "faster" and less reliable methods to combat the spamming than would normally be used?
How do you balance resource allocations between having engineers improving the product and adding new features as compared to fighting back against malicious actors?
Issue Considerations:
When something becomes popular, there are always those with nefarious intentions who want to take advantage of the platform's popularity. Should companies proactively prepare for the unintended consequences of success? What can companies put in place to anticipate the actions of bad actors?
Spammers and hackers sometimes go hand in hand with popular games and platforms. What are other risks (beyond just losing players/customers) if companies allow, or are slow at the removal, of those bad actors from the platform?
Many developers leave platforms somewhat open to encourage third party developers to build on additional tools and services that make a game or service more useful. How does a developer determine the trade-offs between an open system to promote innovation and someone abusing that openness?
Resolution: The rapid updates Among Us developers made to the Among Us servers appeared to do the trick, and the Eris Loris spam quickly diminished soon after. There were some questions about whether or not there would be legal consequences for whoever was behind the attacks, but to date, nothing has happened.There still remain a number of Among Us hacks out there, and some people have attempted to follow in the footsteps of Eris Loris — including someone going by the name Sire Soril (Eris Loris backwards) — but it appears that none of these have had much success at all, suggesting that InnerSloth's initial fix was pretty successful in limiting the kinds of attacks that overwhelmed the system in October of 2020.Originally posted to the Trust & Safety Foundation website.

Read more here

---
posted at: 12:00am on 02-Sep-2021
path: /Policy | permalink | edit (requires password)
0 comments, click here to add the first
---
---
Facebook Promises To Distinguish Takedowns From Governments; Whether They're For Illegal Content, Or Merely Site Rules Violations

Furnished content.


There's an interesting discussion that happens in content moderation circles with regards to government requests for takedowns: are those requests about content that violates local laws or about the content violating website policies? Many people lump these two things together, but they're actually pretty different in practice. Obviously, if a government comes across content that violates the law, it seems reasonable for them to alert the platform to it and expect that the content will be removed (though, there may be some questions about jurisdiction and such). However, when it's just content that may violate site policy, there are some pretty big questions raised. This actually gets to the "jawboning" question we've been discussing a lot lately, and exploring where the line is between a politician persuading a website to take something down and compelling them to do so.There is one argument that suggests that a government pointing out content that might violate site policies is simply helping out. The website doesn't want content that violates its standards, and the government reporting it is just like any other user reporting it (though, backed up by whatever credibility the government may or may not have). But, the flip side of that is, if the content is perfectly legal, this often starts to feel like a loophole through which government actors can engage in wink-wink-nudge-nudge censorship -- just send a notification to the site that this particular content may not break the law, but hey, doesn't it violate your policies?A recent decision by the Oversight Board, and a corresponding statement from Facebook, suggests that Facebook is going to be clearer about when this situation happens. The case the Oversight Board reviewed was an interesting one. Here's how it summarized the situation:
In January 2021, an Instagram user in the United States posted a picture of Abdullah Öcalan, one of the founding members of the Kurdistan Workers' Party (PKK). The picture included the words y'all ready for this conversation. Underneath the picture the user wrote that it was time to talk about ending Öcalan's isolation in prison on Imrali Island. They encouraged readers to engage in conversation about his imprisonment and the inhumane nature of solitary confinement.Facebook removed the content for violating Instagram's Community Guidelines after the post was automatically flagged for review (at this stage, the Board does not know if the content was removed by an automated system or through human review). These Guidelines under the heading follow the law, set out that Instagram is not a place to support or praise terrorism, organized crime, or hate groups. The Guidelines link to Facebook's Community Standard on Dangerous Individuals and Organizations. These rules clarify that Facebook also prohibits any support or praise for groups, leaders, or individuals involved in terrorist activity or other serious crimes committed by these groups. The PKK has been designated a terrorist organization by multiple countries, including Turkey, the United States, and the EU.The user states in their appeal that Öcalan has been a political prisoner for decades and that banning any reference to him prevents discussions that could advance the position of the Kurdish people. They argue that Öcalan's philosophy is peaceful and that his writings are widely available in bookshops and online. The user compares Öcalan's imprisonment to that of former South African President Nelson Mandela, noting that discussion of Öcalan's imprisonment should be allowed and encouraged.
In July, the Oversight Board overturned Facebook's initial decision (even though once the case was taken Facebook admitted it had taken down the content in error before the Oversight Board even ruled). A key part of the discussion was that Facebook claimed it had "misplaced" an "internal policy exception" for the "Dangerous Individuals and Organizations" policy, as that misplaced policy included an exception for the discussion of human rights issues, even among those designated as "dangerous." As with many other Oversight Board rulings, there were a bunch of other recommendations as well.In early August, Facebook responded to the recommendations, and, as Evelyn Douek noted, buried deep within them (recommendation 11) was an admission that Facebook would start revealing information and data on requests from governments based on "Community Standards" violations, rather than legal violations. Here's what the Oversight Board asked for:
Include information on the number of requests Facebook receives for content removals from governments that are based on Community Standards violations (as opposed to violations of national law), and the outcome of those requests.
While this may have been a minor part of this particular situation, it's important information that has previously not be available. And, as Douek also notes, human rights activists have been begging Facebook for this data for ages, with no luck. But the Oversight Board seems to have made it happen. Here's what Facebook had to say about it:
Our commitment: We are actively working to provide additional transparency when we remove content under our Community Standards following a formal report by a government, including the total number of requests we receive.Considerations: As noted in our response to Recommendation 9 above, when we receive a formal government report about content that may violate local law, we first review it against our global Community Standards, just as we would review a report from any other source. If the content violates our Community Standards, we will remove it and count it in our Community Standards Enforcement Report. These reports are reviewed under a standardized process in the same way and against the same policies as reports from any other source. As a result, we are not currently able to report when we remove content based on a report by a government or from a Facebook user. In addition, we may receive reports of a piece of content that may violate our policies from multiple sources at the same timefor example, from a government and from user reports on Facebook. Such situations create additional challenges in determining whether content should be considered as removed in response to a government report.We have been exploring ways to increase the level of transparency we provide to users and the public about requests we receive from governments, in line with best practices laid out by civil society efforts like the Santa Clara Principles and the Ranking Digital Rights project. We are prioritizing that work in response to this recommendation.Next steps: We are planning work that will enable us to include information on content removed for violating our Community Standards following a formal report by a government, including the number of requests we receive, as a distinct category in our Transparency Center.
Again, as Douek points out, there is some wiggle room here in that Facebook committed to counting "formal" requests from government, which means that totally informal requests and suggestions -- pure "jawboning" situations -- might not be counted. But, still, this is a step forward in getting more transparency about how often governments push Facebook and Instagram to take down content that is legal, even if it may violate site policies.

Read more here

---
posted at: 12:00am on 01-Sep-2021
path: /Policy | permalink | edit (requires password)
0 comments, click here to add the first
---
---
Make It A Trend: More Modders Get Hired By Developers, This Time CD Projekt Red

Furnished content.


You will recall that we were just discussing a cool little story about Bethesda going so far in embracing the modding communities surrounding its games that it ended up hiring one of the writers of an impressive Fallout 4 mod onto its team. Part of what made that story interesting was not how totally novel it was. After all, modders have found their way into developer roles in the past. Instead, it's that it was Bethesda that made it interesting, being a AAA title developer and the fact that the gaming industry certainly doesn't approach modding communities with unanimity.But it would be great for this to become a trend, as a demonstration of the boon that modding communities can be for developers, rather than some kind of a threat to their control. It's probably too early to call this a full on trend at this point, but it is worth highlighting that we have yet another story of a AAA developer hiring on members of a modding community, this time with CD Projekt Red.
Since it was released last December, Cyberpunk 2077 has received intermittent mod support from the developer, resources like metadata and TweakDB file dumps. But the most helpful tools have come from the community.The modders who will officially join CDPR are Traderain, Nightmarea, Blumster, and rfuzzo. They are best known as the folks behind WolvenKit, an open-source tool that allows modders to modify CD Projekt Red's greatest hits, Cyberpunk 2077 and The Witcher 3: Wild Hunt In terms of Cyberpunk modding resources, WolvenKit is the gold standard, allowing you to edit any file in the game and, crucially, browse those files "without unpacking the archives.""We will be working on various projects related to the Cyberpunk 2077 backend and the game's modding support," Traderain wrote in an announcement on Cyberpunk 2077's modding community Discord (via Reddit). "We are really excited for this and we really hope we can help to bring Cyberpunk 2077 to the next level!"
This specific move by CDPR is somewhat meta, with the modders hired not only to help with Cyberpunk's seemingly ongoing development via patches and mods, but also specifically to bridge the gap to other modding communities to make better use of their work.Now, we're not a gaming site, so we didn't cover most aspects of CDPR's long-awaited release of Cyberpunk 2077, but the Cliff's Notes version is simply: it was an absolute shit show. The game, as released, was buggy as all hell, had console versions that didn't work or display as advertised, and there were even lawsuits from investors as a result of a crazy amount of refund requests granted by CDPR. It... wasn't great. And, frankly, there is no real excuse for the release of what is essentially an unfinished game.But between active patching of the game and, more important for this post, an active modding ecosystem, the game has come a long way. Were CDPR to embrace a fight or flight mode of thinking, it would have been really easy for it to see these modding communities as either a threat to control over a broken product, or a point of embarrassment as the public was now fixing its game.Instead, the developer did the smarter thing and embraced and eventually hired some of these modders. And now it's going to take this embrace of modders even further.
"We are working with Yigsoft on the development of Cyberpunk 2077 modding tools. The modding community has always been very important to us and we are happy to be working with them side by side on further expanding the tools which are available to modders," a representative for CD Projekt Red told Kotaku in a statement.
Which will allow CDPR to continue to reap the benefits of its biggest fans, those so passionate about the game that they want to not just play it, but play within it. As a bargain in which the developer only had to give up a bit of control over its property, that's a damned good deal.

Read more here

---
posted at: 12:00am on 01-Sep-2021
path: /Policy | permalink | edit (requires password)
0 comments, click here to add the first
---
---