December 2019
Sun
Mon
Tue
Wed
Thu
Fri
Sat
1
2
3
4
5
6
7
8
9
10
11
12
13
14
15
16
17
18
19
20
21
22
23
24
25
26
27
28
29
30
31



---
Last Chance To Get CIA: Collect It All For Christmas With Standard Shipping, And Save 25%

Furnished content.



Get 25% off your copy of CIA: Collect It All
with the code HOLIDAY2019 »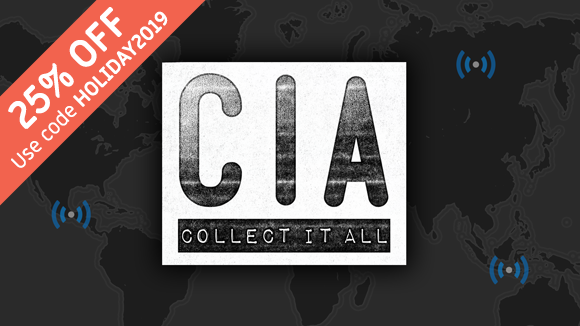 Our first ever sale on CIA: Collect It All, the real training game for CIA analysts that we reproduced and launched on Kickstarter last year, will be running for another week and change — but this weekend is your last chance to order it with standard shipping in the US and still get it in time for Christmas. Monday is the deadline, and then you have until December 17th to order with express shipping. Use the promo code HOLIDAY2019 with your order to get 25% off »
CIA: Collect It All includes 170 cards representing global crises, intelligence gathering techniques, and the unexpected circumstances and opposition that frustrate them. Plus, it contains rules for two separate games: the original CIA training game, and a storytelling variant that uses the cards for a more narrative roleplaying experience.
After our current stock runs out, we don't know if or when the game will be coming back! So if you want to make sure you get your hands on a copy, order sooner rather than later. And if you want to check it out first, or just print your own copy, the print-and-play version is now free on itch.io with the complete set of cards and rules formatted for easy home printing.

Get 25% off your copy of CIA: Collect It All
with the code HOLIDAY2019 »

Permalink | Comments | Email This Story


Read more here



---
posted at: 12:00am on 08-Dec-2019
path: /Policy | permalink | edit (requires password)
0 comments, click here to add the first
---
---
Disney's Decision Not To Renew SecuROM License Bricks 'Tron: Evolution'

Furnished content.


Show of hands: who remembers SecuROM? Alright, put your hands down, we can't see each other anyway. So, SecuROM was a really bad DRM used by several publishers to "protect" video games, by which I mean it mostly just annoyed legitimate buyers, got some of those publishers sued, and ultimately made the game unplayable on modern operating systems. The track record is enough to make you wonder why anyone would use DRM at all after this whole debacle.But... it's still happening. Back in 2010, Disney released the game Tron: Evolution. The game was laced with SecuROM and suffered many of the same problems as previously described. As an example of how you don't really own what you buy anymore, the game simply bricked when Disney decided not to renew its SaaS subscription for SecuROM software.
Players trying to launch Tron: Evolution are now met with a message telling them that the 'serial key has expired'. This applies to the retail version as well as the Steam version which is delisted from the store. The cause of this problem appears to be Disney not renewing their 'subscription' to the SecuROM activation system for this game. This means that even existing owners of the delisted game cannot play it for the foreseeable future.
Fun! Notably, those that pirated the game aren't having this issue. Also notable is that when at least one person opened up a support ticket with SecuROM itself to fix the issue, the SecuROM folks told that person:
"You are right with your assumption, we can't run this service anymore for Disney titles, therefore all activations are denied.Best would be to contact Disney to get a refund for your purchase or convince them to release an uprotected version of the game."
So as not to lose sight of this, the DRM company told the legit purchaser of a game that they should try to get the publisher of the game to release a non-protected game so that it could once again be played. If that doesn't highlight the absurdity of this particular story for you, nothing will.It also would have been one thing if Disney had been the slightest bit proactive about all of this. After all, the company knew it wasn't going to renew the SecuROM subscription and therefore knew that such a decision would brick a whole bunch of people's purchased games. Why not proactively release the game without DRM? Or alert purchasers, or the media, of what was coming? Why is it okay for Disney to essentially take back a product bought by a customer with no recompense?The only reported communication from Disney is something like, "Yeah, we know, we'll do something about it someday."
Originally posted by Disney Games & Apps Support:
Hello raidebaron,Our team is aware that the activation site for this game is no longer live and has since been shut down. At this time, if the game was not already previously installed it will no longer be able to be launched. We are looking into this hiccup and hoping to patch this in the future. However, at this time we do not have any current estimated time on when this will be.Thank you for your patience.
No, thank you, Disney, for demonstrating that you don't really care all that much about your own customers.

Permalink | Comments | Email This Story


Read more here

---
posted at: 12:00am on 07-Dec-2019
path: /Policy | permalink | edit (requires password)
0 comments, click here to add the first
---
---
California Supreme Court Closes Warrantless Vehicle Search Loophole

Furnished content.


The California Supreme Court has overturned 17 years of questionable case law, restoring a bit of the Fourth for drivers in the state. (via Courthouse News)For nearly two decades, state law enforcement officers were able to search a vehicle without a warrant if the driver could not provide identification. While traveling on public roads in your car lowers your expectation of privacy, vehicle searches still require reasonable suspicion of criminal activity at the very least. Officers have a few other options to bypass warrant requirements, including inventory searches if the vehicle is being impounded and the ever-popular "probable cause of four legs" K-9 units to bypass warrant requirements.California judicial precedent gave officers another way around warrant requirements by allowing searches of vehicles if the driver didn't have their ID on them. That's no longer the case in California, thanks to this recent ruling [PDF].In this case, a vehicle search following demands for identification resulted in officers discovering methamphetamine in the driver's purse. That evidence -- along with this terrible precedent -- is no longer usable by law enforcement.The trial court said the search was unconstitutional because none of the acceptable justifications for vehicle searches incident to arrest were in use here.
Gant held that a vehicle search incident to arrest is justified only if it is reasonable to believe the suspect can gain access to weapons inside the vehicle or that evidence of the offense of arrest might be found inside the vehicle. (Id. at p. 335.) Here, Lopez was handcuffed at the rear of her car when the search took place and could not reach any weapons inside the car. Nor was there any likelihood a search of the car would produce evidence of Lopez's driving without a license in her possession.
The appeals court reversed the decision, citing the traffic-stop-identification-search-warrant exception created by the state Supreme Court in its 2002 decision (in re Arturo D.), which predated the US Supreme Court's Gant decision cited by the trial court by seven years.The state court says the US Supreme Court's Gant decision is controlling here. It changed the contours of traffic stops and searches seven years after its own decision in Arturo. It defers to the top court in the land here.
It is important to remember that the question before us is a question of federal constitutional law, not one of state law. In matters of federal law, the United States Supreme Court has the final word; we operate as an intermediate court and not as a court of last resort.
Leaving the Arturo precedent untouched would force California to remain the odd state out in the Union.
To reaffirm the exception now would leave California out of step not only with United States Supreme Court precedent, but also with every other jurisdiction in the nation.
This doesn't mean cops will never be able to engage in warrantless searches when questions of identification remain unanswered. Officers can still ask for consent to search. Officers can also ask for personal info and attempt to verify that info using their access to drivers' databases. And, if officers have good reason to believe the person is lying, they can use the law forbidding providing false information as justification to search the car for evidence of that crime -- i.e., something identifying the driver as someone other than who they say they are.New precedent is created here -- one that affirms the ruling handed down in 2009 by the US Supreme Court:
[W]e now hold the Fourth Amendment does not contain an exception to the warrant requirement for searches to locate a driver's identification following a traffic stop. To the extent it created such an exception, In re Arturo D., supra, 27 Cal.4th 60, is overruled and should no longer be followed.
California rejoins the Fourth Amendment, already in progress. California cops will just have to use other workarounds to dodge the few Constitutional rights they're willing to recognize from now on.

Permalink | Comments | Email This Story


Read more here

---
posted at: 12:00am on 07-Dec-2019
path: /Policy | permalink | edit (requires password)
0 comments, click here to add the first
---
---
The Fate Of EU Legislation Designed To Bolster Data Protection Beyond The GDPR, The ePrivacy Regulation, Hangs In The Balance

Furnished content.


Whatever your views on the EU's General Data Protection Regulation (GDPR), there is no denying the impact it has had on privacy around the world. Where the GDPR deals with personal data stored "at rest", the proposed ePrivacy Regulation deals with with personal data "in motion" -- that is, how it is gathered and flows across networks. As Techdirt discussed two years ago, the pushback from Internet companies and the advertising industry against increased consumer protection in this area has been unprecedented. Some details were provided at the time in a report from the Corporate Europe Observatory. Unfortunately, that massive lobbying has paid off. Good ideas in the draft text produced by the European Parliament, like banning encryption backdoors or "cookie walls", have been dropped, as has the right of Internet users to refuse to accept tracking cookies. In the most recent version of the text (pdf) put together under the Austrian Presidency of the Council of the European Union (one of the three EU institutions that has to agree on the final law), there's even a new bad idea:
In some cases the use of processing and storage capabilities of terminal equipment and the collection of information from end-users' terminal equipment may also be necessary for providing an information society service, requested by the end-user, such as services provided to safeguard freedom of expression and information including for journalistic purposes, such as online newspaper or other press publications...that is wholly or mainly financed by advertising provided that, in addition, the end-user has been provided with clear, precise and user-friendly information about the purposes of cookies or similar techniques and has accepted such use
This section would give the news publishing industry a special right, enshrined in the ePrivacy Regulation, to use tracking cookies to support advertising, even though the original impetus behind the new law was to stop precisely this kind of obligatory commercial surveillance. Following its lobbyists' success in obtaining a special link tax included in the awful EU Copyright Directive, this latest legal privilege is further testament to the power of the publishing industry in the EU.Judging by the most recent draft text, the ePrivacy Regulation has been almost completely gutted of any strong protections for Internet users. And yet it seems even what little remains is too much for some EU member states, as a story on Euractiv reports:
The European Commission will present a revised ePrivacy proposal as part of the forthcoming Croatian Presidency of the EU, Internal Market Commissioner Thierry Breton announced on Tuesday (3 December), after previous talks failed to produce an agreement among member states.The revamped measures will be made in a bid to find consensus between EU countries on the ePrivacy regulation which would see tech companies offering messaging and email services subjected to the same privacy rules as telecommunications providers.
Although the new Internal Market Commissioner Breton is quoted as saying: "You can count on me to find consensus between each of us", others are not so sure. Some now believe that the entire ePrivacy Regulation will be dropped as being too hard to fix. That would be an incredible waste of years of work, a missed opportunity -- and a huge victory for the lobbyists.Follow me @glynmoody on Twitter, Diaspora, or Mastodon.

Permalink | Comments | Email This Story


Read more here

---
posted at: 12:00am on 06-Dec-2019
path: /Policy | permalink | edit (requires password)
0 comments, click here to add the first
---
December 2019
Sun
Mon
Tue
Wed
Thu
Fri
Sat
1
2
3
4
5
6
7
8
9
10
11
12
13
14
15
16
17
18
19
20
21
22
23
24
25
26
27
28
29
30
31
---