---
Mobbo: The State Of Mobile Monetization

Furnished content.


This edition of Mobbo Power Index offers a comprehensive ranking of the top mobile media sources. The Mobbo report, The State Of Mobile Monetization, sheds light on the scale and performance of popular SDK components and tracks the movers and shakers in the mobile Ad-tech industry. This research has been conducted after studying the technology [...]

Read more here

---
posted at: 12:01am on 28-Feb-2017
path: /Online_Marketing | permalink | edit (requires password)
0 comments, click here to add the first
---
---
Top Russian Net Official Says Children Under 10 Shouldn't Go Online -- At All

Furnished content.


As Techdirt readers know only too well, doing things "for the children" is a perfect excuse to pass all kinds of ridiculous laws that would otherwise be thrown out without a thought. For example, back in 2013, we wrote about attempts to pass legislation in Russia that would ban swearing on the Internet. It was framed as an amendment to an existing law called "On the Protection of Children" that introduced a blacklist designed to block access to information on drugs, suicide and child pornography. Now the head of Roskomnadzor, the body that oversees website-blocking in Russia, has a bold proposal for protecting children from all the Internet's possible harms. It takes the "for the children" logic to its logical conclusion, as TorrentFreak explains:
In a Q&A session with AIF.ru, Alexander Zharov spoke on a number of issues, including online safety, especially for children. Naturally, kids need to be protected but the Rozcomnadzor chief has some quite radical ideas when it comes to them using the Internet."I believe that a child under 10-years-old should not go online. To use [the Internet] actively they need to start even later than that," Zharov said.
He went on to say:
"Some parents are proud of the fact that their three-year-old kid can deftly control a tablet and use it to watch cartoons. It is nothing good, in my opinion. A small child will begin to consider the virtual world part of the real world, and it changes their perception of reality."
This is presumably just Zharov's personal opinion, not a foreshadowing of official policy -- it's hard to believe the view that children under 10 years old should stay off the Net would ever be enshrined in a law. Then again, given some of the things that Russian officials have been suggesting, such as disconnecting Russia from the global Internet, you never know. And once people start invoking "for the children," common sense tends to go straight out of the window.Follow me @glynmoody on Twitter or identi.ca, and +glynmoody on Google+

Permalink | Comments | Email This Story


Read more here

---
posted at: 12:00am on 28-Feb-2017
path: /Policy | permalink | edit (requires password)
0 comments, click here to add the first
---
---
Disappointing To See Google's Waymo Sue Over Patents

Furnished content.


For years, we had pointed out that one of the nice things about the new generation of tech companies was that they rarely seemed to use patents offensively. Yes, they were subject to tons of patent lawsuits from trolls or from legacy players trying to hang on against innovators, but we've pointed out in the past that young companies innovate, while older companies litigate. So, we have a tendency to watch companies to see when they shift from being patent litigation defenders, to going on the offensive. For years -- even as patent system supporters falsely claimed that Google only existed because of patents -- it was good to see not a single example of Google going on the offensive and filing patent lawsuits against other companies.That changed, unfortunately, back in 2012 when Google brought a patent lawsuit against Apple. Some argued that it wasn't "really" Google, because it came from Motorola, a company that Google had purchased (mainly for the patents) and then only owned for a short while before dumping, but it was still a Google-owned property going on the offensive. At that time, we argued that if Google really wanted to support patent reform (as the company claimed) then it should stop being a patent aggressor.To its credit, I don't believe the company went on the offensive again... until just now. As has been widely reported, Google's Waymo subsidiary (which works on Google's self-driving cars) has sued Uber over its self-driving car technology, which Uber obtained last year, in purchasing another startup, Otto, for its self-driving car technology. Otto, of course, was founded by a former Google/Waymo guy. Just a few weeks ago, Bloomberg had written that a bunch of early Google car team members had left to found Otto in part because Google had paid them a ridiculous sum of money, so they no longer needed to stay there.Along with the lawsuit, both in the filing itself and in a separate blog post about the lawsuit, Waymo tries to bend over backwards to say that this situation is not your typical "patent" lawsuit, but a very specific one. Indeed, the company is clear that the patent issue is a lesser concern. The larger one is over trade secrets -- and here the company is fairly specific that Otto's founder, and several early employees, appear to have deliberately copied a huge amount of proprietary info from Google/Waymo before departing:
Recently, we received an unexpected email. One of our suppliers specializing in LiDAR components sent us an attachment (apparently inadvertently) of machine drawings of what was purported to be Uber's LiDAR circuit boardexcept its design bore a striking resemblance to Waymo's unique LiDAR design.We found that six weeks before his resignation this former employee, Anthony Levandowski, downloaded over 14,000 highly confidential and proprietary design files for Waymo's various hardware systems, including designs of Waymo's LiDAR and circuit board. To gain access to Waymo's design server, Mr. Levandowski searched for and installed specialized software onto his company-issued laptop. Once inside, he downloaded 9.7 GB of Waymo's highly confidential files and trade secrets, including blueprints, design files and testing documentation. Then he connected an external drive to the laptop. Mr. Levandowski then wiped and reformatted the laptop in an attempt to erase forensic fingerprints.Beyond Mr. Levandowki's actions, we discovered that other former Waymo employees, now at Otto and Uber, downloaded additional highly confidential information pertaining to our custom-built LiDAR including supplier lists, manufacturing details and statements of work with highly technical information.
If accurate, that does sound fairly deliberate and sneaky. And you can certainly understand why the company is upset. The main focus of the lawsuit is the trade secrets claim. But the lawsuit also makes claims for patent infringement on three separate patents as well.Again, you can understand why this situation would be frustrating for Waymo/Google. And maybe the direct evidence of downloading all that material prior to leaving Google is a legitimate reason to file a lawsuit. But it still seems problematic. When Elon Musk freed up all of Tesla's patents, he made it quite clear the reason he was doing so was that this was a brand new, emerging market, and it was going to need all the help it could get in becoming established. And that meant lots of companies competing and innovating and together educating the market. Thus, it didn't really matter if new entrants copied Tesla's electric car/battery technology, because in the end it would help create a larger market that helped everyone.That same situation is true for self-driving cars as well. Even given the presence of the potential smoking gun of the downloads of documents, there's still something to the idea that the market would be a lot better off if everyone were just building the best possible self-driving car tech they could find, even if that means copying one another. Fighting over trade secrets and patents in a market that barely even exists feels silly. Yes, from a purely profit maximizing standpoint, you can understand the argument: the larger share of the market you can capture early can make a huge difference. But why not focus on executing in the marketplace and fighting the battles that are blocking the adoption of self-driving cars, rather than fighting back and forth with each other.

Permalink | Comments | Email This Story


Read more here

---
posted at: 12:00am on 28-Feb-2017
path: /Policy | permalink | edit (requires password)
0 comments, click here to add the first
---
---
What Should We Add Next To The Techdirt Gear Store?

Furnished content.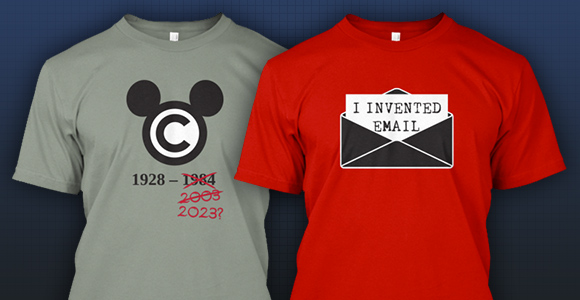 Get I Invented Email, Copymouse and more in the Techdirt Gear store »Right now, there are four different designs in available in the Techdirt Gear store on Teespring: our new Copymouse gear, our limited-time I Invented Email gear, and two different styles of Techdirt logo gear. But, under Teespring's new ongoing-order system, over time we're going to start bringing back some of our designs from last year as permanent fixtures in the store — in some cases with tweaked or updated designs.So, which Techdirt tees would our readers like to see first? There's our popular Takedown gear, the controversial Copying Is Not Theft, and some less-popular but beloved-by-some options like Home Cooking Is Killing Restaurants and Math Is Not A Crime. Of course, there's also the first t-shirt we offered and still the most popular: Nerd Harder.We have some brand new designs in the works too and will be rolling those out in the near future, but first we want to get one or two of these classics back into rotation. In addition to letting us know which ones you're most interested in, feel free to include your thoughts on whether the design needs an update or you'd like to see different products/colors available!Thanks for your feedback, and thanks for supporting Techdirt.
Two logo tee styles (plus hoodies, mugs & more) in the Techdirt Gear store »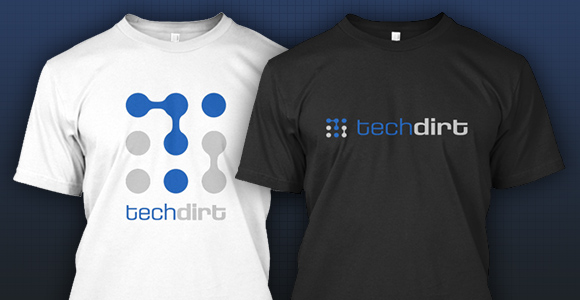 Permalink | Comments | Email This Story


Read more here
---
posted at: 12:00am on 26-Feb-2017
path: /Policy | permalink | edit (requires password)
0 comments, click here to add the first
---
---