---
UK Metropolitan Police Admit They've Finally Shelved 'Investigation' Into Journalists Who Reported On Snowden Docs

Furnished content.


It's well known that the UK doesn't have nearly as strong press protections as the US does, but it was still somewhat shocking to discover that the Metropolitan Police in London had opened an investigation into journalists who reported on the Snowden documents back in 2013. The Metropolitan Police had refused to confirm or deny such an investigation before finally acknowledging it in 2015.However, Ryan Gallagher now reveals that the Met Police have declared the investigation "inactive" for the time being:
The Met told me in response to a recent Freedom of Information request that the investigation is "inactive pending further information being received." Since 2014, I've had several updates from the Met regarding the investigation, and this marks the first time that its status has changed from "ongoing." In November 2017, the Met stated that it was a "complex investigation and enquiries continue."
Even as such, this creates a huge chilling effect. It's one thing to argue that whistleblowers revealing details of illegal surveillance should face criminal investigation and charges -- it's another thing altogether to make the same argument for journalists who are merely reporting on the details of that leaked information. Even the mere suggestion of an investigation likely has the impact of scaring off many journalists from reporting on such evidence of malfeasance and illegality by the intelligence community.While it's good to see that the Metropolitan Police have set the investigation to "inactive" for now, just the fact that they're still saying it might change "pending further information being received" still serves to act as a deterrent to continued reporting in the UK.

Permalink | Comments | Email This Story


Read more here

---
posted at: 12:00am on 31-Dec-2019
path: /Policy | permalink | edit (requires password)
0 comments, click here to add the first
---
---
Police Departments Are Using Swatting Registries To Help Protect Swatting Targets From Police Officers

Furnished content.


Swatting isn't going away. Neither are SWAT teams. And the amped-up, guns-out tactics these teams use all but ensure a violent end for targets of bogus 911 calls."Swatting" is a cheap and efficient way to terrorize anyone you want terrorized, whether it's a gamer, journalist, online critic, celebrity, activist, or just someone's whose personal info has ended up on the wrong website. Why hire a hitman to take out your enemy when cops are willing to do it for free?The downside is limited. Even if caught, "swatting" perpetrators are charged with a grab bag of crimes that combined rarely add up to the attempted murder a swatting actually is. The rare exception is serial swatter Tyler Barriss, who was sentenced to 20 years in prison for making the bogus 911 call that ended in the death of Andrew Finch at the hands of the Wichita, Kansas police department.There isn't much being done to deter future swattings -- at least not in terms of additional training or policy changes at law enforcement agencies. It's almost impossible to tell if a 911 call is legit until officers are on the scene, but it does seem these situations could be approached with a little more caution and little less reliance on immediate lethal force deployment.There are some other efforts being made to limit future tragedies resulting from swatting attempts, as Olivia Solon and Brandy Zadrozny report for NBC. Changes are being made to 911 services in a few US cities that have already shown some positive results.
In June 2018, a Seattle resident who feared a Wichita-style tragedy asked the department to pre-register his address as a swatting risk. The request gave Whitcomb the idea for a city-wide registry, and the registry became part of a unique three-pronged protocol. In September, the police department also established the swatting advisory committee, which includes police, prosecutors, and 911 dispatchers, as well as gamers and tech workers from the city's large tech community.[...]The most innovative part of the protocol, the registry, lets members of the public pre-register their addresses and contact details in an online database via a secure portal. To date, the city has registered 57 profiles of people who believe that they may be swatted. So far, four of them have been targeted by swatters.
This registry idea has already been co-opted by other cities around the nation, which will hopefully insulate some swatting targets from the full force of a SWAT deployment. The article discusses a couple of attempts targeting Seattle activist Ijeoma Oluo. Because she was on the registry, responding officers were advised the calls might be bogus and acted with more restraint.
Six officers, four of whom were armed with rifles, still showed up at Oluo's home at 6 a.m. But because they knew the address was a swatting risk and had spoken to Oluo, they came to the door without their rifles drawn. They asked her son Malcolm some questions and swept the house to verify no one had been killed. It was all over within minutes.
The second swatting attempt targeting Oluo went the same way:
Again, Seattle police reacted cautiously, sending plain-clothed police officers to the venue to determine whether the threat was real without creating panic. No real threat was detected, but the incident was referred to a federal law enforcement agency.
The registry is a good idea and will save the lives of innocent people. But it does raise the question of why more anonymous reports of violent crimes (active shooters, multiple murders, etc.) aren't subject to the same sort of restraint and caution seen in these two instances.A member of Seattle's Swatting Mitigation Advisory Committee says swatting "weaponizes" police forces against private citizens. Yes, it does. But part of the problem is the teams sent to deal with calls like these. SWAT teams are weapons. That's pretty much all they offer, at least in their current incarnation. There's no "weaponizing" needed. Swatting would result in death or injury far less often if cops responded to anonymous tips like these with the same restraint shown in the responses to the two calls targeting Oluo.It seems that officers headed towards potentially-deadly confrontations would want as much information as possible before entering the supposed crime scene. In far too many cases, the actions of officers during swatting attempts shows the opposite, as if everything can wait to be sorted out until after the bullets stop flying.This isn't to say law enforcement officers are the real problem here. This is only to say that the general law enforcement mindset that sees neighborhoods as war zones and residents as enemy combatants has made something truly terrible even worse.The real assholes, though, are the ones necessitating all of this in the first place. The people who think it's okay to try to get other people killed or, at the very least, turn their lives into a cop-filled hell for a few hours. And all because a person killed them in a video game, or said something they disagreed with, or embrace different religious and/or political beliefs.

Permalink | Comments | Email This Story


Read more here

---
posted at: 12:00am on 31-Dec-2019
path: /Policy | permalink | edit (requires password)
0 comments, click here to add the first
---
---
This Week In Techdirt History: December 22nd - 28th

Furnished content.


Five Years AgoThis week in 2014, NSA mega-defender Mike Rigers took a moment on his way out of congress to attack Obama for not launching a pre-emptive cyberwar with North Korea, while a retired official launched a bizarre lawsuit against Edward Snowden and Laura Poitras "on behalf of the American people". We were also unsurprised to learn that a CIA-appointed panel determined there was nothing wrong with the CIA spying on the Senate.Meanwhile, Sony was still lashing out against people sharing the documents leaked in the big hack, first demanding a Twitter user remove posts then stepping it up and threatening to sue Twitter itself. While this was going on, more digging through the documents confirmed that the MPAA's $80-million settlement with Hotfile was about appearances, not money.Ten Years AgoA brief world tour of this week in 2009: China was raising the Great Firewall even higher with claims about fighting piracy, the Australian Domain authority was shutting down sites critical of internet filters, Argentina was extending its copyright terms, a Hungarian copyright maximalist called those who oppose anti-circumvention laws "hate-driven" and "Maoist", Italian courts were continuing to attack YouTube at every opportunity, the Vancouver Olympics in Canada was making even-more-insane-than-usual intellectual property demands, and the Vatican created a special new copyright-like right on everything related to the Pope. On the more positive side, Chile rejected an attempt to force ISPs to filter and block copyrighted works, and at least one Lord in the UK was fighting to include something good in the Digital Economy Bill.Fifteen Years AgoThis week in 2004, the recording industry was getting creatively evil in attempting to freeze money donated to the Red Cross because it came from the company that operated Kazaa. The CEO of India's eBay affiliate was arrested because people sold pornographic material on the site, ComScore was trying to invent a new category of "researchware" to avoid its tools being called spyware, the Washington Post bought Slate, and some courts that installed WiFi networks were suddenly a big price drop for its subscription service. And at a time when it was popular to panic about kids using "text speak" and forgetting how to write properly, one study showed that they are perfectly capable of doing both.

Permalink | Comments | Email This Story


Read more here

---
posted at: 12:00am on 29-Dec-2019
path: /Policy | permalink | edit (requires password)
0 comments, click here to add the first
---
---
Cloudflare Removes Warrant Canary: Thoughtful Post Says It Can No Longer Say It Hasn't Removed A Site Due To Political Pressure

Furnished content.


Late last week, Cloudflare put up a fascinating and thoughtful blog post discussing (among other things) a change to its warrant canary list. As you hopefully know, a warrant canary is when a service provider makes a proactive statement about something it has supposedly never done. The idea is that if that statement disappears at a later date, one might reasonably infer that the company had been forced to do the thing it claimed it had not ever done -- and, additionally, that it had possibly been gagged from saying so. There are (somewhat reasonable) criticisms of warrant canaries, and to date, they're probably more well known for false alarms than any actual report of gagged pressured malfeasance.Still, Cloudflare's public (so, not gagged) decision to delete a line from its warrant canary is interesting and worth thinking about. The original warrant canary from Cloudflare stated that the company hadn't done any of the following:
Cloudflare has never turned over our SSL keys or our customers SSL keys to anyone.
Cloudflare has never installed any law enforcement software or equipment anywhere on our network.
Cloudflare has never terminated a customer or taken down content due to political pressure.
Cloudflare has never provided any law enforcement organization a feed of our customers' content transiting our network.
Recently it added a few more and slightly modified the old ones, so that Cloudflare at the beginning of 2019 insisted that it had never done any of the following.
Turned over our encryption or authentication keys or our customers' encryption or authentication keys to anyone.
Installed any law enforcement software or equipment anywhere on our network.
Terminated a customer or taken down content due to political pressure*
Provided any law enforcement organization a feed of our customers' content transiting our network.
Modified customer content at the request of law enforcement or another third party.
Modified the intended destination of DNS responses at the request of law enforcement or another third party.
Weakened, compromised, or subverted any of its encryption at the request of law enforcement or another third party.
Now, you might notice that at the end of number three, there's an asterisk. That was done when Cloudflare kicked up quite a debate after it decided to remove Daily Stormer from its service. The asterisk was more or less a nod to the idea that things can be a bit more complicated than "political pressure." Cloudflare kicked off Daily Stormer because its CEO got sick of a bunch of neo-Nazis laughing and joking about Cloudflare for protecting them and keeping them online. Is that political pressure? Seems pretty subjective. Even Cloudflare's CEO, Matthew Prince, acknowledged this at the time, noting:
We're going to have a long debate internally about whether we need to remove the bullet about not terminating a customer due to political pressure. It's powerful to be able to say you've never done something. And, after today, make no mistake, it will be a little bit harder for us to argue against a government somewhere pressuring us into taking down a site they don't like.
The solution that Cloudflare came up with was to keep the line in there with the asterisk and an explanation. And now it's decided to remove the line entirely, as part of the decision earlier this year to remove 8chan from its service as well. However, it's still not an easy call, and the company wants you to understand the thought process it went through:
In August 2019, Cloudflare terminated service to 8chan based on their failure to moderate their hate-filled platform in a way that inspired murderous acts. Although we don't think removing cybersecurity services to force a site offline is the right public policy approach to the hate festering online, a site's failure to take responsibility to prevent or mitigate the harm caused by its platform leaves service providers like us with few choices. We've come to recognize that the prolonged and persistent lawlessness of others might require action by those further down the technical stack. Although we'd prefer that governments recognize that need, and build mechanisms for due process, if they fail to act, infrastructure companies may be required to take action to prevent harm.And that brings us back to our warrant canary. If we believe we might have an obligation to terminate customers, even in a limited number of cases, retaining a commitment that we will never terminate a customer due to political pressure is untenable. We could, in theory, argue that terminating a lawless customer like 8chan was not a termination due to political pressure. But that seems wrong. We shouldn't be parsing specific words of our commitments to explain to people why we don't believe we've violated the standard.We remain committed to the principle that providing cybersecurity services to everyone, regardless of content, makes the Internet a better place. Although we're removing the warrant canary from our website, we believe that to earn and maintain our users' trust, we must be transparent about the actions we take. We therefore commit to reporting on any action that we take to terminate a user that could be viewed as a termination due to political pressure.
I think this was probably the right call, but I'm just as on the fence about it as Cloudflare itself seems to be. There are strong arguments in either direction. The one thing I will say, though, is that I appreciate Cloudflare's willingness to be transparent in this way, and publicly discuss the tough calls its making on things like this. That's something few other companies (especially those as large as Cloudflare) would do. Instead, they'd either hide the removal, or try to PR the issue to death with some vague and noncommittal explanation. This, on the other hand, is direct and quite understandable, even if you disagree with various parts of it.

Permalink | Comments | Email This Story


Read more here

---
posted at: 12:00am on 28-Dec-2019
path: /Policy | permalink | edit (requires password)
0 comments, click here to add the first
---
---
Washington Court Says Local Pot Dealers Can Hang Up Christmas Lights That Spell 'POT'

Furnished content.


Buying and selling marijuana is legal in the state of Washington. There are several limits placed on these acts, but it's pretty much the equivalent of alcohol. You have to be 21, can only buy a certain amount at a time, and can't smoke it in public or drive under the influence.What's apparently illegal is playfully announcing your pot business sells pot using nothing but Christmas lights. (via Reason)In 2017, Hashtag Cannabis in Redmond, Washington hung up some Christmas lights on the store that spelled out "P-O-T." Here's a really terrible photo of the contested display, taken from the county court's ruling on Hashtag's pot sign:
Ho ho ho now I have a gravity bong.The local authorities -- the Washington Liquor and Cannabis board -- were not amused. The Board cited the store for violating restrictions on signage, claiming the string of Christmas lights exceeded the allowable size of 1,600 square inches by 2,300 square inches. It also said the sign was not "affixed" to the "permanent structure," which seems a little weird because lights have to be affixed to something and in this case it was the business' building. The Board also took issue with the word "POT" because it wasn't part of Hashtag Cannabis' business name.Two years later, Hashtag Cannabis has struck a blow for the little guy with Christmas lights, a weed business, and maybe a little too much time on his hands. The ruling [PDF] says the state's regulations run afoul of state free speech protections, as well as the US Constitution.The state argued its ban on POT in Christmas light form was crucial to the government's "substantial interest" in "curtailing minor children's interest in and exposure to the marijuana trade." Inarguably, this is a legitimate interest. However, the laws governing this speech aren't all that legitimate.
Though the State's position rises above speculation and conjecture, the advertising restrictions have too many conflicting provisions to directly and materially advance the State's substantial interest in preventing underage consumption of marijuana.
First, the court points out the law would allow a kid-enticing display of POT Christmas lights as long as it was a bit smaller.
As to content, at argument, counsel for the State agreed that Hashtag could register the word Pot as a business or trade name and then display the word Pot on an otherwise-compliant sign in the store. It follows that, so long as the sign was permanently affixed, no larger than 1,600 square inches, and did not exceed the two-sign limit, it would be permissible.
More ridiculously, Hashtag Cannabis could have built a billboard right next to the store that was even bigger -- containing the same message -- and would not have violated the statute.
While the State argues that the restrictions in RCW 69.50.369(2) advance the State's interest because they "minimize the risk of inordinately capturing the attention of children, youth, and young adults," Respondent's Answer at 11, other provisions in the regulatory scheme undermine the advancement of that goal. Hashtag could have a sign using the word Pot if it just registers that business or trade name, and it could conceivably have an entire billboard next door to its store with the word Pot.
None of this speech curtailment adds up to any meaningful attempt to steer kids away from pot.
If the State wishes to minimize the risk of capturing the attention of children, restricting retailers to two permanently-affixed signs displaying the business or trade name of no more than 1,600 square inches on premises, but allowing billboards off premises, and allowing retailers to register business or trade names such as Pot, does not directly advance that goal.
The county court doesn't say the whole law has to go. This is a very narrow ruling. But it's just wide enough to squeeze Hashtag's unorthodox Christmas light signage past it.
The Court's ruling is limited to the on-premises content, size, and affixing restrictions applicable to marijuana retailers, set out in RCW 69.50.369(2) and WAC 314- 55-155(2)(a). The lawful sale of recreational marijuana is relatively new, and it is perhaps not surprising if there is not much research into the effect of advertising on potential underage consumers. The Board could not address the constitutionality of the advertising restrictions. This Court can only say that, on this record, as supplemented, the advertising restrictions violate the U.S. and Washington constitutions. The Court's ruling does not eliminate all advertising restrictions or suggest a free-for-all.
Go wild with the lights, weed dealers. The county court has your back.

Permalink | Comments | Email This Story


Read more here

---
posted at: 12:00am on 28-Dec-2019
path: /Policy | permalink | edit (requires password)
0 comments, click here to add the first
---
---
Federal Court Blocks Unconstitutional Arkansas Law That Prevents Plant-Based Food Companies From Using Meat Words

Furnished content.


Another case of nonexistent "customer confusion" is being litigated. Tofurky, the maker of several vegetable-based products, sued the state of Arkansas over its bogus [squints at Legiscan in disbelief] "Act To Require Truth In Labeling Of Agricultural Products That Are Edible By Humans" law.The law, written at the behest of meat and dairy lobbyists, claims customers are "confused" by non-meat products that use meat-like words in their product descriptions. A law similar to this passed in Mississippi was recently found unconstitutional by a federal court, resulting in legislators rewriting the law to make it less, um, unlawful.The Arkansas law has an added bonus not found elsewhere: wording targeting the use of phrase "cauliflower rice." Why? Because Arkansas is home to the nation's largest rice industry.Not that any consumers were actually confused. If they had been, they would have approached lawmakers. Instead, the entities approaching legislators were entrenched interests claiming shoppers were too stupid to figure out veggie burgers don't contain meat.That law is now on death's door, having been savaged by a federal judge calling bullshit on the state's willingness to violate the First Amendment to make certain industries happy. (via AgWeek)The ruling [PDF] blocks the state from enforcing the law while the rest of the particulars are sorted out, but it seems clear there's no way the state can salvage this terrible legislation. Tofurky pointed out the law contains no exceptions for makers of plant-based meat alternatives, meaning the company has almost zero chance of ever complying fully with the law, even if it retools its packaging (at an estimated cost of $1,000,000) and does everything it can to keep Arkansas consumers from viewing ads targeting shoppers in states not saddled with idiotic laws.The state argued that Tofurky's use of words like "sausage," "kielbasa," "burger," and "ham" confuse consumers despite Tofurky also using words like "white quinoa," "all vegan," "plant-based," and a big "V" to distinguish its vegetarian and vegan products from the meats they emulate. The court says this argument is ridiculous.
The State appears to believe that the simple use of the word "burger," "ham," or "sausage" leaves the typical consumer confused, but such a position requires the assumption that a reasonable consumer will disregard all other words found on the label.[...]That assumption is unwarranted. The labels in the record evidence include ample terminology to indicate the vegan or vegetarian nature of the products. Additionally, "[t]here is no contention that any [consumer or potential consumer] was actually misled or deceived by" Tofurky's packaging, labeling, or marketing.
It also pulls a delicious quote from a 2013 decision dealing with a different state's attempt to carve out exceptions to the First Amendment on behalf of favored industries.
"Under Plaintiffs' logic, a reasonable consumer might also believe that veggie bacon contains pork, that flourless chocolate cake contains flour, or that e-books are made out of paper."
The court says the law is likely to be found unconstitutional. The state had other options to use to limit consumer confusion but decided to specifically craft a law that harmed plant-based food manufacturers and their free speech rights.
Tofurky identifies several in-effect federal and state laws directed at prohibiting deceptive labeling and marketing of food products, and consumer products more generally, with which Tofurky contends its food labeling complies; these laws have not been enforced against Tofurky's labels based on the record evidence before the Court (Dkt. Nos. 1, ¶¶ 21-33; 15, at 11- 12). There also is no convincing argument as to why each of these laws is ineffective at policing the alleged deceptive or confusing practices the State purports to target. Further, as opposed to the prohibition in Act 501, the State could require more prominent disclosures of the vegan nature of plant-based products, create a symbol to go on the labeling and packaging of plant-based products indicating their vegan composition, or require a disclaimer that the products do not contain meat if further laws are deemed necessary to advance its stated purpose.
Because it went this route, the new law may as well have never been written, massaged, and put into effect. The state is blocked from enforcing it until Tofurky finishes succeeding on its First Amendment claims. Yeah, I'm writing it that way because that's the only way this is going to turn out. The state doesn't have a compelling argument up its sleeve that's going to reverse what's seen in this injunction order.If legislators are going to close their minds and open their ears when lobbying dollars come calling, they're going to end up creating stupid crap that puts Constitutional rights on the back burner to allow a few powerful incumbents to make a few extra dollars. Fortunately, the courts (for the most part) don't care who's donating to whose re-election campaign.

Permalink | Comments | Email This Story


Read more here

---
posted at: 12:00am on 27-Dec-2019
path: /Policy | permalink | edit (requires password)
0 comments, click here to add the first
---
---
YouTube Takes Down Chanukkah Parody Of Old Town Road... Because It Infringes On A Date?

Furnished content.


The Maccabeats, as I have just discovered, is an Orthodox Jewish a capella group that specializes in Jewish-themed parodies of hit songs (pretty much all a cappella groups seem to do a bunch of parodies). Their latest video, for this year's Chanukkah, was a parody of both Billie Eilish's Bad Guy (here: "Pan Fry") and Lil Nas X's "Old Town Road." It's pretty entertaining. Anyway, on Tuesday, they got a takedown notice from YouTube, saying that the video is no longer allowed to be shown for copyright violations:

If you want to see the actual video, it does still appear to be up via Facebook (which, bizarrely, doesn't seem to have an embed option?!)There's always some risk with parody songs that someone jumps in and claims copyright, and that's possibly what happened here, though there are some oddities in the information YouTube provided to the Maccabeats, as noted in the tweet above. First, it says that the infringing part is from 1:15 to 1:48 in the video, which is roughly the part in which they're parodying "Old Town Road." So, it's probably some sort of Old Town Road claim. But... instead of saying that, it says the date in the part where it shows "Content used." That's weird.
Then, for "copyright owners" it says "Mako." Now, there are some fascinating stories to be told about the copyright for "Old Town Road" including that Trent Reznor actually gets a songwriting credit on it, because it samples 34 Ghosts IV from the Ghosts I-IV album (side note: Ghosts I-IV was part of what inspired my somewhat infamous 2009 Midem presentation, which caused some buzz among the recording industry). However, as far as I can tell, among the various people and companies with a copyright claim to Old Town Road, there is no "Mako."Oddly, there is an Israeli entertainment company called Mako, which offers video on demand content, and is one of the most visited websites in Israel. Given that, it's possible that the Maccabeats song appeared on Mako, and was then claimed on YouTube because of that.Either way, the Maccabeats seem quite reasonably pissed off. The song is about Channukkah, and we're about halfway through it this year, so they're on the verge of losing out on the biggest market for their song. Isn't copyright great?Update: And, it appears that YouTube has decided to put the video back up:

Permalink | Comments | Email This Story


Read more here

---
posted at: 12:00am on 27-Dec-2019
path: /Policy | permalink | edit (requires password)
0 comments, click here to add the first
---
---
When We Fail To Understand Privacy As A Set Of Trade-Offs, Everyone's 'Solutions' Are Unhelpful

Furnished content.


Last week, Karl wrote up a fascinating post about a NY Times effort to use a dataset that a whistleblower at a data broker firm gave them to track the whereabouts of President Trump, by spotting the location data of what appears to be a Secret Service agent detailed to the President. Karl included two quotes from two different Senators in the article, and I found both of them amusing, as they both basically took the story and responded with their own "hobby horse" solution to the problem, even though neither one of them seemed to accurately understand or describe it:
"This is terrifying, said Senator Josh Hawley, Republican of Missouri, who has called for the federal government take a tougher stance with tech companies. It is terrifying not just because of the major national security implications, what Beijing could get ahold of. But it also raises personal privacy concerns for individuals and families. These companies are tracking our kids."Tech companies are profiting by spying on Americans trampling on the right to privacy and risking our national security, Senator Elizabeth Warren, a Democrat running for president, told us. They are throwing around their power to undermine our democracy with zero consequences. This report is another alarming case for why we need to break up big tech, adopt serious privacy regulations and hold top executives of these companies personally responsible.
The Hawley quote is classic Hawley, because he immediately jumps to the claim that these companies are tracking our "kids." Many of his attempts at regulating big tech has resulted in "but think of the children" arguments. Even when he was directly asked to respond to a Techdirt article, he ignored the question and went on a rant about how much damage tech is doing to the children. Except, this story is entirely about location data on phones. So, um, maybe don't give your kid a phone and then they're not directly tracking your kid anymore? Yes, obviously it's more complicated than that, and with the kind of data at issue you could probably identify adults who were with certain kids and track them. So there are legit concerns as is clear from the initial report. But, it's kind of a weird thing to focus on "the children" when the companies themselves focusing on location data -- as bad as they are -- are not actually tracking kids unless you, the parent, give them a phone with location sharing turned on.Hawley sometimes likes to pretend he's against big government and especially against government taking over for parents. And, yet, here's a simple way that parents can take control in this situation: don't give your kid a phone with location info turned on.The Warren quote is a similar thing. She immediately latches onto her idea that the correct answer is to break up big tech. But... while the NY Times does not say exactly where it got the data from to make this report, they do explicitly say that this data is not from the big internet companies Warren has suggested breaking up (i.e., Google, Facebook, Amazon, or Apple). Those companies aren't in the business of selling or sharing your location data with third parties. Indeed, with Google and Apple, they actually tell you what data your phone is sharing and allow you to block services from accessing that data. The data appears to be coming from a smaller data broker firm who got it from elsewhere (most likely a sketchy app provider selling your location data). Yet Warren uses it as evidence that internet companies need to be broken up.Even if the data did come from such a company, it's difficult to see how breaking them up would solve any of the issues laid out in the report. Indeed, by cutting off ancillary and complementary lines of business, it's only likely to make such data collection efforts more central to a business, and push companies to rely even more heavily on such activity.So, yes, obviously the NY Times' reporting here raises all sorts of alarm bells and concerns -- and it's nice to see some Senators concerned about all of this as well. Except it would have been a hell of a lot nicer if they were actually concerned about what the report said, and didn't use it as an opportunity to spew nonsense, make a non-existent connection to their own personal stump speech talking points, and ignore what's actually happening. But, hey, I guess that's asking too much of our elected officials these days.Of course, all of this is just a symptom of a larger issue. As I've been talking about for years, we still don't fully understand what "privacy" means. Everyone seems to have a different conception of what privacy means, and that makes it quite difficult to talk about it -- but even more difficult to regulate it. This is why so many attempts at regulating privacy have insane unintended consequences. The quotes from Hawley and Warren just serve to illustrate all that. Neither are offering actual solutions to the issue of data brokers selling granular location data that can easily be de-anonymized. They're just pushing the same plan they've pushed in the past that vaguely speaks of "tech bad."

Permalink | Comments | Email This Story


Read more here

---
posted at: 12:00am on 25-Dec-2019
path: /Policy | permalink | edit (requires password)
0 comments, click here to add the first
---
---
Alabama Lawmakers Think The Time Is Right To Make Assaulting A Cop A 'Hate Crime'

Furnished content.


Another stupid, pointless effort to turn protectors and servants into professional victims is being mounted in Alabama. Cops can barely be bothered to educate themselves on the laws they're enforcing, but they're usually all over the ones that allow them to turn things they don't like into criminal activity.It's (yet another) "blue lives matter" law being foisted upon citizens by legislators who are altogether too certain they're in the right. Here's the backer of the proposed law that would turn cops into a protected group making a claim that's proven false before the end of the article at PoliceOne.
"Everyone agrees that it should be a hate crime to shoot a police officer," said state Sen. Cam Ward, R-Alabaster, and chairman of the Alabama State Senate Judiciary Committee where the hate crime legislation is reviewed. "I don't know anyone who opposes that. The question is, 'What gets tacked on?' Yes, you can find a bipartisan solution."
Everyone?
[Sen. Vivian] Figures said she favors "of doing everything we can to protect our law enforcement officials." But she said she's unsure if a hate crime law is the right vehicle.
The bill, written by Senator Chris Elliott, is his second attempt to push a cop-friendly hate crime bill through the legislature. Elliott possibly figures he'll have a better chance this year because more cops have been killed in Alabama than usual. There have been six law enforcement officers killed by residents this year, which puts the state towards the top of the killed in the line of duty list.The senator who spoke for everyone (while being wrong about what "everyone" agreed with) doesn't want this bill tainted with riders that would provide similar hate crime protections for others more deserving of these protections. Sen. Figures (who does not agree with Ward's assertion that "everyone agrees") may have been responsible for the death of Elliott's previous effort when she added an LGBTQ amendment to his 2018 "blue lives matter" bill. That's the sort of "tacking on" Ward is hoping to prevent here, in order to give cops more protections while leaving more vulnerable residents less protected.Adding to the stupidity is the fact that police already benefit from a law that provides an extra deterrent to killing cops.
In Alabama, killing a law enforcement while they are on the line of duty is an aggravating factor that is punishable by the death penalty.
These proposals have made periodic appearances in the years following the shooting of Michael Brown in Ferguson, Missouri. The shooting was a flash point in police-community relationships. With the current federal administration strongly pro-law enforcement, state-level legislators perhaps feel emboldened to pursue legislation that does little to protect cops, but everything to put more distance between law enforcement and the people they serve.These proposals are reactionary in the worst sense of the word. They're legislative affirmations that might makes right and the people with most might will continue to consolidate power. There's little evidence that suggests these laws are justified at any level. Most killings of cops are impromptu, not planned assaults inspired by an insatiable hate for law enforcement.The general public receives zero benefit from these laws. All that happens is a very well-protected group of government employees gets even more protections. The laws become vehicles for abuse and there's only so much courts can do to protect citizens if their "representatives" decide to serve fellow government employees rather than their constituents.The upside here is these proposals -- at least here in Alabama -- can be neutralized by adding amendments that would extend protections to people who don't wear the blue -- especially members of the public that far too many legislators don't feel are worthy of any protection.

Permalink | Comments | Email This Story


Read more here

---
posted at: 12:00am on 25-Dec-2019
path: /Policy | permalink | edit (requires password)
0 comments, click here to add the first
---
---
Nearly 4,000 Ring Credentials Leaked, Including Users' Time Zones And Device Names

Furnished content.


The eternal flame that is Ring's dumpster fire of an existence continues to burn. In the past few months, the market leader in home surveillance products has partnered with over 600 law enforcement agencies to:The latest bad news for Ring -- via Caroline Haskins of BuzzFeed -- is another PR black eye inflicted on a company whose face that still hasn't healed from the last half-dozen black eyes.
The log-in credentials for 3,672 Ring camera owners were compromised this week, exposing log-in emails, passwords, time zones, and the names people give to specific Ring cameras, which are often the same as camera locations, such as "bedroom" or "front door."
The compromised data plays right into the hands of the assholes who hang out in certain online forums solely for the purpose of hijacking people's Ring devices to hassle individuals who thought their homes would be more secure with the addition of an internet-connected camera.Ring says this leak of personal data isn't its fault. The company claims there's been no breach. Maybe so, but the information is out there and presumably being exploited.And it's kind of hard to take Ring's word for it. The company has been doing nothing but putting out PR fires ever since its law enforcement partnerships came to light earlier this year. And its explanation for where the sensitive data came from makes very little sense.
"Ring has not had a data breach. Our security team has investigated these incidents and we have no evidence of an unauthorized intrusion or compromise of Ring's systems or network," the spokesperson said. "It is not uncommon for bad actors to harvest data from other company's data breaches and create lists like this so that other bad actors can attempt to gain access to other services."
Ring's spokesperson did not specify which other "companies" it suspected of carelessly handling device names given to Ring devices by Ring users. The spokesperson also failed to explain why Ring took no interest in this sensitive Ring user info until after the security researcher who discovered the compromised credentials discussed his findings on Reddit. "Unable to assist" is not a proper response to notification of a possible breach, but that's exactly what Ring reps told the researcher when he first informed them of what he had found.Ring may have been quick to blame users for the commandeering of their cameras by a forum full of shitbirds, but the company does almost nothing to ensure users are protected from malicious activity. The only thing Ring does is recommend users utilize two-factor authentication and "strong passwords" (whatever that means). It does not alert users of attempted logins from unknown IP addresses or inform users how many users are logged in at any given time. Ring is doing less than the minimum to protect users but still seems to feel device hijackings are solely the fault of end users.This is a garbage company. There's no way around it. Ring has prioritized market growth and law enforcement partnerships over the millions of citizens/customers who own its products. Rather than provide a secure product that makes people safer, it's selling a domestic surveillance product that comes with law enforcement strings attached. It has shown it will bend over backwards for the government but is only willing to deliver the most hollow of "we care about our customers" statements in response to news cycle after news cycle showing it absolutely gives zero fucks about its end users.

Permalink | Comments | Email This Story


Read more here

---
posted at: 12:00am on 24-Dec-2019
path: /Policy | permalink | edit (requires password)
0 comments, click here to add the first
---
---
No Surprise: Judge Says US Government Can Take The Proceeds From Snowden's Book

Furnished content.


Back in the fall, we noted that, even if we thought it was silly, under existing law, it seemed highly likely that the DOJ would win its lawsuit against the publisher for Ed Snowden's memoir, Permanent Record. As I noted at the time, the government and the intelligence community in particular take the issue of "pre-publication review" incredibly seriously. Basically, if you take a job in the intel community, you sign a lifelong contract that says if you ever publish a book about anything regarding the intelligence community, you have to submit it for pre-publication review. Officially, this is to avoid classified information showing up in a book. Unofficially, it also gives the US government a sneak peek at all these books, and sometimes (it appears) allows them to hide stuff they'd rather not be public.As I noted when the lawsuit was filed, there is another ongoing lawsuit challenging pre-publication review requirements on 1st Amendment grounds -- but given the state of the law today, it seemed pretty clear that Snowden would lose this case. And, that's exactly what's happened. Judge Liam O'Grady (who seems to end up with all sorts of high profile cases) easily ruled in favor of the government last week. In short, the court says: an unambiguous contract is an unambiguous contract.
The plain meaning of the contracts set forth above require prepublication review of a signatory's public disclosure which refer to, mention, or are based upon, classified information or intelligence activities or materials. The contractual language here is clear, and this Court is therefore legally barred from accepting extrinsic evidence of course of performance, course of dealing, and common trade practices.
That was in response to Snowden's legal team from the ACLU trying to seek discovery to get more evidence to support his case before it went up for dismissal. No go. In the end, a contract is a contract:
The terms of these Secrecy Agreements are clear, and provide that he is in breach of his contracts and the fiduciary duties identified therein if his public disclosures include the type of information and materials the contracts required to be submitted for prepublication review. Specifically, the CIA Secrecy Agreement requires prepublication review of "any writing... which contains any mention of intelligence data or activities, or contains any other information or material that might be based on" certain information, which was "received or obtained in the course of [CIA] employment... that is marked as classified or [known to be classified or known to be in the process of classification determination]."... Similarly, the NSA Secrecy Agreement require prepublication review of "all information or materials... prepared for public disclosure which contain or purport to contain, refer to, or are based upon protected information," which is "[i]nformation obtained as a result of [a] relationship with NSA which is classified or in the process of a classification determination," including but "not limited to, intelligence and intelligence-related information."... Because there is no genuine dispute of material fact that Snowden publicly disclosed the type of information and materials described above in Permanent Record and his speeches, the Government is entitled to summery judgment on both Counts.
As Snowden pointed out when this happened, all this has really done is to draw more public attention to his book, of course. But, I can see from the DOJ's viewpoint that it may have felt that if it didn't go after Snowden and Macmillan for this, then others might question why they had to go through pre-publication review as well.

Permalink | Comments | Email This Story


Read more here

---
posted at: 12:00am on 24-Dec-2019
path: /Policy | permalink | edit (requires password)
0 comments, click here to add the first
---
---
This Week In Techdirt History: December 15th - 21st

Furnished content.


Five Years AgoThis week in 2014, the world was reeling from a major hack of Sony and a trove of documents it exposed. While the company was trying to put the genie back in the bottle (even being accused of engaging in DDoS attacks), the documents were revealing the MPAA's relationwhip with Attorneys General, especially Mississippi's Jim Hood in his investigations Google — soon followed by more evidence, then even more, prompting Google to file a challenge against Hood's subpoenas. We also learned more about the MPAA's ongoing desire for SOPA-style site blocking and its secret plan to break the internet by reinterpreting the DMCA. By the end of the week, the FBI had formally accused North Korea of being responsible for the hack.Ten Years AgoThis week in 2009, Microsoft made one of the most infuriating DRM screw-ups when Office 2003 started locking people out of their own documents, Blu-Ray was trying to implement a silly managed copy DRM, and Apple and various other companies were making it almost impossible to publish an audiobook without DRM. A woman who was arrested for filming snippets of New Moon was considering suing the theater, ASCAP was demanding licenses from venues that let people play Guitar Hero, and the FBI did its duty as Hollywood's police force and arrested the person who leaked Wolverine online. Meanwhile, Joe Biden convened a "piracy summit" that was completely one-sided, full of copyright maximalists complaining about theft, where reporters were kicked out so everyone could schmooze in peace. Congress also earmarked another $30-million to fight piracy, but we were at least somewhat pleasantly surprised when the White House actually came out in favor of copyright exemptions for the visually impaired.Fifteen Years AgoThis week in 2004, TiVo was still king of the DVR world, and started lashing out to protect its trademark in some questionable ways, while Blockbuster was trying to forestall its death at the hands of Netflix by doing away with late fees. A lawsuit was filed with the argument that software should not be copyrightable, the MPAA decided to start going after BitTorrent trackers, and SonyBMG was once again celebrating new DRM for CDs. And in Canada, a court overturned the country's tax on MP3 players, though we suspected that would just set the stage for new and even worse legislative changes.

Permalink | Comments | Email This Story


Read more here

---
posted at: 12:00am on 22-Dec-2019
path: /Policy | permalink | edit (requires password)
0 comments, click here to add the first
---
---
Billionaire Sheldon Adelson Is Trying To Use An Anti-SLAPP Law To Get Out Of Paying Anti-SLAPP Damages And It Ain't Working

Furnished content.


Billionaire casino mogul Sheldon Adelson has been known to be a bit litigious at times. Way back in 2015, when there was an effort underway to overturn Nevada's very good anti-SLAPP law, there was speculation that Adelson was behind the effort, due to him losing a case thanks to that law. It turns out that the remnants of that particular case are still going, despite dating all the way back to events in 2012. The issue involves the National Jewish Democratic Council posting a link concerning operations in Adelson's Macau casinos. The case went through a variety of different courts and was dismissed under Nevada's anti-SLAPP laws.But a variation on that case continued because when NJDC then sought compensatory and punitive damages for the original SLAPP suit, Adelson tried to flip the script and argued (among many other things) that the lawsuit against him for such damages was, itself, a SLAPP suit. Earlier this fall, the judge said that's not how any of this works.
Adelson next moves for dismissal under Nevada's anti-SLAPP law. He puckishly avers that his initial defamation suit even though it was dismissed as a SLAPP was itself protected conduct under the anti-SLAPP statute. He therefore argues that he is entitled to dismissal of this damages suit because it, too, qualifies as a SLAPP.[....]Under Adelson's reading of these two provisions, any anti-SLAPP damages action can itself qualify as a SLAPP if the previously dismissed SLAPP was a good faith communication i.e., if the previous suit was not objectively baseless. (Dkt. No. 30 at 6.) This interpretation of the statute, however, creates an oddity. It would be peculiar, to say the least, if Nevada wrote its anti-SLAPP statute to shield litigants who file SLAPPs from liability in a subsequent anti-SLAPP damages action. The twin aims of the statute are to protect defendants from litigation costs and to deter plaintiffs from bringing SLAPP claims. John, 219 P.3d at 1281. Those compensatory and deterrent purposes would be substantially undermined if the statute's damages provision applied only to the subset of SLAPP lawsuits that could be demonstrated to be objectively unreasonable or brought in subjective bad faith.
The court still explores this issue and then notes... sorry, Sheldon, that ain't gonna fly:
Adelson has not even attempted to meet his burden of production. For example, in order to establish that the communication was made in good faith, the movant must provide evidence that the communication was truthful or . . . made without knowledge of its falsehood. ... But Adelson has not provided any evidence whatsoever written or oral, by witnesses or affidavits, ... that the allegations in his initial lawsuit were truthful or brought without knowledge of their falsehood. Thus, Adelson has failed to demonstrate that his initial lawsuit was a good faith communication. Because he has failed this threshold showing, Adelson's special motion to dismiss is denied.
Adelson asked the court to reconsider this point, and a few days ago, the court again told Adelson that this is not how any of this works. Adelson tried to argue that he was held to a different standard when decrying this as a SLAPP suit than the folks on the other wide were held to when they called his original lawsuit a SLAPP suit. Part of the issue was that Nevada's anti-SLAPP law changed a bit between the first lawsuit and the latest one:
Adelson descries an inconsistency. But these holdings are easily reconciled. At the time of Adelson v. Harris, the Nevada statute provided only that the special motion to dismiss was to be [t]reat[ed] . . . as a motion for summary judgment.... Accordingly, the Court in Adelson v. Harris properly applied the summary-judgment standard to conclude that Adelson fail[ed] to demonstrate a genuine issue of material fact on the issue of good faith.... In 2013, however, the Nevada legislature removed the language likening an anti-SLAPP motion to dismiss to a motion for summary judgment and set forth a specific burden-shifting framework.... Under that framework, it is now the movant's initial burden to establish[], by a preponderance of the evidence, that the claim is based upon a good faith communication.... In this case, Adelson submitted no evidence whatsoever on the issue. Accordingly, Adelson failed to meet his burden, as required by the post-2013 statute, and his anti-SLAPP motion was properly denied.
In a footnote, the court also mocks Adelson trying to add "new facts" that were not brought up originally, and also points out that even if Adelson had met the burden described above, it still wouldn't have resulted in the case being dismissed, since the Plaintiffs had a legitimate claim for damages according to Nevada's anti-SLAPP law:
Further, as Plaintiffs correctly note, even if Adelson were deemed to have met his initial burden, he would still be disentitled to dismissal. The burden would then shift to Plaintiffs to demonstrate a probability of prevailing on the claim.... And because the sole precondition to prevailing on the claim for compensatory damages is the district court's grant of a special motion to dismiss, Plaintiffs would be able to do so.
While I doubt this case is anywhere close to over, despite all these years, it's looking increasingly like Adelson will, in fact, have to pay up.

Permalink | Comments | Email This Story


Read more here

---
posted at: 12:00am on 21-Dec-2019
path: /Policy | permalink | edit (requires password)
0 comments, click here to add the first
---
---
Study: Hadopi Has Been Great For Big Artists And Labels, Bad For The Spread Of Culture And Smaller Or New Artists

Furnished content.


Hadopi, the French law built to punish copyright infringers in graduated steps, was always controversial. In addition to many in the public scoffing at the punishment ramp the law put on the public, the actual effects of the law have been murky at best. While Hadopi basically ceased to be in 2016, it is true that the French public has been trending towards less piracy and more legal practices in its wake. Always at question is exactly how direct a relationship that kind of trend has with laws like Hadopi. Studies have straddled both answers to that question, even as we all realize the truth, which is that the impact of laws like Hadopi is nuanced.Fortunately, the latest study looking back at when Hadopi was first introduced has a nicely nuanced output. The academic study by Ruben Savelkoul compared digital music sales across several European countries looking to answer two questions. First, did Hadopi actually correlate to increased digital music sales through its threat of enforcement? Second, how were those effects spread across the music industry landscape and how long-lasting were they?The answers are quite fascinating. As to the first question:
One of the main findings is that Hadopi had a positive effect on the sales of digital music tracks in France compared to the two control countries. This effect was the strongest for popular artists. In addition, the findings suggest that the effect of Hadopi on sales decreased over time, except for bigger artists."The introduction of the Hadopi anti-piracy law in France had a positive effect on sales for all artists, superstars as well as artists lower in the sales distribution," Savelkoul writes. "The effect is stronger for superstars, suggesting that smaller or niche artists gain exposure from illegal downloading, partly offsetting the negative substitution effect on sales," he adds.
So, did Hadopi result in increased digital music sales? This study says "yes." However, the bulk beneficiaries of those increased sales were already massively popular artists. For the lesser known, or as of yet mostly undiscovered artists, the effect was low enough to have us question whether allowing for more piracy and discovery would have been even better. This gets to the heart of the modern copyright era. The entire point of copyright writ large is to promote more artistic creation and culture through limited monopolies on creations. The point of copyright is absolutely not to create a music industry monoculture where only a few artists get noticed and survive. Yet this study seems to show that's what Hadopi did.And how the culture creation cross-genre shook out after Hadopi tells an even worse story.
This leads to the second hypothesis tested by Savelkoul. Did the anti-piracy measures lead to a reduction in variation when it comes to music consumption? This indeed turned out to be the case."We found that in the absence of piracy, consumers tend to concentrate more on genre and style," Savelkoul writes.The researcher suggests that piracy makes it easier to discover newer music. As a result, people consume more different types of music. Stricter anti-piracy measures limit this effect and as a result music fans buy more 'popular' music."In absence of the possibility to sample 'adventurous' music, consumers might not be willing to pay and purchase these music items to discover its quality and instead opt for 'safer' purchases, thus consuming less variety," Savelkoul notes.
So, again, we find that the anti-piracy measures story is far more nuanced than some would like you to believe. The question is not: do you want artists to make money from their creations or not? Instead, the question appears to be: which do you care about more, famous artists being able to strictly control access to their content, or the larger spread of culture? Because if you answer the latter, it seems clear that anti-piracy measures like Hadopi work counter to that goal.Anyone that cares about art should understand that new, inventive, and foreign art adoption by consumers is absolutely preferred, full stop. The spread of art and culture is, in many respects, art's entire point. None of this is to say that we cannot have some form of copyright protection and enforcement that doesn't limit cultural spread, of course, but it is certainly to say that any anti-piracy measure that has the sort of effects that Hadopi had should be a complete nonstarter in the future.

Permalink | Comments | Email This Story


Read more here

---
posted at: 12:00am on 21-Dec-2019
path: /Policy | permalink | edit (requires password)
0 comments, click here to add the first
---
---
Elon Musk And SpaceX Just Backed Down From Earlier Promise To Release SpaceX Photos To The Public Domain

Furnished content.


Well, this is very disappointing. Back in 2015, you may recall that there was an effort to get SpaceX to put its photos into the public domain. As you hopefully know, all NASA photos, as works of the US government, are in the public domain -- which let us post photos like this one:
But as more and more spaceflight gets privatized, there were concerns that future space photos may increasingly get locked up behind copyright.After an initial outcry, SpaceX initially agreed to use a Creative Commons license, but one that restricted usage to non-commercial efforts. As we pointed out at the time, that really wasn't good enough. Why does SpaceX need copyright as incentive to take photographs?After people pointed this out to Elon Musk, he said that they had a good point and that he changed SpaceX's policy to dedicate all the photos to the public domain. And that's how it's been for over four and a half years.Until now. As Vice's Motherboard reports, SpaceX has now gone back to a more restrictive Creative Commons license, one that says no commercial use is allowed. While using CC is better than going all out with full restrictions, this is still a very disappointing move. The company has told reporters that news organizations can still use the images, and many will have to rely on that promise. While Creative Commons has put a lot of effort into "clarifying" what is meant by "non-commercial" in recent years, including highlighting that for profit news orgs should still be able to make use of such works, that's not really been tested in court.And, considering that Elon Musk has an occasionally antagonistic relationship with the press, you could see an unfortunate situation in which he decides to go after a journalism organization that upsets him by claiming that they were misusing the "NC" part of the license on a SpaceX photo.So, once again, we have to ask: why is SpaceX doing this? Why is it going back on Musk's earlier promise that all SpaceX photos would be in the public domain? Why does SpaceX need the restrictions of copyright as an incentive to take photos? Isn't just being able to get to space enough incentives to take some photos?

Permalink | Comments | Email This Story


Read more here

---
posted at: 12:00am on 20-Dec-2019
path: /Policy | permalink | edit (requires password)
0 comments, click here to add the first
---
---
Ghosh Yoga College Claims Copyright Infringement Over Netflix Documentary On Bikram Choudhury

Furnished content.


While the volume isn't enormous, I would still say that there are entirely too many Techdirt posts on the topic of yoga. Most of those center around yoga instructors somehow thinking that a specific progression of yoga poses is somehow deserving of copyright protection or patents. The whole thing feels antithetical to yoga practices to begin with, which are at least in part about bringing a calm spiritual experience into a healthy living style. Paywalling that is an odd choice.But it gets all the more strange when a yoga organization somehow thinks that a documentary using footage to tell its story runs afoul of copyright law. That is what's happening in a public war of words between Netflix and Ghosh's Yoga College, where Bikram Choudhury studied early in his career. The documentary is entitled Bikram: Yogi, Guru, Predator, and it details the story of Choudhury and accusations from those in his classes that he'd used racist invective and has been sexually inappropriate towards them. Where Ghosh's Yoga College comes in, however, is to complain publicly that the film used video of Choudhury practicing at its facilities.
Ghosh's Yoga College, based in Kolkata, is claiming video footage and photographs used in the film is actually theirs, and want its immediate removal, according to the report. In the film, early footage of Choudhury learning yoga at the school is aired as he attended the site and built his craft."For the past four years, I have worked hand in hand with Ghosh's Yoga College as one of only three people who have permission to use family specific photos and material to preserve the legacy of Bishnu Charan Ghosh," Ida Jo, ambassador for Ghosh's Yoga College, told Metro in an interview. "They trust me to represent them around the world."When the production team reached out to me to get photos and materials for their new film about Bikram Choudhury, I relayed this information to the Ghosh family," she added. "They said they had no interest in being involved. I told the filmmakers 'No.' Despite explicitly telling the producers they would need permission to use materials owned by Ghosh's Yoga College, including photos and the contents of Yoga Cure, they used them anyway."
Perhaps we need to invent a "fair use" yoga pose. I'm not sure what that would look like, but I'd certainly expect to see Netflix strike such a pose if any legal action is initiated here. The college can claim protection on these images all it likes, but Netflix would surely have a strong Fair Use case if it got to court. Bikram Choudhury is undoubtedly a public and controversial figure. Suggesting that historical footage of such a person could be walled off through a permission structure, particularly given that footage's relevance to the documentary material, would be crazy.The public comments from Jo thus far read like a copyright dispute, but any such dispute would run squarely into fair use. More likely, the college probably would prefer its name not be associated in the film with the controversial Choudhury and is flailing around trying to figure out a way to keep that from occurring.Unfortunately, that's not how copyright law in America works.

Permalink | Comments | Email This Story


Read more here

---
posted at: 12:00am on 20-Dec-2019
path: /Policy | permalink | edit (requires password)
0 comments, click here to add the first
---
---
Yup, Strike 3 Is Going The Prenda Route By Filing 'Pure Discovery' Suits In FL State Court

Furnished content.


We were just discussing the deafening silence coming from two of the most prolific copyright trolls in federal courts, Malibu Media and Strike 3 Holdings. While both trolls had set a record-breaking pace for the better part of this year, both also suddenly went mostly silent over the last couple of months. As we indicated in that post, Strike 3 specifically appears to have simply moved its operations to Florida state courts. While we were not totally sure why that would be at the time of the last post, we had a theory.
This may have to do with an attempt to avoid precedence in rulings as to the evidence it uses, chiefly the practice of pretending that IP addresses identify people. If that isn't it, it could also be some version of the trick Prenda Law attempted to pull in moving copyright-cases-in-disguise to Florida courts. Essentially, they sue instead with a nod toward the CFAA as a way to enter into discovery, while also naming a bunch of co-conspirators -- rather than defendants -- to the case. All of this as a way to get at IP address and account information for a whole bunch of people in state court, only to turn around and sue those same co-conspirators in federal court. If that is what Strike 3 is doing, it's really dumb because it got Prenda in a bunch of trouble.
It turns out that's exactly what is happening. Strike 3 is suing ISPs with complaints of "a pure bill discovery". The entire purpose of those types of suits are to discover defendants. In this case, Strike 3 is asking the court to order ISPs to identify account holders of IP addresses it claims are infringing copyright. It's not actually a copyright lawsuit, however, as that would have to be filed in federal court. Instead, this looks to be an end run around copyright law and the costs associated with filing in federal court.
In this case, this means a subpoena directed at ISPs to identify the account holder that's linked to the allegedly infringing IP-addresses. This tactic provides the same result as going through a federal court and allows Strike 3 to demand settlements as well. While the number of cases in state court is relatively modest, these cases target a substantially higher number of defendants per case. That's also one of the main advantages. By filing a single case with dozens or hundreds of defendants, the filing fee per defendant is very low.In federal court, the company generally targets one defendant per complaint, which is far more expensive. And while Strike 3 mentions that it is requesting the information for a subsequent copyright lawsuit, it will likely try to get a settlement first.
These state courts also don't have the muscle memory built up to push back on Strike 3's trollish lawsuits, using scant evidence such as IP addresses to unmask private citizens. Reporting suggests Florida courts have already granted subpoenas in many of these cases. In others, however, there is thankfully some pushback.
Attorney Jeffrey Antonelli and his firm Antonelli Law's local counsel Steven Robert Kozlowski objected to these subpoenas on behalf of several defendants. In his motion to quash he highlights a variety of problems, including the earlier observation that copyright cases don't belong in a state court."This Court lacks subject matter jurisdiction over the copyright claims at issue in the lawsuit which the subpoena to Comcast is premised upon. Federal courts have original and exclusive jurisdiction over civil actions arising under federal copyright law," the motion reads.Another problem is that the purpose of the "pure bill of discovery" is to obtain facts or information a defendant has. However, the targeted ISPs are not defendants in these cases. Finally, the motions highlight that the IP-addresses may not even be linked to Florida, where the court is based. Strike 3 should have known this, as they always disclose the location in federal court. However, they may have omitted it on purpose, the defense argues.
It's some form of justice to see a copyright troll sue ISPs in state court over federal copyright laws, looking for defendants that aren't subjects of the suit, and all while that same troll withholds facts from the court that would illuminate yet another reason the lawsuit shouldn't have been filed in that state court to begin with. Whatever the trifecta is for getting a court to sanction a lawfirm, this certainly seems to fit the bill.And, yet, with state court judges not being as well versed in copyright law as their federal cousins, these subpoenas often get approved. That's a problem, one which will see copyright trolling get exponentially worse if it's allowed to continue. Here's hoping there is enough pushback from defendants so as that doesn't occur.

Permalink | Comments | Email This Story


Read more here

---
posted at: 12:00am on 19-Dec-2019
path: /Policy | permalink | edit (requires password)
0 comments, click here to add the first
---
---
New North American Trade Deal Keeps Useful (But Limited) Liability Protections, Dumps Bad Biologics Data Protection

Furnished content.


When the NAFTA replacement "USMCA" agreement was first announced last year, we noted that it included a mix of good and bad ideas. The key good idea was that the USMCA contained a bit of language establishing a requirement for strong intermediary liability protections, similar to (but not exactly the same as) Section 230's protections in the US. Among the really bad ideas was expanding the data protection term for biologics -- which, we've noted, is really dangerous for basic science and innovation for new drugs -- but was supported by big pharmaceuticals to increase their monopoly power and ability to extract monopoly rents.So it seems like good news that the latest version of the agreement keeps the intermediary liability protections and drops the biologics piece, which has the big pharma companies screaming angrily.The intermediary liability protections for tech also have lots of people complaining -- including from both parties, but it's all ridiculous. First of all, most of the people freaking out about this are the very same people who originally loved the idea of sneaking ideas like longer copyright terms and anti-circumvention provisions into trade deals, and are now mad that internet companies are realizing that other ideas, that are better for the internet and free speech, can be put into those deals as well.Perhaps more importantly -- as you hear more people whining about the inclusion of intermediary liability protections in USMCA -- is that these protections aren't even that strong, and Canada is already talking about ways to put more liability on internet services, despite what it's about to agree to in the USMCA. In other words, while it's good to see this language in the agreement, which will, at the margins, help keep the internet more open for free speech, the actual impact of this provision may be limited by creative efforts to write around the agreement -- and now just becomes a stick for those pushing the whole "techlash" narrative to beat against a wall.

Permalink | Comments | Email This Story


Read more here

---
posted at: 12:00am on 19-Dec-2019
path: /Policy | permalink | edit (requires password)
0 comments, click here to add the first
---
---
Oregon Cops Complain State Supreme Court's Traffic Stop Decision Is Making Their Job Harder

Furnished content.


Oregon's Supreme Court threw local law enforcement for a loop by removing the pretext from "pretextual stop." The ruling handed down late last month went further than the US Supreme Court's Rodriguez decision. The SCOTUS decision simply said traffic stops can't be extended without reasonable suspicion. When a citation or warning is handed out, the stop ends.The Oregon ruling expanded on that. The court said that if a cop stops someone for speeding, they'd better stay focused on the speeding. In the case before them, an officer testified he always asked drivers a bunch of questions unrelated to the traffic stop when conducting traffic stops. The state's top court said that's no longer permissible. The "unavoidable lull" during traffic stops can now only be used to ask questions related to the purpose of the stop, rather than to fish for consent to a search or to extend the stop until reasonable suspicion of some other criminal act develops.This is a pretty drastic change and it's already resulted in the dismissal of a drug bust apparently stemming from a pretextual stop.
Johnathan Chavez, 30, of Variello, California was stopped on northbound Interstate 5 in December 2018 with more than four and a half pounds of methamphetamine, according to court documents filed by Oregon State Police in Jackson County Circuit Court. In October, the case went to a jury, who found Chavez guilty on felony counts of delivering and possessing methamphetamine.This week, however, Jackson County Deputy District Attorney Johan Pietila moved to dismiss the charges pursuant to a recent Oregon Supreme Court opinion.
A wave of new "technicalities" is poised to sweep Oregon courtrooms, where prosecutors will find their cases have been hampered by law enforcement officers more interested in turning routine stops into drug-related expeditions than in enforcing traffic laws.Needless to say, cops aren't fans of the ruling. Here's what Washington County Sheriff spokesman Danny DiPietro told CNN: cops will have to alter their traffic stop patter.
"If we see the individual and they have bloodshot watery eyes, flushed looks ... and we believe that they're under the influence of alcohol then we establish what's called reasonable suspicion," he said.
How much patter is allowed is apparently unclear.
But the problem with the ruling, he says, is it doesn't specify what they are and aren't allowed to say."We haven't gotten complete clarification on that and that's what's frustrating," he said. "We don't want to be robotic."
This probably isn't a deliberate misreading of the opinion. But the opinion is actually very clear: no questions not supported by reasonable suspicion. If suspicion is present, cops are free to explore that conversation tree. If not, cops can't pepper drivers with questions in hopes of developing enough suspicion to take the traffic stop further.Another Oregon law enforcement official is convinced the ruling will allow criminals to freely travel public roads without fear of police interference.
The Hermiston Police Department is prepared to comply, according to Hermiston Police Chief Jason Edmiston."This is going to further hinder the ability to stop potential criminal activity in motion," He said. "So much contraband is in motion all the time in vehicles."He said the ruling could eventually cause a decline in DUI enforcement.
Chief Edmiston isn't wrong. Plenty of contraband is in motion at all times. But plenty of contraband is also motionless, stashed away in people's houses at all times. And cops aren't allowed to go from house to house knocking on doors and hoping residents will let them in without a warrant. Cops need a reason to approach someone's house. The contours of the Fourth Amendment shouldn't drastically change just because someone decided to drive from point A to point B.As for DUI enforcement, it seems pretty clear the physical manifestations of intoxication are reasonably suspicious enough to allow a traffic stop for a minor infraction to develop into a roadside DUI investigation.The decision does make it more difficult for officers to do their jobs they way they're used to doing their jobs. It does not make it more difficult for them to do their jobs properly. The Constitution hasn't changed. What has changed is the jurisprudence surrounding it. Over the years, cops have been given a lot of slack when it comes to traffic stops and searches of vehicles on public roads. This ruling only reels in a bit of the line. It won't create more criminals or encourage existing criminals to carry more contraband more often. All it really does is prevent cops from treating a large percentage of routine traffic stops as the first step in a spontaneous criminal investigation.

Permalink | Comments | Email This Story


Read more here

---
posted at: 12:00am on 18-Dec-2019
path: /Policy | permalink | edit (requires password)
0 comments, click here to add the first
---
---
Beyond The Taco: Someone Is Now Trying To Trademark 'Breakfast Burrito'

Furnished content.


This very morning, I paid $5 for a breakfast burrito at a place near where I work. To be frank, I regret to say that it was ultimately disappointing. How in the world do you construct a steak breakfast burrito that lacks salt? The great news for me is that there are roughly a gazillion places around me that also advertise breakfast burritos, so I currently have other places to get them. The bad news, however, is that someone out there is taking a run at trademarking "breakfast burrito", so that might not be the case in the future.
Recently, the Twitter account for Timberlake Law—a North Carolina based specialist in trademarks and copyrights—posted a link to the United States Patent and Trademark Office's website for an application to trademark the term "Breakfast Burrito."Though most people will inherently sense that this seems ridiculous, Timberlake does a good job of spelling out the reason: "While it's true that the drawing and specimen should match, the mark and the goods shouldn't," the tweet explains. To put it another way, the application seeks to trademark the phrase "Breakfast Burrito," but in the section where the applicant explains what the trademark is for, the answer is "Breakfast burritos; Burritos." Basically, if the only way you can describe what you're trying to trademark is by using the same phrase as the trademark, then there's a solid chance that the phrase is common enough that it can't be trademarked in the first place. It doesn't take much legalese to understand that.
Put more simply: a trademark can't be for the generic name of a product or service. This should be obvious to all, as the point of trademark law is absolutely not to narrowly limit the choices consumers have for a given product or service. Still, this concept seems to elude some people.The whole thing should remind you of the whole "Taco Tuesday" fiasco that is continuing to date, where Taco John's somehow got a trademark for a phrase that describes serving people tacos on Tuesdays. In fact, that analogous trademark issue is useful as a marker for how the Trademark Office is complicit in fostering an environment in which people think they can trademark something like "breakfast burrito."As to who is actually trying to do so in this case, it's something of a mystery.
So who exactly wants the rights to eggs wrapped in a tortilla in the morning? Eater attempted to get to the bottom of this application and, unsurprisingly, didn't get very far. The site "reached out to the person listed on the application," whose address "matches that of a personal injury law firm in LA," but "did not hear back on requests for comment made over email and the phone by press time."So what's this all amount to? Likely very little. Anyone with a few hundred bucks can attempt to trademark anything. Receiving a trademark and then protecting it is far more difficult, and based on the assessment of Timberlake and findings of Eater, this attempt to register "Breakfast Burrito" appears to be a random shot in the dark.
A shot that should, and likely will, fail. Still, we have a Taco Tuesday trademark, so how much of a stretch is it to see the USPTO rubberstamping one for "breakfast burrito" as well?

Permalink | Comments | Email This Story


Read more here

---
posted at: 12:00am on 18-Dec-2019
path: /Policy | permalink | edit (requires password)
0 comments, click here to add the first
---
---
Copyright Trolls Go Mostly Silent In US Federal Courts

Furnished content.


Readers here will be familiar with the practice of copyright trolling and the toll this extortion by threatened litigation has had on the public and the court system. You will also be aware that a huge chunk of copyright trolling efforts in America have been undertaken by two companies: Malibu Media and Strike 3 Holdings. Both companies have had setbacks as of late, between ownership and investor issues, and a series of both losses in court and judges who are finally starting to catch on to the shady way these trolls attempt to extort money from people with scant evidence.It is perhaps in part due to those struggles that both companies have essentially gone dark in federal courts as of late.
In recent years, the vast majority of the U.S. lawsuits were filed by two adult entertainment companies; Strike 3 Holdings and Malibu Media. Together, they filed over 3,300 new cases last year, which was an all-time record. Initially, it appeared that they would continue on the same course this year. During the summer we reported that Strike 3 alone had already filed over a thousand new complaints. However, in recent months that changed drastically.Looking through the federal court records we noticed that there was a notable absence of new cases from both Strike 3 Holdings and Malibu Media. Instead of filing hundreds of new cases, both companies haven't been active for weeks. Strike 3 filed its latest complaint in early August, more than four months ago. Malibu Media had its latest filing spree in August as well and only submitted seven new complaints after that, most recently in October.
This appears to be the full story with Malibu Media. Strike 3 is a different matter, however, as it looks as though the company has made a strategic decision to file its cases in Florida State court rather than federal court. This may have to do with an attempt to avoid precedence in rulings as to the evidence it uses, chiefly the practice of pretending that IP addresses identify people. If that isn't it, it could also be some version of the trick Prenda Law attempted to pull in moving copyright-cases-in-disguise to Florida courts. Essentially, they sue instead with a nod toward the CFAA as a way to enter into discovery, while also naming a bunch of co-conspirators -- rather than defendants -- to the case. All of this as a way to get at IP address and account information for a whole bunch of people in state court, only to turn around and sue those same co-conspirators in federal court. If that is what Strike 3 is doing, it's really dumb because it got Prenda in a bunch of trouble.Either way, the total number of cases filed by these two companies combined, and thereby the number of copyright trolling cases in federal court writ large, have tumbled significantly. This should highlight that speaking out and pushing back on the tactics of these companies can indeed work. Or, at the very least, have an effect.

Permalink | Comments | Email This Story


Read more here

---
posted at: 12:00am on 17-Dec-2019
path: /Policy | permalink | edit (requires password)
0 comments, click here to add the first
---
---
Drug Tests Administered By Prison Staff Aren't Much Better Than The Terrible Ones Deployed By Cops

Furnished content.


Faulty drug tests deployed by law enforcement continue to ruin lives. Usually, it's cheap field tests used by officers during traffic stops that turn legal substances into illegal substances, resulting in hefty criminal charges for people who've never used drugs, much less carried them around in their cars.The current faulty drug test debacle isn't likely to generate as much sympathy or result in wide-ranging investigations of drug testing tech. These drug tests are negatively affecting people who are already locked up, which isn't quite as disturbing as minor moving violations escalating into felony drug charges.But it's still disturbing, even if it isn't taking innocent people off the streets. Documents leaked to Gothamist show hundreds of inmates have been subjected to harsher punishments, extended sentences, and loss of privileges thanks to drug tests corrections officials knew were unreliable.
New York state corrections officials believe that approximately 2,000 prisoners were subject to a flawed drug test that produced false positives and led to increased punishment across the state, according to documents obtained by WNYC/Gothamist.The problem may have been caused by a chemical mishap known as "cross reactivity," which can lead to a clean subject falsely appearing to have used drugs, the documents say.Roughly 300 prisoners were affected at the Fishkill Correctional Facility alone, according to a staff memo.
In one case reported by the New York Daily News, an inmate in a drug treatment program saw his time in the New York correctional system turned into a complete nightmare by inaccurate drug tests.
Anthony Cortes was in school at New York's Willard Correctional Facility's drug treatment campus in early March when he got called for a routine drug test.[O]fficials told him the test came back positive for Buprenorphine, a medication commonly prescribed to treat opioid addiction. He was booted from Willard's program, transferred to Five Points Correctional Facility and thrown into solitary confinement. A second drug test in April came back with the same results and more time in isolation.Yet by mid-September — following nearly 200 days in solitary and four and a half months after his scheduled release — officials realized they had made a grave error.
Cortes is now suing the state over its use of faulty drug tests and the deleterious effect it had on his incarceration. Cortes isn't the only one suing over these tests. Courthouse News Service reports a class action lawsuit has been filed on behalf of an unknown number of inmates who have been punished for "failing" faulty drug tests.
[Nazeda] Steele-Warrick, who lives in Queens, filed a federal class action Wednesday against two diagnostic companies whose drug tests she says produced false positives, leading to punishment for inmates who were in fact clean. The 36-year-old former inmate sued Delaware-based Microgenics Corporation, which makes clinical diagnostic products, and Thermo Fisher Scientific, which manufactured the urine-analysis drug tests.
According to Warrick's lawsuit [PDF], the state's Department of Corrections later confirmed the test results jailers used to strip her of privileges were erroneous. But before that happened, this happened:
Individuals assigned to keeplock have limited access to their property, packages, telephones, correspondence, and visitors, and their commissary privileges are suspended, pending a disciplinary determination.Ms. Steele-Warrick felt tremendous shame and humiliation as she was marched away in handcuffs past her peers and friends.Unlike her private room, which had a door she could self-close and open, Ms. Steele-Warrick's keeplock cell was behind locked and secured steel bars. The room had only a locker, sink, and toilet. It did not have the night stand, radio, or closet that Ms. Steele-Warrick had in her private room. Her meals were delivered through a "feed-up slot" in the bars.Ms. Steele-Warrick did not have access to any of her belongings in her keeplock cell. Her first day there, she could not access her toothbrush, shampoo, or soap. Although she eventually obtained those items, she did not have any of her other personal belongings, including her books or magazines.While Ms. Steele-Warrick was confined in keeplock, correction officers emptied out her private room, searching and cataloguing all of her personal belongings and securing away most of it in storage.A package of food from Ms. Steele-Warrick's husband arrived while she was in keeplock, and correction officers confiscated all the fresh vegetables and produce, later leaving Ms. Steele-Warrick with only a couple of canned items.
The false positive also had the potential to disrupt Warrick's immigration proceedings, which relied on her being able to demonstrate she was not dangerous person in order to continue living with her family. It also caused her to be cut off from her family when her visitation rights were revoked.This isn't new and this isn't limited to New York. Prisoners in Washington have filed enough complaints the Department of Corrections is finally allowing challenged test results to be retested. And in 2013, New York's top court gave a probationer permission to sue drug testing equipment manufacturers directly for the faulty drug test that resulted in the revocation of his release.Meanwhile, drug testing equipment aimed at visitors to correctional facilities are generating false positives that punish both inmates and their families.
The ion scanners devices are designed to detect trace amounts of particles. Correctional Service Canada has placed these devices in the lobbies and mailrooms of some of its prisons in a bid to reduce the flow of drugs into its facilities.The devices are extremely sensitive, and MOMS [Mothers Offering Mutual Support] says in its petition that the scanners set off false positive readings at an "alarming" rate.Anne Cattral, whose son is incarcerated at Ontario's Warkworth Institution, said she has lost count of the times she has tested positive for morphine, hash, opium and heroin. She follows a rigorous regime of washing, cleansing coins and jewelry and driving with plastic gloves before visiting the prison to limit the chances of a false reading.Cattral said a positive test can lead to the visit being denied. It is also recorded on an offender's file, affecting future private family visits, transfers, and parole, she said.
It may well be the country's correctional services know they're working with unreliable equipment. But the best kind of deniability is the plausible kind.
[CSC spokesperson Esther Mailhot] said CSC does not collect data on false positives in testing.
Yeah. You don't want to be doing that. That only helps litigants suing the CSC and does nothing at all for CSC officials who don't like to be sued.It's your word against theirs (the government's) out in the free world. Once you're incarcerated, you pretty much don't even have your word any more. If someone convicted on drug charges tests positive for drugs, everyone just assumes everything is working correctly, even if it actually isn't. Maybe these lawsuits will alter this assumption just a tiny bit.

Permalink | Comments | Email This Story


Read more here

---
posted at: 12:00am on 17-Dec-2019
path: /Policy | permalink | edit (requires password)
0 comments, click here to add the first
---
---
The CIA: Collect It All Sale Is Almost Over... Order Now And Get 25% Off!

Furnished content.



Get 25% off your copy of CIA: Collect It All with
the code HOLIDAY2019 until December 17th »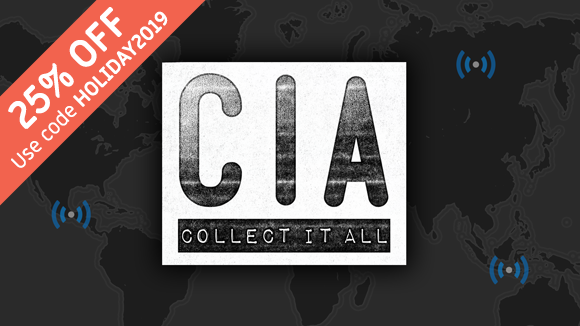 There are only three days left in our very first sale on CIA: Collect It All, the real training game for CIA analysts that we reproduced and launched on Kickstarter last year. The sale runs through Tuesday, December 17th which is also the deadline to order with express shipping and still get it in time for Christmas. Use the promo code HOLIDAY2019 with your order to get 25% off »
CIA: Collect It All includes 170 cards representing global crises, intelligence gathering techniques, and the unexpected circumstances and opposition that frustrate them. Plus, it contains rules for two separate games: the original CIA training game, and a storytelling variant that uses the cards for a more narrative roleplaying experience.
If you want to check it out first, or just print your own copy, the print-and-play version is now free on itch.io with the complete set of cards and rules formatted for easy home printing.

Get 25% off your copy of CIA: Collect It All with
the code HOLIDAY2019 until December 17th »

Permalink | Comments | Email This Story


Read more here



---
posted at: 12:00am on 15-Dec-2019
path: /Policy | permalink | edit (requires password)
0 comments, click here to add the first
---
---
Bogus DMCA Notices Still A Huge Problem As Apple Gets Unfairly Blamed For Reddit Takedown

Furnished content.


As we've discussed in the past, the DMCA system is enforced in such a way as to make it wide open for abuse. One of the chief problems is that, while the DMCA does include potential punishments for filing bogus notices under 512(f), the courts have traditionally appeared to have forgotten that this part of the law even exists. The end result is that anyone looking to censor or extort others by either filing or threatening to file bogus DMCA notices is mostly free to do so without risk. The times when 512(f) actually gets a spotlight are so few and far between as to be news when it happens. This has been going on, and has been pointed out by various publications, for years.And yet it still goes on. Earlier, Mike wrote about Apple sending a questionable DMCA takedown to Twitter regarding a tweet, but there was a separate part of that story. Beyond the takedown to Twitter -- which everyone (including Apple) recognized as coming from Apple -- there were other takedowns sent to Reddit, leading the subreddit /r/jailbreak to go into lockdown. This followed the removal of several posts discussing how that Apple encryption key was taken down (as explained in the earlier post). Many leapt to the conclusion in both the media and wider internet that Apple was behind the shuttering of /r/jailbreak as well.
Since Apple was behind the takedown on Twitter and the most obvious culprit in respect of the DMCA takedowns on Reddit, many fingers were pointed towards the Cupertino-based company. However, despite the best efforts of the moderators on /r/jailbreak, Reddit's admins would not provide the necessary information to identify who filed the DMCA notices or on what grounds.With uncertainty apparently the order of the day, moderators of the discussion forum took the drastic decision to put their platform into lockdown."Locking down the subreddit to prevent new threads is one of the 'standard' responses moderators take to show the admins that the mod team isn't playing, and that they are serious and ready to remedy the issue," a post from the mods reads. "Too many DMCA notices eventually end up with a warn and a ban (or just a ban) from the admins to whatever subreddit these notices are being sent to."
Part of the problem when it comes to this sort of thing with Reddit is that the site isn't at all transparent about the DMCA notices it receives. Due to that lack of transparency, the logical conclusion to which everyone leapt wasn't immediately countered by the documented reality. Because, as it turns out, the DMCA notice Reddit received which led to all of this was a fake. And a poorly constructed one at that.
And, according to fellow developer 'axi0mX', the fake notice wasn't particularly well constructed either."We reviewed it and confirmed that it was someone impersonating Apple. It was not sent from their law firm, which is Kilpatrick Townsend. There are issues with grammar and spelling," he revealed."This notice was obviously not submitted in good faith, and it was not done by someone authorized to represent Apple. Not cool. They could be sued for damages or face criminal charges for perjury."
There are multiple issues here. The DMCA is by nature open to a non-zero sum of abuse. That non-zero sum gets higher and higher due to the courts and government not bothering to enforce the parts of the law that punish the abuse and fraud. Finally, the law creates a situation where sites like Reddit can decide against transparency when it comes to these DMCA notices, meaning that the fraud works all the better in creating a public backlash against a victim that, in this case, didn't deserve it.If we're going to have a DMCA at all, it sure would be nice if it could be properly enforced.

Permalink | Comments | Email This Story


Read more here

---
posted at: 12:00am on 14-Dec-2019
path: /Policy | permalink | edit (requires password)
0 comments, click here to add the first
---
---
Nevada's Top Court Says The State's Journalist Shield Law Also Applies To Bloggers

Furnished content.


Some good news for journalists in Nevada, via FourthAmendment.com. A decision made earlier this year by a state court has been reversed, resulting in an expansion of the protections offered by the state's journalist shield law.In March, Judge James Wilson -- overseeing a defamation lawsuit filed by Storey County Commissioner Lance Gilman against blogger Sam Toll -- decided the journalist shield law only protects journalists who work for printed newspapers. While it acknowledged the 1969 law also covers television journalists, it refused to extend these protections to Sam Toll and his blog, the Storey Teller.Toll was actually a member of the Nevada Press Association at the time he was sued, but Judge Wilson said that didn't matter because the alleged defamation occurred before he received these credentials. Wilson ordered Toll to divulge his sources. Toll challenged this decision, resulting in the state's Supreme Court letting the lower court know it can't define "journalism" so narrowly.The decision [PDF] says the court needs to buy a few more dictionaries. The definition of "print" the lower court used isn't the only one available.
Because "newspaper" was not defined by NRS 49.275, the district court relied on the definition of newspaper in other statutes as well as in a dictionary. When examining statutory definitions, the district court found that in order to constitute a newspaper, the media source must be "printed." This was consistent with the dictionary definition of newspaper the district court used, which also stated a newspaper is "printed." Therefore, because Toll's blog was not printed in physical form, the court ruled it could not be a newspaper. However, if the district court had pursued the literal meaning of "print" further, it would have found that it could apply to digital media as well as physical form. In one dictionary, "print" is defined as "to make a copy of by impressing paper against an inked printing surface." Print, Webster's Third New Int'l Dictionary (2002). However, in another dictionary, "print" is defined as "to display on a surface (such as a computer screen) for viewing." Print, Merriam-Webster's Collegiate Dictionary (11th ed. 2020). Because "print" possesses two definitions that are equally applicable to this statute, the district court erred in limiting itself to only one.
The court then cites the Supreme Court's Kyllo decision, which expanded Fourth Amendment protections to cover intrusive searches that don't actually involve the government entering the home. In the Kyllo case, thermal imaging was used to "search" a house for occupants without actually going inside the residence. As the court points out here, protections offered by law shift over time, even if the original wording remains unchanged. If the Fourth Amendment protects against searches that don't actually involve entering the home, it stands to reason the definition of journalism goes farther than covering printed newspapers only.
While the drafters of NRS 49.275 knew what a newspaper was, they likely did not contemplate it taking digital form. But just because a newspaper can exist online, it does not mean it ceases to be a newspaper. To hold otherwise would be to create an absurd result in direct contradiction to the rules of statutory interpretation. In Kyllo, the court considered technological advancements and arrived at the conclusion that one can "search" in more than one way. See 533 U.S. at 31-33. We consider technological advancements as well and arrive at the conclusion that one can "print" in more than one way.
The court doesn't go so far as to say a blog is a newspaper, but Sam Toll and his blog shouldn't be excluded from the state's shield law just because Toll's journalistic output isn't printed on paper.
While we decline to resolve whether or not a blog falls under the definition of a newspaper, we conclude that a blog should not be disqualified from the news shield statute under NRS 49.275 merely on the basis that the blog is digital, rather than appearing in an ink-printed, physical form.
The case goes back to the lower court with Commissioner Gilman's demand that Toll identify his sources blocked. Without this, it's unlikely Gilman will be able to continue pursuing his defamation lawsuit. This decision is a win for the state's independent journalists, who are now protected by a law that hasn't been revised since 1975. "Print" isn't just ink and dead trees and hasn't been for years. The state's top court recognizes this and now the rest of the state's courts are on the same digital page.

Permalink | Comments | Email This Story


Read more here

---
posted at: 12:00am on 14-Dec-2019
path: /Policy | permalink | edit (requires password)
0 comments, click here to add the first
---
---
Florida Appeals Court Says Govt's Lack Of Good Faith Can't Save A 2012 Warrantless Stingray Deployment

Furnished content.


A good ruling [PDF] has been issued by a Florida Appeals Court -- one that not only affirms its earlier warrant requirement for Stingray use, but also reminds law enforcement that the good faith exception isn't as expansive as they think it is. (via FourthAmendment.com)In 2018, the same court said the use of cell site simulators required warrants. Unlike collecting cell site location info from third parties (which was fine until the Supreme Court's Carpenter decision), Stingray devices turn the government into the second party, coercing location info from phone users by forcing them to connect to law enforcement's fake cell towers.That decision doesn't bring precedential force to this case, which deals with events that happened six years before the state appeals court's 2018 ruling.
In 2012, the State charged the defendant with first-degree murder after his mother was found dead in their shared apartment. Detectives tracked the defendant using cell-site location information and a cell-site simulator. The defendant was found sitting in the victim's parked car along with several pieces of evidence. The defendant moved to suppress the evidence, arguing it was obtained in violation of his Fourth Amendment rights. The trial court granted the motion to suppress, and the State appeals. We affirm the suppression order.
Six years later, a whole lot of evidence in a murder trial is going to be eliminated. The government's attempt to have the good faith exception applied dead ends here as well. The state argued detectives deployed the Stingray device without a warrant in good faith, since there was no binding precedent forbidding them from doing so. But the court points out it isn't willing to grant "good faith" to officers doing stuff just because no one has told them they can't yet.The officers might have operated in good faith if their warrant request wasn't crafted in bad faith. The court notes precedent at that time (prior to the Supreme Court's Carpenter decision) allowed law enforcement to obtain cell site location info without a warrant.
Here, the State lacks the benefit of longstanding precedent authorizing the warrantless use of CSLI. However, Tracey I and the statutes authorizing law enforcements to access CSLI with a court order, taken together, provided sufficient precedent on which the detectives reasonably relied.
But investigators didn't actually obtain CSLI from a third party. They deployed a cell site simulator instead.
The cell-site simulator is another matter. Neither the application nor the court order mentioned a cell-site simulator.
The state might be technically correct, but technically correct isn't good enough in Florida.
In 2012, no binding case law addressed whether police must obtain a warrant to use a cell-site simulator. The good faith exception applies when binding precedent affirmatively authorizes a particular police practice.
Authorization is the key. And this court is one of the few that has applied the good faith standard this way. The government should not be able to operate freely in legal vacuums. That's what many choose to do, and far too many courts have decided good faith applies until something is expressly forbidden by a precedential decision. Not here.
The Fourth Amendment violation here is precisely the kind of violation the exclusionary rule seeks to deter. The CSLI data led detectives to a broad search area where the defendant was located. Unable to find the defendant's exact location, the detectives went outside the scope of the court order and used a cell-site simulator to locate him.
This should be the standard for the good faith exception.
The government cannot rely on the absence of binding decisional law in this area to conduct a warrantless search.
The government should act cautiously in the absence of binding precedent. Instead, it exploits every gray area not sufficiently explored by courts. This is not how public servants should act when faced with a lack of specific guidance. Making up the rules as you go along is not "good faith." Neither is hiding the use of a cell site simulator behind a court order for cell site location info. The more the government acts this way, the less it can be trusted. Moving it back in line with the principles it's supposed to be upholding will take more decisions like this -- ones that call out bad faith for what it is, rather than pretend every under-explored area of the Fourth Amendment is covered by the good faith exception.

Permalink | Comments | Email This Story


Read more here

---
posted at: 12:00am on 13-Dec-2019
path: /Policy | permalink | edit (requires password)
0 comments, click here to add the first
---
---
Restaurant Association Looks To Take Back Taco Tuesday For The People

Furnished content.


You may have noticed something of a steady stream of posts from us on the topic of a "Taco Tuesday" trademark held by the chain Taco John's. Taco John's has used this descriptive trademark to bully all kinds of other restaurants into not advertising their own taco Tuesday offerings, while also leaving alone the vast majority of small purveyors of tacos on Tuesdays. The ubiquity of Taco Tuesdays is mostly what has everyone confused as to why Taco John's is acting like Taco Jerks: the term is descriptive and, even if it weren't, fully generic at this point.It was enough to, and I can't believe I'm saying this, get LeBron James involved. You see, just like dragons, LeBron loves tacos. And he likes promoting his own consumption of tacos on Tuesdays and he very much thinks that everyone should be able to use the phrase as they please. To that end, LeBron took to the Trademark office pretending to want to trademark "Taco Tuesday" for himself when he was actually hoping to get denied due to the generic and descriptive nature of the mark... which is exactly what happened. We said then that it was now only a matter of time before someone decided to go on the offensive to take Taco Tuesday back by inviting Taco John's to issue a threat so that this hero group could point to the Trademark Office's denial of LeBron's trademark, with the ultimate goal being invalidating the Taco John's trademark.Well, that has now happened. The Orange County Restaurant Association has gone all in, going so far as to by the tacotuesday.com domain.
Now joining the effort is California's Orange County Restaurant Association, which recently bought the domain TacoTuesday.com. Why OCRA? Well, its members know a thing or two about a good taco—and the domain presents a great marketing opportunity for them, founder and president Pamela Waitt told the Orange County Business Journal."That's part of our agenda here, is to really illuminate the Orange County restaurant industry, which can be challenging when you're sandwiched between Los Angeles and San Diego," Waitt said.But she notes that there's also a bigger goal at play: OCRA hopes to open the phrase up to everyone else, creating a resource for taco culture in general. In a news release, Waitt characterized the group's role as "peacemaker."
OCRA can characterize itself however they like, but this is pretty clearly a shot across the bow at Taco John's, practically begging the chain to issue a threat or file suit. If that occurs, OCRA would likely seek declaratory judgement that its use does not infringe due to the generic nature of the trademark, which would get the ball rolling on invalidating the trademark.
The association plans to relaunch the website next spring with 500 listings of taco shops in five states, providing the listings for free to restaurants. OCRA says it will make the domain "an umbrella brand for taco events, social media activations, media tours, guest chef interviews, and an opportunity to foster strategic partnerships, corporate citizenship, philanthropic giving, and beyond."
None of which really requires having a domain name of tacotuesday.com, except if the organization wants to promote itself through the news, poke Taco John's in the eye, or both.So maybe, just maybe, our long national taco nightmare will come to an end soon.

Permalink | Comments | Email This Story


Read more here

---
posted at: 12:00am on 13-Dec-2019
path: /Policy | permalink | edit (requires password)
0 comments, click here to add the first
---
---
Chooseco Chooses An Adventure In Bullying Indie Game Devs Over Trademark

Furnished content.


Earlier this year, after Netflix released an iteration of its Black Mirror series entitled Bandersnatch, which allowed the viewer to choose their own story path through the narrative, the company behind the famed Choose Your Own Adventure books from our childhood sued. Chooseco, armed with a trademark registration for "Choose your own adventure", claimed that Bandersnatch infringed on that trademark, first because the film has a nod of homage to the literary series within the script, and second simply because many in the public compared the film with the books of their youth. Meanwhile, thanks to the renewed attention that Netflix gave CYOA books -- for FREE! -- , Chooseco inked a deal with Amazon to create CYOA style narratives for the Alexa device.That success hasn't stopped Chooseco's bullying ways, however. Recently, itch.io's leadership has publicly warned indie game developers to stop describing their games as choose your own adventures on the site after Chooseco issued several takedowns of games that did so. In case you were concerned that the facts before the public didn't perfectly convey how absurd this all is, never fear:
Itch.io founder Leaf Corcoran told developers about the takedowns this afternoon. "Warning to any devs using the phrase 'choose your own adventure' to describe their games, Chooseco is issuing takedown notices," he wrote on Twitter. Corcoran tells The Verge that the games include Purrfect Apawcalypse, an "apocalyptic dog dating choose your own adventure game"; a "choose your own dating sim text adventure" game called It's a Date; an unofficial GameBoy game called Choose Your Own Adventure GB; and New Yorker writer Luke Burns' A Series of Choose Your Own Adventure Stories Where No Matter What You Choose You Are Immediately Killed by a Werewolf, whose plot is self-explanatory.
Clearly, these indie games with mere descriptions in their summaries and/or game titles are a grave threat to the Chooseco empire. After all, what member of the public could possibly stave off confusion over a video game being accurately described as involving a choice in adventure without naturally assuming that this must be from the same company as the books of their childhood?This is all stupid on many levels. Chooseco's trademark is at least partially descriptive. I know that's true, because some of the games that have been the victim's of this bullying have only used the trademark in their games'...you know...descriptions. That feels about as open and shut an answer as these questions tend to have. Add to that the fact that literature and Amazon Alexa narratives aren't the same as video games and I would question whether these are even in the same market as Chooseco products. Finally, I would also question whether there is a single iota of potential public confusion to consider here.And, to be clear, the end result of this bullying thus far is part mockery by other publishers and part simply ignoring Chooseco entirely.
Mainstream publishers have found clever ways to get around the trademark. A Gravity Falls branching-choice book, for example, is billed as a "Select Your Own Choose-Venture" novel. And you can't officially tag a game as "choose your own adventure" on Itch.io; it's automatically converted to "interactive fiction."Even so, an Itch.io search for "choose your own adventure" still turns up a lot of results. (The common abbreviation "CYOA" also apparently hasn't triggered any notices.) It's a widely accepted informal genre name, and Itch.io is a platform that favors offbeat, often free-of-charge games from independent developers.
Your bullying has resulted in mere mockery and dismissive waves. Turn to page 26 if you'd like to go to your room and think about what you've done, or turn to page 77 if instead you want to continue to make the world hate you with your bullying.

Permalink | Comments | Email This Story


Read more here

---
posted at: 12:00am on 12-Dec-2019
path: /Policy | permalink | edit (requires password)
0 comments, click here to add the first
---
---
Marvin Gaye Family Not Done With Pharrell Just Yet: Bring Him Back To Court Claiming Perjury

Furnished content.


The Blurred Lines lawsuit is the case that just keeps on giving... if the gift you're looking for is legal shenanigans and ridiculous situations. As you'll recall, that was the case in which Marvin Gaye's family suggested that because the Pharrell/Robin Thicke song "Blurred Lines" paid homage to Marvin Gaye's "Got To Give It Up" with a similar groove, that it was infringing on Gaye's copyright. The whole thing was crazy -- and somehow the court bought it. Despite there not being any actual copying of any copyright-protected content, just the mere similarity of feeling in the song is enough to infringe.This has created quite a frenzy of nonsense, with artists now afraid to even mention their inspirations, lest they get sued, and sued again for every song they release. The situation has gotten so insane that even the RIAA has stepped in to say that perhaps copyright has gone too far in protecting works. Yes, the RIAA said that copyright may be protecting too much. This is pigs flying, snow in hell, cats and dogs living together, madness.And, believe it or not, the original case apparently is not fully over yet. During the original case, Pharrell gave a deposition claiming that he didn't intend to copy Marvin Gaye:
"I did not go in the studio with the intention of making anything feel like, or to sound like, Marvin Gaye."
But... in a recent GQ published video interview between Pharrell and famed music producer Rick Rubin, Pharrell made an off-hand comment about this same issue. Throughout the interview, he talks about "channeling" other artists when he's in the studio.Then somewhere along the line he mentions the Blurred Lines mess, by saying (around 28 minutes into the interview):
Pharrell: But I think for the most part, what we always try to do was reverse engineer the songs that did something to us emotionally and figure out where the mechanism is in there, and as I said to you before, try to figure out if we can build a building that doesn't look the same but makes you feel the same way. I did that in Blurred Lines and got myself in trouble.Rubin: Ridiculously.Pharrell: Stevie Wonder told me, he said, 'you gotta get the right musicologists in there because juries don't understand -- it's very technical what you've done.'Rubin: Because the song is nothing like the songPharrell: Nope, but the feeling was.Rubin: But the feeling is not something you can copyright.Pharrell: No, you can't copyright a feeling. All salsa songs sound pretty much the same.Rubin: Yes. And reggae songs. Any genre.Pharrell: 100 percent.Rubin: Trap music sounds relatively similar.Pharrell: But here's the difference. What we failed-- And it hurt my feelings. 'Cause I would never take anything from anyone. And that really set me back.... But I was really hurt, because what I realized all too late was that what he was trying to tell me was that I needed to do was use my gift to make music, to reverse engineer the disparity between the truth and the jury's uneducated opinions. And I say that, because rayon and silk feel the same, but we understand that there's a clear difference. And that was what happened.Rubin: Yeah.Pharrell: Like, I really made it feel so much like it, that people were like, oh, I hear the same thing.
And, so, in a new filing by the Gaye Estate (first noted by THREsq), they're claiming that Pharrell perjured himself in his deposition by saying that he had no intention to channel Gaye:
In the November 4, 2019 Interview, among other things, Williams admits the following:

(1) in creating a new song, he often tries to reverse engineer an older song that did something to us emotionally, so that he can figure out where the mechanism is in [the original song], and build a building that doesn't look the same but makes us feel the same way, and that he did that in 'Blurred Lines' and I got myself in trouble; and(2) he actually did too good of a job in this reverse engineering when it came to Got To and Blurred: I really made it ['Blurred'] feel so much like it ['Got To'], that people were like, oh, I hear the same thing.

As discussed further below, these admissions are irreconcilable with Williams's repeated, sworn testimony in this action that: neither Got To nor Marvin Gaye ever entered his mind while creating Blurred, that he did not try to make Blurred feel like Got To or sound like Marvin Gaye, and that when creating music Williams looks into oblivion. We look into that which does not exist.
Hilariously, the filing tries to make sure that the court does not pay attention to other parts of the interview -- notably, the long section about how it's ridiculous to argue that you can copyright a "feeling."
As a matter of introduction and clarity, and to avoid all doubt so there is no misunderstanding about what this Motion is not about: this Motion is not about whether Williams and Robin Thicke (Thicke) committed copyright infringement with respect to Got To. This Motion is also not about Williams's very public pronouncements in this Court, in the media, in the November 4, 2019 Interview, and elsewhere that one cannot copyright a feeling, that all music within a genre supposedly sounds the same, and his belief that Blurred and Got To are not compositionally the same (one supposedly being rayon and one being silk according to Williams). The jury, this Court, and the Ninth Circuit Court of Appeals have all spoken on those issues.
The whole case is a mess, but this part of the dispute, including this silly claim of perjury, is just an attempt to get even more money out of Pharrell, this time in seeking attorneys' fees for the Gaye family's lawyers.And, of course, all it will really do is remind musicians to never credit their sources, to never talk about their process, and to hinder future musicians for years, if not decades. All for an extra buck.

Permalink | Comments | Email This Story


Read more here

---
posted at: 12:00am on 12-Dec-2019
path: /Policy | permalink | edit (requires password)
0 comments, click here to add the first
---
---
Trolling The Trademark Troll: Lemonade CEO Releases Chrome Extension To Remove Magenta From Websites

Furnished content.


You will recall that last month we discussed the latest iteration of T-Mobile's ongoing war to defend its trademark on the color magenta, as well as close variants of that color. While there are instances in which a particularly unique color or shade of color can be trademarked by a company, this case involved T-Mobile's parent company, Deutsche Telekom, bullying insurance company Lemonade out of using the color magenta in its branding. Given that the insurance and mobile phone industries are quite disparate, this never should have been a dispute, regardless of how ridiculous it is for a company to have exclusive rights to a color like magenta.The folks at Lemonade appear to agree. While the company complied with Telekom's C&D, it also launched a PR blitz to highlight how insane this all is. First, Lemonade launched its #FreeThePink campaign to raised public awareness, and is taking its case to EUIPO to try and invalidate the trademark. But that wasn't all. The staff of Lemonade has now released a Chrome browser extension that, ahem, helps enact T-Mobile's vision of being the only purveyor of pink out there.
Pending the decision of European IP authorities, a Lemonade employee, Itamar Kestenbaum, wrote a Chrome extension called Pink-Out.In fact, it's fair to say that Kestenbaum primarily wanted to showcase Deutsche Telekom's appalling behavior.What the extension – essentially designed to troll the troll – does is strip all webpages, except those belonging to the German company itself, of "questionable shades."
The app itself claims it helps those browsing the internet to be "pink-compliant", chiefly as a way to highlight the absurdity of all of this. In addition, the extension's page says that with a click of a button all pink is removed from the depiction of public websites, except those owned by T-Mobile. The page concludes with:
This extension is free -- like the color pink should be.
I'll give the company this: they're certainly making Lemonade out of the magenta-hued lemons T-Mobile has handed them.

Permalink | Comments | Email This Story


Read more here

---
posted at: 12:00am on 11-Dec-2019
path: /Policy | permalink | edit (requires password)
0 comments, click here to add the first
---
---
FTC Slaps Cambridge Analytica With An Order Barring The Already Defunct Company From Illegally Collecting Data Ever Again

Furnished content.


There still remains little to no evidence that the silly games played by Cambridge Analytica actually did anything at all to influence voting practices in the US. However, Facebook allowing the company to get a bunch of data was a big part of the basis for hitting the company with a $5 billion fine earlier this year. The FTC also went after Cambridge Analytica, targeting the company, its CEO Alexander Nix, and the academic/app developer Aleksandr Kagan, whose app was used to grab all that Facebook data.Of course, Nix and Kagan settled with the FTC a while back and Cambridge Analytica shut down in 2018. The company -- whatever is left of it -- completely ignored the FTC, and thus the FTC has now issued a mostly meaningless opinion, saying that the company violated the already problematic EU-US Privacy Shield agreement around transferring data across the Atlantic, and because of that Cambridge Analytica (which, I should remind you, is no longer around) is now barred from doing this again.
In its Opinion, the Commission found that Cambridge Analytica violated the FTC Act through the deceptive conduct alleged in the complaint. The Final Order prohibits Cambridge Analytica from making misrepresentations about the extent to which it protects the privacy and confidentiality of personal information, as well as its participation in the EU-U.S. Privacy Shield framework and other similar regulatory or standard-setting organizations. In addition, the company is required to continue to apply Privacy Shield protections to personal information it collected while participating in the program (or to provide other protections authorized by law), or return or delete the information. It also must delete the personal information that it collected through the GSRApp.
That'll show 'em.

Permalink | Comments | Email This Story


Read more here

---
posted at: 12:00am on 11-Dec-2019
path: /Policy | permalink | edit (requires password)
0 comments, click here to add the first
---
---
Russia Blocks All Of Shutterstock Due To 'Offensive' Image Involving The Russian Flag

Furnished content.


We've talked quite a bit over the years about Rozcomnadzor, the Russian agency in charge of policing the internet for copyright infringing content... and really anything else that the Russian government decides it doesn't like. The agency operates exactly as deftly as you would expect, routinely blocking entire sites that are in regular use in Russia over a tiny percentage of "illicit" use. The problem, of course, is that Rozcomnadzor often interprets "illicit" uses of the internet to mean embarrassing public Russian figures with ties to the government, criticizing the government itself, or using basic internet security tools such as VPN to keep the Russian government out of one's internet use. This makes it all the more infuriating that American groups such as the MPAA have happily signed on with the Russian agency in an effort to protect copyright content, despite the agency's more widespread aims.It keeps happening. Recently, stock photo site Shutterstock -- all of it -- suddenly appeared on the Russia banned sites list. You might be assuming that this is a copyright issue, but it isn't.
However, those who visit the URL detailed at the top of the notice will find what appears to be an image of a Russian flag placed in the middle of a pile of excrement. Russian authorities do not take kindly to their national symbols depicted in such a fashion and have laws in place to prevent it.As a result, Russian ISPs are now blocking two Shutterstock-related IP addresses (one in Germany, one in the Netherlands) which are both operated by cloud company Akamai. Whether other sites using the same IP addresses are also being affected is currently unclear.For good measure, Russia is also targeting the image.shutterstock.com domain. As highlighted by Russian digital rights group Roskomsvoboda, which first reported the news, this is particularly problematic since rather than tackling just a single URL, a whole HTTPS subdomain is in the register.
As a recap, because the Russian government is upset over someone putting an image online of the Russian flag in less than flattering circumstances, Shutterstock's domain is blocked nationwide. This is about where I'd like to ping the MPAA and ask again about its support of Rozcomnadzor. After all, the MPAA signed on with the Russian agency over a concern on copyright protection, ostensibly so that creative types could sell their wares to legitimate buyers. With this overreaction of a site-wide block of Shutterstock, a whole bunch of stock photo artists have suddenly lost their ability to sell their creative works.One also wonders just how long this can go on without a massive reaction by the internet-using Russian public. After all, with these massive overblocks, eventually the Russian government will run out of internet to deprive of its citizens.

Permalink | Comments | Email This Story


Read more here

---
posted at: 12:01am on 10-Dec-2019
path: /Policy | permalink | edit (requires password)
0 comments, click here to add the first
---
---
The Subtweet Defense Wins: Elon Musk Cleared In Defamation Case

Furnished content.


A little over a year ago when cave diver Vern Unsworth sued Elon Musk for defamation, we noted that (unlike many defamation cases), it did not appear to be an out-and-out SLAPP case. That said, we noted that many of the claims in the lawsuit did not look to be about defamatory speech at all, and that would make much of the lawsuit an uphill battle. The part that appeared to be the most problematic for Musk, however, was the emails he had sent to Buzzfeed reporter Ryan Mac after the initial tweets, in which he made more detailed accusations, including what appeared to be factual statements implying deeper knowledge about Unsworth.However, as the case played out, Unsworth dropped any defamation claims regarding the emails. It appears that Musk had hit back on those claims by suggesting that if they were defamatory, they were actually Buzzfeed defaming Unsworth, since it was Buzzfeed that had published Musk's quotes. Perhaps to avoid getting bogged down in that fight, Unsworth's legal team chose to focus just on the tweets, and not the email -- even though the email seemed to go closest to the line (if not over) of defamation. Musk's legal team still then asked for the Buzzfeed emails evidence to be excluded from any damages calculation, which the judge allowed. In the end, the focus was just on his tweets, and that allowed for a courtroom explanation of how insults fly freely on Twitter, suggesting that most people engaged on Twitter know better than to take random accusations and insults as factual statements.In the end, the jury sided with Musk with the reasoning more or less being the "subtweet defense." Because Musk didn't directly name Unsworth in his tweets, they couldn't reach the high bar of defamation:
One juror told BuzzFeed News the decision came down to the notion that a reasonable person could not read Musk's "pedo guy" tweet and determine that it was associated with Unsworth. The judge laid out five points for defamation as soon as we got to point two, which was about being acquainted [with the defamed person], we decided, said Carl Shusterman, a Los Angeles attorney who served on the jury. The people that read Musk's tweet wouldn't have known who he was talking about.
That... is actually a bit surprising. Because it was pretty clear who Musk was referring to with those tweets (and the fact that he doubled down later confirmed that). Still, on the whole this was a good thing for free speech and the 1st Amendment. Insults do fly pretty freely on Twitter, and it's good to see a jury recognizing that you shouldn't automatically accept any random insult as a factual statement about someone. Indeed, it seems reasonable to think that few, if any, people actually believed Musk's statements about Unsworth were true -- and rather assumed that Musk was just mouthing off without much self-control.

Permalink | Comments | Email This Story


Read more here

---
posted at: 12:01am on 10-Dec-2019
path: /Policy | permalink | edit (requires password)
0 comments, click here to add the first
---
---
Last Chance To Get CIA: Collect It All For Christmas With Standard Shipping, And Save 25%

Furnished content.



Get 25% off your copy of CIA: Collect It All
with the code HOLIDAY2019 »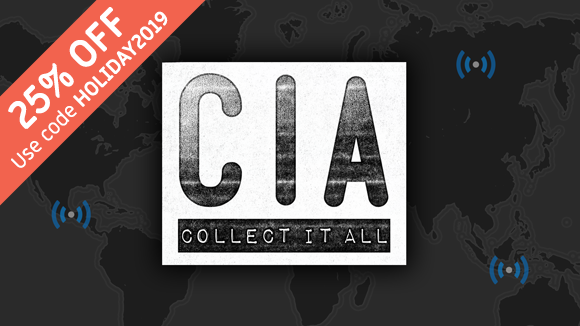 Our first ever sale on CIA: Collect It All, the real training game for CIA analysts that we reproduced and launched on Kickstarter last year, will be running for another week and change — but this weekend is your last chance to order it with standard shipping in the US and still get it in time for Christmas. Monday is the deadline, and then you have until December 17th to order with express shipping. Use the promo code HOLIDAY2019 with your order to get 25% off »
CIA: Collect It All includes 170 cards representing global crises, intelligence gathering techniques, and the unexpected circumstances and opposition that frustrate them. Plus, it contains rules for two separate games: the original CIA training game, and a storytelling variant that uses the cards for a more narrative roleplaying experience.
After our current stock runs out, we don't know if or when the game will be coming back! So if you want to make sure you get your hands on a copy, order sooner rather than later. And if you want to check it out first, or just print your own copy, the print-and-play version is now free on itch.io with the complete set of cards and rules formatted for easy home printing.

Get 25% off your copy of CIA: Collect It All
with the code HOLIDAY2019 »

Permalink | Comments | Email This Story


Read more here



---
posted at: 12:00am on 08-Dec-2019
path: /Policy | permalink | edit (requires password)
0 comments, click here to add the first
---
---
California Supreme Court Closes Warrantless Vehicle Search Loophole

Furnished content.


The California Supreme Court has overturned 17 years of questionable case law, restoring a bit of the Fourth for drivers in the state. (via Courthouse News)For nearly two decades, state law enforcement officers were able to search a vehicle without a warrant if the driver could not provide identification. While traveling on public roads in your car lowers your expectation of privacy, vehicle searches still require reasonable suspicion of criminal activity at the very least. Officers have a few other options to bypass warrant requirements, including inventory searches if the vehicle is being impounded and the ever-popular "probable cause of four legs" K-9 units to bypass warrant requirements.California judicial precedent gave officers another way around warrant requirements by allowing searches of vehicles if the driver didn't have their ID on them. That's no longer the case in California, thanks to this recent ruling [PDF].In this case, a vehicle search following demands for identification resulted in officers discovering methamphetamine in the driver's purse. That evidence -- along with this terrible precedent -- is no longer usable by law enforcement.The trial court said the search was unconstitutional because none of the acceptable justifications for vehicle searches incident to arrest were in use here.
Gant held that a vehicle search incident to arrest is justified only if it is reasonable to believe the suspect can gain access to weapons inside the vehicle or that evidence of the offense of arrest might be found inside the vehicle. (Id. at p. 335.) Here, Lopez was handcuffed at the rear of her car when the search took place and could not reach any weapons inside the car. Nor was there any likelihood a search of the car would produce evidence of Lopez's driving without a license in her possession.
The appeals court reversed the decision, citing the traffic-stop-identification-search-warrant exception created by the state Supreme Court in its 2002 decision (in re Arturo D.), which predated the US Supreme Court's Gant decision cited by the trial court by seven years.The state court says the US Supreme Court's Gant decision is controlling here. It changed the contours of traffic stops and searches seven years after its own decision in Arturo. It defers to the top court in the land here.
It is important to remember that the question before us is a question of federal constitutional law, not one of state law. In matters of federal law, the United States Supreme Court has the final word; we operate as an intermediate court and not as a court of last resort.
Leaving the Arturo precedent untouched would force California to remain the odd state out in the Union.
To reaffirm the exception now would leave California out of step not only with United States Supreme Court precedent, but also with every other jurisdiction in the nation.
This doesn't mean cops will never be able to engage in warrantless searches when questions of identification remain unanswered. Officers can still ask for consent to search. Officers can also ask for personal info and attempt to verify that info using their access to drivers' databases. And, if officers have good reason to believe the person is lying, they can use the law forbidding providing false information as justification to search the car for evidence of that crime -- i.e., something identifying the driver as someone other than who they say they are.New precedent is created here -- one that affirms the ruling handed down in 2009 by the US Supreme Court:
[W]e now hold the Fourth Amendment does not contain an exception to the warrant requirement for searches to locate a driver's identification following a traffic stop. To the extent it created such an exception, In re Arturo D., supra, 27 Cal.4th 60, is overruled and should no longer be followed.
California rejoins the Fourth Amendment, already in progress. California cops will just have to use other workarounds to dodge the few Constitutional rights they're willing to recognize from now on.

Permalink | Comments | Email This Story


Read more here

---
posted at: 12:00am on 07-Dec-2019
path: /Policy | permalink | edit (requires password)
0 comments, click here to add the first
---
---
Disney's Decision Not To Renew SecuROM License Bricks 'Tron: Evolution'

Furnished content.


Show of hands: who remembers SecuROM? Alright, put your hands down, we can't see each other anyway. So, SecuROM was a really bad DRM used by several publishers to "protect" video games, by which I mean it mostly just annoyed legitimate buyers, got some of those publishers sued, and ultimately made the game unplayable on modern operating systems. The track record is enough to make you wonder why anyone would use DRM at all after this whole debacle.But... it's still happening. Back in 2010, Disney released the game Tron: Evolution. The game was laced with SecuROM and suffered many of the same problems as previously described. As an example of how you don't really own what you buy anymore, the game simply bricked when Disney decided not to renew its SaaS subscription for SecuROM software.
Players trying to launch Tron: Evolution are now met with a message telling them that the 'serial key has expired'. This applies to the retail version as well as the Steam version which is delisted from the store. The cause of this problem appears to be Disney not renewing their 'subscription' to the SecuROM activation system for this game. This means that even existing owners of the delisted game cannot play it for the foreseeable future.
Fun! Notably, those that pirated the game aren't having this issue. Also notable is that when at least one person opened up a support ticket with SecuROM itself to fix the issue, the SecuROM folks told that person:
"You are right with your assumption, we can't run this service anymore for Disney titles, therefore all activations are denied.Best would be to contact Disney to get a refund for your purchase or convince them to release an uprotected version of the game."
So as not to lose sight of this, the DRM company told the legit purchaser of a game that they should try to get the publisher of the game to release a non-protected game so that it could once again be played. If that doesn't highlight the absurdity of this particular story for you, nothing will.It also would have been one thing if Disney had been the slightest bit proactive about all of this. After all, the company knew it wasn't going to renew the SecuROM subscription and therefore knew that such a decision would brick a whole bunch of people's purchased games. Why not proactively release the game without DRM? Or alert purchasers, or the media, of what was coming? Why is it okay for Disney to essentially take back a product bought by a customer with no recompense?The only reported communication from Disney is something like, "Yeah, we know, we'll do something about it someday."
Originally posted by Disney Games & Apps Support:
Hello raidebaron,Our team is aware that the activation site for this game is no longer live and has since been shut down. At this time, if the game was not already previously installed it will no longer be able to be launched. We are looking into this hiccup and hoping to patch this in the future. However, at this time we do not have any current estimated time on when this will be.Thank you for your patience.
No, thank you, Disney, for demonstrating that you don't really care all that much about your own customers.

Permalink | Comments | Email This Story


Read more here

---
posted at: 12:00am on 07-Dec-2019
path: /Policy | permalink | edit (requires password)
0 comments, click here to add the first
---
---
The Fate Of EU Legislation Designed To Bolster Data Protection Beyond The GDPR, The ePrivacy Regulation, Hangs In The Balance

Furnished content.


Whatever your views on the EU's General Data Protection Regulation (GDPR), there is no denying the impact it has had on privacy around the world. Where the GDPR deals with personal data stored "at rest", the proposed ePrivacy Regulation deals with with personal data "in motion" -- that is, how it is gathered and flows across networks. As Techdirt discussed two years ago, the pushback from Internet companies and the advertising industry against increased consumer protection in this area has been unprecedented. Some details were provided at the time in a report from the Corporate Europe Observatory. Unfortunately, that massive lobbying has paid off. Good ideas in the draft text produced by the European Parliament, like banning encryption backdoors or "cookie walls", have been dropped, as has the right of Internet users to refuse to accept tracking cookies. In the most recent version of the text (pdf) put together under the Austrian Presidency of the Council of the European Union (one of the three EU institutions that has to agree on the final law), there's even a new bad idea:
In some cases the use of processing and storage capabilities of terminal equipment and the collection of information from end-users' terminal equipment may also be necessary for providing an information society service, requested by the end-user, such as services provided to safeguard freedom of expression and information including for journalistic purposes, such as online newspaper or other press publications...that is wholly or mainly financed by advertising provided that, in addition, the end-user has been provided with clear, precise and user-friendly information about the purposes of cookies or similar techniques and has accepted such use
This section would give the news publishing industry a special right, enshrined in the ePrivacy Regulation, to use tracking cookies to support advertising, even though the original impetus behind the new law was to stop precisely this kind of obligatory commercial surveillance. Following its lobbyists' success in obtaining a special link tax included in the awful EU Copyright Directive, this latest legal privilege is further testament to the power of the publishing industry in the EU.Judging by the most recent draft text, the ePrivacy Regulation has been almost completely gutted of any strong protections for Internet users. And yet it seems even what little remains is too much for some EU member states, as a story on Euractiv reports:
The European Commission will present a revised ePrivacy proposal as part of the forthcoming Croatian Presidency of the EU, Internal Market Commissioner Thierry Breton announced on Tuesday (3 December), after previous talks failed to produce an agreement among member states.The revamped measures will be made in a bid to find consensus between EU countries on the ePrivacy regulation which would see tech companies offering messaging and email services subjected to the same privacy rules as telecommunications providers.
Although the new Internal Market Commissioner Breton is quoted as saying: "You can count on me to find consensus between each of us", others are not so sure. Some now believe that the entire ePrivacy Regulation will be dropped as being too hard to fix. That would be an incredible waste of years of work, a missed opportunity -- and a huge victory for the lobbyists.Follow me @glynmoody on Twitter, Diaspora, or Mastodon.

Permalink | Comments | Email This Story


Read more here

---
posted at: 12:00am on 06-Dec-2019
path: /Policy | permalink | edit (requires password)
0 comments, click here to add the first
---
---
NYPD Finally Releases A Body Camera Policy That Gives The Department Plenty Of Ways To Withhold Footage

Furnished content.


The NYPD has finally finalized its body-worn camera footage release policy. It's not much better than its initial public offering, which sought public input and then ignored every bit of the public's input to craft an officer-friendly deployment policy that left the act of recording to officer discretion.Even the vague promise of eventually releasing BWC footage to the public was too much for the Patrolmen's Benevolent Association to bear. The NYC PBA sued to prevent the release of body camera footage to the public. This lawsuit was pursued as PBA President Pat Lynch made claims about officers' resistance to body-worn cameras that were contradicted by NYPD officers' statements.Something the former mayor thought would be a "gotcha" tool to persecute otherwise fine officers has actually had zero effect on officer accountability or NYPD transparency to this point. It's not going to get any better either. The official policy [PDF] released by the NYPD still gives the public the shaft.The editorial board for the New York Daily News sums it up nicely:
[V]ideo from the cameras cops wear — which, after all, the public pay for — should be presumed subject to release, with narrow exceptions clearly articulated by NYPD brass.To the contrary, [Police Commissioner Jimmy] O'Neill's memo says "the Department will decide when to publicly release BWC (body-worn camera) footage of a critical incident within 30 calendar days." Just a decision within a month?
That's all the NYPD is promising: a "decision" within 30 days. It's not promising release within 30 days. It's just promising to think about it in a somewhat timely manner. That's the best New York residents are going to get from their Finest.The NYPD also has plenty of options allowing it to decide -- within 30 days -- that it won't be releasing anything at all. Exceptions abound.
Any public release of BWC footage may be delayed, redacted, or in some cases, the Department may forego public release, in order to:a. Comply with federal, state, or local law governing disclosure of records or existing Department procedures,
b. Protect confidential sources and witnesses,
c. Protect a person's right to a fair trial,
d. Protect the identity of victims of sex crimes, domestic violence and juveniles,
e. Protect the privacy, life or safety of any person, and/or
f. Avoid undue trauma due to explicit or graphic content.
This all may sound reasonable and thoughtful, but in the context of this policy, it gives the NYPD multiple ways to withhold footage that doesn't show its officers in the best light. This policy covers release of recordings containing the use of deadly or excessive force and other incidents the Police Commissioner feels may "address vast public attention."Footage that is exonerative will be cleared for release. Footage that isn't will be withheld. The excuses are built in.Consider the death of Eric Garner. Officer Daniel Pantaleo deployed an against-policy chokehold and killed Garner. If body cam footage had been captured, this policy would have exempted it from release. Officer Pantaleo was criminally charged. "Protecting the right to a fair trial" would be invoked. Possibly the "undue trauma" exception as well.If an officer rapes someone, beats a domestic partner on camera (there is precedent!), or violates the right of a juvenile, this footage could be withheld under the "protect the victims" exception, even though it's a cop committing the crime. If this seems like an impossibility, let's not forget officers invoking victims' rights laws to keep the press from publishing their names while discussing their lawsuits and/or prosecutions. Sure, the public will call bullshit, but the NYPD still has control of the recordings.The exemption for federal law is another dodge. There are no federal agencies utilizing body cameras. In fact, until recently, partnering with a federal agency meant turning off body cameras or leaving them back at the station. Anything involving federal officers will likely be deemed unreleasable, no matter how high the level of public interest.This isn't even up to the level of "will this do?" This is the NYPD giving residents what the NYPD wants while pretending it cares about transparency or accountability.

Permalink | Comments | Email This Story


Read more here

---
posted at: 12:00am on 06-Dec-2019
path: /Policy | permalink | edit (requires password)
0 comments, click here to add the first
---
---
State's Rejection Of Driver's 'IMGOD' Vanity Plate Unconstitutional, Federal Court Rules

Furnished content.


I'm always happy to see someone add to the growing body of First Amendment/vanity license plate case law. Using a very limited amount of space, some applicants have managed to offend the delicate sensibilities of government agencies, even without using the number 5 twice to spell "A55."A New Hampshire man applied for a license plate to make an uncontroversial statement about law enforcement (COPSLIE) only to have it rejected by the state, which claimed this fact was "offensive to good taste." He took his case to the state's Supreme Court and drove away with a free speech victory and a future full of hassling by law enforcement.Completely conversely, the Indiana Supreme Court refused to give a cop his 01NK license plate, arguing rather absurdly that speech-via-vanity plate isn't protected because it's too… short. The court did not specify how many characters it takes for speech protections kick in, but presumably it's a larger number than the eight allotted for Indiana license plates.Via Courthouse News comes another successful First Amendment challenge. A federal court in Kentucky has decided [PDF] that the state's refusal to give Bennie Hart his requested "IMGOD" license plate violates his First Amendment rights.The state operates a specialty plate program that allows drivers to add logos to their license plates. That isn't the issue here, but since the state law governing vanity plates without vanity logos incorporates ("clunkily," the court notes) the logo statute, the same restrictions applied to logos control what words drivers can put on their plates.Here are the guidelines:
(c) The group, or the group's lettering logo, image or message to be placed on the license plate, if created, shall not discriminate against any race, color, religion, sex, or national origin, and shall not be construed, as determined by the cabinet, as an attempt to victimize or intimidate any person due to the person's race, color, religion, sex, or national origin;(d) The group shall not be a political party and shall not have been created primarily to promote a specific political belief;(e) The group shall not have as its primary purpose the promotion of any specific faith, religion, or anti-religion;(f) The name of the group shall not be the name of a special product or brand name, and shall not be construed, as determined by the cabinet, as promoting a product or brand name; and(g) The group's lettering, logo, image, or message to be placed on the license plate, if created, shall not be obscene, as determined by the cabinet.
The last specification is key. The final call is made by the Transportation Cabinet. Cabinet staffers are given no specific guidance on how to accomplish this job, leaving it up to them to determine what is "religious or anti-religious." In the plaintiff's case, the Cabinet decided "IMGOD" was unusable because of its religious reference… despite the fact the Cabinet had already approved plates bearing these phrases: GODLVS, TRYGOD, 1GOD, and NOGOD.The government tried to argue the restriction of license plates was a restriction on government speech, not a restriction on citizens' speech. Because of the Transportation Cabinet's participation in the approval process, the state claimed any plate cleared by this government entity was an implicit endorsement of the plate's message. The court finds this assertion ridiculous.
[I]f this is true, and the Commonwealth only approves vanity plates whose message it officially adopts and endorses, then the Commonwealth is "babbling prodigiously and incoherently;" and "saying many unseemly things." Matal v. Tam, 137 S. Ct. 1744, 1758 (2017).The same year Mr. Hart was denied a plate reading "IM GOD", the Transportation Cabinet approved the contradictory plates "NOGAS", "EATGAS", "VEGAN", and "BBQ4U" among many others. [R. 49-25.] Under the Transportation Cabinet's logic, the Commonwealth is not only contradicting itself, but spewing nonsense. If the Court finds that vanity plates are government speech, then the Court would also be finding that Kentucky has officially endorsed the words "UDDER", "BOOGR", "JUICY", "W8LOSS" and "FATA55".
The government's incoherent argument is rejected. The court says restrictions on vanity plates is a government restriction on citizens' free speech. It's not impossible for the government to restrict speech without violating the First Amendment. But it's almost impossible. To retain crucial viewpoint neutrality, restrictions must be consistently applied. The Transportation Cabinet has been anything but consistent.
The Transportation Cabinet argues that a statute banning religious reference is reasonable because it is necessary to support its legitimate government interest in "promot[ing] highway safety" because "potentially controversial messages . . . could lead to confrontation or distraction on its highways."[...]If the Transportation Cabinet genuinely wants to avoid controversy on Kentucky's highways by preventing "promotion of any specific faith, religion, or anti-religion" from appearing on vanity plates, then it should have denied "IM4GOD", "ASKGOD", GR8GOD", "LUVGOD". But it did not. [R. 49-12.] Instead, the Transportation Cabinet has approved multiplate vanity plates featuring the word "god". Id. This suggests that the law as applied to Mr. Hart is neither reasonable nor viewpoint neutral. To allow such plates as "IM4GOD" and "LUVGOD" but reject "IM GOD" belies viewpoint neutrality.
Bennie Hart will get his plate. The court, however, limits itself to finding this rejection of Hart's request violated his free speech rights. It does not find the restrictions in the state's vanity plate program unconstitutional as a whole, although the state should now know it needs to apply them far more consistently than it has been. The state takes a loss and Hart can now inform other drivers of his ascendance into godhood.

Permalink | Comments | Email This Story


Read more here

---
posted at: 12:00am on 05-Dec-2019
path: /Policy | permalink | edit (requires password)
0 comments, click here to add the first
---
---
Author Tries To Trademark The Word 'Dark' For All Of Literary Fiction

Furnished content.


For whatever reason, while we see a ton of instances of someone trying to trademark a word or phrase that is absolutely generic and not a source identifier, often it seems some of the most ridiculous instances come from the literary world. Why authors have such a hard time with this is perhaps not entirely mysterious. Steeped in an industry with a tradition of strong views on copyright protections, I suppose it's a short leap that those in that industry would assume trademark works the same way. After all, journalists make this mistake all the time, so why not authors?Still, witnessing my book-writing brethren make a run at trademarking words like "how" or "cocky" is more than slightly frustrating. And now we can add the word "dark" to the mix, as author Christine Feehan has applied for a trademark on that word for use in books and fiction.
Christine Feehan is the author of several bestselling series, including one simply called "Dark" -- in her trademark application with the USPTO, she has applied for the exclusive right to use the word "Dark" (in "standard characters without claim to any particular font style, size, or color") in "Series of fiction works, namely, novels and books."Literally thousands of books have the word "dark" in their titles, including several series such as Phillip Pullman's His Dark Materials and Stephen King's Dark Tower books.
Yeah, they literally do. And not just books, either. Hell, His Dark Materials has an HBO adaptation showing right now (and it's great). The idea of locking up a generic single word such as "dark" for all of fictional literature is one of those things that should obviously not be allowed to occur. But for the legal argument as to why this isn't a thing is because a word like "dark" very obviously doesn't denote the source of a good. For one, it isn't unique. For two, the word is and has been used in literature since roughly the time that man created literature.Now, before we all start wringing our hands here, it's nearly certain that this trademark will never be approved.
Feehan's application has not yet been assigned to an examiner. It was filed on her behalf by Greg Mavronicolas, a New York based attorney from the Mavronicolas Law Group PLLC.
Dark days are most likely ahead for Feehan, as this is one application that should be tossed in the trash.

Permalink | Comments | Email This Story


Read more here

---
posted at: 12:00am on 05-Dec-2019
path: /Policy | permalink | edit (requires password)
0 comments, click here to add the first
---
---
Want To See Pete Davidson Do Standup? There's An NDA You Have To Sign First...

Furnished content.


I never stop being surprised at how often the topic of comedy and comedians makes it on our pages. Between strange concepts like comedians claiming copyright on stand-up jokes and a more violent war sometimes waged on the technology audience members carry around in their pockets, it really does feel like those in comedy should have, you know, a better sense of humor about all of this.But to really see the combination of entitlement and disdain for the public at work in the world of comedy, you have to turn to SNL's Pete Davidson. Davidson apparently tries to smuggle in a non-disclosure agreement to anyone that buys tickets to his stand-up shows, with penalties of up to a million dollars for violations of that agreement.
Whatever you do, never tweet at a Pete Davidson comedy show. The "Saturday Night Live" cast member has recently been doling out non-disclosure agreements before each of his recent comedy shows.Most recently, fans attending Davidson's standup at the Sydney Goldstein Theater in San Francisco were asked to sign a lengthy contract that forbade them from tweeting or instagramming any opinions about the performance.
I find it hard to believe that such an NDA would stand up in court. Regardless, it takes a special kind of audacity to make your living in comedy, an industry completely reliant on free speech principles and social commentary, and then insist that paying customers sign away their ability to do likewise. It's enough, seriously, that you have to wonder if this is some new kind of experimental comedy that Davidson is trying out.Except that customers who have refused to sign the NDA have reported getting full refunds of their purchases without further explanation. If this is comedy, the public appears to be waiting for the punchline.
One attendee, Stacy Young, originally discovered by Consequence of Sound, posted the alleged NDA on her Facebook. It stated: "the individual shall not give any interviews, offer any opinions or critiques, or otherwise participate by any means or in any form whatsoever (including but not limited to blogs, Twitter, Facebook, YouTube, Instagram, or any other social networking or other websites whether now existing or hereafter created)."The document posted on Facebook also states "Individual is or will be a guest of the Company at a performance event for the purpose of viewing 'works in progress' creative content ...".The fine for breaking said NDA was a whopping $1 million. "In the event of breach of this agreement, individual shall pay company, upon demand, as liquidated damages, the sum of one million dollars, plus any out of pocket expense."
As we've said, comedians have, for some time, been wary of technology within the walls of any given performance. Cell phone bans have become somewhat common. The stated concerns for that sort of thing have typically revolved around the fear that audiences will record and distribute contents of the show to the public, or that they will record jokes out of context to make comedians sound more offensive than they intend to be. Those fears, while ultimately lame, are at least understandable.But forcing paying customers to not have a public opinion about a show? That's purely crazy.
"I understand that comedians are protective of their material," Young added. "But to not be allowed to express an opinion, whether I liked it or not, is off-putting in an Orwellian thought police way."
Someone might want to sit Pete Davidson down and explain to him that 1984 wasn't a comedy.

Permalink | Comments | Email This Story


Read more here

---
posted at: 12:00am on 04-Dec-2019
path: /Policy | permalink | edit (requires password)
0 comments, click here to add the first
---
---
Cops Are Running Ring Camera Footage Through Their Own Facial Recognition Software Because Who's Going To Stop Them

Furnished content.


Ring may be holding off on adding facial recognition tech to its already-problematic security cameras, but that's not stopping any of its not-exactly-end-users from doing it for themselves.Ring is swallowing up the doorbell camera market with aggressive marketing that includes the free use of taxpayer-funded services. It calls over 600 law enforcement agencies "partners." In exchange for agency autonomy and free cameras, police departments all over the nation are pushing cameras on citizens and asking them to upload anything interesting to Ring's "I saw someone brown in my neighborhood" app, Neighbors.The company that has someone in charge of its facial recognition division Ring claims it's not using to implement facial recognition tech is handing out cameras like laced candy. Law enforcement agencies are snatching the cameras up. And they're snatching the footage up, using subpoenas to work around recalcitrant homeowners. Once they have the footage, they can keep it forever and share it with whoever they want.They can also run the footage through whatever hardware or software they have laying around, as Caroline Haskins reports for BuzzFeed.
Amazon does not offer the ability to recognize faces in footage on its Ring doorbell cameras. But just one month after police in Chandler, Arizona, received 25 surveillance cameras for free from the company, the department's then–assistant chief discussed using its own facial recognition technology on Ring footage at a meeting of the International Association of Chiefs of Police, according to his slideshow obtained in a public records request.In an April presentation titled "Leveraging Consumer Surveillance Systems," Jason Zdilla discussed various consumer surveillance devices and platforms. Examples cited in the presentation included Ring cameras and the Neighbors app.It's the perfect storm of unaccountability. Footage can be obtained from Ring with a subpoena. Ring hands it over with zero strings attached. Cop shop runs it through the Zoom Enhancer and any databases it has or has access to. Bingo: facial recognition in cameras supplied by a company that says it's not all that into facial recognition at the moment.
Now, you may be wondering why this is a big deal. Why does any of this matter when other surveillance systems with cloud storage are likely similarly responsive to subpoenas and place no restrictions on footage they hand over to law enforcement?Well, two things: first, Ring claims all footage belongs to camera owners, but treats camera owners as if they're not a stakeholder when it comes to sharing their recordings with the government.Second -- and far more importantly -- Ring aggressively courts police departments as "partners," turning consumer products into unofficial extensions of existing government camera networks. Ring hands out free cameras to cops and hands out even more freebies if cops convince homeowners to download the Neighbors app and share as much footage as possible. Ring also takes control of all PR efforts and official statements involving Ring doorbells that cops have given to citizens. And Ring coaches cops how to obtain footage without having to trouble the courts with a warrant.This is unlike any other company in the home security business. Ring's assimilation of hundreds of law enforcement agencies blurs the line between public and private in the name of commerce. Taxpayers are contributing to their own co-opting into a surveillance mesh network propelled by one of the largest companies in the world. This isn't acceptable. But the longer Ring's expansion remains unchecked, the sooner its behavior will become normalized. And once it's normalized, it's over.

Permalink | Comments | Email This Story


Read more here

---
posted at: 12:00am on 04-Dec-2019
path: /Policy | permalink | edit (requires password)
0 comments, click here to add the first
---
---
Egyptian Government Plans To Track The Movement Of 10 Million Vehicles With Low-Cost RFID Stickers

Furnished content.


Just under three years ago, Techdirt wrote about China's plan to install satnav tracking devices on vehicles in Xinjiang. That was just one of several early signs of the human rights abuses happening there. Today, people are finally waking up to the fact that the indigenous turkic-speaking Uyghur population is subject to some of the harshest oppression anywhere on the planet. Tracking huge numbers of vehicles might seem to be a typically over-the-top, money-no-object Chinese approach to total surveillance. Unfortunately, there are signs the idea is starting to spread, as this story in RFID Journal explains:
Egypt's Ministry of Interior (MOI) plans to identify millions of vehicles as they travel on the country's roads, using an RFID solution from Go+, with hardware and software provided by Kathrein Solutions in cooperation with Wireless Dynamics. The system, which will be implemented across approximately 10 million of the country's vehicles throughout the next five years, consists of passive UHF RFID stickers attached to each car's windshield, as well as tags on headlamps that respond to interrogation from readers installed above roadways, even at high speeds.
One justification for the move is to provide information on traffic flows. Another is to identify drivers who have been found guilty of traffic violations, and who should therefore not be on the roads. But plans to send all the data to a cloud-based data center will create a database that will eventually track every vehicle in the country. That will clearly be an invaluable resource for the country's police and security forces, which unfortunately seem to take China's approach to anyone who voices opposition to the authorities. Here's what Human Rights Watch wrote in its most recent report on the country:
Since President Abdel Fattah al-Sisi secured a second term in a largely unfree and unfair presidential election in March, his security forces have escalated a campaign of intimidation, violence, and arrests against political opponents, civil society activists, and many others who have simply voiced mild criticism of the government. The Egyptian government and state media have framed this repression under the guise of combating terrorism, and al-Sisi has increasingly invoked terrorism and the country's state of emergency law to silence peaceful activists.
As well as the negative impact on human rights in Egypt, there is another troubling aspect to this move. According to the RFID Journal article, the company providing the new system, Go+, is "in discussions with four other countries about the possibility of implementing this solution once the Egyptian system is fully deployed." China's mass tracking of the Uyghurs in Xinjiang using satnav devices pioneered the idea of carrying out vehicle surveillance on a hitherto unseen scale, regardless of the cost. Egypt's use of the much cheaper RFID trackers represents a worrying evolution of the idea. If the roll-out is successful, it could encourage other governments to adopt a similar approach, to the detriment of civil liberties in those countries.Follow me @glynmoody on Twitter, Diaspora, or Mastodon.

Permalink | Comments | Email This Story


Read more here

---
posted at: 12:00am on 03-Dec-2019
path: /Policy | permalink | edit (requires password)
0 comments, click here to add the first
---
---
Oregon Supreme Court Shuts Down Pretextual Traffic Stops; Says Cops Can't Ask Questions Unrelated To The Violation

Furnished content.


The Supreme Court's Rodriguez decision took a lot of fishing line away from law enforcement officers. Thousands of traffic statutes are violated every day. (Or not broken, in some cases.) All an officer needed to do was follow someone around until they violated one and then turn the traffic stop into a Q&A session with an eye on obtaining consent to search drivers, passengers, and vehicles.The Supreme Court said pretextual stops are fine, but once the objective has been achieved (citation or warning given), the stop is over. No further questions. No calling for a drug dog. Nothing. Some officers took this to mean they could violate the Fourth Amendment as long as they did it quickly enough. Some courts allowed them to get away with speedy Constitutional violations. But, more often than not, courts interpreting the Supreme Court decision have read it as saying there's no extending a stop without reasonable suspicion to do so. There's some gray area, but not as much as officers had hoped.The Supreme Court of Oregon has almost completely revoked law enforcement's fishing license. (via Reason) Its decision [PDF] applying the state's Constitution is more restrictive than the Rodriguez decision. There's no fishing, period. The court says even asking questions unrelated to the objective of the traffic stop is impermissible unless officers see, hear, or smell something that gives them reasonable suspicion to move past the objective of the stop.The state argued that "unavoidable lulls" -- the moments between the officer's request for license and registration and the driver's production of these documents -- could be filled with all sorts of unrelated questions. The officer in this case testified that he fired off a salvo of questions at the beginning of every traffic stop.
"Every time I walk up, I ask him, I [say], 'hey, Officer Faulkner, Beaverton Police Department,' do my contact with them. 'Do you have anything illegal in the car? Would you consent to a search for guns, drugs, knives, bombs, illegal documents, or anything else that you're not allowed to possess?'"
This attempt to make it appear as though the questions the officer asked in this case were "normal" actually showed the officer routinely asked questions that had nothing to do with the traffic stops he was performing. This isn't exactly the message Officer Faulkner meant to send, but it's the message the Oregon Supreme Court received.As the court notes, this barrage of questions directed at a driver violates the state's Constitution. Unlike a pedestrian encounter, drivers are not free to leave or ignore questions.
"[I]n contrast to a person on the street, who may unilaterally end an officer-citizen encounter at any time, the reality is that a motorist stopped for a traffic infraction is legally obligated to stop at an officer's direction and to interact with the officer, and therefore is not free unilaterally to end the encounter and leave whenever he or she chooses."
Since none of this is consensual, attempting to obtain consent for a vehicle search before even addressing the objective of the traffic stop implicates state-given protections against unreasonable searches and seizures. The court says investigations should be limited to the alleged crime at hand. A traffic stop is not the initial step in a deeper investigation of other potential criminal activity.
Whether an officer is investigating criminal or unlawful noncriminal activity, the officer's authority to stop an individual—based on reasonable suspicion of criminal activity or on probable cause of unlawful noncriminal activity— is founded on the assumption that temporary, investigative stops to investigate particular conduct are permitted for that particular purpose only. It therefore follows that limits apply to an officer's ability, during such a stop, to use that stop for other purposes.
The court notes that ruling otherwise would… well, it would make Oregon no different from the rest of the nation where these kinds of fishing expeditions are performed on the regular.
A stop that is reasonable for a limited investigatory purpose is not necessarily reasonable for all purposes, and we see no reason to distinguish between the activities that law enforcement officers conduct during such a stop and the questions that they ask; both must be reasonably related to the purpose that permits the officer to stop an individual in the first place. If we were to hold otherwise, then an officer who lacks a warrant, probable cause, or even reasonable suspicion of criminal activity, could stop an individual for a minor traffic offense, and, during that stop, conduct a criminal investigation anyway, making meaningless the rule which requires an officer to have reasonable suspicion before stopping an individual to conduct a criminal investigation.
The court makes this finding even clearer later in the ruling, expressly forbidding law enforcement officers from asking drivers unrelated questions in hopes of stumbling onto a bigger, better criminal act. It also points out this has always been the case in Oregon under its Constitution.
By applying subject matter limitations to investigative activities and questioning, Article I, section 9, ensures that officers do not turn minor traffic violations into criminal investigations without a constitutional basis for doing so.
And this decision -- redrawing what was supposed to be a bright line governing questioning during traffic stops -- makes it clear Oregon cops can thank Officer Faulkner for ruining it for them.
[I]f there were evidence that, during the stop, Faulkner had learned facts giving rise to reasonable suspicion that defendant had engaged or was about to engage in criminal conduct, an expanded investigation could have been justified. But here, Faulkner did not testify to any particularized suspicion that defendant had weapons, controlled substances, or any other contraband in his vehicle. To the contrary, Faulkner testified that he asks such questions every time he makes a stop.
Shorter Officer Faulkner: "I always engage in unconstitutional behavior during traffic stops."Not anymore. That's no longer an option.The dissenting opinion worries officers won't know what to do with their mouths during "unavoidable lulls." The majority says it's not up to the state's Constitution to bend to the will of otherwise unoccupied cops.
The dissent is concerned about what an officer can do during a ten-minute wait other than conduct activities and make inquiries reasonably related to the purpose of the stop and reasonably necessary to effectuate it. 365 Or at 720 (Garrett, J., dissenting). We do not share that concern. If an officer develops reasonable suspicion that the stopped individual has engaged in illegal activity in addition to that for which the individual was stopped, then the officer may investigate that activity. Without such suspicion, an officer should limit investigative activities and inquires to matters that are, as statute requires, limited to the "immediate circumstances that arouse the officer's suspicion" or that will not result in the discovery of suppressible evidence.
This is a wonderful decision. It's also an anomaly. Everywhere else in the nation, pretextual stops will continue unimpeded. Drivers will be asked tons of unrelated questions by cops who want to turn every failure to signal into a drug bust. Unfortunately, very few states have Constitutions that provide more protections for citizens than the US Constitution, so the Rodriguez decision will have to do for most of us.

Permalink | Comments | Email This Story


Read more here

---
posted at: 12:00am on 03-Dec-2019
path: /Policy | permalink | edit (requires password)
0 comments, click here to add the first
---
---
This Week In Techdirt History: November 24th - 30th

Furnished content.


Five Years AgoThis week in 2014, the war on encryption continued with the NSA Director fearmongering about a pending cyberattack, backed up by a misinformed WSJ op-ed, as we looked at how encryption back doors could harm intelligence gathering and military operations. The net neutrality attacks were also coming strong, with a misleading poll propping up the partisan divide, CenturyLink defending its lobbying for protectionist state laws, and Mark Cuban jumping on the bandwagon despite apparently not understanding what net neutrality is. Meanwhile, Nielsen finally caught up to reality and started trying to track streaming viewers after years of denying the existence of cord-cutting.Ten Years AgoThis week in 2009, while the heads of major movie studios were claiming that they just wanted to help indie filmmakers with their anti-piracy demands, others were seeing that movie piracy is largely the studios' fault (inasmuch as it's a problem at all) and new research was continuing to show how copying and imitation is good for society. Senators were beginning to question the secrecy of the ACTA negotiations, and we were noticing the inconsistency between companies' support for ACTA and support for a treaty providing more access to content for the visually impaired.Fifteen Years AgoThis week in 2004, we were wondering (with some perhaps-undue optimism...) whether the entertainment industry was losing its political power. BT was trying to get in on the extremely crowded music download store market, Radiohead was disappointingly charging fees for quoting its music even in clear cases of fair use, and one judge was thankfully telling the MPAA to slow down with the John Doe lawsuits. Meanwhile, UK drivers were ignoring driving-while-yakking laws just like everyone else, people were twisting the results of a study showing the educational benefits of computers to their phone ringing, and the problem of patent hoarding was getting enough attention to even show up in USA Today.

Permalink | Comments | Email This Story


Read more here

---
posted at: 12:00am on 01-Dec-2019
path: /Policy | permalink | edit (requires password)
0 comments, click here to add the first
---
---