---
Vibes' 2017 Mobile Consumer Report: The Mobile/Brand Engagement Revolution

Furnished content.


Vibes' 2017 Mobile Consumer Report uncovers consumer opinions of mobile engagement experiences. A majority of consumers are comfortable talking with a chatbot, yet only a fraction have engaged with one, according to the 2017 Mobile Consumer Report from Vibes, a leader in mobile engagement used by top brands to deliver targeted, personalized mobile experiences. In [...]

Read more here

---
posted at: 12:00am on 31-Mar-2017
path: /Online_Marketing | permalink | edit (requires password)
0 comments, click here to add the first
---
---
ProgrammaticNativeMobile: Connecting the Dots

Furnished content.


Adotas recently caught up with Robert Wildner, Glispa Group's VP of Media Operations and Head of Ampiri, to talk about the challenges facing programmatic and native advertising on mobile. Q: Programmatic and native are both growing steadily. Why has getting them together on mobile proven so challenging? A: Up until recently, the reason it was [...]

Read more here

---
posted at: 12:00am on 31-Mar-2017
path: /Online_Marketing | permalink | edit (requires password)
0 comments, click here to add the first
---
---
Pennsylvania Court Says Bloggers Protected By Journalist Shield Law; Don't Have To Reveal Commenter IP Addresses

Furnished content.


Over the years, there have been plenty of debates about whether bloggers should be considered journalists and, specifically about if they should qualify to be protected by journalist shield laws. Court rulings on this have been something of a mixed bag with some courts saying that bloggers don't qualify for state shield laws, but over in Pennsylvania there's a recent ruling that went the other way.The case, filed in Beaver County Pennsylvania, and heard in the local state court, found that the blogger who runs BeaverCountian need not respond to a subpoena demanding IP addresses or other identifying info on various commenters. The lawsuit was brought by Connie Javens and Renee Javens Zuk against a bunch of John Does who they accused of posting defamatory comments on BeaverCountian.The court carefully reviewed Pennsylvania's journalist shield law and found that the operator of Beaver Countian is pretty clearly covered. It first notes there's no requirement that the publication be a print publication and further highlights that the operator of the site, John Paul Vranesevich, clearly does journalism with his posts to the site.
Mr. Vranesevich authorsarticles posted on the site. Further its publication online is available to anyone who wishes toaccess the website. In that sense, it constitutes a newspaper of general circulation. The factthat the content is published online rather than in a traditional format is inconsequentialconsidering the clear intent of the statute. There is no indication in the language of theShield Law that its provisions are limited to publications printed in a traditional "hard copy"print format. Further, it is apparent that Mr. Vranesevich operates the website for thepurpose of gathering, compiling and publishing news.
The second question, then, is whether or not commenters on a blog should count as protected "sources" under the law. The court, rightfully, decides that they clearly are sources:
Here the record establishes that at this stage of the proceedings the persons postingcomments as "John Q Taxpayer" and "the bigdigger" were both sources of informationprovided to Mr. Vranesevich concerning his investigative reporting of Ms. Javens. ThePlaintiffs have argued that the comments of the posters were not news information for Mr.Vranesevich and therefore not protected. Such a conclusion would require a narrowinterpretation of the Shield Law which is an approach firmly rejected by our supreme court.The statute prohibits persons such as Mr. Vranesevich from being compelled to disclose "thesource of any information procured or obtained" by him so long as the information wasobtained "for purposes of gathering, procuring, compiling, editing or publishing news".Moreover, it is not the content per se that's protected, but rather the source.... Nor are there any restrictionson the form of the content or where the content was disseminated and how it came to theattention of the person protected by the Shield Law. It is obvious that "John Q Taxpayer"and "the bigdigger" intended that their true identities be confidential to all but thoseoperating BeaverCountian.com. Mr. Vranesevich used information provided by these twoindividuals to gather news to be published on the BeaverCountian.com. The Shield Lawprohibits compelling disclosure of these two identities in this litigation.
The court does allow that some of the other John Doe commenters are not protected by the shield law as there is "nothing in the record to indicate that they were sources of information" to the website.From there, the court analyzes whether or not it's appropriate to disclose anonymous commenters sued for defamation. This is a big issue that we've written about numerous times in the past. Different states have different standards, some of which do a better job than others in protecting commenters' First Amendment rights to anonymity. In Pennsylvania, the court notes, the test requires notification, sufficient evidence, an affidavit of good faith and necessity, and finally a "balancing strength of claims against First Amendment rights."The court notes that to show sufficient evidence of defamation to disclose the anonymous commenters, Javens -- as an elected public figure -- needs to show "actual malice" and totally fails to do so. And, even worse, Javens fails to show that any of the statements they claim are defamatory are not true. The court is generally not impressed.
Ms. Javens is a public official whose actions as treasurer have been the target ofextensive press coverage. There have been a number of online articles reporting on herallegedly dishonest or improper conduct including reports of official investigations into herconduct in office. There were numerous online comments posted at the BeaverCountian.com,while only a portion of which have been identified in this action. It is not possible to gagethe extent to which the posts in question would have a defamatory impact or be responsiblefor the alleged injuries when compared to the entirety of media reports concerning much thesame assertions of misconduct. The nexus between the statements at issue and thegeneralized assertion of harm is not strong. This diminishes the strength of her case.Moreover Ms. Javens' factual record in support of her Motion seeking disclosure isthin at best. As noted above there are no specific evidence from which one could concludethat the allegedly defamatory statements are not true. The only factual averment in therecord in this regard is the general statement in the plaintiffs Motion that they are "innocentvictims of an offensive and scandalous attack on their reputation" without any delineationwith regard to the contents of the numerous comments they cite. This greatly diminishes thestrength Ms. Javens' case.
The court seems more open to allowing the case to move forward on behalf of Zuk, who is Javens' daughter. The court doesn't find her to be a public figure here, and does seem to suggest that some of the comments may be defamatory. But she failed to file a good faith affidavit that says there's no other way to determine the identities in question.The larger issue here, though is the earlier determination by the court that a blogger can qualify for source protection under the state's shield law. There have been some who have reasonably argued over the years that shield laws can be a problem, since they seem to only apply to a class of people called "journalists" -- but if the laws are broadly applied to anyone in the process of doing anything journalistic, that wouldn't be a bad thing.

Permalink | Comments | Email This Story


Read more here

---
posted at: 12:00am on 31-Mar-2017
path: /Policy | permalink | edit (requires password)
0 comments, click here to add the first
---
---
Monster Energy Attempts To Run From Laughable Trademark Spat It Started With Thunder Beast Root Beer

Furnished content.


Readers here will hear the name "Monster Energy Corporation", makers of the Monster Energy beverage, and likely immediately roll their collective eyes. Monster Energy has truly been a monster when it comes to trademark bullying over some of the most frivolous claims imaginable. From threats against breweries over location-based puns, to threats against beverage review sites it doesn't like, and even threats against an actor that featured in a monster movie over a photo he tweeted holding a Monster Energy drink, the company is something of a joke in trademark circles.Which hasn't kept the company from continuing its bullying ways, of course. The latest version of its efforts concerns a startup root beer company in DC that dared to use the word "beast" in its name, with Monster Energy asserting that beast is too close to monster and oh my god why is this universe such a silly, silly place?
Thunder Beast, a small DC root beer company, is fighting trademark violation allegations from California-based Monster Energy Corporation. About a year ago, Thunder Beast, which operates out of the TasteLab food incubator in Northeast, received a cease-and-desist letter from Monster over the use of the word "beast" in the company name.In its letter, Monster argued customers might accidentally buy one of Thunder Beast's bison-emblazoned beverages when they intended to buy an energy drink. Monster claims Thunder Beast infringes on its brand, which includes trademarked slogans such as "PUMP UP THE BEAST" and "UNLEASH THE ULTRA BEAST," its petition for cancellation reads.
Whereas many small companies might turn tail, Thunder Beast founder Stephen Norberg did his research and discovered that Monster Energy was a trademark bully of the silliest order. Instead of giving in, he hired a lawyer and decided to fight back. Monster didn't sue the company for infringement in federal court, but rather went to the US Patent & Trademark Office's Trademark Trial and Appeal Board (TTAB) seeking to get Thunder Beast's own trademark cancelled. Monster initially insisted it wanted a TTAB trial over all of this, but more recently said that looking at Thunder Beast's website showed that there was nothing about which to be concerned (seems a bit late to realize that). After stating that, Monster's lawyers reportedly then offered a settlement. Which doesn't make any sense, so Norberg's lawyer declined.
"At the end of this I'd already spent so much time and money and done so much discovery work … that when they finally got around to giving me a settlement offer that was reasonable I decided to reject it," says Norberg. "I wanted to publicly defend so that when other small businesses get harassed by Monster Energy, they will be able to research this issue and see that they have a history of doing this and that it's possible and fairly easy for the underdog to stand up to these big corporate bullies and defeat them if you're in the right."
Oops. More than that, Norberg is using the company website to put all of this in front of its customers, to take donations for its legal defense fund, and to attempt to turn this whole ordeal into a positive by framing his business as one that "fights monsters." It's all actually fairly clever.
Thunder Beast is raising money for legal fees on its website, advertising their struggle with funny graphics and proclaiming, "Forget being the underdog. We're going full #UnderThunder.""I really want to make it the DNA of my company to fight monsters, which is something I'm putting on all my new labels: Fight Monsters," Norberg says. "I think that's something that resonates with every human being, and it's something I want to use my company to inspire people to do."
It's the saga of many bullies: threats are made, the bully gets punched in the nose, then proceeds to run away. We'll see just how far Monster Energy elects to run from Thunder Beast, but if it's already proposing lenient settlements and even those aren't being accepted, a hasty retreat might be the best move.

Permalink | Comments | Email This Story


Read more here

---
posted at: 12:00am on 31-Mar-2017
path: /Policy | permalink | edit (requires password)
0 comments, click here to add the first
---
---
Vibe's 2017 Mobile Consumer Report: The Mobile/Brand Engagement Revolution

Furnished content.


Vibes' 2017 Mobile Consumer Report uncovers consumer opinions of mobile engagement experiences. A majority of consumers are comfortable talking with a chatbot, yet only a fraction have engaged with one, according to the 2017 Mobile Consumer Report from Vibes, a leader in mobile engagement used by top brands to deliver targeted, personalized mobile experiences. In [...]

Read more here

---
posted at: 12:00am on 30-Mar-2017
path: /Online_Marketing | permalink | edit (requires password)
0 comments, click here to add the first
---
---
Judge Alsup Wants Uber & Waymo To Teach Him How To LiDAR Prior To Self-Driving Car Case

Furnished content.


Judge William Alsup certainly continues to make himself known for how he handles technology-intensive cases. In techie circles, he's mostly known for presiding over the Oracle/Google Java API copyright case, and the fact that he claimed to have learned to program in Java to better understand the issues in the case (in which he originally ruled, correctly, that APIs were not subject to copyright protection, only to be overturned by an appeals court that simply couldn't understand the difference between an API and functional code). He's also been on key cases around the no fly list and is handling some Malibu Media copyright trolling cases as well.And, last month, he was handed another big high-profile case regarding copying and Google: the big self-driving car dispute between Google's (or "Alphabet's") Waymo self-driving car company and Uber. In case you weren't following it, Waymo accused a former top employee of downloading a bunch of technical information on the LiDAR system it designed, only to then start his own self-driving car company, Otto, which was then bought up by Uber in a matter of months. Most of the lawsuit is focused on trade secrets, with a few patent claims thrown in as well.Either way, Judge Alsup appears to want to be educated on LiDAR before the case begins. In two orders last week, Judge Alsup first asked lawyers for each side to present a basic tutorial on the basics of self-driving car technology:
For a tutorial for the judge, counsel shall please make presentations to set forth the basictechnology in the public domain and prior art bearing on the trade secrets and patents at issueon the motion for provisional relief. Please do not refer to the actual systems or subsystemsused by either party. (Those will be presumably covered in the motion papers.) For the tutorial,please refer only to what is in the public domain or prior art, regardless of whether or not oneside or the other actually practices it. That is, in the tutorial, please do not say what the partiesactually practice but if the item is in the public domain, you may reference the public domainpart, even if one side or the other practices it. Make sure that all points in the tutorial reside inbooks, treatises, articles, public interviews, public videos, blogs, websites, seminars,presentations, Form 10-Ks, or other publicly verifiable sources. Please exchange approximatescripts beforehand so that each side may vet the other. Each side will have forty minutes onAPRIL 12 AT 10:00 A.M. The public may attend the entire presentation. The judge is interestedin learning the basic technology and learning publicly known art.
I'm kinda disappointed that I've got something else that I can't get out of that day so that I can't attend. Oh, and Judge Alsup also got some press attention for then asking that each side might want to send "young lawyers" for the tutorial:
This would be a goodopportunity for a young lawyer to present in court.
Of course, Judge Alsup actually has a bit of a history of doing similar things. If I remember correctly, he made a similar suggestion in the Oracle/Google case as well, and people have noted he's done it before as well. The idea is that he wants to encourage firms to enable younger, less experienced lawyers to get more courtroom experience and find areas where you don't necessarily need the veteran partner, even in a high-profile clash among mutli-billion dollar behemoths.Still, it was another request that came a few days later that has gotten more attention (first spotted by Julia Carrie Wong), in which Judge Alsup also asked each side to recommend a book for him to read about LiDAR. But not just any book. You see, Judge Alsup wants you to know that he's not a total noob when it comes to light and optics, so don't feel the need to send him "LiDAR for Dummies" or whatever:
The judge requests each side to name one (and only one) book, treatise, article or otherreference publicly available that will inform him about LiDAR, and particularly its applicationto self-driving vehicles.Please keep in mind that the judge is already familiar with basic light and opticsprinciples involving lens, such as focal lengths, the non-linear nature of focal points as afunction of distance of an object from the lens, where objects get focused to on a screen behindthe lens, and the use of a lens to project as well as to focus. So, most useful would be literatureon adapting LiDAR to self-driving vehicles, including various strategies for positioninglight-emitting diodes behind the lens for best overall effect, as well as use of a single lens toproject outgoing light as well as to focus incoming reflections (other than, of course, the patentsin suit). The judge wishes to learn the prior art and public domain art bearing on the patents insuit and trade secrets in suit.
Now I'm just waiting to find out that Judge Alsup, tinkering alone in his garage (or, better yet, at the Courthouse), will build his own damn LiDAR system, just to better understand the technology at play.I don't always agree with Judge Alsup on stuff (I don't always agree with anyone), but I respect his desire to go deep in trying to understand the core technologies when he's reviewing cases on those subjects. That's (unfortunately) quite different than many other judges. Hopefully more judges adopt Judge Alsup's practices on cases like these.

Permalink | Comments | Email This Story


Read more here

---
posted at: 12:00am on 30-Mar-2017
path: /Policy | permalink | edit (requires password)
0 comments, click here to add the first
---
---
Tractor Owners Using Pirated Firmware To Dodge John Deere's Ham-Fisted Attempt To Monopolize Repair

Furnished content.


We've been noting for a while how numerous states have been pushing so-called "right to repair" bills, which would make it easier for consumers to repair their own products and find replacement parts and tools. Not surprisingly, many tech companies have been working overtime to kill these bills. That includes Apple, which recently proclaimed that Nebraska's right to repair bill would turn the state into a nefarious playground for hackers. Opposition also includes Sony and Microsoft, which both tend to enjoy a repair monopoly on their respective video game consoles.Whether coming from Apple, Sony, or Microsoft, opposition to these bills usually focuses on the three (false) ideas: the bills will make users less safe, somehow "compromise" intellectual property, and open the door to cybersecurity theft.But it's easy to lose track of what started the recent groundswell of consumer support for these bills: the lowly tractor.It was John Deere's decision to implement a draconian lockdown on "unauthorized repairs" that has magically turned countless ordinary citizens into technology policy activists. A lengthy EULA the company required customers to sign last October forbids the lion-share of repair or modification of tractors customers thought they owned, simultaneously banning these consumers from suing over "crop loss, lost profits, loss of goodwill, loss of use of equipment arising from the performance or non-performance of any aspect of the software."Needless to say, most of the company's customers weren't particularly impressed by the restrictions, which let companies monopolize repair, but hurt farmers' livelihoods by forcing them to visit only "authorized" repair shops that may be countless miles away from the farm. As a result, many of these folks have amusingly turned toward using unauthorized tractor firmware pirated and modified in Eastern Europe to free themselves of arbitrary, obnoxious and unnecessary restrictions on what they can do with gear they technically own:
"There's software out there a guy can get his hands on if he looks for it," one farmer and repair mechanic in Nebraska who uses cracked John Deere software told me. "I'm not a big business or anything, but let's say you've got a guy here who has a tractor and something goes wrong with itthe nearest dealership is 40 miles away, but you've got me or a diesel shop a mile away. The only way we can fix things is illegally, which is what's holding back free enterprise more than anything and hampers a farmer's ability to get stuff done, too."
As a result, tractor owners visit various forums to not only buy pirated and modified repair software, but the cables required to perform diagnostics and install updates. In 2015, we noted how the Library of Congress authorized some vehicle-focused exemptions allowing for this kind of legal tinkering, but saddled the exemptions will all manner of bizarre and unnecessary caveats. Right around that time, John Deere began requiring that farmers sign licensing agreements giving the company the right to sue for breach of contract (they haven't yet).Of course, if you ask the company why a "black market" specifically tailored for annoyed farmers has blossomed, you're simply told there's nothing to see here, there are no repair issues, and the company makes it perfectly easy for farmers to diagnose issues and repair their vehicles. But actual farmers and folks fighting for right to repair legislation say that's simply not the case. For example, tractor owners who say they modify their tractors using anaerobic digesters to fuel them with pig methane, say they're technically violating John Deere's terms of service:
"They require buyers to accept an End User License Agreement that disallows all of the activities they say are allowed in their statement," (Gay Gordon-Byrne, executive director of Repair.org) said. "Deere is a monopolist and has systematically taken over the role of equipment owner, despite having been paid fairly and fully for equipment. Their claims to control equipment post-purchase are inconsistent with all aspects of ownership including accounting, taxation, and transfer of products into the secondary market."
These farmers also say they're worried that if a company like John Deere is sold, they could wind up stuck without the ability to modify or repair older hardware they likely made a significant investment in. As a result, these annoyed farmers are the cornerstone of the right to repair push currently winding its way through the Nebraska, New York, Minnesota, Wyoming, Tennessee, Kansas, Massachusetts, and Illinois state legislatures. And the companies fighting these bills simply refuse to publicly acknowledge they're doing so, which tells you everything you need to know about the "value" these restrictions actually provide.

Permalink | Comments | Email This Story


Read more here

---
posted at: 12:00am on 30-Mar-2017
path: /Policy | permalink | edit (requires password)
0 comments, click here to add the first
---
---
Mobile Moments, AdTech & Artificial Intelligence

Furnished content.


To explore adtech, mobile moments, and artificial intelligence, Adotas caught up with Scott Swanson, co-founder and CEO (pictured left) of Aki Technologies. Q: Why do you think the adtech space has been the target of so much criticism in the last couple of years? A: Many consumers today have a general understanding of the principles [...]

Read more here

---
posted at: 12:00am on 29-Mar-2017
path: /Online_Marketing | permalink | edit (requires password)
0 comments, click here to add the first
---
---
CONTENTSQUARE LAUNCHES AI-Powered UX PERFORMANCE CENTER

Furnished content.


First-in-Class Technology Utilizes AI-Powered Bot and Advanced Algorithms to Provide Unique Recommendations in Real-Time on How to Optimize Customer Journeys. ContentSquare, a next-generation UX analytics solution, today unveiled its UX Performance Center, a first-in-class technology that enables digital teams to make empowered, data-driven UX decisions in real-time. Equipped with a knowledgeable, AI-powered Bot named Arti, [...]

Read more here

---
posted at: 12:00am on 29-Mar-2017
path: /Online_Marketing | permalink | edit (requires password)
0 comments, click here to add the first
---
---
Consumer Broadband Privacy Protections Are Dead

Furnished content.


Last week, the Senate voted 50-48 along party lines to kill consumer broadband privacy protections. That vote then continued today in the House, where GOP lawmakers finished the job, apparently happy to advertise how ISP campaign contributions consistently, directly manifest in anti-consumer policy with a 215 to 205 vote (you can find a full vote breakdown here). The rules, which were supposed to take effect this month, were killed using the Congressional Review Act -- which not only eliminates the protections, but limits the agency's ability to issue similar rules down the road.The broadband industry's effort to kill the rules is one of the uglier examples of pay-to-play government in recent memory. The protections, originally passed last October by the FCC, have been endlessly demonized by the broadband industry, despite the fact that they're relatively straight forward. The rules would have simply required that ISPs are transparent about what they collect (and who they sell it to), and provide working opt out tools. ISPs were also required to have consumers opt in for more sensitive data collection (financial, browser history data).Large ISPs, however, consistently whined about the rules, insisting the rules would "confuse" consumers, and hamper "innovation" in the advertising and telecom space. They also tried to claim that ISPs don't really collect much data on consumers, and what collection that does happen can be easily dodged by using a VPN (neither of which is true). ISPs also tried to claim it was unfair to saddle them with additional privacy regulations not seen by Google and Facebook, intentionally ignoring that the often stark lack of broadband competition makes this an apples to oranges comparison.In an last-ditch attempt to try and convince the House that ISP revenues shouldn't take priority over consumer privacy, a group of around twenty smaller ISPs sent a letter to the House (clearly promptly ignored) trying to explain to them how the lack of competition in broadband made the rules necessary:
"Perhaps if there were a healthy, free, transparent, and competitive market for Internet services in this country, consumers could choose not to use those companies' products. But small ISPs like ours face many structural obstacles, and many Americans have very limited choices: a monopoly or duopoly on the wireline side, and a highly consolidated cellular market dominated by the same wireline firms.Under those circumstances, the FCC's Broadband Privacy Rules are the only way that most Americans will retain the free market choice to browse the Web without being surveilled by the company they pay for an Internet connection."
And now those rules are dead, courtesy of lawmakers that put fattening AT&T and Comcast quarterly earnings above consumer privacy and the health of the entire internet.ISPs have consistently tried to argue that killing the FCC's rules is no big deal because the FTC will somehow magically pick up the slack. But as former FCC boss Tom Wheeler recently noted, the FTC lacks rule-making authority, and ISPs know that privacy issues are going to quickly fall through the cracks at the over-extended agency. There's also rumblings that the GOP wants to push additional bills that hamstring both the FCC and the FTC consumer protection authority. If that doesn't work, they can dodge FTC oversight via common carrier exemptions patiently carved out by AT&T lawyers looking to dodge accountability for fraud.During an early afternoon floor debate, Massachusetts Representative Michael Capuano had perhaps the most amusing and heated opposition to the effort (video here), citing his online underwear purchases while mocking the lack of public support for the rules' repeal:
...When I was growing up, one of the tents of the Republican party that I admired the most was (dedication to) privacy. Please give me one, not two, one good reason why all these people here, why all these people watching, would want Comcast or Verizon to have information -- unless they give it to them. We're talking medical information, we're talking passwords, we're talking financial information, we're talking college applications -- there is nothing in today's society that every one of us doesn't do every day on the internet -- and yet Comcast is gonna get it. Not because I said it's ok....Go out in the street! Please, leave Capitol Hill for five minutes -- go anywhere you want -- find three people in the street who think it's ok. And you can explain to them "ROIs, and the company has to make progress, and we have to make money." You'll lose that argument every single time, as you should. And I guarantee it you won't find anybody in your district who wants this bill passed.
It's consistently disappointing that ideas like net neutrality and privacy get mired in partisan politics, despite the broad, bipartisan consumer support both concepts enjoy. What happens next won't be pretty, regardless of your political ideology.Congress has intentionally and repeatedly ignored the lack of broadband competition that makes net neutrality, privacy, and other bad behavior possible. Now, as cable's monopoly over broadband grows faster than ever, ISP-loyal lawmakers are rushing to strip away any and all government oversight of one of the least-liked, and most anti-competitive business sectors in American history. ISPs recently busted for covertly modifying packets to track users, charging an additional fee for privacy, or giving worse customer support based on credit score now have carte blanche to misbehave.Thanks to a cash-soaked Congress there will be neither broadband competition, nor functional regulatory oversight of an industry with a documented history of aggressive, anti-consumer and anti-competitive behavior. What could possibly go wrong?

Permalink | Comments | Email This Story


Read more here

---
posted at: 12:00am on 29-Mar-2017
path: /Policy | permalink | edit (requires password)
0 comments, click here to add the first
---
---
California News Publisher Files SLAPP Suit Against Competing Online Publisher

Furnished content.


In the news and publishing world, there tends to be pretty strong support for protecting free speech and, in particular, strong anti-SLAPP laws. After all, news publishers, are (unfortunately!) frequently targeted in SLAPP suits that are designed solely to shut up a news organization from reporting on something that someone doesn't like. That's why I'm always surprised when publications themselves seem to go after others for speech. But here we are, with a weird legal battle involving two publishers in nearby Santa Clara, California. The lawsuit was filed by Santa Clara Eagle Publishing and its boss Miles Barber against a guy named Robert Haugh, who just recently started an online-only publication called "Santa Clara News Online." Eagle Publisher/Barber, on the other hand, publish the more established "Santa Clara Weekly."Haugh's Santa Clara News Online appears to be your typical local blog, with Haugh -- a local reporter for over 15 years -- posting news and opinion blog posts about local happenings in Santa Clara. Some of those blog posts criticized Barber and Santa Clara Weekly. And, thus, the lawsuit. Lawyer Ken White -- better known around these parts as Popehat -- is representing Haugh and has filed a lovely anti-SLAPP motion against Barber and Eagle Publishing, noting that it seems quite clear that the intent of the lawsuit was to try to silence Haugh from criticizing Barber and the SCW:
This case presents a classic story - a minor local luminary, incensed at bad press,abuses the legal system to lash out at critics, hoping that the ruinous expense of litigationwill crush them even if the claim has no merit. Fortunately, California has a robust remedy:California Code of Civil Procedure § 425.16, the Anti-SLAPP Statute (Section 425.16).The Court should employ it to strike the complaint in this case, which is utterly meritless.
Rather tellingly, the complaint by Barber doesn't cite a single blog post by Haugh, nor even quote a single statement. It doesn't attach any of the actual posts, which you would kind of expect. Instead, it appears to paraphrase a bunch of things that Haugh's site posted -- mostly as clearly marked opinion -- and takes it out of context in the lawsuit filing:
Now Plaintiffs sue Mr. Haugh, claiming that he's used the Site to interfere with theSCW's relationship with Santa Clara, misappropriated the trade name Santa Clara Newsonline, defamed it and Mr. Barber, and put them in a false light. Plaintiffs' Complaint isnotably and strategically vague. It complaints of false statements, but does not cite or attacheven a single blog post or statement, nor does it quote even one statement on the Site.Instead, Plaintiffs claim that Mr. Haugh made the following vaguely defined categories ofstatements, which Plaintiffs claim are false:

[T]hat the 49'ers had bought out the weekly and that the weekly serves as nothingmore than a proxy for the 49'ers business interest,
[T]hat Miles Barber is a misogynist and the Weekly's criticism of the women ofthe city council were [sic] based on a desire to remove all women from thecouncil,
[T]hat the Weekly was not authorized to publish legal notices,
[T]hat the Weekly's advertisers do not see a return on investment,
[T]hat Plaintiff has been skipping publication dates, and
[T]hat numerous facts published by the weekly were not true.
It turns out there are some problems with these allegations. Mostly in that they are misleading or inaccurate:
These vague assertions mischaracterize the actual content of the Site:

On the Site, in columns explicitly labeled as opinion, Mr. Haugh identified factsunderlying his questions about whether the SCW was serving the needs of theSan Francisco 49ers: that the SCW had run a large 49ers ad nearly every weeksince 2010, that an associate editor of SCW promoted the 49ers' sponsorship ofher non-profit arts event, and that a Political Action Committee called BluPacassociated with the 49ers reprinted stories printed in the SCW.
The Site has never called Mr. Barber a misogynist. It has criticized him for acolumn in the SCW (Exh. R) in which he derided female City Council members,saying they could barely spell their name.
Mr. Haugh has not asserted that Plaintiffs are unauthorized to print legal notices.Rather, in a guest letter written by Burt Field, Mr. Field explained that he hadwritten to the City Clerk and City Auditor asking questions about whether theSCW met the requirements for legal notices.
The Site's sole reference to advertiser return on investment in the SCW camefrom a column - expressly labeled an opinion - in which Mr. Haugh referred tothe fact that most of the candidates who advertised in the SCW in the 2016 localelection were not elected.
Contrary to Plaintiffs' claim, the Site is not aware of any post asserting that theSCW has skipped publication dates.
Though the Site has questioned factual claims in the SCW, each time it has done sso in opinion pieces that have expressly stated the basis for the question.
So, uh, yeah. That certainly makes it pretty clear that this is a SLAPP suit. There's also this fairly sketchy behavior:
[Haugh's] Site was initially located at stantaclaranews.wordpress.com until Mr. Haugh registeredsantaclaranews.org on October 27, 2016.... On November 21,2017, more than a month after Mr. Haugh began publishing the Site under the name SantaClara News Online, Plaintiffs filed a Fictitious Business Name application purporting to layclaim to that name, and in January 2017 published the claim.
Got that? In October, Haugh started publishing Santa Clara Online News. Less than a month later, Barber filed a fictitious business name application purporting that his company was using that name. Then, in the lawsuit, Barber argued that Haugh was "misappropriating" the name. That's... bad. Really bad.Also, some of the complained about statements come from letters to the editor, which means that Haugh is easily protected under Section 230. This case has all the hallmarks of a standard SLAPP suit, and hopefully the court makes quick work of it thanks to California's anti-SLAPP law. But, really, the most ridiculous part of all of this is why would a news pulisher file such a lawsuit itself, in an age where a free press is under attack? It's incredibly short sighted to try to undermine press freedoms yourself, just because someone made fun of you a little bit online.

Permalink | Comments | Email This Story


Read more here

---
posted at: 12:00am on 29-Mar-2017
path: /Policy | permalink | edit (requires password)
0 comments, click here to add the first
---
---
Goodbye Doesn't Mean Forever: How To Leverage Omnichannel Marketing For Re-Engagement

Furnished content.


Amy Abascal, Head of Marketing, Americas at FollowAnalytics, shares her insights on re-engagement and omnichannel marketing. This morning, I got into the office, drank my tea and began making my way through my inbox. And like so many other days, I found one: my daily bad marketing facepalm. It was an email with a subject [...]

Read more here

---
posted at: 12:00am on 28-Mar-2017
path: /Online_Marketing | permalink | edit (requires password)
0 comments, click here to add the first
---
---
AffinityAnswers Expands to Germany, UK; AppsFlyer's New Analysis Tool; SourceMedia Adds Data-Driven Products; more

Furnished content.


AffinityAnswers Expands to The UK and Germany. AffinityAnswers, which created the first platform for predictive branding – achieved through proprietary mutual affinity algorithms that measure active social engagement data across 60,000 brands and 400 million people worldwide, announced it has expanded its offerings to the UK and Germany programmatic data markets. AffinityAnswers analyses hundreds of [...]

Read more here

---
posted at: 12:00am on 28-Mar-2017
path: /Online_Marketing | permalink | edit (requires password)
0 comments, click here to add the first
---
---
TMBI's Survey Examines Attitudes Toward Digital Buying

Furnished content.


Fake News, Ad Fraud and Lack of Transparency are a Setback for Programmatic. Trusted Media Brands, Inc. has released primary research from its latest survey, 2017: Now More Than Ever Brands Need Safe Environments, looking at agency and marketer sentiment toward the importance of key elements in the digital buying process. The survey, commissioned by [...]

Read more here

---
posted at: 12:00am on 28-Mar-2017
path: /Online_Marketing | permalink | edit (requires password)
0 comments, click here to add the first
---
---
Broadway Play Changes Set Design Over Cafe Trademark Threat And, No, That Doesn't Make Any Damned Sense

Furnished content.


When you write enough about trademark disputes, a recurring thing that happens is you keep thinking you've seen it all, but then something insane happens. And truly, after years of writing here at Techdirt, I've come across some mind-bending trademark disputes. But I can't think of a single one that matches the Broadway version of A Bronx Tale changing its set design to appease a cafe owner who insists he is a monarch of Italian pastries.
Little Italy pastry shop owner John "Baby John" Delutro of Caffé Palermo asked Broadway's "A Bronx Tale" to remove a sign on its set that dubs another pastry joint "The Cannoli King," infringing on his trademark.The show — a coming-of-age story about an Italian kid growing up in the Bronx during the socially segregated 1960s — is currently crediting Arthur Ave. pastry shop Gino's with the coveted cream-filled title on one of its storefront signs in the set.The lawyer for "A Bronx Tale" refused to comment, but producers for the show said they plan to re-paint the sign.
Can you smell that? It's the scent of crazy wafting into your nostrils, because nothing about this makes any sense. First, the real-world trademark ownership of a phrase like "The Cannoli King" has zero purchase on the fictional realm of the play. A play which, by the way, is set in the 1960s, and merely included a streetside set design with a restaurant with the trademarked phrase painted on it. There's no use in commerce to talk about, nor is there any customer confusion at hand. In fact, the only reason the play points to Gino's in the Bronx at all is because the owner of that pastry shop does indeed use that moniker and it's in the Bronx, whereas Delutro's business is in Manhattan. Delutro is also going after Gino's for use of the phrase, which, you know, fine, but there is no reason to have ever pushed the Broadway play to change its set design.Again, it's a fictional world, rendering any customer confusion null and void, thus invalidating any trademark dispute reared by the trademark owner. Just to put a bow on this, Delutro opened his business in the 70s, the decade after the setting for the play. I understand that the producers of the play likely just wanted this all to go away, but they could just as easily have laughed the threat off entirely, because it's without merit.

Permalink | Comments | Email This Story


Read more here

---
posted at: 12:00am on 28-Mar-2017
path: /Policy | permalink | edit (requires password)
0 comments, click here to add the first
---
---
Appeals Court Says Right To Bear Arms Isn't A Right If Cops Are Banging On Your Door In The Middle Of The Night

Furnished content.


Qualified immunity -- a legal doctrine that originates from court decisions rather than statute -- received another boost from the federal court system last week. Qualified immunity is the concept that allows overreaching and abusive government employees and officials to stay one step ahead of accountability. If their actions don't "clearly violate" established law and/or precedent, police officers, etc. can walk away unscathed from deprivations of other people's life and liberty.The Eleventh Circuit Appeals Court has declined [PDF] a chance to rehear a case in which the Second Amendment is implicated nearly as much as the Fourth Amendment. In doing so, no further precedent will be set, which just adds to the list of actions law enforcement officers can perform and still expect to be granted qualified immunity. If there's no precedent set, it's pretty hard to "clearly violate" it. Handy.The short story: Andrew Scott was home playing video games with his girlfriend when someone began banging loudly on his door. Since it was 1:30 am, Scott was cautious and answered to door with a gun in his hand, pointed at the floor. He opened the door to see only a "shadowy figure" and began stepping backwards. The shadowy figure was Deputy Richard Sylvester, who immediately shot Scott six times, killing him.Deputy Sylvester admits he never identified himself as a law enforcement officer. He also claims Scott's movement back into his apartment was perceived by him as a Scott attempting to find cover before opening fire. Perception is all that matters, and only one person's perception really matters: Deputy Sylvester's.
The district court concluded that Deputy Sylvester's splitsecond decision to use deadly force was objectively reasonable under the total circumstances—a reasonably perceived imminent threat of serious physical harm—and was not a constitutional violation.[...]At a minimum, no clearly established federal law as of July 15, 2012 gave fair and clear notice to Deputy Sylvester that his conduct in these unique circumstances was objectively unreasonable and unlawful, and thus "no reversible error" was shown.
And so it goes. Cops can bang on your door in the middle of the night without announcing themselves and it's up to you not to scare them into killing you. The Second Amendment gives you the right to bear arms, but apparently not if you're going to be startled by unannounced law enforcement at 1:30 in the morning.The dissent isn't thrilled with the decision to pass on the rehearing, noting the implications this has on two amendments: the Fourth and the Second. But especially the Second.
If Mr. Scott was subject to being shot and killed, simply because (as the District Court put it) he made the "fateful decision" to answer a late-night disturbance at the door to his house, and did so while holding his firearm pointed safely at the ground, then the Second Amendment (and Heller) had little effect.
The dissenting judges also delivered one biting sentence about the law enforcement tactics that led to Scott being killed by Deputy Sylvester.
We have never before held that police can, without justification, provoke a panic, and then hide behind it by claiming that "everything happened fast."
It doesn't matter is the court has "held" this or not. It happens all the time. Police create the exigency, then use it to excuse every rights violation that occurs thereafter.Andrew Fleischman of Fault Lines describes the pitiable "standard" officers are being held to by our nation's courts.
For those not in the know, officers are allowed to knock on a citizen's door as long as they don't exceed the boundaries of what any door to door salesman or Girl Scout might normally do. Here, the Court figured that it wasn't clear the officers exceeded the boundaries of a knock and talk, because it's typical for four Girl Scouts to take up tactical positions around your door at 1:30 in the morning, pound your door, and then shoot you when you answer it. As one appellate judge noted in upholding the grant, it's not like the officers had helicopters.Literally, that's the standard. No helicopters hovering overhead. Still, as far as qualified immunity analysis goes, that might be right.
By refusing to rehear the case, the Eleventh Circuit has refused to discuss raising the bar for qualified immunity, much less move forward towards something that might further protect so-called "enshrined" rights like the multiple amendments violated in this case.Every time a court declines to reexamine a case, the QI bar remains static. Add up enough non-decisions and the bar begins to drop.
Even though Deputy Sylvester was leaping from one hunch to another. Even though it was one in the morning. Even though he failed to consider that a reasonable person might come to his door armed in response to aggressive late-night knocking. Even though a "knock and talk" is supposed to be a friendly, consensual encounter, and there is nothing consensual about answering your door to find a gun in your face. Deputy Sylvester had qualified immunity because there was no case exactly on point saying that he couldn't make those choices.In fact, there still isn't. He could do the exact same thing tomorrow, and the day after, and there would be no legal consequences. That's qualified immunity for you.
If nothing else, the courts' continued deference to officers' statements of "fear" and "split-second decisions" makes "Blue Lives Matter" laws excessively redundant. Here's Scott Greenfield's take on the consequences of (yet another) non-decision.
That an innocent person killed because of a scared cop can't recover for the deprivation of his life is bad enough. That he was deprived of his life is even worse. That the law endorses both things, independently, under yet another judge-made exception to both the Constitution and statute reduced the law to a farce that will employ any sophistry necessary to rationalize why cop's lives matter more than anything else.
Holding an officer accountable for rights violations is almost impossible. Those who've obtained settlements might receive something to help with medical/funeral bills and the feeling they might have made a small, positive difference. But the reality is every settlement comes with no admission of wrongdoing and -- better/worse yet (cop/citizen) -- no precedential ruling that would make it easier to hold officers accountable for their actions in the future.

Permalink | Comments | Email This Story


Read more here

---
posted at: 12:00am on 28-Mar-2017
path: /Policy | permalink | edit (requires password)
0 comments, click here to add the first
---
---
This Week In Techdirt History: March 19th - 25th

Furnished content.


Five Years AgoThis week in 2012, the public got a terrifying glimpse of the extent of the NSA's surveillance capabilities thanks to some excellent journalism, which put the agency on the defensive trying to downplay its powers. While this was going on, Senators Wyden and Udall were pressing the Obama administration to open up about its secret interpretation of the Patriot Act.In the fallout of the Megaupload indictment, a restraining order on Kim Dotcom was rendered void by a procedural error, the MPAA was trying to get the site's data retained so it could sue the users (though it quickly tried to backtrack), and scammers were targeting Megaupload users by masquerading as copyright trolls sending settlement letters.This was also the week of a major ruling in the patent world: the Supreme Court effectively rejected the concept of patenting medical diagnostics in Prometheus v. Mayo.Ten Years AgoThis week in 2007, even as the RIAA was trying and failing to escape paying legal fees in a doomed lawsuit against an indebted mother of five, the agency was continuing to defend its practice of suing college kids and trying to get their schools to help — which irritated one university so much that it demanded the RIAA pay up for all the time that was wasted with onerous requests. Meanwhile, NBC Universal and News Corp. were making waves with their YouTube competitor, which you might notice has not become a lasting pillar of the internet, as plenty of people suspected at the time. But this was interesting since Viacom was just revving up in its lawsuit against the real YouTube, which Lawrence Lessig argued was made possible by the Grokster decision, and which was leading to some ironic situations with the company's own star content creators.Fifteen Years AgoThis week in 2002, the world was being buried under a rising tide of spam, but at least society was beginning to accept that internet dating is normal. Not from work, of course, as offices were ramping up their efforts to block various internet activities in a misguided panic about productivity. Of course, some were over-ambitiously predicting that fully half of us would be working from home by 2007, in which case that would presumably cease to be a problem. It was a different time, when Stephen King was selling his novel in phone booths and the UK's Times Online was trying to charge web subscriptions to your phone bill (and, of course, trying to patent the technology). Most importantly, though, we saw an early victory for safe harbors when AOL was found not liable in a copyright lawsuit filed by Harlan Ellison over a Usenet posting.Thirty-Eight Years AgoIf you care about US politics, you know it: it's the TV station you watch slightly less than you say you do and much less than you probably should, and this week was its birthday. That's right: on March 19th, 1979, C-SPAN was unveiled to the country, offering an unprecedented window into the House of Representatives. It opened with a speech by Al Gore, though at the time only 3.5-million homes were capable of receiving it. The Senate would not follow suit and allow itself to be televised for another seven years.

Permalink | Comments | Email This Story


Read more here

---
posted at: 12:01am on 26-Mar-2017
path: /Policy | permalink | edit (requires password)
0 comments, click here to add the first
---
---
Loi Sapin 2.0: Parlez-vous Transparency? What the New French Law Means for Global Marketers

Furnished content.


Adotas is pleased to discuss with Carl Erik Kjrsgaard, CEO and co-founder of AI media platform Blackwood Seven, the ramifications of the new French regulations mandating more transparency in digital media and advertising. Q: What are the global implications of France's Loi Sapin 2.0 within the advertising industry? A: I don't foresee any global implications. [...]

Read more here

---
posted at: 12:00am on 25-Mar-2017
path: /Online_Marketing | permalink | edit (requires password)
0 comments, click here to add the first
---
---
Encryption Workarounds Paper Shows Why 'Going Dark' Is Not A Problem, And In Fact Is As Old As Humanity Itself

Furnished content.


It was October 2014 when FBI Director James Comey made his famous claim that things were "going dark" in the world of law enforcement because of the increasing use of encryption. Since then, Techdirt has had dozens of posts on the topic, many of them reporting on further dire warnings that the very fabric of civilization was under threat thanks to what was claimed to be a frightening new ability to keep things secret. Many others pointed out that the resulting calls for backdoors to encryption systems were a stunningly foolish idea that only people unable to understand the underlying technology could make.One Techdirt post on the topic mentioned a great paper with the title "Keys Under Doormats: Mandating insecurity by requiring government access to all data and communications," which ran through all the problems with the backdoor idea. It was written by many of the top experts in this field, including Bruce Schneier. He's just published another paper, co-authored with Orin Kerr, who is a professor at George Washington University Law School, which looks at the other side of things -- how to circumvent encryption:
The widespread use of encryption has triggered a new step in many criminal investigations: the encryption workaround. We define an encryption workaround as any lawful government effort to reveal an unencrypted version of a target's data that has been concealed by encryption. This essay provides an overview of encryption workaround.
The various possibilities are largely self-explanatory:
We classify six kinds of workarounds: find the key, guess the key, compel the key, exploit a flaw in the encryption software, access plaintext while the device is in use, and locate another plaintext copy. For each approach, we consider the practical, technological, and legal hurdles raised by its use.
What's interesting is not so much what the workarounds are, as is the fact that there are a number of them, and that they can all work in the right circumstances. This gives the lie to the idea that we are entering a terrible new era where things are "going dark," and it is simply impossible to obtain important information. But as the authors point out:
there is no magic way for the government to get around encryption. The nature of the problem is one of probabilities rather than certainty. Different approaches will work more or less often in different kinds of cases.
Schneier and Kerr go on to draw an analogy:
When the police have a suspect and want a confession, the law gives the police a set of tools they may use in an effort to persuade the suspect to confess. None of the interrogation methods work every time. In some cases, no matter what the government does, suspects will confess. In other cases, no matter what the government does, suspects will assert their rights and refuse to speak. The government must work with the inherently probabilistic nature of obtaining confessions. Similarly, the government must work with the inherently probabilistic nature of encryption workarounds.
That analogy reveals something profound: that the supposedly new problem of "going dark" -- of not being able to find out information -- has existed as long as humans have been around. After all, there is no way -- yet, at least -- of accessing information held in a person's mind unless some kind of interrogation technique is used to extract it. And as the analogy shows us, that is exactly like needing to find some encryption workaround when information is held on a digital device. It may be possible, or it may not; but the only difference between the problems faced by those demanding answers thousands of years ago and today is that some of the required information may be held external to the mind in an encrypted digital form. Asking for guaranteed backdoors to that digital data is as unreasonable as demanding a foolproof method to extract information from any person's mind. We accept that it may not be possible to do the latter, so why not accept the former may not be feasible either?Follow me @glynmoody on Twitter or identi.ca, and +glynmoody on Google+

Permalink | Comments | Email This Story


Read more here

---
posted at: 12:00am on 25-Mar-2017
path: /Policy | permalink | edit (requires password)
0 comments, click here to add the first
---
---
Trademark Censoring: Hungary Considering Banning Heineken Red Star Trademark Because Communism

Furnished content.


When it comes to trademark law, it's worth repeating that its primary function is to prevent customer confusion and to act as a benefit for consumer trust. This mission has become skewed in many ways in many countries, but one of the lessons learned via the Washington Redskins fiasco is that even well-meaning attempts to have government play obscenity cop will result in confusing inconsistency at best and language-policing at worst. When government begins attempting to apply morality to trademark law in that way, it skews the purpose of trademark entirely.To see that on display elsewhere, we need only look to Hungary, where the government is considering stripping the trademark protection for some of the branding for Heineken beer because it resembles the ever-scary demon that is communism.
The rightist government of Prime Minister Viktor Orbán, which faces an election in April 2018, says it is a "moral obligation" to ban the commercial use of symbols such as the swastika, arrow cross, hammer and sickle, and the red star. Heineken has had a star logo on its beer for most of the years since it was first brewed in the second half of the 19th century, changing to a red one in the 1930s. The star is thought to represent a brewers symbol or the various stages of the brewing process. But the red star was also a major symbol of Soviet communism and used to appear on the crest of communist-era Hungary.
Which, frankly, is entirely besides the point. It should be immediately clear how silly this sort of thing is. Stripping trademark rights for symbols tangentially related to causes a government doesn't like is bad enough, but outright banning their use in commerce is obviously a statist act by government. It does nothing to benefit the consuming public, one which will already be quite familiar with Heineken and its branding, and instead is a move designed to play on the strain of nationalism currently weaving its way through much of the West. But it accomplishes nothing concrete. Heineken isn't communism, no matter how many red stars it puts on its labels.But dumb ideas like this necessarily come with even more extreme consequences.
Under the new law, businesses using these symbols could be fined up to 2 billion forints (€6.48 million) and jail sentence.
The danger in allowing the government to play language police in this way should be clear. Fortunately for us, this particular case in Hungary eschews the slippery slope entirely and instead simply jumps off of the corruption cliff.
Last week Deputy Prime Minister Zsolt Semjén, who jointly submitted the bill with Orbán's chief of staff Janos Lazar, was quoted as saying that the red star in Heineken's logo was "obvious political content". At the same time, Semjén did not deny that the ban was linked to Heineken's legal battle with a small, partly locally-owned beer maker in Romania's Transylvania — home to hundreds of thousands of ethnic Hungarians — over the use of a popular brand name there.
That's where this always will eventually lead, with government taking this sort of power and abusing it to favor one company over another. Hungary simply did us the favor of putting that on immediate display. If you're going to go full corruption, after all, why bother hiding it?

Permalink | Comments | Email This Story


Read more here

---
posted at: 12:00am on 25-Mar-2017
path: /Policy | permalink | edit (requires password)
0 comments, click here to add the first
---
---
AffinityAnswers Expands to Germany, UK; AppsFlyer's New Analysis Tool; SourceMedia Adds Data-Driven Products; Ad Serving, Direct Deals & OTT Drive SpotX's Growth; Jenny Jones Joins Telmar NA

Furnished content.


AffinityAnswers Expands to The UK and Germany. AffinityAnswers, which created the first platform for predictive branding – achieved through proprietary mutual affinity algorithms that measure active social engagement data across 60,000 brands and 400 million people worldwide, announced it has expanded its offerings to the UK and Germany programmatic data markets. AffinityAnswers analyses hundreds of [...]

Read more here

---
posted at: 12:00am on 25-Mar-2017
path: /Online_Marketing | permalink | edit (requires password)
0 comments, click here to add the first
---
---
Rapt Media and Kaltura Team Up

Furnished content.


Integration will help organizations create personalized, interactive experiences to fuel deeper learning and information retention. Rapt Media, a company providing interactive video technology, is integrating with Kaltura, a video technology provider, to bring enterprise companies and educational institutions better learning and engagement through interactive, personalized video experiences. The solution will be available to all Kaltura [...]

Read more here

---
posted at: 12:00am on 24-Mar-2017
path: /Online_Marketing | permalink | edit (requires password)
0 comments, click here to add the first
---
---
They're Here! SMS, Chatbots & a Halo of AI

Furnished content.


Marketing is one of the most fluid disciplines out therewhy? Because it ebbs and flows along with customer preferences and current technology trends, both of which are constantly changing. Key traits of a good marketer include adaptability and flexibility, for this very reason. As we kick off the New Year full steam ahead, marketers should [...]

Read more here

---
posted at: 12:00am on 24-Mar-2017
path: /Online_Marketing | permalink | edit (requires password)
0 comments, click here to add the first
---
---
Confidence Wavers In Google Fiber As ISP Cancels Installs, Refuses To Explain Why

Furnished content.


Late last year Google Fiber announced it would be pausing expansion into several new markets, axing its CEO, and shuffling a number of employees around. Reports subsequently emerged suggesting that Alphabet higher ups were growing frustrated with the high cost and slow pace of fiber deployment, and were contemplating an overall larger shift to wireless. While the company continues to insist that there's nothing to see here and that everything is continuing as normal, signs continue to emerge that the ground Google Fiber is built on may not be particularly sturdy.This week numerous Kansas City residents say they were told that the company was cancelling their installations after waiting eighteen months for service. Users there are frustrated by Google's complete lack of explanation for the rash of cancellations:
"About April, May, I saw sometimes as many as four to five Fiber trucks in the neighborhood. I kept watching my email but never got anything in the mail to schedule my appointment or anything, Muerer told 41 Action News.That was back in October 2015.Eighteen months later, Meurer still doesn't have Google Fiber. He recently received an email saying the company had canceled his installation."I'm left wondering what is going on, said Meurer.
Kansas City residents aren't alone. Portland was one of the cities Google Fiber was supposed to launch in, but locals there are similarly frustrated by Google's about face. Especially since the city had shuffled around city ordinances, laid the groundwork for the placement of Google Fiber "huts," and convinced state legislatures to pass a new state law providing notable tax incentives for Google Fiber. Chicago, Jacksonville, Los Angeles, Oklahoma City, Phoenix, San Diego, San Jose, and Tampa were also in various states of contact with Google Fiber about potential builds that apparently will no longer be happening.And while Google Fiber still exists, Google/Alphabet isn't helping restore confidence it the disruptive potential of the service. By and large the company continues to insist that everything is fine and there's nothing to see here despite ongoing evidence of cold feet at the executive level. Whenever press outlets inquire about last fall's decision, reporters are given a calorie-free rosy statement that tells people absolutely nothing substantive about what's going on. This statement, for example, is what I was given when I asked the company specifically why it was cancelling fiber installations in Kansas City:
"Google Fiber loves Kansas City and is here to stay. We've been grateful to be part of your community since 2011, and for the opportunity to provide superfast Internet to residents. We recently announced our expansion into Raymore, we are continuing to build in Overland Park, and we can't wait for even more customers in Kansas City to experience what's possible with Google Fiber."
Ars Technica received a similar non-answer from the company.Granted Google's pivot to wireless could certainly work. The company is conducting wireless trials in the 71-76 GHz and 81-86 GHz millimeter wave bands, as well as the 3.5 GHz band, the 5.8 GHz band and the 24 GHz band. It seems fairly clear that Alphabet executives really don't know what they want to do just yet, but don't want to admit that to anybody. But confidence that Google Fiber would be the answer to solving the broadband mono/duopoly log jam is quickly wavering, something unaided by Google's bizarre refusal to be clear about the direction the project is headed.

Permalink | Comments | Email This Story


Read more here

---
posted at: 12:00am on 24-Mar-2017
path: /Policy | permalink | edit (requires password)
0 comments, click here to add the first
---
---
Congress Leaks Draft Bill To Move Copyright Office Out Of The Library Of Congress

Furnished content.


Update: The bill has now officially been introduced.Well, we all knew this was coming, but Rep. Bob Goodlatte has been passing around a draft of a bill to move the Copyright Office out of the Library of Congress. Specifically, it would make the head of the Copyright Office, the Copyright Register, a Presidentially appointed position, with 10-year terms, and who could only be removed by the President.This is a bad and dangerous idea. It's one that's designed to give Hollywood and the recording industry even more power and control over an already deeply captured agency. As it stands now, having the Copyright Office in the Library of Congress provides at least some basic recognition of the actual intent of copyright law, as established by the Constitution to Promote the progress of science. That is, as we've pointed out for a long, long time, the intent of copyright is to benefit the public. The mechanism is to provide temporary monopolies to creators as an incentive, before handing the works over to the public. Yet, the Copyright Office eschews that view, insisting that the role of the Copyright Office is to expand those monopoly rights, and to speak out for the interests of major copyright holders (rarely the creators themselves).Either way, by making this a Presidential appointment, the MPAA and RIAA know that it will give them significantly greater say over who leads the office. Right now they can (and do!) lobby the Librarian of Congress on who should be chosen, but the Librarian gets to choose. One hopes that the Librarian would take into account the larger view of copyright law, and who it's actually supposed to benefit -- and we're hoping that the current Librarian will do so (if given the chance). But making it a Presidential appointment will mean heavy lobbying by industry, and much less likelihood that the public interest is considered.The usual think tankers and industry folks will tell you -- incorrectly -- that the Copyright Office is only in the Library due to "an accident of history." But that's not the case. The role of both overlap dramatically -- collecting, organizing and cataloging new creative works. Almost everyone agrees that the Copyright Office needs to be modernized, and that the previous Librarian failed (miserably) to do so. But because we had a bad librarian in the past is no reason to remove the Copyright Office entirely from the Library and disconnect it completely to its constitutional moorings designed around getting more creative works to the public.Make sure to let your Congressional Representative know not to support this bill -- especially if they're members of the House Judiciary Committee. Rep. Goodlatte has said that he'd only propose copyright reform bills that have widespread consensus. This is not such a bill.

Permalink | Comments | Email This Story


Read more here

---
posted at: 12:00am on 24-Mar-2017
path: /Policy | permalink | edit (requires password)
0 comments, click here to add the first
---
---
Supreme Court Says Patent Trolls Can Wait A While Before Suing

Furnished content.


In a ruling this week that will cheer up patent trolls, the Supreme Court said patent owners can lie in wait for years before suing. This will allow trolls to sit around while others independently develop and build technology. The troll can then jump out from under the bridge and demand payment for work it had nothing to do with.The 7-1 decision arrives in a case called SCA Hygiene v. First Quality Baby Products. This case involves a patent on adult diapers but has a much broader reach. The court considered whether the legal doctrine of "laches" applies in patent cases. Laches is a principle that penalizes a rightsholder who "sleeps on their rights" by waiting a long time to file a lawsuit after learning of a possible infringement. It protects those that would be harmed by the assertion of rights after a lengthy delay. For example, laches would work against a patent owner that saw an infringing product emerge yet waited a decade to sue, after significant investment of time and resources had been put into the product.The ruling in SCA follows a similar decision in Petrella v. MGM holding that laches is not available as a defense in copyright cases. The Supreme Court has generally rejected "patent exceptionalism" and has often reversed the Federal Circuit for creating special rules for patent law. So this week's decision was not especially surprising. In our view, however, there were compelling historical and policy arguments for retaining a laches defense in patent law.Together with Public Knowledge, EFF filed an amicus brief at the Supreme Court explaining the many ways that companies accused of patent infringement can be harmed if the patent owner sleeps on its rights. For example, evidence relevant to invalidity can disappear. This is especially true for software and Internet-related patents. In his dissent, Justice Breyer cited our brief and explained:
[T]he passage of time may well harm patent defendants who wish to show a patent invalid by raising defenses of anticipation, obviousness, or insufficiency. These kinds of defenses can depend upon contemporaneous evidence that may be lost over time, and they arise far more frequently in patent cases than any of their counterparts do in copyright cases.
The seven justices in the majority suggested that patent defendants might be able to assert "equitable estoppel" instead of laches. But that would likely require showing that the patent owner somehow encouraged the defendant to infringe. In most cases, especially patent troll cases, the defendant has never even heard of the patent or the patent owner before receiving a demand. This means estoppel is unlikely to be much help. Ultimately, today's ruling is a victory for trolls who would wait in the shadows for years before using an obscure patent to tax those who do the hard work of bringing products and services to market.Republished from the EFF's Deeplinks Blog

Permalink | Comments | Email This Story


Read more here

---
posted at: 12:00am on 23-Mar-2017
path: /Policy | permalink | edit (requires password)
0 comments, click here to add the first
---
---
Swiss Government Blows Off Turkish President's Demands For Prosecution After He's 'Insulted' By A Local Tabloid

Furnished content.


Perhaps the thinnest skinned politician on the planet -- Recip "Gollum" Erdogan -- is at it again. His legacy of injunctions, legal threats, and even copyright abuse continues. The latest to draw Erdogan's wrath is Switzerland, which, to be fair, has drawn his wrath in the past. The repeat "offender" was targeted by Erdogan in 2016 for an art exhibit he didn't care for. This wouldn't have happened if Switzerland didn't have a law on the books forbidding insulting foreign leaders. Erdogan has the uncanny ability to sniff out foreign laws that might help him remain un-insulted, but so far has only managed to Streisand himself into infamy.This time around, it's a Swiss tabloid earning the Turkish president's disdain/threats of prosecution.
The Zurich-based tabloid Blick made Turkish television on Monday night when the country's president Recep Tayyip Erdogan held up an edition of the Swiss paper with the front-page headline 'Vote no to Erdogan's dictatorship'.The article in German and Turkish called for Turks in Switzerland to vote no in the April 16th referendum which, if successful, would give more powers to Erdogan.
Seems like a logical stance. Erdogan has abused every power he's been given. There's really no reason for other countries to give him more powers to abuse, even indirectly. The Turkish government went full Godwin in response, comparing this editorial's call for a "no" vote to Nazism.Obviously, the Turkish government saw no irony in immediately demanding the Switzerland government do something about the tabloid's "insults." It has sent four requests for "legal aid," presumably in hopes of getting the tabloid's writers/publishers locked up for saying bad things about the Turkish president.The Swiss government has responded, telling Turkey to stick to bullying its own citizens.
On Thursday a spokesman from the Swiss justice office, Folco Galli, told broadcaster SRF that four requests lodged by Turkey in mid January had been rejected, citing free speech.Switzerland would only be obliged to cooperate if the act concerned was considered a crime in both Turkey and Switzerland, he said.Speaking to the SRF Galli said: "If similar criticisms had been expressed in Switzerland against a federal councillor in the course of a political debate, they would of course have been tolerated as an expression of free speech."
Which is precisely why the pending referendum should be shot down. The tabloid has perfectly demonstrated why such a law should not be instituted in Switzerland. If it had already been law, Switzerland's government might have been more inclined to assist Erdogan in pushing the editorial's writer.The statement by the Swiss official is a healthy affirmation of Swiss citizens' protections, but is likely unintelligible to those it's directed at. "Tolerance" and "free speech" are concepts the Turkish president is completely unfamiliar with. As is pointed out in the article, the Turkish government is currently pursuing 2,000 domestic prosecutions over "insulting" social media posts and cartoons. Apparently Erdogan feels his persecution success at home should translate easily abroad. Fortunately for citizens in other countries, it doesn't.

Permalink | Comments | Email This Story


Read more here

---
posted at: 12:00am on 23-Mar-2017
path: /Policy | permalink | edit (requires password)
0 comments, click here to add the first
---
---
Ad-Juster Launches New Concierge Service from NYC; Promotes Sharon Smith; Brings in James Lane & Joseph Justin Lewis

Furnished content.


Ad-Juster, Inc. a fully automated reconciliation and aggregation reporting system in the digital ad industry, announced it has opened a new office in Manhattan and promoted Sharon Smith (pictured left) to run a new, soon-to-launch service called Concierge. Moreover, the company hired James Lane as a Senior Level member of the new unit and transferred [...]

Read more here

---
posted at: 12:00am on 23-Mar-2017
path: /Online_Marketing | permalink | edit (requires password)
0 comments, click here to add the first
---
---
PushSpring & Adobe Partner to Provide Deeper Insights for Adobe Audience Manager Clients

Furnished content.


PushSpring, an independent app-based mobile audience platform, announced a partnership with Adobe Audience Manager, an industry-leading data management platform, providing direct access to PushSpring data and insights to Adobe Audience Manager customers. PushSpring provides advertisers and app publishers with mobile app audience data for more than 200 million unique devices in the US and Canada. [...]

Read more here

---
posted at: 12:00am on 22-Mar-2017
path: /Online_Marketing | permalink | edit (requires password)
0 comments, click here to add the first
---
---
How Blockchain Will Affect Programmatic Advertising

Furnished content.


What is blockchain? This is a question that many executives involved with programmatic advertising may soon ask as blockchain emerges as a technology with the potential to be disruptive. Similarly to how programmatic is changing the way TV advertising is bought and sold, blockchain may revolutionize programmatic by opening it up to more publishers and [...]

Read more here

---
posted at: 12:00am on 22-Mar-2017
path: /Online_Marketing | permalink | edit (requires password)
0 comments, click here to add the first
---
---
Arkansas Legislators Want To Make Corporate Whistleblowing Illegal

Furnished content.


Another "ag gag" law is in the works in Arkansas. These bills are brought under the pretense of safety -- both for the person supposedly breaking them, as well as for the employees of the entity "trespassed" upon. The unspoken aim of these laws is to prevent whistleblowing, and they often spring into existence after someone has exposed horrible practices at local businesses -- in most cases, the mistreatment of animals. The other consequence of most of these laws -- unintended or not -- is to deter employees from speaking up about questionable business practices, as there often is no exception carved out for employees of the companies protected by these laws.Kaleigh Rogers of Vice reports another ag gag bill has passed the Arkansas state House and is on its way to a Senate vote. And once again, the bill's wording would deter whistleblowing and make journalistic efforts a civil violation.
Arkansas senators are considering a bill that would allow private businesses to sue whistleblowers that expose abuse or wrongdoing. The bill has already passed the house, but not without receiving plenty of dissent from Republican lawmakers, free speech proponents, and animal rights groups.The law would make it legal for businesses to sue anybody who goes onto a business's private property and, among other acts, "records images or sound occurring within an employer's commercial property and uses the recording in a manner that damages the employer." This include undercover investigators, but also employees: unless an employee is just doing his or her job, any recordings or information that exposes wrongdoing could be grounds for a lawsuit.
In between all the wording [PDF] that would be expected in a normal trespassing law (unauthorized access, theft, damage to property) are clauses that make exposing wrongdoing grounds for a lawsuit. This section makes the law's deterrent to whistleblowing explicit.
Records images or sound occurring within an employer's commercial property and uses the recording in a manner that damages the employer.
That's combined with an earlier phrase that applies the law to employees, not just muckraking interlopers.
An act that exceeds a person's authority to enter a nonpublic area of commercial property includes an employee who knowingly enters a nonpublic area of commercial property for a reason other than a bona fide intent of seeking or holding employment or doing business with the employer and without authorization…
Excepted from the law are all sorts of government agencies, which are apparently welcome to damage places of employment at will. In addition to damages and fees assessed as the result of a civil action, the state has the option to hit violators (which includes anyone who "directs or assists" the whistleblower/journalist) with $5,000/per day in fines.The representatives pushing this bill are pretending it's about safety.
Representative Aaron Pilkington (R), who voted in favor of the bill, said the language is intended to prevent people from trespassing and potentially putting themselves in danger."It's just about going into places you're not allowed to be in," Pilkington told me. "If you work in a daycare center and there are problems going on, you have every right to whistleblow on that. But if you hear there's a daycare three towns over where something's going on and you're sneaking in there with a video camera, that's not right."
That's a really weird -- and really dangerous -- assertion to make. Violations should be unseen and unheard, apparently… unless they happen to occur at your place of employment. And even then, the wording of the bill contradicts the protections Pilkington alludes to. The bill specifically forbids employees from entering areas not directly-related to their job description and making any sort of recording that "damages" their employer. Whistleblowing always results in some sort of "damage," even if that damage is purely reputational and can be repaired by swift corrective action.The only reason to pass a bill like this (rather than use existing trespassing laws to punish unauthorized entry) is to deter reporting and whistleblowing. It serves no purpose otherwise. Supporters of the bill know this, though they'll never publicly acknowledge this fact. If it passes, it should expect an immediate constitutional challenge. The bill does too much damage to accountability and protected speech to survive a second read by the courts.

Permalink | Comments | Email This Story


Read more here

---
posted at: 12:00am on 22-Mar-2017
path: /Policy | permalink | edit (requires password)
0 comments, click here to add the first
---
---
Just Prior To Hearing Over NSL Gag Orders, Court Allows Cloudflare & CREDO Mobile To Be Named As Plaintiffs

Furnished content.


In December, we wrote about how (thanks to EFF's lawyering) mobile phone provider CREDO Mobile was finally (after many years) allowed to reveal the National Security Letter (NSL) it had received from the DOJ back in 2013. As per usual, the NSL had a complete gag order, barring the company from admitting it had received such a letter. Then, just about a month later, Cloudflare was similarly ungagged over an NSL it had received in 2013 as well.On Wednesday, EFF will be back in the 9th Circuit appeals court arguing that these NSLs are First Amendment violations, but for the first time, it can actually name those two companies as its clients. Even though those NSLs were finally allowed to become public in the last few months, the case itself still did not include their names, until Monday, when the court was told by the DOJ, that since the FBI had concluded the various investigations, and because it had enabled each of the companies to reveal those specific NSLs they had received, that it no longer required the plaintiffs' names in the case to be sealed. Of course, we don't know how many other NSLs are still gagged (possibly even with these two companies). Indeed, the EFF's announcement certainly hints at more:
On Wednesday, EFF Staff Attorney Andrew Crocker will tell the United States Court of Appeals for the Ninth Circuit that these gags are unconstitutional restrictions on CREDO and Cloudflare's free speech and that the FBI's belated decision to lift some of the gags only underscores why judicial oversight is needed in every case. The gag orders barred these companies from participating in discussion and debate about government use of NSLseven as Congress was debating changes to the NSL statute in 2015.
Hopefully, the appeals court recognizes the serious First Amendment issues at play here.

Permalink | Comments | Email This Story


Read more here

---
posted at: 12:00am on 22-Mar-2017
path: /Policy | permalink | edit (requires password)
0 comments, click here to add the first
---
---
Addressable vs Programmatic Television

Furnished content.


Brian Katz, Vice President of Advanced TV Insights & Strategy at Eyeview (pictured left), shares his insights on addressable TV. Q: What is the difference between programmatic and addressable TV? A: Programmatic is a more automated way of buying television. Currently, programmatic does not offer the HH level targeting and ad serving that addressable does, [...]

Read more here

---
posted at: 12:00am on 21-Mar-2017
path: /Online_Marketing | permalink | edit (requires password)
0 comments, click here to add the first
---
---
Industry-Hated Game Emulators Save Two Video Games For Posterity

Furnished content.


For far too many years, the video game industry struggled to assert its place as a true artform, one deserving of the kind of respect granted to movies, music, television, and literature. This has been a source of frustration to those of us who can recognize the powerful storytelling device that video games represent, as well as the way modern games contribute to art and social commentary. But by its nature as a relatively new medium, games have also struggled to preserve the industry's history in the way more widely and permanently disseminated artforms have accomplished. And that's where the gaming industry has taken a turn against its own artistic interests, often demonizing methods for preserving gaming history over intellectual property concerns. Emulators are the chief method at hand, where games that are ancient by gaming standards can be digitized and preserved for posterity, save for the threat of legal action over copyright infringement and the industry's attempts to stave off these useful tools.Like so many issues in the intellectual property world, it's not hard to understand the gaming industry's consternation. There's no doubt that many people use emulators simply to play games from old consoles and cabinets rather than pay for physical copies. Still, there's also no doubt that these same emulators work to preserve the artistic output in the gaming realm. This was most recently evidenced in two games that might never have seen the light of day again, save for emulators.
The first is the discovery and release of Millennium Racer: Y2K Fighters, a previously completely unknown 2001 Dreamcast port of a 1999 PC racing game. The title was recently discovered intact on a Dreamcast development kit, altered a bit to get it into a playable state, and then released as both an emulatable ROM and a burnable disc image that will work in actual Dreamcast hardware...The second emulation-fueled release making the rounds recently is Primal Rage 2, the unreleased sequel to the popular prehistoric-themed, stop-motion arcade fighting game of the mid '90s. Only two prototype cabinets for the cancelled sequel are known to exist, and one of them has been playable at Illinois' sprawling Galloping Ghost arcade complex since 2014.
The moment we agree that games like this are a form of art, we must also agree on the impetus to preserve that art. And once that's done, we can only conclude that these efforts to digitize the history of gaming in this manner have to be more important than any legal hurdles that exist in the form of copyright infringement or DMCA prohibitions on tinkering with them. The stated purpose of copyright seems to make this quite clear. What could be more important to promoting the arts than preserving art that could otherwise be at risk of total loss?Emulators and those that use and support them play a key role in this, one that goes beyond merely copying the game digitally to be played.
While both of these games were technically accessible on their original hardware when they were discovered, it's only the ability to copy and emulate the software on other hardware (often with crucial software tweaks) that has made sure they'll be preserved and playable going forward. That kind of preservation doesn't just happen, either; remember that an estimated three-quarters of all silent films ever made have been lost to history. Thanks to emulation and a committed community of video game preservationists, that situation seems less likely to happen as the video game medium grows out of its youth.
The future will judge the history of gaming by the actions of the present. If games are art, and they are, then efforts to preserve this art must be cheered on, not demonized.

Permalink | Comments | Email This Story


Read more here

---
posted at: 12:00am on 21-Mar-2017
path: /Policy | permalink | edit (requires password)
0 comments, click here to add the first
---
---
Judge Decides Free Speech Is Still A Right; Dumps Prior Restraint Order Against Mattress Review Site

Furnished content.


A couple of weeks ago, a federal judge in Utah decided prior restraint was the best way to handle a recently-filed defamation suit against Honest Mattress Reviews by Purple Innovations, makers of the Purple Mattress.Purple's lengthy filing contained numerous allegations of harm caused by Honest Mattress Reviews' extended commentary on the white plastic powder covering every mattress Purple ships. It also alleged HMR was just a front for site owner Ryan Monahan's brand management work with Purple's competitor, Ghostbed. Rather than give HMR a chance to respond, the judge decided the review site could publish nothing further about Purple or the lawsuit. It wasn't even allowed to refer to its previous rating of Purple's mattress.Honest Mattress Review didn't care much for this decision -- one it had been given no chance to contest. It immediately posted an article about the case and offered to comply with the letter of the order, but perhaps not its spirit.
This temporary order commands that we take down all reviews, and even cease rating this company with a rating of "Poor." Yes, indeed, we are no longer even permitted to rate this company as Poor. I guess we will change its rating to "💩."[...]Do you trust a company that, rather than compete in the marketplace, decides that it will just try and sue negative reviews out of existence?
Purple Innovations immediately returned to court, demanding it find HMR in contempt of its order, in particular pointing to the poo emoji and HMR's claims about the unconstitutionality of the order and Purple's alleged disingenuousness in filing the libel suit.That review has since been reinstated and given this header image.
And HMR has published a long list of court documents it has filed in this case. This includes a motion to dissolve the restraining order and a preliminary examination of the powdery substance Purple claims is harmless and that HMR claims could be hazardous to purchasers' health.In the motion [PDF] to dissolve the order, attorney Marc Randazza points out that fashioning a libel lawsuit as a tortious interference lawsuit doesn't change the ultimate goal of the litigation: to silence criticism.
The action is a quintessential SLAPP suit designed to suppress negative consumer journalism. Plaintiffs have cleverly attempted to disguise this defamation claim as a Lanham Act claim – presumably to ensure the availability of Federal Court jurisdiction and to try to side-step the clear case law that cuts against them in defamation actions. But, no matter how eloquently someone may call a "dog" a "chicken," it will never lay eggs. And styling a specious defamation claim as a Lanham Act claim does not remove the underlying speech from the protections afforded by the First Amendment.
He also points out that Purple's claims that the plastic packing dust is harmless haven't been supported by anything Purple's willing to let customers and competitors view. Instead, it's only made vague assertions about its safety. And those statements are ultimately meaningless when examined closely.
Plaintiff sells mattresses that are made of a rubber honeycomb, which they then dust with a powder that they claim is made of plastic and has been shown to be polyethylene microspheres. In other words, someone who sleeps on these mattresses would be expected to inhale these microspheres. The Plaintiff claims that it is "non toxic" and "food grade" plastic – but this does not assuage the concerns. After all, a plastic fork is "food grade" and "non toxic" but you most certainly would not want to actually eat it. The same goes for what a person wants to put in their lungs. It was reasonable to be concerned about this "plastic powder" since (a) if the particles that make up this plastic "powder" are of a certain size, they will pass through the alveoli into the bloodstream; or (b) if they are a bit larger, they will simply lodge themselves inside the lungs.
To support its claims, HMR put a Harvard Professor of Pathology to work. Dr. John Godleski's report [PDF] is far from complete at this point, but what's contained in his preliminary examination of the powder doesn't appear to agree with Purple's assertions of harmlessness.
By Fourier Transformed Infrared spectroscopy (FTIR), the white powder particles were shown to be polyethylene, and the purple frame was found to be polyethylene-polypropylene copolymer. The foam portion of the mattress is still understudy, but has characteristics of butadiene, and may be a form of butadiene polymer.Polyethylene is a common plastic formed into many structures. As inhalable microspheres, these have the potential to cause respiratory irritation especially when inhaled in large numbers as shown in my laboratory (1- 4). In addition, polyethylene has been associated with allergy in the form of either asthma or contact dermatitis in sensitized individuals (5-7). Based on this assessment, it is important for consumers to be aware of the composition of this fine particulate matter in the mattress which may be released into the air and has the potential for the development of respiratory or dermal hypersensitivity in some individuals.
Also included in the filed documents is an affidavit that undercuts Purple's claims about HMR's site owner being a competitor's "brand manager." This is central to Purple's Lanham Act claims -- the claims it's using to sidestep anti-SLAPP motions. The affidavit from the competitor (Ghostbed) notes HMR's site owner has never been directly employed by Ghostbed and that Ghostbed told him to stop referring to himself as its "brand manager" after noticing that statement on his Twitter profile.The judge presiding over the case appears to have been overwhelmed by the pile of documents landing on his desk. A short order [PDF] issued on the 15th shows what can happen when a normally adversarial process is allowed to be, you know, adversarial.
For the reasons set forth in the parties' briefing and at oral argument, the court finds a lack of "clear and unequivocal" support for a right to relief that is necessary for the entry of the "extraordinary remedy" of a preliminary injunction. Greater Yellowstone Coal v. Flowers, 321 F.3d 1250, 1256 (10th Cir. 2003). As such, the court hereby grants Defendants' motions to dissolve the Temporary Restraining Order (Dkt. No. 36), and denies Plaintiff's oral Motion to convert the Temporary Restraining Order into a Preliminary Injunction. The court similarly denies Plaintiff's Motion for Leave to Conduct Expedited Discovery (Dkt. No. 39) and Motion for Order to Show Cause Why Defendants Should not be Held in Contempt (Dkt. No. 17). The court further denies Defendants' request for sanctions, finding that such sanctions are not warranted here.
The restraining order is lifted and HMR's turd-laced post isn't in danger of being found contemptuous. The lawsuit should continue in a more constitutional fashion from this point forward.

Permalink | Comments | Email This Story


Read more here

---
posted at: 12:00am on 21-Mar-2017
path: /Policy | permalink | edit (requires password)
0 comments, click here to add the first
---
---
This Week In Techdirt History: March 12th - 18th

Furnished content.


Five Years AgoThis week in 2012, politicians were still reeling from recent public opposition. Don't get SOPA'd had become the new mantra in DC, while the European Commission was blaming ACTA's failure on social media and starting to worry about its upcoming copyright directive. Rep. Lamar Smith was unperturbed though, which is why people were working to fund a "Don't Mess With The Internet" billboard in his district.Also this week in 2012: Mojang and Bethesda settled their dispute over the Scrolls trademark, Megaupload was negotiating with the government to let users retrieve their files from the service, and the Encyclopaedia Britannica ended an era by discontinuing its print edition.Ten Years AgoThis week in 2007, Viacom followed up on its mass YouTube takedowns with a now-infamous billion-dollar lawsuit — just as some of those who had their videos taken down were suing Viacom. Meanwhile, Hollywood was trying to export DRM around the globe even as the EU Commissioner was making veiled threats about stopping DRM on music. While one Microsoft executive was admitting the company benefits from piracy, the video game industry was joining the BSA, RIAA, MPAA et al in spreading bogus piracy stats. And we were pleasantly surprised to discover at least one person in congress who understood mixtapes and mashups.Fifteen Years AgoThis week in 2002, plenty of things were on the horizon. Augmented reality was making early waves (very early, obviously), people were warning about mobile phone viruses, news broadcasters had only just really started using green-screen sets instead of fancy newsrooms, and plagiarism-detection software was just starting to get the attention of universities. While Canada was trying to pass its levy on blank storage media (which still plagues its blank CDs to this day), webcasters and record labels were actually on the same side fighting against high internet radio royalties (if you can believe it). Meanwhile, the legal saga of "sucks" sites played out another chapter in the courts.

Permalink | Comments | Email This Story


Read more here

---
posted at: 12:00am on 19-Mar-2017
path: /Policy | permalink | edit (requires password)
0 comments, click here to add the first
---
---
MediaBrix Rebrands As Receptiv

Furnished content.


MediaBrix Rebrands As Receptiv, Zeroes In On Data-Driven In-App Mobile Video With Human Experience At Its Core. Following a landmark year for the in-app mobile video ad platform, MediaBrix announced it has rebranded as Receptiv, including its new product suite: Receptiv Video Marketplace for programmatic buying and Receptiv Solutions for managed services. Now with exclusive [...]

Read more here

---
posted at: 12:00am on 18-Mar-2017
path: /Online_Marketing | permalink | edit (requires password)
0 comments, click here to add the first
---
---
China Clamps Down On Another Serious Threat To The Middle Kingdom: Western Animal Cartoon Books For Children

Furnished content.


Here's the latest instalment in the long-running Techdirt series "just when you thought there was nothing left to control, China comes up with something else it wants to throttle", as reported by the South China Morning Post:
An order from Beijing will drastically cut the number of foreign picture books for children published in mainland China this year, four publishing sources told the South China Morning Post.The order opens a new front in a broad campaign to reduce the influence of foreign ideas and enhance ideological control, applying restrictions to animal cartoons and fairy tales written for toddlers and older children that have few political implications. Chinese universities were previously ordered to limit the use of Western textbooks and promote communist dogma.
According to the article, China's state publishing administration has imposed a quota system on domestic publishers, limiting the number of foreign picture books that can be published in any one year. Apparently, the aim is two-fold: to promote children's books created by domestic authors and illustrators; and to stop innocent young Chinese minds being seduced by the subtle charms of Western propaganda in the form of cartoon stories about animals.But it's not just children that the Chinese authorities want to shield from harmful ideas. Quartz has a related story about a more general clampdown on Western publications that has been imposed on vendors using the leading online shopping site Taobao, part of the Chinese Internet giant Alibaba:
Taobao has ordered all vendors to stop selling foreign media starting today -- even if authorities have approved the media for circulation in China. The online shopping platform, owned by Alibaba, has been one of the few places to browse overseas publications free from censors, largely because the site's business model allows individual vendors to do business directly with customers. It's also helped that the daigou, or overseas agents, can evade import duties by carrying or shipping goods into China.
As the Quartz article notes, the new rule cites an obscure 1991 law; its unexpected invocation now seems related to a general clampdown around the highly-sensitive two-week National People's Congress, currently under way in Beijing. Perhaps Western cartoon animals have fallen victim to the same paranoia.Follow me @glynmoody on Twitter or identi.ca, and +glynmoody on Google+

Permalink | Comments | Email This Story


Read more here

---
posted at: 12:00am on 18-Mar-2017
path: /Policy | permalink | edit (requires password)
0 comments, click here to add the first
---
---
Lawyer's Association Asks New California Attorney General To Drop Its Abusive Prosecution Of Backpage

Furnished content.


The First Amendment Lawyer's Association (FALA) is hoping to end the California Attorney General's crusade against Backpage. The website has already ceded ground in the face of constant criticism, investigations, and legal threats. Earlier this year, it shuttered its adult ads rather than continue to bleed money and time defending itself against bogus prosecutions and investigations.Former California Attorney General Kamala Harris -- who blew off court decisions against her office to continue to prosecute Backpage -- has now moved on to the US Senate. But just because Harris has moved on doesn't mean the local AG's office isn't going to continue with Harris' unfinished business.The letter from FALA is covered (but not published[?]) by Elizabeth Nolan Brown at Reason.
On March 14, FALA—a nonprofit membership association launched in the late '60s that has boasted some of the country's top constitutional lawyers—sent a letter to Becerra condemning "the abusive prosecution of individuals associated with the online classified advertising website Backpage.com, and also the use of expansive search warrants seeking vast amounts of constitutionally-protected material, including personally identifiable information about all of the website's users." In the letter, FALA President Marc Randazza says he can identify "no theory under the First Amendment that would countenance such an abusive use of prosecutorial discretion or such a dragnet demand for information."
The letter points out the flaws of the AG's case against Backpage. Not only does it do damage to protected speech, but it ignores Section 230 protections in the ongoing quest to punish the site's owners for the actions of its users.On top of that, there's the overbreadth of prosecutors' demands for info from the site. Not content to steamroll the First Amendment, the office also made a mockery of the term "investigation." From the letter:
We have learned that a subpoena was served on Backpage.com that calls for the production of massive amounts of information for a several-year period, including copies of all advertisements posted (in all content categories), all billing records, the identities of all of the website's users and their account histories, all internal communications, and even the source code for the operation of the website.
As FALA points out, this sounds a whole lot like the colonial-era "general warrants" -- the same ones our government sought to eliminate with the Fourth Amendment.On the plus side, the new California Attorney General has pledged to protect civil liberties. FALA's hoping that pledge extends to Kamala Harris' unfinished business.

Permalink | Comments | Email This Story


Read more here

---
posted at: 12:00am on 18-Mar-2017
path: /Policy | permalink | edit (requires password)
0 comments, click here to add the first
---
---
The New Age of Transparency

Furnished content.


Unified, a company offering business intelligence for social advertising, has released its latest report on social advertising transparency, The New Age of Transparency, which looks at the top data challenges facing social advertisers. As the fastest-growing part of the paid marketing mix, social advertising is expected to accumulate an impressive 40 billion dollars in global [...]

Read more here

---
posted at: 12:00am on 17-Mar-2017
path: /Online_Marketing | permalink | edit (requires password)
0 comments, click here to add the first
---
---
Bill Gates And Other Major Investors Put $52.6 Million Into Site Sharing Unauthorized Copies Of Academic Papers

Furnished content.


As we've noted, the main reason the Sci-Hub site is so popular with academics is not because it is free -- researchers generally have free access to papers anyway -- but because it is so easy to use. Among other things, it provides a centralized store of a huge number of papers -- 58 million at the time of writing -- that can be downloaded with a single click. But an interesting post on the Green Tea and Velociraptors blog points out Sci-Hub's holdings are beaten by the total number of papers available on the ResearchGate site, which has 12 million members:
The platform boasts that 2.5 million published outputs are uploaded by its users every month, equivalent to around the total number of published scholarly research articles each year. The site claims to have around 100 million published articles, which is very impressive seeing as only around 20-25 million have ever been published Open Access [OA].
The same post points out that many of those 100 million articles seem to be unauthorized copies:
Based on a random sample of English language articles drawn from ResearchGate, the study [published last month] showed that 201 (51.3%) out of 392 non-OA articles infringed the copyright and were non-compliant with publishers' policy. While this sample size was small, there is no reason to think that the same cannot be said if we scale up to consider the entire corpus of articles shared on RG. This means that around half, or approximately 50 million, research papers on RG are most likely illegally hosted.
If that analysis is correct, it would seem that ResearchGate holds roughly as many unauthorized copies of academic papers as Sci-Hub. Despite that fact, ResearchGate has just revealed that back in November 2015, it received investments totalling $52.6 million from some rather starry names, including that famous hater of pirates, Bill Gates:
Wellcome Trust, Goldman Sachs Investment Partners, and Four Rivers Group with participation from Ashton Kutcher, Groupe Arnault, Xavier Niel, and existing investors Bill Gates, Tenaya Capital, Benchmark, and Founders Fund.
ResearchGate says it is the responsibility of the uploader to make sure that they have the necessary rights to post material to the site:
As we do not have any information about rights you may hold, or any license terms or other restrictions which might apply to such content, we necessarily rely on you to understand your rights and act accordingly. For this reason, we request that you fully investigate and confirm that you have sufficient rights to post particular content to ResearchGate before you post such content. As a general matter, if you are an author publishing in a journal, you may be allowed to publish certain versions of your article, but not others, and privately share certain content with others. However, many journals restrict publication of final versions and impose limitations on private sharing.
As that notes, authors are typically only allowed to post certain versions of their papers -- usually early ones. But most researchers don't bother with that detail, and simply upload the final version to ResearchGate, which is probably why the recent analysis mentioned by the Tea and Velociraptors blog found so many unauthorized copies. Along with laziness, or ignorance of the niceties here, another factor driving this phenomenon may be that academics are aware that much of their work has been paid for by the public, and therefore feel the definitive results should be disseminated as widely as possible.Still, the contrast between ResearchGate, which has received major investments from some rather big names, and Sci-Hub, which is currently being pursued in the courts by Elsevier, is stark, given that their respective holdings turn out to be so similar. It's another indication that the academic publishing system is broken, and that copyright is an irrelevance as far as millions of researchers are concerned.Follow me @glynmoody on Twitter or identi.ca, and +glynmoody on Google+

Permalink | Comments | Email This Story


Read more here

---
posted at: 12:00am on 17-Mar-2017
path: /Policy | permalink | edit (requires password)
0 comments, click here to add the first
---
---
Ed Sheeran Vs. The CopyBots: Artist Goes To Bat For Musician That Covered His Song On Facebook

Furnished content.


In our recent conversation about Ed Sheeran's rise to fame, we chiefly focused on his claim that music piracy helped him be discovered by the public and his generally lax views on filesharing of his music. While that modern view on how music is consumed is refreshing, we focused less on another chief part of the equation: Ed Sheeran is really good to his fans. Between engaging with them directly via social media, having a generally congenial attitude towards them, and producing music his fans love, he's built up quite a connection with his listeners.But he appears to want to go above and beyond simply connecting with his fans, as well. He's even willing to go to bat for them with his label, Atlantic/Warner. He demonstrated this when a musician in the UK had a short video of herself covering a Sheeran song not only taken down from her Facebook account over a copyright claim, but had her account briefly suspended.
With two crowd-sourced albums under her belt, UK-based full-time busker Charlotte Campbell is regularly in touch with the public through performances on the London Underground. She also uses Facebook to keep up with fans, but a few days ago her entire experience came to an abrupt halt after she was banned from the platform. Charlotte's crime was to post a 15-second snippet of her cover of Ed Sheeran's song Castle On The Hill, together with a link to the full track on her YouTube channel."I love Ed Sheeran's music and always cover his songs for my busking repertoire," Charlotte informs TorrentFreak. "I find them easy to learn because I play them on repeat at home so I know all the lyrics by heart."
Atlantic/Warner flagged the video for copyright infringement, leading to it being taken down and Campbell's account suspended for three days. She was additionally warned that if she did it again, she could be perma-banned. This all came without prior warning or communication, for reasons that she would discover once Ed Sheeran himself got wind of all of this and got involved.
After Charlotte was banned from Facebook, some of her fans took to Ed Sheeran fansites to complain that after paying tribute to the star, Charlotte's reward was to lose her voice online. Amazingly, word reached Sheeran himself, who dropped in on Charlotte's Facebook page to give his support."Just seen your video, [the ban] definitely has nothing to do with me. I bloody love seeing people cover my songs. One of the best things I get out of this job is seeing other people find enjoyment too," Sheeran wrote. "I asked what's gone on and apparently it's a bot that Warner have that works on some weird algorithm (I have no idea what that means) but it's just bad luck that it was your video," he explained.
Sheeran went on to say that he was going to have a word with the label to get everything sorted out. This sort of thing works on so many levels. First, Sheeran is doing all of this at least in part at the behest of his dedicated fans, who discussed this on a fanboard. That's the kind of direct connection and interaction that can only serve to ingratiate Sheeran to the very people that love his music enough to support him. On top of that, being willing to go to bat with his own label in defense of a fellow musician that is covering his music is perfect in convincing the public that Sheeran is far more interested in the wider music ecosystem than he is in either being a copyright bully or milking every last dollar for his work.The reaction from his fans and Campbell herself shows how well this works.
"I'm not sure I've really processed it, to be honest, I still feel like I'm dreaming!" she tells TF. "I felt so relieved that it wasn't Ed Sheeran who had personally rejected my cover! And it really restored my faith in humanity and in Ed himself."
And now a fellow musician that could have been miffed at the actions of his label is instead a firm ally for Sheeran, while the fans that complained about all of this have all the more reason to be supportive of his work. It's hard to imagine how a musician could connect with his fans better than this.

Permalink | Comments | Email This Story


Read more here

---
posted at: 12:00am on 17-Mar-2017
path: /Policy | permalink | edit (requires password)
0 comments, click here to add the first
---
---
LiveRamp & PushSpring Enhance Partnership; Headway Acquired by Entravision Communications; More

Furnished content.


Also featured in this edition of News U Can Use: Hitwise on Luxe Brands; Return Path–New Data; PCH/Media Hires Spencer Scott. ______________________________________________________________________________ LiveRamp and PushSpring Enhance Partnership to Offer Transparency, Control and Speed of Data Activation. PushSpring, an app-based mobile audience platform, announced an enhanced partnership with LiveRamp, an Acxiom company and leading provider of [...]

Read more here

---
posted at: 12:00am on 16-Mar-2017
path: /Online_Marketing | permalink | edit (requires password)
0 comments, click here to add the first
---
---
TV-Connected Devices Pave the Way for New Ways to Watch Content

Furnished content.


Nielsen conducted an analysis to determine how many U.S. homes own various devices and how data has trended over time. Today, just over 23% of TV homes own a digital streaming device such as an Amazon Fire TV, Apple TV, Google Chromecast or Roku, up from 19% in June 2016. With 80% of U.S. households [...]

Read more here

---
posted at: 12:00am on 16-Mar-2017
path: /Online_Marketing | permalink | edit (requires password)
0 comments, click here to add the first
---
---
Tech Companies File Amicus Brief, Still Opposed To New Trump Immigration Order

Furnished content.


Last month, we noted that a ton of tech companies -- including us at the Copia Institute -- had signed on to amicus brief opposing the Trump Executive Order on immigration. As you know, the administration came out with a new executive order a few weeks later, trying to get around the multiple courts that had blocked the original order. The new order is just a cosmetic rewriting of the original one with a few small changes that the administration hopes will survive judicial scrutiny. A number of challenges have already been filed to the new order, and in one of them, brought by the state of Hawaii, a bunch of tech companies (again, including the Copia Institute) have now filed an amicus brief opposing the order. In particular, this brief focuses on the harms to the tech industry, including actual examples of harms created by this exec order:
A U.S. resident employed at a cutting-edge software company fearsthat he cannot leave the U.S. because he is a national of a Muslim majoritycountry targeted by President Trump's travel ban. If heattempts to travel outside the country, he could be detained andrefused re-entry. After the travel ban went into effect, he canceledplans to bring his mother to the U.S. to visit him, out of concernthat she might be detained or turned away. He has not been homefor five years. The U.S. company he works for, which employsover 100 people and has raised hundreds of millions of dollars incapital, was founded by an immigrant.
A high-tech, U.S.-based software company devoted significantresources to an event it scheduled in February 2017 where itplanned to host owners of small businesses and tech start-upsbased overseas. Before these entrepreneurs became business andstart-up owners, they were Syrian refugees. After PresidentTrump's travel ban went into effect on January 27, 2017, the eventwas abruptly postponed, because the guests were unable to travelto the U.S. on account of their status as Syrian refugees. The U.S.-based software company plans to reschedule the event at alocation outside the U.S., so the Syrian refugees and entrepreneurscan safely attend.
A U.S.-based mobile app and website development company withmillions of users worldwide employs U.S. residents who arenationals of the Muslim-majority countries targeted by PresidentTrump's travel ban. In late January and February 2017, some ofthese employees had planned to fly outside the U.S. for business orpersonal reasons. Since the travel ban was announced, theseemployees canceled their flights for fear they would be detained ornot permitted to re-enter the U.S.
A U.S.-based technology company courted promising jobcandidates overseas and was prepared to offer them employmentwhen the prospects suddenly withdrew from consideration becausethey were worried about immigration issues in light of PresidentTrump's travel ban.
After the implementation of President Trump's travel ban, foreign bornfounders of a U.S.-based technology company beganexploring the possibility of moving their company outside of theU.S.and taking the company's jobs with them.
The filing goes through the history of the initial ban, and then notes that the new version is still just as bad:
President Trump's new travel ban is no different. It will inflict the samesubstantial and irreparable harm upon U.S. companies and their employees. Andin implementing the promise of a Muslim ban, the new travel ban suffers frommany of the same defects as the first travel ban. It violates the prohibition againstnationality-based discrimination that Congress established through the Immigrationand Nationality Act. It exceeds the authority granted to the Executive. It isarbitrary and overbroad in scope. And it impermissibly discriminates on the basisof religion and deprives individuals of Due Process rights, thus violating the U.S.Constitution. In sum, President Trump's new travel ban has not overcome theconstitutional and legal deficiencies that led courts to enjoin his first travel ban.Accordingly, the new travel ban should meet the same fate as the first travel banit should be enjoined nationwide.
This amicus brief is at the district court level, so it's still quite early in the process -- and there are other legal challenges in other courts. This will still take a while to sort itself out, but we're proud to stand alongside others in the industry in speaking up for why these immigration executive orders are illegal and unconstitutional, not to mention bad for innovation and the economy.Update: Oh, and just an hour or so after I posted this, the judge has granted a temporary restraining order, blocking the executive order from going into effect...

Permalink | Comments | Email This Story


Read more here

---
posted at: 12:00am on 16-Mar-2017
path: /Policy | permalink | edit (requires password)
0 comments, click here to add the first
---
---
City Of Tacoma To Pay $50,000 To Privacy Activist For Over-Redacting FBI's Stingray Non-Disclosure Agreement

Furnished content.


In the fall of 2015, privacy activist Phil Mocek and the Center for Open Policing sued the city of Tacoma for its response to a request for Stingray documents. The documents Mocek obtained were heavily-redacted, despite there being several mostly-unredacted versions of the FBI's Stingray non-disclosure agreement already in public circulation.(This would be the standard NDA the FBI appends to every Stingray purchase by local law enforcement agencies -- one that says all public records requests should be forwarded to the feds and encourages locals to toss cases rather than expose Stingray use. It's also the same contract the FBI was shocked to hear agencies were complying with after signing on the dotted line to take ownership of their new cell tower spoofers.)The lawsuit was filed under the state's open records law, with Mocek challenging the Tacoma PD's use of the "investigative records" exemption to withhold significant amounts of a mostly bog-standard nondisclosure agreement. As was noted back then, the continued withholding of this information could become costly (for taxpayers): the state's public records law allows for fines of $500/day for violations.The court has spoken and the Tacoma PD's excessive secrecy is indeed going to cost residents a chunk of change.
The city of Tacoma will pay a $50,000 fine as well as legal fees for violating the Public Records Act by withholding most of a nondisclosure agreement it signed to obtain cellphone surveillance equipment commonly known as a Stingray.[...]In an order signed Friday, Pierce County Superior Court Judge Frank Cuthbertson said the city's redactions violated state law.He ordered Tacoma to pay $100 a day for every day the city "wrongfully withheld the unredacted NDA from June 21, 2014, until November 3, 2015, when the city provided this record to plaintiffs," a penalty period of 500 days. The penalty is the maximum allowable under state law.
The judge determined the exemption cited was improper and withholding large amounts of contractual language served no conceivable law enforcement purpose. The city blamed the FBI for its lavish deployment of black toner. Presumably, the FBI will push back, stating it expects no one to uphold the terms of an agreement it forces them to sign before they can acquire the devices.This unjustified secrecy is going to hurt the city (and its taxpaying residents) a few more times. The Tacoma New Times points out there are several pending lawsuits dealing with the same Stingray documents, including one filed by the ACLU. The city says it won't seek reimbursement from the federal government for fines and fees, but maybe it should, especially if it's going to blame the FBI for the Tacoma PD's secrecy. This actually sounds like a "good faith" attempt to respect the terms of its agreement with the FBI. The FBI got the secrecy it wanted -- at least temporarily. The least it can do is offer to cover the damages of the NDA it says everyone must sign, but apparently doesn't expect anyone to follow.

Permalink | Comments | Email This Story


Read more here

---
posted at: 12:00am on 16-Mar-2017
path: /Policy | permalink | edit (requires password)
0 comments, click here to add the first
---
---
How Foreign Advertisers Can Tap Into the Chinese Mobile Market

Furnished content.


Adotas asked Yoni Eyal, General Manager of ironSource in China, to unravel the mysteries of that country's mobile market. Q: How can mobile app companies and brands reach Chinese audiences? A: For foreign advertisers looking to penetrate the Chinese market, there are several key issues to be aware of: obviously localization is key, but this [...]

Read more here

---
posted at: 12:00am on 15-Mar-2017
path: /Online_Marketing | permalink | edit (requires password)
0 comments, click here to add the first
---
---
Film Distributor Creates Torrent Site Clone That Gives Away Movie Tickets To Combat Piracy

Furnished content.


Much of the way the movie industry looks to combat film piracy will seem familiar to readers of this site. It typically involves shakedown threat letters, games of DMCA whac-a-mole, and a paint-by-numbers approach that mostly amounts to film studios shaking their lawyers' fists at the sky. All that produces the status quo, where piracy is still a thing, films still make gobs of money, and regular observers of it all are left scratching our heads wondering how so much noise could be made over it all.But I will give credit where credit is due as Costa Rican film distributor Romaly deserves some style and creativity points for its new anti-piracy tactic.
Romaly has employed an extremely creative tactic to reach out to would-be pirates. Their work can be seen over at LegalTorrents.net, a site that has clearly been modeled on one of the most famous torrent indexes ever. As the screenshot below shows, it is a semi-convincing KickassTorrents clone with a similar logo, color scheme and word cloud.
Here's how nice a job Romaly did in dressing the site up to look like KAT.

And the torrents on the site are actually real, except they aren't torrents for the actual movies in question. Instead, the downloads play trailers for those movies along with messaging about how piracy has a negative impact on the film industry. But the coup de grace is the inclusion of an email address where the downloader can request two free movie tickets for the film they attempted to pirate.The cloning of a torrent site feels a little shady, but it also feels somewhat innocuous. The attempt to educate pirates that piracy is bad is also rather "meh", as that's been tried before. But attempting to build up some goodwill in the form of getting downloaders to the theaters is actually pretty smart, relying on positive actions rather than threats and tales of doom and gloom.
"With the creation of our own torrent download page we seek to approach all those who try to carry out this type of illegal action and create awareness on the subject through positive reinforcement," says Alonso Solís, marketing manager of Romaly."By providing tickets we want you to remember that cinema is an experience that goes beyond a computer. In the cinema, people enjoy an entertainment space that allows them to get rid of their occupations and dedicate one or two hours to themselves."
That's the kind of thing we've been saying for years, in fact, and it's something the movie industry should be pushing on even harder. Now, it's worth noting that the folks at TorrentFreak attempted to put this whole concept through its paces and found a lot left to be desired. It seems the seeds on these torrents are limited, resulting in failed downloads all over the place. That sort of defeats the purpose of the educational information and the free tickets.Still, points for the effort, and for trying to forge a connection with downloaders rather than relying on the mere shaking of legal fists.

Permalink | Comments | Email This Story


Read more here

---
posted at: 12:00am on 15-Mar-2017
path: /Policy | permalink | edit (requires password)
0 comments, click here to add the first
---
---
Is This The Future Of Online Publishing? Leading Chinese Social Networks Add Paid-For Content

Furnished content.


One of the topics that generates strong feelings in the online world is adblocking. Many users love it, but many publishers hate it. That's a big problem, because advertising has turned into the main way of funding what appears on the Internet. As adblockers become more common, so the advertising revenue available to pay for creating articles, images, sound and video diminishes. Some want to ban adblockers, but that's hardly a solution: forcing visitors to your site to view ads they hate is not a good way to foster a long-term business relationship. Improving ads seems a better approach, but that's easier said than done, and may come too late now that so many people have installed adblockers.The other obvious solution is to charge people to view online material. There's been a certain reluctance to try that approach, partly because of the misleading slogan "information wants to be free", and partly because historically it hasn't worked in general. But it seems that major online players in China are now starting to roll out the paid-for model, perhaps in part because adblockers are widely used there, as in the West. Here's what the biggest online service, WeChat, with a billion accounts created, and at least 700 million active users, is trying, as reported by technode:
WeChat, Tencent Holdings Ltd.'s social networking and chat app, will roll out paid services for the content offered by official accounts, an authority at the Chinese internet giant told Yicai Global.WeChat invited selected official accounts to trial its paid content function, which is not open to general users for the time being.
As their name suggests, WeChat's "official" accounts are a step up from personal ones. They can be be verified for a fee, and allow services to be offered. A few years ago, there were 8 million such accounts; the number today is likely to be higher. The same technode article reports on research carried out by WeChat's parent company Tencent:
A survey of more than 1,700 netizens conducted by a Tencent research unit found 55 percent of respondents had paid for professional knowledge or advice, including paid content and documents in the past year. Over 50 percent of Chinese netizens have paid or are willing to pay for contents, compared with only 30 percent two years ago, an iResearch report found.
Another established Chinese company that hopes it can get its users to pay for online material is Douban, an upmarket social network focusing on the arts, with around 200 million users. China Film Insider has news about Douban Time, a new paid-for service:
Douban Time will feature curated texts, images and sound from experts and writers in different fields. Catering to its audience, Douban Time's first offering is a 102-episode poetry review program which will invite poets and critics to give lessons in poetry appreciation.
Although 102 episodes on poetry appreciation might sound like something of a specialized offering, it is probably well-suited to Douban's sophisticated user base. And perhaps it will turn out that the solution to finding alternative business models for online publishing is precisely this kind of niche approach, rather than the current advertising system based on volume, that is now struggling badly.Follow me @glynmoody on Twitter or identi.ca, and +glynmoody on Google+

Permalink | Comments | Email This Story


Read more here

---
posted at: 12:00am on 15-Mar-2017
path: /Policy | permalink | edit (requires password)
0 comments, click here to add the first
---
---
Bazaarvoice CGC Index 2017

Furnished content.


Bazaarvoice CGC Index 2017 shows growing influence of consumer-generated content on shopper decisions. Consumer-generated content (CGC) has never been more influential for shoppers or important to marketers' strategies. Bazaarvoice, Inc., a provider of CGC, advertising, and personalization solutions, released its annual CGC Index, an in-depth analysis of how CGC influences shopper behavior across different industries [...]

Read more here

---
posted at: 12:00am on 14-Mar-2017
path: /Online_Marketing | permalink | edit (requires password)
0 comments, click here to add the first
---
---
Mobile World Congress Recap

Furnished content.


"The Next Element" is about making it happen. With over 100,000 people in attendance, Mobile World Congress in Barcelona was once again bursting at the seams. The event ended, not so ironically, with the much-anticipated IPO of Snap Inc., the mobile-first 'camera' company boasting an impressive 160 million daily active users.    The tagline of [...]

Read more here

---
posted at: 12:00am on 14-Mar-2017
path: /Online_Marketing | permalink | edit (requires password)
0 comments, click here to add the first
---
---
'Thru Dropbox' Trademark Registrant's 'Bad Faith' Litigation Results In $2 Million Fee Award To Dropbox

Furnished content.


Thru, Inc. made a mess of its registered trademark by allowing it to lie dormant. It registered "Thru Dropbox" but made no attempt to challenge Dropbox's application for the term "DROPBOX" in 2009. Instead, it sat back and watched as Dropbox grabbed market share. Five years after it filed its application, the trademark was awarded to Dropbox. Only then did Thru, Inc. act, so to speak. It acted like the horrified victim of Dropbox's motion for declaratory judgment, one that would uncontestably award the "Dropbox" registration solely to the cloud storage service. Thru countersued, claiming infringement. Bad move.During the lawsuit, discovery by Dropbox uncovered Thru Inc.'s master plan. Emails showed company officials actually referred to the "Thru Dropbox" trademark registration as a "lottery ticket" that would pay off as soon as Dropbox went public. As the court pointed out while handing bits and pieces of Thru's thoroughly-chewed ass back to it, referring to a dormant trademark registration as a "lottery ticket" is like counting your yachts before you've purchased them. It demonstrates bad faith -- the sort of thing that generally leads to lawsuit losses and hefty legal fee liability.And here come the financial losses Thru clearly didn't figure into its "lottery ticket" calculations. The presiding judge has awarded more than $2 million in legal fees to Dropbox. From the order [PDF]:
The Court awards $1,761,781.50 in fees, $419,610.41 in nontaxable costs, and $116,040.18 in taxable costs.
As the court points out multiple times in the order, everything Thru did reeks of bad faith. The "slow walk" of its trademark enforcement to coincide with Dropbox's IPO. The references to the unenforced trademark as a golden ticket to unearned riches. The numerous false statements made during early depositions.Of course, Thru Inc. had plenty of arguments left, especially now that it's own money was on the line. But the court doesn't have much sympathy for Thru's financial hole of its own creation.
Thru… argues that such a large fee award would be unfair given that it spent 27% of its annual revenue "on a lawsuit it tried hard to avoid." As noted above, the record clearly belies the claim that Thru tried hard to avoid this litigation, and a significant portion of the expense incurred by Dropbox came as a result of Thrus bad faith litigation conduct.
Dropbox likely won't see any of this until after the Ninth Circuit Appeals Court has disposed of the case. Thru Inc. immediately appealed the adverse ruling handed down last year, but I can't imagine the Appeals Court is going to take a look at this and see that the trademark slow-walkers have somehow been screwed out of their IP "lottery ticket." All it's going to do is add more Dropbox billable hours Thru Inc. will have to pay for.

Permalink | Comments | Email This Story


Read more here

---
posted at: 12:00am on 14-Mar-2017
path: /Policy | permalink | edit (requires password)
0 comments, click here to add the first
---
---
Chatbot That Helped Beat $4 Million In Bogus Parking Tickets Now Handling Asylum Applications

Furnished content.


Last year, 19-year-old UK student Josh Browder released a chatbot called "DoNotPay" that assisted drivers in challenging parking tickets. It was a small program with a huge upside. The bot's legal guidance -- in the form of yes/no questions -- resulted in more than $4 million in tickets being dismissed.Chatbots are no replacement for lawyers, but almost no one seeks legal help when dealing with parking tickets. That's probably why law/traffic enforcement agencies feel comfortable issuing so many bogus ones. DoNotPay not only saved UK residents millions of dollars, it also proved the ticketing system was fundamentally broken. More than 64% of the 250,000 tickets challenged were overturned.Browder was hoping to apply his chatbot AI to other legal issues -- narrowly-focused areas where legal help might be appreciated, but without the chance of severely screwing up someone's life if the chatbot led someone down the wrong path.
Browder's next challenge for the AI lawyer is helping people with flight delay compensation, as well as helping the HIV positive understand their rights and acting as a guide for refugees navigating foreign legal systems.
It's the last one on the list receiving attention this year. Immigration law is an incredibly-dense legal thicket where wrong moves can mean finding yourself stranded in a country that doesn't want you or forcibly returned to the country you've been trying to leave. Brower's chatbot -- running through Facebook messenger this time -- isn't going to put immigrants in awkward positions, though. Instead, it's much more in line with DoNotPay: something that provides helpful assistance to make an often-confusing experience easier to tackle, but without the potential downside of someone wishing they'd spoken to an actual lawyer instead.
The chatbot works by asking the user a series of questions, in order to determine which application the refugee needs to fill out and whether a refugee is eligible for asylum protection under international law.After this, it takes down the necessary details required for the appropriate asylum application – an I-589 for the United States or a Canadian Asylum Application for Canada. Those in the UK are told they need to apply in person, and the bot helps fill out an ASF1 form for asylum support.
If the program fails, nothing is made worse. The person seeking asylum is still stuck in the country they're trying to leave, but they're not sitting in a customs holding cell awaiting deportation. (At least, one hopes not. The best case scenario would be to apply for asylum before arriving, rather than after.)Browder is also doing everything he can to protect users. The information obtained to autofill applications is only stored long enough to be transferred and deleted within 10 minutes of the app's use. The chatbot can also put users in touch with legal representation if requested.This bot's success will be much more difficult to enumerate, but it's building on Browder's past successes. Since the debut of DoNotPay, Browder's legal assistance bots have helped UK citizens obtain reimbursement for delayed planes/trains and helped homeless individuals seek emergency housing.

Permalink | Comments | Email This Story


Read more here

---
posted at: 12:00am on 14-Mar-2017
path: /Policy | permalink | edit (requires password)
0 comments, click here to add the first
---
---
They're Back: Copying Is Not Theft And Home Cooking Is Killing Restaurants

Furnished content.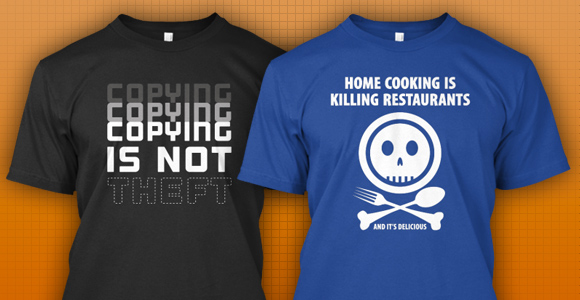 Copying Is Not Theft and Home Cooking Is Killing Restaurants are back »Last week we brought back two of our 2016 T-shirt designs, and today we've got another two favorites returning to the Techdirt Gear store on Teespring: Copying Is Not Theft (a conversation starter, to say the least...) and Home Cooking Is Killing Restaurants.In addition to our usual offerings (tees, hoodies, mugs and stickers) we've added a bunch of additional options for Copying Is Not Theft gear, at the expense of color choices (necessitated by the design). There are tank tops, long-sleeve tees, crew neck sweaters and a second option for women's tees. Also, in addition to our usual $23 premium men's tees, you have the option of a cheaper Hanes tagless tee for only $20. We don't know if this is something people prefer, and we're not sure how big the quality difference is (the premium tees are very nice) -- but if lots of people opt for the cheaper t-shirt and are satisfied with the quality, we'll consider making this available for more shirts in the future. Vote with your wallet and by letting us know in the comments or on Twitter!
Check out the Techdirt Gear store for these returning designs, and more »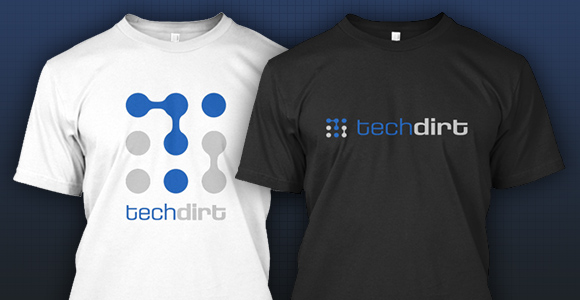 Permalink | Comments | Email This Story


Read more here
---
posted at: 12:00am on 12-Mar-2017
path: /Policy | permalink | edit (requires password)
0 comments, click here to add the first
---
---
How To Improve Online Comments: Test Whether People Have Read The Article Before Allowing Them To Respond

Furnished content.


For a while now, Techdirt has been writing about the decision by some sites to stop allowing readers to make comments on articles. We've pointed out that's pretty regrettable, especially when it's couched in insulting terms of "valuing conversations" or building "better relationships." Dropping comments is a lazy response to a real and challenging problem: how to encourage readers to engage in meaningful ways.As well as a natural tendency for people to write hurtful or insultings things that they probably wouldn't say to each other face-to-face, there's another problem: the rise of Internet troll factories whose entire purpose is to flood sites with propaganda in the form of comments that espouse a particular viewpoint. As we noted recently, Google is looking to use machine learning technology to help identify and then deal with toxic comments:
a publisher could flag comments for its own moderators to review and decide whether to include them in a conversation. Or a publisher could provide tools to help their community understand the impact of what they are writing -- by, for example, letting the commenter see the potential toxicity of their comment as they write it. Publishers could even just allow readers to sort comments by toxicity themselves, making it easier to find great discussions hidden under toxic ones.
As Google itself admits, the issue is "about more than just improving comments. We hope we can help improve conversations online." A rather clever way to do that has been devised by NRKbeta, the technology site of the Norwegian government-owned radio and television public broadcasting company, NRK. Here's the basic idea (via Google Translate):
a small [on-screen] module is presented to you as a reader with three questions from the article that you must answer in order to be able to contribute to the discussion.
Actually reading the article before you comment on it -- pretty revolutionary, no? NRKbeta realizes that it's not a perfect solution:
We know of course that it is possible to "cheat" with these questions by searching the text above [the on-screen module], and that using this approach it cannot be guaranteed that everyone actually read the article, but we still think it's worth the experiment.
It's hard not to agree, because it tries to tackle one of the root causes of comments that add nothing to the conversation -- a failure to read what the article said -- by making it a pre-requisite before you can add your own thoughts. It also has the virtue of being extensible in various ways. For example, there could be more than three questions in the pop-up box, and your comment's place and prominence in the conversation could be determined by how many you get right. This might allow the thoughts of more engaged readers to bubble naturally to the top of the conversation. The fact that the code for the feature has been released as free software makes experimentation even easier. NRKbeta's idea certainly seems a better approach than simply giving up and removing comments altogether.Follow me @glynmoody on Twitter or identi.ca, and +glynmoody on Google+

Permalink | Comments | Email This Story


Read more here

---
posted at: 12:00am on 11-Mar-2017
path: /Policy | permalink | edit (requires password)
0 comments, click here to add the first
---
---
Snap To It! Snapchat's Feeling Pressure to Have Metrics Audited

Furnished content.


With pressure from ad buyers to have Snapchat's ad metrics audited by the Media Ratings Council (MRC), it will be interesting to see if the company complies and what the data reveal. Adotas spoke with Carl Erik Kjrsgaard, the co-founder and CEO of Blackwood Seven, (pictured below) about the importance of a good metrics audit. [...]

Read more here

---
posted at: 12:00am on 11-Mar-2017
path: /Online_Marketing | permalink | edit (requires password)
0 comments, click here to add the first
---
---
Consumer Reports Proposes Open Source Security Standard To Keep The Internet Of Things From Sucking

Furnished content.


Thanks to a laundry list of lazy companies, everything from your Barbie doll to your tea kettle is now hackable. Worse, these devices are now being quickly incorporated into some of the largest botnets ever built, resulting in some of the most devastating DDoS attacks the internet has ever seen. In short: thanks to "internet of things" companies that prioritized profits over consumer privacy and the safety of the internet, we're now facing a security and privacy dumpster fire that many experts believe will, sooner or later, result in mass human fatalities.Hoping to, you know, help prevent that, the folks at Consumer Reports this week unveiled a new open source digital consumer-protection standard that safeguards consumers' security and privacy in the internet-of-broken things era. According to the non-profit's explanation of the new standard, it's working with privacy software firm Disconnect, non-profit privacy research firm Ranking Digital Rights (RDR), and nonprofit software security-testing organization Cyber Independent Testing Lab (CITL) on the new effort, which it acknowledges is early and requires public and expert assistance.As it stands, most of the proposals are common sense and take aim at most of the common issues in the IOT space. For example, encouraging companies to spend a few minutes engaged in "penetration testing" of their products before shipping (a novel idea!). The standard also hopes to ensure companies notify consumers of what's being collected and who it's being shared with, and that devices aren't using default login credentials. But Consumer Reports also notes that it hopes to develop these standards with an eye on more broadly incorporating them into product reviews:
"The standard should be easy enough for consumers without a technical background to understand, yet sophisticated enough to guide testing organizations such as Consumer Reports as we develop precise testing protocols. We want to rate products on measures such as security, in much the same the way we currently assess products for physical safety and performance."
This isn't the first effort of this type. Both the Department of Homeland Security and the FCC have started pushing for some voluntary sort of consistent standards. Of course the problem is that these standards are voluntary, meaning that the kind of companies that cut corners in the first place to sell unsecured products, aren't likely to give much of a damn. It's why folks like Bruce Schneier have advocated for stronger regulations. But with government agencies already walking back even existing consumer privacy protections under Trump, that doesn't seem likely anytime soon. And even if they were open to it, does anyone actually think that federal bureaucrats would come up with reasonable, workable standards that didn't do more harm than good? Having prominent reviewers, such as Consumer Reports take this on through an open standard and reviews seems like a pretty good way of shaming companies into better behavior.Consumer Reports is quick to acknowledge this is just the beginning of what they hope evolves into a more comprehensive standard:
"The standard as it's now written is a first draft. We hope that everyone from engineers to industry groups to concerned parents will get involved in shaping future versions of it. We've placed the standards on GitHub, a website that's widely used by software developers to share ideas and work on group projects. Because GitHub can be hard for newcomers to navigate, we've also built a website that has the same information."
Folks that are curious or want to lend their assistance can check out the full standard here.

Permalink | Comments | Email This Story


Read more here

---
posted at: 12:00am on 11-Mar-2017
path: /Policy | permalink | edit (requires password)
0 comments, click here to add the first
---
---
A Tech Marketer's Guide to Surviving Digital Transformation

Furnished content.


Like it or not, digital transformation is happening, so keep your wits about you. New tech entrants are bringing solutions to market quickly. Smaller players are outmaneuvering legacy companies, which are acquiring startups to adapt. The increasing pace and scale of change creates significant challenges for tech marketers. Simultaneously, digital transformation is changing your customers [...]

Read more here

---
posted at: 12:00am on 10-Mar-2017
path: /Online_Marketing | permalink | edit (requires password)
0 comments, click here to add the first
---
---
Congressman Introduces Bill That Would Allow People And Companies To 'Hack Back' After Attacks

Furnished content.


Probably not the best idea, but it's something some legislators and private companies have been looking to do for years: hack back. Now there's very, very, very nascent federal legislation in the works that would give hacking victims a chance to jab a stick in the hornet's nest or work on their attribution theories or whatever.
A new bill intended to update the Computer Fraud and Abuse Act would allow victims of computer attacks to engage in active defense measures to identify the attacker and disrupt the attack.Proposed by Rep. Tom Graves (R-Ga.), the bill would grant victims of computer intrusions unprecedented rights. Known as the Active Cyber Defense Certainty Act, the legislation seeks to amend the CFAA, the much-maligned 1986 law that is used in most computer crime prosecutions.
The CFAA amendment [PDF] would (sort of) authorize very limited "hack back" permissions. The powers can only be used for good, so to speak. The attacked can turn the tables slightly by invading the attacker's domain solely for the purpose of determining the person/group behind the attack.What it won't allow is retribution and revenge, which may come as a disappointment to those who have been brutally breached.
(ii) does not include conduct that—(I) destroys the information stored on a computers of another;(II) causes physical injury to another person; or(III) creates a threat to the public health or safety
That may temper the enthusiasm of supporters, but it's best the victims don't stoop to the level of their attackers, if only because the CFAA is already a hideously out-of-date mess that would be helped NOT AT ALL by endorsing the same behavior it criminalizes elsewhere.The bill is only a "discussion draft" at this point, so by the time it reaches a vote, it may bear little to no resemblance to this embryo of an idea.While it may be tempting to give private companies the power to hack attackers, there's always the chance mission creep will turn these permissions into violations. A few years ago, the IP Commission suggested it might be a good idea to allow software companies to "hack" computers owned by those suspected of infringement in order to uncover their identities and the location of the purloined software. The commission suggested the deployment of malware -- something more aligned with the FBI's child porn investigation tactics (which themselves have been found to be of dubious legality) than with what's being suggested here.But this is only a suggestion. There's still a lot of legislative meat to be put on these bones and it's unlikely the same companies who thought it would be a fine idea to deploy malware against suspected pirates have changed their opinion over the last four years.Rep. Tom Graves is the person behind the bill and had this to say about it -- part of which is pretty much dead on.
"This bill is about empowering individuals to defend themselves online, just as they have the legal authority to do during a physical assault," said Graves. "While the bill doesn't solve every problem, it's an important first step. I hope my bill helps individuals defend themselves against cybercriminals while igniting a conversation that leads to more ideas and solutions that address this growing threat."
"Empowering individuals" through federal law can go sideways in a flash. The second half of Graves' statement is better. A conversation does need to take place about responses to security breaches and attacks. But that conversation shouldn't start until those wishing to speak up start doing a much better job locking down their digital valuables. Offense is more fun to play than defense, but defense is where it all should start.It also should be pointed out this bill is not open season on hackers. It doesn't give companies or individuals explicit permission to hack back, but rather provides them with a defense should they happen to be sued or prosecuted for engaging in this behavior. An affirmative defense is rarely as useful as explicit permission, as anyone who's argued fair use in court can attest. The DOJ has engaged in some very creative readings of the CFAA over the years, and an affirmative defense is only going to go so far in preventing bogus prosecutions.

Permalink | Comments | Email This Story


Read more here

---
posted at: 12:00am on 10-Mar-2017
path: /Policy | permalink | edit (requires password)
0 comments, click here to add the first
---
---
'Blue Lives Matter' Laws Continue To Be Introduced Around The Nation

Furnished content.


How much do "Blue Lives" matter? More than non-Blue Lives, apparently, given the national legislative enthusiasm for generating stupid, easily-abused, redundant legislation.Louisiana -- one of the few states where legislators have agreed to extend greater protections to an incredibly-protected group -- has already seen its newly-minted "Blue Lives Matter" law abused by law enforcement. It's been abused so badly that even law enforcement's best friend -- local prosecutors -- has refused to pursue charges under the statute.But most state legislatures have yet to entertain this ridiculous idea to its illogical conclusion. As Julia Craven reports for Huffington Post, fourteen states have floated "Blue Lives Matter" laws -- a total of 32 legislative trial balloons.The good news is most of these have gone nowhere. The data compiled by Craven shows a majority of these have died shortly after introduction -- most likely due to them being both (a) bad laws and (b) redundant. All 50 states already have some sort of sentencing enhancement on the books for perpetrators of violent acts against law enforcement officers. Trying to twist legislation meant to protect underprivileged groups to include some of the most privileged members of our society hasn't found much support beyond police unions and others similarly self-interested.For whatever reason, Mississippi's legislature is the nation's leader in failure and redundancy, as far as "Blue Lives" legislation goes.
Any bills that have managed to pass make things worse for anyone who has the misfortune of interacting with police. Existing laws already engage in book-throwing when it comes to violence against police officers. "Blue Lives" laws just add more severity, for no tangible reason.
[U]nlike hate crime laws, they don't require prosecutors to prove motive."In the vast majority of states, you will get life or considerably less in prison for murder; but if you murder a police officer, you are almost certain to get death," said Mark Potok, a senior fellow at the Southern Poverty Law Center. "So the truth is that including police in hate crime laws is merely a political statement and an unnecessary one at that."
In most cases, "Blue Lives" laws add sentencing enhancements to normal violations. Crimes like resisting arrest (and assaulting an officer, which tends to be handcuffed to resisting charges) are treated as acts of "hate," rather than as the basic, bog standard criminal acts they are.It's also important to point out -- as Craven does in her article -- that the "Blue Lives Matter" movement was borne of law enforcement misconduct and use of excessive force. As public confidence in law enforcement decreased, some people felt compelled to intercede on behalf of a pretty much legally-unassailable group.
The national focus on police violence has put officers and their more avid supporters on the defense. Supporters created the Blue Lives Matter campaign as a direct response to the Black Lives Matter movement and the growing protests against police violence.
The other aspect that makes these laws particularly ridiculous is the "hate crime" aspect of it. Hate crime laws deal with human traits that are mostly involuntary or unchangeable, like race or sexual preference. No one is born a cop and no one forces anyone to take the job. Hate crime laws themselves are generally redundant, but adding more layers of redundancy to shelter a certain subsection of Americans who are completely free to remove their "cop" status at any time is a solution in search of a problem. And the problem with problem-less solutions is that problems will be created out of thin air to fit them.

Permalink | Comments | Email This Story


Read more here

---
posted at: 12:00am on 10-Mar-2017
path: /Policy | permalink | edit (requires password)
0 comments, click here to add the first
---
---
AffinityAnswers Partners w/ LiveRamp; LiveRamp & PushSpring Enhance Partnership; Rumble Launches Custom Video Player; more

Furnished content.


AffinityAnswers Partners with LiveRamp to Expand Distribution of its "Mutual Affinity" Social Media Audience Data. AffinityAnswers, a platform for predictive branding powered by affinity algorithms that measure social data across 60,000 brands and 400 million people worldwide, announced a partnership with LiveRamp, a leading provider of omnichannel identity resolution. Through the partnership, AffinityAnswers will make [...]

Read more here

---
posted at: 12:00am on 09-Mar-2017
path: /Online_Marketing | permalink | edit (requires password)
0 comments, click here to add the first
---
---
AerServ Launches OpenAuction, an In-App Header Bidding Solution for Mobile Publishers

Furnished content.


New Bidding Technology and Comprehensive Standards Allow for Increased Demand. AerServ, the leading ad management technology and SSP for mobile publishers and advertisers, today announced the launch of OpenAuction, the first open call auction technology developed specifically for mobile publishers and app developers to take advantage of increased advertiser demand provided by header bidding. OpenAuction [...]

Read more here

---
posted at: 12:00am on 09-Mar-2017
path: /Online_Marketing | permalink | edit (requires password)
0 comments, click here to add the first
---
---
Court Tells Cops They Can't Use GPS Data Gathered After Suspect They Were Tracking Sold The Vehicle

Furnished content.


This might be laziness. Or ineptness. Or just another indicator of how much citizens' rights mean to their public servants. Whatever it is, it's definitely not good policing. A drug bust that fortuitously rolled into the lap of the Colorado Springs Police Department has now rolled back out of it, thanks to a Colorado federal court. (via Brad Heath)Here's the story. The PD suspected someone known as "S.B." to be engaged in drug trafficking. S.B. owned a white BMW that was apparently used during drug deals. Detectives obtained a warrant to place a GPS locator on the car and track its location for 60 days.Three weeks after the tracking device was placed on the vehicle, detectives noticed the car's rims had been removed and a "For Sale" sign placed in its window. A couple of weeks after that, the car's location data shifted dramatically. It was no longer spending a great deal of time parked in S.B.'s driveway. It was spending a majority of its time at a new address -- one with no association to S.B. and the location data previously obtained.Colorado Springs detective Michael Gannett obviously felt the vehicle was in the possession of a new owner. His report noted the new location data and his efforts to verify if a change of ownership had taken place. Plainclothes detectives walked past the vehicle at its new address. They saw some drug trafficking activity being performed by the driver, but were unable to determine whether it was the person they had under investigation or someone else entirely.Rather than get this all sorted out, the PD chose to leave the GPS on the vehicle and continue tracking its location. This warrantless deployment resulted in someone else being arrested on drug charges -- not the person the PD was originally looking for.This person, Charles Wood, challenged the evidence obtained from the illicit tracking. The court agrees [PDF] with Wood's Fourth Amendment assertions.
In this case, the probable cause undergirding the warrant was founded exclusively in the illicit activities of S.B. On July 2, nearly halfway through the lifecycle of the warrant, S.B. relinquished the possessory interest he had in the vehicle when it was sold and, in doing so, vitiated the probable cause at the heart of the warrant. The Government does not dispute that electronic tracking continued after the sale of the vehicle. If the executing officers knew or had reason to know of the sale, their continued search was "unsupported by probable cause" and violative of the Fourth Amendment.
The government argued that the existence of a "For Sale" sign in the car's window shouldn't be enough to trigger the "know or should have known" part of the now-dissipated probable cause. The court agrees. A "For Sale" sign indicates nothing but the owner's intention. But it points out that the police had far more to work with than this sign.
The evidence becomes problematic for the officers when viewed in conjunction with the electronic tracking data, which showed a dramatic departure in the behavior of the driver of the 2001 White BMW shortly after the "For Sale" sign was first observed. For the first twenty-five days of electronic tracking, the 2001 White BMW was returning to the residence of S.B. nearly every day. In early July, the data shows an abrupt change in the resting location of the vehicle, an address with no known association to S.B. Moreover, the vehicle never returns to S.B.'s residence, and S.B. is never again observed operating the vehicle.
The court points to another piece of evidence that solidifies the court's stance -- one handily provided by the PD itself.
The most telling evidence is the report and testimony of Detective Garnett himself. In his report of July 13, Detective Garnett writes that he "wanted to conduct surveillance" of the vehicle on July 8 "to see if my previous suspect was still driving the vehicle or if it still had the same plate number." His words strongly imply a suspicion that the vehicle had changed hands. Even if it were possible to construe those words differently, Detective Garnett plainly admitted during the suppression hearing that he decided to surveil the 2001 White BMW on July 8 because he doubted S.B. was still operating the vehicle.
On top of that, very little attention was paid to S.B. The detectives working the case seemed far more interested in the vehicle than the person driving it. (Hello, asset forfeiture!)
Taken together, the evidence and Detective Garnett's own admissions demonstrate beyond mere inference that he had "notice of the risk" that he was pursuing a warrant unsupported by probable cause. Indeed, it was his apparent expectation that a person other than S.B. was operating the vehicle, and he endeavored to identify that individual on July 8. After all, if the priority had been locating S.B., it would have been more efficacious to return to S.B.'s residence to determine his whereabouts. Tellingly, Detective Garnett testified that no efforts were made to observe S.B. at his residence or elsewhere after tracking data indicated the dramatic change in the location of the 2001 White BMW.
Adding it all up, the court finds the PD has no probable cause to support its (warrantless) tracking of the vehicle's new owner. It had the chance to obtain a new warrant after detectives observed the new driver cutting up drugs in the car, but chose instead to let the old warrant ride. The government argued suppression was too harsh. The court disagrees.
The Court recognizes that granting a motion to suppress in a case like this is an extraordinary remedy. However, it is the extraordinary duty of law enforcement officers to ensure that they pursue their important work with an appropriate regard for the foundational constitutional rights of those they police. Here, the executing officers had reason to believe that they were prosecuting a search without probable cause, and forged ahead anyway.
That's the right decision. If cops want convictions, they need to play by the rules. Law enforcement officers have a great deal of power at their disposal. But they have to use it responsibly. If they can't handle the responsibility, then they don't deserve to "win." It's that simple.

Permalink | Comments | Email This Story


Read more here

---
posted at: 12:00am on 09-Mar-2017
path: /Policy | permalink | edit (requires password)
0 comments, click here to add the first
---
---
UK Intellectual Property Office Refuses Beer Brewery's Request To Block Trademark Application For Whisky

Furnished content.


For as long as I've spent time screaming about trademark issues in the alcohol industry in these here pages, I've repeatedly made the point that trademark laws the world over should be more nuanced when it comes to defining competitive marketplaces. The alcohol industries are perfect examples of this, with a fairly discerning customer base that is quite capable of knowing the difference between a beer and a single-malt whisky, or a bottle of wine, or the horror upon humanity that is sangria. But too many governing IP offices and courts take the lazy route of lumping these micro-markets into a macro-market for the purposes of claiming competition in trademark disputes.But the courts don't always get this question wrong. Some, in fact, do bother to take the time to weigh the sophistication of the likely buyers of products within a marketplace when rendering a decision on a trademark dispute. And that seems to have been at least in part at play in a recent decision to allow a trademark to proceed for a whisky brand despite the objection raised by a beer brewer.
Jim McEwan, 68, was stunned when the beer giant threatened to derail his plans for a self-titled whisky business on the Isle of Islay where he lives. Brewer Charles Wells, which owns the McEwan's range of Scots beers, objected to Mr McEwan registering his own name as a trademark.The brand's trademark agents said the application overlapped with their registered trademark "McEwan's" and people could confuse the two businesses. They said Mr McEwan could benefit from this confusion, and called for his application to be blocked.
Now, Jim McEwan was helped in this dispute at least somewhat by the fact that he's basically Whisky Jesus in Europe. In the circles of the whisky industry, McEwan is a well-known name, having worked in the industry for decades, and having even been named to Whisky Magazine's Hall of Fame. Those of us who drink real whisky aren't any more likely to confuse a whisky with his name on it with a beer than we would confuse it with a gym shoe. That his trademark application was for branding consisting of his own surname made the dispute slightly more laughable, but it doesn't appear that was the court's focus in dismissing Charles Wells' objection to the trademark application.
Now the UK Intellectual Property Office (IPO), which rules on trademark disputes, has found in Mr McEwan's favour after rejecting suggestions the two brands were likely to be mistaken for each other. In a written ruling, trademark hearing officer George Salthouse said: "The average consumer is well versed in discriminating between individual's names, particularly a surname and a forename and surname. I accept the mark in suit may bring the opponent's mark to mind, but I do not believe it will form a link that would affect the consumers' economic behaviour or damage the opponents' mark by tarnishing or blurring."
The only way that statement makes sense is if the court has faith that the buying public for whisky will differentiate it from beer. Which, you know, of course they will. People who are regular buyers of whisky are complete snobs about it. I know this, because I am one. It's quite refreshing to see a court take the actual lack of confusion into account in a trademark dispute, rather than falling back on facile declarations of overly-broad marketplaces.

Permalink | Comments | Email This Story


Read more here

---
posted at: 12:00am on 09-Mar-2017
path: /Policy | permalink | edit (requires password)
0 comments, click here to add the first
---
---
IRIS.TV Promotes Three in Top Management

Furnished content.


IRIS.TV Promotes Christian De Gennaro, Rohan Castelino and Ryan Pershad. IRIS.TV, a video personalization company that enables publishers and marketers to maximize the value of their video inventory by streaming custom programming to individual users across all devices, announced three top management promotions: Christian De Gennaro from Vice President of Sales to Executive Vice President; [...]

Read more here

---
posted at: 12:00am on 08-Mar-2017
path: /Online_Marketing | permalink | edit (requires password)
0 comments, click here to add the first
---
---
Yahoo's State of Native Report & Infographic

Furnished content.


Leveraging data from more than 74.5 billion native ad impressions across its extensive network of more than 3,400 publisher properties, Yahoo's The State of Native report provides marketers and advertisers with a unique look at the market and offers insights to help them get the most out of native. In the past year, mobile usage [...]

Read more here

---
posted at: 12:00am on 08-Mar-2017
path: /Online_Marketing | permalink | edit (requires password)
0 comments, click here to add the first
---
---
Wolfgang Puck Battles Elon Musk's Brother Over Trademark Rights For 'The Kitchen' In Restaurant Industry

Furnished content.


Generic terms that are allowed trademark protection are the bane of those that still believe trademark law serves a useful function. For the law to work as intended, to protect the public's ability to know what they're buying and from whom they are buying it, trademarks need to be both unique and identifying. When the USPTO instead allows for laughably broad terms or words to be trademarked, it steals from trademark proponents the argument of utility.Take one current trademark dispute, for instance, which happily includes such big names as Wolfgang Puck and the brother of Elon Musk, Kimbal Musk. Those two are currently battling over whether or not the term "the kitchen" ought to be trademarked for the restaurant industry. Puck is opening new digs in Chicago with the name "The Kitchen by Wolfgang Puck." Musk is one of the founders of The Kitchen Cafe out of Colorado. Musk filed a lawsuit against Puck in Colorado over the trademark issue, with Puck's lawyers filing a motion to dismiss while also filing suit in Illinois to have the Chicago area be the venue for the litigation.The Colorado complaint filed by Musk's company makes the following claim.
Puck's "use of The Kitchen immediately caused confusion in the restaurant industry and marketplace," according to the Colorado compliant, which The Kitchen Cafe filed against a different Puck entity, Wolfgang Puck Licensing.
The claim is fairly laughable for any number of reasons. There is the generic nature of the term in the restaurant industry, the fact that the term does nothing to identify the source of the restaurant ownership, and, most importantly, the wide swath of restaurants that incorporate the term into their names. And that's the reason for Puck's desire to move the venue to Chicago. Puck's lawyer, Steve Mick, explains it nicely.
Both parties have restaurants in Chicago, Mick said. "And we like the fact that within a mile radius of The Kitchen's location in Chicago, there are five or six other restaurants using the phrase 'kitchen.'"In River North, there's Lyfe Kitchen, Travelle Kitchen + Bar and Doc B's Fresh Kitchen, according to the Illinois complaint. One North Kitchen & Bar is also nearby in the Loop."That just sort of underscores our whole point," Mick said. "They don't get to elbow out everybody."
And the fact that they haven't even tried is going to be a problem in the suit. If Puck's restaurants are infringing on Musk's trademarks, why aren't all of these other, longer-standing restaurants likewise infringing? The attorney for The Kitchen Cafe has an answer for this, but it's not a good answer.
"The Kitchen has no issue with descriptive uses of 'kitchen' that do not cause confusion, which is the case in these other instances," said Timothy Getzoff, the attorney representing The Kitchen Cafe. "In contrast, Puck's competing restaurant uses the exact same name, The Kitchen, which already has caused confusion in the market."
Which means that Musk's company essentially filed a trademark suit over the word "the." That word is the hangup here, even as the overtly generic term "kitchen" is utilized all over the restaurant industry. If Musk's suit isn't a loser, then I don't know what would be. Yet, again, the ultimate blame lies with a trademark office that saw fit to grant this trademark in the first place.

Permalink | Comments | Email This Story


Read more here

---
posted at: 12:00am on 08-Mar-2017
path: /Policy | permalink | edit (requires password)
0 comments, click here to add the first
---
---
ESPN On-Air Talent About To Care About The Cord-Cutters The Execs Aren't Concerned About

Furnished content.


It's been more than a bit perplexing to watch ESPN, sports television giant though it may be, shrug its shoulders at the cord-cutting trend that has refused to bend to the network's pleasure. With streaming being a thing, and that super-charging the cord-cutting revolution, we've made the point for some time that the sports broadcast industry was eventually going to feel the grip of fewer subscribers, as has been the case with much of the rest of the television medium. Yet ESPN barely reacted at all to cord-cutting, other than to insist that established ratings systems are crap and that its loss of millions of subscribers over the past few years was of no concern, mostly because those subscribers were poor. ESPN President John Skipper said just last year:
People trading down to lighter cable packages. That impact hasn't leaked into ad revenue, nor has it leaked into ratings. The people who've traded down have tended to not be sports fans, and have tended to be older and less affluent. We still see people coming into pay TV. It remains the widest spread household service in the country after heat and electricity.
Yet those comments came almost immediately after a huge round of layoffs at the network in 2015, trimming the behind-the-camera staff to what is essentially a skeleton crew. Still, stock prices stalled for Disney, with much of the blame being placed upon ESPN's subscriber loss. Some market experts have made some rather bold predictions that the subscriber woe for ESPN is over-hyped, even going so far as to predict massive market gains for Disney this year. That optimism seems to be largely built on the recent investment ESPN has made into digital distribution and streaming options. But if anyone out there is buying such optimism, the executives at ESPN do not seem to be among them.Richard Deitsch at Sports Illustrated has a detailed write-up of ESPN's plans for its on-air talent in 2017 and it certainly looks like that talent is going to have reason for concern about cord-cutting that the executives lack.
SI has learned that ESPN will have significant cost-cutting over the next four months on its talent side (people in front of the camera or audio/digital screen). Multiple sources said ESPN has been tasked with paring tens of millions of staff salary from its payroll, including staffers many viewers and readers will recognize. Those with contracts coming up would be particularly vulnerable, sources said. The company is also expected to buyout some existing contracts, which is something rare for ESPN historically beyond a few NFL talents. The cuts are expected to be completed by June. Sources within ESPN say that there is no set list of names yet and stressed that behind-the-scenes people will likely (key word) not be impacted by these cuts.Last month Reuters reported Disney had a lower-than-expected quarterly revenue, hurt by the drop in advertising revenue at ESPN. In addition, ESPN continues to shed subscribers at an enhanced rate, down to 88.4 million households in Dec. 2016. That number was 100.002 million in Feb. 2011.
It had to happen eventually. A network can't drop subscribers at rates in the double-digits without eventually taking a hit on the ad-revenue. Couple that with the sports licensing landscape in which partnering with teams and leagues has never been more expensive and it becomes difficult to see a way out this wilderness for ESPN. And, if this seems like a terrible trend for a business generally, it's particularly bad for a brand like ESPN, whose on-air talent has always been a key part of its success. The network likes to argue that it makes the talent popular and not the other way around, and it has some recent examples that demonstrate this to some degree, but the truth is that the talent and the network are more symbiotic than that. There's a reason why the retirement of Chris Berman, annoying slogan peddler though he may be, is such a big deal. He's been a titan for the network. Replacing that while cutting pay for the on-air talent is a unenviable task, to say the least.And, just to be clear, this is mostly to do with cord-cutting and the numbers we're talking about are enormous.
The most immediate causes of the layoffs are clear. Over the last several years rights fees have skyrocketed, with ESPN now paying over $3.3 billion annually just to broadcast the NFL and NBA. Simultaneously, ESPN's subscriber count and viewership—the fabled dual revenue stream that has made it the most envied television company in the country—have tumbled. While the loss of 12 million subscribers over five years is mostly due to generalized cord cutting, and not subscribers specifically dropping ESPN, it doesn't really matter: It still amounts to losing almost a billion dollars annually. The status quo is unsustainable, and with rights fees already locked in for several years, salaries are one of the biggest areas available to cut expenses.
This how media giants die. Not quickly, or with mercy, but rather by being slowly bled to death by the reality of new times and un-adopted innovation. Sources from inside the company suggest ESPN execs weren't even discussing the cord-cutting trend until 2015. It seems that may prove to have been too late to right the ship in Bristol.

Permalink | Comments | Email This Story


Read more here

---
posted at: 12:00am on 08-Mar-2017
path: /Policy | permalink | edit (requires password)
0 comments, click here to add the first
---
---
Tosibox Wins Two Categories At IOT / M2M Innovation World Cup

Furnished content.


Tosibox, a Finnish company offering secure remote connection solutions, has won the Industrial and Security Category Awards at the IOT / M2M Innovation World Cup. The pitching and award ceremony took place on Wednesday, March 1, in Barcelona, Spain. The award ceremony, organized for the 5th time, was held for the first time parallel to [...]

Read more here

---
posted at: 12:00am on 07-Mar-2017
path: /Online_Marketing | permalink | edit (requires password)
0 comments, click here to add the first
---
---
Lenovo Case Study: Personalized Emails to the Rescue!

Furnished content.


Michael Ballard, Senior Manager, Digital Marketing at Lenovo (pictured left), offers the company's experience with personalized email and their recommendations on how to take advantage of the technology. We are all bombarded with messages competing for our attention. It's no surprise that this message saturation has given rise to personalization. Personalization trades the standard one-to-many [...]

Read more here

---
posted at: 12:00am on 07-Mar-2017
path: /Online_Marketing | permalink | edit (requires password)
0 comments, click here to add the first
---
---
ironSource Announces Expansion of Integration with AdMob Network

Furnished content.


ironSource Announces Expansion of Integration with Google's AdMob Network, Now Including Rewarded Video Demand. Mobile marketing and monetization platform ironSource announced the expansion of their integration with AdMob as a network partner of their Supply Side Platform. Publishers using the ironSource Mediation SDK can now leverage AdMob as a premium demand source for rewarded video [...]

Read more here

---
posted at: 12:00am on 07-Mar-2017
path: /Online_Marketing | permalink | edit (requires password)
0 comments, click here to add the first
---
---
Vizio Fails To Dodge Class Action Over Its Spying 'Smart' Televisions

Furnished content.


So if you hadn't been paying attention, most of the "smart" products you buy are anything but intelligent when it comes to your privacy and security. Whether it's your refrigerator leaking your gmail credentials or your new webcam being hacked in minutes for use in massive new DDoS attacks, the so-called "smart" home is actually quite idiotic. So-called smart-televisions have been particularly problematic, whether that has involved companies failing to encrypt sensitive data, to removing features if you refuse to have your daily viewing habits measured and monetized.Last month Vizio joined this not-so-distinguished club when it was discovered that the company's TVs had been spying on users for the last several years. Vizio's $2.2 million settlement with the FTC indicates that the company at no time thought it might be a good idea to inform customers this was happening. The snooping was part of a supposed "Smart Interactivity" feature deployed in 2014 that claimed to provide users with programming recommendations, but never actually did so. In short, it wasn't so much what Vizio was doing, it was the fact the company tried to bullshit its way around it.And while Vizio may have settled the FTC investigation into its snooping televisions, the company now faces an additional class action after a California federal judge late last week denied the company's motion to dismiss. The court ruled that Vizio customers' claimed injuries were "sufficiently concrete" to bring suit under the Video Privacy Protection and Wiretap Acts:
"Congress has determined that the interception of a person's electronic communications and the unauthorized disclosure of a person's video viewing history are sufficiently harmful to warrant private causes of action," and in response to Vizio's contention that the information it allegedly discloses is not personally identifiable, adds, "Taken to its logical conclusion, Defendants' argument absurdly implies that a court could never enter judgment against a plaintiff on a VPPA claim if it found that the disclosed information was not within the statutory definition of personally identifiable information; instead, it would have to remand or dismiss the action for lack of jurisdiction."
U.S. District Court judge Josephine Staton also supported the lawsuit's claim of "highly offensive" conduct by Vizio by reiterating that the "Smart Interactivity" feature that did the spying was difficult to disable (impossible, initially), and was often reset after every Vizio firmware update:
"Plaintiffs point to a report by the security software company Avast, which concluded that Smart Interactivity's off function was not operational for months, if not years. So, even if consumers believed they had opted out of Vizio's data collection practices, Vizio was still collecting their data for a considerable period. In addition, Vizio's...Smart Interactivity software switches back on without warning if the Smart TV ever reverts to the factory settingsas can occur through Vizio's software updates. Consumers would likely not realize for a significant period that Vizio's collection and disclosure software has been re-enabled because the opt-out feature is allegedly buried in an obscure settings menu."
So many of these companies wouldn't be facing settlements and lawsuits if they'd simply been transparent about what they were collecting in the first place. But time and time again we see "smart" IOT vendors trying to bullshit their way around what they're doing, bury settings that control privacy settings under layers of intentionally intimidating menus, or simply refuse outright to offer consumers working opt out tools in the first place.

Permalink | Comments | Email This Story


Read more here

---
posted at: 12:00am on 07-Mar-2017
path: /Policy | permalink | edit (requires password)
0 comments, click here to add the first
---
---
Prenda's John Steele Pleads Guilty, Admits To Basically Everything

Furnished content.


Remember all the bravado behind John Steele and his copyright porn trolling? I've noted in the past that Steele reminded me of some guys I knew in college who believed that they were so smart that they could do whatever they wanted, and talk their way out later if they got into trouble. And, for many years, it seemed that Steele was fairly successful in doing exactly that. Remember all his big talk right after Judge Otis Wright referred Steele and his partners to law enforcement over his copyright trolling efforts? At the time, he yelled and screamed about how it was unfair and unprecedented, and insisted loudly that he would prevail.
Iand others involvedhave been in front of hundreds of judges. This is the first judge that has ever sanctioned anybody involved with Steele Hansmeier, Prenda Law, or whatever.
He also continued to insist that he barely had any role at all in the grand scheme, involving shell companies, forged documents, faked honeypots and more:
I work part-time with Livewire Holdings, one of the entities that Lutz owns. My role is on the business side. I acquire other adult content companies and deal with expanding the holding company. The main goal is to handle a lot of content and websites and to be involved in the adult space. For that, I'm paid a flat fee. I won't say how much, but it's a modest flat sum.
Anyway, fast forward a few years, and as you'll recall, Steele and his partner Paul Hansmeier were arrested late last year, and on Monday Steele pled guilty in court in a deal where he basically admits to everything that many of us covering the Prenda saga had suggested he was doing over the years. It's all in there. The summary (though even more is in the full document):
Beginning in about 2011 and continuing until about 2014, defendant John L. STEELE and co-defendant Paul Hansmeier executed a scheme to fraudulently obtain millions of dollars in copyright lawsuit settlements by deceiving state and federal courts throughout the country. The defendants--both lawyers--used sham entities they controlled to obtain copyrights to pornographic movies, some of which they filmed themselves. The defendants then uploaded the movies to file-sharing websites hoping to lure people into downloading their movies. When STEELE and Hansmeier ensnared someone in their trap, they filed false and deceptive copyright infringement lawsuits that concealed their role in distributing the movies, as well as their significant personal stake in the outcome of the litigation. After fraudulently inducing courts into giving them the power to subpoena internet service providers and thereby identify the subscriber who controlled the IP Address used to download the movie, the defendants used extortionate tactics to garner quick settlements from individuals who were unaware of the defendants' role in uploading the movie, and often were either too embarrassed or could not afford to defend themselves. When these individuals did fight back, the defendants dismissed the lawsuits rather than risk their scheme being unearthed. After courts began limiting the number of people STEELE and Hansmeier could sue in one lawsuit, they changed tactics and began filing lawsuits falsely alleging that computer systems belonging to certain of their sham clients had been "hacked" and recruited ruse defendants to fraudulently obtain authority from courts to subpoena internet service providers. Furthermore, when courts began questioning the defendants' tactics, the defendants repeatedly lied and caused others to lie to courts in order to conceal the true nature of the scheme. The defendants also caused interstate mailings and wire transmissions to be conducted in furtherance of the scheme to defraud.
All that and more are in the document that Steele has now signed, confessing to it all. Now, as I've discussed in the past, it does pay to be at least somewhat careful around believing what's in plea bargains, as the pressure put on people who've been indicted to sign such an agreement is massive -- usually involving an agreement to agree to less time in prison in exchange for an easy plea. However, as Ken "Popehat" White notes in his thorough write up of the case, in this case, it doesn't appear that the "plea bargain" is much of a bargain at all for Steele. He isn't agreeing to much of a "lesser" charge to get off easy. He's agreeing to all the key things, and then hoping maybe that the judge will go on easy on him later, because he's also agreed to roll over on Hansmeier:
Steele and the government have stipulated to factors yielding an anticipated guideline range of 97-121 months of imprisonment. Yes, up to ten years in federal prison. This is not a highly favorable plea agreement Steele isn't getting any killer deal (yet) for pleading guilty. The feds made him plead to both mail fraud and money laundering a "good deal" would drop the money laundering. In addition, the feds made Steele agree to just about every Guideline enhancement I can think of, rather than leaving those enhancements open to argue. Steele has truly hurled himself on the sword here....[....]I've seen a lot of plea agreements in a lot of federal cases, and I don't recall another one that so clearly conveyed the defendant utterly surrendering and accepting everything the government demanded, all in hopes of talking his sentence down later. Trusting your ability to talk your way out of it later is typical of a sociopath and a con man, of course.
Ken, of course, has a bunch of more insightful thoughts on this as well, so go over and read it if you haven't already.Of course, now this means that Hansmeier is in even deeper shit than Steele. The feds have no reason to cut a deal with him to roll over on Steele, and Steele has now agreed to testify against Hansmeier. They may still cut a deal, but it certainly appears that the final chapter concerning Prenda isn't ending well for either Steele or Hansmeier. Of course, in the meantime, after my last post, people noted that Hansmeier's wife has picked up on Hansmeier's "encore" act of doing ADA trolling -- a very similar legal scheme in which they find some sort of minor technical violation of the Americans with Disabilities Act, and then try to shake down small businesses into paying up. You'd think that maybe after seeing how the copyright trolling has ended up for her husband, Hansmeier's wife might reconsider doubling down on the family business. Remember, last we'd heard, the FBI was also looking into Hansmeier's ADA trolling activities. So we may not be able to retire the "Prenda" tag just yet...

Permalink | Comments | Email This Story


Read more here

---
posted at: 12:00am on 07-Mar-2017
path: /Policy | permalink | edit (requires password)
0 comments, click here to add the first
---
---
This Week In Techdirt History: February 26th - March 4th

Furnished content.


Five Years AgoThis week in 2012, we saw a somewhat parallel pair of bogus takedowns followed by apologies. First, there was the infamous Rumblefish incident in which a YouTube copyright claim was issued over birds singing in the background of a video, leading the CEO to explain the series of errors that lead to the mistake while missing most of the core point. The other incident targeted us here at Techdirt: one of our key posts about SOPA/PIPA was stripped from Google after a bogus DMCA takedown notice, garnering multiple apologies.Also this week in 2012, the Aereo lawsuit finally began, and two pieces of memorable viral content were introduced: The Oatmeal's comic about the difficulty of legally obtaining Game Of Thrones and the fantastic Polish essay We, The Web Kids about the anti-ACTA generation (if you haven't read it in a while, read it again).Ten Years AgoThis week in 2007, Mike was at the Tech Policy Summit, where Howard Berman was blaming the pharmaceutical industry for holding back patent reform and the patent panel couldn't come up with any real solutions for the system. Overall, the event seemed to suffer from a lack of tech in the tech/policy balance. Meanwhile, following the Oscars, the Motion Picture Academy made the inexplicable decision to pull all videos of the ceremony off the web with the bizarre reasoning of wanting to whet the appetite for the next year's awards.Fifteen Years AgoThis week in 2002, the W3C was engaged in a critical fight over how to handle patented technologies in web standards, mirroring today's fight over EME in the nature of the problem (but not, so far, in the nature of the solution). CNN was musing about the future of charging for news online while the New York Times was deeming blogs a fad. Jack Valenti was arguing with Lawrence Lessig over copy protection schemes, a Senator was bashing Intel over the same thing, and the music industry was predictably blaming its problems on downloaders.Perhaps most notably, it was this week in 2002 that the EFF and various law schools launched ChillingEffects, the irreplaceable resource now known as Lumen.Two-Hundred And Twenty-Six Years AgoLong ago in the history of communication technology, there was a revolution that often goes under-discussed: the semaphore line. Though some designs exist from as early as the 17th century, it was on March 2nd, 1791 that one of the first practical experiments happened: at the height of the French Revolution, the Chappe brothers used a system based on colored panels, clocks and telescopes to transmit a message nearly 10 miles from Brulon to Parce.

Permalink | Comments | Email This Story


Read more here

---
posted at: 12:00am on 05-Mar-2017
path: /Policy | permalink | edit (requires password)
0 comments, click here to add the first
---
---
Verizon Launches Exponent: New Venture Offering Software and Internet Platforms

Furnished content.


Verizon announced today the global launch of Exponent, a new business and technology venture offering a portfolio of software and internet platforms designed to enable carriers around the world to quickly deploy and launch next-generation solutions. Exponent offers a foundation for carriers to fuel their digital transformation and compete with a range of new digital [...]

Read more here

---
posted at: 12:00am on 04-Mar-2017
path: /Online_Marketing | permalink | edit (requires password)
0 comments, click here to add the first
---
---
Cheetah Mobile Launches Cheetah Ads, Cheetah Open Feed

Furnished content.


Cheetah Mobile Inc., the world's 4th app developer, released two new corporate developments at Millennial 20/20 and Mobile World Congress. At Millennial 20/20, Cheetah announced it has launched Cheetah Ads, its newly rebranded mobile advertising business. Cheetah Ads unifies Cheetah Mobile's strengths in utility apps and mobile content under a single name with a strong [...]

Read more here

---
posted at: 12:00am on 04-Mar-2017
path: /Online_Marketing | permalink | edit (requires password)
0 comments, click here to add the first
---
---
Here's A Tip: If You're Desiging Special Apps To Hide From Regulators, You're Going To Get In Trouble

Furnished content.


Crisis management must be a full-time job at Uber. I've argued in the past that some of the attacks on the company are greatly exaggerated, but it keeps running into crisis after crisis -- many of them avoidable. The latest is a big scoop in the NY Times about how Uber has a special program called Greyball (a play on "blackball," get it?) that helped it determine if regulators were trying to get rides and then avoid sending a car. Here are the basics from the article by Mike Isaac:
One technique involved drawing a digital perimeter, or geofence, around the government offices on a digital map of a city that Uber was monitoring. The company watched which people were frequently opening and closing the app a process known internally as eyeballing near such locations as evidence that the users might be associated with city agencies.Other techniques included looking at a user's credit card information and determining whether the card was tied directly to an institution like a police credit union.Enforcement officials involved in large-scale sting operations meant to catch Uber drivers would sometimes buy dozens of cellphones to create different accounts. To circumvent that tactic, Uber employees would go local electronics stores to look up device numbers of the cheapest mobile phones for sale, which were often the ones bought by city officials working with budgets that were not sizable.
In response, Uber has claimed that the program was designed to greylist "terms of service violators", but if that's the case it can just kick them off the service and tell them they violated the ToS. From the report, it seems clear that even if the program was used for ToS violators, it was also used against regulators.I've certainly been vocal about the fact that I think city and state regulations limiting Uber/Lyft and the like are generally bad ideas. What may have started out as a good idea to prevent cabbies taking advantage of riders has turned into quite a corrupt system used to limit competition and artificially inflate prices. I think that the idea behind Uber and Lyft and similar services is super powerful. But, that doesn't mean the company should get a pass for this kind of stuff.Directly building an app to avoid regulators just looks really, really shady, and it's going to come back to haunt you (just ask Zenefits or Volkswagen). And while the article claims that the tool might be a CFAA violation, I don't see how that's possible, unless it involved even more nefarious activities under the hood (none of what's revealed in the article would seem to qualify as a CFAA violation, even under the really stretched interpretations of the CFAA that we've seen).But there still are some other questions. At least in the EU, some are already asking if the use of the tool violates the E-Commerce Directive or Data Protection rules.The bigger question, honestly, is why do this kind of stuff? I'll never understand why companies feel the need to take the shadiest route possible, when they could have just gone with the upfront path of explaining why what they're doing is so useful and powerful, and fighting for it, rather than trying to play silly games. Yes, you can make arguments about how they're trying to grow rapidly, and yes, (as we've discussed) these local regulators are often a nuisance for bad reasons. But this kind of stuff is clearly going to bounce back and create problems later on. Just fight these fights head on, without playing shady games that undermine basically everything else about your business.

Permalink | Comments | Email This Story


Read more here

---
posted at: 12:00am on 04-Mar-2017
path: /Policy | permalink | edit (requires password)
0 comments, click here to add the first
---
---
UK Bill Would Force Service Providers To Set Up Fake Cell Towers For Surveillance Of Prisoners' Communications

Furnished content.


The latest arena for deployment of cell tower spoofers is prisons. Along with the diminished rights and lowered expectation of privacy afforded to prisoners, those incarcerated can now expect their cell phone calls to be blocked or intercepted.The Register reports a new bill being introduced in the UK would give prisons legal authority to install IMSI catchers to monitor prisoners' communications and track/locate contraband devices. The use of Stingray devices in prisons isn't exactly new, although it hasn't really received much attention. Last year, Motherboard reported the Scottish prison system had been deploying cell tower spoofers for one specific reasons: to make prisoners' cell phone communications impossible. The devices blocked 2G and 3G signals, according to FOI'ed documents. (The documents also noted prisoners had already defeated the repurposed cell tower spoofers, so whatever was included in those documents is already outdated.)In the US, prisons are using similar devices, although no one has copped to deploying a name-brand Stingray within the walls of a prison. ACLU tech head Chris Soghoian's 2014 report on Stingray devices cites a Commerce Department paper on the use of cell tower spoofers to thwart communications and locate contraband devices.There's a twist in the UK legislation, though, that takes it past previous prison surveillance efforts. This bill would compel the cooperation of telcos, rather than make use of existing cell tower spoofer technology.
Provisions in the new bill will allow the Justice Secretary to order networks to deploy so-called "IMSI catchers" to prevent, detect or investigate the use of mobile phones in prisons.Currently fake base stations can only be deployed under the legal provisions in the Prisons (Interference with Wireless Telegraphy) Act 2012, which restrict their deployment to within prison walls – and further, only allows prison governors to deploy them.The new proposals therefore expand the ability of the state to spy on innocent citizens by further co-opting mobile phone companies' technical abilities.
Rather than leave this to state entities possessing state-owned devices, the bill recruits cell service providers to perform the technical heavy lifting. While prison officials would be able to deploy a device inside a prison's walls to minimize interference with outside cell phone traffic, this bill appears to encourage the deployment of fake cell towers (or the repurposing of existing cell towers) outside prison walls, which would greatly increase the possibility of disrupting legitimate cell phone use and subject a number of non-prisoners to data/communications collections by the prison.The bill contains no wording pertaining to these two issues. There's no requirement to minimize interference or discard irrelevant data/communications. All it does is expand the UK government's power to compel participation in its prison surveillance efforts. This lack of regulatory specificity is par for the course, as the Register points out.
In effect, use of IMSI catchers is effectively unregulated, albeit legal for the state and bodies authorised by the state under the Data Retention and Investigatory Powers Act 2014. It remains illegal for ordinary citizens to use them.
UK law enforcement are also using IMSI catchers, but have yet to be subjected to the (belated) judicial and legislative scrutiny we see happening here in the US. Stingray use in the UK falls under legal authorities for the interception of communications, all of which were written long before police had the (portable) power to disrupt communications and harvest communications and data.The debate over this legislation may change that. While law enforcement agencies are generally receptive to new laws that expand their power and reach, there's always the danger legislative discussions may lead to more direct oversight and/or the removal of a few layers of opacity.

Permalink | Comments | Email This Story


Read more here

---
posted at: 12:00am on 04-Mar-2017
path: /Policy | permalink | edit (requires password)
0 comments, click here to add the first
---
---
When does an influencer really have influence? Offline, more than you know

Furnished content.


Why your most powerful influencers might not be online. A recent study reveals what all marketers already know: only four percent of consumers trust traditional advertising and marketers. Forward thinking marketers pivoted away from traditional methods, and many found an influencer network to work with, filled with individuals who possess all kinds of metrics to [...]

Read more here

---
posted at: 12:00am on 03-Mar-2017
path: /Online_Marketing | permalink | edit (requires password)
0 comments, click here to add the first
---
---
Revcontent Acquires Rover, a Machine Learning Content Recommendation Company

Furnished content.


Revcontent, a content recommendation platform, announces the acquisition of machine learning company, Rover, for its advanced personalization and recommendation technology. The acquisition of Rover is the next step in delivering personalized discovery, one recommendation at a time. Revcontent and Rover share a vision of a personalized web, a web that helps users discover content they [...]

Read more here

---
posted at: 12:00am on 03-Mar-2017
path: /Online_Marketing | permalink | edit (requires password)
0 comments, click here to add the first
---
---
Digital Homicide's $10 Million Lawsuit Against Game Critic Tossed

Furnished content.


The saga of game developer Digital Homicide whipped through our pages like an idiotic windstorm. This gust of blustery nonsense started with the company's lawsuit against a game critic, Jim Sterling, then moved on to it suing Steam users over reviews they wrote, before twirling into the stage where Valve banned Digital Homicide games from Steam entirely and the company stated it planned to shut down operations. All of that happened in the span of six months, which would be impressive if it weren't so sad.Still, the resolution of the threats against Steam users wasn't the end of the story. The lawsuit against Sterling was still out there, a $10 million dollar anvil hanging over the game critic's head. Until this week, that is, when the court in which the suit had been filed dismissed it with prejudice.
Pursuant to Fed. R. Civ. P. 41(a)(1)(A)(ii), the parties hereby stipulate and agree to the dismissal of all claims in this action, including the claims raised in the Amended Complaint of February 3, 2017, with prejudice with each party to bear its own costs and attorneys' fees.Plaintiff agrees to forever refrain from directly or indirectly filing against Defendant any cause of action arising from the same facts or circumstances alleged in the Amended Complaint. Plaintiff also agrees to refrain from taking action against Defendant's business, such as sending DMCA takedown notices, without first considering whether Defendant is engaged in fair use of a copyright under 17 U.S.C. § 107, as required under federal law and Lenz v. Universal Music Corp., 801 F.3d 1126 (9th Cir. 2015).
And that will be the end of that. But Sterling wasn't the only one casting a wary glance at this lawsuit. Many in the game-critiquing world watched on, wondering whether or not a court was going to allow a critic to be punished for doing his job. Were it to have happened, that would have sent a chilling effect through the gaming industry. Fortunately, it didn't.Which isn't to say that this all ends without any blood being drawn.
What's particularly disturbing about lawsuits like this is that, even in cases where they are clearly frivolous, as this was, they can force critics to spend significant amounts of money on legal defenses. Sterling had to hire a lawyer, Bradley Hartman, who helped convince the court to dismiss this case, which, in Sterling's words, involved "series of allegations that were difficult to comprehend even for the one accused of them.""Not all threats from the Internet are idle ones, and I wouldn't recommend anybody brush them off," Sterling concluded.
Which is again why this country is desperately crying out for strong Anti-SLAPP laws at the federal level. Having to fend off these vacuous lawsuits with no recourse at the end is a burden without justification.

Permalink | Comments | Email This Story


Read more here

---
posted at: 12:00am on 03-Mar-2017
path: /Policy | permalink | edit (requires password)
0 comments, click here to add the first
---
---
Chicago PD Uses Copyright To Refuse Release Of Its 35-Year-Old Deadly Force Training Film

Furnished content.


When copyright is deployed as a censor, it usually means the removal of content. In the case of Freddy Martinez of Lucy Parsons Lab (instrumental in peeling back the opacity covering the Chicago PD's "black budget"), copyright is the excuse being given to prevent the release of information.Martinez was hoping to obtain a copy of an instructional film the Chicago PD shows to incoming officers. This video -- made more than 30 years ago -- was highlighted in the DOJ's damning civil rights report. The DOJ noted that the video was outdated and the instructors presenting the film did absolutely nothing to ensure engagement or, you know, provide actual instruction.From the report:
As just one example, a class we observed on deadly force involved officers' viewing a video made roughly 35 years ago, prior to key Supreme Court decisions that altered the standards used to evaluate the reasonableness of use of force. The tactics depicted in the video were clearly out of date with commonly accepted police standards of today. Following the video, the instructor spoke for approximately thirty minutes, but did not give detailed information on justified versus unjustified use of deadly force or the standard of objective reasonableness — all essential topics for deadly force training. The training itself was inconsistent with CPD's force policies, further undermining its utility in teaching recruits their obligations under Department policy and constitutional law.
That's not all the DOJ noticed. It also noticed no one in classroom seemed to care whether anyone got anything out of it.
Several recruits were not paying attention, one appeared to be sleeping, and there was minimal attempt made to engage the students in the lesson. In fact, the instructor arrived to the class ten minutes late and dismissed students twenty minutes early from this critical class on how CPD officers should use deadly force. The impact of this poor training was apparent. At the academy and during ride-alongs, our retained training law enforcement expert asked several PPOs to articulate when use of force would be justified in the field; only one PPO out of six came close to properly articulating the legal standard for use of force.
Naturally, a video on deadly force that puts new cops to sleep is something the public might be interested in seeing for themselves -- especially considering its contents are no longer aligned with Supreme Court decisions. Martinez filed a public records request for the video through MuckRock. The Chicago PD responded [PDF] by claiming copyright prevented the video's release.
Under 5 ILCS 140/7(1)(a) of the FOIA statute, a public body is allowed to withhold "[i]nformation specifically prohibited from disclosure by Federal or State law or rules and regulations implementing federal or State law." The Copyright Act of 1976, 17 U.S.C. §§ 101,et seq., grants only the holder of a copyright an exclusive right to reproduce and distribute copies of his work. [See 17 U.S.C. § 106]. Therefore, since the Department is not the owner of the copyright, CPD cannot reproduce said video.
As Martinez points out in his post for Lucy Parsons Lab, this would appear to be a pretty clear case of fair use. Worth litigating over? Possibly. Martinez initiated a public records lawsuit, but dropped it because the internet always provides.
The video, which was made in 1982, was available for purchase elsewhere on the Internet, however, and after some conversation in our Slack Channel, someone was able to locate the video on the Internet Archive, too. We had begun discussions about suing for the video under Illinois FOIA law because we believe it falls under the "Fair Use" exemption of the Copyright Act but because it is readily available for download, we dropped this prospect.
While the video remains live, plenty of people will have the opportunity to view a video plenty of Chicago cops slept through. Peter Falk narrates it, so it's not completely terrible. And viewing it from the comfort of your own computer is preferable to the option the PD extended to Martinez in lieu of sending him a copy:
You may contact the FOIA Division of the CPD to discuss a viewing of the requested video.
Granted, the CPD's copyright excuse is better than others we've seen offered by government agencies hoping to keep information out of the public's hands. The video was produced by a completely separate company and rights are apparently held by the Phoenix Learning Group. It's at that website that you'll discover this "training" film isn't actually a training film, but rather trimmed from a one-hour documentary that was produced to give TV viewers a little insight into police decision making, not provide cops with information they need to make solid use-of-force decisions. That explains the presence of Peter Falk. This also explains why CPD officers seem to know very little about deadly force and how to deploy it.That's absolutely the point of public records requests like these: to let the public know why services they pay for -- like the city's policing -- are such a mess. This is just a small part of it, and it was nearly thwarted by copyright.

Permalink | Comments | Email This Story


Read more here

---
posted at: 12:00am on 03-Mar-2017
path: /Policy | permalink | edit (requires password)
0 comments, click here to add the first
---
---
IBM Shamed Into Giving Away Awful Patent On Email Out-Of-Office Messages

Furnished content.


IBM basically tries to patent everything, no matter how stupid. The company has (no, really) been at the top of the patent recipient list in the United States for an astounding 24 straight years. Really. And, yes, sure, the company has done some innovative things and yes, Watson's pretty cool, but does anyone actually think IBM is the most innovative company around for the past two and a half decades? It gets tons of patents because IBM has an army of lawyers who just try to patent anything. Earlier this week, the EFF put out its regular Stupid Patent of the Month post, and it was about an incredibly stupid patent from IBM. The patent (US Patent 9,547,842) is for an out-of-office email messaging system.You know, when you email someone and you get back a bounce that says the person is out of the office, and that they won't be reading emails (even though they probably are reading them anyway and probably will respond anyway, because, really, who goes off email these days?). Anyway, the application for this patent was filed in 2010, way, way, way after OOO messages were quite common. The one thing that might be considered different in this patent was that you could set it to tell people a few days earlier that you would be on vacation in a few days. But, as EFF pointed out, that's not particularly inventive or difficult for anyone to figure out and it certainly doesn't deserve a patent. As the EFF notes, going over the history of this patent demonstrates why the US Patent Office is so bad at this stuff. Rather than figuring what's actually obvious or in the prior art, it just looks at patents:
You might think that a patent examiner faced with a patent application on an out-of-office email system might look at some real out-of-office email solutions. But the examiner considered only patents and patent applications. The Patent Office spent years going back-and-forth on whether IBM's claims where new compared to a particular 2006 patent application. But it never considered any of the many, many, existing real-world systems that pre-dated IBM's application.To take just one example, the Patent Office never considered this detailed specification from 1998 (PDF) from IBM describing the out-of-office agent in Notes. Nor did it consider other well-known email features like scheduling and signatures. If the Patent Office had taken a peek at the real world, and applied a modicum of common-sense, it would have quickly rejected IBM's claims.
EFF also notes that the patent should have easily failed under the Alice standard, but IBM tap danced around it:
In Alice, the Supreme Court ruled that an abstract idea does not become eligible for a patent simply because it is implemented on a generic computer. That decision came down in June 2014, so the Patent Office had plenty of time to apply it to the application that led to this patent. If it had, it likely would have rejected the claims. The '842 Patent goes out of its way to make clear that its method can be implemented on a generic computer. The final three columns of the patent recite at length how its claims can be implemented in any programming language on essentially any kind of hardware.At one point, the examiner did reject some of the application's claims under Section 101 of the Patent Act (which is the statute the Alice decision applies). But IBM overcame the rejection simply by arguing that the patent's method was implemented in computer hardware. In January 2013, IBM noted that it was agreed [between IBM and the patent examiner] that the rejection ... under 35 U.S.C. 101 could be overcome by reciting that a hardware storage device stores computer readable instructions or program code. Even if that was a reasonable response in 2013, it certainly was not after Alice. Yet the Patent Office never revisited the issue. We have submitted multiple rounds of comments (1, 2, 3, and 4) to the Patent Office urging it to be more diligent in applying Alice.
So, normally, we just repost the EFF's Stupid Patent of the Month posts here on Techdirt, and we even had this one lined up... but a funny thing happened on the way to the posting. Over at Ars Technica, Joe Mullin reached out to IBM to ask them the reporter's equivalent of "WTF?" and got back this response:
Asked today about EFF's criticisms of the patent, an IBM spokesperson said that "IBM has decided to dedicate the patent to the public."
Got that? So IBM spent tons of money not just applying for this patent, but arguing back and forth with the PTO for years over why it truly deserved this silly patent... and then it got it at the beginning of this year. And less than two months after receiving the patent, when the EFF publicly shames IBM over the patent, the company then says "oh, hey, we dedicate it to the public." That makes sense.

Permalink | Comments | Email This Story


Read more here

---
posted at: 12:00am on 02-Mar-2017
path: /Policy | permalink | edit (requires password)
0 comments, click here to add the first
---
---
Body Worn Cameras Continue To Reduce Police Misconduct, Citizen Complaints In San Diego

Furnished content.


A report released by the San Diego Police Department shows its body-worn camera program is actually doing some good.
Since officers began wearing the cameras nearly three years ago, the department has seen significant decreases in misconduct allegations and high-level uses of force by officers.A nine-page internal report also says the cameras have shrunk the number of allegations left unresolved due to lack of evidence, helped more officers get exonerated and increased the percentage of allegations deemed false.
The allegations are down because the misconduct is down. The department's camera program began in 2013. Since then, it has expanded to cover every officer in the force. Three years later, the department has experienced a 43% drop in misconduct allegations. That's the sort of thing that happens when most of your interactions are recorded.In addition to better behavior by cops (and better behavior by citizens who know their words and actions are being recorded), there has been a drop in the use of severe force.
[H]igh-level use of force, such as physical takedowns and using Tasers, chemical agents or weapons, is down 16.4 percent.
On the other hand, lower-level uses of force have increased 23.5% over the same period. What could be taken as an indication of a partial accountability favor is more likely just a statistical adjustment. For one, the increase in real numbers is only 71 more force deployments than last year, which isn't all that much when compared to the number of police interactions. According to SDPD numbers, officers responded to 520,000 incidents in 2016.As for the uptick in lower-level force deployment -- which is much more significant than the drop in higher-level force use -- this is little more than a reflection of a positive change in tactics. In most arrests, some level of force is deployed. If San Diego cops are aware they're being recorded, they're less likely to deploy high-level force techniques as quickly as they would in pre-camera days. These numbers show there's more de-escalation occurring, which naturally results in fewer deployments of high-level force. But since some force is still needed in many cases, the numbers have to go somewhere. And they've traveled from the high-level stats to the low-level.This is backed up by officers' statements detailed in the report:
This data is consistent with feedback received from officers indicating body worn cameras help de-escalate some situations, and results in the use of lesser controlling force to gain compliance without the need for greater controlling/defending force.
Also of note is the fact that the cameras have increased the number of sustained allegations. Last we checked, the SDPD had no disciplinary procedures in place for officers who fail to record interactions. But something must be going right (or have changed in the meantime) because there doesn't appear to be (at this point) any evidence cameras are being disabled, being tampered with, or having critical recordings go missing.Another thing that comes through is that SDPD brass appear to be taking this form of accountability very seriously. The department is already planning to upgrade its cameras, with an emphasis on capturing even more footage than it already does.
By April, the department plans to complete upgrading each of its nearly 1,200 body-worn cameras to newer models with superior video quality and the ability to store two minutes of footage before an officer hits "record" instead of the current 30 seconds.
Body cameras can't fix bad policing if those up top don't show their support for additional scrutiny and accountability. Fortunately for the citizens of San Diego, their police department actually seems to want this program to help it build better cops and a better relationship with the community they serve.

Permalink | Comments | Email This Story


Read more here

---
posted at: 12:00am on 02-Mar-2017
path: /Policy | permalink | edit (requires password)
0 comments, click here to add the first
---
---
TV ACR (Automatic Content Recognition): Do you recognize what it can do?

Furnished content.


With TV ad spending totaling $70.60 billion in 2016, one of the biggest challenges facing advertisers is how to maximize the potential of their ads and get the best ROI. And with the influx of Smart TVs on the market that have this technology installed, ACR is gearing up to play a major role in [...]

Read more here

---
posted at: 12:00am on 01-Mar-2017
path: /Online_Marketing | permalink | edit (requires password)
0 comments, click here to add the first
---
---
Indoor Football Team Lets Fans Pretty Much Run Everything From A Phone App

Furnished content.


We've talked a great deal about businesses connecting with their fans as a way to keep their interest in a product. The whole formula of CwF+RtB relies first and foremost on giving customers an emotional interest in seeing a particular business or product succeed. This generally involves treating the buying public well, engaging with customers in an open and honest way, making sure the product is great, and building advocates out of mere consumers.But then one day the owner of an indoor American football team comes along and decides that basically the entire team should be run in a crowdsourced manner by the fans via a mobile application.
The Screaming Eagles claim to be the first fan-run professional football team in the United States. Using a free mobile app, anyone can vote on nearly all aspects of the new team's identity and function, including calling offensive and special-teams plays. The experiment did not begin swimmingly. On the Screaming Eagles' first possession, voters decided on a pass play on third-and-10 from their own 5-yard line. Reed fumbled in the end zone, and Nebraska recovered for a touchdown. Five plays later, on fourth-and-15 from their own 1-yard line, the vote called for a field goal. (The field is 50 yards long.) The kick was blocked and recovered by Nebraska for another score.
But the influence of the fans was felt long before they managed to collectively poop the bed on the field. The fans were responsible for the uniforms the team wore in the game, the name of the team and its cheerleader squad, and even the choice of the music to which the team warmed up. And, like all good ideas that have ever existed, the owner of the team decided to do all of this because he played video games.
Sohrob Farudi, the chief executive of Project Fanchise, the team's ownership group, said there was no eureka moment behind his decision to start such a fan-driven team; it was something he had considered for a number of years."I was always on my couch, playing Madden, making calls and wondering why I was spending money on beer and tickets to games," said Farudi, who sold his cellphone resale and recycling company, Flipswap, in 2011. "Being so close to tech and mobile, I wondered, Why can't a fan be involved?"
And now they are, in more ways than with any other team in the history of professional sports. There have been some rocky beginnings to all of this, including some fans' attempt to have the Utah-based team named The Stormin' Mormons. Still, Farudi appears committed to the concept, and even his coach and players are getting on board.
McCarthy, whose résumé includes head coach and coordinator positions on four other I.F.L. teams, said he has warmed to a system that, to outsiders, may look as if he is relinquishing control of his coaching duties."At the end of the day, it's still my plays," he said. "I set up our system, so it's got my plays in it and what we've been working on."
Nobody would suggest that this level of fan involvement will translate to the larger, more popular sports leagues and franchises. But aspects of it certainly can. And the Indoor Football League is obviously desperate for eyeballs, so it's quite interesting to see them try to attract fans by giving them a crazy amount of ownership over the product they'll be watching on the field. It seems obvious that allowing fans to have this kind of crowdsourced involvement in the team can only help to keep them engaged by giving them an emotional investment in the product. That's pretty clearly CwF-type thinking, with the curiousity of how the fans' gameplan might turn out to be a rather creative RtB. There are even benefits for different levels of fan involvement and purchasing.
Christian Williams, 29, of Melbourne, Australia, spent $450 during the team's crowdfunding round to be named one of 10 co-founders of the franchise. He said in a phone interview Thursday that he had analyzed scouting reports and held conversations with the front office via Skype and email."I like the fact that I have been involved in the process all the way," he said.
Again, not a model for everyone, but it's a cool concept for fan engagement. I imagine that engagement would only multiply if the team manages to start winning some games with the fans at the helm.

Permalink | Comments | Email This Story


Read more here

---
posted at: 12:00am on 01-Mar-2017
path: /Policy | permalink | edit (requires password)
0 comments, click here to add the first
---
---
Jury Acquits Restaurant Owner Of Obstruction Charges For Tweeting Out Photo Of Teens Involved In Police Alcohol Sting

Furnished content.


Obstructing government operations seems like a serious offense, but it tends to be one of those catch-all charges used by law enforcement to generate arrests for non-criminal activities like showing less respect than officers feel they deserve or someone getting all constitutional in response to searches and/or seizures. In Nebraska, law enforcement uses it to handle "being made."Nebraska state police attempted to perform a compliance check at local restaurant Salt last August. In this case, "compliance check" is just a dressed-up word for "sting." Cops sent in two teenagers to attempt to purchase alcohol. The sting failed.
Two troopers in plain clothes drove the teens in an unmarked vehicle to the businesses and stayed nearby in case things went awry, testified Christopher Kober, a State Patrol investigator.The teens sat at Salt 88's bar and ordered two Bud Lights, Alberico testified. The bartender asked for identification and the teens, trained on what to do, presented their real driver's licenses. The bartender refused service and the teens left, Alberico testified.
John Horavatinovich, the owner of Salt, wasn't too impressed by the failed sting. He tweeted out a photo of the teens, along with a warning to other restaurant/bar owners.
Assistant City Prosecutor Makayla Maclin said in her opening statement Monday that on Aug.13, Horvatinovich tweeted photos showing the faces of two teens with the comment: "Omaha restaurant peeps: These two are trying to ruin your night w/sting operations in town."
The state police decided to shut down its sting operation since its two underage informants were no longer all that "confidential." Instead of rounding up another set of compliant teens to perform compliance checks, the cops arrested Horavatinovich for obstruction of justice.The arresting officer justified this with a mostly-nonsensical statement about safety -- as though restaurant owners were every bit as vengeful and violent as mob bosses and drug cartel heads.
"I have never had my CIs' identity compromised before," Trooper Alberico testified. "I felt that it was a safety issue for them. I care about my CIs, and it's my job to protect them."
The police certainly seemed secure in the rightness of their actions, despite everything about the arrest looking like nothing more than petty revenge for having their operation blown. And the local prosecutors office was the most compliant entity in this failed compliance sting, as it followed through with a jury trial, rather than drop the ridiculous charge.The jury found in favor of the restaurant owner, which means the next time an ID sting is uncovered, restaurant owners are more than welcome to let each other know which teens are acting as narc-of-the-day for the local PD.Honestly, the problem here lies entirely with state law enforcement and its response to Horavatinovich's actions. As Fault Lines' Josh Kendrick points out, the public shouldn't be forced to stay silent when law enforcement screws up.
While police are welcome to investigate crime, that doesn't mean we now live in a police state. If your amateur hour undercover investigation targeting law-abiding business owners gets discovered, why does the public have to cover for your ineptitude? Why can't those business owners get together and help each other? Maybe remind each other to double-check identification and watch out for teens drinking at the bar?
Just like warning drivers about speed traps, warning other business owners about law enforcement stings raises awareness and actually results in more compliance, rather than less. Those warned about speed traps slow down. Those warned about law enforcement sting operations pay more attention to those they're serving alcohol to. The only party that "loses" is the one that thinks the general public is nothing more than a revenue stream that can be tapped into at its convenience -- where arrests and fines are preferred to actual lawful behavior.

Permalink | Comments | Email This Story


Read more here

---
posted at: 12:00am on 01-Mar-2017
path: /Policy | permalink | edit (requires password)
0 comments, click here to add the first
---
---